Written by Terry Smith
Our site is reader supported so when you click a link to Amazon we may earn an affiliate commission.
Best supply booster pumps
This article was last updated on August 7th, 2021 at 8:42 am
Supply Booster Pumps To Boost Water Pressure As Per Your Needs
A Supply booster pump or a water booster pump as you can judge will help with boosting the pressure and even the volume of the water flow from a shower head or a faucet. Similar to low blood pressure in the human body, low water pressure in a property can be highly frustrating. In case, you are facing the issue of low water pressure in your home, you might have dreamt of having a great shower with an excellent flow of water at least once in your lifetime in your home. Nothing to worry! With the best supply booster pump in your home, you can get your dream a reality on a daily basis. A booster pump will help with increasing the low water flow and pressure. It offers the additional boost required to bring your water pressure to the required level. The reason is that this pump will provide the pressure to move water from a storage tank or all through the whole house or commercial property.
What leads to low water pressure?
Before you gather some details about the best supply booster pumps in the market, it would be better for you to understand what causes low water pressure in a property. It can happen due to many reasons like:
Plumbing issues
Additional water systems installed in your property
Low water pressure in your entire city
Distance from the source of water
Gravity
Irrespective of the reason, a supply booster pump will help you deal with the situation with ease.
How does a supply booster pump work?
A booster pump will help with boosting the pressure of water and in most instances, it will improve the rate of water flow as well. You can compare the working of a supply booster pump with that of a fan. You know that a fan has blades that spin around for increasing the movement of air. In the same way, a booster pump will have an impeller within that will help with increasing not just the flow, but also the pressure of the water. The core components of a booster pump will be:
A sensing device for identifying the flow and pressure
An inlet and an outlet
Impellers
A Motor
The impeller in the booster pump will move water that comes through the inlet and lets it out through the outlet. The motor takes care of the function of spinning the impellers. Booster pumps from different manufacturers differ in the way they get water and push it out. Some booster pumps use a spinning propeller, while some models use an oscillating diaphragm. In the case of latter, they will propel water with the help of a couple of rotating plats, of which one will have indentations and the other will have cups. When the plates move together, they compress the cups and force the flow of water. As the plates roll open, more water is gathered in to improve flow. Now, it is time for us to identify the top supply booster pumps available in the market.
1. Nordstrand 90W Hot/Cold Water 1 Bar Pressure Booster Pump:
This booster pump from Nordstrand is capable enough of turning a thin dribble into an agile flow. This pump is designed for improving the efficiency of home water systems. As this pump is made out of Stainless Steel material, it can withstand hot water up to 800C. It is designed in such a way that it can increase the pressure of water in water heaters, boilers, washing machines, taps and showers. Even, it can be used for pumping water for garages and for boosting the pressure of hose pipes. It is an inline electric automatic booster pump with an automatic switch. This helps with converting the pump into manual or automatic mode. The former will be suitable for areas that are used less often like powering a garden hose or filling a pond, where the user needs full control. The latter will help the pump to quickly respond to demand by switching on as soon as the shower is turned on. The system comes with a couple of sealing rings with the following features:
Pumps hot water
Boost pressure up to 1.0 Bar
Shower boost pump for home use
Supplies water to new areas like a garden hose, pond and garage
Suitable for boosting water pressure in boilers, washing machines and taps.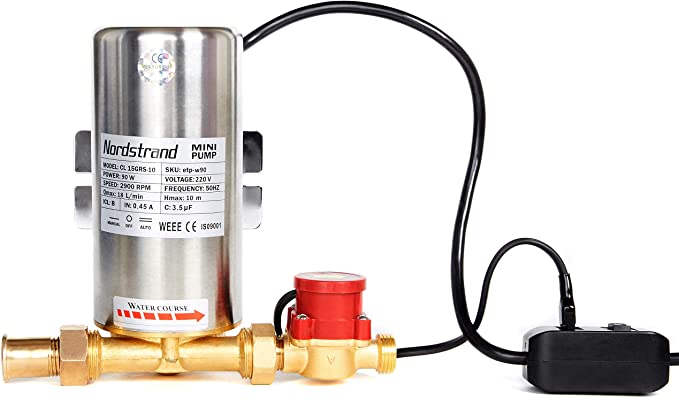 2. Finerfilters E-Chen 100GPD Reverse Osmosis RO Booster Pump:
As the name implies, the purpose of this pump is to increase the water pressure from an RO Unit in a property with saltwater, where an RO has been installed, but the water pressure is low. This pump is designed in such a way that it suits all 100GPD Reverse Osmosis units that use 100GPD membrane. This pump is designed in such a way that it should be rested for around 10-15 minutes for every 5-6 hours of operation. It can ensure a flow rate of 0.6 litres per minute and can work with a normal UK power supply with the following key features:
Suitable for all 100 GPD Reverse Osmosis Systems.
Efficient enough in increasing the flow of water from an RO Unit.
Easy to install and use
3. KITGARN 220V 3-Speed Water Circulation Pump Booster Pump:
This is a submersible booster pump with an utmost booster power of 145 psi and the utmost flow it can ensure is 170 l/minute. It can be installed in pools, wells, water tanks and also in other sources of water supply. It is suitable for different applications inclusive of solar, fan coil heating, hydronic heating, radiant heating and other system types. The pump has a three-speed motor to ensure easy usage as per the user requirement. To make sure that it can be used in places of sound-sensitive installation, this unit ensures quiet operation. Better performance and longer life along with hot-water circulation make it an ideal choice for different applications with the following key features:
Quiet operation
Better performance and longer life
Built-in motor protection
Three-speed motor
Hot water circulation
Brand new model
4. KATSU® Full Automatic Self Priming Water Booster Pump:
The size name of this specific model from KATsu is 130W. The same booster pump is offered in other capabilities like 200, 300, 400, 600 and 800W. So, buyers can choose the one that they feel will suit their requirement. This pump is a self-priming pump and most importantly, it has an intelligent flow control mechanism. Built-in protection ensures that if there is no water, there will not be any power supply to the unit. When the tap is closed, the unit will automatically close and there will be a three-second delay in the starting of this unit to ensure power protection. The low-noise feature is an added advantage and this unit will be helpful for places with constant water supply with lack of water pressure. It will be helpful in different applications like hot water circulation, water supply, vegetable garden irrigation, tap water and household well water supply. The intelligent flow control mechanism in this pump will automatically identify lesser quantity water supply and will switch to 'small flow control mode' to make sure that the pump will not face any issues. This mechanism will extend the life of the pump with a microcomputer control system. The key features of this unit include:
Intelligent flow control
No Water No Power
Water stop pump stop
Delay Start
Self-priming pump
5. Automatic Shower Washing Machine hot/cold Water Booster Pump:
This pump from KATSU Tools with model number 51414 is a 260W automatic water booster pump that can work both in hot and cold water. It can be used for boosting water supply to a shower and also for a washing machine. This pump is also available in the 90W model, which costs less than the 260W unit. The pump speed will be 2860R/Min and the maximum quantity is 30L/Min and the automatic switch in this unit will control the pump on and off for a specific pressure. It will automatically switch off when the connected tap is opened and switches off when the tap is closed. The small size and low noise make it ideal for installation within the home. It can be used for different applications with the following set of features:
Automatic on and off
Low noise
Multi-use booster pump
Ideal both for hot and cold water
6. Clarke Electric 1″ Water Pump/Booster 230V:
This pump from Clarke is a self-priming pump and it has auto pressure on and off switch for easy operation. The utmost output users can expect from this pump is 50 lpm with the utmost head of 35m. The motor associated with this pump is a 600W and 230V motor with 1" BSP Outlet. The associated 19-litre tank in this pump has an air-inflated bladder to make sure that the water pressure is maintained constantly. The on/off switch in this pump is designed as a water-resistant switch and the pump comes with an electric cable with fitted plug, pressure gauge, non-return valve and even an inlet filter. The robust cast iron pump will help with boosting and even for maintaining water pressure for garden and home water supplies, irrespective of the source of water, which can be mains or stream or pond water. To maintain the water pressure, there is a pressurised bladder within this pump. The key features of this unit include:
Maximum output of 50L/Min
Non-Return Valve
Inlet Filter
Auto pressure on/off switch
600 W and 230V Motor
Self-Priming Pump
Pressure Gauge
Water-Resistant On/Off Switch
Electric cable with fitted plug
Robust cast iron pump
Pressurised Bladder
7. Draper Tools SS Body Booster Pump 31561:
This pump from Draper Tools has been designed as a pump with a steel body. IT is ideal for garden and home water supplies. The Expansion tank of 20 litre capacity along with automatic cut-off switch ensures stability of water pressure. It is a 230V pump fitted with double insulated impeller and non-return valve to ensure efficient and quiet performance. The key features include:
Quality assurance from Draper Tools
Expansion tank with 20 L
Automatic Cut-off Switch
Stainless Steel Body
Attractive look
8. SHYLIYU Booster Pump Automatic Water Pressure Pump:
This pump with ¾" outlet from SHYLIYU is a hot water pump designed for washing machine and home use. One year warranty is an added advantage for buyers. In addition to home use, it can be used in high buildings, solar systems, boilers and even in suburb villas. The key features include:
One-year warranty
Useful for different applications
The aluminium pump housing, brass impeller, copper motor wire and stainless steel shaft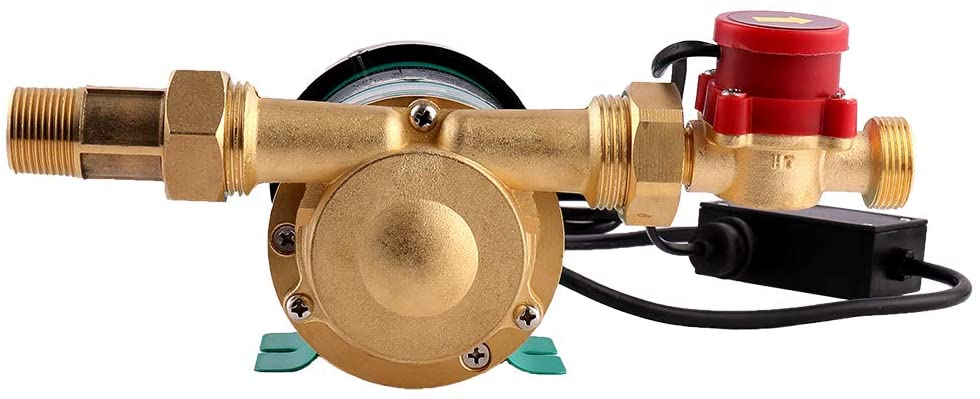 Conclusion:
You can choose one of the above-mentioned pumps to get a great water flow in your home.
---