Written by Terry Smith
Our site is reader supported so when you click a link to Amazon we may earn an affiliate commission.
UK's best patio heaters rated on price, power, style, and safety.
This article was last updated on April 23rd, 2022 at 5:37 am
When you have an inviting outdoor area, you would want to spend some time in the evenings or at night out there. But, as the weather changes and becomes chilly or the night draws on from an afternoon barbecue, it seems almost impossible to stay outdoors on your patio with friends or family due to the freezing temperature. That's where patio heaters step in.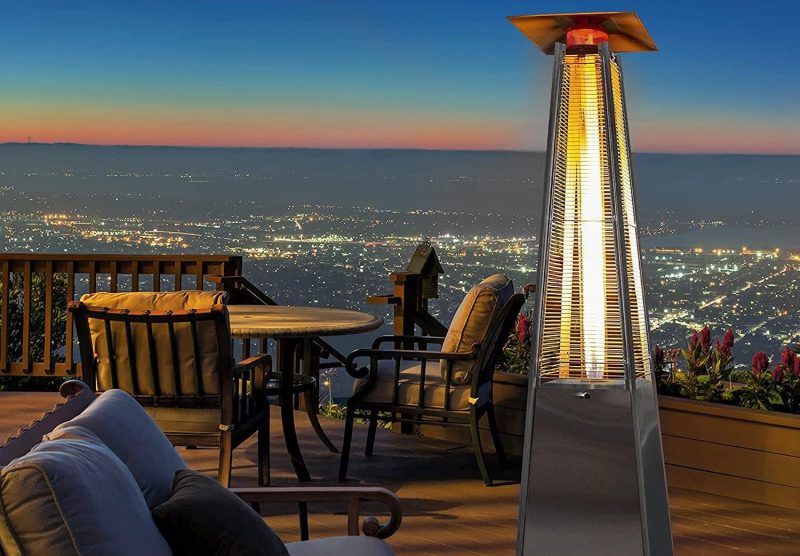 A patio heater really comes into its own on a long evening in the garden, we've been enjoying a lovely barbecue throughout the afternoon and we want to continue the fun. There's only so many wonderful evenings in the UK, and a patio heater helps us take full advantage of those lovely times in combination with a gazebo for when it's not quite so perfect too! In this article I am reviewing for you, what I believe to be the best patio heaters available at the moment, in terms of price and quality so whether you need seriously powerful, of economic, and perhaps something in between – this article has the lot:
Best patio heaters – editor picks:
Best patio heater overall: Glow warm 13kw Gas Patio Heater – based on astounding value, aesthetics, build quality, and heat output. Superb.
Best gas patio heater: Glow Warm 13kw Gas Patio Heater
Best electric patio heater: Heatlab Patio Heater
Best wall mounted patio heater: FUTURA wall mounted patio heater
Best table top patio heater; electric – Firefly 2.1kW Table Top Patio Heater and gas – Kingfisher Outdoor Table Top Patio Heater
Best free standing patio heater: BU-KO Outdoor Patio Gas Heater – the pyramid design is superb in the wind vs traditional and looks superb!
Best parasol patio heater: Firefly 2kW IP34 Electric Quartz Bulb Parasol Patio Heater
Best hanging patio heater: La Hacienda Silver Series Hanging Heater
They allow you to enjoy your space outdoors until late at night. Patio heaters are a reasonably sensible source of heat and they keep you warm and comfortable even in the coldest weather conditions. With the increasing trend of patio heaters, there are a lot of different brands and products available in the market. With different style and fuel options, it becomes difficult to narrow down and choose the best one for your outdoor space which provides you both warmth as well as adds style to your outdoors so let's take a look at the different options.
Before we dive into that, let's have a look at different types and fuel choices of patio heaters.
What types of patio heater are there?
Patio heaters come in various forms such as table top, free-standing and wall-mounted patio heaters. Each of these has different sizes, prices, styles, and BTU (British thermal unit: indicates the level of heat). The higher the BTU, the more heat, that simple. These have different purposes entirely. Here is a look at each type of patio heater and the kind of BTU output:
Tabletop patio heaters are the most stylish and refreshing out of all heaters along with hanging heaters – they become the focus of attention. They will greatly serve to improve the décor of any garden setup. Generally, they are smaller in size which means a lower BTU (heat output) but as a result of infrared heater technology, the electric ones really pack a punch, normally around 7000 BTU and that applies to the propane heaters as well that can boot out 13,000 BTU, the bio ethanol is generally the weakest heat in this category with as little as 2000 BTU. Being portable has its advantages – they are usually placed on tables or above ground surfaces, they can be kept close to where you are sitting to get the best bang for your buck.
Free standing patio heaters
For people who have a big family and a big area to heat up, freestanding patio heaters are the best option – the gas powered type offer 37,000 BTU and more in some cases! They can fit in small places quite easily as they are very compact and narrow for the amount of heat they output. It's just a matter of knowing if you have any height restrictions – some over over 6 foot tall. These used to be quite boring to look at – a tall shaft with an umbrella if you like but now they are making some exquisite designs too: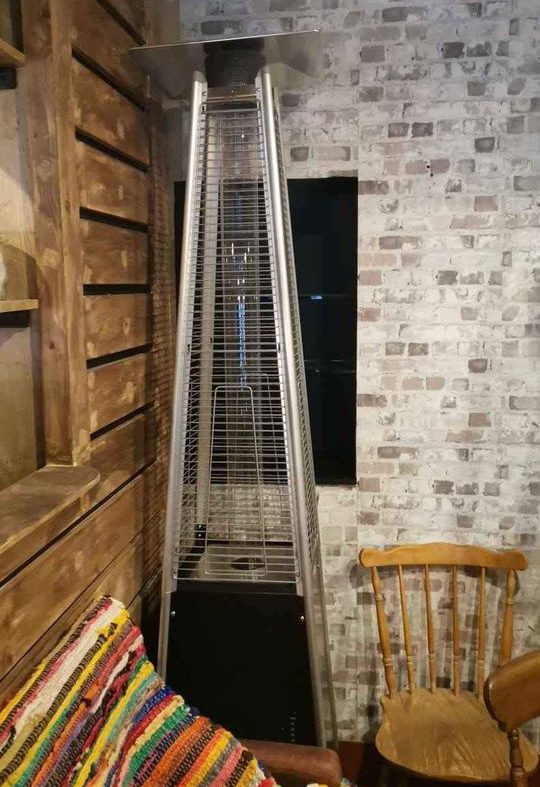 Free standing patio heaters can be fuelled with propane, natural gas, and electricity. So in the event you like the style of them over something sat in the middle of the table or hanging above, there are plenty of choices.
If you do not want a patio heater to take up any floor area, hanging and wall-mounted patio heaters are the best option to consider. They are normally very easy to install and you can be up and running in less than ten minutes in some cases. These are generally electric and come higher than 10,000 BTU – the most common is 7000 BTU but there are larger models.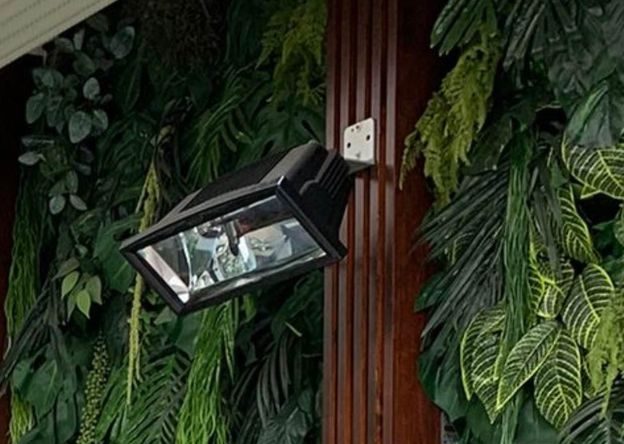 The drawback with wall mounted is the lack of portability, but the clear, clear advantage is the safety. No power lead trailing, and it can't be knocked over. This is definitely a favourite choice for families with young children
Hanging heaters are super as the heat is directed exactly where you're sitting – I even hang mine in a pop up gazebo. They are super quick to take down – the draw back is you almost always need a cable extension.
Parasol heaters clamp around your shade pole, they can also normally clamp onto some part of a gazebo as well: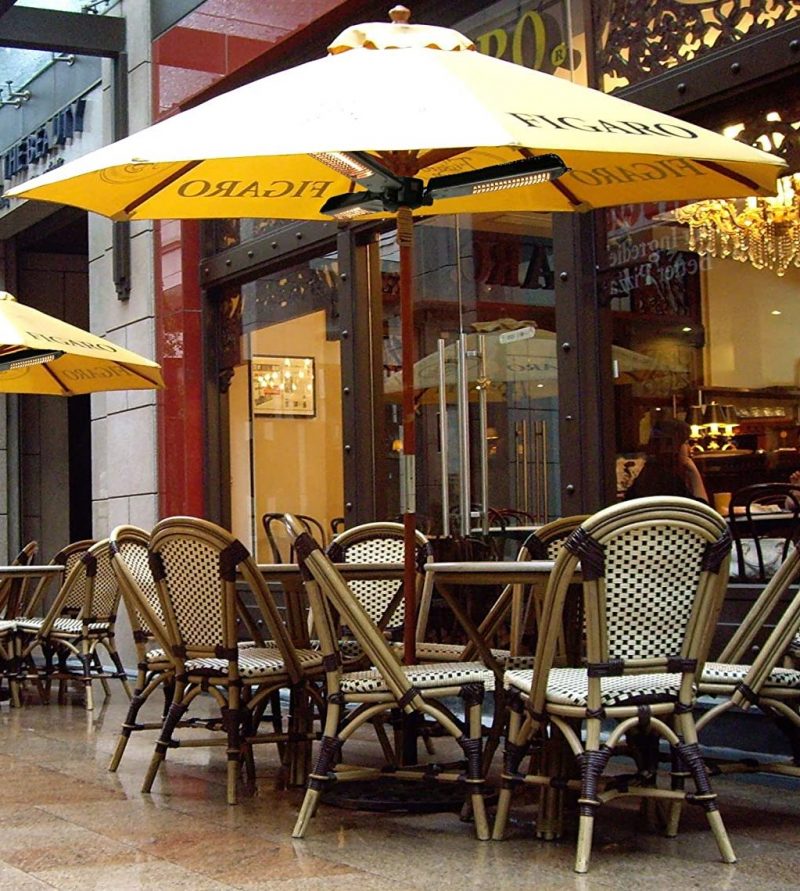 Pyramid patio heaters
Pyramid patio heaters are tall, beautiful and elegant patio heaters that enhance your outdoor space with their stylish and modern designs. Their flickering flames add a beautiful counterpoint to the chilly weather and outdoor beauty. They are safe and secure as all the pyramid patio heaters work on propane and LPG gas. This means they are highly portable and manoeuvrable.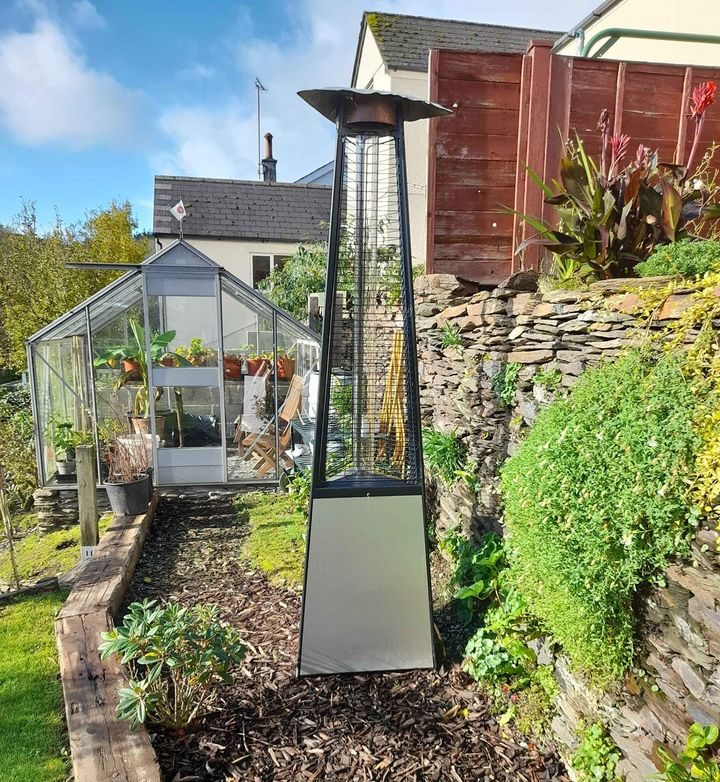 Pyramid patio heaters are a great choice for those who love to spend most of their time in the outdoors and have frequent gatherings, parties, and dinners. There are a variety of pyramid patio heaters for sale at the moment. They come in different sizes and styles and are generally stainless steel to make them last longer and prevent rusting. Most are tall units between 2.1-2.4m – they have a huge 44,000 BTU.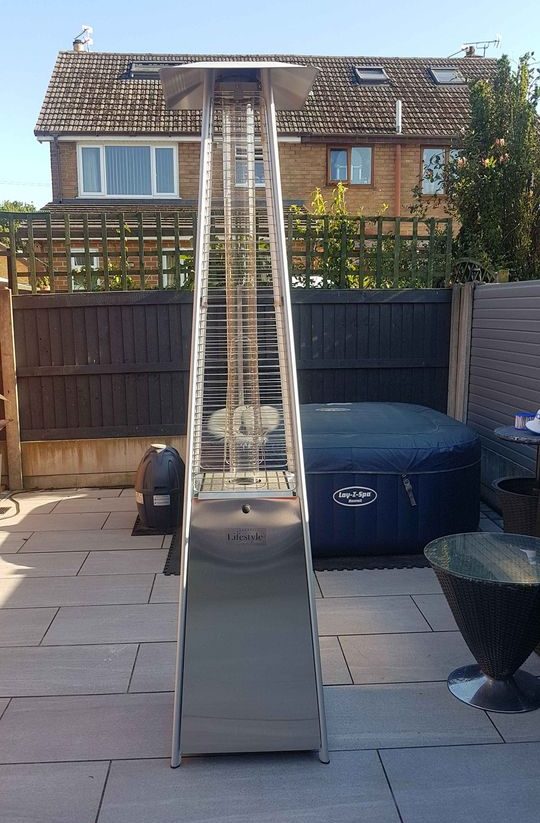 What fuel options are there and which is cheapest?
Electric
Electric patio heaters are the easiest one to fuel and use. Almost all the homes have electric connections in their outdoor space. However, make sure the power source is safe from moisture so that there are no electrical hazards – the patio heaters will normally come with an outdoor rating (IP rating) but the connection must not get wet.
For the enclosed patios that do not have sensible ventilation required in case of natural gas and propane patio heaters, electric patio heaters are the most recommended option that and bio ethanol but they are no the best for serious heat out put as we've already discussed.
One thing to keep in mind is that electric patio heaters emit less amount of heat as compared to natural gas and halogen patio heaters. So, it is best to consider electric patio heaters for smaller areas – generally up to 5 metres in diameter tops.
Propane gas
Propane is the most common kind of fuel source for patio heaters whereby the owner needs a large amount of heat to enjoy the outdoor area. Even the small 13k BTU table top gas heater will give more than enough heat for four people around a table. A 13kg bottle will last about 40 hours on full tilt and seeing as that costs around £40 at the moment, that's about £1 an hour – by contrast the infrareds are running at about 60p for the 3kW but that's not giving off as much heat.
These tanks are normally green or red: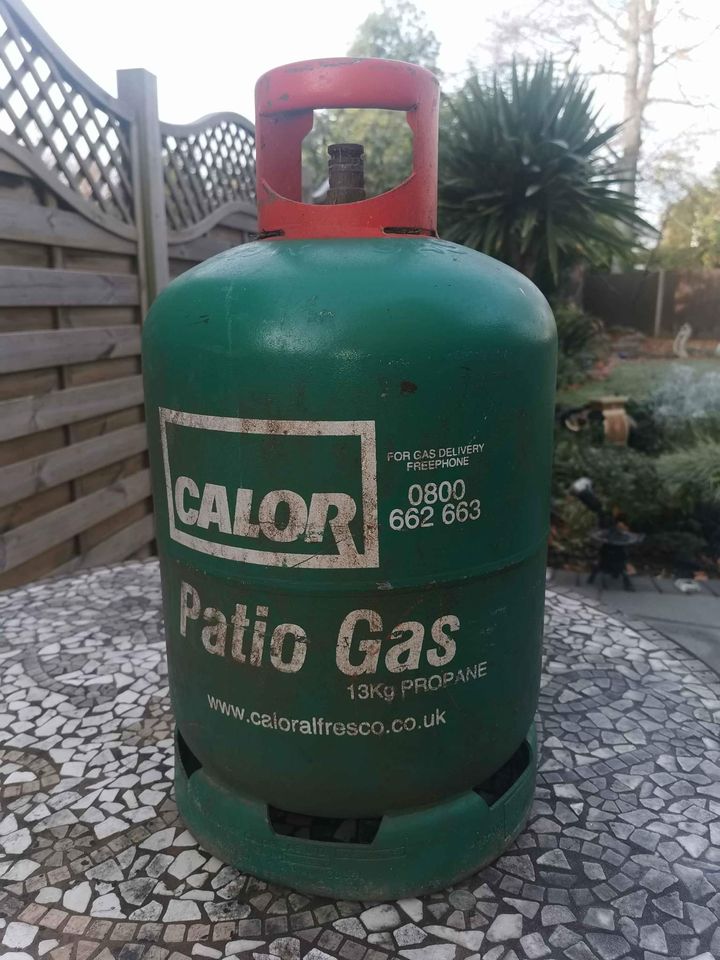 Or red bottle: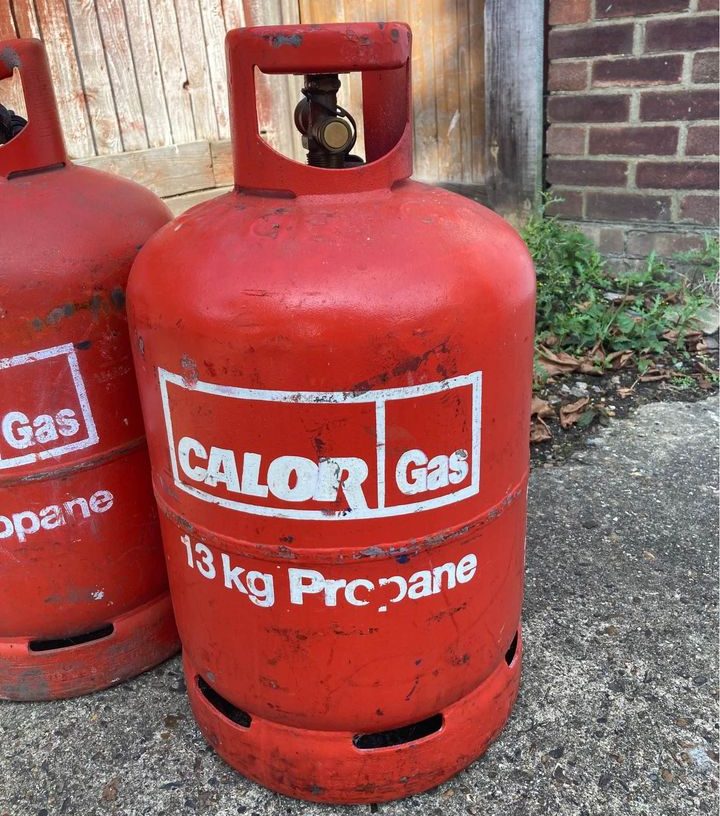 Propane tanks are hidden in the bases of patio heaters in most cases unless the table top variety. They give out maximum heat to warm up your area in minutes. Propane heaters are the ones that are portable, manoeuvrable and can be easily fit and fixed but are more often used as workshop heaters due to the huge BTU (hundreds of thousands on the larger models), but there's nothing to stop you using one if you like – they just don't look all that aesthetically pleasing.
So, propane patio heaters are the best choice to invest in if you need a lot of heat and want best value for money in terms of heating – that simple.
Bio Ethanol
Bio ethanol produces some great looking heaters and they are lovely to put on a table. The glass frames they come with stop accidents but I still wouldn't want my child around one – they are definitely a lovely heater for a group of adults.
The drawback is the lack of burn power – whilst it burns clean which is a massive plus, it doesn't burn hard. Most units only put out about 2000 BTU which is by far the least powerful of all heaters for a patio.
What to consider when buying a patio heater?
BTU
BTU is the measure of energy output from any specific electric equipment but you'll often see these quoted as Watts too so it can be confusing. Let's clear the difference between BTU and Watts UP. There are 3.41 BTU per watt. The lowest BTU output in this review is advertised as 2000 Watts. So the lowest BTU output is the Heatlab at 6820 BTU. By contrast, the largest Glow warm and the BU-KO Outdoor Patio Gas Heater are kicking out 13000 Watts or in BTU 44,000 plus. So you can see there's a huge void between the two. A happy medium is probably the Kingfisher which is 4000 Watts or 13500 BTU.
Safety features
Safety is an important factor in buying a patio heater – it's not a joke to go online and read horror stories about those who have literally burnt down their garden pergolas and gazebos! So the first thing you want to remember is don't leave these on when you go to bed or leave the garden for any length of time.
After that you want to see electrical tip over cut out safety like you get on the Firefly 2kW. You also want your heater to have a nice guard around the bulb or heating element. Make sure you keep the base well grounded and if it doesn't feel sturdy – weigh it down, many have lost their tall patio heaters to a harsh gust of wind! I particularly like the pyramid design as these are great for wind: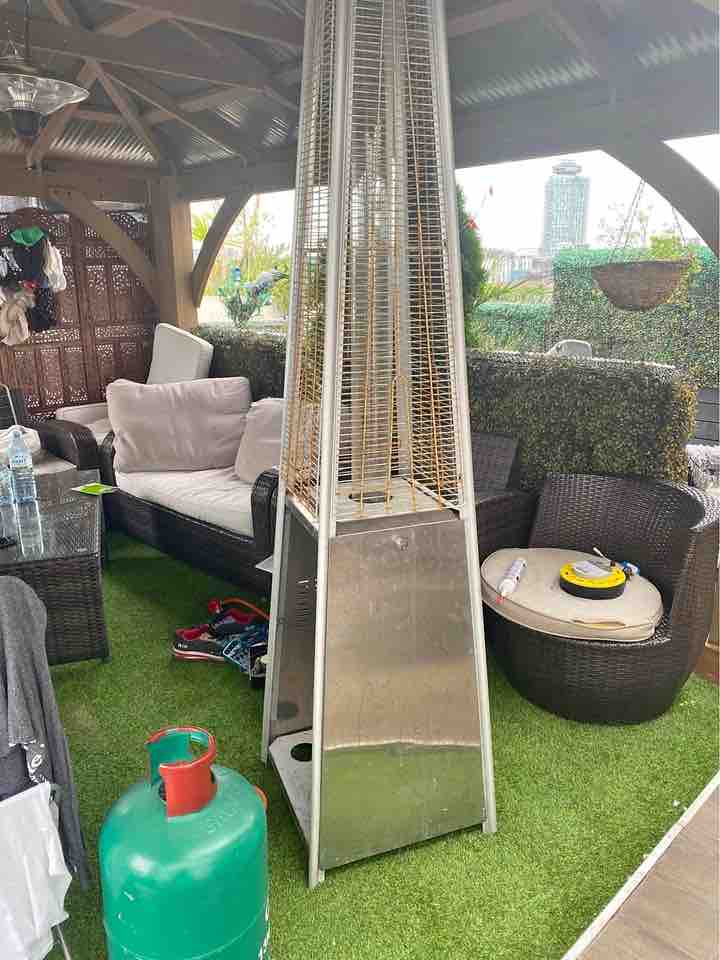 Portability
Something to consider carefully when buying a patio heater is where you'll actually put it? Down the end of the garden and no electrical power? Ok the conversation ends there – you're going to Propane or risk running a power lead long distance.
The other thing to consider is weight – some units are really easy to move like the table to Kingfisher, and this then applies to all electric units which are lightweight too – except the wall mounted of course!
Filling in all the gaps after researching the reviews!
While choosing an outdoor heater for a garden or patio you need to keep in mind the factors and options for prioritising a special kind of heater. Some of the most important factors and features you need to keep in mind while selecting the best outdoor heater are described below:
Mode and preferences of use
This is preferably the most important consideration to make when buying an outdoor heater. The shape and size of the area you are using like patio or garden, the situation you will use it in, the number of people who will be taking advantage of the heater is the factors that help you in choosing an outdoor heater that satisfies all your demands.
There are many heaters available in the market but you need to choose the one according to your needs and demands. Like if you and your friends usually sit close to one table or area when outside, a tabletop heater would be best. Similarly, if you spend time in closed areas that you want to keep heated, the electric outdoor heater will do the trick.
Price Range
Cost is an important factor to consider before choosing a heater. The cost of different heaters varies depending on the shape, size, type, and style of the heater you go with. Many tabletop heaters fall in the range of £50-£200. The floor standing heaters will cost more than $200 and can reach up to $1000 for the models that use natural gas. Hanging and wall mount heaters have a similarly broad range based upon their size, style, and power. You can find models for less than £100, but can easily pay more than £1000 for larger and more powerful heaters.
It's wise to search for a heater in your budget. The expensive models are nice and worth the splurge but if your needs and desires are simple then you don't need to spend more than what you basically require.
Output capacity
The output capacity/power of a heater is measured in British Thermal Units (BTU). The higher the BTU of the heater, the higher the amount of heat will be produced by it. Usually, when considering the output capacity of the heater we compare it to the desired area where it is to be used. It doesn't matter how much heat is produced if the area is too large for it or the weather is too cold outside.
The measuring units like BTU's and wattage can be useful in comparing different models but they cannot always have trusted. The manufacturers usually give us a clear image of how much heat is produced and how much space is covered in different climates and weather conditions.
So, make sure you know the maximum output/power of the patio heater so you can have a good idea whether it will work for your patio or not.
Built-in Safety systems
Everything we use has both its advantages and risks. In such case, a floor standing patio heater must be weighted properly or fixed to the floor to withstand windy conditions otherwise the risk of catching fire increases. If you live in an area with strong winds than you should take precautionary measures to avoid any mishaps and severe damages. Due to this high risk of catching fire, many heaters have an auto shutoff function in them.
The gas and wood heaters should always be kept in open spaces because in closed and covered spaces the risk of carbon monoxide buildup and fire hazard increases. In such cases, electric heaters are the most preferred choice as they tend to be safest but, you still need to be cautious about them.
Back garden fire pits involve an open fire so, you need to be extra cautious about them and make sure you wear gloves. The safety of patio heater depends on the user itself so you must read its manual carefully before assembling and using.
You should always put out the fire completely when you are done to decrease your safety risks. Moreover, it is good to go for the patio heaters that have built-in safety systems.
Weather conditions in your area
Climate is the most influential factor in selecting a heater. The weather conditions in your area help you determine what kind of heater you desire and how much heat you need from it. If your area is prone to drizzling, a lower power patio heater won't be of much use. If you often experience high-powered winds, then a floor standing patio heater is hard to keep uptight. In this case, wall-mounted patio heaters will work better.
Before buying a heater consider what the weather usually looks like during the times of year that you will most want to use heater and then buy according to your needs and requirements.
Décor and environment
Many people are usually happy with their plain and simple heaters while others want to add an aesthetic look to their patio or garden. Most floor standing models fall in the functional category but many are designed specially to give an aesthetic look to the outdoor area. Many people go for patio heaters that have an open flame option to add more to the ambiance, décor, and environment.
If you consider appearance and atmosphere as an important factor then you should take some time to browse and see your options that will fit perfectly with your outdoor space.
Convenience
Many patio heaters are extremely easy to use from the moment you buy them to as long as you have them. Some of them require proper work and maintenance efforts to keep them running efficiently. Mostly, it is very easy to ignite patio heaters but in case of no piezo or push-button ignition, you might need to make a little effort to ignite it up. Some models also require more professional handling for assembly and installation than others so you need to have some professional assistance to get it assembled and installed.
Electric patio heaters are the easiest to use as you only have to plug them in. Natural gas patio heaters need to be hooked up once and they are ready to use without any extra effort. Other patio heaters such as the ones that operate on propane, LPG gas, butane or any other fuel need to be refilled after every short while.
---