Written by Terry Smith
Our site is reader supported so when you click a link to Amazon we may earn an affiliate commission.
Best teak oil [UK]: Ronseal, Cuprinol, and Bartoline teak oil reviewed and compared
This article was last updated on November 10th, 2021 at 2:32 am
There's some cracking teak oil these days. It doesn't matter wether you want to spruce up and protect garden furniture or oil the deck on your boat, in this review I have you covered. Not only that, I run through how to use teak oil properly – so often results are underwhelming and the teak oil blamed, but my experience is almost always the preparation is the problem. Take these scaffold boards for example that are turned into a garden table and look super: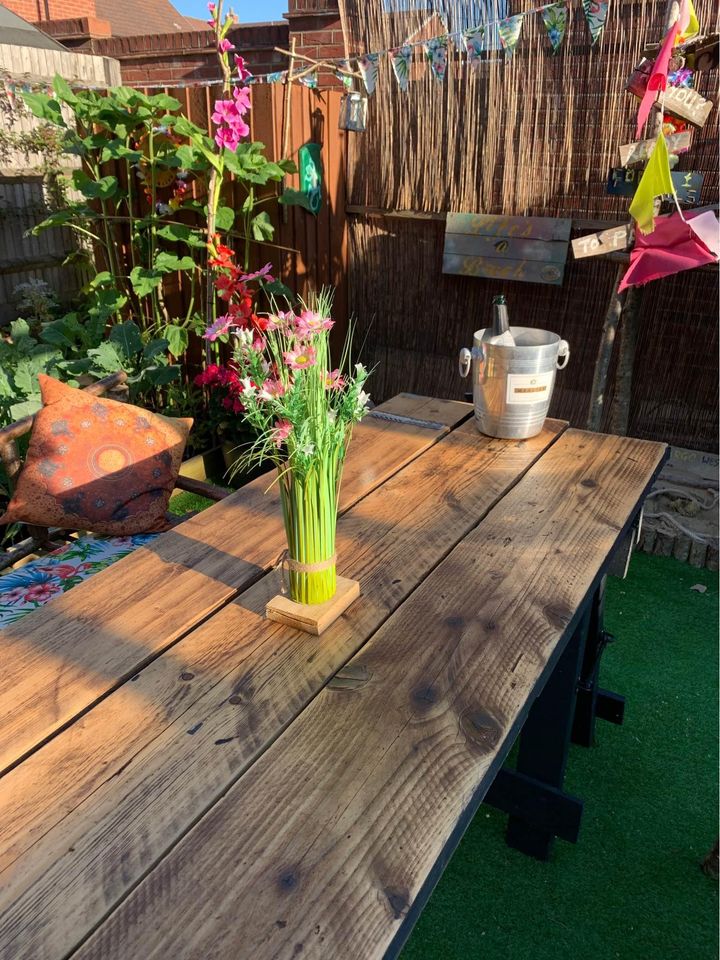 There's nothing to stop you replicating this effect with my top picks for the best teak oil 🙂
My picks for the best teak oil in the UK:
Best teak oil overall: Cuprinol Naturally Enhancing Teak Oil
Best teak oil for garden furniture: Cuprinol Naturally Enhancing Teak Oil
Best alternative teak oil: Bartoline Teak Oil
Best value teak oil: Ronseal TO1L 1L Teak Oil – definitely my choice if Cuprinol unavailable
Best marine grade quality you can use on garden furniture too: Cura Lignum teak oil
Best furniture teak oil: Furniture Clinic Teak Oil (250 ml)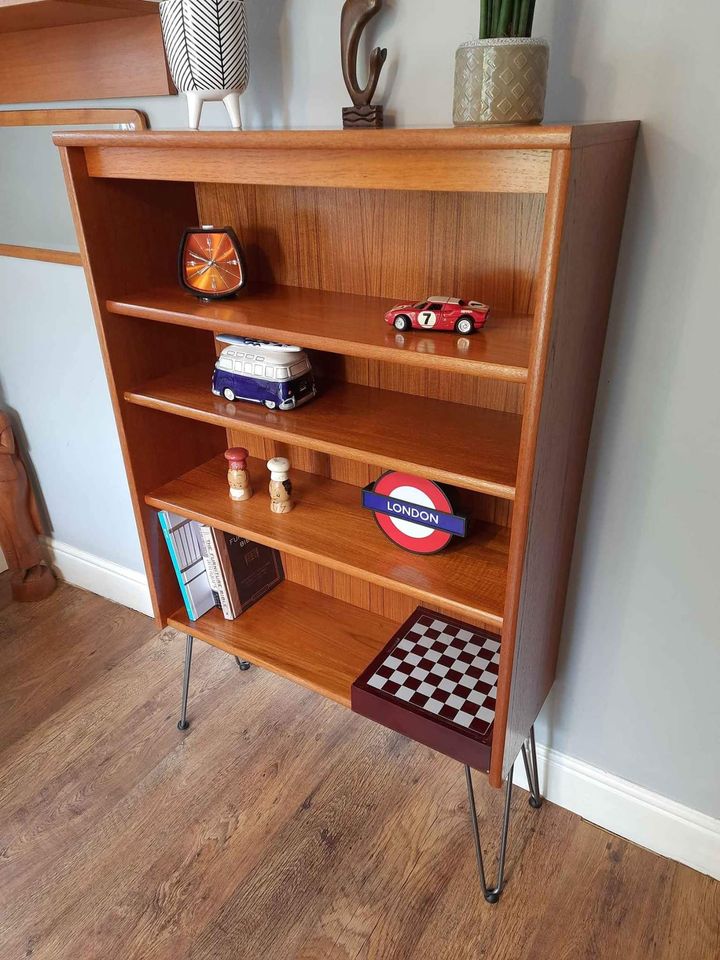 What to consider when buying teak oil and how to use it?
Firstly you've got to consider protection. After that you'll probably be thinking aesthetics. If you go for a teak oil that doesn't absorb well but looks great, obviously you'll be in for short lived happiness. So in this review I try to look at aesthetics but lean more toward product with proven longevity. But here's a solid run down of how to apply teak oil as well as the preparation to give a professional result every time:
The difference between Teak Oil and Danish Oil
How to apply leak oil
How to clean teak furniture before oiling?
How to apply teak oil to outdoor garden furniture?
How to apply leak oil 
As is always the case, it is important to make sure that the surface you will be treated is free of any dust and debris… unless you want a grainy look. 

Remove any existing finish from the surface before you apply teak oil. Using chemical solvents or strippers can help with this. Sand the surface afterwards.  

Use a piece of lint-free cloth to generously apply the oil over the surface. Make sure you wipe it with parallel strokes once you've let it dry. 

Allow at least 30 minutes before applying a second coat. Apply using the same strokes. Let it dry for approximately 15 minutes and wipe the surface using a piece of cloth. Leave it for about 10 hours. 
How to clean teak furniture before oiling? 
You may have teak furniture that you've had in storage for many, many years, and you look at it to ask yourself why it hasn't rotted or decayed. Luckily, Teak furniture won't rot or decay. Although, you may have noticed some white or green specs… that's mould and mildew, which isn't the most attractive. You will want to get rid of this before you pull your furniture out ready for your summer BBQ. To remove the mildew, you need to know how to clean it properly – unfortunately, it isn't as easy as slapping a wet cloth over the top and giving it a quick 5 minute wipe.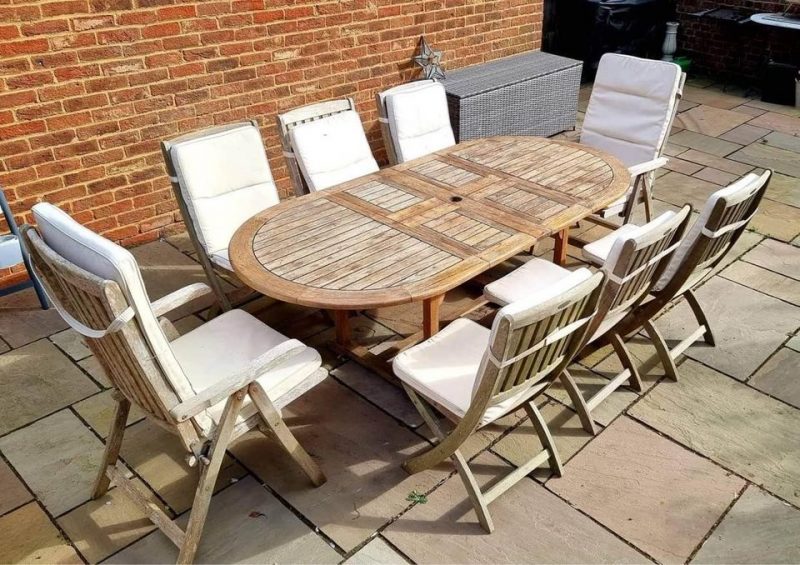 Here are the cleaning process steps: 
Gather the materials you need to perform the cleaning process. A bucket, a soft brush, one cup of bleach, dish detergent and one gallon of water.

Prepare the space where you will be cleaning. Ensure all other objects are out of the way. Place the furniture in a well ventilated area.

Spray your furniture down with a light mist of water from the garden hose. Don't use an aggressive spray setting. Keep it light and simple. 

Apply a teak cleaning solution to the furniture and scrub it gently with a soft brush. Alternatively, you can make your solution by mixing 1 cup of bleach, 1 gallon of water, and 1/4 cup of dish detergent. It might be better to use your cleaning solution because the commercial teak cleaners from the store contain a lot of added chemicals. Be mindful that these chemicals could potentially damage the teakwood of your furniture. Commercial teak cleaners do a better job of removing residue that is caught deep inside the pores of the wood.

After scrubbing the furniture, ensure to leave it for approximately15 minutes. Take your hose and rinse the furniture for a second time with a mist of water. Make sure all the residue is washed off. 

Let your furniture dry off completely and place it in an area of your garden where the sun can catch it. The sun will ensure that mould and mildew don't formate.
How to apply teak oil to outdoor garden furniture? 
There is a process that must be followed when applying teak oil to outdoor garden furniture.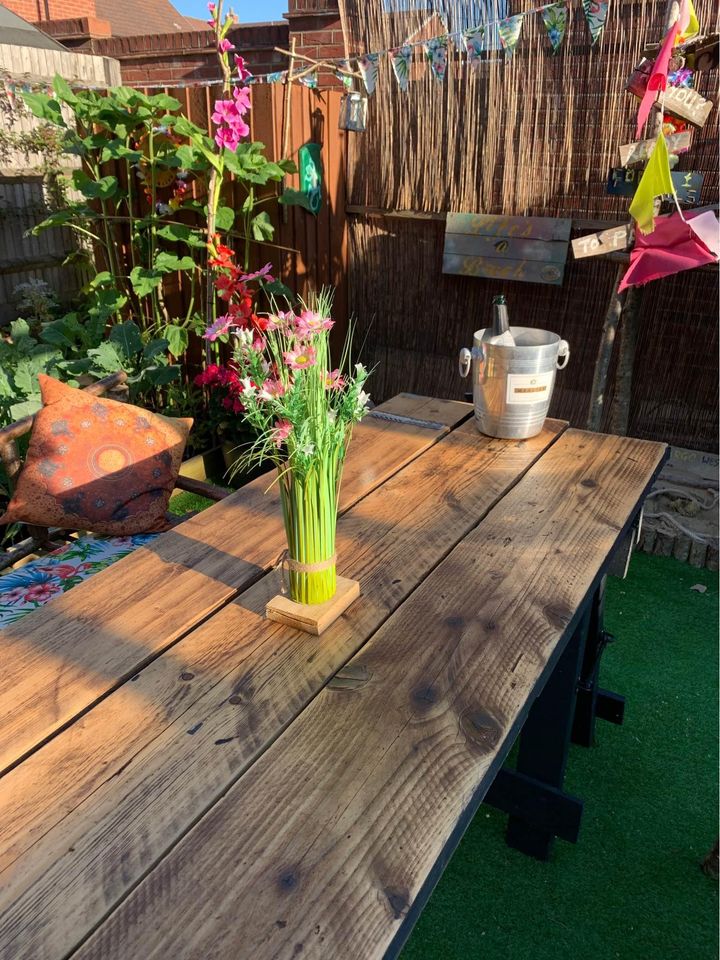 Grab your materials that will be needed. These materials include a bristle brush, lint-free clean cloth, teak oil solution, and sandpaper. Consider looking for specific teak oil products that content UV and mildew resistance.
Rinse off your furniture with a garden hose. Do not use too much water pressure. Let it dry off. 

Using the sandpaper, remove any previous finishing treatments.

Using the bristle brush, apply the teak oil coat to the furniture. You can also use the cloth as an additional application device.

Grab another lint-free clean cloth and remove the excess teak oil once it's been applied, if you use something like the Cuprinol or Bartoline they will leave streaks!

Leave the furniture to dry for two hours. This is usually how long it takes for the drying process to complete.

Repeat the teak oil application. It might be a case of applying up to four coats of the oil before the wood stops absorbing the oil.

You'll probably have to repeat this whole process every 2-3 months. That is about how long it can take for the discolouration to start up again. 
Hopefully our guide has provided you with plenty of useful information to help you choose the best teak oil for garden furniture. Ask a hardware store or check reviews if you're in doubt and you'll be sprucing up wood like this in no time:
Fancy buying yourself some wooden furniture for your garden? It looks great and provides enough comfort. However, if you don't look after it, within a couple of years, it can lose its natural colour due to weathering and UV exposure. You might like the silver/grey look that the furniture will provide, or maybe you don't. Regardless, the good news is that your garden furniture can be easily preserved, maintained, and restored with the right garden furniture oil.
It goes without saying that the furniture more or less relies on how you handle it. Don't overdo it but ensure that the same is not underdone as well. To help you out with the process, we are going to be sharing some of the best teak oil products that you can take a peek into.
The difference between Teak Oil and Danish Oil 
The difference between teak oil and danish oil is mainly the finish. If you prefer a slight sheen, the teak oil is for you. Danish oil will leave a more lustrous finish. You can use teak oil inside and outside wooden furniture and also provides a protective coating to stop any UV ray damage. An added bonus is that teak oil is waterproof, so when you see rain flooding down, you can sit back and relax. 
---