Garden Tool Box » UK's best garden sand pits for children aged 2 to 11: Little Tikes, Chad Valley, KidKraft
Written by Terry Smith
Our site is reader supported so when you click a link to Amazon we may earn an affiliate commission.
UK's best garden sand pits for children aged 2 to 11: Little Tikes, Chad Valley, KidKraft
This article was last updated on April 23rd, 2022 at 6:44 am
Who doesn't remember playing in a sand pit when they were young? I can still clearly recall the shape and colour of the one from my early primary school days, and that was longer ago than I care to admit. In fact, I remember that we had to do different activities each afternoon and was always over the moon on the days we got picked to play in the sand pit. So that's exactly what I thought best when I bought my Niece their first sandpit, and I have to say they really got some good use out of it. I didn't go for the most expensive, I wen't for the best and most robust, stuff always gets wrecked in the garden with kids, but with that said I still think the one we personally bought and used is the best sand pit for toddlers: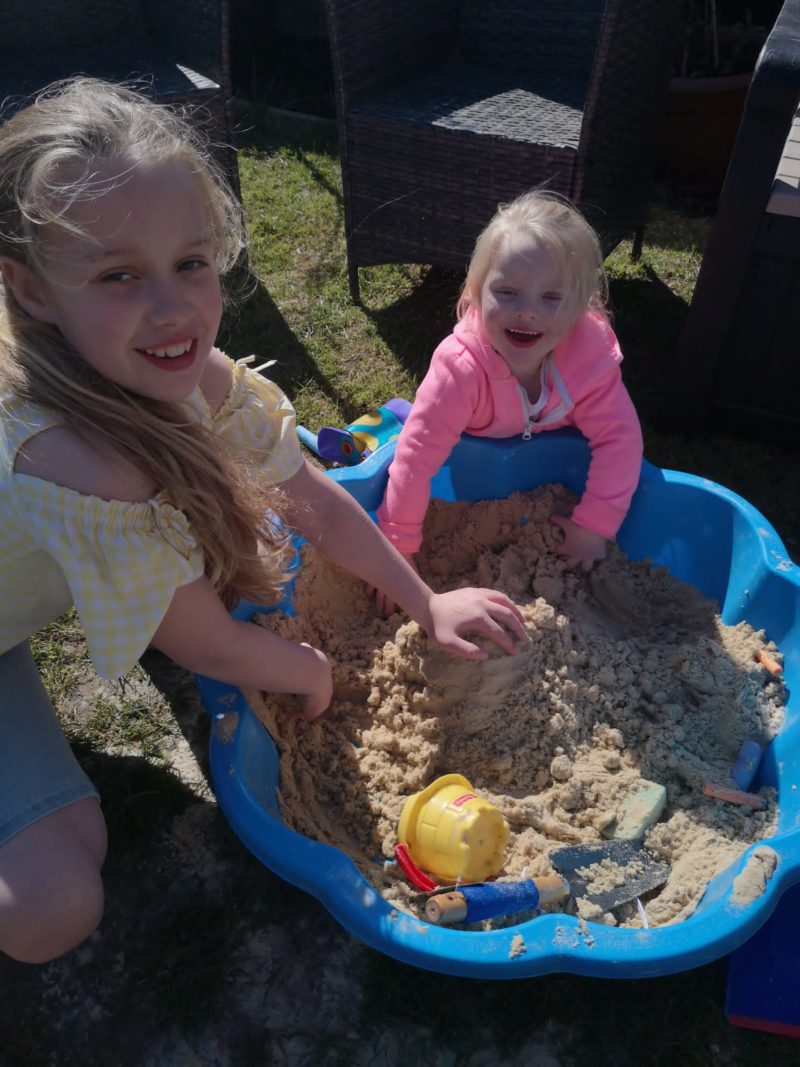 TOP TIP: From years of being a father, watching the kids with a sand pit has been a pleasure. However, in the heat ofthe day they don't want to come in so be sure to have suncream on hand or a shade sail for cover or their skin will burn. I know from personal experience.
As you can see they absolutely love it but there are a few pitfalls. I'd highly recommend a read on my things to consider before buying a garden sand pit section. From cats to covers to burnt skin to broken sand pits I have run through what you can expect in your time owning a sand pit – I know all too well from experience both the positives and the negatives! So let's take a look at the best sand pits overview:
Best sand pit – my personal picks from testing with my niece:
Best overall: Chad Valley Sand Pit – can be used as a paddling pool too ideal for 1 to 6 year olds. [personally tested and proven]
Alternative to the top pick: Little Tikes Turtle Sandbox – Nice choice if you want a cover to keep cats out and great for toddlers [personally tested and proven]
Best sand pit raised off the ground: Step2 Naturally Playful Sand Table – ideal if you want a raised platform
Dino Sand Kit 3lbs Dinosaur Motion Sand With Sandbox Moulds Tools Creative Toys for Boys Girls Ages 3+ Amazing for kids aged 3 to 11 and especially kids into dinosaurs and fossils. An absolute dream! [personally tested and proven]
Best sand pit with a sun cover: Gaspo 310016 – wooden sandbox Mickey 140 x 140 cm with a roof that can be lowered roof/crank roof – Good choice if you want some sun cover – saves the need for a shade sail.
Best of the best sand pits: KidKraft 128 Pirate Sandboat Wooden Outdoor Garden Sandbox for Children – if you can afford it the kids will absolutely love it.
Budget pick: Kenlaimi Construction Moving Sand Kit Play Sand for Kids – Construction Vehicle Playset – currently unavailable but if you're willing to wait this is a steal
Other options worth considering:
Sand and Water Fold-away Play Table
If you're looking to make the garden more kid friendly, a nice sandbox accompany a playhouse, climbing frame, garden swimming pool, and a slide brilliantly.
Best garden sand pit
By having the best sand pit in your garden, you're essentially bringing the beach to you kids right there at home. They can get creative and build sand castles, or just enjoy making a mess! 
Playing in sand pits helps young children develop motor and social skills in a really fun way. They are low maintenance (apart from topping up the sand) and kids never seem to get bored with them.
There are all kinds of different sand pits these days, from small table top sand pits, to large models, complete with their own theme and able to accommodate multiple kids playing inside at the same time.
In this article we take a closer look at a number of the most popular sand pits in the UK to find out which are the best among them. We have tried to review a fairly large selection of them so there is something for everyone's tastes and budget.
Things to consider before buying a garden sand pit – best guide
On the lookout for the best sand pit for your kids? The most important thing to remember is a bucket and spade to build sand castles: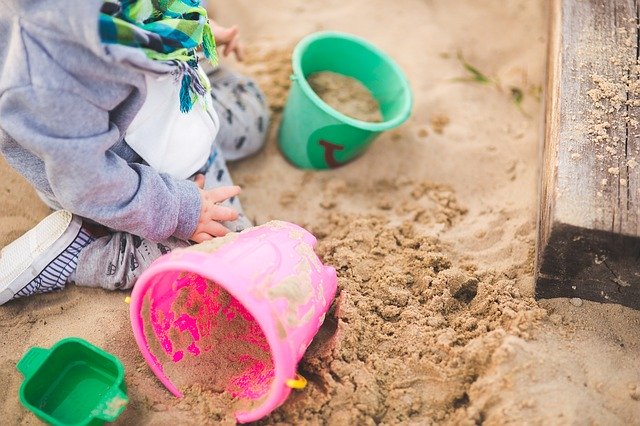 Well, here are a few things to keep in mind when searching through the vast number of models available:
Size and shape
There are hundreds of different sand pits out there, each with their own dimensions and shapes. The first thing you need to know, is how much space can you spare in your garden for your sand pit? Buying a huge one if you've only git a small garden is not a good idea.
Likewise, you don't want a tiny and pit if you intend to let multiple children play in there at the same time.
If you are buying a sand pit for a toddler, you need to be aware of the shape of the sand pit too. Does it have sharp edges and corners or rounded ones? Are the sides high enough to keep the child from falling out? These and many other questions should be contemplated before buying.
Weather protection
If your child is going to be playing outside in the sand pit for long periods of time, you will need to make sure there is some kind of shade available. Whether that is from an independent source like a tree or whether you want to buy a sand pit with a canopy is completely up to you, but it is something to keep in mind.
Also, to stop rain getting in the sand pit, you should either choose a model with a good cover that can be fixed down, or invest in a separate waterproof cover.
Material
Durability is always high on the agenda when I'm looking for any kind of product, and sand pits are no different.
Wooden sand pits can last for years of the wood is good quality, and you take care of it with a little maintenance every now and then. Just a coat of wood stain or something similar will do, and it will prolong the life of the sand pit for quite a long time.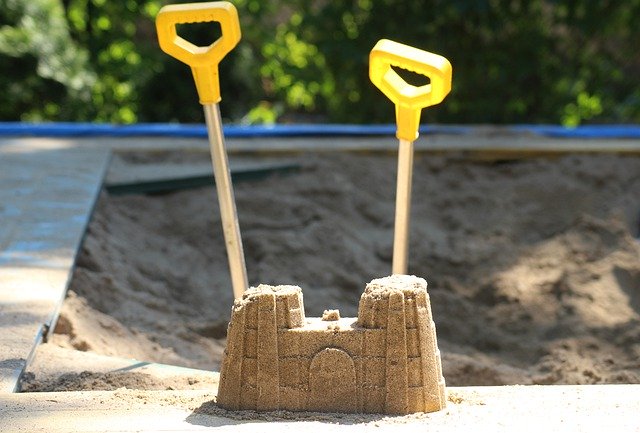 Plastic sand pits tend to be cheaper, and also not as durable, but there are some that are constructed out of high grade plastics like polyethylene which are very strong and sturdy. Cheap plastic products are usually not that great though and the thin plastic used can break easily. Then again, the same can be said for cheap wood which can splinter and hurt your child and that's why it's always best to pay a little extra for your kid's sand pit.
---