Written by Terry Smith
Our site is reader supported so when you click a link to Amazon we may earn an affiliate commission.
Best petrol strimmers [UK]: top heavy duty professional 2 and 4 stroke petrol strimmers compared
This article was last updated on August 21st, 2021 at 2:58 am
Some people ask 'which is better, a mower or a strimmer?'
Well, the answer I always give is: you need both, as they complement each other so well. Lawnmowers do the things that strimmers aren't really suited for and vice versa.
Just try cutting a medium-sized lawn of long grass with a strummer and you'll soon realise you're fighting a losing battle. Likewise, try trimming off perfect edges or along pathways with your lawnmower, not an easy task to say the least.
To sum it up, you need a lawnmower for doing the brunt of the heavy work and a strimmer for tidying and polishing the final look of your lawn.
Strimmers come in various shapes and sizes and have a pretty wide price range, but there are only two main categories – petrol and electric powered garden strimmers. In this article, I'll be reviewing the best petrol strimmers out there on the UK market at this time for a selection of budgets.
What is a petrol strimmer?
Although at first glance, they could be confused with a brush cutter or even a garden multi-tool, petrol strimmers are less heavy-duty than those more powerful than electric strimmers or cordless strimmers. and are only really suited to getting that perfect edge on your lawn. Petrol strimmers are best suited for those of you who have large lawns or long garden paths to keep neat and tidy but are a bit overkill if you only have a small or average-sized garden. For most people, an electric strimmer or cordless strimmer will be more than enough.
Another thing to be aware of is that no matter how powerful a petrol strimmer may be, it can not be compared to a lawnmower for pure cutting prowess, and should not be used in place of one.
What fuel does a petrol strimmer use?
The vast majority of petrol strimmers are fitted with two-stroke engines. These engines are not the same as what you find in your car, and you can't just pour unleaded petrol into them without it being mixed with semi-synthetic 2-stroke oil first. The ratio for this mix will differ slightly from product to product, but it should be clearly presented to you in the instructions that come with each strimmer.
It is rare, but there are some 4-stroke petrol strimmers out there. When compared to 2-stroke engines, they produce far fewer emissions and run much quieter. They do tend to be heavier and more expensive though.
Best petrol strimmers: Our top picks
Comparison table: Best petrol strimmers [UK]: top heavy duty professional 2 and 4 stroke petrol strimmers compared

Product
What We Think
Price
There's plenty to like about Stanley STR 750A perol strimmer. It's lightweight and has excellent balance, and this allows even smaller framed people to use it for extended periods. The engine is one of the most fuel-efficient out there, and also a really good starter as long as you follow the steps correctly. Again, instruction are what lets the product down somewhat, but it is still a very good product.

TRUESHOPPING® 33CC PROFESSIONAL PETROL GRASS TRIMMER BRUSHCUTTER

With a choice of engine sizes to choose from the True Shopping petrol strimmer gives you the choice for the work you need to do. And a good-sized fuel tank, not to mention a low price tag and a free brushcutter attachment, it is easy to see why this is a best selling petrol strimmer. Built to be hard-wearing and durable, this tool excels in many areas, and if you don't mind a bit of smoke and vibration, it is a very good deal.
The Parker Brand petrol strimmer offers its buyers excellent value for money with its extremely powerful 52cc engine, capable of 2.2kw, and 7500rpm. Apart from some poor instructions, and less than great assembly tools, this tool is a winner, with an overall robustness that is surprising considering the price, and a performance to match.

McCulloch TrimMac Grass Trimmer

For the price, the Mculloch Trimmac strimmer is hard to beat. Combining a smooth and fuel-efficient engine with excellent build quality, this is a popular choice and has made many customers very happy. Its lightweight design and lack of vibration make it one of the best petrol strimmers to use for long gardening sessions, and despite being a little noisier than some of its competitors, it is still an excellent product.

Stihl FS 55 R 27.2cc Petrol Brush Cutter/Strimmer

Stihl have delivered once again with their Stihl FS 55 petrol strimmer. If reliability and longevity are at the top of your list of requirements when buying a petrol strimmer, then look no further. Although one of the more expensive products featured here today, there is a reason why Stihl is the brand of choice for those in the know, and I personally think that it's worth paying a little more to find out why that is.
The only other strimmer from our list that we can compare with the Stihl product, the Makita EBH252U petrol strimmer is simply outstanding and miles better if you have the money. Top-drawer build quality, a quiet and efficient four-stroke engine, and enough power to handle any home-based tasks. With the ability to double up as a brush cutter, the only thing that I can see holding people back from buying is the high price. Still, if you have the money, I would definitely recommend buying this excellent piece of machinery.
Specification: Warranty: yes (2 years), 2 or 4 stroke: 2 stroke, Engine power: 0.6 kW, Weight: 3.9 kg
For sale on Amazon, is this petrol strimmer from well-known brand McCulloch. Included in this bundle are the strimmer itself, some fog and scratch-resistant safety glasses, a bottle of low smoke 2 stroke engine oil, and a universal mixing bottle for mixing your fuel.
The engine running the McCulloch petrol strimmer is a super-smooth running 25cc, 2 stroke block that has a purge button you press to pump fuel directly into the carburettor, and this makes the strimmer easier to start with fewer pulls on the cord required. This purge button is very easy to see and access as it is on the side of the engine, just where you need it.
McCulloch has taken into consideration the fact that petrol strimmers shake a fair bit when operating at high revs, and have installed an anti-vibration system that sits just under the engine, a nice touch and to be expected of a higher quality piece of kit. This is one of the better anti-vibration features that I've seen, and when compared to most of the trimmers I've had in the past, there was a significant reduction in shaking.
Other handy features that Mculloch has seen to adding are that you can access the air filter without the need of tools, and made the fuel tank transparent so you know when it's getting close to the time to fill up. Thankfully, with it's excellent fuel consumption, those refills are few and far between.
The shaft can be split in half for ease of transport and storage and the design of the adjustable handle is one that is very compact and space-saving. Instead of bike style handlebars, or large cow horns, McCulloch has opted for a small, triangular-shaped loop handle and it is padded and comfortable.
The shaft itself is curved so you get a good cutting angle while remaining well positioned, and it's good on the back; something I was very appreciative of.
The nylon cutting wire works well and has a tap and go line feed head to keep your grass trimming session as uninterrupted as possible. Again, this functions as it should and without issue, and renewing the strimmer line won't have you tearing your hair out in frustration.
The reason such a small handle works for this particular petrol strimmer, and also why the lack of a shoulder harness isn't really an issue, is that it is very light, weighing only 3.9kg. That's less than half the weight of most of our other reviewed products but also much less power, so if you are looking for an industrial level strimmer, it might not be for you. For the vast majority of homeowners though, it is more than enough.
You will need to do some assembly to get this petrol strimmer set up but it is very easy and the instructions are fine. However, this product isn't without its faults. For a start, it is a little noisy while in operation and kicks out 112 decibels so you're going to need some good ear defenders. This isn't excessively loud when compared to the average petrol strimmer, but it isn't the quietest product out there either.
Another thing is that this is a strimmer only, and can't be used with any attachments such as a brush cutter and this limits its practicality somewhat compared to some of its competitors. Then again, sometimes, when a tool is designed for a single purpose, it actually performs better, and I think that's the case here, as the Mculloch is a cracking bit of kit.
2. ParkerBrand 52cc Petrol Garden Brush Cutter Grass Trimmer
Specification: Warranty: yes (1 year), 2 or 4 stroke: 2 stroke, Engine power: 2.2 kW, Weight: 10.7 kg
Our second petrol strimmer comes to us from Parkerbrand and costs a very reasonable £115.49. This model is a best seller online and has been getting positive feedback from customers and is priced lower than some second-hand petrol grass strimmers out there.
A 52cc, 2 stroke engine powers this petrol strimmer and it is capable of 2.2kw at 7500rpm and you would have to say in engine terms better value when compared to the TRUESHOPPING strimmer as it's the same price for a bigger engine. For the layman, it has plenty of power, more than enough to cut through the densest of vegetation.
There was some confusion with the fuel mix, as the sticker on the engine suggests 1:40 but the one on the fuel tank says 1:25. I checked online and someone had got in touch with the company and they confirmed it is 1:25. A little annoying but not a big deal and about the only thing I could point out in terms of being picky. I would also point out, even if you ran it on 1:40 you wouldn't have seized the engine, it's just that 1:25 is optimum.
The 2 stroke engine is easy to start, powerful and not too noisy, it hardly ever gets bogged down because of the power. The build quality of this petrol strimmer / brush cutter is surprisingly good for something priced so low. Everything feels strong and well-made and should last a while as long as it is not abused.
The Parkerbrand petrol strimmer comes with its own harness, it is padded, and of decent quality, like the strimmer itself but I think the design is a little overcomplicated for no apparent reason. Again though, I'm trying to find fault with this piece of kit for fairness sake. The split shaft design of the strimmer frame gives you two long handlebars to hold onto and helps you to control the 10+kg weight of the product.
This product comes with two different attachments – a spool fed grass trimmer and a more heavy-duty brush cutter attachment. When it comes to the grass strimmer, I would recommend that you buy a few extra spools as you can get through them quite quickly and this goes for all spool fed strimmers. Not to worry though, they are only cheap and easy to replace.
Assembly is straight forward enough, but again, the instructions could have been a bit better. I think it's very straightforward so they half expect you to know what to do. I'd suggest looking for videos and such online to help if you're not sure, there are plenty of instructions online, it is honestly pretty easy to sort out.
The tools provided could use work, but this is true for the vast majority of assembly tools that come with these strimmers.
Thankfully, decent tools are cheap and easy to find these days and if you're going to own a petrol strimmer, you should have your own set of spanners anyway for tightening nuts and such from time to time.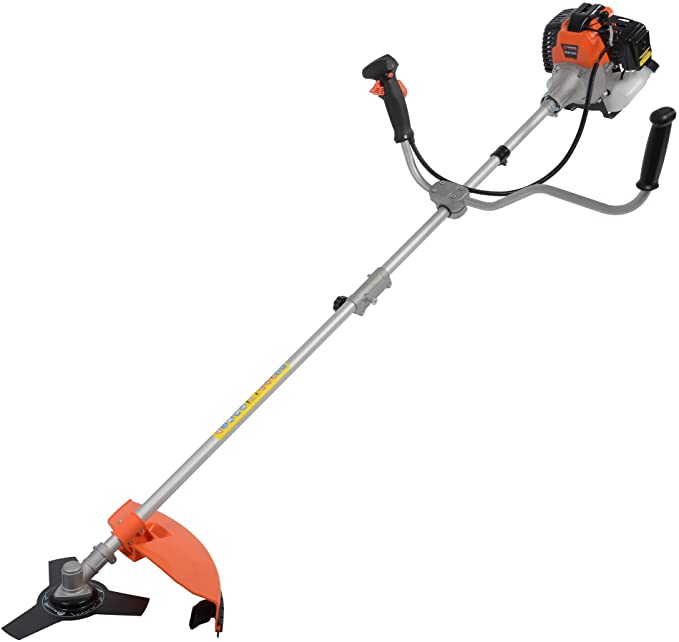 3. Stihl FS55 Petrol strimmer
Specification: Warranty: yes (1 year), 2 or 4 stroke: 2 stroke, Engine power: 0.75 kW, Weight: 4.9 kg
Stihl is a common choice of petrol strimmer for professional gardeners. Chosen for their superb reliability, and outstanding build quality, they are the products to go for if you don't mind spending the money.
The Stihl FS55 is an entry-level model, but don't let that fool not thinking that this product isn't top-class, as when compared to most other petrol trimmers out there, this one comes out on top.
I've personally owned a few Stihl products over the years, and one thing that has always stood out for me is how easy their petrol tools start, and I was happy to see that this trend is continuing in the FS55. Unlike some, where you have to yank the cord quite hard multiple times, the FS55 only required a couple of smooth pulls and the 27.2cc engine burst into life.
Although not the largest displacement engine available, the excellent engineering incorporated into it sees that it still kicks out 1HP, and that there are no power lags, even when cutting through the thickest of overgrown lawn edges. What's more, it does this while remaining quiet when compared to some of the cheaper petrol strimmers out there.
There is some weight to the Stihl, but it isn't what I would consider heavy for this kind of product, and I take a little bit of weight as a good sign of solidness and quality. When in the harness, you hardly notice the weight anyway, and the tool always feels well-balanced and easy to manoeuvre.
Vibration levels are low on the Stihl, and I think this is due n large part to the high-quality materials used in its construction, coupled with some top-notch engineering. Everything on this product just lets you know that it is part of something better than the average, and I have to admit that it's a nice feeling.
Assembly is cut down to a minimum with this petrol strimmer, and it'll only take the average person 5 minutes to get it up and in working order. Then all you need to do is mix the fuel and oil, give the purger button a press, and then a quick pull or two of the starter cord will have you slicing through weeds and long grass like a hot knife through butter.
This petrol strimmer can also be used as a brush cutter for more heavy-duty tasks, however, you will have to buy the attachment separately. We did so and put it to the test, and once again, we weren't disappointed. This is a truly excellent product, and one well worthy of the proud Stihl name attached to it.
4. Makita EBH252U 24.5cc Brush Cutter
Specification: Warranty: yes (1 year), 2 or 4 stroke: 4 stroke, Engine power: 1 HP, Weight: 10.3 kg
Makita have made themselves a very good name over the years by bringing us hard-wearing, functional tools. For £287.99 you can get this strimmer / brush cutter and know you're in good hands. Let's start by saying this, like the Stihl, feels like a full-on commercial grade petrol strimmer and is a cut above the rest.
The main difference between this particular petrol strimmer and all our previous reviews on this page is the engine. All the other strimmers we have looked at so far have had 2 stroke engines. These engines are good for producing power out of smaller displacement, but they are also generally a bit noisy, smokey, and you need to mix the fuel with the oil correctly.
With their EBH252U model, Makita has chosen to go with a 1 horsepower, 24.5cc 4 stroke engine instead. This engine is quieter than 2 stroke types and the clean exhaust system makes sure minimal emissions are released. Being one of only a few 4 stroke petrol strimmers for sale in the UK at the moment, it's a league above most of what we've reviewed in terms of quality and although costing much more money, I can't help but think it's still extremely good value.
The engine has automatic decompression to make starting it easier and there is also a primer pump for cold starts as you would expect from Makita, a top maker of petrol strimmers. What's more, the reliability of the engine starting up is only comparable to the excellent Stihl product.
There is no need to mix your fuel with oil, you can simply use ordinary unleaded petrol. The fuel tank has a large opening for easier refuelling and it is translucent so you can see when it's topping up time. Fuel capacity is half a litre and overall fuel consumption is miles better than a 2 stroke if you can afford it.
This Makita petrol strimmer is controlled by large cow horn style handlebars that have soft rubberised grips for comfort when using it for longer periods. It is fairly lightweight considering it's a 4 stroke, tipping the scale at around 10kg when fitted with the brush cutter blade, harness and a full tank of petrol.
The harness that comes with this petrol garden strimmer is a high quality, double shoulder straps type, is very comfortable and even has a stomach pad. The harness does a great job of distributing the weight out evenly and makes the 10kg feel considerably lighter than it is. A beautifully balanced piece of machinery.
The bump feed nylon wire strimmer head and metal blade brush cutter can be changed over easily and share a universal guard. The cutting widths for these heads are 40cm for the strimmer and 23cm for the brush cutter. I have to say the nylon wire head doesn't seem to have been built to the same standard as the rest of the product and the plastic didn't feel as though it would last that long but I think that's just down to the sheer power of the engine obliterating the plastic line( as well as the grass and brush in its way 🙂 ). I hardly feel it's fair to call that a fault!
The Makita comes with 2 hex wrenches and a socket wrench to help you get this garden strimmer up and running and there is also a free accessories bag in the box. They haven't missed a trick here at all
Specification: Warranty: yes (1 year), 2 or 4 stroke: 2 stroke, Engine power: 0.9 KW / 1.2 HP, Weight: 7 kg
Our next review is of this 33cc petrol strimmer from True Shopping that is also available with less or more powerful engines ranging from 26cc to 52cc. This 33cc version is for sale for £103.99 with free UK delivery.
The 33cc motor is a single-cylinder, air cooling, 2 stroke engine that is started via a recoil system and produces 1.2 HP. This power makes clearing out tough weeds a piece of cake as you would expect from a petrol strimmer.
The motor does have to be primed by pressing the bulb under the carburettor which is pretty normal for all petrol strimmers. You will also need the choke which is a simple lever on the back of it, but if these steps are followed this petrol strimmer starts up well. This is pretty standard for any two-stroke engine, not just petrol strimmers.
Being a 2 stroke engine there is some smoke emission to be expected, especially when at full throttle but it clears a fair bit once you've been at power for a while, and a little noise but that's to be expected too.
The strimming is done by a twin line, nylon cutter and for the brush cutter a 3 toothed metal cutting blade that makes light work of anything you want to trim, even with grass as long as 40cm and brambles so it's up to the task.
This is a petrol strimmer so of course, that means there is some vibration when you are cutting, however, it isn't too bad and when operating at lower speeds the level of vibration is lessened. This is to be expected from such a powerful engine, if you think about it, it's not far off a small twist and go scooter in terms of power!
The materials used in this petrol strimmer's construction aren't up to what you'd find on a Stihl strimmer, but they are still good quality and a fraction of the price. The frame is a rust-proof alloy and heavy-duty plastic; it looks and feels robust and hard-wearing.
As with most things, this robustness comes at a price and the price is an increase in weight when compared to plastic only models. Don't let that put you off, it's light enough for almost all to handle. With a bit of adjustment, the harness that comes with the strimmer helps to make the machine feel lighter than its 9.15kg. The handlebar design helps to keep the weight load spread out evenly too.
The fuel tank has a capacity of 0.8 litres, which should last a lot longer than any cordless electrical strimmer, and the two-stroke oil to petrol mixing ratio is 1:25.
There is some assembly required such as fitting the handlebars and safety guard on, but the tools to do the job are provided and it's fairly straightforward, which is a good thing as the pictures in the instruction manual were a bit small and hard to work out. Having said that, there is a PDF version online that is much clearer and it's not complicated at all.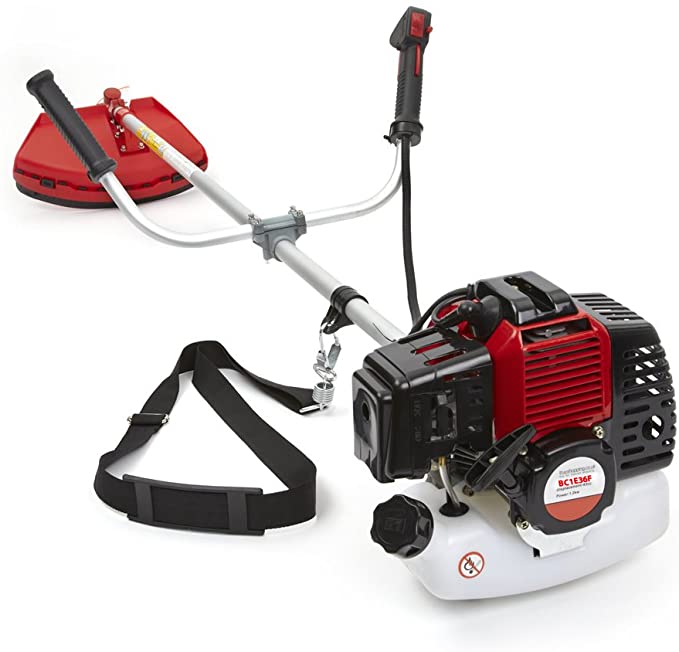 6. BU-KO 2019 52cc Long Reach Petrol Multi Functional Garden Tool
Specification: Warranty: yes (1 year), 2 or 4 stroke: 2 stroke, Engine power: 3 HP, Weight: 18.2 kg
This petrol strimmer multi-tool is for sale for just . This is more than a strimmer; it is a 5 in 1 multi-functional garden tool so if you're willing to spend a few extra quid you're going to get the whole garden kit! The five functions are: Strimmer, brush cutter, hedge trimmer, pruner, and chainsaw and all the attachments all fit easily and can be changed without too much fuss.
The strimmer is a standard dual-line nylon cutting system but this can be interchanged with either a metal 3T brush cutting blade or a 40T blade. The long reach hedge trimmer blade is double-edged and made from hardened steel that'll make light work of your hedge tops. The chainsaw/pruning saw blade is 25cm long and has an automatic adjustable oiler for lubricating the chain. The chain is easily adjusted via a single screw and lock nut. There is also a handy extension pole included in the package and that will give you an extra 105cm of reach when you need it.
The box contains safety equipment such as ear defenders, safety glasses and gloves. A double shoulder safety harness to share the burden of the weight of the product completes the package. The harness works fine with the strimmer/brush cutter, but when I was using the hedge trimmer it kept catching on things. This could be solved by buying a separate universal harness though and it didn't put me off this nice multi-tool.
The engine that powers the BU-KO petrol strimmer / multi-tool is a meaty 52cc, 2 stroke machine that starts easily and produces 3 HP. This should see you have no problems with any of the tasks that you wish to use the multi-tool for, be it cutting, pruning or hedge trimming. The fuel tank has a capacity of 1200ml.
Assembly wasn't the easiest, the instructions forget to mention removing a rubber band so you can fit the handle, and this might frustrate some people, but it takes less than 30 seconds to rectify.
Customer service with this product has been getting good reviews from people and any problems with the product have been dealt with swiftly and questions answered. This petrol strimmer comes with a 12-month warranty and the manufacture is showing great promise considering this is a very cheap tool for the work it does(and the power it delivers).
7. Stanley STR-750A Petrol Grass Trimmer
Specification: Warranty: yes (1 year), 2 or 4 stroke: 2 stroke, Engine power: N/A, Weight: 7 kg
The Stanley STR-750A petrol strimmer has a lot of features that I really liked, and unfortunately one or two that I wasn't so crazy about.
First, the good stuff. This tool is surprisingly lightweight for a petrol strimmer and so it is a good choice for those of you who are smaller in stature. This lack of weight makes it easy to move around too and ensures that your arms aren't aching too much after a long gardening session. You don't even need to use a harness with the Stanley, which is unusual for these kinds of tools.
Most two-stroke petrol engines are advertised as 'easy start' these days, but in truth, many of them are not that easy at all and require a fair old bit of elbow grease. The Stanley petrol strimmer is another that has been given the 'easy start' tag, and to an extent, I'd agree. Let me explain, there are quite a few preparatory steps to go through before you actually pull the starter cord, but once these are followed properly, the JetForce3 engine lives up to its name, and kicks in with only a few pulls from cold.
This engine has also been designed to be good on fuel, and again I have to say that I did notice it was slightly better than some of the other petrol strimmers we compared it to, and the 0.46-litre fuel tank lasted longer than expected. There was also a noticeable lack of fumes, which is always a good thing.
You don't have to worry about your fillings getting shaken out of your head with the Stanley as vibration levels are quite low, and the D-handle situated along the shaft does a good job of not letting you feel what shakes there are.
The bent shaft on this strimmer is something that has its pros and cons, and so I think will have its fans and boo boys. personally, I found it quite handy for certain jobs, like ordinary strumming, but found it trickier to use than a straight shaft for getting into tighter areas, but perhaps that's just me.
The shaft separates into two pieces, and this is where I felt a little let down by Stanley. On the model we tested, this connection didn't seem all that strong, and there was some unwanted movement at times. This could have just been our bad luck and we got a faulty one, but it was still disappointing from a company with a famous name like Stanley.
The other thing that niggled me was the less than helpful instructions. This is actually a pet hate of mine and I grumble at the best of times, but this time they were particularly bad, even contradictory. Having said that, it isn't the hardest tool in the world to work out of to assemble and operate, and there are videos online to show you what you need to know.
Other than those two flaws, this is a really good petrol strimmer. It's lightweight and easy to move around, has an engine that starts easily and is economical, and the vibration levels are not distracting. All in all, I think I can forgive Stanley for the instructions, and hope that the shaft connection was just our particular item's problem.
8. Ryobi RLT26CDS 26cc Petrol Line Trimmer
Specification: Warranty: yes (1 year), 2 or 4 stroke: 2 stroke, Engine power: 0.9 HP, Weight: 5.28 kg
Ryobi is known for producing good products that are well made, and this one is no exception. The build quality feels good and not at all flimsy. The engine, a POWR LT2 26cc 2 stroke machine, has been designed to not only be compact and very lightweight, but also to be a 'clean' engine that produces fewer emissions than most petrol garden strimmers, so you can feel good about doing your bit to save the planet.
Despite being lightweight, it gives out plenty of power and won't struggle with even the toughest brush once the right attachments (sold separately) are connected. The cutting is done by the usual nylon wire, but this model has Ryobi's 'ReelEasy' bump feed head to keep you ticking along smoothly.
The Ryobi petrol line trimmer has a cutting large width of 43cm that should help you to cut down on your trimming time. The shaft can be split half its length for storage or transporting the unit around, or you can purchase an extension attachment if you need more range which is a nice touch for those reaching awkward spots.
The shaft is strong yet lightweight like the motor and the whole strimmer only weighs just over 5kg. This makes it easy to move around and control with the compact D-shaped loop handle without the need for a harness, although I'd still recommend using one if you're doing anything but the smallest of jobs. If you look around, you can probably get a free harness when you buy one of Ryobi's attachments.
Complaints I have are – the instructions need a bit of improvement. The pictures are too small and not clear. Also changing the spark plugs on this model takes a fair bit of time, though it's not done that often. Finally, for , I think there should have been a shoulder harness included just in case you're using a brush cutter attachment.
Best Petrol Strummers Buyers' Guide
Comparing Petrol Garden Strimmers and Electric and cordless strimmers
The main reason people choose petrol strimmers over electric models is cutting power. You have to look very hard and pay a good deal of money in order to find an electrical strimmer that even comes close to a petrol one when it comes down to power, and if it's a cordless strimmer, it'll never have the same power.
Another advantage is that they are more mobile because petrol strimmers don't need a power lead, so you have more range and freedom of movement. There are cordless electric strimmers but they rely on batteries that need to be charged when they run out and don't last as long a tank of petrol.
The not so great things that you have to put up with when using a petrol strimmer are extra maintenance and running costs. You will need to make sure you have a can of petrol on hand and you will also need oil to keep the motor lubricated and to change spark plugs and such from time to time.
There is also the fact that petrol strimmers are heavier than electric strimmers, and they can be noisy and vibrate, especially the cheaper models and this can put some people off. Better models usually some vibration-reducing features but they can't get rid of the shakes completely.
Finally, like anything that burns fossil fuels, there will be fumes and emissions to deal with and they are obviously not good for the environment.
Basically, petrol strimmers are better suited to people who either have larger gardens or who are looking for something to use commercially. They are noisier and smokier, but they are also much more powerful and get the job done in a fraction of the time when compared to cordless strimmers.
Well, that last product brings us to the end of our petrol strimmer reviews UK for now. As more products and innovations are introduced into the market in the future, I will edit and rewrite this as necessary so as to keep it up to date with the best petrol strimmers for sale in the UK.
We also have similar pages with reviews for both corded and cordless electric strimmers, so if you are interested please take a look.
---