Written by Terry Smith
Our site is reader supported so when you click a link to Amazon we may earn an affiliate commission.
Plastic Hose Connectors
This article was last updated on August 7th, 2021 at 9:21 am
7 Best Plastic Hose Connectors Reviewed
This page is dedicated to reviewing the best plastic hose connectors on the UK market.
However, first we would like to give a little bit of basic information about them to aid anyone who is new to gardening. You expert gardeners can skip straight to the reviews if you wish.
So, you will often see connectors described as male or female, but what does this mean?
Basically, a male connector will be threaded on the outer side of the fitting while a female connector is the opposite with the threading on the inside. This is important to know when planning your set up, so check your hose to see what type you need before purchasing.
Plastic hose connectors are very popular for everyday use at home because they are readily available, low cost, and for the most part do a decent enough job. Brass adapters are more heavy duty and so are more expensive, but aren't suitable for some of the more modern hoses that expand and extend.
Comparison table: Plastic Hose Connectors

Product
What We Think
Price

Allows three hoses to be joined together
Splits a flow of water into two different directions
Great for watering different areas of the garden at the same time...
Made from the highest quality materials for increased durability

For temporary joining of two hoses
Can be used to extend the length of garden hose
Can be used as a temporary repair solution
Fits all Hozelock Connectors
Made from the highest quality materials for ultimate durability

Comes supplied with all the fittings you need to get you started with a 12.5mm & 15mm hose...
Fittings include: 1x Nozzle; 1x Hose End Connector; 1x Waterstop Connector & 1x Threaded Tap Connector....
Easy quick connect system
Made from high quality materials.
Threaded tap connector fits 95% of all outdoor taps.

Topways 6 pack Hose End Quick Connect fitting 1/2" Hose Pipe Quick Connector

Made of sturdy plastic
Quick connector fits with 1/2'' DN15 Hosepipe (OD 16mm)
Built to fit most male ended connectors (16mm OD)
Fits standard Hozelock connectors
Packaging including: 6x Hose End Connector & 6x 'O' rings (16mm) & 6x 3/4 '' Tap Connector washers (24mm)...

Quick-Release in-line shut-off valve for garden hose pipe, compatible with Hozelock (Pack of 2) + 4 Hose Connectors

PROVIDES A MEANS OF CONTROL OVER WATER FLOW
NO NEED TO RUN BACK TO THE TAP
ONE PIECE CONSTRUCTION-NO LEAKS
PACK OF TWO WITH 4 X Cost Wise FEMALE HOSE CONNECTORS
CAN BE USED IN IRRIGATION SYSTEMS

Toolzone GD156 Indoor kitchen mixer tap garden hose pipe connector

Designed to fit a wide variety of indoor kitchen taps *
Suitable for a maximum width of 34mm and a tap height of 43mm **...

Universal Tap Connector Adapter Mixer Kitchen Garden Hose Pipe Joiner Fitting-BL

Compatible With most Square end Taps (Diamensions Photo)
Easy & fast connection Tap & Your Watering System
Very Good Material
Here we have chosen the 7 best plastic hose connectors and reviewed them for you. We have also provided links to click on should you require further information on them. Enjoy.
1. Hozelock 2352 Hose Fitting Starter Set
At the time of writing this, the Hozelock hose fitting starter kit is available at a reduced price of 7.36, which is a steal.
Hozelock are probably the most well-known brand when it comes to all things to do with garden irrigation and their products are always amongst the most popular.
This 4 piece set includes an adjustable spray nozzle, a hose end connector, a ¾ & ½ inch threaded connector that will connect to outdoor almost any garden tap, and a waterstop connector that will automatically stop the water flow should it become connected.
All the connectors benefit from Hozelock's quick connect system and are made of the finest grade plastics to make them durable and to perform their intended purposes to a high standard.
High quality product from a well-known brand
4 piece set for a very reasonable price
Includes adjustable spray nozzle, a hose end connector, a ¾ & ½ inch threaded connector, and a water stop connector
Threaded connector will fit any outdoor tap in the UK
Water stop connector will shut off water flow if it becomes disconnected
2. Universal Tap Connector Adapter
So, you don't have an outdoor tap to connect your hose to. No problem, you think, I'll just connect it to the kitchen tap and slide the hose through the window. Then you remember that you have modern style, square ended taps and your standard connector won't fit. It can be a nightmare finding a connector to fit square taps, but quantum garden have brought this little beauty out on to the market for just such a problem. 
It is compatible with square tap ends up to 35mm wide and 28mm deep. The connecting system is really easy and quick and works well once adjusted to your particular tap.
Again, the plastic used is good quality and the connector feels sturdy enough to last a while.
It is on sale for 5.99 at the moment
Low price but good quality
Solves the problem of having square taps
Compatible with square taps ends up to 35mm wide and 28mm deep
Quick and easy connecting system
Adjustable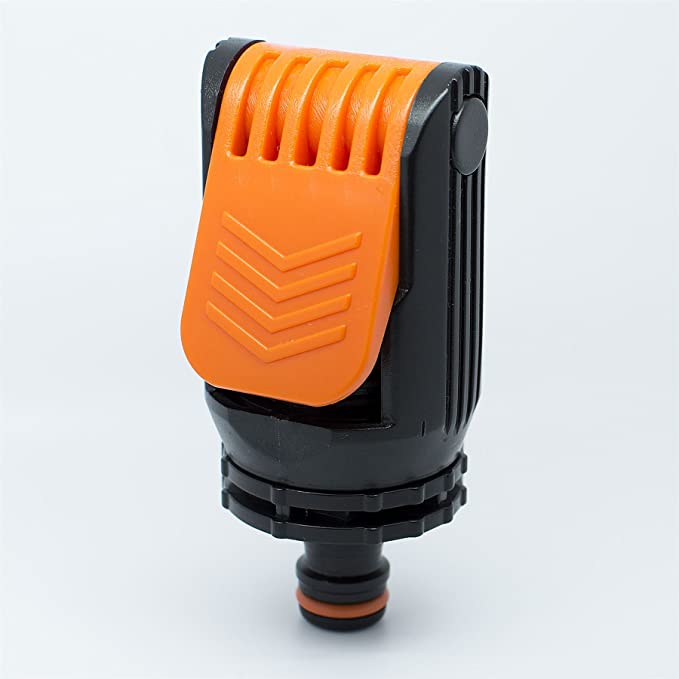 3. Costwise Quick release garden hose pipe in line shut off valve
For only 7.99 you get a pack of 2 of these Costwise inline hose connectors, including 4 female adapters.
This is an excellent product to buy if you are looking to connect two hoses together for some extra range. For example, you could connect a 30ft hose to the garden tap and then into this connector. From the other end of the connector you could attach another 30ft hose, giving you 60ft altogether.
Despite coming from an unknown brand, the connectors are well-made and don't leak. They have been designed to be able to connect to a hozelock, which the design has obviously been based on, too.
A very handy feature of this connector is the shut off valve in the centre of it, which means you can control the water flow without having to walk all the way back to the tap. This is very useful and time saving when you want to change attachments.
Very good value for money
Pack of two and includes two shut off valves and 4 female adaptors
Can connect two hoses together with no leaks
Good quality materials
Can connect to hozelock products
4. Hozelock 2291 Double Male Connector
Simple and effective is probably the best way to describe this double male connector from Hozelock.
It can be used to quickly connect two hoses via female connectors (especially hozelock connectors or other brands based on their design) to give you more range should you need it.
If you've damaged your hose, this double male connector can act as a temporary fix, allowing you to finish the days gardening before having to go out and get a new hose.
I used this connector all day and there were no signs of any leaking. Like all Hozelock products, the plastic materials are top notch and very solid.
For 3 pound fifty, it is a high quality, low cost, handy connector to have lying around just in case.
Made by a trusted brand
Connects quickly and easily
Good quality plastics used in the construction
Can be used to connect two hoses or as a temporary solution to a broken hose
No leaking
5. Topways 6 pack Hose End Quick Connect fitting 1/2″ Hose Pipe Quick Connector
These Topways hose connectors have been getting a lot of praise from customers and reviewers alike.
They are seen as a serious alternative to Hozelock connectors but sold at a much cheaper price. For Example, this pack of 6 hose connectors costs only 6.59 which isn't that much more than a single Hozelock connector.
The plastic that has been used is strong and robust and the build quality of the connectors feels professional. They connect to male connectors instantly and unlike most low cost models, the Topways hose connectors do not leak at all.
These connectors can be used with most standard hoses and also in conjunction with Hozelock products.
Received a lot of positive feedback from customers
High quality product for a bargain price
Pack of 6 connectors
No leaks and made of robust materials
Quick connection to male adaptors
6. Hozelock 2293 Hose Y Connector
Our next plastic hose connector review is yet another Hozelock product. This time it is their 2293 Y-connector.
Available for just over four pounds, this plastic connector is affordable for most people, and offers you a leak free, strong and durable plastic connector that you can rely on.
Being a Y-connector, you can attach 3 hoses to it, one into the connector from the tap and then 2 coming out or vice versa. The Y-connector splits the water flow. 
Being able to have two hoses going into the connector is great for giving the dog a shower as it means you can have both warm and cold water mixed to give a nice temperature.
Of course, the water pressure is halved if you have two outgoing hoses working simultaneously so you need to think about your starting water pressure.
Well-built with strong plastic
No leaks
Can water two areas of the garden at once
Can attach from two taps to get the temperature you want
Quick easily connecting
7. Toolzone GD156 Indoor kitchen mixer tap garden hose pipe connector
This clamp style adapter is our final plastic hose connector review and has been designed to connect to those awkward mixer taps that standard models just won't attach to.
On sale for only 3.49, it offers good value for money and has received mostly positive feedback from its many customers.
This connector will fit mixer tap ends up to 34mm wide and 43mm high. The connector is slid over the tap and then tightened by twisting the top of it. The bottom of the adaptor will fit any standard hosepipe size.
The rubber washer inside the connector does a good job of sealing out any leaks, but the washer can fall out before you attach the adaptor if you are not careful.
This is a cheap but useful hose connector with a decent build quality and made from durable materials.
Cheap but not flimsy
Will connect to mixer taps up to 34mm wide and 43mm high
Easy to connect to the tap because of 'clamping' design
Will fit most standard hosepipes
Watertight and won't leak
Well, that last review brings to a close this article and reviews of the best plastic hose connectors on the UK market. We hope you found it useful, and we tried to give you a selection of the ones we thought were the best value for money and affordable by most people.
---