Written by Terry Smith
Our site is reader supported so when you click a link to Amazon we may earn an affiliate commission.
UK's best water butts and water barrels that are cheap, decorative, square, and slimline reviewed
This article was last updated on August 15th, 2022 at 1:13 pm
I was thinking the other day as I just finished the cladding on the side of my little extension, did I want to put a water butt or barrel in place of sending the water straight into a soak-away or worse the cess pit? Since I have to pay to have that water taken away if the level is too high, it's a no brainer for me in my position to go for as many water butts as I can so I installed a water butt with standard waste pipe that then runs into the soak away – it was a handy test of the Strata! Perhaps in your case it may be you're looking to capture the water just to save wasting it from your shed or greenhouse rather than main building, which is an equally sound reason and given they are pretty cheap these days due to the large volumes sold, there's never been a better time to get one!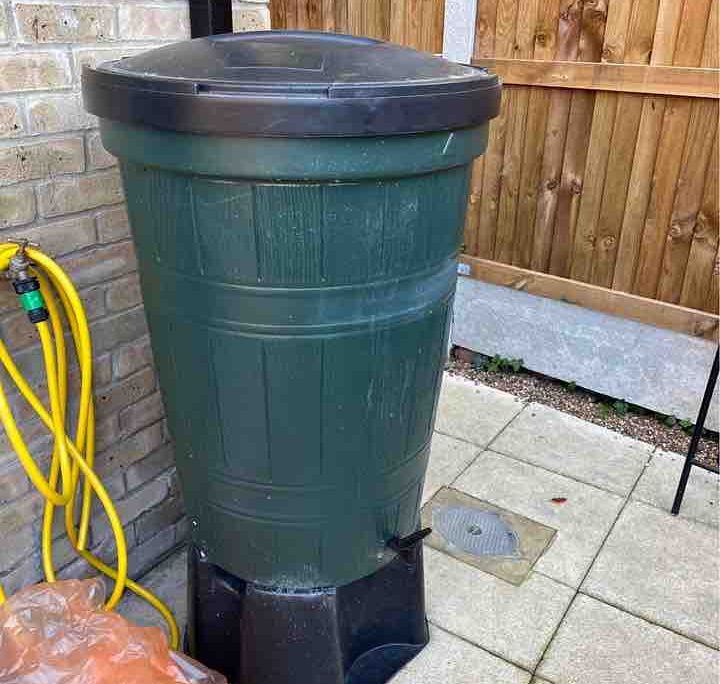 Apart from those good reasons, having a water butt up the end of the garden near the shed stops you from walking all the way back down the garden to get the hose pipe. And don't fear, for those worried about the aesthetics or space, they've got slimline, square, round, and decorative water butts to suit almost any garden setup. Not to mention some cheap bargain options too though not many have solved the Leaks issue so pay special attention to that!
It's ok just buying and replacing a water barrel, but what about if you're buying and installing for the first time? Don't worry. I have you covered on a step by step install guide too including how to collect rain on a polytunnel too:
DIY tips: How to install a water butt with guttering and downpipe and what to consider when picking the best water butts.
So with enough confidence to install a water butt from start to finish, or merely place one in your garden, let's look at the best water butts available:
Editor top picks: the best water butts and barrels in the UK:
Best water butt overall: Charles Bentley 210L Water Butt
Runners up: Rainsaver Mini 100 litre Green Water Butt Double Kit and the Strata pro Ward 250L Slimline Water Butt [personally tested and proven with full installation of water butt and gutter guide]
Cheapest and best value water butt: Strata 100L Slimline Water Butt
Most decorative water butt: Sankey 1229 150L Beehive Water Butt
Most decorative rain barrel: RAIN BARREL WATER BUTT
Best square water butt: Strata pro Ward 250L Slimline Water Butt
Top slimline water butt: Mini Rainsaver 100 litre Water Butt or the Strata 100L Slimline Water But
Alternative space saving, small slimline water butt: BeGreen 100L Capacity Mini Rainsaver Water Butt
Largest water butt: Harcostar 350 litre Magnum Water Butt
How to install a water butt with guttering and downpipe.
Don't worry – installing a water butt is absolutely doable even for the least DIY active of us and I'll take you through step by step. Before we get going though, there's little point unless you're organised. There's two effective methods. If you're old school you will want to install a water butt with standard waste pipe. The alternative is using which is probably a bit easier – installing with a water butt rain diverter kit if you already have guttering.
So here's a list of what you need to install a water butt in most situations:
What you need:
Impact driver or drill and
Fixings for wood or brick
Guttering of your choice and I'd recommend gutter guard to keep the water clear or leaves and debris
Guttering brackets, one every 500mm or so is fine, some even place one every metre so just calculate your meterage.
A slab or sturdy base
Downpipe
25mm hole saw or flat bit
Spirit level
Your water butt + stand + diverter kit
Plumbers putty or silicone
Utility / Stanley knife
Installing a water butt with standard waste pipe
Now, there's all these fancy kits out there but my preferred method of install over the years has been to simply divert/convert your guttering to take run off rain water, but with the added bonus of any overflow finding its way to a soak away or drain. So that's what I am going to show you first up. I'm installing a gutter on my new plastic shed and simply running an overflow off of the water butt pointed at the soak away. A picture is worth a thousand words in this case: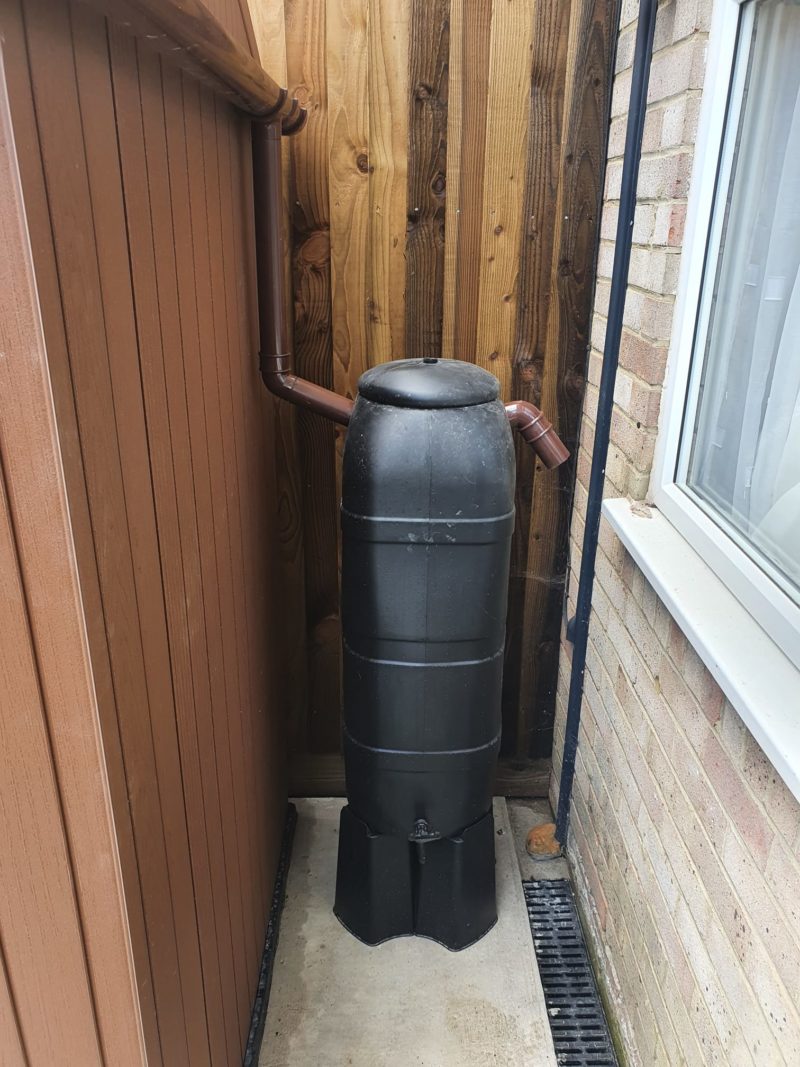 First up you want to get all your materials ready. There's nothing worse than being caught mid project so what I do is lay out everything I need and make sure I can go straight at it: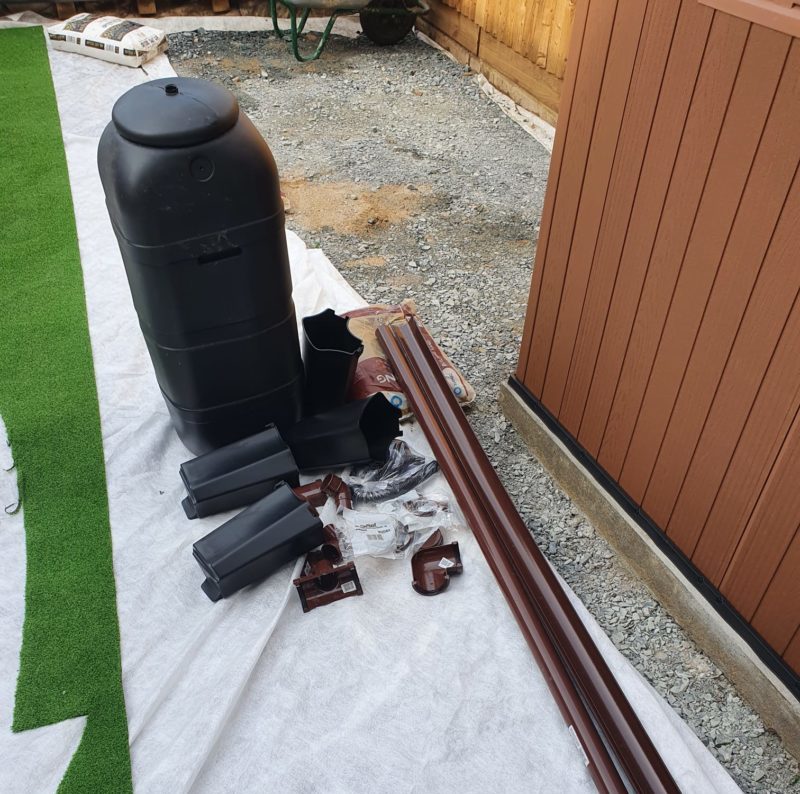 In my case I needed:
The first thing to do is fit your gutter brackets with the angles – these hold the gutter in place but also if you install the angles it's super easy to measure what size gutter you need. Once you've got the brackets installed then cut your guttering to length. If you do it the other way around, consider that the angles take up some length, you'll need to allow for that but my preference is to hand the angles first because they give you a guide to measure: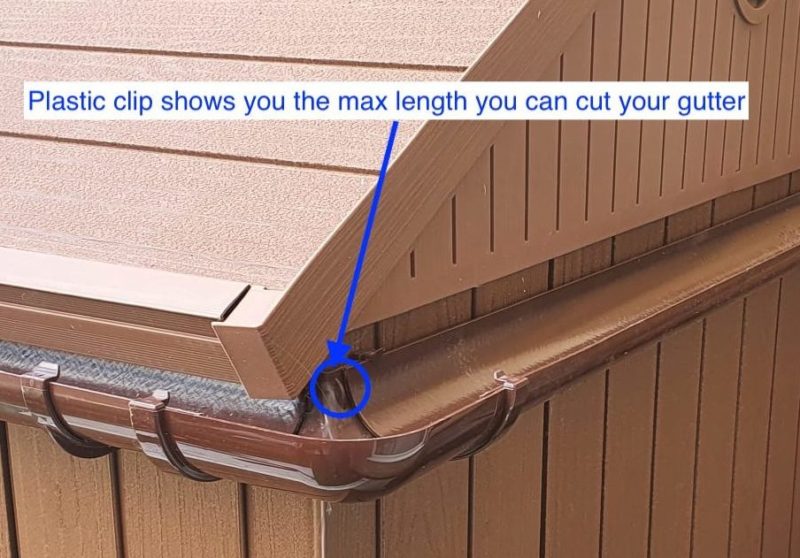 Obviously when you fit these brackets you need to make sure the gutter has a sensible gradient for the water to run toward your down pipe. A few degrees is fine. With the gutter on you simply drop in your downpipe tee and that readies us to focus on the water butt – in our case the Strata 100L Slimline Water Butt.
In my case I have used 2 inch guttering downpipe. I decided the plastic on the water butt was so think I would carefully nick out the section I needed to fit my pipe with a utility knife. You'll obviously need to be extremely careful. Other easier tools include a jigsaw or a hole cutter as I linked to previously. Here's a look once I've carefully nicked this hole out: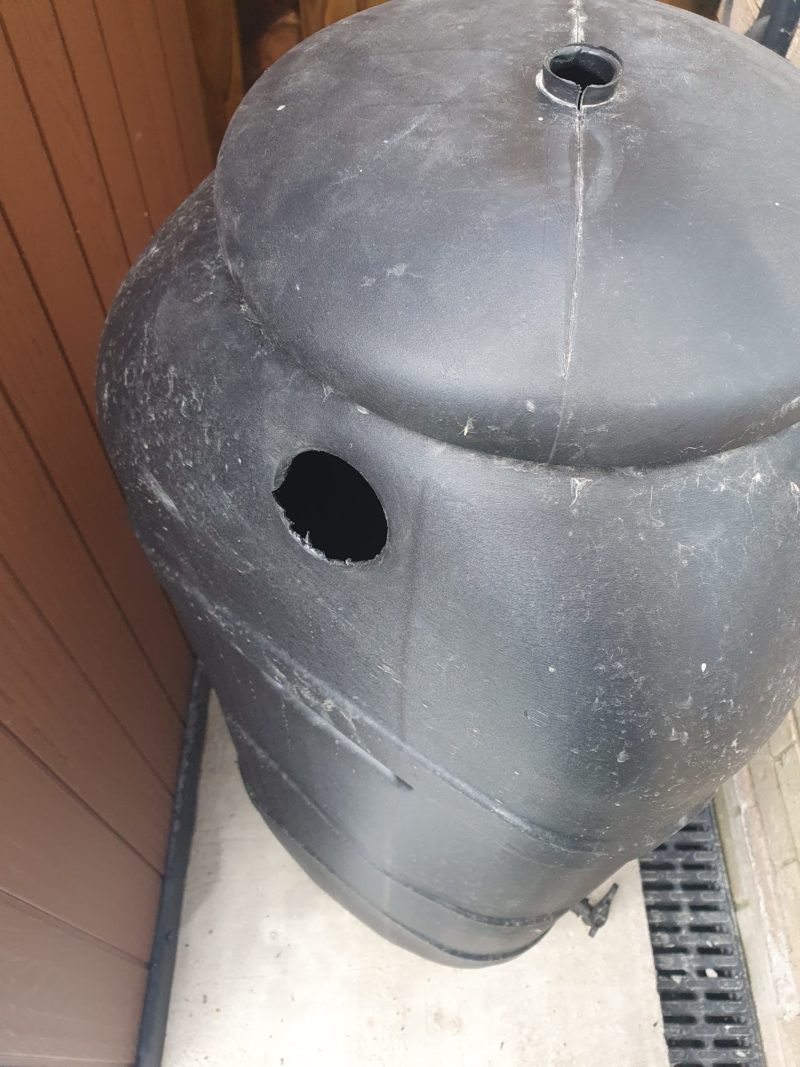 Then I position my water butt on a base (easier access for the tap) and use a 45 degree elbow to run into my water butt. I'll be honest and say the position of my water butt is slightly dictated by where my pipe finished 😀 but there wasn't much in it. I then create an overflow into the soak away with a bit of left over pipe and another 90 degree elbow: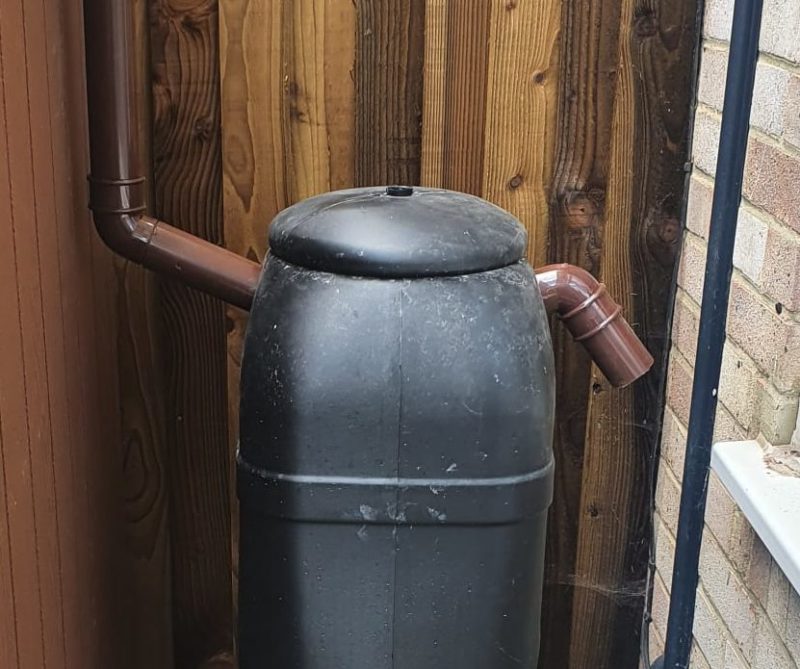 And there you have it, a neat install of guttering and water butt. You are seeing down the side in the hidden area. From a more prominent position that isn't covered, the gutter and water butt looks like this: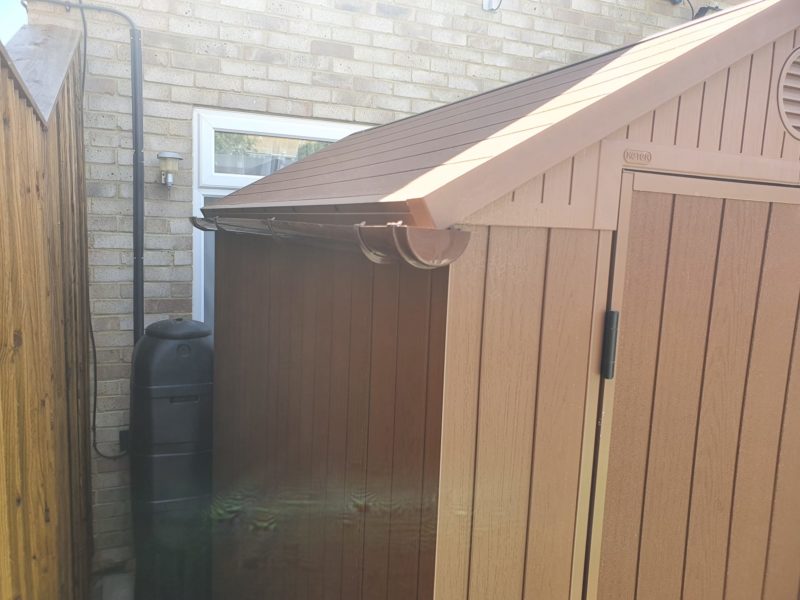 Installing a water butt with a rain diverter kit if you already have guttering
Before we get going here's a good rundown of what you want to do to install a water butt:
So start by placing and ensuring your water butt stand is level. Use a spirit level for this (something missed in the video above). You then want to fit your tap, our mate in the video shows hand tight with no sealant. I always to this with silicone or plumbers putty and use a set of mole grips either side with a reasonably soft grip. This will get you much tighter but don't go ballistic or you'll break something 😀
Once connected he drills a hole for the diverter kit. You want to be a bit more accurate with this – the standard is 100mm down as to avoid overflows. However something that is handy in his demo is the spirit level trick to ensure you are at the same height as the diverter kit hole you just drilled:

Where he cuts the downpipe with a handsaw (use a multi tool if you have one). Likewise check your kit for the width of downpipe that needs removing. If you've bought any of my top picks from amazon there's much less converting and it slots together whether you've got round or square downpipe so unlikely to need a Stanley knife unless you pick the Charles Bentley which is similar to this diverter.
Then connect the diverter to both ends of downpipe and put back on your brackets. From here it's a simple case of pushing the flex pipe on both ends!
What to consider when picking the best water butt?
There's loads of different water butts as we've already discussed. You literally get round, square, thin, tall, wide, cheap, ornate, well made, and different colour water butts. So choosing from so many may feel a little difficult, especially knowing who to trust for the right quality. So the best thing to do is look at what should be considered when buying the the best water butts and barrels:
Price
Price is a tricky one because the best value is the Strata 100L Slimline Water Butt but you have to buy the stand and filler kit separately. And don't get me wrong, it's still cheaper buying all three apart with no compromise on quality when compared to either the Mini Rainsaver 100 or the BeGreen 100L Capacity Mini Rainsaver but it's deceptive because equally good value for money is the Charles Bentley 210L or the Strata pro Ward 250L Slimline Water Butt if you need to store more water, in fact, given the Charles Bentley includes the stand and diverter kit, it probably works out cheaper per litre! Food for thought and some great options at differing sizes!
Leaks
Leaks are literally part and parcel with a water butt. The best picks in this article are top of the options available in the UK and they still leak in varying degrees (which is covered in each review). With that said, it is an easy fix. You either need plumbers putty or a decent waterproof silicone. Either are good enough to get you leak free. Remember silicone takes a while to set, plumbers putty is effective faster but if it does leak, you'll need to restart the process so give it some time if you can as emptying a water butt full of rain water is annoying to say the least!
Why is my water butt over flowing?
There are normally two good reasons which your water butt overflows. One is the height of the diverter from the downpipe. If you install too high it'll keep feeding water due to gravity. If you install lower beneath the height of your water butt, gravity will stop send water at that height. So be careful as you don't want to be too low as you will lose considerably capacity but each water butt instruction set varies so keep an eye – what I've explained is the general rule of thumb!
The other is uneven ground resulting in the water reaching the edge, but still a result of the height of the diverter kit.
The not so good reason for overflowing is because you don't set it up to a downpipe and just allow rain to free fall. You'll end up with tell tale signs of this and the minerals in the water will quickly help to fade your water butt: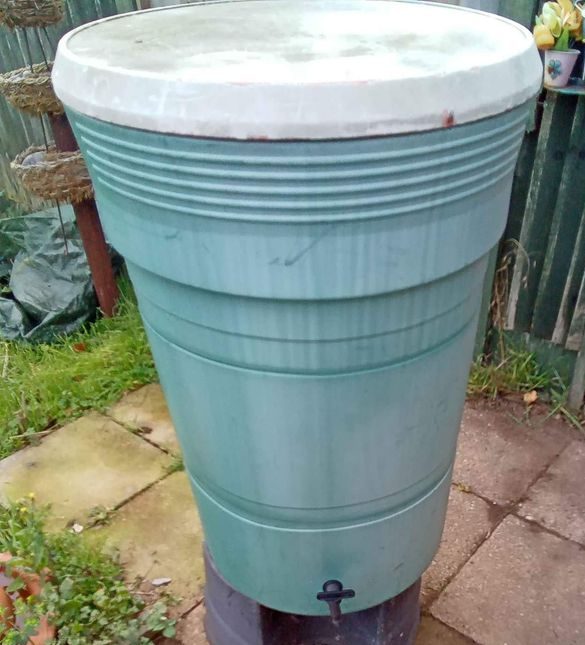 Shape – round, square, slimline, or wide
There are loads of ways to store your water. If you need space saving and slimline you'll pick from the Mini Rainsaver 100 or the BeGreen 100L Capacity Mini Rainsaver. You may also prefer the Strata 100L Slimline Water Butt which is also the same size. However, a nice larger square one like the Strata pro Ward 250L Slimline Water Butt isn't a bad shout either as that uses the same footprint litre for litre as the best slimline picks
Round and wide is getting a bit boring but can still look good. The sensible well built Charles Bentley round water butt is an example that classic can still fit into a modern setup.
Does it come with a stand and water downpipe diverter kit?
It's important to know that there are two ways water butts are sold in the UK. One is a complete setup and the other just the water butt. In this listing there are a mixture of both but to be absolutely crystal clear each one of the reviews clearly states whether this is a full setup or just a water butt.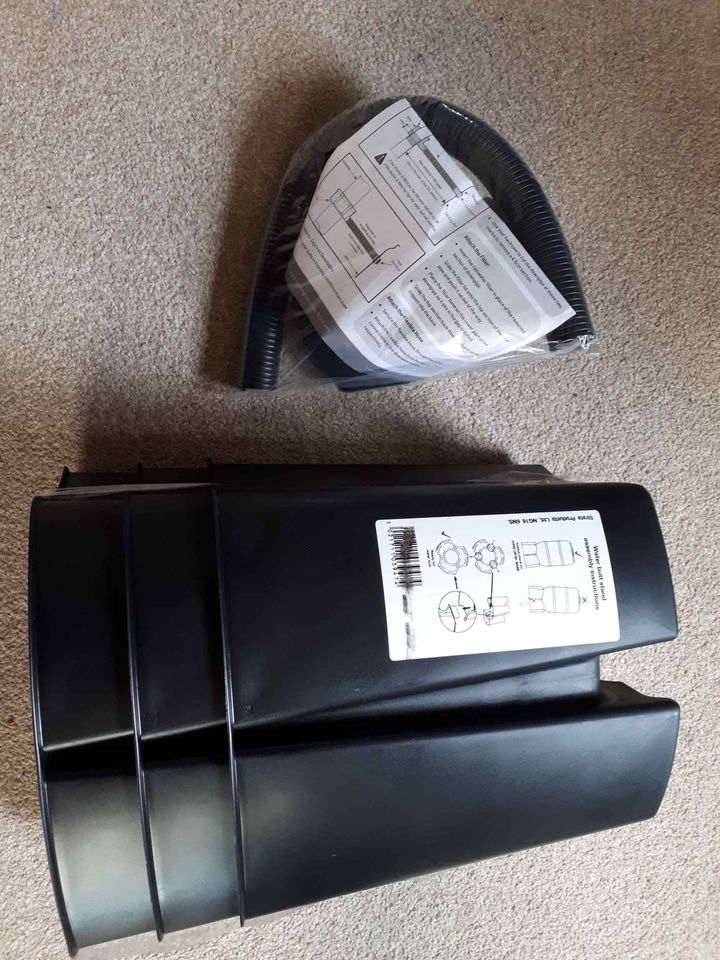 If you're looking for a full setup then you might want to look at the Charles Bentley or the Rainsaver Mini 100 litre Green Water Butt Double Kit which also includes a setup to overflow into the next water butt 🙂
If you want bare bones then you'll look at either of the Stratas: Strata 100L Slimline Water Butt or the Strata pro Ward 250L Slimline Water Butt.
Square or round rain water diverter kit?
All of the diverter kits or filler kits if you prefer the term, are setup so that you can fit onto a 68mm standard round downpipe or a standard 65mm square downpipe. They do not compensate for non standard setups which is pretty understandable.
They are basically square with the round insert. This means when you cut your pipe, you'll then be able to slot into the round downpipe with an insert that inside, and of course, if it's the square, it fits into the square: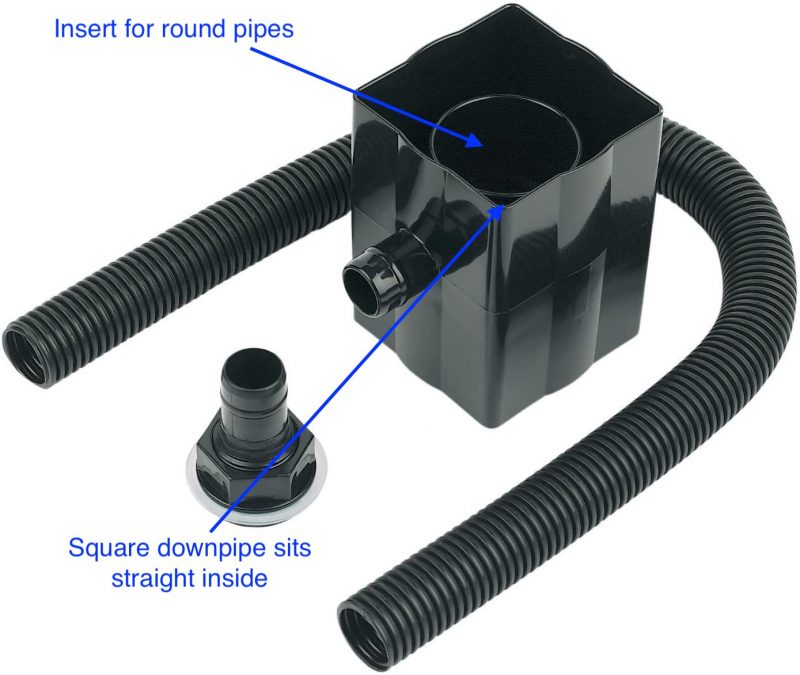 Do I need to drill holes in the water butt?
It depends which model you go for in this review. Some are predrilled like the BeGreen and the Harcostar. Some models aren't drilled because they want you to pick location of the diverter kit inlet yourself, a prime example of that being the decorative RAIN BARREL. By contrast the other decorative water butt, the Sankey is not pre drilled.
If it's not pre drilled you'll need a 25mm flat bit and a drill. I always use my impact driver, though overkill, it's perfect for a 25mm flat bit so lovely and light.
You'll also want some sealant in the form of plumbers putty, it will ensure you don't have leaks when all is tightened up!
Type of water butts – plastic, wooden, steel: wall mounted or floor standing
You get all different types of water butts. Firstly there is the material to consider. They generally come (most commonly) plastic, wooden, and steel. In this article we focus on the plastic type as they are the best wearing, least maintenance, and cheapest. That's not to say they aren't without fault. Naturally a steel water butt is far more heavy duty but also comes with the drawback that it's heavy and costly.
Then there's wall mounted or floor standing. You have to be brave to wall mount a water butt but it's becoming far more common in built up areas looking to be that little bit more environmentally friendly!
Best water butts and barrels in the UK
---