Garden Tool Box » Best portable solar panels for a caravans, camping, phones, and hiking that are foldable
Written by Terry Smith
Our site is reader supported so when you click a link to Amazon we may earn an affiliate commission.
Best portable solar panels for a caravans, camping, phones, and hiking that are foldable
This article was last updated on April 23rd, 2022 at 6:43 am
Electronic gadgets have embedded themselves into our lives to such a degree that I think most of us would have to hold up our hands and admit that we feel a bit lost without them. I'm sure I'm not the only one who feels a rush of anxiety when they see that their phone battery is almost done while out and about and nowhere near to charge it. I know finding a spot to replenish your device in urban areas is a pretty easy task these days, but if you're like me and enjoy camping, hiking, mountain biking, etc.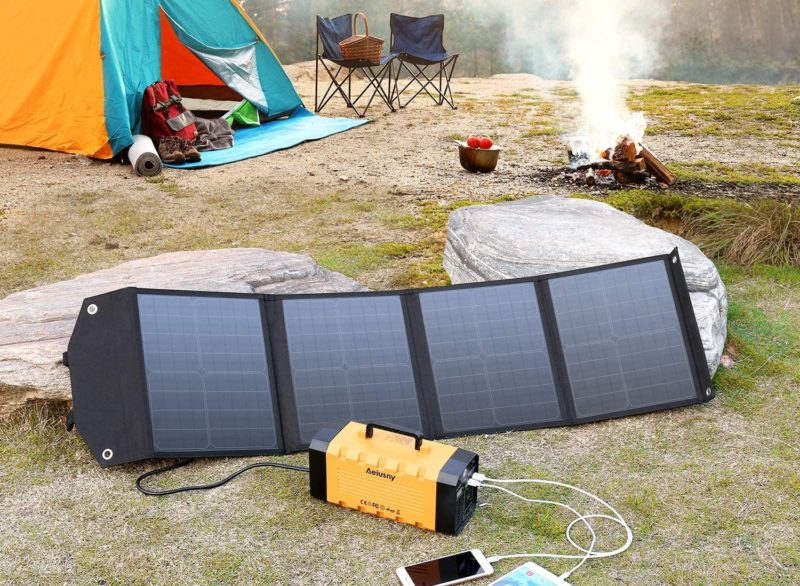 You'll know just how important it is to have a reliable source of energy at hand to power GPS devices, headlamps, electric BBQs, TV's, Phones, and all the other little comforts we bring along to the outdoors with us. I also have a solar panel I lay in the front of the van connected to the battery just to make sure I keep the van battery topped up and it even works on the cloudiest days! Well, after we've had years of carrying around an extra 'ton' in the form of spare batteries, the world of technology has finally given us a viable alternative in the shape of portable and foldable solar panels – just a single battery is enough now. You can even go for an inverter setup so you can run 240V for short bursts too!
The best of these devices can ensure that our electric lanterns still work when nature calls in the middle of the night, that our Go Pros stay charged so as not to miss the action, and that our kids don't end up killing each other after their tablets or phones die during a camping trip. Yes, who knew that it would only take the harnessing of the Sun's energy to stop them arguing??
Whatever you need a portable solar panel for, it's important that you choose one the best, and this article is here to steer you in the right direction. We have a helpful buyer's guide coming up next, and then reviews of the top portable and foldable solar panels in the UK, which we think are as follows-
Best portable solar panels – editor top picks:
Overall and for camping: Aeiusny Solar Panel Foldable 60W Portable Solar Charger
For backpacking and hiking: BigBlue 14W Solar Charger Foldable Outdoor Solar Powered Charger
Powerbank For phone: Solar Charger 26800mAh Power Bank – Hiluckey Wireless Portable Charger
For charging car battery and caravan: ECO-WORTHY 120 Watts Foldable Solar Panel Charger Kit for Portable Generator
Best budget: ELECAENTA 30W Foldable Solar Charger 3 USB Ports PD18W QC3.0 Type-C Portable Solar Panel Kit
Most efficient: DOKIO 110W 18V Portable Foldable Solar Panel Kit Monocrystalline(HIGH Efficiency) with Controller – good for cloudy days
Best portable and foldable solar panel buyer's guide
While it is amazing to have so many choices when it comes to solar chargers these days, it can also make choosing the right one all that more difficult. So, to aid you in your purchase, we offer this brief but informative buyer's guide where we'll point out the things to look out for when making your decision.
What do you need a portable solar charger for?
Portable solar chargers come in many guises and some are better suited for certain purposes than others. For example, a large, rigid, portable solar charger like Dokio 110W solar charger or the Eco-Worthy 120-watt charger kit might be a fantastic choice for keeping in the car or caravan, but I doubt a hiker or backpacker would choose to carry one on their excursions – let alone the inverter or battery – they serve two completely different purposes. Juts look at this 100W model for example and how much larger it is than a little charger type solar panel: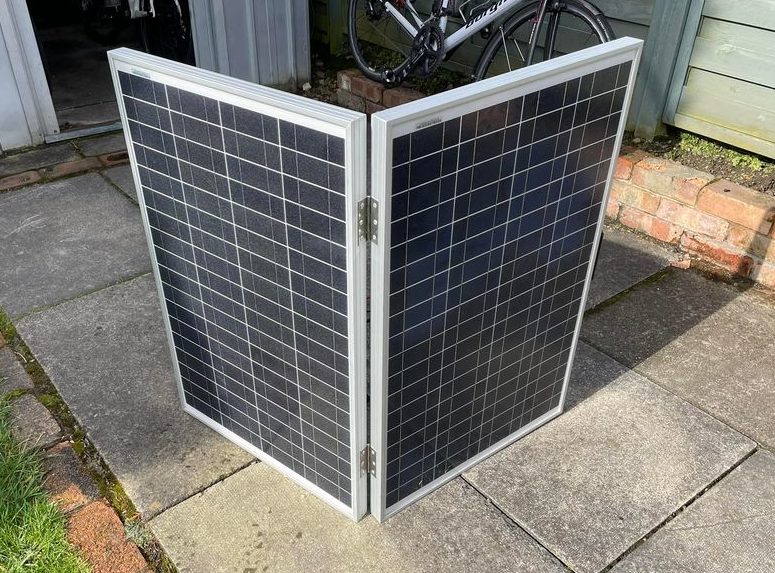 On the other hand, compact, folding, solar chargers are ideal for people who need to move them around by hand or in their bag, but these models tend to be lower wattage and wouldn't be able to charge a car battery or something similar. Having said that, I have tried out some foldable solar panels that have high wattage, not quite as high as most rigid solar chargers, but still impressive to say that they are foldable products.
It isn't just about being foldable or not, either. There are other things to consider such as what kind of ports the panel has and whether or not it has a built-in battery, the latter being quite important if your main intention is to charge your phone and tablet. The reason being, the power that will come from the solar charger will not be constant and this could affect your phone's own battery in a negative way unless you use a charge controller or the charger has a smart IC chip like the Aeiusny 60W model.
It would probably take a good-sized article of its own to goo into all the details about the different options available, but I hope the information above will spur you on to doing a bit more research into which portable solar chargers fit your needs the best.
What size and weight would suit you?
This ties in directly with the section above and will more than likely be determined by what activities you'll be engaging in with your portable solar charger. Let's say you're into hiking or bird watching and you'll be spending a fair bit of time traversing the countryside on foot; an ultra-lightweight foldable solar charger such as the Big Blue 14W charger is what you want. However, different models have different capacities and thus varying weights, so make sure you check this before ordering. Typically something around this wattage will weigh about 1.5kg from what I found and they'll normally have usb points – two is common like this one I use: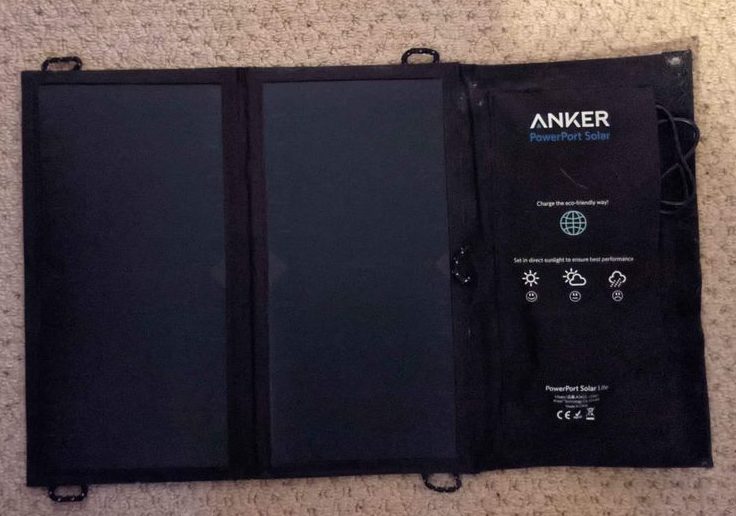 If you like camping, but always drive to the camp sites in the car, with very little walking involved, then the extra weight or size of a 100W (or more) solar charger shouldn't bother you too much. On the other hand, campers who have to carry all their equipment, such as tent, cooking tools, food, etc. and are planning on walking a good distance to their chosen site, will probably have to find some middle ground. The Eco-worthy 120W that you can see here weighs over 4kg, which isn't super heavy but certainly not the lightest product out there.
Portable solar charger durability
In life, there's always a trade off, and when it comes to portable solar chargers it is most often found in the durability vs the weight. Don't get me wrong, there are some models out there that do a great job of balancing being lightweight with toughness, and the 30-watt Elecaenta model is a good example of this, but there are also others that sacrifice things like waterproofing and shock resistance for the sake of being ultra-light.
Some things that you should keep an eye out for when it comes to improving the durability, and therefore working life, of your portable solar charger are materials that can fight off rust and other weather-based damage, water resistance, ability to handle extreme temperatures at both end of the scale, and just a general all round build quality that is of a high level. Will you have to pay more for these things? I would say that's a given, but take my advice and pay the little extra for reliability.
How much power do you need?
The power output of these products varies from product to product, from as little as a couple of watts, up to over a hundred. Now, as someone new to portable solar chargers you might be thinking "well that's great, but how much power do I need?" and that's a great question, but one that doesn't have an easy answer.
You see, it all depends on what you're going to be charging. If it's only for your solo use and just meant to be for your phone, then the smallest and lowest powered solar power banks like 26800mAh model from Hiluckey will do you just fine. For larger electrical devices you'll obviously need something bigger, but a happy medium is something around 15 watts which should be around the size of the charger in this photo: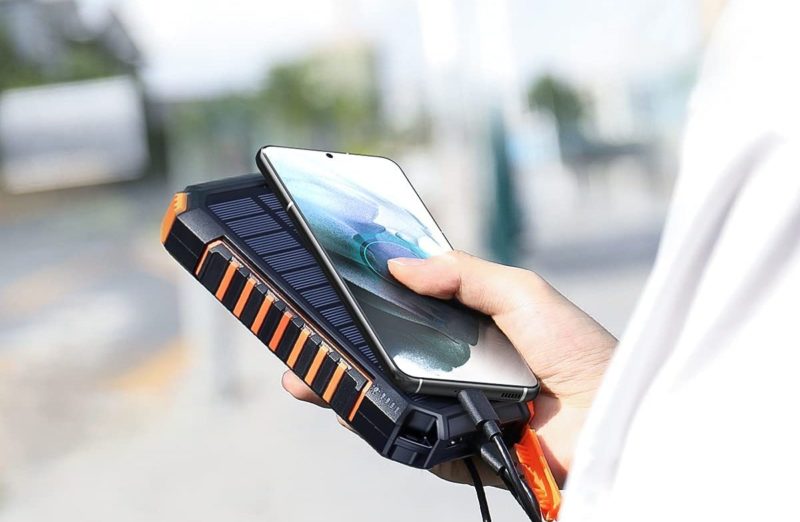 A good, basic, rule of thumb is that the wattage of your portable solar charger should be higher than the wattage of the device you want to charge. This is because there is always some energy loss that occurs, and when you add this to the fact that a given wattage of a solar charger is measured at its optimum performance (direct sunshine, clear skies etc.), you can start to get an idea of how much power output you require.
If you require a lot of power, you can always use more than one solar panel at a time and this is often what people have in their set up when they want to charge larger batteries up quickly.
Portable solar charger efficiency
When solar energy is transformed into DC power there is inevitably some loss, but some types of solar chargers lose more than others. Efficiency is really important as it not only affects the performance of a charger, but can also influence the size and weight of it too.
The most efficient type of solar panels are ones that are made with monocrystalline solar cells such as the ones found on the Dokio 110W solar charger , with polycrystalline coming in second place. It's our advice that you opt for monocrystalline solar chargers if you can find one in your price range and that matches your needs, but we realise that for some people, having the type of charger that has a thin film is more important than efficiency, and each to their own as they say.
There are plenty of videos on YouTube that cover the difference between solar panel types, but here's a short one for you to watch:
Things that can affect solar performance
We already talked about different efficiency ratings, but you should also consider a couple of other things when trying to get the most out of your portable solar chargers. The first one is where and how you place the solar panels, and the second is keeping them clean and undamaged, and so having ETFE solar panels that have a coating to protect from dust damage can be very helpful.
Leaving your portable solar charger on the windowsill is not going to get you the energy that you want. Instead, you should have the solar cells facing directly towards the sun, ideally on clear day. Don't be surprised or thinking that there's a problem with the charger if there's very little power output during overcast weather, it's just the nature of beast I'm afraid, although better quality solar panels can still provide some energy without perfect conditions.
Dirty solar cells will also not work as they should, even with a thin layer of dust or dirt on them, so make sure you keep yours clean. However, care has to be taken when cleaning the panels so that you don't accidentally damage them.
Best Portable and foldable solar charger reviews
So, we've spent numerous hours getting some hands-on experience with a lot of the best rated portable and foldable solar charges and below you'll find out which of them we chose as our top picks, why we did so, and how they compare to each other and other products out there.
---