Garden Tool Box » UK's best mini greenhouse with 2-4 tiers that are plastic, wooden, and metal framed reviewed
Written by Terry Smith
Our site is reader supported so when you click a link to Amazon we may earn an affiliate commission.
UK's best mini greenhouse with 2-4 tiers that are plastic, wooden, and metal framed reviewed
This article was last updated on April 23rd, 2022 at 5:46 am
A mini greenhouse is an absolute diamond of an invention ( along with plastic greenhouses and polytunnels that have shredded the cost growing all year around). Mini greenhouses bring extra to the table though – firstly there's the space factor, then there's the ability to categorise the garden better – acclimatising your seedlings and cuttings after a cosy stint in your propagator is an absolute must – preparing them against the shock will inevitably put you ahead of the curve 🙂 and not to mention the neighbours or those down the allotment 😀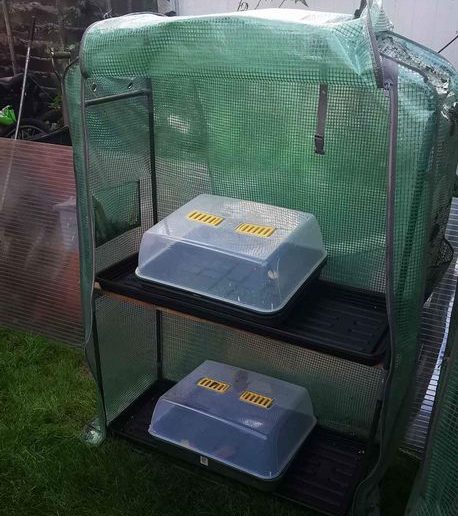 How to take advantage of your mini greenhouse right up until Winter
Pretty obviously early Spring your mini greenhouse will be full of seedlings and small plants ready for transplant. What I do after they make their way out is bring in my tomatoes and peppers. Cucumbers are fine too but I don't do that. Towards the end of that period though, around September and sometimes a bit earlier, I start planting lettuce and spinach as well as Alfalfa Sprouts. Basically any little green leaf based salad will take in this period. If temperature drops too low I'll just buzz in a low wattage greenhouse heater – for a mini greenhouse it's like they were tailor made for each other, but this year things have been ridiculously mild all the way through October, and seeing as lettuce take at low temperatures, not much above freezing, I consider this an absolute win to take advantage of free salad (cost of seeds if you don't have any) in your mini greenhouse.
So what I've done is take a look at the best mini greenhouses and compared them based on how easy they are to assemble, how sturdy the tubular frame is, the quality of the plastic cover and zipper, and overall value for money – I've included a couple of higher quality wooden picks too as these are always better for a longer term setup.
To help you figure out which products stand out from the crowd, and also which ones are best suited to your needs and living situation, we have put together this page that features product reviews and also a little 'what you need to know about mini greenhouses' buyer's guide.
Best mini greenhouses: editor picks:
Best overall: CHRISTOW Mini Greenhouse 4 Tier
Best budget: Kingfisher GHPRO Premium 4 Tier Greenhouse – Clear
Decent alternative to the CHRISTOW: Display4top 4 Tier Mini Greenhouse With Transparent Plastic PVC Cover
Best 4 tier mini greenhouse: CHRISTOW Mini Greenhouse 4 Tier
Best 3 tier mini greenhouse: Gautzsch (FO) Siena Garden
Best wooden mini greenhouse: Grow It Gardman Wooden House or the Rowlinson if you don't mind the extra cost (looks nicer and longer lasting too)
Most sturdy – wooden mini greenhouse option: Rowlinson HWCOLDFR1 Hardwood Coldframe
Heavy duty mini greenhouse (metal frame): Access Growhouse Mini Greenhouse – expensive but if you want the best of the best this is it – 25 year guarantee – if money no issue this is what you buy.
What you need to know about mini greenhouses
A good mini greenhouse can really change the way you look at gardening – it can become a near year round thing with the help of a greenhouse heater. From keeping your favourite plants and flowers alive and kicking through the winter, to being a safe place for your seedlings to take root, mini greenhouses offer lots of benefits to the home gardener. In this section we will take a closer look at what makes the best mini greenhouses stand out to make your decisions a little easier when it comes time to shop. These mini greenhouses come in a wide range of sizes, with varying numbers of shelves, and being constructed from materials such as plastic, wood, and metal.
Ventilation
One of the biggest issues with what I just mentioned above is heat. In the Summer a sealed unit will overheat and kill your Mediterranean plants – however, that same ventilation will annihilate your salad coming up to Winter – so what's the solution? Some have ventilation sliding sections that you can adjust like the Access Growhouse but it's a pricey unit. Interestingly the best thing for this and what I do is use the doors that open or unzip – that works perfect on the CHRISTOW and Kingfisher, now I know it's instantly sounding like a bit of a chore but hear me out. In the Summer you don't really need to be closing up your tomatoes or peppers so if you miss a few days then no harm done. In my mind opening the door and having a sealed unit is a far better solution than not being able to grow right up until Winter! Plus some purpose made ventilation units aren't big enough if you really get some blistering sun, they'll still overheat.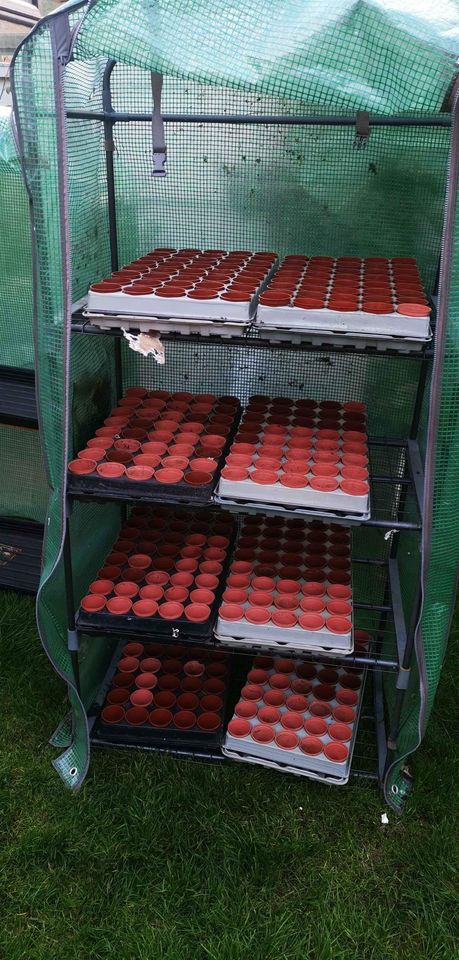 Location and sunlight hours
Location, location, location – no you didn't just start reading a home buyers blog 🙂 But seriously getting the most sunlight hours in the Winter as well as Summer is pretty much of top importance. You're going to want to consider changing up during the seasons too. So in the Spring it's an obvious South for me but many enthusiasts prefer East or West so they can get the most hours sunlight. I prefer South, I can always shade my seedlings if I feel the need and it saves me moving my mini greenhouse to take advantage of the Winter.
Shape and size
A lot of people buy mini greenhouses because they just don't have the space to fulfil their gardening dreams. For some, it might be that they live in the city centre in a flat, with no garden at all, while for others it might be that they have a smaller property that already has ornaments and such taking up space.
Mini greenhouses can be tall and narrow, or short and wide, (most notably CHRISTOW, Kingfisher, and Display4top) have a varying number of tiers or shelves and differ from coldframes like the Grow It Gardman Wooden House and Rowlinson which are made to last with a lower centre of gravity and much wider base. You should check out the dimensions of the products you are interested in and then take a tape measure to the intended spot where the mini greenhouse will sit, to see if it will fit nicely. What I mean by nicely is that there will be space not only for the greenhouse, but also space for you to access the contents without a struggle, and also so that the greenhouse doesn't block your way to anything.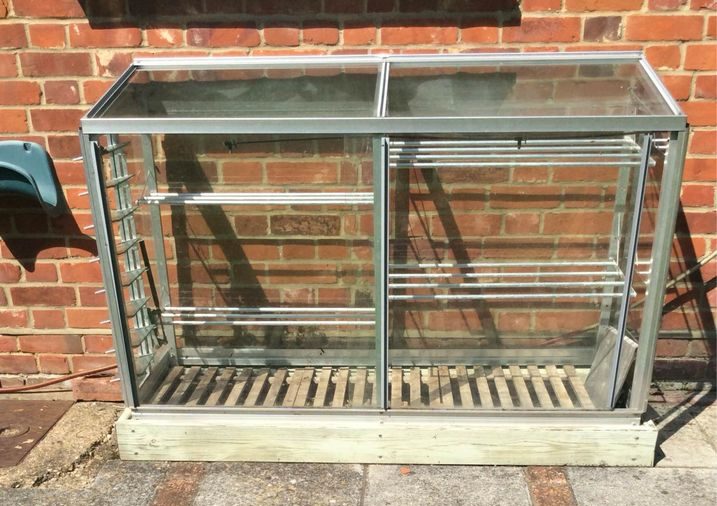 If you're going to have your mini greenhouse on a balcony, you need to think about how the sunlight will get to plants, and this might alter the type of mini greenhouse you buy.
Material
The three main types of mini greenhouse that you will find are either built of a metal frame with some kind of plastic cover, or a wooden frame with polycarbonate glazing, or if you spend big aluminium frame with safety glass like the Access Growhouse. There are other fully glass models available too, but they are less common.
Aluminium framed mini greenhouses are quite a bit more expensive than the wooden ones, and they can compete with the stability that comes with the extra weight of wooden mini greenhouses.
Wooden models are stronger and sturdier and so won't be affected by strong winds as much as their metal framed counterparts. However, they usually require a bit more setting up, and can get quite hot and humid in warmer months if the doors and lid aren't left open. Wooden mini greenhouses are quite a bit more expensive too.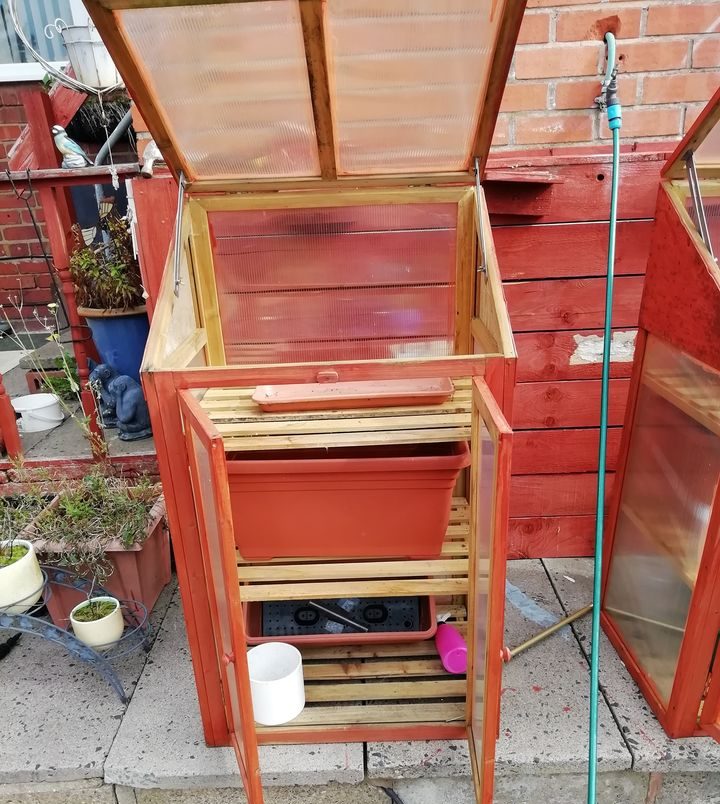 The tubular metal with plastic cover types are by far the cheapest and least quality but do serve a purpose and the lightweight nature of them makes them easy to move around and dismantle if necessary – ideal if you want to take advantage of sunlight in the garden at different times of the year.
Pre-treated timber
If you are going to buy a wooden mini greenhouse, then check to see if the wood is pre-treated and if not buy wood preservative, wood stain, or exterior varnish. You can also use teak oil. This means that it already has a special coating on it to fight off things like rot and other dangers that will shorten the working life of the product.
If the timber is untreated but you still have your heart set on that particular mini greenhouse, make sure you buy some creosote or similar and give the wood a good coating before assembling it.
Assembly
Some mini greenhouses can look very similar in design but that doesn't mean they are all as easy to assemble as each other.
Things like the quality of the instructions, and how well the predrilled holes align, as well as how well the screws and other components fit all come into play when constructing your chosen greenhouse.
I suggest reading through reviews and customer feedback to see what people are saying about putting these products up, and if you see a number saying that it is a nightmare, do yourself a favour and look elsewhere, as there are plenty of products on the market that have been designed to be easily assembled.
Shelf capacity
It is important to know not only the size and dimensions of the shelves, but also what the maximum weight they can handle too.
A bare minimum for a mini greenhouse shelf should be about 10 kilograms. Anything less than that, and it's probably just not worth it.
Also, when loading up your shelves, I wouldn't do it to the absolute max as these are usually estimates of maximum load, so play it on the safe side and have a few less plants on there just in case.
Also consider how to maximise the space – buying trays or pots that fill a shelf gives you the best bang for your buck too: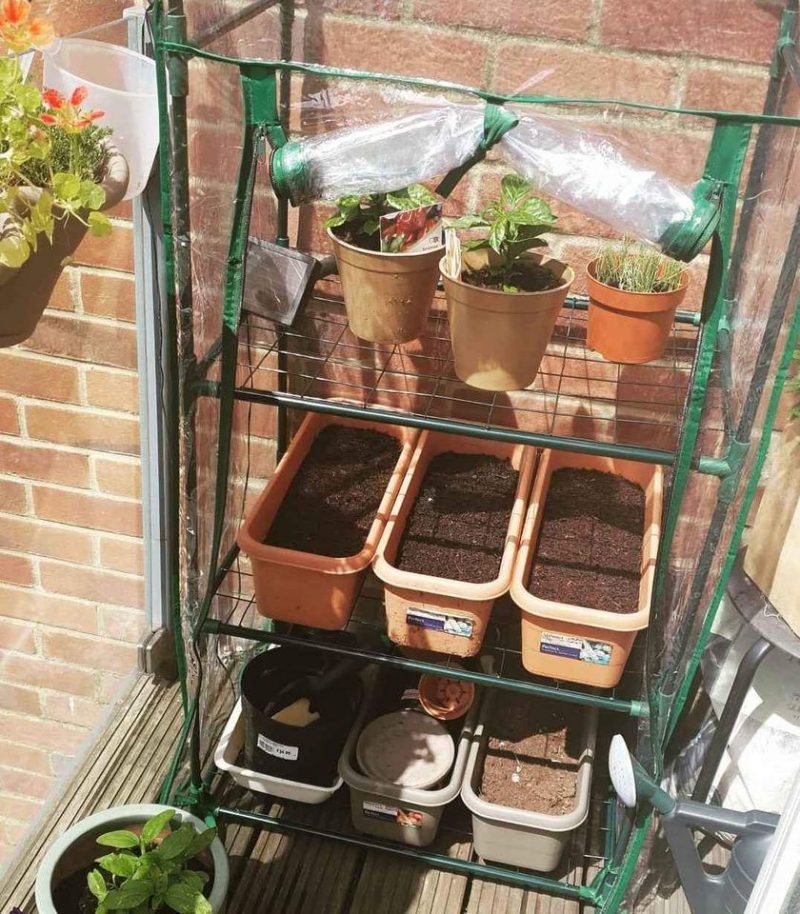 Best mini greenhouse
We've taken a closer look at the best-selling mini greenhouses you can buy online at the present time, and given our honest opinions on them. If something isn't up to scratch, we'll let you know about it, but we will also give credit where it's due.
Due to Covid-19, the products that were available to review were limited somewhat, but we still think we have a good selection for you here.
Let's kick things off with a review of the best-selling CHRISTOW mini greenhouse.
Priced sensibly on Amazon, this CHRISTOW Mini Greenhouse 4 Tier cost you a little bit less than similar products like the Gautzsch Siena garden model, and if you ask me, it's definitely better so that makes it a bargain!
Standing 69 x 49 x 158 cm (W x D x H), with four iron mesh shelves, each being able to hold about 15kg worth of plants, you have enough space to grow a decent variety of plants, and any of the shelves can be removed to give more space if needed.
The frame is made from thick powder coated steel pipes held together by hardy polypropylene connectors. This frame is covered by a plastic mesh, but unlike some other, cheaper products, this mesh cover is made thick and heavy duty, making it much stronger and durable than transparent plastic covers used by some this mini greenhouse's competitors. In terms of stability some throw a sack of compost on the lower tier – not my preference – it you have a wall facing the right direction, I'd anchor it to that so you don't waste the lower shelf – depends on your situation though I guess.
The large front door features a good quality resin zipper that works very smoothly, and a door design that rolls all the way up to the top, providing a lot ventilation.
This is a good thing because if left fully zipped up, a lot of humidity can build up inside due to the thickness of the mesh cover. This could be problem if you forget to open up the door in the warmer months, but in winter the cover does a great job of protecting the plants inside.
Like most mini greenhouses, this one was a doddle to set up, although I would recommend having a rubber mallet or something that can act as a substitute to help assembly along – that's what the instructions say – however, a wriggle and a bit of leverage and you can easily do without. It wasn't a problem though as common sense is all you need to put this thing together.
While still not what I would call 'premium quality' (what can you except for such a low price?) it does have enough features that place it high enough above some of the other mini greenhouses in the same price range to warrant paying a bit more for it.
It's more stable, has a better quality cover, higher quality zip, and a thicker frame and connectors. I think that's worth an extra few quid over the cheaper options, don't you?
2. Display4top 4 Tier Mini Greenhouse With Transparent Plastic PVC Cover
If you want a sensible alternative to the CHRISTOW then you're probably going to pick the Display4top 4 Tier Mini Greenhouse. In real terms they are almost identical – if it wasn't for the fact this clear plastic isn't as durable as the mesh on the CHRISTOW then the lower price would definitely have me picking it – you may still pick it for the saving!
The assembly isn't rocket science – the unit itself is just like all the cheaper mini greenhouses – you'll need to figure a sensible way of keeping this on the floor – it's essentially a kite without anything in, a good one at that. Some peg it, some throw in a bag of compost on the lower tier. Some also feel the need to tie down shelving in an attempt to bolster the overall strength of the unit – each of those works just fine in my mind but the best solution (which may not be practical) is to fix this with to a solid wall or fence – much depends on the orientation of said wall – you want to maximise your sunlight!
What about the bad bits? So you're paying less than a lunch out for two – expecting miracles is not on the cards – you're buying a unit you may get three to four seasons out of if you're gentle with the zipper and careful with the PVC cover. It's not the highest grade frame either, but what it is if used sensibly, is extremely good value for money but has flaws – it'll keep you gardening in Winter though!
Pros:
Bargain
Reasonable quality for the money
Cons:
Not built to last
Zipper will fail, just when.
3. Grow It Gardman Wooden House
One of the main complaints I hear about mini greenhouses is that they can be quite susceptible to the wind, and in a place like the UK, where we get more than our fair share of not so mild gusts blowing through, I can see why some gardeners get annoyed.
The problem is that often the best place for sunshine in a garden, is also the least protected by the wind, so your choices are either anchor your mini greenhouse down, create barriers to block the wind, or go for a heavier, wooden version like this Gardman wooden house from Grow it.
The Gardman mini greenhouse is a 110 x 57 x 76cm FCS certified timber construction with polycarbonate windows to ward off that winter chill. It makes a great place for your summer plants to be protected in until the weather changes for the better and they can go back out in the open.
The polycarbonate glazing is double layered and provides a good level of insulation. This is backed up by the good fitting doors that close up tight without huge gaps letting draughts in.
The reason that not just the doors but all components line up well is that this flat pack has been well engineered and the pre-drilled holes give a good level of alignment throughout the mini greenhouse which is something often lacking in cheaper models. This also makes assembling the product incredibly straightforward and quick, and doesn't require much more than a good Phillips screwdriver.
Inside the mini greenhouse doors you will find three tiers to place your plants upon, with the two upper shelves also being made out of wood and having a clever slatted design to help with drainage of excess water.
These shelves play a major part in the solidity of the overall structure of the greenhouse and so it isn't a good idea to remove them. This does limit the height of the plants you can grow on the lower two tiers, but hinged lid can be opened up wide to allow taller items on the top shelf.
A word of advice, if you do decide to go with this wonderful wooden mini greenhouse, invest a couple of quid in some finish like creosote or wood stain and give it a nice coat, as this will help to fight of any damage caused from the weather and insects.
This product impressed me and I think it would make a wonderful addition to any garden, not just small ones. It arrives quickly, can be assembled in an hour or so, and with a bit of coating, looks fantastic.
4. Kingfisher GHPRO Premium 4 Tier Greenhouse - Clear
It's quite common that the problem with smaller gardens and balconies is more to do with the lack of width than that of height, and if this rings true with you, this Kingfisher GHPRO four tier mini greenhouse could be right up your alley.
Standing 130cm high, but only 50cm wide and 45cm deep, this mini greenhouse fits nicely into any crook or corner and won't have you tripping over it or feeling too cramped.
The narrowness is nicely balanced out by the four tiers of wire shelves which still provide you with enough storage space to keep and grow a good selection of smaller plants.
If growing larger plants or flowers is more your thing, you don't have to buy a different mini greenhouse, you can just remove some of the shelves to suit your purpose. The shelves are really easy to take out and also to reinsert so you can swap and change whenever you feel like it.
I've seen some reviews of this product where they complain that it is a little flimsy, and while I can see their point to some degree, you also have to keep in and that this is a very low cost product that has been designed to be lightweight (under four kilograms) for ease of assembly and transportation.
Actually, I wouldn't call the Kingfisher GHPRO mini greenhouse flimsy as that implies it was supposed to be super strong but failed.
It is quite similar in sturdiness and build quality to most of its closest competitors of similar design. These mini greenhouse are very lightweight, and are meant to be weighed down by the plants inside them, or anchored down, not withstand gale force winds freestanding while empty. If you want that then you should look at a wooden mini-greenhouse like the Grow it Gardman model.
The Kingfisher GHPRO comes with a transparent plastic cover that can keep pests away or provide protection from cold winds. In the hotter months it can be unzipped and opened, or even removed completely to reduce the temperature for your plants.
This easy to assemble mini greenhouse is a very affordable substitute for people who can't have that full size model.
5. Access Growhouse, Mini Greenhouse
I appreciate this Access Growhouse Mini Greenhouse isn't going to be to everyone's taste but if you're looking for a long term solution in your garden to year round growing then this is the top kit. Metal framed with a quarter of a century in warranty – yes, that'll probably see me out and still be in warranty when I pass it on! I'll have to be sure to keep the receipt handy for the kids 🙂
It's not just the frame either, the design is professional standard. The ventilation is top notch and well though out, but so simple too! You've got front and side sliding panes so you can essentially move your plants outside in the hottest conditions without lifting a plant! Furthermore – one if my biggest hates of greenhouses with the kids (or pets) is greenhouse glass smashing – these guys have gone one further and safety toughened it for you. If you're unaware, this is basically a heat treatment that results in the glass becoming extremely tough, and if you do manage to break it, then it splits into hundreds and thousands of little pieces – the same technology that's on your car window basically.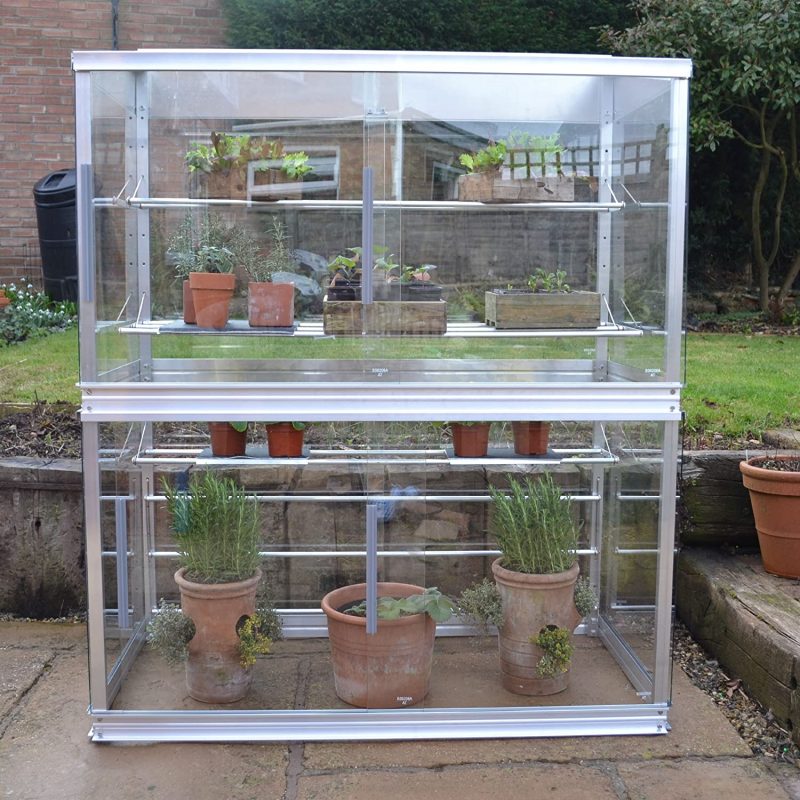 Assembly won't send you around the twist but there is a fair bit – the shelves and frame but their step by step video for assembly makes the process both easy to follow and enjoyable – some flat packs are a total drain – not so on this one. Talking of flat packs, they've taken excellent steps to keep this sensible. It doesn't arrive in one stupid jumbled mess, you've got 5 separate packages arriving. Three glass, two the frame.
Overall it's expensive but worth the money – this is an outfit that clearly understands gardening in practical terms and that resonates almost every step of the way here.
Pros:
25 year guarantee
Selling for years and very few complaints
Solid build with safety glass for kids and pets
Cons:
The price – otherwise it's spot on.
6. Gautzsch (FO) Siena Garden 569128 3 Level Conservatory
In direct competition with the Kingfisher GHPRO is the Sienna garden mini greenhouse from Gautzsch. It has a strikingly similar design, if in slightly different dimensions, and sits in the same thirty to forty pound price bracket, albeit at the lower end of the scale.
If you put this mini greenhouse side by side with the Kingfisher, you wouldn't think that this is the cheaper product. Its tubular steel frame is more robust, and also weighs more than its competitor at 6.5kg. That's still super lightweight though, and you'll need to anchor it down in strong winds.
While the Kingfisher stands tall and narrow with four tiers of shelves, the Siena garden mini greenhouse only has three tiers, but they are wider at 70cm, and overall you can fit the same amount of plants in both models.
The shelves are removable, just like with the Kingfisher
Where the Gautzch product falls behind the Kingfisher is with the transparent plastic cover. Quality-wise, it's probably on par, but I found that it just fitted a little too tightly over the frame and it made me worry about tearing happening after not too long.
Small things like this are to be expected from a product that costs thirty pounds though, and you can't really grumble too much. Besides, there are good quality covers that you can buy separately for very little money all over the internet these days, so it's not the nail in the coffin you would think.
Apart from that, this mini greenhouse does what it's supposed to. It's incredibly easy to set up, and you can do it on your own in no time. Then you just place it anywhere you have a bit of space that'll get some sunshine, pop your little plants on the shelf, and ta-daa! You're in business.
Before you know it, you can be admiring your home grown flowers, or slipping those herbs into your favourite recipes, and it won't cost you the earth to do it.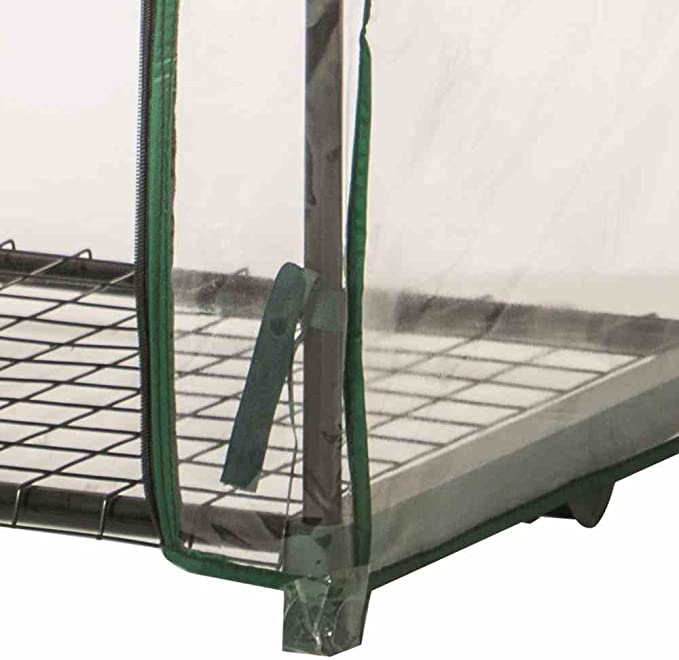 7. Rowlinson HWCOLDFR1 Hardwood Coldframe
If you want to keep those delicate flowers and plants alive during the frostier times of the year, or just want to continue exercise those green thumbs all year round, you should opt for a cold frame.
A cold frame is basically a wooden framed mini-greenhouse that requires no additional heat source in order to keep the contents alive and growing how you want them to.
This 60 x 61 x 80 cm Rowlinson model is one of the best out there, combining a practical design with an affordable price tag.
The pre-treated FSC hardwood frame and double walled polycarbonate glazing are not just an eye pleasing combination, but also provide excellent insulation for your green wonders encased inside, sparing them from the harshness of the frost and wind chill.
Inside this wooden mini greenhouse are two tiers of slatted shelves, but these shelves are really wide and deep and you can fit a lot on them. They have a slatted design to help with drainage and they are good quality, but the plastic parts that are meant to support them could be better.
This mini greenhouse is one of the easiest to put together that I've ever had a go at. There are very few parts, and armed with only a Philips screwdriver, I had this up and ready to be filled in a jiffy. There are pre-drilled holes for the shelf brackets to be slotted into, the shelves fit straight on top of them, and then you just screw the lid and doors on. It's that straightforward.
The good sized, polycarbonate glazed lid can be lifted open and locked in place at various angles, the widest of which will allow for a good amount of direct sunlight and ventilation. The front of the mini greenhouse is a single, large door that opens up from one side and this makes accessing your plants really easy with plenty of space to maneuver yourself to one side while gardening.
Empty, this timber construction weighs about 10 kilograms or so and won't be blown around, even in strong winds. Once filled with plants, it is obviously heavier, and therefore even steadier on its four legs.
For under a hundred and twenty pounds, you certainly can't grumble at something as small as some of the plastic parts not being as good as you'd liked, and the quality of the rest of the Rowlinson mini greenhouse definitely makes up for that small flaw.
Overall, this is a great little product, well worthy of consideration.
Final Thoughts
Not everyone has the luxury of a nice, spacious garden to live out their botanical fantasies in – though some do and still want a mini greenhouse to bring on their seedlings on . So what can you do when your green fingers are twitching but you just don't have the room for a normal sized greenhouse? Perhaps you want to keep your tomatoes in tip top nick? Mini greenhouses are just the ticket!
The solution is to get your hands on one of the best mini greenhouses. It doesn't matter if you have a tiny garden, or live in a flat with no garden at all, there are products out there that will facilitate your need to grow your own plants, flowers, and herbs while taking up as little space as possible.
Consider a greenhouse heater for the colder months, this way you can keep growing all year round! You want to site the heater early on in the install so you can decide on a final layout with the remaining space.
---