Written by Terry Smith
Our site is reader supported so when you click a link to Amazon we may earn an affiliate commission.
UK's best garden sheds made from wood, plastic, and metal reviewed
This article was last updated on December 7th, 2021 at 6:16 am
People use garden sheds for all manner of things. From simply being a convenient place to keep the rake and edging shears, to a fully fledged workshop, the best garden sheds in combination with shed security cameras, a shed alarm, and shed locks can keep our property safe and in excellent condition, and in general help us use our outdoor spaces to their full potential safe in the knowledge our tools and bbq are close by and easily accessible.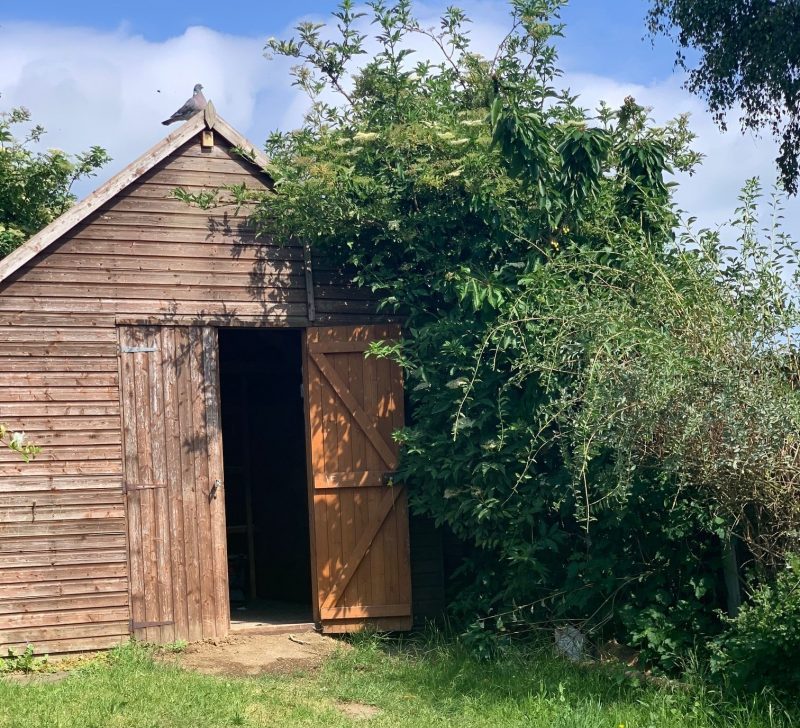 When I was growing up, everyone had a wooden shed, including my house – I still use the exact same wood preserver too. These days, improvements in material sciences have created stronger and more hardy plastics, as well as reasonably priced metal shed options, so now there are lots of extremely popular wooden shed alternatives out there, especially outdoor plastic storage sheds. Which type is better, I hear you ask? To be honest, they both have their advantages and disadvantages. One thing you definitely can't do is install windows into your shed or setup a legal RCD electric supply with plastic 😀 and we will point these out in our best garden shed buyer's guide. But if you want standard shed size, just to store a few bits the pick has to be plastic these days – I know, after berating plastic sheds 😀 If you want really big shed come workshop, like one of my personal sheds, you need wooden structure and of the sheds in this review, you can get a Power Shed that's 20 * 6 feet if you follow the links then search for the larger), if you want larger still, you'll need a custom build – my joists are 5 by 2, but we warned, they start at around £5000 for this quality with an apex roof and that's without full shed insulation: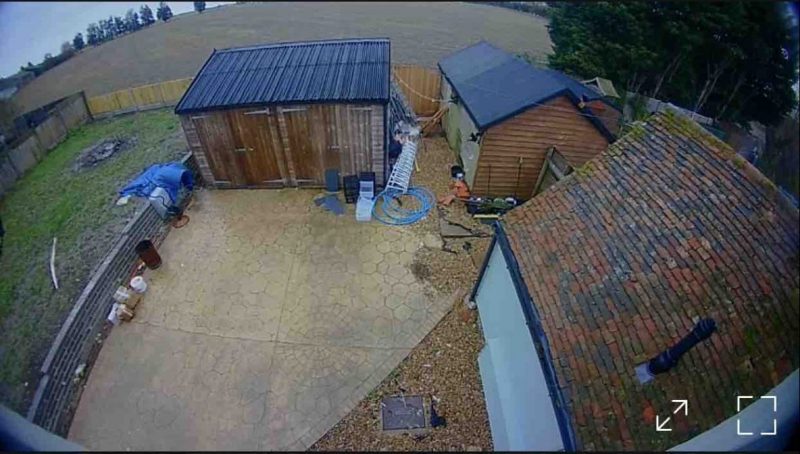 Here's a look at how large that is from ground level to be sure of how large we are talking (5.5m by 5.5m):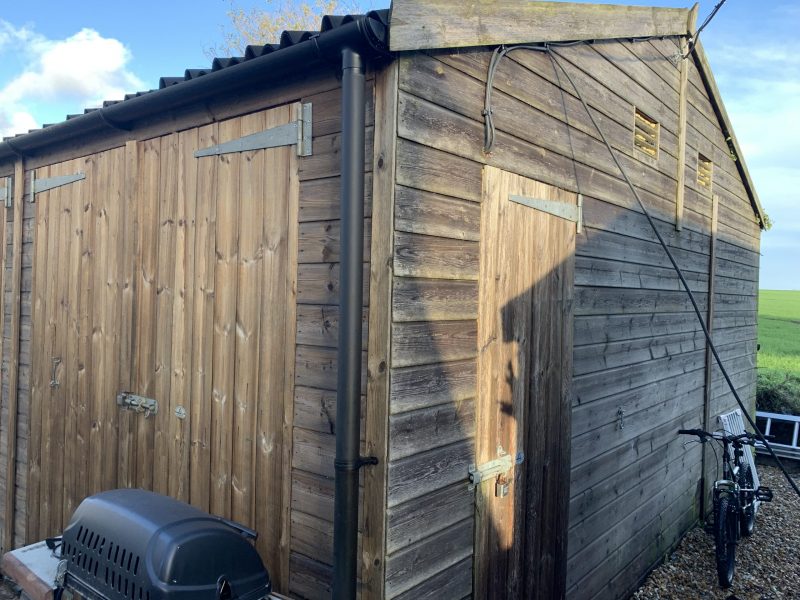 So let's take a look at the best UK sheds at the moment:
Best sheds: editor picks:
Best shed overall: Keter Manor Outdoor Plastic Garden Shed
Best wooden shed: Power Sheds 10 x 6 wooden shed – this is a very nice manufacturer, dependable and trustworthy
Best plastic shed: Keter Manor Outdoor Plastic Garden Shed
Best metal shed: Duramax ECO 6′ x 4′ Hot-Dipped Galvanized Metal Garden Shed – Total bargain and hard to find a good metal shed
Budget ideas: Duramax metal shed is very hard to beat – if you want cheap and good this is it and comes with a 15 year guarantee.
Heavy duty shed pick: Lifetime Outdoor Storage Shed – this is what you pick if you want the best of the best, no question but it is pricey.
Best large shed/workshop: Power Sheds 20 x 6 wooden shed – follow my links and you'll find even bigger of the Power Sheds 10 x 6 wooden shed! There's no reason for a seperate review as they are the same construction but longer. 
Best small shed: Dunster House 6.7×3.4FT Outdoor Bike Shed – ideal for bike storage – very secure.
Best garden shed buyers guide:
Above we have offered up a great selection of plastic and wooden garden sheds, but if you're still wondering which material is right for you, have a read of this buyer's guide that will hopefully help you to make up your mind.
Hinges
One of the first things that'll go on your shed is the hinges. On wooden sheds nice big tee hinges and the way to go. Obviously with a wooden shed, if your door fails or breaks, you can fit a new shed door and mount the tee hinges easily. With a plastic frame like the Woodbridge the hinges are slotted. If the bracket breaks you're pretty much done because it's hard to repair plastic properly. Not that the Woodbridge is known to fail easily mind, just an observation between the two.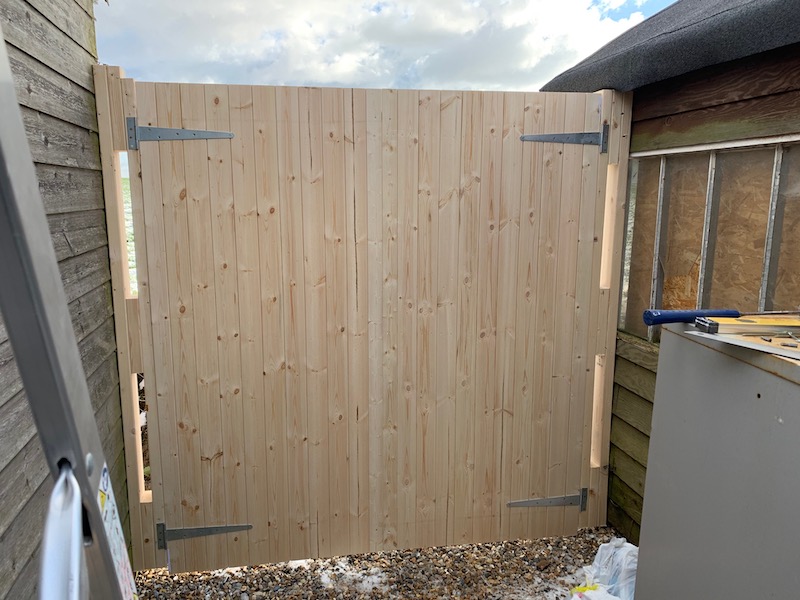 Then you've got security screws on the hinges – this is important as someone can grab a cordless drill and simply undo it – notice on these gates I installed I went with cheapies because theres no loss – galvanised is all that's required outdoors. By contrast on my shed filled with tools I have hinges that would be tough for a cordless grinder, granted they aren't carbide but good enough: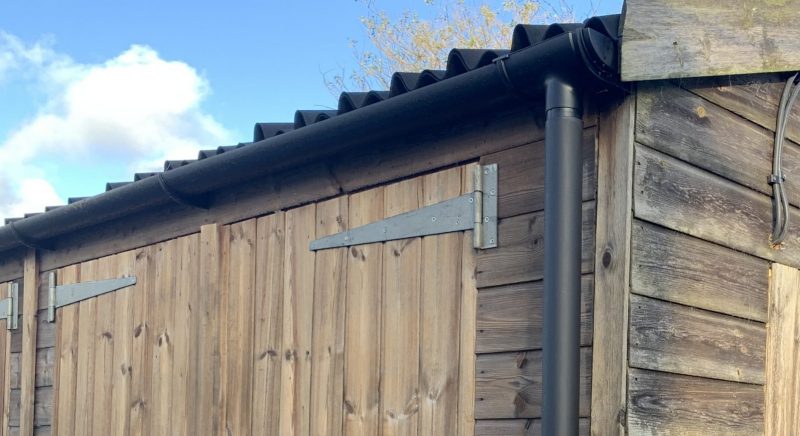 There are better hinges than both of these options though, if you go with the Lifetime Outdoor Storage Shed then the hinges are completely hidden. This solves that problem but we aware anyone armed with a reciprocating saw or circular saw, or grinder will get in.
Wooden vs plastic vs metal
It's no secret I am a fan of wooden sheds. Firstly I love woodwork, secondly, I feel plastic isn't really where I want to go with a shed. However that's a personal bias and I have still rated a plastic shed the best in Britain! The thing is for larger scale stuff you can really only go wood. You are not limited – you simply increase the timber thickness as you move up the size of shed, with plastic that doesn't work so well on scale. But it does work well up to 4m2, no question. The Lifetime Outdoor Storage Shed is almost impossible to pick fault and the Keter Manor just looks great in any garden.
The downside to wood is the maintenance, there's no getting away from that, shed roof cleaning, gutter on your shed need cleaning (and you probably want gutter guards), the wood even needs cleaning and refurbishing. But the results are super and it'll come up like new every time, even if you let it rot you can replace the boards as necessary: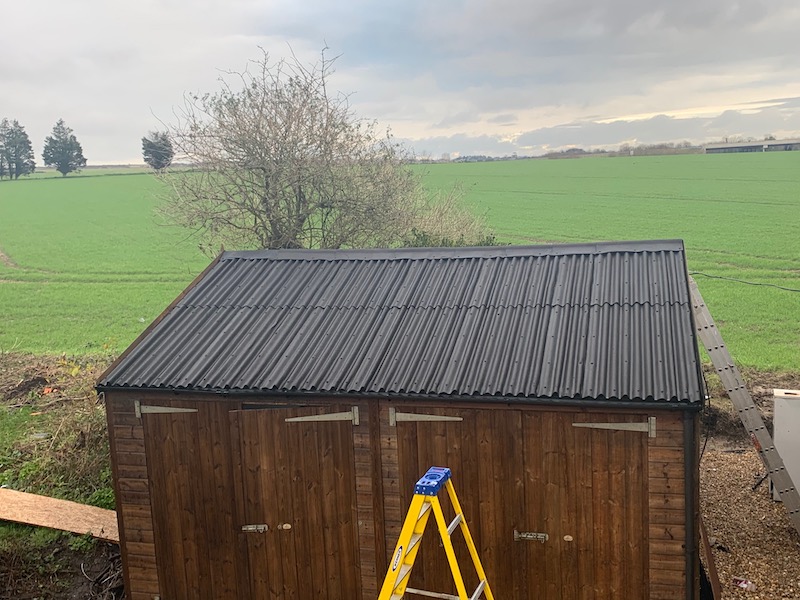 Cost
Probably the deciding factor for most people, is the price of the shed and so it's not hard to see why the Duramax ECO 6′ x 4′ Hot-Dipped Galvanized Metal Garden Shed is the best seller online at the moment. Generally speaking, plastic sheds are going to save you money when compared to a wooden shed of the same type and size – when you get to the larger end of the market, the mid range stuff with rising prices is about the same. There are maintenance costs to consider too, and again, plastic sheds are the cheaper option. However, a well looked after wooden shed will probably fare better in the long run, so if you're good at remembering to keep things painted or treated, that might be a better option.
Assembly
Wooden sheds usually take a little more skill and tools to assemble. You often have to drill holes and screw things together. Tongue and groove wooden sheds reduce this down to a minimum though.
Plastic sheds often just click together and screw nut and bolts, however this is more common with the smaller plastic sheds, and the larger ones still need screwing together. Actually, in my own personal experience, the larger plastic sheds can be quite bothersome to get things lined up properly if you don't know what you are doing.
Metal sheds are pretty much the same as plastic but can be dangerous and you definitely want a pair of thick gloves when handling the edges of sheet material.
Longevity – wood vs plastic vs metal
Because it is low-maintenance, plastic sheds will generally last longer than wooden ones but it does depend on a few factors. First of all, how good is the plastic quality and how good is your shed base? Then metal relies on not rusting in the same way as wood rotting.
Cheap plastic will crack, dent, bend, etc. quite easily and there isn't really a way to repair it, you'll just have to replace it. High quality plastic will last for a very long time though.
Wooden sheds have to be treated with a wood preserver for sheds and a shed stain or paint, and kept close eye on if they're going to last, but it is possible, with proper care, that they will last for years. I recently converted my shed into an office, in the end it comes down to how much attention you will give to your shed.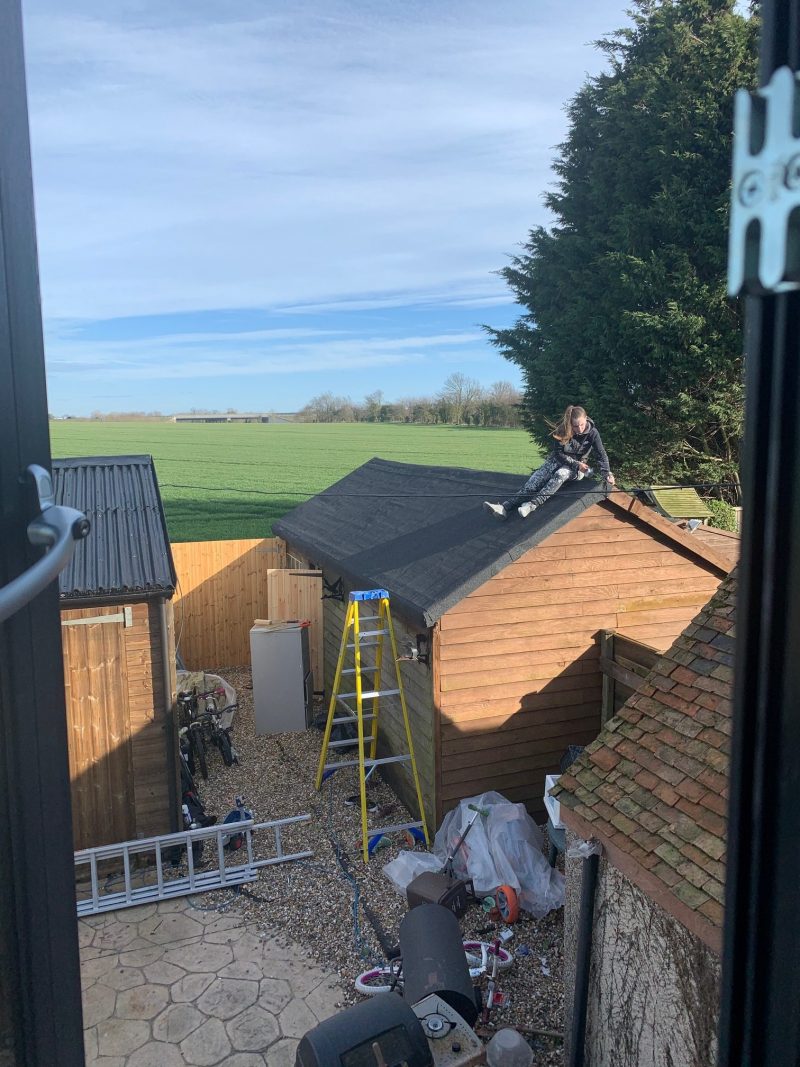 Another factor is how you will be using the shed. If you have to make alterations, like adding shelves, or a shed window for more light then wooden sheds are much better and are often designed to allow such things. Plastic sheds are not as good for that kind of thing, and you can actually negatively affect the integrity of the structure of them by doing so. You can't make repairs on a plastic shed easily either, but on my wooden shed I've done all sorts, including fitting a new shed door.
Aesthetics
There's a reason why so many manufacturers try to give their plastic sheds a faux wooden look, and to be perfectly honest, even the best of these are nowhere near as aesthetically pleasing as traditional timber. That's not to say plastic sheds are ugly, some of them look great, it's just that they can't compete with wooden sheds, in my opinion anyway.
Most plastic sheds won't have glass windows, although many have Perspex as an alternative, but again, for me, they just don't look as good as a well cleaned, glass shed window sparkling in the sun.
Armed with this info, picking the best garden shed should now be a walk in the park 🙂
---