Written by Terry Smith
Our site is reader supported so when you click a link to Amazon we may earn an affiliate commission.
Best garden sieves large and small rated for price and function 2021
This article was last updated on August 7th, 2021 at 2:23 am
Most garden soil is full of all kinds of debris. From stones and cement, to pieces of wood, plastic, old coins, screws, nails, and even glass; these solid objects somehow find their way into our garden soil, and that's not a good thing. For your newly planted flowers, plants, and crops to have the best chance of pushing through to the surface, they need a clear path to get there, and blockages caused by the type of debris we just mentioned will, of course, hinder their progress.
So, we know that we want to get rid of these foreign objects in our soil, but what is the best way to do that? One of the cheapest, and most efficient ways is to use a garden sieve, also known as a soil sieve, soil sifter, or garden sifter. These simple devices have been used for many generations, and are still widely used by the UK's gardeners to improve the quality of their soil, and also to remove clumps from their compost so we've come up with a list of the best garden sieves with both large and fine gratings to help you and a little spoiler, I really do rate the Apollo garden sieve best.
Comparison table: Best garden sieves large and small rated for price and function 2021

Product
What We Think
Price

Our range of high quality craftsmanship gardening tools is a must for the green fingered gardening enthusiast....
Tend to your soil and compost with our premium range of metal garden riddle sieves....
Rugged and sturdy steel metal sieve with green paint finishing available in 3 sizes....
Choose from 1/4" 6mm
Dimensions: 37cm Diameter & 7cm Deep.

Apollo Gardening 1/4-inch 6mm Metal Garden Riddle/Sieve Mesh

Durable powder coated steel
Ideal for removing stones or debry from soil
Can be used to sow seeds
Green
1/4" 6mm Mesh

Durable mild steel construction
Large 400mm sieve area
Dimensions: (H x D) 560 x 400mm
Quick and easy to use
Weight: 5.8kg

Tierra Garden GP55 Fine Galvanised Mesh Garden Sieve, Soil Sifting Pan

Galvanized 1/4-inch mesh
A must-have around the potting table
Use to remove rocks and debris from soil
Measures 14-1/4-Inch long by 12-3/4-Inch wide by 5-1/2-Inch high...

2 meshes sizes in 1 unique gardening tool
Helps to sift stones
Patented adjustable sieve with sliding function to change from a 10 mm or 4 mm sieve to 2 sieves...
Easy to clean with water
Another advantage: the screening system is permanently installed

Very practical, deep sieve
With two interchangeable screens
Made in the UK
Measures 35cm by 35cm by 12.5cm deep
The plastic outer is made from recycled polypropylene.
Best Garden Sieves Buyer's Guide
Before you go deciding on a particular garden sieve, we thought we would highlight a few of the things that we covered in our product reviews, just as a reminder. So, have a quick read of this buyer's guide, and hopefully it'll help you feel more confident that you're getting the right product for your needs.
Shape and Size
The most common shapes for garden sieves are round, square, or rectangular. The round shaped sieves tend to be the smaller models, but, in my experience, also the strongest. They are limited when it comes to how much soil you can pile in at a time though. The size and shape of the garden sieve you choose might affect how easy it is to use for logger periods, as you also have the weight to consider, and how you will actually hold the sieve in your hands.
Mesh Size
Another thing to consider is the holes in the mesh. Different sizes of mesh are better suited for different purposes and materials. For example, if you really want to get your soil completely pebble free, you're going to need a mesh that has the smallest holes possible. The downside to this, is that you might find that soil with get stuck to the mesh easier, especially if it is a little bit damp or wet.
Material
I'll admit that I've always preferred metal products to plastic ones, but after testing out this range of garden sieves, I did start to change my mind a little. Some of the better plastic sieves are extremely well made, and due to being plastic, they wont rust when left outside. Poorer made plastic garden sieves can be problematic though and can bend and warp out of place so you have to do your homework before buying.
Overall, I think I still would go for metal constructions with a good paint or galvanised coating, but this is just a personal choice. I just like the solidity of metal, and as I'm pretty good at keeping my tools maintained and stored properly, I don't have the problems with rust that a lot of other people do.
Rotary garden sieves
If you have a problem holding onto sieves with a load of soil in them, or you just want to do things the easy way, there's no better way than to use a rotary soil sieve. Sure, they cost a lot more, but if you are an avid gardener who will get a lot of use out of their tool, I would definitely recommend buying on of these.
So, if you think you're in need of one of the best garden sieves, look no further: We have compiled a list of the best sifters out there, and to help you make up your mind, we have included our very own reviews based on our experiences with these products.
Here is my selection of the best sieves available
1. Apollo Gardening 1/4-inch 6mm Metal Garden Riddle/Sieve Mesh
One of the most popular garden sieves found on Amazon, the Apollo metal gardening riddle is a bargain at the sub-10 pounds price tag it is currently going for. Its 37cm diameter metal frame of the ¼" version that we tested out has a nice solidity to it, and the powder coated paint job doesn't seem to have been any type of rush job, and will keep the rust at bay for a long time providing you don't drop and chip it.
Weighing 540 grams, it is lightweight enough to hold in the hand without getting tired quickly, but still has enough about it to not be flimsy like some of the cheap, plastic models you see for sale.
The mesh is a combination of 6mm holes across the width and 9mm running diagonally. Together, they do an excellent job of sieving clumps and stones out of soil, and leaving you with a lovely, fine, growing medium to plant seeds in.
We tried it out with some of my home-made compost, and also with some ready-made stuff out of the bag, and again it performed its duties well, removing unwanted debris and large clumps.
Also available in a 3/8" size for just over ten pounds, this is a strong, well put together garden riddle that does what it claims to, won't break the bank to buy, and is a good contender for best garden sieve for the money.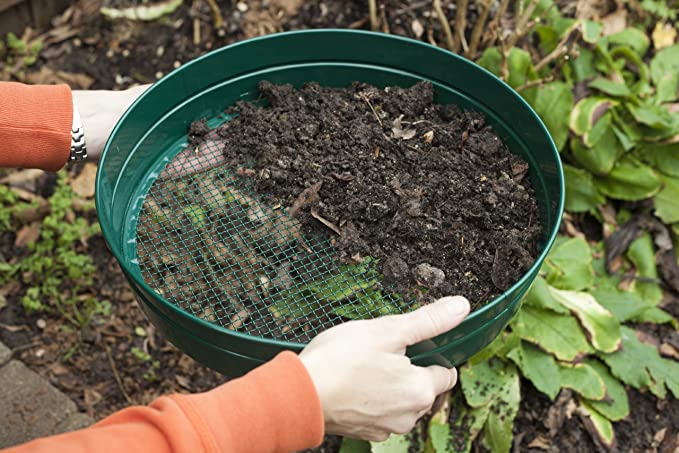 I normally avoid plastic garden sieves as my experience with them over the years has been less wonderful, but UPP's product has all but changed my mind, I have to say. Unlike many other plastic sieves, this one doesn't feel like it will fall apart after a couple of uses. The polypropylene that has been used for this product is actually quite sturdy, and one of the advantages of plastic over metal is that you don't have to worry about rust or other weather damage.
The UPP garden sieve comes with to plastic meshes: one 4mm mesh, and a 10mm one. These meshes are adjustable and can either be used individually, or they can both be slotted into the tray and used together. This allows you to use this product for a wide range of tasks, from getting weeds out of soil, to clearing pond water of unwanted trash and other things that have blown in there.
Another advantage of using plastic is that it keeps the total weight down, and this garden sieve is very lightweight at only 380 grams. That's not bad for something that measures 37 x 27 x 7cm, and if it was metal, it would be a fair bit heavier.
The only thing that slightly puts me off about the UPP adjustable garden sieve is that it is selling at a price that I think is a little high for a plastic product. Then again, the plastic used dis seem very durable, and with no rust to worry about it could end u lasting for a very long time, so maybe I'm just a bit biased when it comes to the metal vs plastic thing.

3. Clarke Rotary Soil Sieve CRS400
If you plan on sifting soil on a regular basis, have a lot of it to sieve, or you just don't relish the idea of shaking a tray back and forth in your hands for a long time, you should turn your eyes towards this fantastic product by Clarke. This rotary garden sieve is both a time and labour saving device, and really takes all the hard work out of getting your soil and compost into its finest shape.
Standing 56cm tall on its supporting legs and having a diameter of 40cm, the dimensions of the Clarke rotary soil sieve are fairly compact, yet large enough for you get the job done quickly. At nearly 6kg, it is a lot heavier than most of our featured garden sieves, but that is pretty irrelevant as you don't have to hold or shake it like you do with the others.
This is a doddle to operate. Just pop the soil or compost into the 40 x 15cm drum, and start turning the handle on top of the machine. Before you know it, the soil will have been worked through the 5mm holes in the mesh, and you'll have extremely fine soil that you can use anyway you like.
The Clarke garden sieve is a solid, mild steel construction and everything feels sturdy, there are no flimsy pieces, no wobbly parts, and it generally just feels like a very well made and durable piece of kit. The paint job shows no signs of chipping or flaking, and overall, I was impressed with it.
At around 45 pounds, it isn't the cheapest option available, but in my opinion, the amount of time and energy that it saves you more than makes up for the extra cost.

4. Tierra Garden GP55 Fine Galvanised Mesh Garden Sieve, Soil Sifting Pan
Well, I never thought I'd say it but I might actually have been wrong about plastic sieves all these years, as this is yet another one that impressed me. Then again, I think it is more down to the improvements in plastic making technology in modern times that has allowed manufacturers to step up their game when it comes to durability, while still keeping prices low.
This model has a polypropylene frame just like the UPP garden sieve, and it is equally as robust. In addition to this, the Tierra garden model has been made with recycled materials, so you don't have to feel too bad about using it if you're very environmentally friendly.
The mesh is made from galvanised wire to protect it from the weather and rust, and not only that, but it feels very string too. This is a good thing, as the extra deep sides and 14" x 13" (approximately) dimensions mean that you can get a lot of soil n there at a time.
Of course, having more soil in there will make things heavier, but thankfully the product itself wont add much extra weight to that as it weighs just 499 grams.
With ¼ inch holes in the mesh, you can get your soil really nice and fine, and it does a good job of removing most debris, although some smaller stones will still slip through. This is the same for pretty much all of these garden sieves though, and in actual fact, smaller pebbles can help with drainage in the soil and shouldn't hinder you plants growth.
At just over nine pounds (at the time of writing) this is fairly priced and I think offers the buyer good value for money. Solidly built from heavy duty plastic, and having a galvanised net makes it a good choice for people who tend to forget to bring their tools in from the rain.

5. Simpaoutdoor Steel Garden Riddle Sieve
Despite coming from a manufacturer with one of the worst names I've ever seen, this is actually one of the best round garden sieves in its price range, and definitely worth consideration.
Available in three different sizes: ½", ¼", and 3/8" mesh, you should be able to find just the right sifter for the task at hand. All these garden sieves are priced at 12.99 if bought individually, or you can save a couple of quid by buying the set of three.
This product is almost identical to the Apollo sieve we reviewed above. It has the same robust, metal frame and has been given an equally good coat of green paint to fight off rust. It also has the same dimensions of 37cm diameter and 7cm deep, and the holes in the mesh in the 1/4" model are around the same size.
However, it has to be said that I did find that the mesh on this garden sieve had just a bit more play in it than the Apollo, and would bend slightly if you pushed the soil down with your hand on top of it. Thankfully, the mesh is well made and regains its shape immediately afterwards, but I thought it was something worth mentioning.
What else can I say that I didn't already with the Apollo product? This is an almost identical garden sieve to that one, it has a robust metal frame, good paintwork, and produces fine soil when used. It is a little more expensive than the Apollo sieve though, and that's why I rated that one a little higher.

6. Garlandf 2 in 1 Sieve, with interchangable Screens
Featuring a deeper than average frame at 12.5cm, and having two interchangeable meshes, this product from Wold's collection is a sort of combination of the UPP and Tiera Garden products, which should make it a winner, however there are a couple of little things that let it down.
First of all the positives; the frame is a very solid recycled polypropylene construction and like already mentioned has very practical dimensions of 35cm long, 35cm wide, and 12.5cm deep. The two mesh screens are made from galvanised woven wire, and so the whole product is weather proof and not likely to suffer from rust if left outside, or used for things like cleaning pond water.
The problem with this garden sieve is that although the polypropylene is a strong material, the manufacturers have made it just a little on the thin side and this causes the frame to warp slightly when you squeeze and shake it. Why is this a problem? Because it causes the mesh screens to fall out from time to time, and while it only takes a moment to pop the screen back in place, it does get very frustrating and annoying after a few times.
Now, there are easy work-arounds for this, and the product can be quickly modified to keep the screen in place whether the frame moves around or not; but when you can by a superior product like the Tiera Gardens sieve for around the same price, it just doesn't seem worth bothering with.
To sum up, this product does have some good ideas. I like the dimensions of the product, and the interchangeable mesh screens. I also like that its weatherproof, but in the end, the thin plastic frame just lets it down. A bit of a shame really, as it could have been a very good garden sieve.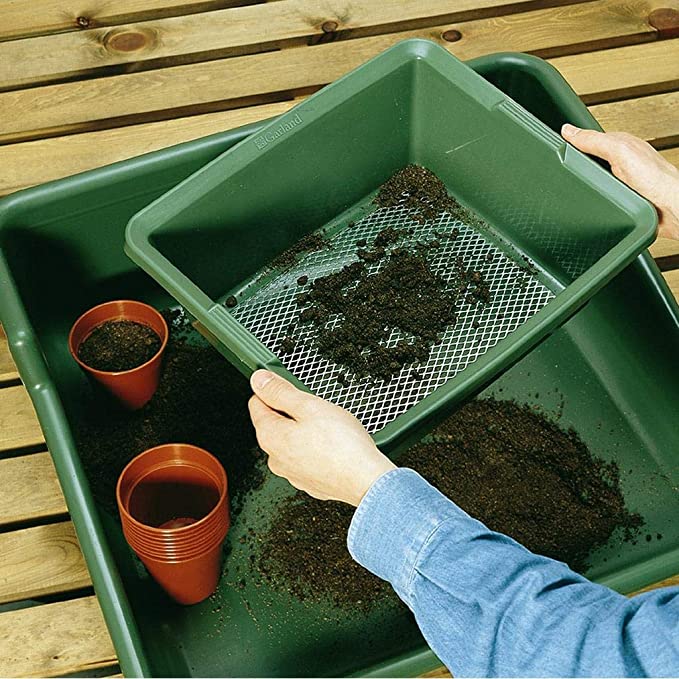 I hope you've enjoyed our review of the best garden sieves. We have a wide range of useful garden hand tools that might help you improve soil quality so please feel free to check them out. You could also consider making a garden sieve if you don't want to spend out after reading the review!
---