Written by Terry Smith
Our site is reader supported so when you click a link to Amazon we may earn an affiliate commission.
6 best works lights – the buyers guide to working with limited light
This article was last updated on April 23rd, 2022 at 3:28 am
It doesn't matter if you're working on your car, motorbike, or lawnmower, doing a bit of nighttime gardening, or building some new garden furniture in the garage, having one of the best work lights at hand is sure to make the task run smoother. Multiple lights will help rid you of the annoying shadow your body casts over your working object. This is only something you'll appreciate if you have experience working at night and in the dark, which I do, I'm one of those people that just can't put a project down – you know who you are too :), and therefore selected the best work lights for the job.
These types of lights are a great addition to any camping or fishing kit too, especially the more compact, lightweight models. From small wattage hand held inspection torches, to large work lights that can easily illuminate a large room, it has never been a better time to shop for one of these products. There are models available for every taste, and for every budget, but the sheer number of models available might have you scratching your head.
To lend a hand, we picked out a handful of the top rated work lights available in the UK and tested them for ourselves. You can read what we thought about each one in our in depth reviews below.
If you're still feeling stuck on the subject, you might find our buyer's guide helpful and you can find that at the bottom of the page.
Comparison table: 6 best works lights – the buyers guide to working with limited light

Product
What We Think
Price

High Brightness. Made of superb Cree XML LED
USB Rechargeable and Power Bank
Easy to Carry. A length-adjustable shoulder strap is provided together with a large comfortable handle...
5 Lighting Modes. Front torch: full brightness (1000lm
Water Resistant. Good for outdoor activities in light rain or snowy day with IPX4 water resistant rating....

USB Rechargeable: Built-in 4400mAh rechargeable battery allows you to charge the light without spending money on batteries...
3 Lighting Modes: Full brightness (5 hours)
Convenient Power Bank: 2 in 1 versatile work light
Water Resistant: Work well in light rains or snowy days with IP44 water resistant rating...
Easy to Use: One button control

360° Rotatable & Folding: RUNACC led work lights are meets the need of lighting up in double sides and...
Super Long Battery Time: RUNACC outdoor flood lights are equipped built-in 5000mAh large capacity rechargeable polymer battery...
Power Bank: All led floodlight with 1A current output USB port
Double Brackets Base: Features firm
3 Power Indicators: The LED work light with 3 power Indicators

Led's effectively illuminate the work area
20 x 0.5W white LED's to deliver bright
2 mode operation to deliver 750 lumens on high mode and 450 Lumens on low mode...
Free adjustment of work light angle
Adjusting knobs enable the user to direct the work light to the Desired angle...

☆【FLOOD LIGHT & HEADLAMP】We use lengtheded 2500Lumens COB as the source of the light...
☆【3 MODE HEADLAMPS】Short press the power button to switch the lighting options...
☆【WATERPROOF OUTDOOR KITS】LETOUR LED headlamps will stay on even in rainy or snowy days...
☆【8 HOURS LONG BATTERY LIFE】This LED headlight comes with a big battery container AND less power used...
☆【Light WEIGHT & WIDELY APPLICABLE】With the help of the adjustable headband...

【2-Way Work Light】COB light provides a powerful white flood light which can broadcast larger area...
【Brightness】LED Inspection Lamp provide you max 240 lumen (3W COB) and 80 lumen LED (1W LED) ...
【Rechargeable】Built-in 2x 3.7v 800mAh 14500 Li-ion batteries and Micro USB charger cable is included...
【Magnetic Clip】Magnetic clip for attaching to pocket
【Extremely Versatile】Great for the Home
We humans are a funny old lot. What one person thinks is heaven, another will think is pure hell! So, it is always surprising when a product is almost universally lauded over by customers (notice I said almost, we are still human after all).
However, that is what we get with this 10W work light from Lighting Ever (LE), and apart from one or two complaints, it has pleased a huge percentage of people who have bought it so we were expecting great things when we tested it.
My first impressions were that it was smaller than I expected, about the size of a child's lunchbox, and the way it looks when carried by the 180 degree adjustable handle, it even resembles one. At 476 grams (with the battery in) it isn't that much heavier either. The moveable handle also double's up as a sturdy stand so you can sit this down next you while you go about your tasks without worrying about it falling over.
Most of the body of the LE 10W portable work light is made of plastic, but it is not the kind of cheap plastic you sometimes find on lower cost products. No, this casing has been made out of ABS thermoplastic polymer, a material known for impact resistance and general toughness, and it's one of the reasons LEGO hurts so much when you stand on it.
Aluminium has been used for the metallic parts of the work light and this only helps to increase the longevity and durability of the product thanks to the material's resistance to corrosion.
This is a portable work light and is fitted with a 400mah rechargeable battery. This, in addition to its lightweight nature, means that it is great for carry around with you into those hard to get to areas.
The battery took around 7hours to fully charge and can be done by using the micro USB input in the back of the work light. Beneath that in, out is a normal sized USB output that you can use to charge your phone if you're not near an outlet. Under both of these is an LED display that shows the battery's current charge level.
How long the battery lasts depends on how you use the light. It has three light modes, full brightness, low brightness and flashing. The maker's claim that on full brightness you'll get about 5 hours of usage, and around 9 hours on the low setting. I think the flashing mode is meant for calling for help on emergencies.
At full power the light is really bright, much more so than I expected, and I wouldn't doubt LE's claims of 1000 lumens, but I'm not an expert on brightness levels. Even on the low power mode, it does a great job of lighting up a workbench or greenhouse.
Have to work outside in the rain? No problem with the LE work light, it has been tested and certified with an IP44 waterproof rating which means it can handle water splashes from any angle.
This LE product is an excellent portable work light, doing everything that it needs to, and more, to a high standard and I can see why customers are raving over it. A top buy at a very affordable price.
2. Makita DML805 14.4/18 V Corded and Cordless LED Work Light
Reassuringly expensive was a slogan used successfully by Stella Artois for years, and I think it is quite a good fit for more Makita products too. Whether it is a power drill, hedge trimmer, or work light, if it has the Makita name on it, it will probably be higher up the price range. But there's a reason for that. Makita have made a name for themselves by consistently bringing us excellent, reliable, and almost indestructible tools for decades. If there's one company that's earned its stripes in the trenches, it's Makita.
This Makita LED work light can be used as both a corded and cordless tool and can be powered by a 240V mains supply or by inserting a Makita 14.4V/ 18V li-ion LXT battery which you'll have to buy separately if you don't already own Makita battery powered tools. These batteries are compatible with their cordless lawn mower, cordless brush cutter, and numerous other tools so can really save you money buying a whole set.
Energy efficiency is a great trait to have in a cordless work light and this model ticks that box alright. On a fully charged 500mah lithium ion battery, this work light will give you about 17 hours of continuous use on low power mode, and a still very impressive 8 and a half hours on full brightness.
But do you have to surrender some lighting performance for that extra battery time? Certainly not, and the claimed brightness levels from Makita are 750 lumens on high and 450 lumens on low. One thing I noticed about this Makita work light is that the quality of the light is very even across all angles.
Included in the packaging is a heavy duty plastic tripod stand which lets you not only insert the light onto a stable base, but also alter the angle of it, so you can have the unit pointed level, down from a workbench, or up from the floor. In fact, it can be adjusted through a 360 degree vertical arc, and for fine tuning of the light angle you can use a knob on the side of the casing so you won't have problems getting it exactly how you want it.
At 26.4 x 33 x 16.5 cm this work light is a little bit large to be carried in one hand while working with the other, even if the 2.3kg weight makes it plausible. It is compact enough to easily move into the area you're working though, no matter how cramped.
The build quality is what you would expect of a good Makita tool, premium level, and you can be sure that you'll get years of good use from this, even with a few knocks and bumps along the way.
There's a reason Makita has been the choice of professionals for years, as this excellent work light just solidifies it in my mind. Well worth every penny.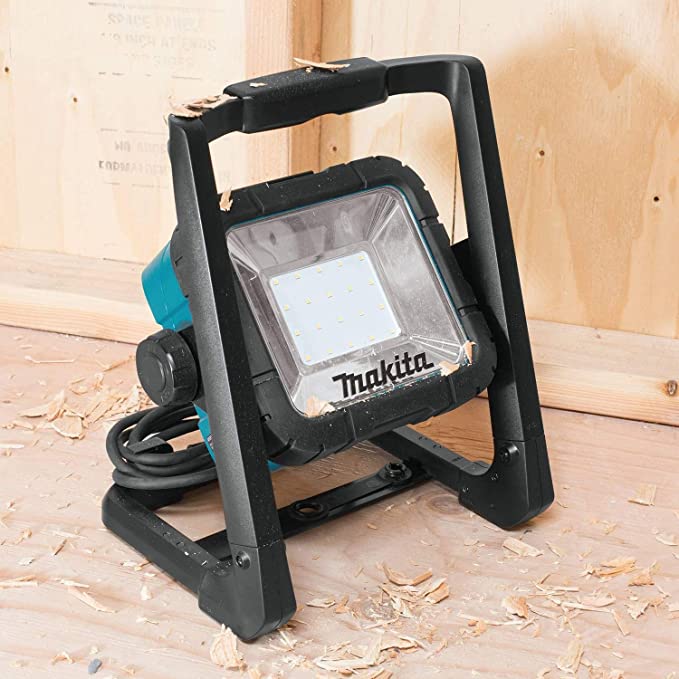 Here's an amazing little work light for all you DIY mechanics out there, or for those of you who are looking for a truly compact and portable model. With its pen-like design, barely noticeable 83 gram weight, and compact dimensions of 18.5 x 3.5 x 2cm, this is a work light that you can carry with you literally everywhere (well on land anyway).
It even has a magnetic pen holder style clip so you can pop this onto the top pocket of your overalls, shirt, or polo and forget about it while you work. This magnetic clip also has the added value of being able to attach to any ferrous metal surface, such as the underneath of a car bonnet and also rotate the light through a 120 degree arc.
The Linkax portable work light is powered by two 3.7v 800mAh 14500 Li-ion batteries that are integrated into the tool, and are charged through using the supplied micro USB charging cable. On a full charge you can expect to get between 2.5-3 hours worth of continuous use out of it.
There are two lights you can choose from, an 80 lumen LED torch light on the top of the tool, and a brighter 240 lumen COB light on the front. Both provide easily enough brightness to use as a personal work light in cramped spaces but the LED is a more focused beam while the Cob gives a wider 'flood light' effect.
Beneath the COB light is a single button you press to select which one you want to use. It's conveniently placed, simple to use, and works well. One of the best things about the Linkax portable work light is the price, and this incredible little tool can be yours for under eight pounds on amazon at the moment.
Now, for that low a price, you'd be forgiven for thinking this might be a bit frail when it comes to build quality, but that certainly isn't so. To say I'm a bit clumsy is the understatement of the century, especially with small things and I'm always dropping them.
So it should not come as a surprise that while testing this work light, I dropped it more than once, and am very happy to say it didn't seem to negatively affect it all. Top marks for robustness from me and my less than dexterous hands.
For the rest of the population, I doubt there will be quite as many accidental drops, and the ergonomic shape of the product does make it easy to get a decent grip of it.The Linkax portable work light is available in either black or black and red, and can be purchased as a single unit or as a pack of two.

If I was awarding a prize for the most versatile and innovative work lights, I think I would have to give it to this one from RUNACC. There are two main features that set this work light apart from others, the double brackets that act as either a handle when combined or as a very stable base, and the 20W dual COB lights. Both of these can be rotated vertically through 360 degrees.
What's more, the two lights can be moved independently of each other and this gives you a lot of freedom and choice about your lighting options. For example, you can have them sitting on top of each other and providing 1500 lumens of brightness in the same direction, have them in the same direction but at different angles, or even have them sitting back to back in the stand shining in opposite directions and lighting up two work areas at the same time.
There is also the option to have just one light working at a time and doing this increases the battery life from 5 hours to 8 hours on a full charge which takes about 5 hours. Charging the 5000mah battery is done via a standard USB cable and so can be powered from a wall socket or a car cigarette lighter if you have the right adapter.
You can also use this dual work light as a power bank to charge up your phone or other mobile device, which is perfect for camping or fishing trips.
Standing 23.5×18.5x5cm and weighing just short of 600 grams, you can certainly say that this RUNACC work light lives up the term 'portable', and won't take up much space on any workbench, garage floor, shelf, or even in your backpack.
And you don't have to worry about this thing taking the odd knock or two. It is very solidly built out of TPR which is a very hard wearing material that is highly resistant to abrasion, impact, and tearing, all while remaining light weight.
A bright, foldable, versatile work light with a long lasting battery. What more could you want? Well, how about we throw in a very affordable price in just for good measure?
Sometimes you need a source of light that points exactly where you are looking, no matter which direction it is, and no matter how quickly you change it, and for that you can't beat a good old headlamp.
Headlamps are unique because you don't have to adjust the angle or position of the light while you work and they leave both of your hands free to get on with your work or DIY tasks. They have a wide range of uses from hiking at night, camping, fishing, night gardening, people working at heights, and many other things.
This 14×9.7×9.7cm COB work light is surprisingly bright, producing a very impressive 2000 lumens on the highest setting which is more than enough for any task I could think of where you'd be needing a headlamp.
There is also a lower brightness setting, and also a third one that makes the light flash blue and red which I can only presume would be handy for hikers or climbers to signal for help in an emergency.
What I liked about this work light is that unlike a lot of headlamps that have a focused beam, this one actually kicks out a wide arc of light and can illuminate a pretty large area in a 120 degree angle. It also has an impressive battery life which can be up to 8 hours on the lower setting but obviously less if you have it on the brightest.
Power comes from three rechargeable batteries that are helpfully included in the box, and they take about 6 hours to fully charge once inside the battery compartment.
The batteries are 18650 lithium ion batteries, and are the same ones that are commonly used in vape pens so it shouldn't be too hard to find inexpensive replacements in the future. You should get plenty of life out of the first three though and a USB charging cable comes with the work light.
This work light has been made to last and has a durable PVC and aluminium alloy shell. This can be mounted on the equally hard wearing elasticated nylon headband, and there is a good quality compact, hard carry case to keep it all in.
With simple controls, a good battery life, and impressive beam, this is a very good alternative to other portable work lights, and is a good choice for people who always need both hands free when working
Lighting ever (LE) are in our list of best working lights for the second time with our final review of this article- their rechargeable camping lantern. While not strictly advertised as a work light it can definitely serve that purpose with ease, and with a maximum brightness of 1000 lumen you would find it hard to find a workshop or garage that you couldn't illuminate properly.
It is not only the brightness that makes this work light useful though, it's long range of 500 metres makes it a very valuable tool for security guards, hikers, or emergency and rescue personnel.
The light quality is excellent no matter if you are using it on close up objects or shining it on something far off in the distance. This is due to LE installing Cree XML LEDs in this product which are known to be a step above the norm.
There are two lights to choose from and different lighting modes for each. The main torch beam in the front of the work light has a high brightness of 1000 lumens and a low setting of 400, which is still very bright.
For tasks where you don't need such a high degree of illumination, there is a large side lantern which also has two power settings, only much lower brightness levels of 130 and 70 lumens respectively, so you can use it to read a book while camping without it being too blinding.
This side lamp has a third setting, the emergency SOS light, a flashing blue and red that resembles police or ambulance lights and is sure to attract attention should you break down at night on the motorway, or get injured while hiking in the wilderness.
This LE work light has a lot of battery power, 3600mah, but it can be charged up to capacity in about 5-6 hours using the USB cable provided. Using the work light in full power mode with the front torch will only get you about 2 hours of continuous use, but turn it down onto 400 lumens and that extends to around 5 hours. Using the side lamp gives even more battery life with 6 hours on the brightest setting and up to 12 hours on the lowest.
Being able to act as a power bank and charge your mobile devices seems to be a very much wanted feature on the best work lights these days, and this one doesn't disappoint with a USB output for just such a task.
When it comes to toughness, this LE work light doesn't disappoint, and the solid ABS plastic provides a shock and impact resistant shell to make sure that the light keeps working as it should for a long time to come. You don't have to be concerned with bad weather either, LE have had this tool tested for water and dust resistance and it has been certified to IPX4.
This work light measures around 25cm long and 7cm high, and weighs approximately 850 grams, but the solid carry handle, plus the free shoulder strap make it a breeze to carry around and operate for extended periods of time.
With a load of positive feedback from customers, you might feel like checking this out for yourself, and priced at under 30 pounds on Amazon, who would blame you?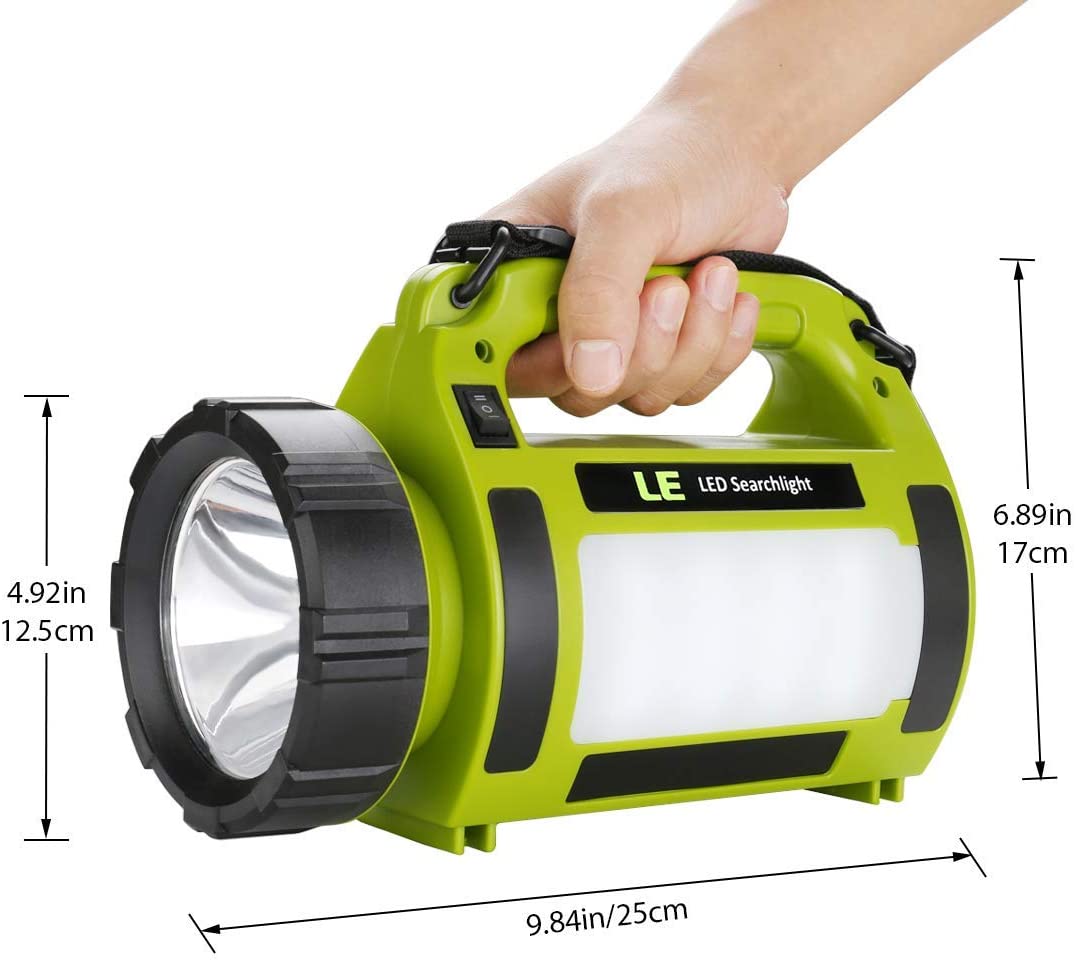 Best Work Lights Buyer's Guide
As promised, here is your guide to all things work light related. We will take the most important factors and features that all of the best work lights should have, explain why they are important, and point out a few things to look for while you are shopping for the model that fits your needs the best. Let's get started shall we?
Corded or cordless work lights
you can separate most work lights into two distinct categories- corded and cordless models.
Cords have a power cord and must be connected to the mains supply or generator to run, while cordless work lights run on batteries and therefore don't have a power cord.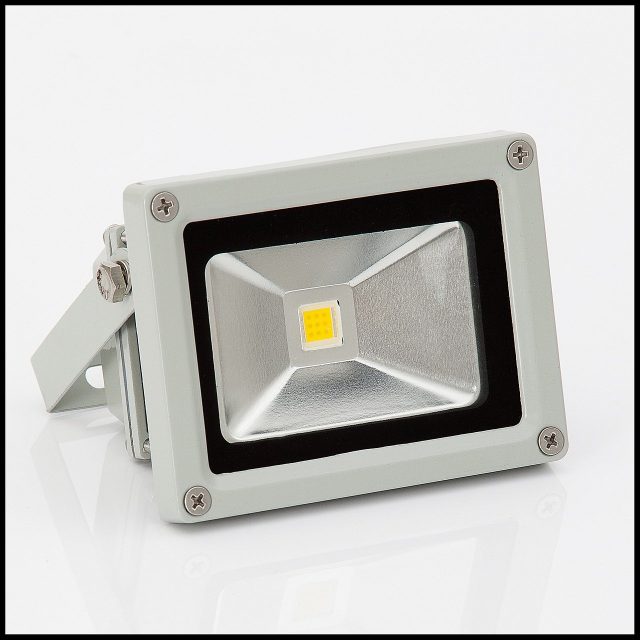 Cordless units are very popular with people who will only get occasional use out of their work light because their negative traits i.e. only having a finite run time before having to be charged, doesn't affect them that much.
Folks who use their work lights on a daily basis, for long periods at a time will probably prefer a corded model, but might also have a smaller cordless work light to use for specialist tasks. Obviously, the main problem with corded work lights is that they have limited range and you have to avoid tripping over the cable.
How bright?
It goes without saying that brightness is an important factor when considering a work light.
You will often see lights advertised as having a certain number of lumens, as this is the measurement that is used for brightness. Anything over 500 lumens is going to be quite bright, while 1000+ lumens will be exceptionally so.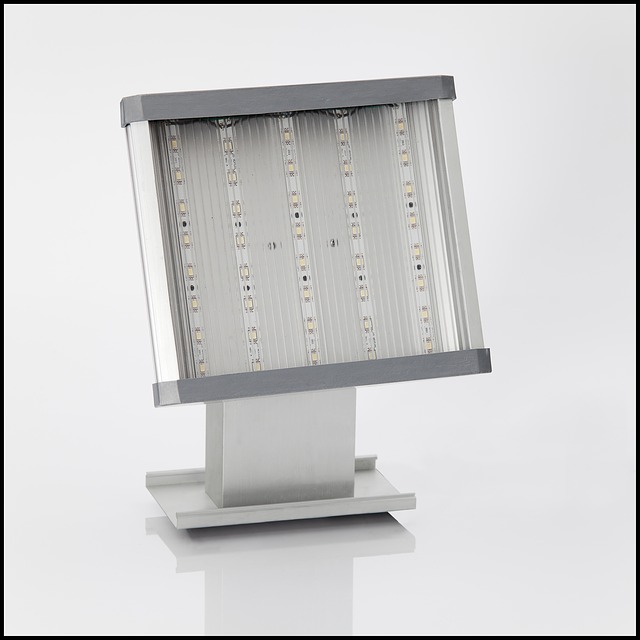 Some modern work lights have selectable power modes, and some even have multiple types of light, and I would suggest buying one of these because it gives you a wider range of uses for tools.
Battery life and charging
If you're going for a cordless work light, you need to know a few things about the battery. Firstly, you should know how big the battery, or batteries, are and what type. The best kind are rechargeable lithium ion batteries and they come in various sizes which are usually written out as a number followed by 'mah' such as 1500mah. The higher the number, the larger the battery.
You also need to know how much use you will get out of a fully charged battery, and what factors affect this. For example, models with different brightness settings will last for longer on the lower settings, sometimes much longer.
Then there is the time it takes to fully charge the battery and your charging options. With advancements in battery technology it is now possible to use a wall socket, car cigarette lighter, and even solar panels to charge work lights, and a common charging time is between 5-8 hours.
Other features to look out for
On top of the things we've covered, there are some other features that you might come across and find handy. Small, pen shaped work lights can be very useful for motor mechanics as they are very compact, and usually have magnets in them that allow you to stick them onto metal parts of the car and work hands free.
These days it is not uncommon for a work light to double up as a power bank to charge your mobile devices, so this is something you might want to look out for. If you go hiking a lot, or take long drives across the country, having a light with a flashing SOS function might come in handy so you can signal for help.
Good, solid stands, and ones that allow the light to be angled how you like are not all that hard to find these days, and work lights that you can hang up while you get on with your jobs are also common.
Well, that about wraps up this article on work lights, we hope that you found it useful/helpful and now feel like you are armed with enough knowledge about the best work lights available to make an informed decision.
Please feel free to browse the site and view our other pages full of reviews and info.
---