Written by Terry Smith
Our site is reader supported so when you click a link to Amazon we may earn an affiliate commission.
Best garden multi tool reviewed and tested for price and reliability
This article was last updated on August 7th, 2021 at 2:26 am
What is a garden multi tool and how will it benefit you?
Creating a garden to be proud of takes a lot of blood, sweat, and tears, and of course an armoury of great garden tools. Luckily for those of us that want a bargain, the best garden multitool performs as a chainsaw, cordless pole hedge trimmer (as well as a bog standard hedge trimmer, cordless brush cutter, and strimmer all in one, making it one of the best buys available.
Because we usually buy all of these gardening tools over a long period of time, we don't really realise how much money we're spending, or the fact that there is a cheaper and more convenient option available and with the Bu-ko multitool upping it's game big time, I thought it's time to update and re-evaluate these.
These clever and innovative products are excellent for new and experienced gardeners alike. For people new to gardening, they give you all of the tools you are likely to need right there in one handy package, saving you time and money that you would spend buying them all separately.
For more experienced gardeners, who may have grown attached to their old tools, these garden multi-tools can be a great bit of kit to have lying around just in case your 'old faithful' decides to start playing up.
Whether you're looking for the type of performance only petrol powered multi-tools can offer, or you prefer quieter electric models, you can usually find a good selection of these products out there.
However, since the Covid-19 outbreak, the availability status of many garden multi-tool models has changed, making things a bit more difficult.
To make things easier for you, the customer, we searched through what products are and aren't available right now, and then tested the best rated of them to see if they were worth your money. You can find out what we thought in our no holds barred product reviews below.
If you would like to know more about garden multi-tools, then skip to our buyer's guide where you'll find out what makes one of these products worthy of a place in our best garden multi-tool list.
if you don't find what you are looking for today, please check back at a later date, as we will be constantly updating these pages as the Covid-19 situation changes, and more products come onto the market.
Comparison table: Best garden multi tool reviewed and tested for price and reliability

Product
What We Think
Price

BU-KO 2019 52cc Long Reach Petrol Multi Functional Garden Tool

✅ BU-KO - 52cc 5 in 1 Multi-Tool With 1 Extension Pole
✅ Attachments: New Design Strimmer Attachment with Strimmer Heads (Grass Trimmer Head with 4 Lines...
✅ Ideal for landscaping: Various Blades and attachments will allow you to accomplish the most gardening tasks with just...
✅ 12 Month Warranty & Instructions Included & FREE Toolkit
✅ Please read the Description Below for specification on each of the attachments...

Parker Brand 52cc Multi-Function 5 in 1 Garden Tool - Brush Cutter, String Trimmer, Chainsaw, Hedge Trimmer

Strong & Reliable 52cc Two Stroke Petrol Engine
2.2kW @ 7500RPM
TUV, CE Approved
Includes Chainsaw. Grass Trimmer
Tool Kit, Harness & Fuel Mixing Bottle Included

Greenworks Tools Cordless Pruner and Telescopic Hedge Trimmer 2-in-1

EASY TO START - Insert 40V battery & get started: with the battery polesaw and hedge trimmer you can...
PRACTICAL 2-IN-1 SOLUTION - make gardening easier with the high branch saw and the hedge trimmer telescope in one...
HEDGE TRIMMER - equipped with a 7-position articulated knob for optimal alignment a robust sword with 51 cm length...
POLE CHAINSAW - thanks to a sword length of 20 cm
ONE BATTERY FOR ALL

Bosch AMW10 Electric Motor Unit 1000w 240v Multi Tool System

1000 watt motor unit delivers outstanding cutting performance whatever the job
Effortless quick attachment change
Shoulder strap and adjustable handle for well balanced and comfortable use
Ergonomic design - easy to carry and manoeuvre
Hook for easy, space-saving storage
1. BU-KO 2019 52cc Long Reach Petrol Multi Functional Garden Tool
The Bu-ko multi-functional gardening tool is available for around the same price as the Parker Brand model, and shares a lot of features with it, but I would say that this one just beats it to the post on my list. I would personally say the Bu-ko is the best garden multi tool.
Like its rival, the Bu-ko features a 52cc, 2 stroke engine that kicks out around 3HP at 7500rpm. I did notice, however, that the Bu-ko engine was easier to start, and often fired up on the first pull if properly prepped with the primer beforehand. If you don't know it well, here's a look at the mass of equipment it comes with too: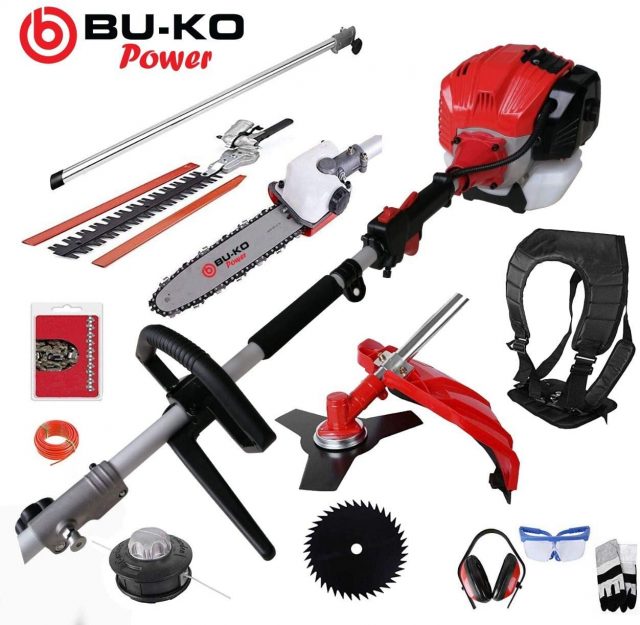 The centrifugal clutch and bevel gearing of the engine deliver smooth power that is always there when you need it, and this garden multi-tool never once got bogged down while we were putting through its paces. The 1.2 litre fuel tank is a decent size and should keep you from having to stop to top up too often.
This Bu-ko garden multi-tool comes with a number of attachments included and they are all well built and useful. For instance, the long reach hedge trimmer has a hardened steel, double edged blade that will easily slice through those unwanted branches.
Likewise, both the brush cutter blades that come in the box are decent quality and perform their duties as they should.
The chainsaw attachment features an automatic, adjustable oiler, and the chain can be adjusted really easily through a simple twist of a screw and then tightening the locking nut. Small, yet practical features like these make this a very user-friendly garden multi-tool.
One thing the Bu-ko multi-tool gives you is plenty of range. At full extension the pole will reach a huge 3.4 metres in length, and even though this does require more skill to control the attachments at this length, t certainly comes in handy for those hard to reach top branches.
In addition to the main attachments, Bu-ko have generously thrown in a whole host of other accessories with their well-built garden multi-tool. There is a padded harness, safety gloves, ear protectors and googles, a chain for the chain saw attachment, a toolkit for assembly, and a petrol mixing bottle.
The harness is quite comfortable and does a good job of helping to handle the weight, but I did find it a little awkward to put on at first. The safety equipment is ok, about what you'd expect for free in one of these kits, as is the toolkit.
That toolkit is certainly needed for assembly though, as there are many separate parts to put together. Following the less than wonderful instructions, I managed to put this garden multi-tool together in just over an hour and a half, and I'm quite experienced with this stuff so it might take you longer.
if you do have problems, you can always call the helpline and Bu-ko have got a great reputation for customer service, replacing any parts that might be damaged in transit, and helping with any user related problems.
I would have liked to have seen some kind of storage bag come as part of this garden multi-tool kit, as having a place to keep all of the attachments handy would certainly have been helpful. Unfortunately, there isn't one though, but it's not the end of the world.
All being said, this is good value for the price. You get a good selection of attachments that should see you through most gardening jobs, and a load of other accessories thrown in for good measure on top of that.
The engine starts up easily, and runs nice and smoothly, and is powerful enough to make light work of even the heaviest tasks.
2. Parker Brand 52cc Multi-Function 5 in 1 Garden Tool - Brush Cutter, String Trimmer, Chainsaw, Hedge Trimmer
One of the better, available deals out there right now is the Parker Brand 52cc garden multi-tool, offering up 5 tools-in-1 backed by petrol power, giving you all-round great performance no matter what the job at hand is.
The 52cc engine produces 3.4HP and 7200rpm, more than enough power for any home gardener. It is air-cooled to improve longevity, and although a bit noisy, the fumes aren't too bad at all.
Being a two stoke engine, there are a few things you need to get used to, if you've never used one before. The first is mixing the oil in with the petrol at the right ratio (it's 40/1 on this product), and the other is knowing how to start these types of engines efficiently.
the latter is best accomplished by using the primer switch to pump fuel into the carburetor, then you have to use the choke correctly before finally pulling on the starter cord. It took about 4-5 pulls on the first try to get it started, but after that it took 3 pretty much every other time.
Assembling the tool out of the box took just over an hour, and the instructions weren't the greatest but it wasn't an impossible task to work it out for yourself. Once set up, changing attachments was neither hard nor time consuming, and each performed their specific tasks really well, so no complaints there.
Where I do have a few grumbles, is with some of the design choices that Parker Brand have made. Most of these could have been avoided if you ask me and made this garden multi-tool a great product instead of just a good one.
For example, the drawstring starting cord is located on the rear of the machine. Nothing wrong in that per say. However, the way the tool sits in the harness means that it is quite difficult to use that cord and the harness together, and it's just a bit frustrating really.
Now, if you use the Parker Brand garden multi-tool without the harness, this isn't a problem, but then you have to shoulder the full 16kg weight of the tool yourself using just your arm muscles, and you're going to get tired pretty quickly.
Saying all this, I did manage to start it while in the provided harness with a lot of practice, and you could always get someone to help you, I suppose, but my ego kept me struggling alone.
As well as said harness, this garden multi-tool comes with a fuel mixing bottle, and a free tool kit. The fuelling bottle does actually come in handy for getting the mix right, especially if you're new to two-strokes, and the tool kit provided looked ok, but I always use my own set, so I can't really comment on them.
The quality of both the engine and the tool attachments are of a good standard with nothing feeling flimsy, and the chainsaw and hedge trimmer in particular feel solid and durable.
The strimmer did a decent job of tidying up along my garden path, so no complaints there, and the adjustable head of the pole is sturdy, no matter what angle you decide to use.
Not without its faults, the Parker Brand 5-in-1 garden multi-tool takes a little getting used to. However, stick with it, work out its quirks, and you are rewarded with a well built, powerful machine, that'll handle whatever jobs you throw at it.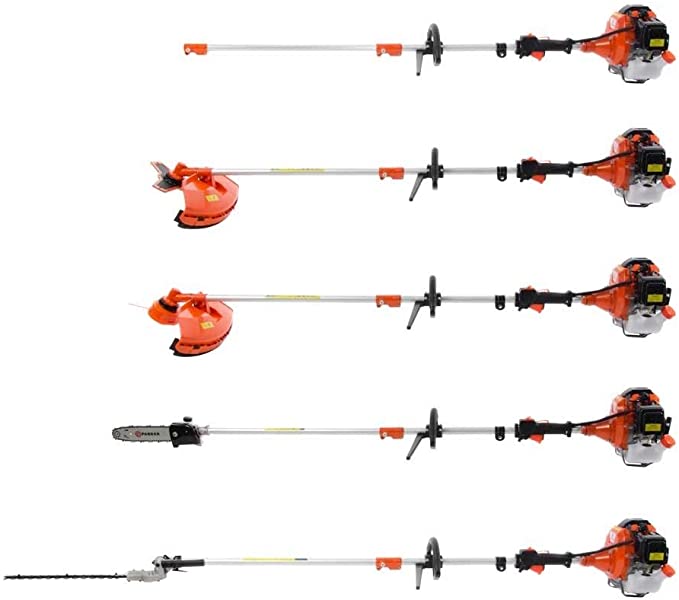 While Greenworks garden multi-tool only offers 2-in-1 rather than the 5 tools-in -1 that some other kits provide, it does have other things to bring to the table that make it worthy alternative.
First of all, this is a battery powered, cordless, garden multi-tool, so there is no need for any long extension cords or having to mix up petrol and oil. It also means that there is less noise, vibration and absolutely zero fumes to deal with, so better for you and the environment.
The battery that comes with the product is a Greenworks 2Ah that can be used in other Greenworks tools, or conversely, if you already own a Greenworks cordless product, you could use that battery (either 2Ah or 4Ah) and save yourself a fair bit of money on this multi-tool by going with the no battery and charger option.
Whatever you decide, the battery is actually very good and if you upgrade to a 4ah, it has a long running time between charges of well over an hour. What's more, it provides a surprising amount of power to the tool itself, allowing you to cut through 15cm diameter branches with the pole saw attachment.
Both the pole saw and the hedge trimmer are excellent quality attachments, with the latter having a 7 position variable head that can be set through a 135 degree arc. This makes trimming the tops of hedges a much easier affair, and this is also helped by the tool's telescopic design which can reach 2.4 metres at its maximum.
This Greenworks 2-in-1 garden multi-tool is much lighter than most petrol powered models, and this make sit easier to handle, even at full extension. It is also much easier to assemble, with far less set-up required and few parts.
So what's the downside? Well, there is the initial cost which, with the battery and charger included is quite high when compared with some of the other products on this page. Something to keep in mind though, is that apart from the electric bill, there are no real running costs once you have bought this garden multi-tool, and no maintenance, like there is with petrol models.
There is also the limited running time between charges to consider, and while an hour is really good, it cant compare with the workload you get out of a full tank of petrol.
At the end of the day, it comes down to your own personal needs and preferences. I personally own both petrol and cordless garden tools that I use for different purposes, so I'm a proponent of both. Whichever you choose, is completely up to you.
4. Bosch AMW10 Electric Motor Unit 1000w 240v Multi Tool System
Available for a penny short of 70 pounds, this is the main motor unit for Bosch's garden multi-tool system, but doesn't come with any of the attachments, which have to be purchased separately.
This has its pros and cons. On the plus side, it allows the customer to choose which attachments they want to use and saves them money on the ones they don't need.
On the other hand, it does mean that you have to find these specific attachments for sale and then order them separately.
We tested this out with the AMW pruner/pole saw and the hedge cutter attachments, although there are others available such as the leaf blower and trimmer.
The 25cm chainsaw has a chain speed of twelve metres per second while cutting, and can reach maximum heights of 2.1 metres as standard, or 2.8 metres with the use of the extension pole. It has good cutting performance and is very robust as you would expect from Bosch.
The Hedge cutter attachment has a 43cm long blade that can be swivelled 180 through degrees to find the appropriate angle. It has a range of around 2.3 metres, and is also well built and very durable.
Attachment changes are quick and painless and don't require you to use a single tool to do so, saving you valuable time while on the go.
With both attachments, the power supplied by the 1000W motor unit was smooth and consistent, and without a doubt enough to trim hedges, cut off unwanted branches, and just about everything else you can think of.
This is a corded garden multi-tool so there is no need for any battery, or fuel for that matter, but it does mean that you are limited to the 10 metre power cord without an extension lead, so I would only really recommend this for people with small to medium sized gardens, or you'll be dragging a load of cable around with you.
My honest opinion of the Bosch AMW garden multi-tool system is this: The main motor unit is powerful and well built. The attachments we tried were equally good quality, if not really outstanding.
I think if you only need a couple of specific attachments, and you've really got your heart set on a multi-tool, then this can be a good buy. However, for people looking for an all-in-one tool to tackle lots of different jobs? I'd probably go with either the Bu-Ko kit, or the parker brand which I personally feel offer better value for money, even if they are a bit more of a challenge.
What you must know about buying a garden multi tool
Here are a few tips for people aiming to buy a good garden multi-tool. We broke them down into small sections for your convenience, but we'd recommend reading through it all if you're completely new to these, or any other types of garden power tools.
Petrol, cordless, or corded?
While cordless and corded electric garden multi-tools have their own advantages such as easy set up and operation, and almost zero running costs (except the electric bill), they simply can't compare in power to the best petrol garden multi-tools.
Still, if you have a smaller garden, or you're really into saving the planet, the Greenworks tool we reviewed above is not a bad choice.
For those of you with larger properties, or who have heavier duty jobs in mind, petrol is the way to go.
What attachments are on offer?
Different multi-tools will have different attachments, and a different number of them, but generally you will find a pruner/chainsaw, hedge cutter, trimmer, and brush cutter in the petrol-powered kits.
These tools are common because that cover a lot of the major gardening tasks that people have to deal with, but if you only have need for a couple of different tools, you could save money by looking for a garden multi-tool with those or one that allows you to select the attachments you need.
Build quality
You might be enticed by the low price tag of a garden multi-tool believing it to be good value for money, but be sure to check the quality of the components by reading customer feedback and reviews like ours.
Some products may seem identical on the surface but can actually be night and day when it comes to how robust the materials are that are used, or how durable the motor or engine is.
Even brand names are not as reliable as they used to be and just because you have one product of theirs that has kept in you in good stead, it doesn't guarantee that another product will be as good.
Always do your research before handing over your cash, and never buy a garden multi-tool, or any other product that doesn't offer a warranty.
Price
If you want the best garden multi- tools available in the UK, you'd better be prepared to pay the asking price. A decent, but not top tier, petrol model will probably cost you at least 170 pounds, with the absolute best products being much higher than that.
Cordless garden multi-tools usually have a high initial price of around 200-300 pounds if you get the battery and charger included, but the running costs are much lower when you consider the fuel top ups and maintenance involved with petrol models.
---