Written by Terry Smith
Our site is reader supported so when you click a link to Amazon we may earn an affiliate commission.
Best garden trowel and fork set [UK]: Garden hand tool gift sets reviewed
This article was last updated on May 9th, 2022 at 8:06 am
I was thinking it's been a good while since I updated my garden trowel and fork set page for the best picks available and what better time with gift ideas on the horizon. It's the kind of garden tool you buy once in a lifetime when bought right and for that reason I reckon it makes a super gardening gift as well. I tested the best known brands and quite frankly, I'll never buy a cheap garden trowel and fork again. I've put together a little video proving my point on that test if you check out my top pick the Spear and Jackson trowel and fork set. Perhaps it's worth watching the test here to prove that point. It takes less than a minute to show you what I mean about cheap garden trowel and fork sets:
Good quality wooden handles with high carbon steel at the business end really do last. And not only that, it's about the only tool for planting and weeding that we all use.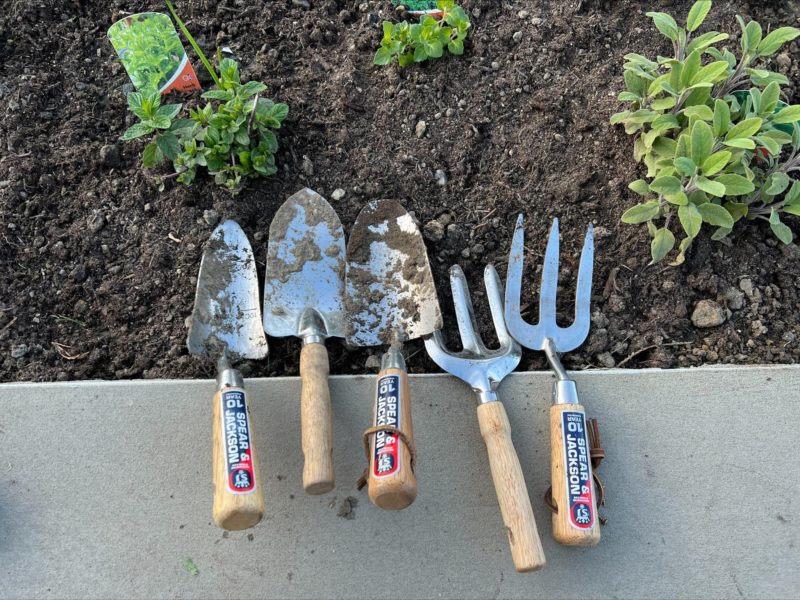 Prop Tip from testing: Never, never, never buy cheap on a garden trowel and fork set. My testing showed me within reason, you absolutely get what you pay for and the right set (like the ones I've tested) will last a lifetime. Buying numerous cheap sets is a total waste of time!
My picks for the best garden trowel and fork set:
How to pick the right garden trowel and fork set?
You want a set that has a strong handle, a good ferrule that connects to the metal shaft. You want a strong shaft that won't bench under leverage pressure and a handle that simply doesn't break or fall off. Ideally the fork is rigid and strong too. Generally you don't get too many problems and theres not so much to worry about on the trowel. Each of the sets in this article have been carefully considered with those criteria in mind. Whilst we are at it, here's how to use a hand trowel properly:
Here's a look at just how long you should be expecting a set to last, these are twenty years old now: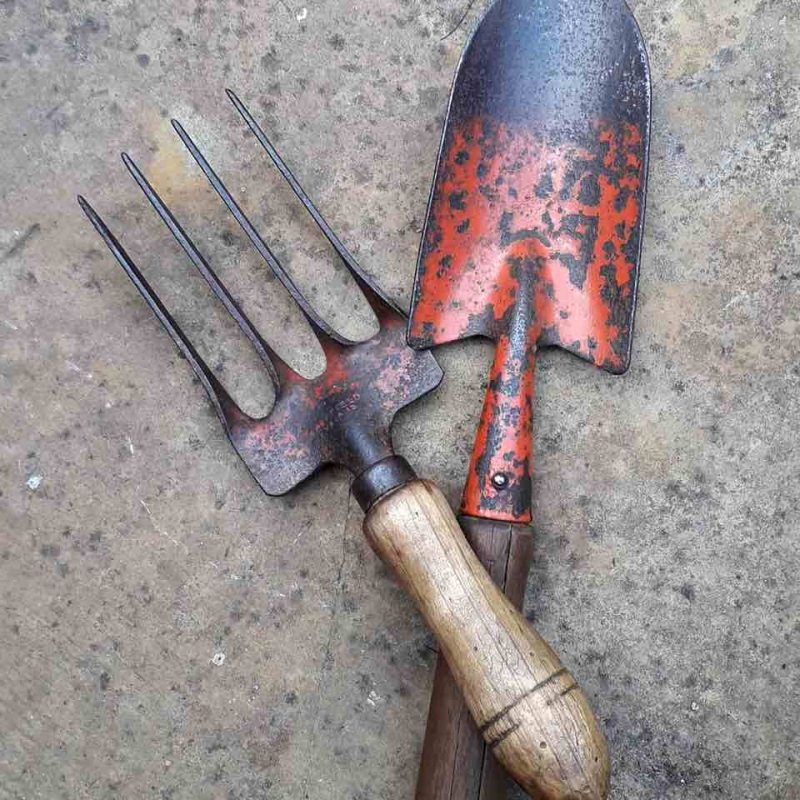 So with that in mind let's get on and pick some of the best garden rowel and fork sets:
Choosing the ideal garden tools may seem easy especially when choosing something as simple as a hand trowel and fork set but of course no one wants to end up buying an inferior product, do they? Well I hope by reading our best hand trowel and hand fork sets review has helped you make the right decision.
Why buy a trowel and hand fork set?
Now I know modern tools like electric weed burners for example do the job better individually, but there's nothing like an all round trowel and fork set to get almost all tasks in the garden covered. From the point you dig over a border a trowel and fork is all that's needed to plant, weed, and maintain a border. Sure, specialist edging shears make life easier, but they in no way match the wide variety of use you get from a simple fork and spade.
For those with green fingers, this widely used and versatile duo of hand trowel and hand fork are the go-to pieces of equipment for most gardeners and is primarily used for light to moderate work. The hand trowel and hand fork often thought of as the most used piece of kit in a gardener's arsenal. Whether you are a grounds keeper, landscaper or like most of us just enjoying being outside tending to your garden the hand trowel and hand fork can be used in a variety of ways. To say the very least the gardening hand trowel and hand fork can be used to dig and shovel soil. This well known pair of gardening tools can also be used to carefully dig, turn or loosen soil (much like the larger fork) to allow plant roots to transport moisture and nutrients to create stunning looking features your gardens flower beds or plant pots.
There is nothing worse than wasting money on a product that will look good but bend or break easily. For that reason, we are going to be reviewing the best had trowel and hand fork sets in the UK right now. We are going to look at a selection of products from well-known gardening equipment manufacturers. They will be comprised of the standard two-piece sets and other three-piece sets we feel warrant looking at when buying gardening hand forks and hand trowels.
The hand trowel and hand fork go hand in hand with one another and are a well-known set and have a whole host of uses similar to a grubber or weeder. And with so many different sets to choose from it's hard to know which ones are going to withstand the rigours of gardening. When choosing the ideal set, you need to search for a design that is going to last but at the same time remain comfortable to use for long periods of time. The tools should not be causing hand pain or discomfort from overuse.
---