Written by Terry Smith
Our site is reader supported so when you click a link to Amazon we may earn an affiliate commission.
UK's best electric chainsaws: McCulloch, Makita, and Black and Decker with heavy duty options
This article was last updated on January 29th, 2023 at 4:25 pm
Chainsaws, the favoured tool of lumberjacks, tree surgeons, and mask wearing, demonic, serial killers, everywhere 🙂 I've been using chainsaws for twenty years now, I've even tested and worked with a few of the chainsaws in this review – you'll probably notice I now massively favour cordless chainsaws (the electric kind – I am always testing these – I even enjoy it 🙂 ). They are extremely powerful too. Here is me cutting a 12 inch tree stump with a cordless electric chainsaw:
Where electric chainsaws win over cordless is the price and power though and I tell you something – the Hyundai HYC2400E – what a value for money and powerful heavy duty tool this is – almost comparable to a petrol chainsaw! But there's a new sheriff in town since I've been testing these. The Einhell GH-EC 2040 Electric Chainsaw. I don't normally promote them to top spot but I've been using these for a couple of years now and it already features in my best chainsaw overall picks – I have tested it out to the EXTREME 😀 . They are cheap, mid range power, and can take an absolute battering. I can personally confirm that.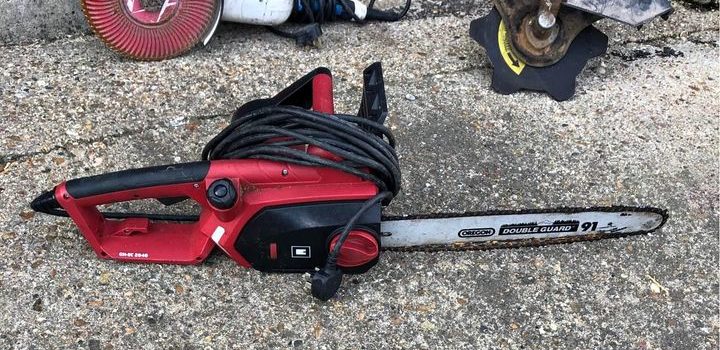 The very interesting thing you'll find, apart from how super the new chain tooless tensioning methods have become as standard, they are all still very similar to back that time ago in performance. And it's the one thing that I can honestly say that has seriously decreased in cost over time – my cheap electric chainsaw fifteen years ago cost more than today. Find me another product like that! Before we get going though, if you're new to chainsaws then a look at the chainsaw safety guidelines never hurt. And once you've done that, chainsaw trousers or chaps as they can be called are worth a look (I show you demos of how they will literally save your life) and if you're getting a bit more serious, chainsaw boots. Once you've looked at safety, for ongoing cheap use you want a chainsaw sharpener to keep the blade tip top and that is all there is to sensible electric chainsaw use and ownership in my opinion from the last 15-20 years of using these. And with mentioning the time I've been using these for, it's time to learn from my mistakes with a pro tip 😀 
PRO TIP: Always fully unwind your electrical extension lead. If you're using one of the bigger 2.4kW models the wires in a coil heat up quickly, and if an older version without a trip, can actually melt together. Yes, this has personally happened to me some years ago – what a plonker Rodney 🤦‍♂️. They are best used directly into a main socket for safety if at all possible.
So, with the hopes of making people new to these incredibly handy tools feel less intimidated by them, and to give you all the confidence you need to finally get your hands on one, we've put this article together. We'll cover the different types of chainsaws available to you, as well as the pros and cons of each of them, introduce the main chainsaw based 'lingo' so you can feel confident reading about and discussing chainsaws with others, and finally, give our thoughts on the best electric chainsaws in the UK at the present time.
My pick of the best electric chainsaws in the UK from testing:
Einhell GH-EC 2040 Electric Chainsaw — 2000W – [personally tested and used this for a couple of years – heavy duty build for such a cheap price] and if you want something more powerful at decent money then it's the Hyundai HYC2400E electric chainsaw for me but a worthwhile alternative again, is the Oregon CS1400 in the 2.4 kW heavy duty range.
Heavy duty pick: Hyundai HYC2400E – the three year warranty is just a dead giveaway as the quality. If you want peace of mind then this is an easy pick.
Build quality pick: McCulloch CSE2040S – best electric chainsaw and must have if you need something of genuine quality. [probably the best of the best if you don't mind the extra money but not sure it equates to best value]
Ever reliable: Black & Decker CS2245-GB
best small electric chainsaw: Makita electric chainsaw UC3541A/2 – best small electric chainsaw and light weight pick and great alternative to the cordless Makita chainsaw I previously tested. Probably I don't rank this as good as their insane Makita cordless chainsaw quality.
Things to consider when buying an electric chainsaw
In this section of the article, we'll highlight a few things that you should keep in mind when choosing an electric chainsaw, and hopefully improve your knowledge of these tools at the same time. Let's start with power and performance-
Electric chainsaw power and performance
The power of an electric chainsaw is primarily connected to the size of the motor in a given tool. For example, a chainsaw fitted with a 2400-watt motor should have more power than one with a 1600-watt motor. This is a good rule of thumb to follow, but some brand's motors will be better made, more efficient, etc. than some others, so there might be some exceptions. My top pick incidentally is the Einhell GH-EC 2040 which is 2000 Watts. I picked that on the basis I've used it and know it can take a hammering, it's cheap, and well built, with much better performance than the 1600W models I've used.
Another factor in how well an electric chainsaw can perform is the chain speed, which, I'm sure you've already worked out, is how fast the chain spins around. Higher chain speeds mean you can get the job done faster, and can improve the overall cutting performance of a chainsaw, so look for one that has a decent metres per second measurement.
Length of the bar
No, I'm not talking about the bar at your local pub here. When talking about bar length in regards to chainsaws, we are referring to the size of the part of the chainsaw that does the cutting. This can vary quite a lot, from compact bars meant for pruning smaller branches, to significantly longer ones, and the longer the bar, the wider trees you can handle.
Most electric chainsaws are in the range of 30-40cm, which is fine for general home use, but there are a few models that have longer or shorter bars than that. By general home use I'm talking about things like removing thick branches and felling smaller trees, for more heavy duty tasks, you'll definitely need a petrol chainsaw instead. You can normally get through a 12 inch tree with a 35cm bar from my personal testing and use over the years as you can see in the intro vid.
Electric chainsaw safety features
In addition to wearing the correct safety equipment like glasses, ear defenders, gloves, and chainsaw trousers, you also need a chainsaw that has certain safety features built in, to reduce the risk of serious injury. Thankfully, most modern electric chainsaws have been built with user safety in mind, but there are a few features to keep an eye out for.
The first one is some kind of safety start. These days, this is usually some kind of double switch or button press that has to be done in order for the tool to start. Having to press two buttons at the same time make sit much harder to accidentally start the chainsaw, so obviously this is something you want.
One of the most dangerous aspects of using a chainsaw is when you get 'kickback'. This is when the chainsaw fails to cut through the material and then this causes the tool to be jolted back towards the user. Any decent, modern, electric chainsaw should have safety features like a kickback brake which will prevent injury should the worst scenario occur by automatically switching off the chain.
Vibration levels
Anyone who has used power tools for long periods of time will have experienced that uncomfortable pins and needles feeling in their hands, arms, etc. that is caused by prolonged exposure to vibrations.
Look for an electric chainsaw that has features designed to lower the effects of vibration. The best thing would be lower vibrations in general, but there are other things like rubberised handles, and well-positioned handles for good ergonomics can all help.
Auto chain lubrication and toolless tensioning
Two good features to look out for when buying your electric chainsaw are auto-chain lubrication, and tooless tensioning. Both of these will make keeping your chain in tip top shape so much easier, and allow you to spend more time actually on the job.
Keeping your chain in good condition is one of the most important parts of maintaining an electric chainsaw. A nice, sharp, and well lubricated chain, will have you cutting through material easier, and reduce the risk of kickback. There is often a transparent area so that you can see when the chainsaw oil is getting low is a handy addition too. This comes as standard with almost all electric chainsaws as you can see: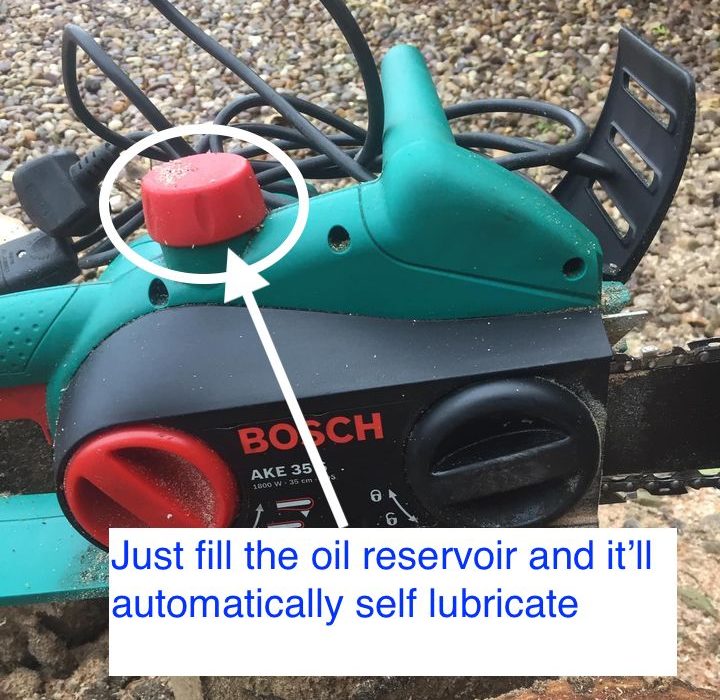 Tooless tensioning is just what it sounds like. Instead of having to whip out your toolbox and dig out the right tool every time your chain needs adjusting, you can simply do it with the controls on the chainsaw. It's a simple thing, and quite common these days, but if you're new to these tools, it's a good thing to have. Here's a look at those: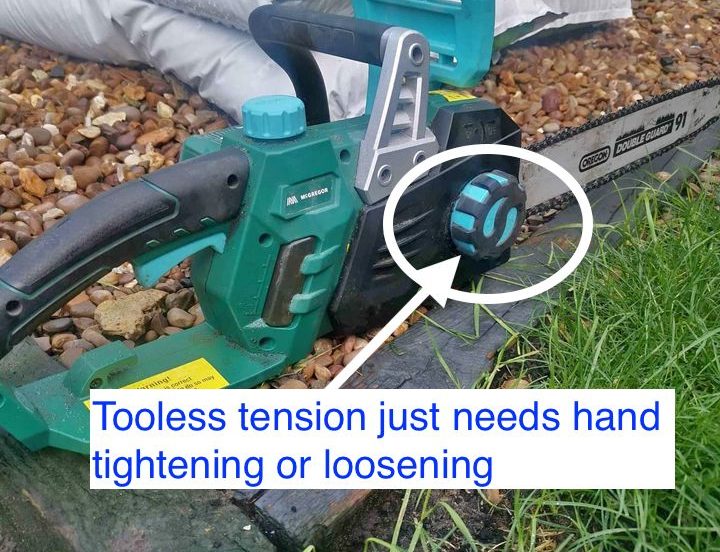 Just like gardening knives, shears, loppers, or any other cutting tool, you need to keep the chainsaw sharp for it to be of any use. For a full rundown on how to sharpen a chainsaw please head to the link provided.
Some chainsaws might be sold with free sharpening kits, but it isn't as common as you would think. Also, the quality of the chainsaw sharpeners isn't always great. Luckily for you, we have already compiled a list of the best chainsaw sharpening tools in another article on this site, so you can pop over there and get what you need.
Alternatively, you can sharpen your chainsaw blade using files, or even a grinding tool of some kind, and again, we have a 'how to' article on that very subject. So, feel free to take a look and get a taste for the kind of maintenance required to keep an electric chainsaw in working condition.
I always recommend that you have at least one spare chain lying around, already sharpened and ready to use. They're not very expensive, and it's so easy to hit something you shouldn't have, and cause a kink or similar in a chain, so t pays to have a back-up ready.
Why buy an electric chainsaw with so many modern and easy alternatives?
Just to clarify, when I speak of electric chainsaws, I'm referring to the ones that you connect to the mains by way of a power cable, and not anything with a battery.
Having no reliance on a battery means that you can use an electric chainsaw for pretty much as long as you like. There's no refuelling, smoke or fumes to deal with like when using a petrol chainsaw, either.
Just like with cordless models, electric chainsaws are designed for the masses and are usually easy to operate, with clearly marked and minimal controls. Maintenance is also kept to a minimum and is limited to sharpening the blade and easy to handle tasks such as that.
Electric chainsaws can be quite powerful, but not on the same level as petrol machines. However, the better models should have more than enough 'grunt' to deal with the kind of jobs that the average person needs a chainsaw for.
The biggest issue with electric chainsaws is the reliance on a mains electricity supply. This ultimately limits where you can use it, but for home use, the power cables on these tools are usually long enough, and even if they aren't, waterproof extension leads are fairly inexpensive these days.
Above all, they are much cheaper pound for pound than other types of chainsaw.
Best electric chainsaw reviews
Below you'll find a list of the best electric chainsaws selected from the top-selling products found online. We have written up reviews for each of our featured products, taking a look at the best, and worst, features of each one, so that you can get a clearer picture of what you'll be sending your money on.
Conclusion
You can fit into any of the above categories to benefit from owning a chainsaw , and you could find that keeping your garden looking neat and tidy, or cutting logs for your fire pit, would become much easier tasks with one of these tools. Now, I know that using and maintaining a chainsaw can be a pretty daunting thought for people who have never used one, but I honestly believe that most of those worries can be dispelled with a little bit of knowledge on the subject.
---