Axes And Axe Handles (November 2020 Updated Review)
This article was last updated on August 7th, 2021 at 8:56 am
Since prehistoric times, man has used axes in one way or another to shape our path all the way to the present. The first axes, were nothing more than sharpened stones, such as flint, with no handles, but usually having shaped areas for the fingers to grip them.
It wasn't until around 6000BC that we started seeing the creation of axes as we know them today, with a 'haft' better known as a handle.
Axe handles have nearly always been made of some kind of hardwood and still today, many axes still have a wooden haft, but with advances in material technologies, it is common to see handles constructed from synthetic materials like polypropylene, so as to keep the axe as light as possible. Whilst they don't pack the same punch as a chainsaw or they won't turn logs into firewood like a log splitter, but they are useful for smaller applications.
Comparison table: Axes And Axe Handles (November 2020 Updated Review)

Product
What We Think
Price

Universal hatchet (total length: 35.5 cm) for splitting small logs
Very sharp blade in hardened steel with high quality coating
Durable handle made of weather-resistant and impact-resistant fibreglass reinforced plastic
Made in Finland, Long life product
Contents: 1x Fiskars Chopping Axe XS X7

Forged carbon steel head
Hardened and tempered with the faces ground and lacquered
Nonslip rubber grip
Head sleeve supplied
Ships in certified frustration-free packaging

Forged 1.5 lb axe head
Lightweight and strong ergonomic fibreglass handle
Resin bonded head and handle
Ideal for chopping wood

Draper FA/L Expert Yankee Pattern Felling Axe 1.1 kg

Expert Quality, finely balanced long-handled axe with hardened and tempered forged carbon steel head with accurately ground edges...
Straight grained hickory shaft securely fixed with timber wedge and steel ring....
Expert Quality, finely balanced long-handled axe with hardened and tempered forged carbon steel head with accurately ground edges...
Straight grained hickory shaft securely fixed with timber wedge and steel ring....

Drop forged, heat treated head
Features hammer, nail puller
Fitted with comfortable rubber grip
Am-Tech branded
Ideal gift
On this page we have reviewed the top axes and axe handles we could find on the UK market at the present time. Let's begin.
1. Bulldog BHATCHETFG 1.5 lb Hatchet
This hatchet from Bulldog is our first top axe review and costs £11.99 on Amazon.
 At 36cm long it is actually larger than a lot of hatchets but it's still small enough to take it camping with you or hang up in the shed without taking up too much space.
 Having a fibreglass handle means that this axe can remain strong but weigh less than a kilogram. The shape of the handle allows you to get a good grip, and the end is wider than the rest to stop the tool slipping out of your hand.
Both the handle and the head are resin bonded to keep the two parts held securely together.
 On arrival the axe head wasn't that sharp, but it only took a short while to put a better edge on it and after that, it worked beautifully. Even after a good few hours chopping wood, the blade didn't show any signs of dulling or even any damage at all.
Priced £11.99
Good build quality
Fibreglass handle is light and strong and ergonomically shaped for a good grip
Resin bonded haft and head
Durable axe head, but needs to be sharpened a little first
Ideal for chopping smaller logs and taking camping with you
2. Draper 28756 560g 1.25lb Hand Axe with Steel Shaft
Our second review for best axes is a little bit more expensive than our first but still a very affordable £13.81 on amazon at the moment.
 For the extra few pounds, you get better quality materials. First of all the axe head is hardened and forged carbon steel, a material well known for being strong yet easy to sharpen and also to hold that super sharp edge for a long time. The axe head faces have been ground and lacquered to make it resistant to the elements and to prevent rust.
Instead of fibreglass, this Draper axe has a sturdy tubular steel shaft that has a well bonded rubber grip coating. The handle and axe are solidly connected with no hint of unwanted movement between the two.
 Measuring 36.7 x 15.3 x 4.2 cm and weighing only 560 grams, this well-made Draper axe is very easy to wield and has excellent balance.
 This axe come with its own axe head cover that has been handily designed with holes so you can thread something through them and attach the axe to a belt or use it to hang the tool up.
hardened and forged carbon steel head will stay sharp longer
Ground and lacquered for longevity
Tubular steel handle for stability
Well bonded rubber grip is shaped to fit in the hand nicely
Solid construction throughout
Lightweight (560 grams) and well balanced
Comes with cover for axe head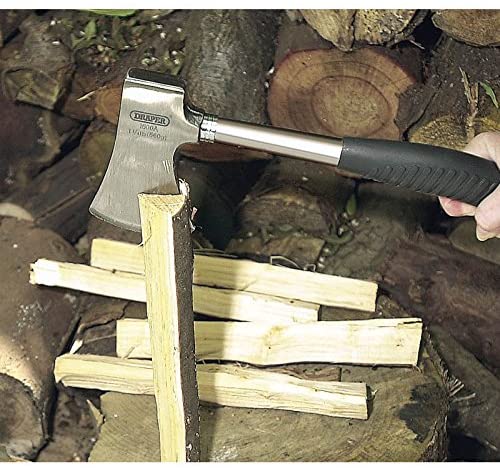 Fiskars is a company from Finland that's quickly making a reputation for itself as a quality tool maker and this product definitely deserves a place in our best axe reviews.
 Available at a reduced price of £43.20 on Amazon at the moment, this compact and lightweight chopping axe is ideal for firewood, whether it be at home or while camping.
 The handle is made from fibreglass so it is weather resistant and also helps with shock absorption. It also has a crisscross pattern of grooves in it which really helps to give you a great grip. The end of the haft is flared to prevent the axe slipping pout of your hand.
 The handle is moulded directly into the head for stability and strength, and also has the added benefit of making this axe look modern and stylish. 
Coated for durability, the hardened steel blade sharpens to a razor sharp edge without too much hassle. The overall balance of the axe is excellent and feels great to swing.
The Fiskars chopping axe measures 35.5cm long, weighs 640 grams and comes with a carrying case.
35.5 cm long and weighs just 640 grams
Excellent balance
Fibreglass handle is grooved and flared for a sure grip and helps to reduce shock
Stability is assured thanks to the handle being moulded into the head
Hardened steel head that has been coated for longevity
Comes with storage and carrying case/cover
4. Amtech A3380 Multi Axe
Despite not being made from the strongest carbon steel like the Draper hand axe, or having the modern design elements of Fiskars chopping axe, this versatile multi axe from Amtech is still worth a look.
 The clever design of the head of this tool allows it to be used as a hammer, or you can flip it over and use the axe head on the other side, but I would highly recommend sharpening the axe blade as soon as it arrives as it is very blunt out of the box. Having said that, the blade certainly sharpens easily and then does its job well.
The top of the axe can used as a pry bar and you can even use this tool for pulling nails. All this for a super cheap price of £8.34!
 The whole tool is made from one piece of steel with the handle covered with a decent rubber grip and comes with a 3 year guarantee. 
This is not the most 'high end' axe on the market but for under 6 quid it is a very well-priced and versatile tool.
Very cheap at £8.34
Multifunctional tool
Axe head, hammer, pry bar and nail remover in one
One piece steel construction
Comfortable rubber grip
3 year guarantee
5. Draper FA/L Expert Yankee Pattern Felling Axe 1.1 kg
Our next best axe review is the Draper Expert Felling Axe, and is a must if you're planning on taking down some trees.
The first three things I noticed when I held this axe in my hands were:
1) The balance of this felling axe is excellent and will really help you get a lovely swing.
2) Overall quality of the product is very high and everything feels solid and stable
3) The Blade on the head needed sharpening, but being forged carbon steel, that job was easy and once done, left me with a formidable felling axe.
There is an edge cover included with the tool to keep that edge protected when you're not using it and the axe head has been given a ground and lacquered finish for resisting rust and corrosion.
 The long straight grained hickory handle looks beautiful and feels great and it has been fixed into the head with a steel ring and wooden wedge to keep it secure. I've seen quality handles like this for sale separately for around the same price as this complete axe, so this model really does offer excellent value for money.
Excellent value for money
Solid and reliable felling axe
Forged carbon steel blade will sharpen up well
Can be used for felling trees or chopping wood
Straight grained hickory handle is both beautiful and practical
Great balance to the axe gives you a perfect swing
6. Roughneck ROU64152 Fibreglass Pick Mattock
Our final axe review is of the best pick mattock, and it's the ideal tool for digging out tree roots and breaking up hard compacted earth. 
The blade is made from heat treated, dropped forged steel for extra hardness and has been given a black coating to protect it from the weather. It is a dual purpose head with a pickaxe blade on one side and a mattock on the other.
 The fibreglass handle is 93cm long and has been weighted to help balance it with the 2.27 kilogram head. The total weight of the tool is 3.65 kilograms. 
For better grip and comfort, the handle is coated with polypropylene. This is a high quality tool, robust and durable, and well worth spending £24.98.
High quality tool. Strong and durable
Dual headed- pickaxe and mattock ends
Heat treated and drop forged steel head coated for weather protection
93cm fibreglass handle has been weighted for better balance
Coated with polypropylene for a better grip
Good value for money
Here are a few of replacement axe handle reviews for you…
7. Faithfull Hickory Axe Handle
With a lot of axes being constructed with a steel head and a wooden handle, it is inevitable that the handle will break or split long before the axe head has seen its last days. Thankfully, good replacement handles are easily found and this product is one of those very things.
 Available in eight different sizes, it shouldn't be hard to find the right one for your desired purposes. The sizes available are- 12, 14, 16, 24 inches, and also – 30×2 , 36×4, 36×3, and 36 x 3.1 inches.
 The handles are made from American sourced hickory so it is denser than a lot of standard products and the handles have also been made to British standards and specification.
Hickory is a common choice for axe handles thanks to the wood's combined benefits of durability and ability to absorb shock.
Available in various sizes
American sourced hickory is denser
Made to British standards and specification
Hickory is strong and absorbs shock well
8. Silverline WH60 Pick Handle
This handle from Silverline can be used with either a mattock or pickaxe head and at £10.47, it is a real bargain.
 This handle will fit any head that has a 70mm x 50mm oval socket and measures 900mm long. At only 426 grams it isn't exactly heavy and being made from solid beech it is sturdy and won't snap or splinter on you easily.
 The handle didn't look like it had any kind of coating on it though so you might want to put one on it to protect it from weather and parasites and prolong its working life.
Very cheap mattock or pickaxe handle
Made from solid beech and is strong and sturdy
Will fit any 70mm x 50mm oval socket
900mm long
9. Replacement Fibreglass Handle Shaft
Fibreglass is quickly becoming the material of choice for a lot of axe manufacturers. High quality fibreglass is lightweight, weatherproof and can actually be stronger than some types of wood. 
This handle is approximately 90cm long and will fit a 75mm x 50mm axe head socket. It is ideal for replacing your old pickaxe handle. 
The strong fibreglass handle has been given a polypropylene coating to make the handle more comfortable to hold and improve the grip, I still like to wear a pair gloves though.
Priced at £12.99
Strong fibreglass handle is weatherproof and wont rust or corrode
90cm long and lightweight
Will fit a 75mm x 50mm socket
Polypropylene coating improves grip and comfort
That last review brings to an end this page of reviews for the best axes and axe handles. 
Hopefully, you now feel a little more well informed on the best value axes out there on the UK market. Of course, there are higher quality, professional products out there for very high prices but we chose these axes and handles because we feel they are the best available in a price range that is affordable for most people out there.
---