Written by Terry Smith
Our site is reader supported so when you click a link to Amazon we may earn an affiliate commission.
Best firelighters [UK]: Pick and buy top natural and eco firelighters compared
This article was last updated on July 31st, 2021 at 5:46 am
Now I'm no expert at BBQ'ing with gas. But the weather's turning and the shops are once again filling up with summer products so I think it's definitely about time to crack open the charcoal BBQ for another year. And if you like a charcoal bbq (or even a portable charcoal bbq for camping and picnics) then you're definitely going to want to take advantage of the best bbq firelighters as they've helped me turn pro 😀
Best firelighter top picks in the UK:
Because what could be better than hosting family and friends in the garden for grilled meats and Pimms! So, with that in mind, we're taking a look at the best firelighters for your BBQ's (and fires) to help you light and cook with ease.
What is a firelighter for a bbq?
A firelighter is a storage unit of energy designed to burn steadily to light fuel sources that require prolonged flames such as charcoal or smoker wood chips. They are built and engineered with one aim: to make your BBQ or outdoor fire a quick and easy success. They compare very well to bbq chimney starters which essentially do the same job but require a source of electric at getting a charcoal bbq started. Firelighters by contrast only need a little lighter or box of matches to get your bbq roaring as you'll see in the article linked.
We've got a great selection of natural and eco firelighters with a range of prices and brands. Perfect for the grill, for campfires and even bonfires to get us all in the mood for summer. And, don't worry, they're all very easy to use and light. I can tell you they're definitely making me want to use my BBQ a lot more now.
And if you the weather ends up going a bit south, don't forget the other use of firelighters: lighting fires…
If you want to see some tips on buying your natural & eco firelighters, go ahead to the Buyer's Guide To Natural & Eco Firelighters at the bottom.
Keep scrolling to find out more about the top firelighters.
Comparison table: Best firelighters [UK]: Pick and buy top natural and eco firelighters compared

Product
What We Think
Price

Homefire Twizlers (Wood Wool) Firelighters 300g

My personal testing showed the Homefire Twizlers (Wood Wool) Firelighters 300g to be the best firelighters in the country right now when comparing price to ability to actually get a charcoal bbq up and running quickly. I will say there seems to be some discrepancy in how long one firelighter will burn for however I put about half a dozen on my grill under charcoal and then place some cardboard under that and I am alight every time without too much smoke.
The Eco-Barn Wood Natural Firelighters XL 200 represent a decent mix of quality and value. They don't smoke too much are are comparable in performance to the Homefire Twizlers that are my top pick. If those were not in stock then I would have no hesitation to buy these as you can expect a decent burn time of up to ten minutes per bundle as well
Pros:

Easy to ignite
Burn for around 10 minutes
No bad odour or fumes
Environmentally friendly

Cons:

Packaging could be better
Not quite as powerful as chemical firelighters

Flamers Natural Firelighters For Woodburners, Stoves, Barbeques and Campfires

The Flamers 50 Natural Stove-Barbecue BBQ Firelighters New Larger Pack takes advantage of paraffin and so they are naturally a much better product in terms of getting your charcoal bbq started. If you're out and about camping and not entirely sure of completely dry tinder then these will be ideal to get you going!

Flamers 50 Natural Stove-Barbecue BBQ Firelighters New Larger Pack

The Flamers Natural Firelighters For Woodburners, Stoves, Barbeques and Campfires are identical to the larger pack we've reviewed in this article. The only difference is there is fewer here and they represent less value for money. If yo udon't mind spending in advance then better to go with the larger pack for better price per firelighter.
Do you bbq all the time? Are you starting a wood burner frequently? For whatever reason you're trying to get a fire going in the home or outdoors, if you're doing it often then the Feniks Firelighters 10kg is the best value by miles per firelighter. Well designed and burning with an intense flame they make a great choice for a steady and reliable fire starter
1. Homefire Twizlers (Wood Wool) Firelighters 300g
Priced sensibly for a good few bbq's, the Homefire Twizlers are a great first option at really good value for money. Small pieces of wood brought together, these firelighters have a wax coating to keep them from shedding.
They light really easily and stay lit for up to 10 minutes, which gives you more than enough time to catch and create a strong, lasting fire. They work great in both BBQ/grills as they're easy to light and also in bigger fires/bonfires as they create a long lasting flame that'll catch your charcoal no problem. Take a look at how amazingly I get my bbq going with them and look at just how intense the flame is from a little natural woody woolly package:
I also love that these ones don't carry any kind of chemical smells which is great as the flame is odourless (and smokeless) and they don't leave any smelly residue on your hands. Also a great option for the environment because they are made entirely of natural materials which is nice because I am fed up of my bbq smelling like an old paraffin light 😀
Really happy with these!
With this box, you get 200 firelights with only one fire lighter needed at a time to start your fire if you've got some kindling. Priced mid range as firelighters go, the Natural Eco Wood Firelights are great value for money for the amount you get.
I can confirm that these firelighters are really quick and easy to light! A great start as you don't want to be faffing around trying to light your BBQ.
I've noticed that the firelighters are very densely woven which shows how well made they are as this feature means they last longer. Some others can be too light and shed everywhere so they don't give you as long a burn. On that note, I'm really impressed with how long these firelighters burn for – definitely enough time to get your fire really going.
They're eco friendly as well, so they don't give off a nasty chemical smell when they're burning which is a big plus when dealing with fire products. I love how you don't get any smell on your hands as well. Also great that they are made of natural materials for the environment.
You also don't need many to get a fire started – one or two would be fine depending on how big your fire/bbq is. So great value for money!
Just make sure you've got a container ready as the firelighters come loose in the box so may be a bit messy without a suitable place to store them.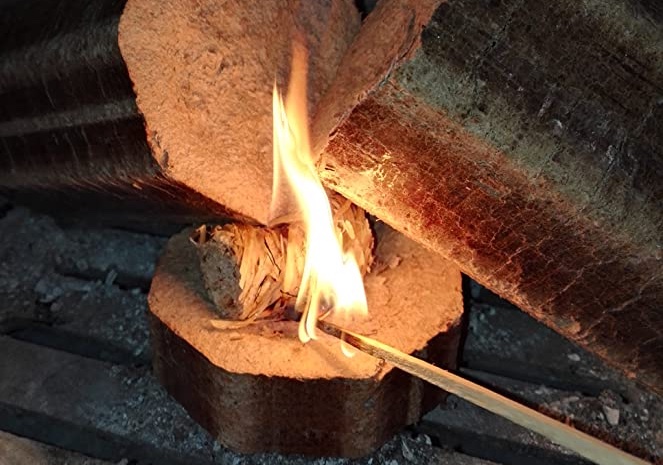 3. Flamers 50 Natural Stove-Barbecue BBQ Firelighters New Larger Pack
Simple and easy to light, the Flamers 50 Natural Stove-Barbecue BBQ Firelighters work really well. You only need one to get a good, strong fire going so they're great value for money as well.
Another one without the chemical smells which is great! (Again, because of the natural, sustainable materials, so this one is environmentally friendly, too). The good thing about this is that you can use these for pizza ovens and bread ovens as you don't have to worry about any nasty smells or chemicals contaminating your food. I've tried these on my BBQ and the same went for the food as it was odour free.
They really make lighting the barbecue so much easier. And I no longer have to use an entire newspaper to try and get the fire going. The fire they burn is very strong and reliable as well.
It's worth saying that these are slightly more expensive for a pack of 50 compared to the previous product. However, I was still very impressed with these and perhaps the difference in price lies with how many you need to start an effective fire.
4. Flamers Natural Firelighters For Woodburners, Stoves, Barbeques and Campfires
Another one from the same brand, the Flamers Natural Firelighters For Woodburners, Stoves, Barbecues and Campfires is good value for money compared to the last product offering a box of 200 for reasonable pricing. Although, it's worth bearing in mind that this is still around £10 more than the first product from our list.
Like the last products, these ones light in seconds and they create a very strong, long-lasting fire with only one or two of the firelighters. They have no chemical smells, again made from natural, sustainable materials, which we love! Especially as it means they don't leave a smell on your hands.
The details state that they've been dipped in paraffin wax, which you can see as they are reasonably dense and stay together well. Just don't crush them too much (obvious, I know but worth drawing attention to) as they will crumble slightly and could come apart.
On this note, if you're planning on taking these with you on a camping trip or something similar, maybe think about a different box if you don't want to take 200 with you as they aren't individually wrapped so may crumb/get crushed if you're not careful. This shouldn't put you off though as this is the case with all firelighters, and is great as there isn't too much packaging so good for the environment.
5. Feniks Firelighters 10kg (About 800-1000 pcs.)
Available in two different quantities, the Feniks Firelighters for Fireplace, Stoves, Barbecues and Campfires are near the cheapest out of the selection in terms of what you pay for and how many you get. I went for the smaller box which was approximately 500 pieces for similar money compared to the Flamers Natural Firelighters For Woodburners, Stoves, Barbeques and Campfires.
So, I'm impressed with how long these lights are for considering the price – I've timed it and one firelighter stayed alight for over 8 minutes (as promised on the box). You probably need between one and three to light your fire depending how big you need it to be.
I'd suggest maybe getting hold of another box (perhaps fireproof) to store a smaller amount near the fire or barbecue if you're a seasoned fire starter so you don't have to keep the large box anywhere.
The only thing I'll say is that these ones do have a slight smell when they're not in use but having burnt them I can say they don't carry a chemical smell once actually burning.
Overall, these are definitely a great option to consider for their price, I would just say that the price is slightly reflected in the quality compared to the Flamers products, for example. However, these are still very impressive and a great cheaper option.
6. Eco-Barn Wood Natural Firelighters XL 200
At similar money to the natural Eco Wood Firelighters for 200 pieces, the Eco-Barn Wood Natural Firelighters XL 200 are the cheapest out of the selection in terms of how many firelighters you get for the price you pay.
From opening the box, they seem bigger than average which is great so you only need one or two to start a fire. The one thing I'd note is that they are all slightly different sizes but that isn't really an issue as even the smaller ones are still a very decent size.
They're very easy to light and last a good amount of time – enough to get a good fire started! These ones also carry no chemical smell.
As firelighters tend to do, these do shed slightly but that's not a problem – you can always throw the excess shedding in the fire for more kindling.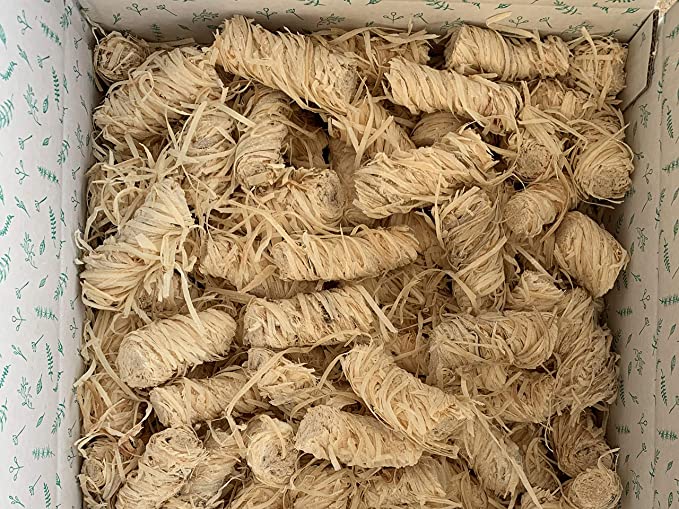 Buyer's Guide To Natural & Eco Firelighters
Just a couple of thoughts and tips I've picked up along the way from testing out these natural & eco firelighters…
Think about sizing
Just a small note to say have a think about the size of your firelighters as this will affect how many you should use at one time – with smaller ones you may need more than one depending on the desired fire. I've found with BBQ's more than one can be helpful to get an even spread.
Be conscious of the mess!
As firelighters go, these natural eco products are pretty great. As they all have a form of wax coating, they hold together pretty well. But, as with the nature of firelighters, they can be a bit flaky and crumbly and this can be a little messy. If you've ordered yourself a big box, think about getting another container if you want to travel with them/keep a smaller amount near your fire or BBQ. Just a thought!
Eco vs Paraffin firelighters compared
Eco firelighters such as the Homefire Twizlers (Wood Wool) Firelighters 300g really are great and if you get good quality ones they won't smoke too much and most definitely will get your fire started with minimal fuss and hassle. It's certainly true that parafin firelighters have the edge (such as the Flamers 50 Natural Stove-Barbecue BBQ Firelighters New Larger Pack) at catching your charcoal alight but then come with the drawback of smelling very much like petrol fumes as it burns. And while that smell does go away you simply won't have the same nice feeling while you breathe in those chemicals. Speaking of which, always opt for a restaurant grade charcoal is it's much nicer to smell. There are no chemicals normally.
---