Written by Terry Smith
Our site is reader supported so when you click a link to Amazon we may earn an affiliate commission.
9 best garden golf nets [UK]: Top pop up chipping and driving nets reviewed
This article was last updated on November 9th, 2021 at 8:13 am
What is the best golf net for my garden and how can I use it to improve my game?
A golf net at home in private is going to push your game much further than being down at the driving range. That's a fact. How do I know this? Watch me make a pillock of myself below 😀 I can play and practise golf without the lads berating me, worse still you probably know the language that would be used down the range…and what's better than this garden golf net article, I just put together a garage golf net article too in case you're really shy!
Having the freedom to do what you want, practising in peace and quiet – that's the true advantage of a golf net at home. It needs to be sturdy in the ground though, and actually catch the balls, my first one was rubbish until I found the PGA Tour Pro Size Driving Net with Carry Bag. And while this isn't my top pick for best golf net (I'll go into that more below) it does let me muck about with chipping as well. It's essentially a pop up tent with some holes to catch your chipping! Out of a little garden I've managed to make quite a decent golf sanctuary with my putting green which saves on a putting matt too 🙂
Best golf net for your garden – top picks in the UK
Do you ever watch the other lads when you're up the range? When I'm there, I feel a little self-conscious about my hooking and slicing while being surrounded by guys driving the ball 250+ yards with ease. It's not a game to be rubbish at is it? I do my best though 😀 But in private I don't mind pushing myself that bit harder, there's no one there to laugh…you know how this goes.
It's nice to be able to practise in the garden. A decent net will capture your ball without pinging back at you, have enough of a curve to trap a wayward stroke, be able to anchor to the ground well, an be built to last. I have judged the best garden golf nets on these criteria.
Has there been a better time to practise golf in the back garden? With the uncertain times from covid-19, there has never been a better time to get a garden golf net and hone your skills in a safe environment. The best garden golf net still in stock right now is the Champkey Professional Golf Hitting Net but the isn't far behind FORB 7ft if you're looking for a decent price and reasonable quality for a net to slice and hook to your hearts content 🙂
Let's be honest, Golf certainly isn't the easiest game in the world. I've been trying (and failing) to get to grips with just the basics for years and I'm still terrible.
 One of the main things holding my progress back, apart from the fact I'm 'athletically challenged', is that the nearest driving range is quite a distance from my house, and the only free time I get is right around rush hour, so by the time I get there it's almost time to come back again.
Golf Net Buyers Guide
Fraught with danger. That's how I'd describe my driving 😀 not the golf nets, we just need the right one to contain my irregularities 🙂 Luckily the UK is full of excellent options and alternatives from chipping to driving when it comes to saving the neighbours windows. My best advice is to buy a solid net that you know can take the full force of a decent drive time and time again. Don't worry, we've only included this type of net in the review. Anything that remotely looks like it could give up has been left off.
Size comparison
Size is everything, when you're comparing nets for driving you need to decide whether you want the more reliable tall upright net style like you get from the Champkey Professional Golf Hitting Net or you want to save the pennies and go for more of a tent style step like the PGA Tour Pro Size Driving Net with Carry Bag. The difference is the reliability of your golf swing to be honest. So be honest with yourself when comparing – can you get close to the net and are you likely to slice 45 degree angles. I'd definitely opt for the FORB or the Amazon Basics Portable Driving Practice Golf Net if I was concerned and would you believe it, so do the majority us 😀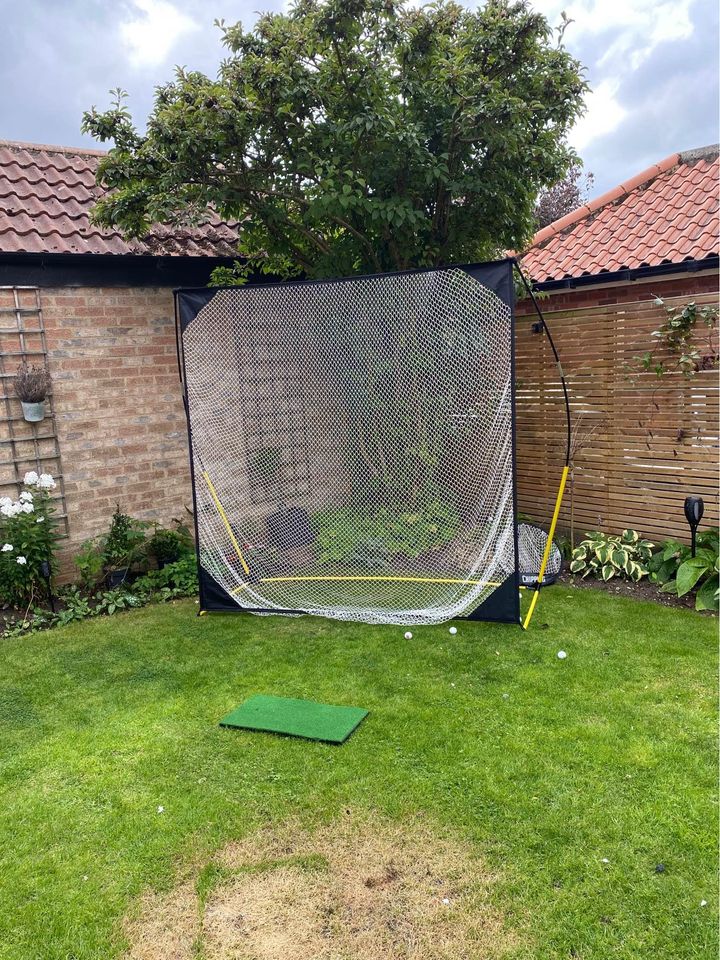 Understand and comparing what different nets do
Different nets are for different disciplines and it's important to realise some nets can actually do both so when comparing prices you want to make sure you factor the PGA Tour Pro Size Driving Net with Carry Bag for example has both a chipping and riving option. If you then think about space saved it makes it cheaper than buying the Golf Chipping Net by Longridge or the PGA Tour – Perfect Touch Practice Net plus the RUIZHUO Pop Up Golf Chipping Net Touch Practice.
Chipping net vs driving net or combined
Personally I like the Champkey or Amazon basics but I went with a combo on the basis I didn't want to setup two different nets. Also the PGA I chose for my garden has different chipping heights. You don't want to get caught in one position. The repetitive swing will give you a false sense of skill as you'll no doubt master that one height – what about all the other permutations? With a smallish garden you won't be able to change distances that much to get different scenarios. Well worth thinking about when making the comparison to buy.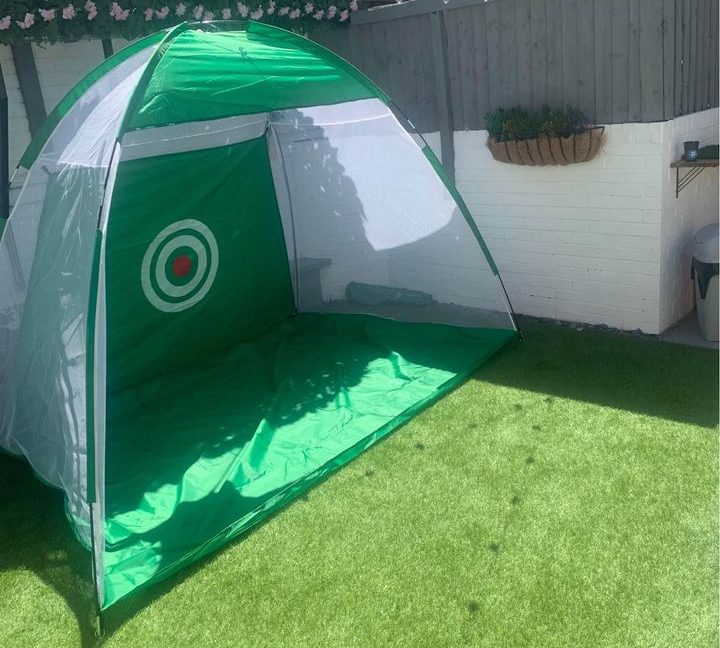 And here's an even better example of a combination golf net: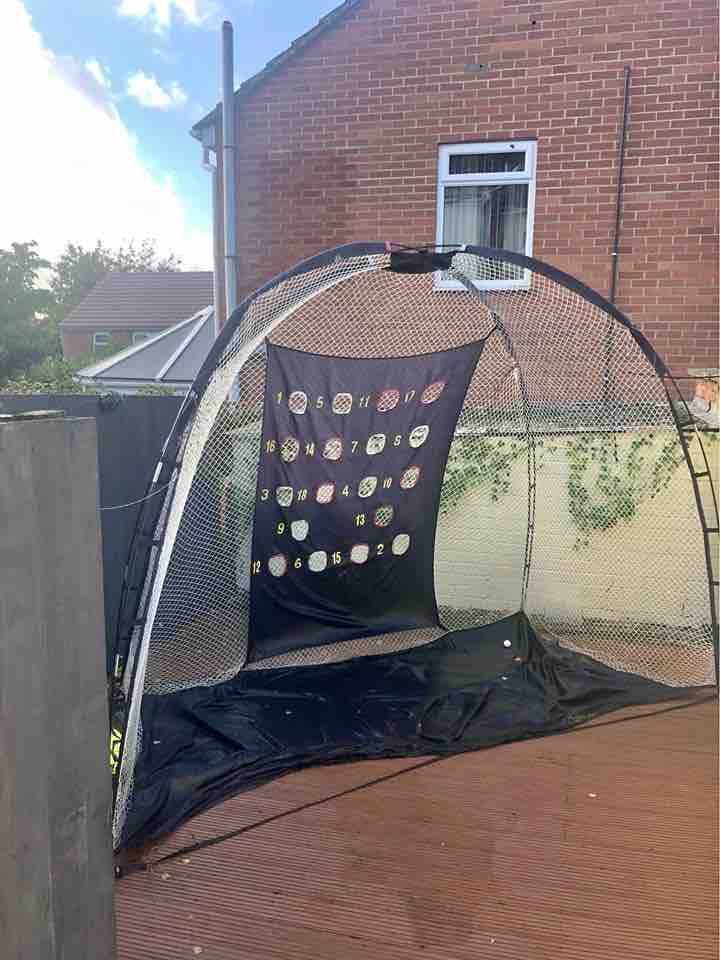 Price
The RUIZHUO Pop Up Golf Chipping Net Touch Practice is much cheaper than the Champkey Professional Golf Hitting Net but you'll notice the Champey comparatively ranks much better still. This is certainly because the Champkey is a better overall golf net for the price and offers pretty much better value for money. I find my golf ball gets caught much better in the Champkey net and so do the masses online. With the arrival of the Amazon basics golf net though, this has changed a bit 😉
Assembling
Some of the best nets literally just pop up. Take the RUIZHUO Pop Up Golf Chipping Net Touch Practice. This this is up in seconds likewise all the chipping nets like the Golf Chipping Net by Longridge is just as fast. If you want the better FORB then be prepared to spend a little longer, not by much, we are still only talking minute here.
Hopefully the buyers guide gives you some in the field sensible points to picking and buying the best golf net for your personal situation.
Here is my list of best garden golf nets
Comparison table: 9 best garden golf nets [UK]: Top pop up chipping and driving nets reviewed

Product
What We Think
Price
"The Champkey Professional Golf Hitting Net is pretty similar to the FORB but beats it when comparing on size and customer service. The build quality is exceptional and this is the next evolution of golf net for the garden or garage if you want to work on your long game" Terry Smith
"The PGA Tour Pro Size Driving Net with Carry Bag was my choice for the best golf net and the one I bought. I decided to go with a golf net that would allow me to drive, pitch, lob, chip, and still keep the neighbours in tact. It's stood up well since last year and takes minutes to put together. I would definitely recommend this on a mid range budget."
"The FORB Portable Golf Net is pretty much the best selection for best golf net on Amazon in the UK at the moment. When you compare price with quality, the ease in which this thing catches a wayward slice or hook you just can't go wrong - and how do you put a number on the neighbours conservatory? :D" Terry Smith
"The RUIZHUO Pop Up Golf Chipping Net Touch Practice represents sensible value for money. What you'll like most about this golf net is the speed of assembly. Generally it's been pretty reliable but there's clearly been a couple of manufacturer duds they've been quick to remedy. Mine hasn't torn apart and still in good nick months later after heavy use - I actually bought this rather than the FORB which is a heavier duty net but then so is the price tag."
"Our PGA Tour - Perfect Touch Practice Net selection is a great comparison to the Golf Chipping Net by Longridge and just slightly edges it in our opinion based on prices being similar but I prefer the fact you can hone your skills with a smaller chipping hole but with the ability to catch your ball at the same circumference. You don't get the vanity factor but you do know exactly how accurate you've been which is a one up for me."
"If you're willing to spend a few extra quid to improve your chipping then the Longridge 4-In-1 Golf Chipping Net is probably your top choice. With multiple net heights you can practise more angles and positions in tight or confined garden or garage spaces. Well built and from a name you can trust, expect this chipping net to last just as long as the brand names when compared directly."
"The Golf Chipping Net by Longridge is basic and well priced. It is exactly the same diameter as the PGA chipping net and as these nets go in and out of stock invariably this summer it is the next best golf chipping net as an alternative when compared on price and quality. It's Amazon's best choice so some may argue it actually edges the PGA offering"
Getting good at any sport takes practice, hours and hours of it. So, if you're like me and you find it hard to get to the driving range, or you just feel more comfortable working out your mistakes at home, it might be a good idea to invest in a garden golf net.
Garden golf nets are comparatively inexpensive, and when you factor in the savings on petrol and the money you pay at the driving range, they will pay for themselves in no time and save you money in the long run.
 These golf nets come in wide range of shapes and sizes and offering different features. Some products are better for practicing your 'teeing off' prowess, while others are made specifically for chipping and getting your short game up to scratch.
With so many options out there, it can be hard to decide on the right product for you. Fear not, as this page is called 'best garden golf nets reviewed' for a reason. Below you will find reviews for our picks for the best golf nets available in the UK. Let's get started…or if you're still interested to know more, then read the golf net guyers guide.

1. Amazon Basics Portable Driving Practice Golf Net
There's a new champ in town and it dodn't take long for Amazon to get their hands into the best golf net market in the UK! The Amazon Basics Portable Driving Practice Golf Net compares and stands up to the Champkey and Forb no problem at all. In fact, they have sold many more of these nets for good reason. They are quality and cheaper.
So for a lot less money you get a stronger bigger net than the FORB. You also get a finer mesh too. The setup is simply pop up and go on the sides of the framework, it's much easier than putting up a pop up tent and will literally take 3 minutes. It'll take longer to get the packaging open 😀
Looking at the pictures you might think it's pretty flimsy – this is a bit misleading as the ground anchors are pretty decent – if you had something to support the top might help a little but overall takes the shock of a well hit drive no problem at all. And no crazy worries of the ball smashing through the net either unless you're smashing 280 plus yard drives then in which case forget golf nets at home, you're a danger to the public :D. In fact no joke someone was made enough to be complaining about that! Seriousl 😀 Amazon just wouldn't put their name on a product sub par. Even if a bargain. This is a great net for home use and practice and I don't at all feel uncomfortable with it.
You've got plenty of size selections but the 2 by 3 m seems the most logical for my needs. I suggest getting a tape out seeing as you have the luxury to pick.
If I had any real complaints, it is a little light weight, but for the price and compared to the other listings it's a fine deal for the UK market.
Champkey Professional Golf Hitting Net is a direct competitor and comparison for my previous best pick the FORB Portable Golf Net. Why have I changed my mind on the top pick. Well actually there's not that much in it but I have secretly contacted both of these sellers for information without them aware of the mass exposure that I provide them, one responded quickly, FORB sadly did not therefore I have to assume that if I had a problem with one of their nets the same could happen too. When buying online you need to have confidence in the seller, even more so for me as I recommend them. I often go to these lengths to ensure I give my readers the absolute best of the best 🙂
But to be fair it's not just the customer services either, the build quality is similar but when you compare the size the Champkey Professional Golf Hitting Net is a 3ft bigger for the same money. So it's obviously priced more keenly and they have risen quickly taking a decent share of the sales from FORB. No doubt just that little bit more with this unbiased and fair comparison 🙂
I like the Firbreglass poles too. If your into fishing you'll understand these poles are pretty flexible and very strong too. No worries of this thing breaking on day one, something other golf nets have been reported to do sadly! Being fibreglass unless it outright snaps maintenance is non existent and obviously it'll assemble in no time at all!
Our first garden golf net review is of this excellent product from FORB, priced at £99.99. 
Firstly, the fibreglass poles make it quick and easy to set up and also to disassemble, and this, along with free carry bag, means it's easy to take this golf net with you, wherever you desire. With the golf nets selling out across the UK in warp mode the last few weeks, this is easily the best garden golf net still left in stock, but there aren't many left!
It fold away lovely too making it a top pick for the garden: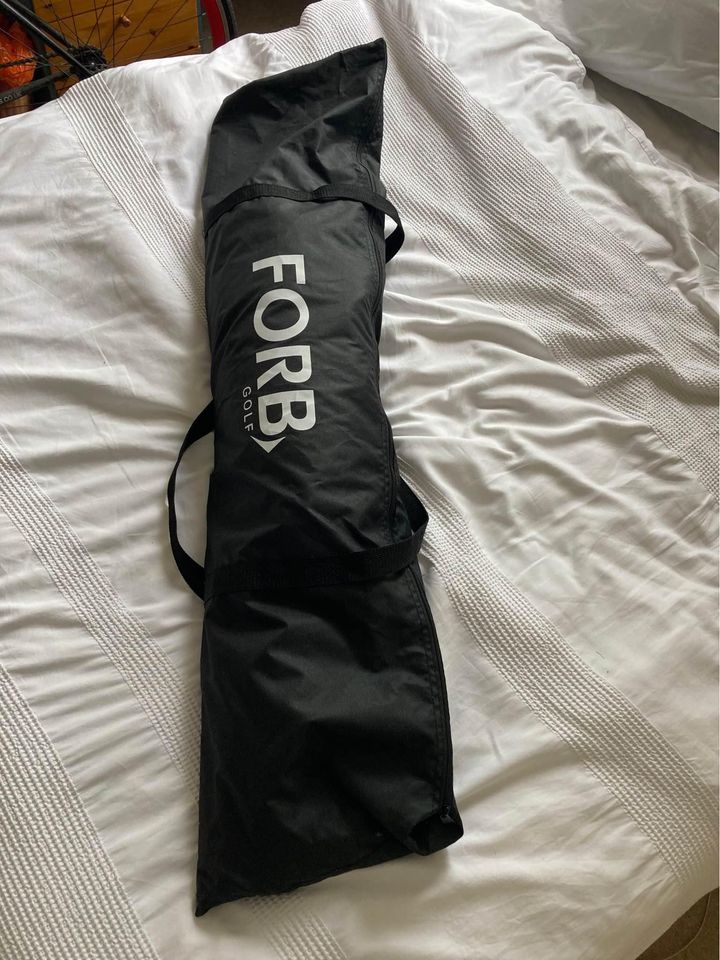 And the contents is pretty simple, not gonna make many mistakes here 😀 – just the net, and pop up poles: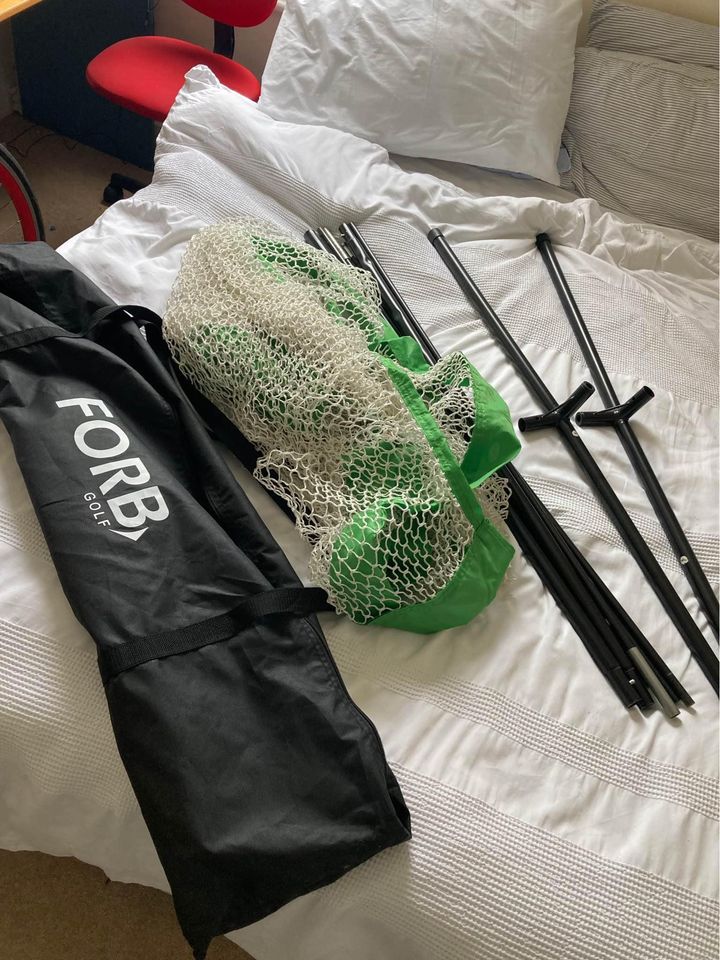 It stands an impressive 7 feet by 7 feet offering you a large target for you to hit the balls into, and you can hit them as hard as you want to thanks to the excellent net. The net is made from 20mm HPDE mesh netting which is extremely strong and can withstand your hardest shots. Again the net is simple to set up and just attaches onto the fibreglass poles.
You can use this golf net to catch your best drives, or set it up on the other side of the green when you're practicing putting, just in case you over hit a few.
The net comes with industrial size and strength pegs to secure into the ground.
Good size at 7 feet by 7 feet
Quick and easy to set up and dismantle
Extra strong 20mm HPDE mesh net 3will handle your hardest shots
Comes with carry bag and pegs to secure the net to the ground
Easily portable
Can be used for multiple purposes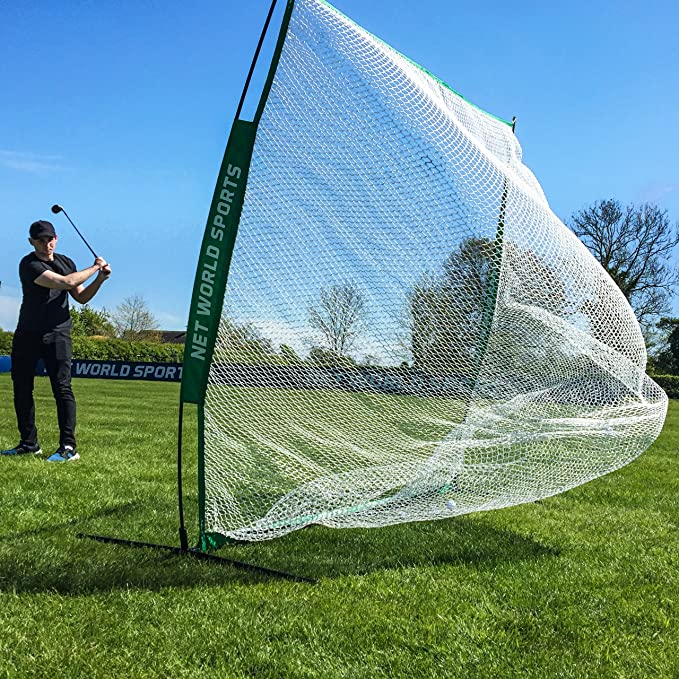 4. Sokey 2M Golf Hitting Net Outdoor Indoor Foldable Golf Practice Cage Driving Hitting Net Training Aid
The Sokey 2M Golf Hitting Net is quite a decent offering, I would probably say that it's the second favoured right now behind the Forb. We are literally running out of golf nets so don't hang around. I have seen most ranges sell out due to the lockdown and Covid over the last few weeks. The only ones that remain are generally not in favour so with this one being well built and pretty good quality at a reasonable price, it will end up sold out in no time too.
It's pretty easy to assemble. Just pop it together as though you would a tent. It's got clear instructions, we are talking about a ten minute install for someone that's handy. You'll notice the nails. I highly recommend using them and root them in firmly if you intend to leave it out. The window last week really wanted to take mine away! 🙂
It's pretty well made, you won't find it falling to pieces on you as you take it out the packaging. It's 2 metres wide which I think is a bit of an in the middle size. A bit bigger would be nice.
The bullseye is basically a cloth that sits over the back of the net. There's not much more to it than that! It's a pretty simple, useable golf net but as I say, I still prefer the FORB while it's in stock.
5. PGA Tour Pro Size Driving Net with Carry Bag
At the time of writing this review, the PGA tour Pro Size Driving Net is on sale for £69.99, a saving of 41 percent off the original price.
The net comes with its own carry bag, and before being assembled it fits in easily enough for transportation or storage in winter.
Assembly itself is fairly straight forward thanks to colour coded sections that show you what matches with what, I would say having a cordless drill is an advantage in terms of install. Once fully set up, the product measures 214cm x 305cm x 153cm and is stable and sturdy with a strong net. Word of warning though, it is a bit awkward to move around once it is fully assembled without taking it apart somewhat, so make sure you place it where you intend to use it which means use the lawn mower first or you'll make a big job for yourself.
 A target sheet is included with the net that has three marked holes for practicing your lob, chip and pitch shots.
Also included is an artificially turf mat to save you destroying your lawn during those 'bad' practice days and an official PGA tour training DVD to help you improve your strokes. If you won't like the artificial turf then I would highly recommend buying some grass seed as you'll need it!
Strong and sturdy and made of good quality materials
Quick and easy to assemble thanks to colour coordinated sections
Large practice area of 214cm x 305cm x 153cm
Target sheet with lob, chip and pitch holes
Carry bag for transport and storage
Artificial turf mat will take the strain of your practice so your lawn doesn't have to suffer.
Free PGA training DVD
6. RUIZHUO Pop Up Golf Chipping Net Touch Practice
The RUIZHUO Pop Up Golf Chipping Net Touch Practice is a direct comparison to the Links golf net we've just removed from these reviews. The reason we are replacing this review is the fact that RUIZHUO is more reliably in stock and there's no point having the same product on our review twice. This practice set comes with everything you need to start improving your golf game at home for only £39.99 at the moment on Amazon with free delivery in the UK.
The net itself measures 2.14m high, 1.4m wide and 1.2 m deep with side nets to catch your more wayward shots. It is very stable and durable, being constructed from high quality materials designed to last and the built in ground sheet will stop any low shots rolling out under the strong netting.
Assembling this model is straight forward enough thanks to clear instructions and a simple system. You'll have absolutely no trouble at all putting this together: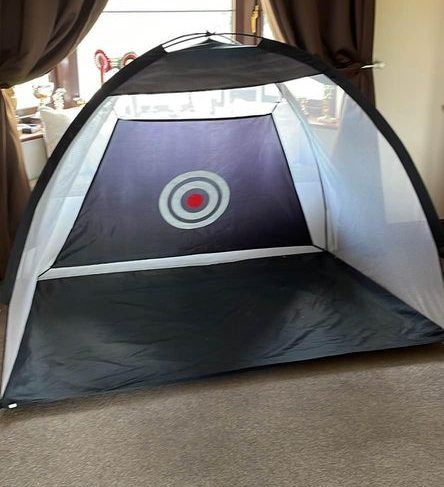 I like the design on this golf net, when you closely compare you'll notice it's the one of the only nets that gives you a clear central target to aim at with distinct colouring which you can easily remove if you so choose. I have the confidence to take a whack at this from 20 yards given the size but that's up to you how you play Russian roulette 😀
Some of the key features for comparison to our top picks:
Large enough catch net with side to ensure you don't lose the ball in the neighbours conservatory 😀
It's pretty stable and durable considering the price point
Designed like a pop up tent – it's got a built in sheet that is attached to the ground section
Being that it's like a tent, it literally takes minutes to throw up.
Strong enough to take a whack from a real golf ball!
7. PGA Tour - Perfect Touch Practice Net
This compact practice net measures just 50.8cm so you can be sure you'll have enough space for it whether it's in the garden or even in the garage or spare room.
It is designed specifically for practicing chip shots and has three separate net targets to catch the balls so you can see how close to the centre you are getting with each shot.
Assembly is so easy, you simply pop up the net and secure it with the plastic rod that comes with it. The rod is in two pieces and needs to be joined together but it takes seconds.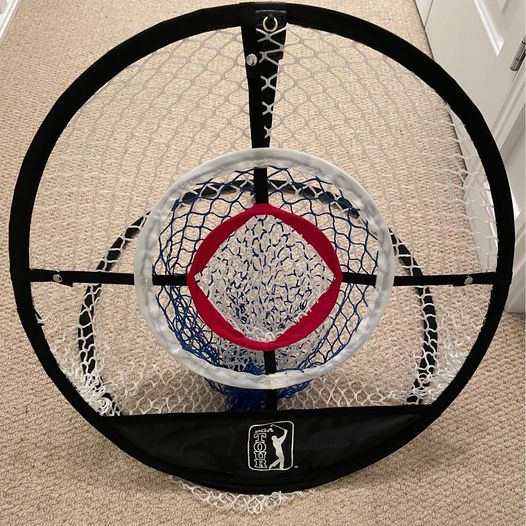 When you're finished you can remove the pole and fold it down flat again.
The materials that have been used in this golf net's construction are all decent quality and it should last a while if used as intended. 
Included in the box is a free PGA Tour training DVD.
Compact size of 50.8cm allows you to practice almost anywhere
Specially designed for chip shots and pitching practice
3 separate target nets lets you see how accurate you're getting
Incredibly easy to set up and pack away
Good quality materials
Free training DVD
8. Longridge 4-In-1 Golf Chipping Net
Currently on sale for £199.99, this multi-functional garden golf net is good value for money.
At 60cm in diameter it is larger than the PGA chipping net we just reviewed, and it also has a selection of targets for you to use in your practice.
There is a 'bull's-eye' style target, a standard chipping basket that has 3 smaller baskets for checking your accuracy, and also a target with 3 holes for chipping, pitching and lobbing like the first golf net we reviewed.
The package includes some plastic balls with Velcro on them to be used with the bull's-eye target and is a fun game to play with your friends and family.
Again, assembly is straight forward and can be done in seconds by popping the net up and securing it with the supplied bar. I would highly recommend getting your lawn mower and strimmer out first, it'll make the experience of using this kit far more enjoyable.
All the materials used feel durable enough, but you might want to weigh or peg this net down if you're planning on using it outside on a windy day as it is very light.
Good price
Multifunctional with 4 games to practice
Standard chipping net with 3 separate baskets
Bull's-eye target with Velcro balls for fun
Target with holes for chipping, pitching and lobbing practice
Easy to set up and pack away
9. Golf Chipping Net by Longridge
With a low price of £7.54 yet still being well made from good materials, there's no wonder this chipping net from Longridge is a best-selling product.
This 53cm diameter model is for practicing chipping and pitching shots and small enough to be used indoors or outdoors.
The pop-up design is almost self-assembling and just requires you to untether the net and then fit in the support bar once the net has opened itself. It is very stable when fully opened and this makes folding it back down a little trickier, but with a bit of practice it can be done fairly quickly.
The net is good quality for the low price and shouldn't be tearing on you anytime soon.
Cheap but decent product
Best seller with mostly positive feedback from customers
53cm diameter means it is compact and can be used indoors or outside
Pop-up design, makes assembly a piece of cake
Made from good materials for such a low price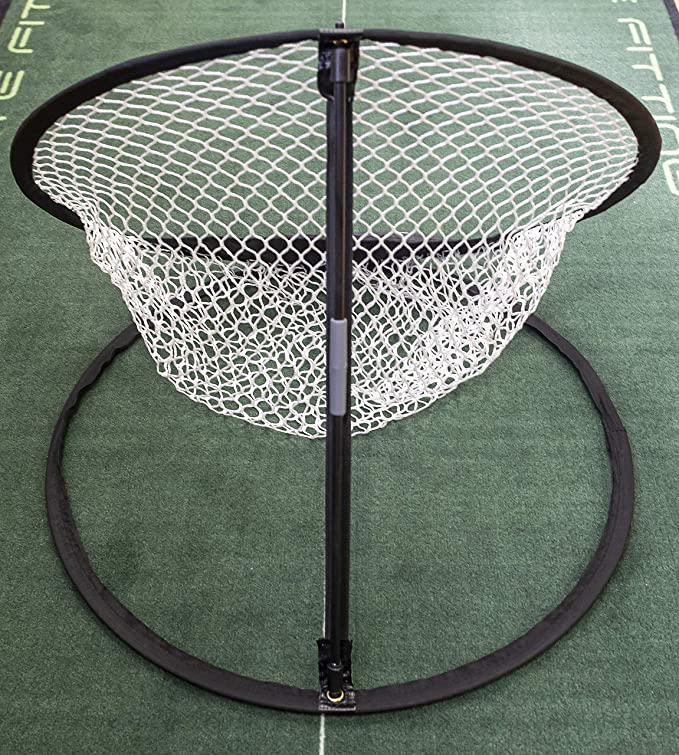 Other fun things to do in the back garden with the family include playing in the swimming pool with inflatable toys and also, perhaps a game of badminton if you get tired of playing golf!
---