Garden Tool Box » Pick the best golf net for garage use [UK] (that actually fits!)
Pick the best golf net for garage use [UK] (that actually fits!)
This article was last updated on August 7th, 2021 at 3:08 am
Golf. I've never played a sport that is as equal parts enjoyment and pure, hair tugging, frustration, as this one. The thing is, there are no shortcuts with golf, you just have to put the hours in with diligent practice in order to improve. The problem with that is; finding time to get down to the driving range or pitch and putt is just not that easy for most ordinary folk. The vast majority of us are not rich CEOs who spend most of our days on the course and then the rest of it in the clubhouse. For us mere mortals, getting in the hundreds of hours of practice that it takes just to make minor improvements on our game is quite a difficult task, or at least it is if you don't have a decent set up to practice on at home.
I'm talking about a home golf net that you can use in the garden, and more importantly in the garage come wintertime. These excellent training aids are not as expensive as they used to be, and they are getting better all the time and can be used in conjunction with golf putting mats to work on your overall game. With innovative features designed to make your home practice as good as it can be. Even the pricier models still work out cheaper than heading down to the local driving range, when you consider how many hours' worth of practice you'll get out of them. What's more, you're practicing in the privacy of your own garage, without the judgmental eyes of better, more experienced, players around you, leaving you free to try out things you might not if there were people watching.
There are golf nets that are designed to help with a specific aspect of your game, like chipping, and then there are ones for more general practice or for working on your tee shot when you can't play with a garden golf net. Whatever it is you're hoping to work on, there's probably a golf net for you out there. To save you the trouble of searching through the jungle of products online, we have picked out a handful or so of the best rated, and put them to our own tests to see if they live up to the hype, or if they are really just 'sub-par'.
Best Golf Nets for Garage Use Buyer's Guide
Still a little unsure about what to go for? Here's our little buyer's guide to remind you of a few points we made in our reviews, and also a couple of things we might not have covered.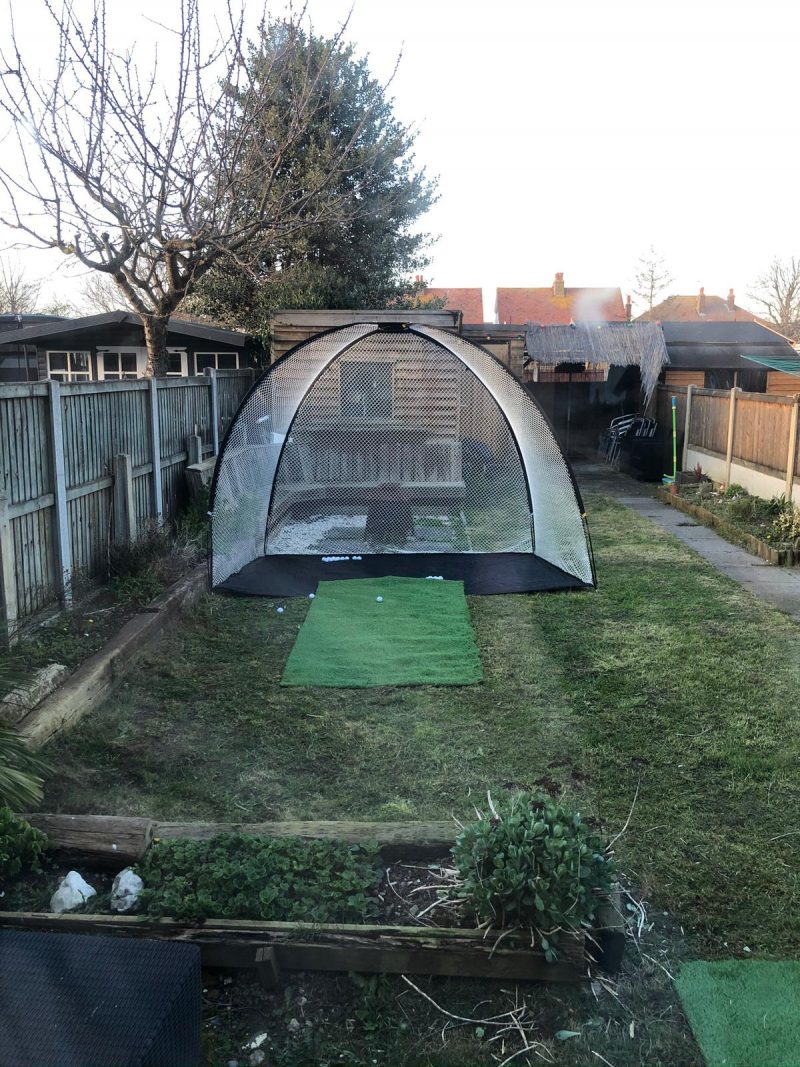 Before buying any golf net for your garage, especially the larger ones meant for driving practice, grab your tape measure and check that you have the space. I know it seems obvious, but something that many people forget to take into account is that you don't just need the same amount of pace as the dimensions of the net, but also space to the sides, and the rear where the net will expand when the ball hits it.
How serious are you about golf? This is an important factor when it comes to buying a golf net, as the prices can vary quite a lot. If you're only going to be using the net occasionally, or just for a bit of fun, do you really want to spend hundreds of pounds? You could even spend thousand building your own golf green in the back garden! Thankfully, there are some really good products out there that are very fairly priced, so you should be able to find something to suit you.
Will you be leaving the net up or will you have to disassemble and reassemble each time?
A lot of these modern golf practice nets have been designed to be set up in a matter of minutes and these are ideal for people with limited space. Then there are some that take a fair old while to put together, and unless you want to be spending a lot of time fiddling with rods and nets, they are better left standing permanently. Make sure you know how easy a product is to set up before you buy.
Check what balls you can use on each net before you part ways with your money. While most golf nets, even small chipping nets, are designed to be used with real golf balls, some products are not and should only be used with practice balls of some kind. Using real balls on a product that isn't meant for them will just end up with you looking sadly at your broken golf net.
Below, you will find our reviews of these golf nets, and after these, you will also find our helpful buyer's guide that might be able to steer you in the right direction. Let's get cracking…
Best golf nets for garage
Comparison table: Pick the best golf net for garage use [UK] (that actually fits!)

Product
What We Think
Price

The QUICK-HIT Ultra-Portable Golf Practice Net
QUALITY GOLF TRAINING AID – The high-quality knotless power-drain net will take the power out of any shot and...
PORTABLE GOLF NETS – Practice anywhere
2 MINUTE SET-UP – The metal frame quickly clicks and locks together making our golf practice net set-up fast...
FREE 2 YEAR PARTS WARRANTY – When bought direct from QUICKPLAY

Net size 66 x 66 cm
Includes three targets
Easy set-up and take-down
Compact storage (collapses to 12 inch diameter)
For use indoors and outdoors

Product 1: Easy Assembly
Product 1: 60cm Diameter
Product 1: Durable Materials
Product 1: 4 Targets
Product 2: Multicoloured Foam construction

RELILAC Pop Up Golf Chipping Net - Indoor/Outdoor Golfing Target

International products have separate terms
SIMPLY AMAZING - Your Rolilac Golf Chipping Net is a perfect compact and versatile chipping training aid...
GOLF ANYTIME & ANYWHERE
USER FRIENDLY - EASY TO USE AND INSTALL
ENJOY WITH FRIENDS - Set up a game or a friendly match with your families...

"The PGA Tour Pro Size Driving Net with Carry Bag was my choice for the best golf net and the one I bought. I decided to go with a golf net that would allow me to drive, pitch, lob, chip, and still keep the neighbours in tact. It's stood up well since last year and takes minutes to put together. I would definitely recommend this on a mid range budget."
"The FORB Portable Golf Net is pretty much the best selection for best golf net on Amazon in the UK at the moment. When you compare price with quality, the ease in which this thing catches a wayward slice or hook you just can't go wrong - and how do you put a number on the neighbours conservatory? :D" Terry Smith
1. QUICKPLAY Quick-Hit Golf Practice Net
There's a reason that driving ranges are always busy; it's the part of the game that we all stride to get better at, dreaming of those Mcllroy-esque drives we see him so effortlessly pull off. However, if you're anything like me, you need a LOT of practice.
The QuickPlay Quick Hit golf practice net is ideal for getting those drives perfect, and will allow you to do so from your own garden or garage. Well, that is, if you have enough space. This golf net comes in two sizes 10x7ft and 8x8ft, and neither of them are what you would call small. So, if you're intending to use it inside, make sure you get the tape measure out first and check that you have not only enough enough room to fit it in, but also another foot or so either side as the top tends to be even wider than stated.
The large size of the net does have its advantages though, it must be said. I'm a chronic slicer, so having a nice wide net in front of me gave me more confidence to give the ball a good whack, as I knew there was enough net to catch my wayward shots.
This golf net comes with U-shaped pins to secure it into the ground, but obviously, these are no good for a garage floor, so you'll have to improvise. Luckily, despite being quite lightweight at around 17lbs, QuickPlay's knotless net takes the power out of the ball, and the flexi posts have more than enough play and stability to handle even the hardest drives, so just a couple of weightlifting plates, or even bricks, should suffice.
The product comes with its own carry bag, and it's of a decent quality. The material feels strong and unlikely to tear too easily, and the shoulder strap makes the whole thing easy to carry.
Assembling the net was fairly straightforward, the fibreglass poles being pre-linked together with cord, and the steel base also being pre-attached makes things all that much simpler. After putting the net up and packing it away again a few times, I had it down pat and could accomplish full assembly in about 3-4 minutes, doing it on my own.
From what I've heard from customers of mine, UK based QuickPlay are a company with excellent customer service and live up to their 'quick' name when dealing with any issues, so that's an added bonus to consider too. I've nothing negative to say about this product, it does exactly what it is meant to and does it all very well. It is very fairly priced, easy to set up and dismantle, and comes with good customer support from the company who makes it. A winner all round.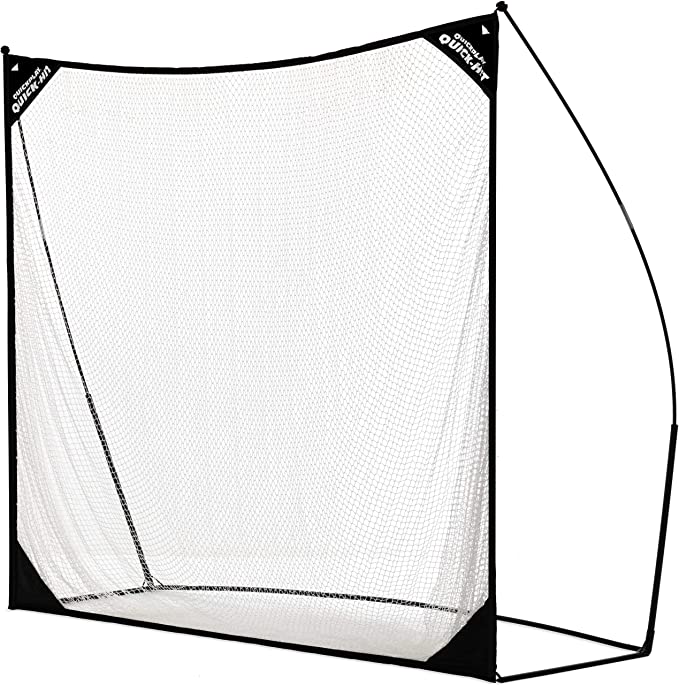 2. RELILAC Pop Up Golf Chipping Net - Indoor/Outdoor Golfing Target
Next up for review is the Relilac pop-up golf chipping net, available for around 40 pounds on Amazon at the time of writing this article. This is a popular product, with a lot of customers providing positive feedback, so we thought we'd try it out for ourselves, and this is what we thought: It's a great product, with the odd minor flaw.
First of all; the positives. It has an attractive and practical design with three target pockets at three different heights, one with a bullseye target inside, and two larger side pockets to catch your 'lesser than accurate' chip shots.
It's a durable little product too, with the main material being 210D oxford cloth, well known for its strength, and a good quality net to boot. It is very much on the light side, and strong winds can blow it around a bit if it isn't weighted down, but that's not an issue when using it in the garage, which I think is the ideal place to use this golf net.
Getting the Relilac golf net ready for use really is child's play, and this is one of the things I like most about this product. You just slide the net out of the handbag-sized, round, carry bag, let it unfold, click the sections of pole together, and then slip them into the main net to hold it in place. The whole thing only took me about 2 minutes, and that was the first time doing it, so I'm sure that would get it down to less than a minute with practice. There are instructions but it's so straightforward to assemble, they're really not needed.
The dimensions of this golf net, once unfolded, are nice and compact at 25×25 inches, so even if you have limited space in your garage, you can still get it out and get a good session of chipping practice in. I wouldn't recommend using it to practice your drives though, as it really isn't built for that.
The only little thing that I will mention on the negative side, is that when I first set up this golf net, it leaned a little to one side, and I had to mess around with the support poles a little to get it to sit straight. Apart from that, I have absolutely no complaints about this great little chipping net.
3. PGA Tour Pro Size Driving Net with Carry Bag
The PGA Tour pro size driving net was a bit hit and miss for me. It had some really good features, but there were a couple of issues that held it back. Allow me to explain.
First of all, what I really liked about this golf net was that it allows you to practice your drive, and your chipping, pitching, etc. without the need for other products. Changing from one mode to the other is easy too; simply a case of clipping on the target sheet or removing it.
The target sheet features three good sized holes that are marked 'chip', 'pitch', and 'lob'. The markings are very clear, and the blue colour of the sheet is equally easy to see.
The target sheet doesn't feel flimsy, but I wouldn't say that it will last forever either, and it had a habit of 'leaning' forward and making it hard to hit the targets at times. Without the sheet in place, this is a good-sized driving practice net. However, it is meant to be used with practice balls and not real golf balls, so that's something you have to keep in mind. The net does feel strong enough to handle real balls, but for how long is a gamble I wouldn't be willing to take; especially not indoors.
This is an attractive looking golf net once it's set up. Assembling it alone isn't that easy though, and you will really need the help of someone able-bodied to get it up in a decent amount of time. Because of this, I would only recommend you buy this net if you can leave it assembled in your garage permanently, as taking it down and putting it back up would get old, very fast!
There are a few extras that come with the PGA Pro Size net, such as the practice DVD (does anyone still watch DVDs?) and a small astroturf mat for playing off. I have to admit, although the mat wasn't the best I've ever seen, it was certainly an improvement over trying to hit off a concrete garage floor, so I'll give it plus marks for that.  This net also comes with a base that can prevent scratches on your garage floor when the balls drop down from the net. It might not be a good feature for outdoor use, but for indoors it comes in handy.
As I said at the start, this product feels a bit hit and miss for me. It's not bad, but I just expected more from something with the PGA logo attached to it.
4. Callaway Chip Shot Golf Net
If space is a valued commodity in your home and you need a nice, compact, golf net to use in your garage until the weather gets better, or the covid situation improves, you can do a lot worse than this chip shot net from Callaway.
Standing only 66cm x 66cm, you will be able to find a spot to sit this golf net, even in the smallest garages, and the fact that it can be folded down to fit in the 12-inch diameter carry bag, makes it really easy to store and transport. You could even take this on trips with you and play in a hotel room if you wanted.
Despite its compact size, the Callaway chip shot golf net is actually quite stable, but does require something to weigh it down at the rear, but that was to be expected from a product that only weighs around 700g. It also needed a little bit of adjusting at first to keep it straight, but it wasn't something I found hard to rectify.
Design-wise, it is very similar to the Relilac model, with three smaller pockets stacked on top of each other down the centre, and two larger open areas to the sides for your missed shots. Also, like the Relilac golf net, this thing takes seconds to pop-up and be ready to use.
Priced at around 30 pounds, this net is very good value for money. The materials used felt strong enough when I gave the product a tug here and there to test, and the stitching and seams are likewise very good for the cost of the product.
Is it going to last forever? No, of course not, and you shouldn't expect it to, but you will definitely get your money's worth, and that's why I think for a garage golf net this is a very viable option.
I've used a FORB putting mat for a while before and it was excellent, so I had high hopes for this particular golf net. Did it live up to my expectations? I'd have to say; yes indeed. I also use the FORB net in my garden.
FORB's net is similar in design to the QuickPlay product we reviewed earlier, but there are differences. The main one was in the type of frame that is used to hold the net. While the Quickplay model has extra curved support poles to the rear, this FORB model does not. I thought this lack of extra support bars would equate to this net not being able to take the kind of powerful shots as its competitor, but I have to hold my hand up and admit I was wrong. The flexible nature of the FORB frame, in combination with the excellent, 22mm square, net itself, did an amazing job at absorbing the force of my drives, no matter how hard I hit.
Again, this is another golf net that is easy to set up, and won't take you longer than a few minutes, even if you're going slow and on your own. This is a good thing, because this is quite a large net, and will need to be taken down after use, or you'll probably get an earful from the people you live with. Thankfully though, it's as simple as connecting the next to some fiberglass poles.
One thing I will say to people who are considering this golf net for garage use, is that you have to make sure you don't hit your shots too low or they might hit the metal support bar at the bottom and then the ball can rebound. That's not something you want happening indoors. It doesn't happen often, but it is something you have to be careful, or at least aware of, though you could put something soft in front of this bar to stop this happening quite easily to be honest.
Just like other golf nets, for indoor use, you'll have to find something to weigh the frame down, but the overall stability of this net is very good and it won't take too much to keep it steady. The FORB portable golf net is a durable product, made from top quality materials and I could tell this from the moment I got my hands on the product. Even the carry bag feels like it will last a fair old while, and that's not something you get to say a lot. At just under a hundred pounds, I think this proves to be very good value for money.
6. Longridge 4-In-1 Golf Chipping Net
Although not the most 'professional' looking piece of kit, I actually like the Longbridge 4-in-1 golf chipping net, simply due to the fun factor it brings. I would definitely say this is only for indoor use, but that's exactly what we want in our garage right?
This golf net features three different sides to play with, although only two of them can be used with regular golf balls. The third, a large bullseye target, is only meant as a fun game and has to be used with the soft balls that come in the box. The balls have Velcro on them and will stick to the target.
The other two sides of this product are what you usually find on other similar chipping nets. One has three pockets lined up vertically, marked lob, chip, and pitch and is surrounded by material that will bounce the ball back if you miss. The other is covered almost completely in net, but with a round, red, circular, target in the centre.
At only 60cm in diameter, this would suit people who are short on space in their garage, and if you're only using the soft balls, you could quite possibly play in the house without worrying about breaking everything in sight. The product itself is surprisingly well made for something that costs less than twenty pounds for the net alone or twenty-five with the soft balls included. The stitching and materials felt pretty good, and the net did a decent job of absorbing the power of my chip shots, but there's no way it will take a powerful shot, so please don't attempt it.
This is extremely lightweight, and I wouldn't try to use it outside even if there was a light breeze without fixing it down, and it will need something to help keep it stable indoors too, but that is true of most of these products.
At the end of the day, this is a good little golf net that adds a bit of fun to your practice and is very fairly priced. Just don't expect it to be of a 'pro' standard and you'll be happy.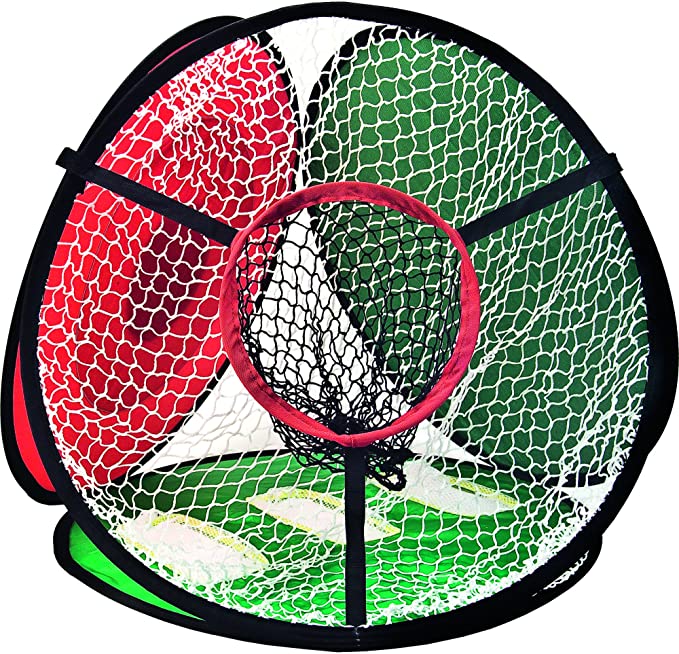 ---