Written by Terry Smith
Our site is reader supported so when you click a link to Amazon we may earn an affiliate commission.
UK's best shade sails that are waterproof and heavy duty tested
This article was last updated on August 17th, 2022 at 3:26 pm
I thought I'd update this article because this recent bout of extreme hot weather has actually made the garden moderately uncomfortable anywhere outside of the pergola or cantilever parasol! We've even been using the pop up gazebo as a protector from the sun, but, and there's a big but. A cantilever parasol will cost a fortune for something of decent quality, a pergola has a fixed position, and a pop up gazebo (a standard 3m2 version) won't fit a little rattan sofa set comfortably. The larger marquee style gazebos also cost a fortune. Step in the perfect solution: a shade sail. The best shade sails I've tested start from less than twenty quid and trounce all the other sun shade methods I've mentioned on value by a country mile, but there are some drawbacks which I'll go into. But before I do, here's the latest one I've tested on my sofa set: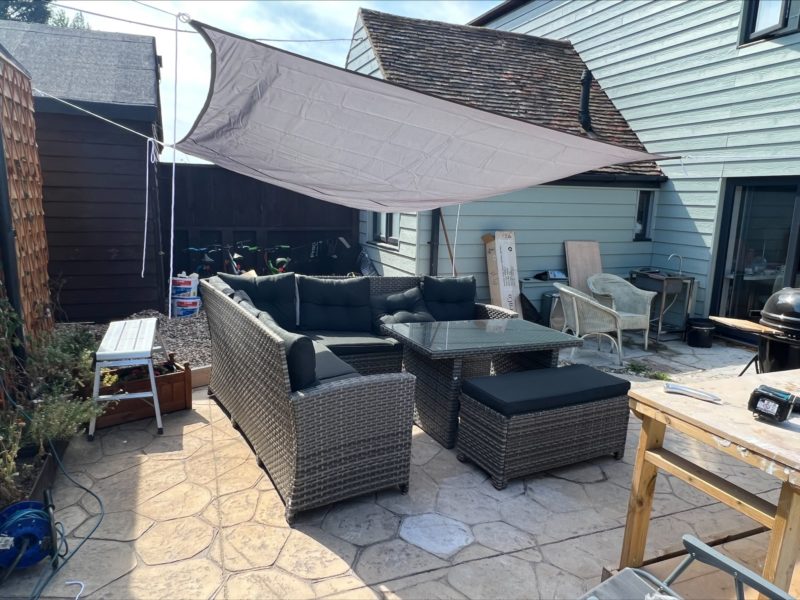 Now the first thing you're wondering – why so low compared to the fancy pictures on the sales ads? Two reasons. Firstly, as the sun moves around my garden, I'd need a shade sail about 10m by 10m to actually cover the area I want! Even at this low height there are points where my neck still gets the sun! Look at the sunlight still landing on the back of the set despite this only being head height! As I say, unless the sun is directly over your head there is much to discuss 🙂 And we will get to that in my install guide!
Over the years, I've tested loads of shade sails to bring you the best. And before you buy one you must consider a few important things and pitfalls. Do you need shade sail posts? What are the best fixing kits for shade sails? And once you've got your shade sail up, then you need to start thinking about the sun moving and changing shade areas. Let's take a look at the top shade sails available in the UK first, but if you want to get into the shade sail practical usability and install guide further, please find the link attached and a shade sail buyer guide runs through important factors such as price, size, heavy duty quality of material, and shape (important believe it or not). Otherwise here's my top picks after testing for the best shade sails:
UK's best shade sails – my top picks from testing over the years:
Best shade sail UK overall: Ankuka Sun Shade Sail Grey Rectangular Waterproof Garden Sun Sail [personally tested and proven] I tested this for heavy duty material that is waterproof and it came out brilliant!
Best shade sail UK alternative – Kookaburra Waterproof Garden Sun Shade Sail [personally tested and proven]
Quality triangular shade sail – Clara Sun Shade Sail
Best heavy duty shade sail – Ankuka Triangle Sun Shade Sail will take the most rain [personally tested and proven]
Worth a mention: Sol Royal Garden Shade Sail [huge favourite with others online]and the Greenbay Sun Shade Sail Outdoor Garden Patio Party Sunscreen
Shade sail practical usability and install guide
The sales pictures make these shade sails look like a dream of shaded areas and beautifully comfortable ambience. The reality is very different when you buy one and it rocks up in a small plastic packet – that basically unfolds to be a coloured tarpaulin 😀 But that's not to say shade sails don't work, they need a good bit of careful consideration in terms of the angle the sun is coming at you, height of shade sail install which ties into those angles, and of course what sturdy fixed position you'll tie up your shade sail. And if you don't have some you may need shade sail posts or poles which take a fair bit of installing! Let's look at those:
Do you need shade sail posts?
If you don't have somewhere to attach your shade sails then you will need posts or poles but what you need to consider is these will require installing into solid concrete if you want them to stay upright in any kind of serious breeze. I would personally opt to bodge something up all day long if this is just a temporary thing while the sun is shining bright 🙂 (and that won't be long in the UK 😀 ) Be it off of a solid fence post (that belongs to you), your shed, and of course your home. Drilling a couple of anchor eyes or more into solid brick is a great place to start. If you want to see that process I would look at my how to install a fence on a wall article as I use big anchors for that. The anchor eyes I've linked you to are far smaller but more than adequate for a large heavy duty shade sail. Annoyingly in this instance, my house is cladded so that doesn't work.
Installing your shade sail with cord using the shed and fence posts
But I did have a fence posts I own and my big shed. Here's a look at how I bodged mine up: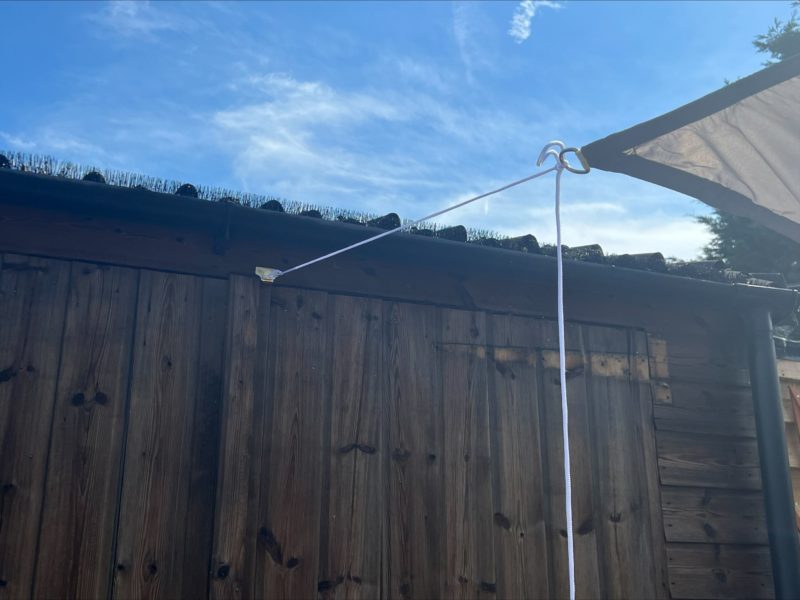 No as you can see I used a simple variation of the mooring hitch knot so that it's quick to release the rope from the shade sail. This is crucial if you want to make minor adjustments or you have expected bad weather incoming. It also makes packing away a 2 minute job. You simply give the knot a tug and it'll come free. Here's a look at the knot close up and how to form it: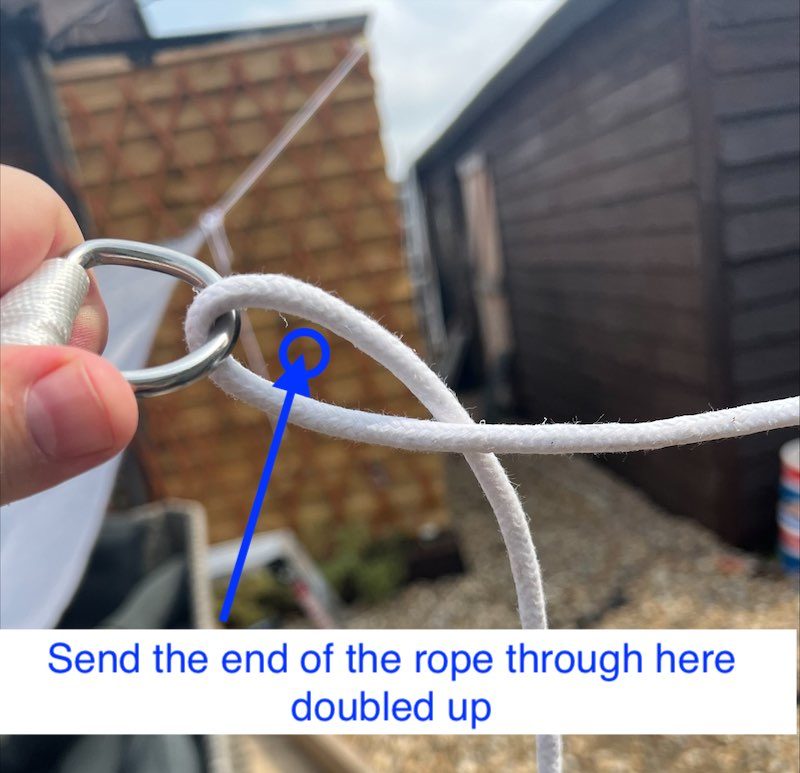 Now if you look closely I mention sending the rope through doubled up – don't panic – here's a close up of that. As you send the rope through doubled up simply tighten the knot: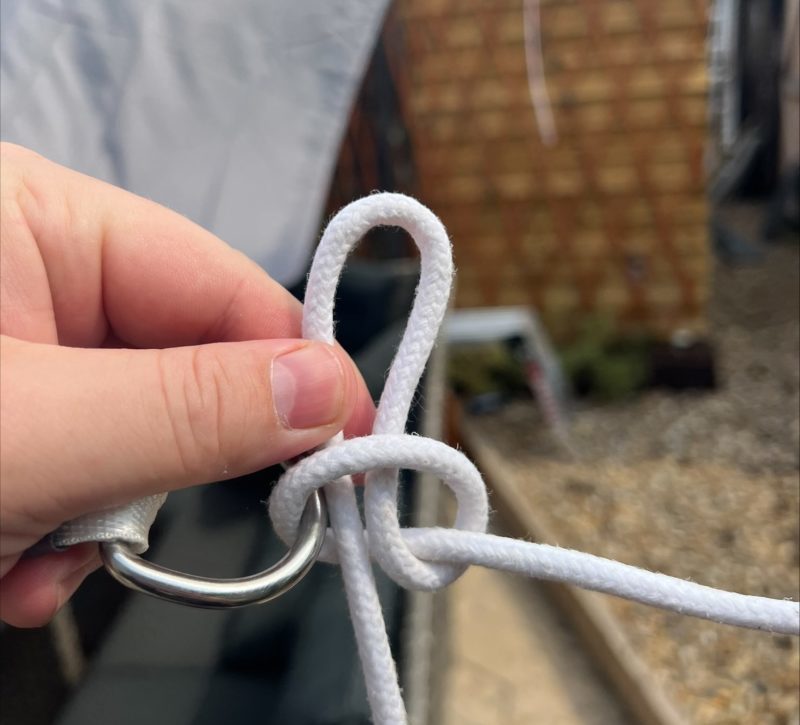 And from here, just pull it tight and you're locked off and ready to go. The movement from wind on your shade sail will not release this knot. And when you want to release you just tug on the rope line and it'll fall apart: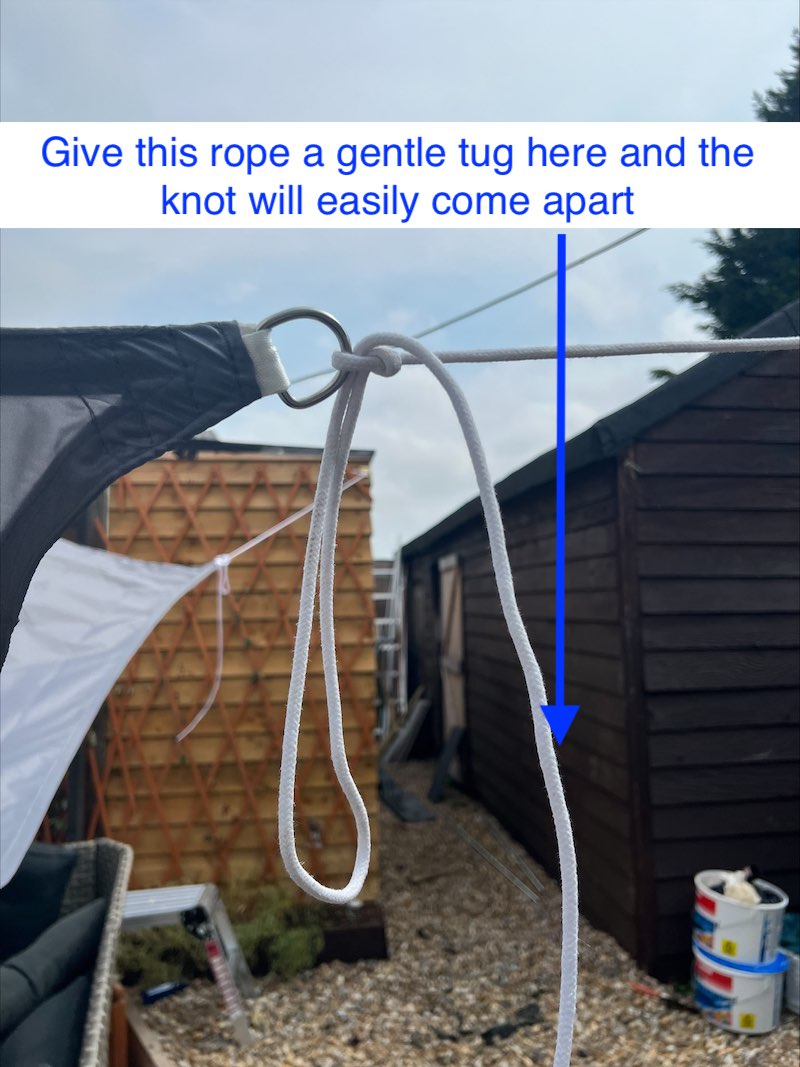 I'd just point out, if you install this miles in the air and not for easy access I would probably opt for a different knot.
And then I've simply run the rope off of fence posts within my garden. I would highlight I would not use a jointly shared boundary as this isn't mine alone:
It's a bit of a pain having it run quite that much distance so I had to buy some cordage separately. Fortunately I have a friend in the sash window business (Brian at London Sash Window Repairs Ltd) who gave me some sash cord for free. If you don't have anything adequate I would recommend this rope/cord as it ties easily and is the same as my friend generously gave me.
Adjusting the ropes to move the shade sail
As the sun moves over your garden the shade sail is going to cast shadows in hugely different positions. As I already mention at the start, despite the fact I have my shade sail little more than head height from the ground and directly above my seating area, I still face issues with the sun getting on my back. Here's a look from my security cameras of the shadow being cast: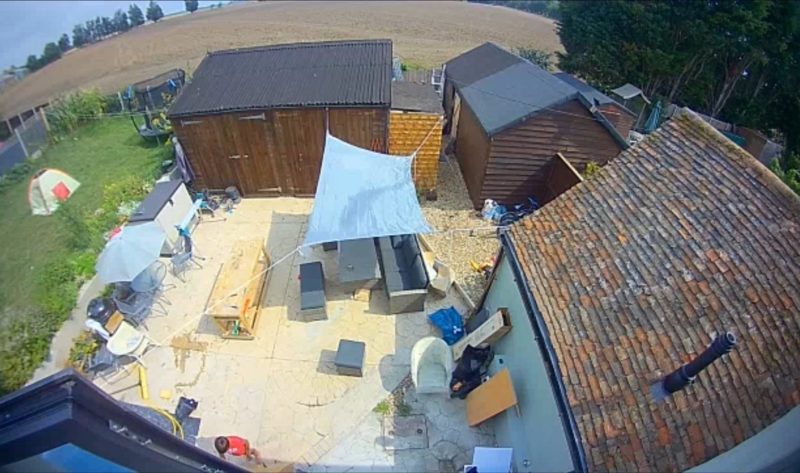 So to fix this I had to bring the shade sail way over to the right. But that's obviously a problem for other times in the day. Here's a look at the morning: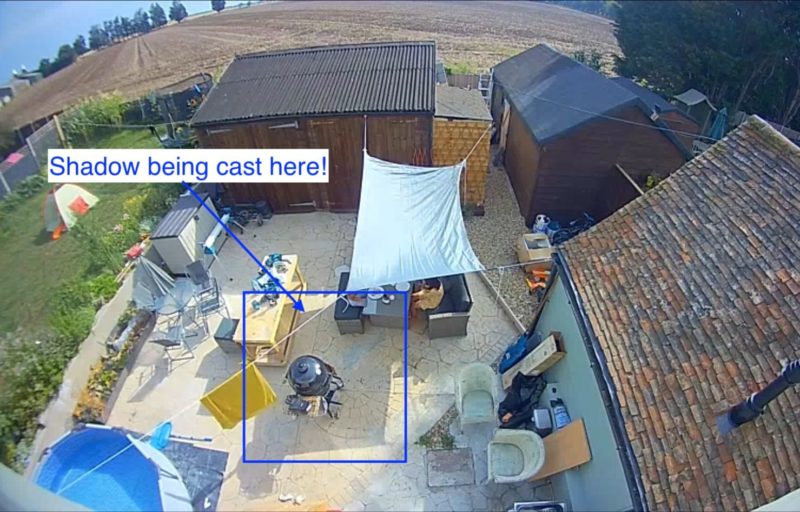 So whilst it looks a bit unsightly, you don't want to cut your ropes too short as you will want to make adjustments when sitting down to breakfast or lunch: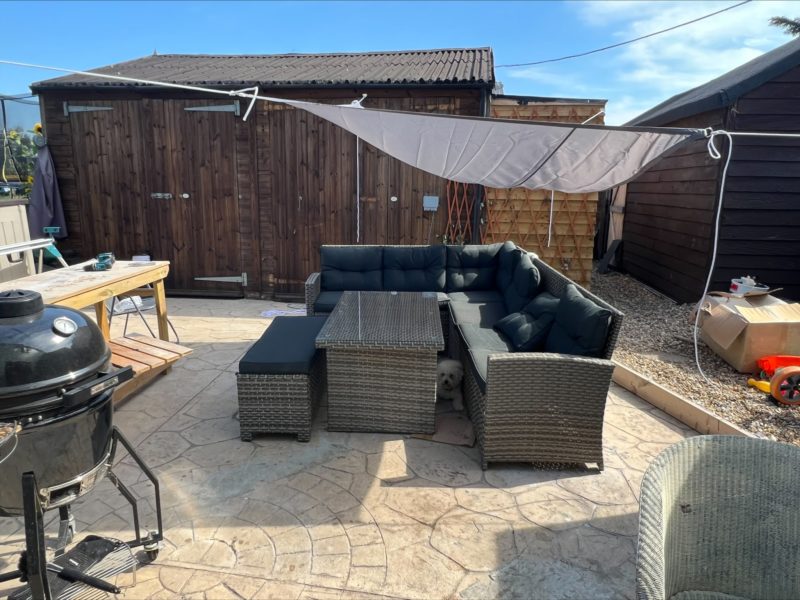 You could tie the draping cords up easily and improve the look but really, I am not fussed at all and leave that to you if you want to improve the look. So with all four corners tied it holds up nice enough.
The alternative is multiple shades layered over each other. Let's say I was in a hot country and wanted to shade the pool for the kids in different places while still allowing plenty of sunlight to heat the pool water, then I would get far more serious about aesthetics.
What are the best fixing kits for shade sails?
Without question I would be using anchor eyes or eye plate if I had solid brick or concrete as a point of install. I would perhaps even marginally prefer eye plates as they have multiple fixing points (gives you more chance if one fails. With that said, a single anchor eye installed properly is a multiple stronger.
Installing into timber is easy – you want to pick eye plates. You need to be installing into the studs of the shed through the boards (so the 2 by 2 or larger upright timbers on the inside). In my case being a large shed the timbers I screwed into are 4 by 2 so more than adequate.
If you have fence posts at your disposal, I would remind you to be sure they are sturdy and not shared with your neighbours 😀
With all those pitfalls and that useful bit of install guide out the way, here's a look at my top picks for shade sails:
Best shade sails
What is a shade sail?
What usually follows? Lots of pink, sunburnt people walking around your local supermarket that's what. I'll admit, I too am a culprit when it comes to this despite warnings from my wife, each and every time. When it comes to my kids though, I'm a lot more careful, constantly chasing after them with sunblock and making sure that any seated areas in my garden have a good deal of shade and protection from those UV rays.
There are several ways of doing this such as using large cantilever parasols or gazebos for your garden furniture, but one of the best, and cost effective ways of turning your patio or decking into a perfect shady escape from the sun, is to set up a shade sail or a cheap pop up gazebo for that matter. These can be bought for surprisingly little money and are generally easy to set up. They look great, and can be used over and over again with very little maintenance.
On this page we have provided reviews of the best value for money shade sails in the UK and also a useful shade sail buyer's guide has been put together for you so you can be confident in your purchasing choices.
Shade Sail Buyer's Guide (UK)
Getting the most out of your shade sail means making the right choices at the time of buying. We realise that not everyone knows what to look for in a good shade sail, so we have put this little guide together to provide some assistance.
Advantages of shade sails
Why should you choose a shade sail over a gazebo or parasol for your shading needs?
Well, the main advantage over a gazebo is that shade sails are easier to set up with no low lying ropes that people can trip over.
Parasols are obviously the easiest to set up, but they don't offer even half of the shade that a sail does and in my opinion, they don't look anywhere near as good.
Size and shape
Generally speaking, triangular shade sails are better for smaller areas or places where there aren't that many things to fix the sail to. Square or rectangular sails will shade a larger area but also have an extra D-ring that needs hooking up. It's also my opinion after setting up and assembling many shade sails myself, when it comes to practically keeping the sun off you, a rectangular shade sail is easier to manage.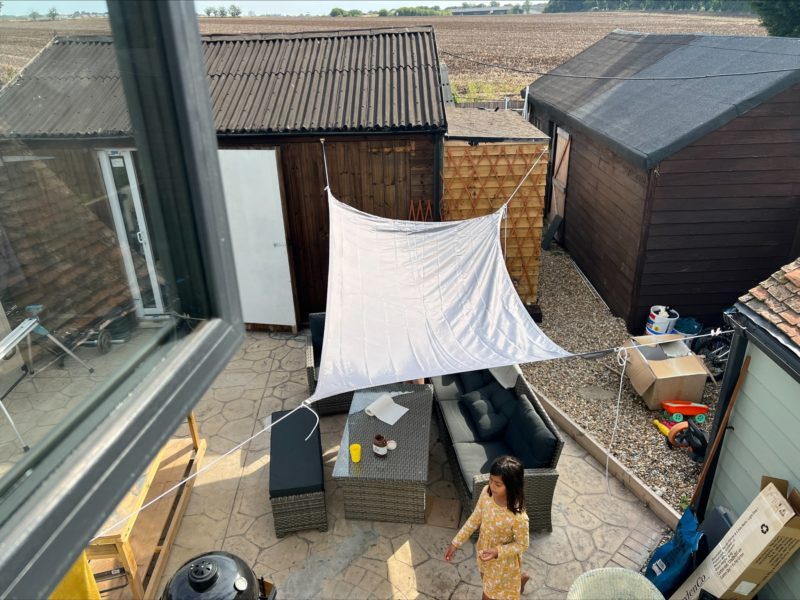 It is important that you measure up your patio or area you intend to cover to make sure that the size you order is going to be the right fit. Also think about how far away the places are that you are going to use when fixing the ends of the sail.
Material
Most of these products are made of polyester weave because it is resistant to mould and has high durability. Polyester weight is measured in grams per square metre, or gsm for short. A good quality sail should be at least 120gsm and top quality should be higher as this usually means it is a lot more tear resistant and the extra weight will keep it stable in the wind. Let's also factor that a high quality shade is also easier to clean and maintain.
Some polyester shade sails are only water resistant and not waterproof, so this is something to keep an eye out for too.
Colour options and quality
It's always nice to have a shade sail that matches the garden furniture or the colour of the house, but not all models of shades give you that choice. White or cream is usually the standard colour though and that tends to go with everything so it's a safe bet. I'd rather have a plain white shade sail that is the quality I want, rather than a substandard product that matches my garden chairs.
To check on the quality of a product it is important to read online reviews and watch YouTube videos. Even though brand names can mostly be trusted, it is not always the case, especially since many of them are cutting costs by getting their products made in China these days.
Good quality shade sails will have things like stainless steel D-rings, good quality webbing and stitching, sewn in strapped edges, and strong durable material.
This buyer's guide concludes our page of reviews for the best shade sails in the UK. We hope we have made your decision a little easier and that you end up with a quality product that you will be happy with for years to come.
Please pop back in the future to see if we have edited and updated this page with new products that have hit the UK market, or if you are interested in any other gardening product reviews, we have tons of useful pages right here on this site covering everything from garden furniture, to gardening tools, and more.
Conclusion
Climate change, whether you believe it is natural or human influenced, has produced some pretty extreme weather conditions in the UK over the last few years. On one hand we have had heavy rainfall and storms causing floods, and on the other we have had some very hot spells too with temperatures reaching record highs. Now, we Brits aren't the smartest people when it comes to dealing with the sun, and it's fair to say that a lot of us simply whip our shirts off at the slightest sign that it's going to be a bright and sunny day.
---