Written by Terry Smith
Our site is reader supported so when you click a link to Amazon we may earn an affiliate commission.
Best sun loungers [UK] 2021: pick top luxury rattan and wooden sun loungers
This article was last updated on July 31st, 2021 at 10:50 am
We all know the best way to spend the summer months- in the back garden, laid on our backs in a comfortable sun lounger (or similar zero gravity chair), drink in hand, and a smile on our faces (with a shade sail handy if our faces start going a little pink) is the high life, combined with the kids splashing about in the garden swimming pool – what more could you want? 🙂
Choosing the best lounger isn't as simple as it used to be as we are now inundated with choices when we look online. Do you want a plastic, wooden, or metal framed lounger? With cushions or without? Foldable? Reclining? Rocking? You might even prefer a hammock after searching all the options for the best way to laze in the garden this summer.
Best sun lounger – how to choose?
There are so many different options, and also a lot of 'copycat' models that can look very. Very similar to each other but sold at different prices. So, how can you know which are the best sun loungers in the UK? You turn to us, that's what.
We have taken the best-selling and highest rated models and given them a thorough testing for you to see if they live up to the hype.
Below you find reviews of these products for you to read, so you can make a more informed decision on what you think would be best for you. There is also a buyer's guide with further information on sun loungers at the bottom of the page. Enjoy.
Comparison table: Best sun loungers [UK] 2021: pick top luxury rattan and wooden sun loungers

Product
What We Think
Price

SET OF TWO SUN LOUNGER GARDEN CHAIRS: These SUNMER Sun Lounger Garden Chairs are the ideal way to soak...
LIGHTWEIGHT AND PORTABLE: Weighing just 8KG per chair
ADJUSTABLE: These SUNMER Sun Loungers can be reclined between 30° and 90° making them ideal for summer snoozes...
STRONG AND STURDY: The lightweight powder-coated steel frame will prevent rusting on the chairs...
PACKAGE DIMENSIONS: 95.5cm x 25cm x 60cm | UNFOLDED CHAIR SIZE: 165cm x 65cm x 110cm | FOLDED CHAIR...

Horizon Branded - High Quality Guaranteed
Material: 2 x 1 Textoline; 22mm powder coated steel
Set of 2 chairs and a table
Weather & stain resistant; Can be left outside all year round
Folds for storage; Supplied assembled

Resol Master Blanco Polypropylene Plastic White Sun Loungers

Injected Polypropylene Construction - Strong and durable; designed to last for years...
5 Reclining Positions - Easily adjust to find your perfect angle
Dimensions: Width: 63cm Depth: 188cm Max Height: 82cm Bed Height: 47cm
Inbuilt Cup Holder and Mobile Phone Stand
2 Year Warranty - With a dedicated Customer Service Team committed to providing peace of mind from our door...

Adjustable backrest with 5 positions
2 fabric carrying straps for easy transport
Dimensions (LxWxH): approx. 190 x 58 x 30 cm
Folded dimensions (LxWxH): approx
Weight: approx. 5.6 kg

Stackable, Simple and stylish design and looks great next to any pool or in any garden...
Comfortable poly coated Glasfaserstoff
Extremely strong solid polypropylene resin construction unlike flimsy folding loungers
Dimensions (when laid flat) – 190 cm long
Simple yet high quality tipping mechanism with 4 tilt settings positions from sitting to to liegen fully...

Adjustable sun lounger frame in green
Includes a thick, crumbed-foam filled cushion in a choice of classic prints...
Strong steel sprung supports to the frame
Folds for storage and easy manoeuvrability
Relax and chill out on those long summer days
1. SUNMER Set of 2 Sun Lounger Garden Chairs
These 'gravity' style sun loungers have been around for a number of years now, and if you've never used one, you're in for a treat. They are, for the most part, incredibly comfortable, easy to use, and are usually in the lower price range too.
Sunmer's set of two gravity sun loungers look fantastic in light grey, and the neutral colour ensures that they will not look out of place in anyone's garden, no matter if it is a modern or traditional themed one.
For their low price, and lightweight (8kg per chair), they are reassuringly strong and stable thanks to their powder coated alloy steel frame, and plastic feet that help prevent the chair slipping or sliding on harder surfaces like your patio.
Wrapped around this frame is the textilene fabric, well known as a material that is durable, waterproof, flame retardant, mold resistant, and easy to clean; as well as providing a lot of comfort. Sometimes, people complain about textilene not 'breathing' very well and causing you to sweat, but I didn't really find any problems with these Sunmer sun loungers, and neither did the wife.
These gravity sun loungers get their name from the natural titling motion of the body that is used to change their angle. With the Sunmer loungers, this mechanism works smoothly and easily through 30 to 90 degrees, with the option to lock the lounger out at any angle between the two, so you can always get yourself in that perfect position. It does take a few tries to get the knack of it, but you'll soon be swinging things.
Coming preassembled, there is no messing around with the Sunmer sun loungers. You simply unpack, unfold, and you're ready for a day in the sun. Once unfolded, they sit at 165cm x 65cm x 110cm and can handle up to 100kg of load.
None of us can be without our devices these days, so it's good to know that these chairs come with a detachable table that has slots for your mobile phone and also for your favourite hot or cold brew.
The only thing I would advise if buying any of these low cost, gravity chairs/loungers, is to give the frame a spray of WD40 regularly, especially in the joints, as the paint coating tends to wear down first and you can get rust quite quickly. If you keep on top of this tiny bit of maintenance, these sun loungers should last you a fair old while.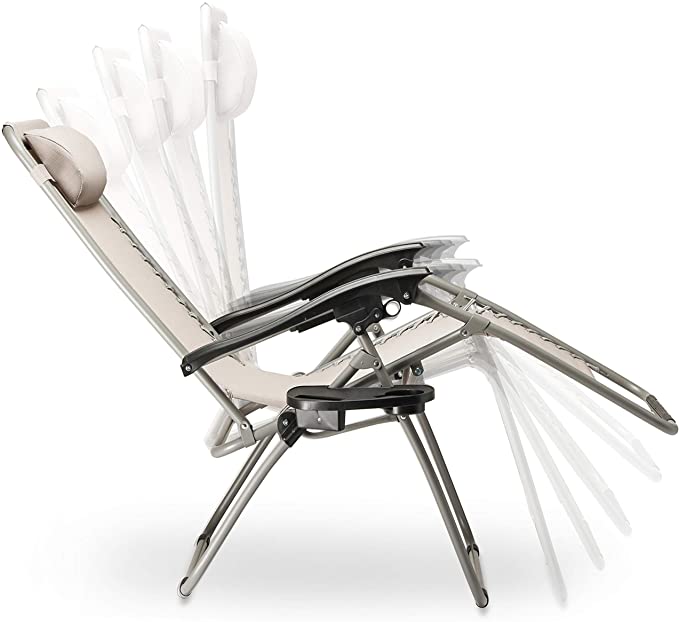 2. TecTake Sun Lounger with Sunshade Recliner Chair
I'm probably not the only one who has put on a bit of 'timber' during lockdown easting fests, and if you're the same, you'll be needing a sun lounger that can take the extra weight until you can burn it off.
TecTake's product has been made with a sturdy frame, complete with reinforced connectors and joints, and this allows it to handle up to 110kg, so most of us shouldn't cause it too many problems. The synthetic fabric is not only comfortable to lie on, but also extremely strong, and plays its own part in handling the maximum load.
For something so stable and strong, it may surprise you to know that this sun lounger only weighs around 5.6kg, and is incredibly easy to fold away for storage. What's more, once folded, there are two handles to make things even easier.
At 190cm long and 58cm wide, it should be big enough for most people to lie on comfortably. I'm 5ft 10" and I found it to be just about right for me.
The end section of the sun lounger can be adjusted through various positions, from lying completely flat to sitting almost completely upright, and there is a detachable sun shade for your face that only takes a few minutes to screw on, and can save you from getting a little too much sun in your eyes, or dangerous amounts of UV on sensitive areas like your nose and lips.
This sun shade, when combined, also makes this sun lounger a good pick for people who like to spend their summer days reading the latest novel from their favourite author. You won't have to squint through the sunlight or crane your neck to enjoy your book.
3. Resol Master Blanco Polypropylene Plastic White Sun Loungers
If you want true reliability and longevity, you can't do much better than a Resol Master Blanco sun lounger.
The Master Blanco' strength lies in its simplicity. There are no metal joints or hinges to rust, and no fabric to rot or wear down. The whole sun lounger is made from injected polypropylene, and this makes it as durable as you can get. If you thought the TekTake could handle a few extra kilos, it is nothing compared to the max load of this model.
At 10 kilograms, it is hardly what you'd call heavy, but it has enough weight not to get blown about in the wind while still being portable and easy to store away when the weather changes.
One of the drawbacks of this being a solid plastic sun lounger is that it is just that-solid. Although I would never say it is uncomfortable to lay on, I would also suggest buying a nice cushion to put on top to get the most out of it.
These sun loungers have a space on the right side to keep your phone and glass/cup, and another storage space on the opposite side for your wallet or whatever else you feel you need close at hand. It should be noted though, that if you put a large cushion on top of the sun lounger, it will probably cover those spots.
Nonetheless, this is still, in my opinion, one of the best sun loungers you can buy at the present time, and with a current price tag of less than 150 pounds for a pair of these, complete with a 2-year warranty, what is not to like?
4. HORIZON SET OF 2 GARDEN GRAVITY SUN LOUNGER
Two comfy gravity sun loungers, plus a free table for under 115 quid? Yes, please.
Just like the Sunmer sun loungers, these make use of textilene's hard wearing properties to ensure that the product won't rot or get ruined by any bad weather, all the while still providing you with a very comfortable place to soak up the sun's rays.
Although you can't lie all the way down horizontal in this kind of lounger, you can swing yourself backwards and get to a very relaxing angle and lock it in wherever you choose along the way, and the powder coated 22mm steel frame will keep you stable there for as long you like.
The combination of black and gold really makes these sun loungers look great, and even the free table has some attractive styling, on top of being quite a handy little freebie with its built-in cup holders.
The textilene cover is really comfortable as is, but when combined with the padded headrest, and a nice soft beach towel thrown over, it turns into a spot to spend the entirety of your summer days in.
Are there flaws? Yes, of course there are. There always are at this price, but most can be avoided or solved with a can of oil, and other basic maintenance on the metal frame such as changing out the bolts provided with longer and better ones from the local B&Q or simply order some from Amazon. The textile should take care of itself for the most part, and only needs a scrub with soap and water.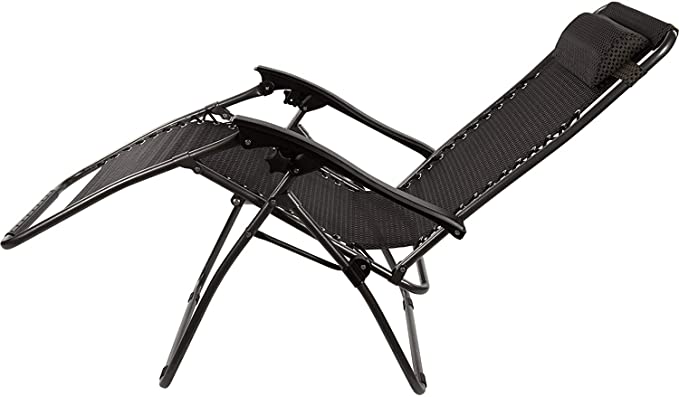 Stylish, practical, and built to last, Resol have knocked it out of the park again with their Marina Sun lounger.
They are certainly not the cheapest set of two loungers in our list (and therefore why they are not featured higher up), but if top quality is important, and you don't mind splashing out a little, I'd definitely recommend these.
Just like its sibling; the Master Blanco, the marina sun lounger has been made to go the distance. With its synthetic polypropylene resin frame being one of the strongest out there, and an equally robust cover, you'll be enjoying far more than a single summer on this outstanding sun lounger.
Not only is the cover durable and easy to clean, it is so comfortable that I didn't even bother putting a mattress on top, and I was quite happy to spend the day there. What's more, it is highly UV resistant, and a customer of mine who bought them a couple in the blue colour scheme about 3 years ago, swears that they look as good as new.
The Marina sun lounger has some weight to it, and that's a good thing, but it isn't really heavy, and thanks to wheels built in one end, all you have to do to move it around is to tilt it back and push or drag. The wheels are smooth, and work well on hard surfaces and soft ones such as grass. Still, my wife made sure that I was the one who moved 'her majesty's' lounger into the sunny spot!
The only gripe I have is that the back rest felt a bit stiff at first when trying to move it through the various positions, but I think this is because it isn't flimsy, and that it was a new product we were trying out, so I'll give it the benefit of the doubt.
If comfort is at the top of your checklist when looking for a sun lounger, then you're in the right place. The Alfresia sun loungers steel sprung supports, combined with the excellent, crumb foam filled cushion, provide you with such comfort that it can be hard to stay awake, and I'm speaking from experience.
The cushion is available in three different colours/patterns; plain green, alexander green leaf, and a classic blue and white checked pattern. All of them look great, but my personal favourite is the checked one as it just looks so fresh.
There is no real assembly required with the Alfresia, you just unpack, unfold, sling the cushion on and you're good to go. I had been warned by someone who bought this that there might be a bit of a plastic smell to the cushion from the packaging, and so I was already well armed with some baking soda, ready to go to war. After a quick sprinkle on the cushion, I left it for an hour and then used the vacuum cleaner to suck it up, and the smell had all but disappeared. I finished off with a bit of perfumed fabric softener, and the job was done.
Both the metal and plastic parts of Alfresia's frame are well built from decent materials and feel sturdy. Even when the lounger's backrest is in its furthest declined position, the frame does its job as it should and makes you feel safe and supported.
I'll end with the downsides as usual, and with Alfresia, it is the size. Although not tiny, it could do with being a bit longer, and a bit wider. As I've already stated, I'm around 5ft 10" and I think I'm about as large as a person should be to fit comfortably on it. Smaller than that? You'll love it.
Best Sun Lounger Buyer's Guide
Finding the perfect sun lounger can be a bit frustrating even when you know exactly what you are looking for, so if this is your first time purchasing such items, you would be forgiven for feeling out of your depth.
How do you know which type would be best? What material should you go for? We try to answer these and other important questions here in our best sun lounger buyer's guide.
What is the best frame material?
You have to understand that all materials have their pros and cons. Let's take aluminium for example. It is lightweight, rust resistant and fairly strong, especially if it is high quality aluminium used in more expensive models, but cheaper aluminium can be bent out of shape easily.
Powder coated steel is a stronger metal but prone to rusting once the paint wears off. Stainless steel is more rust resistant but for some reason isn't used as much for sun loungers. Plastic sun loungers are quite durable. They are resistant to weather damage and UV, and are also quite lightweight. Models made with thick, high quality plastics are usually more expensive than aluminium or powdered steel framed sun loungers.
Wooden frames are strong and look great, but they do require you to keep them maintained by either painting them or coating them with some weatherproof material. There is also the problem with insects eating away at them.
Other materials
Stretched over the frame of a sun lounger will be some kind of soft material. Textolene, a PVC fabric is quite common in lower budget sun loungers but might not breathe as well as nylon based fabrics found in more expensive models.
Cushions
Some sun loungers will come with cushioned covers and this does add an extra level of comfort, but you might have to pay extra for privilege. However, there are also plenty of cushioned sun lounger covers that can be bought separately so don't let the fact that a model has cushions or not make your decision for you.
Also, some cushions can be very thin and poor quality, so you might actually want to replace them. If you want to know how good the cushions are, read reviews like ours or customer feedback on sites like Amazon to see what pope are saying about them. The best setups look like this: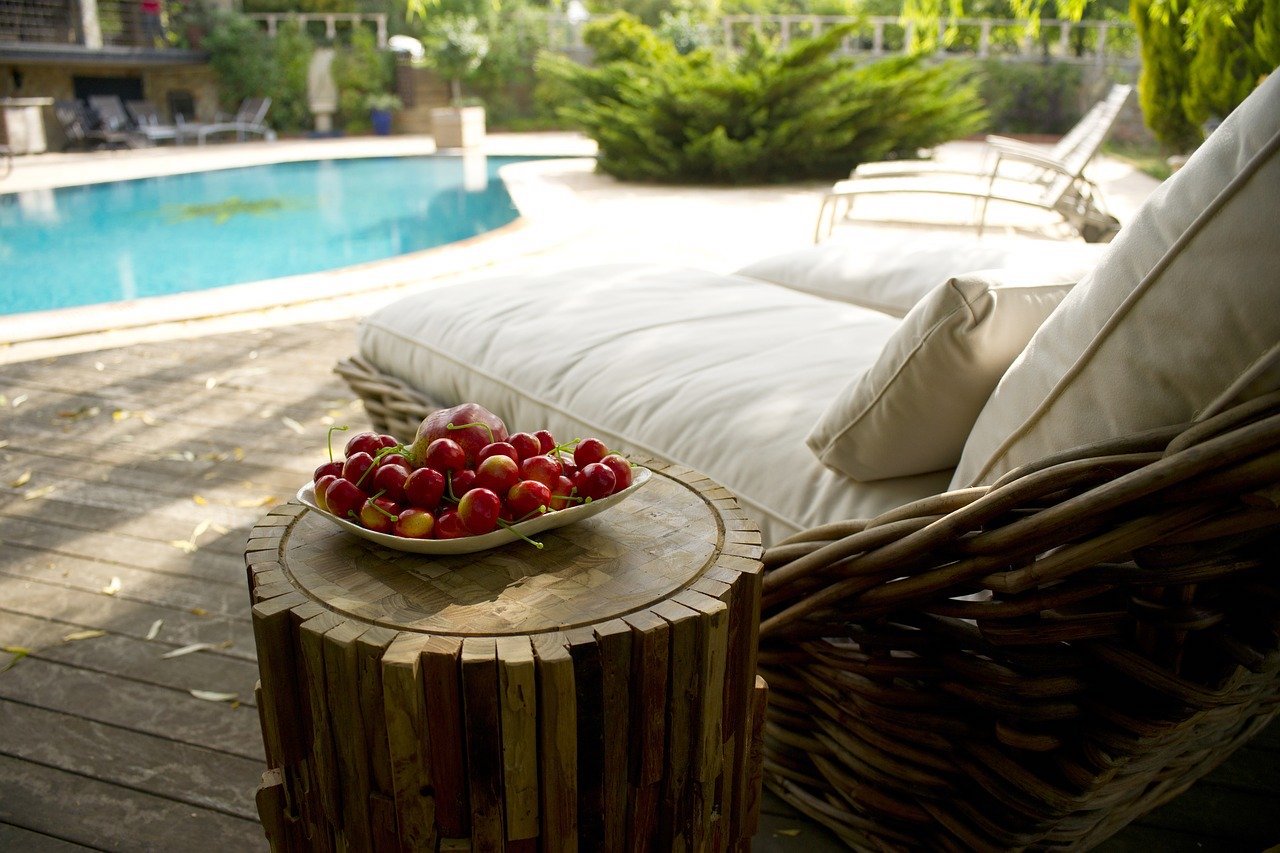 How easy is it to set up the sun lounger?
There are a lot of foldable sun loungers that arrive fully assembled and this is of course the most convenient type you can get. Other models will require different levels of assembly, and this can range from simply clicking plastic pieces together to actually having to use tools to screw things into place.
Be wary of cheaper models that require a lot of putting together as often, these are made in China and the quality control can be quite bad, leaving you with parts that don't line up or screws that are useless.
Extra features
Some common features that might make up your mind for you are- wheels on the bottom for easy manoeuvrability, padded headrests, zero gravity models, sun screens for your face, and large padded armrests.
You also might want a sun lounger that rocks back and forth, or one that folds away for easy storage. Whatever your preferences are, just make sure that the overall quality of the sun lounger is of a high level, or all the extra features in the world won't make much difference when it falls apart in a month or so.
What else do you need to make the garden perfect for sun bathing this summer?
It goes without saying that a quality gas bbq and a garden swimming pool would make a beautiful addition to the comfort and ambience of your garden. Then as the evening draws in, a hot tub with a quality table top patio heater and some night lighting will make the perfect summer nights become a reality. Take advantage of the current lockdown, make the home the best place to be!
---