Garden Tool Box » Best sun loungers rated on comfort and price for Summer 2021
Best sun loungers rated on comfort and price for Summer 2021
We all know the best way to spend the summer months- in the back garden, laid on our backs in a comfortable sun lounger, drink in hand, and a smile on our faces (with a shade sail handy if our faces start going a little pink).
Choosing the best lounger isn't as simple as it used to be as we are now inundated with choices when we look online. Do you want a plastic, wooden, or metal framed lounger? With cushions or without? Foldable? Reclining? Rocking? You might even prefer a hammock after searching all the options for the best way to laze in the garden this summer.
There are so many different options, and also a lot of 'copycat' models that can look very. Very similar to each other but sold at different prices. So, how can you know which are the best sun loungers in the UK? You turn to us, that's what.
We have taken the best-selling and highest rated models and given them a thorough testing for you to see if they live up to the hype.
Below you find reviews of these products for you to read, so you can make a more informed decision on what you think would be best for you. There is also a buyer's guide with further information on sun loungers at the bottom of the page. Enjoy.
Best sun loungers rated on comfort and price for Summer 2021

Images
Make & Model
Manufacturer Features/Specifications
Rating
Price

RELAX WITH ELEGANCE: Sit in the garden or by the pool during a beautiful day on this pleasant SONGMICS...
CONSIDER THE QUALITY: Made of synthetic fabric that is durable
SPECIAL ADVANTAGES: Want to take a nap
PRACTICALITY IS EVERYTHING: This folded sun lounger takes up minimal space—place it in small...
100% SATISFACTION: SONGMICS offers professional customer service before and after the purchase; so don't wait any longer...

Allibert Daytona Brown Sun Lounger
1 x Lounger
Great addition to any Garden/Patio Setting
Supplied in Brown
Seat Pads included
1. GardenKraft 19180 Louis Moon Rocker Sun Lounger
Looking for something a little different when it comes to your sun loungers? Then have a look at this one, the GardenKraft moon rocker sun lounger.
You've probably already guessed from the name that this model combines a sun lounger with a rocking chair motion to really help you relax. I was a bit suspicious as to how well it would work at first, but after 10 minutes happily rocking away, I was sold on the idea.
There's just something in your subconscious that appreciates gently rocking back and forth. I don't know if it's because it reminds you of being comforted as a child, or something else entirely, but it certainly does the job.
The lounger has a curved shape to put you in the most natural position, and there are good sized, padded armrests to help get you truly comfortable. These armrests also double up as the legs due to this sun lounger's unique design which sees two interlocking hoops acting as support for the lounger. Also included is a padded headrest pillow.
The twin hoops are made of strong steel and powder coated to prevent rusting, but I would still keep an eye on the paint and re-coat it when it starts to wear off, as this is a budget sun lounger. The material on the frame is textolene PVC which is actually a very hard wearing and strong fabric, so there shouldn't be any problems there.
The only real issue I had with the Gardenkraft rocking sun lounger was that it was a bit of a pain to set it up. The instructions weren't exactly the best to start with, and on top of that some of the alignments were out on the model we tried. I figured it out myself though and drilled my own holes and used my own fittings and once up, it worked well.
This misalignment is a common problem with low cost garden furniture, due to less than adequate quality control in the factories where they are made, so I'm quite used to having to make my own alterations. You could always send the item back if you are unlucky enough to experience the same problem though.
2. KEPLIN Set of 2 Heavy Duty Textoline Zero Gravity Chairs
On a tight budget? Keplin has got you covered by offering this twin set of zero gravity sun lounger chairs for under 60 pounds. That's a hell of a deal.
Zero gravity sun loungers are designed so that you can go from a seated position to a reclined one with a simple bodyweight shift. At first this actually seems quite tricky, but stick with it and with a little practice it becomes a much more natural and quick manoeuvre.
The sun loungers are made of a hard wearing textolene fabric, stretched over a powder coated steel frame. There is a padded headrest that can be adjusted or removed as you see fit. Personally I preferred not to use the headrest as I found these sun loungers comfy enough without it.
When upright they sit 112cm high, 67.5cm wide, and have a length of 91cm. When reclined to the maximum, this changes to 77cm high, with the same width but a length of 165cm. To put it in simple words, they are big enough to sit or lie in comfortably without feeling cramped.
There are four colours to choose from- red, black, green, and navy. We chose navy and it really looks nice against the black metal frame. These sun loungers come ready assembled so there's no tools or anything needed, just unfold them and you're good to go. Of course folding makes finding storage space much easier too.
I can't really fault these sun loungers for the price they are being offered at. I was expecting them to have all sorts of problems but they are actually very decent zero gravity sun lounger chairs.
Will they last forever? At this price, probably not, but I'm sure you'll get enough use out of them to feel satisfied with your purchase.
3. Transcontinental Allibert Daytona Sun Lounger
The Allibert Daytona sun lounger is a very popular product here in the UK, and has been receiving mostly positive reviews from customers who have purchased it. It comes in three different colour schemes- cappuccino, brown, and grey, and these refer to the colour of the plastic, replica rattan base and not the cushions which are all shades of either cream/white or grey. If you have a
rattan patio set
set then this will make an excellent addition.
This is a sun lounger that is a doodle to assemble, needing you to just slot the plastic legs into the right slots and they will hold the three main sections together. Only one section is adjustable for reclining though, so it's important to get that one in the right place. The fact that it clicks together easily also means that it is quick and simple to dismantle for storage too, and it won't take up too much space in the garage or under the stairs.
When fully assembled, this sun lounger measures 195cm long, 64cm wide, and stands 22cm off the ground. That's big enough for 3 adults to sit on if you want to leave it fully reclined and use it as a cushioned bench type seat, or it gives plenty of room for one person to lay out and catch those rays, and the four position adjustable end section allows you to find that perfect angle for comfort.
The plastic frame will also be catching those rays, but not to worry as it is UV resistant and you won't be seeing those colours fade anytime soon. Being plastic also means that you don't have to worry about rust and corrosion like you do with some metal framed sun loungers so you don't need to fear the odd shower, although I wouldn't suggest leaving the polyester cushions out in a rainstorm.
These cushions aren't as thick as I would have hoped for the price of this sun lounger, but they are nevertheless, still comfortable and with a little maintenance and care, should see you ok for a few summers at least. If there are any problems, you can always take advantage of the 3 year warranty that the makers offer.
4. Lichfield Deluxe Camp Sun Lounger
For a third of the price of the Allibert Daytona lounger, you can be the proud owners of this incredible good value model from Lichfield.
My initial impressions when unboxing this sun lounger were 'wow. This feels light' and there's a reason for that. Lichfield have chosen aluminium tubing for the frame construction and this keeps the overall weight down to around four and a half kilograms. It also makes the frame very weather resistant as aluminium doesn't rust.
However, the lack of weight is a double edged sword, particularly here in the UK, where we often get sudden gusts of wind, even in the midst of summer, so I would find something to anchor it down when you're not sitting or lying on it.
There are no cushions with the Lichfield deluxe sun lounger, instead the makers have chosen to go with their 'Ripstop' 600D polyester fabric that is stretched over the frame. It is surprisingly comfortable though even in the absence of cushions and it was strong enough to handle my 90+ kilogram body weight without issue.
At 180 long and 60 wide, it is smaller than the Allibert Daytona but stands higher off the ground at 30 cm. The headrest can be positioned into 5 different angles and even laid down completely flat if you wish to use it to sleep on. You could even use it as a decent camp bed if you wish.
Storage is made easier thanks to this sun lounger being foldable, but it doesn't fold completely flat due to the design of the model. It still folds away pretty neatly though.
I have to knock off a point for the legs not feeling like they have locked into place properly when it is assembled, but that could just be my paranoia. Apart from that, this is a good, low cost sun lounger that is very lightweight and easy to store.
5. Gravity Garden Reclining Sun Chair Lounger
There have been a lot of companies producing sun loungers with this design in the last few years, and they are so similar, it is hard to pick one of them out of the crowd. This one from kingfisher is probably the most popular, no doubt due to the very low price of around 30-35 pounds, so we decided to review it over the other almost identical products that cost around double or more.
These 'gravity' chairs/sun loungers have a seating position that has been designed to be ergonomic and fit to the natural contours of your body to put you in the most comfortable and relaxed mood possible. This position can be adjusted to a certain degree, as can the angle of the sun lounger, giving you enough options so that you should be able to find settings that suit you, and once you do they can be locked into place using a control under the arm.
Weighing around 7 kilograms, it is light enough to be carried around by pretty much anyone, yet the powder coated steel frame gives it a good deal of strength and sturdiness.
The frame is covered in black oxford fabric which is used by many garden furniture manufacturers due to its high strength and durability, and also the fact it is very easy to clean. On the top part of this sun lounger is an adjustable padded headrest for extra comfort.
Talking of comfort, I have to say that this is where this low cost sun lounger delivers. When in the reclined position, I almost fell asleep it was that pleasant. This is not designed to be used as a chair through and won't allow you to sit fully upright at a table as there will always be a slight decline angle.
There are a couple of small things that concern me about this particular sun lounger, although they are things you should expect for budget models such as this one, and they both have to do with longevity.
The first is the frame. It is powder coated steel, and in my experience, that coating wears off quickly and then the steel starts to rust. There is an easy fix to this, just repaint the frame yourself every now and then and don't leave the furniture out in the rain. This sun lounger folds up in seconds and is not heavy in any way, so you've no excuse for not bringing it out of the bad weather.
The second thing is the controls to fix the angle of the sun lounger. They're made out of plastic, not metal like the rest of the frame, so you'll have to be careful not to act too heavy handed with it or it could get damaged after a while.
With a bit of TLC and common sense though, this could well be one of the best value sun loungers out there. Just don't expect too much from something that costs under 35 pounds.
6. SONGMICS Foldable Sun Lounger
This is an excellent all round sun lounger that combines comfort with a long lasting design and construction to ensure you get your money's worth.
It can be frustrating finding a sun lounger that has everything you're looking for. Some have a solid frame but no cushions, some look comfortable but leave you questioning their durability. With this Songmics foldable sun lounger you get a product that ticks a lot of, if not all of those boxes.
The frame is made from lightweight, and rust resistant aluminium, so you don't have to worry about it getting a little wet in a downpour. On top of the frame is synthetic fabric which is also lightweight, strong, and extremely breathable so you can lay on it without it causing you to sweat too much.
This sun lounger has a slightly curved shape throughout its 183cm length to make it extremely comfortable, and to add an even higher degree of relaxation you can fit the sponge mattress on to the frame. The mattress covers the entirety of the frame and provides you with 6 inches of thickness plus a removable padded headrest to boot.
This Songmics sun lounger can be adjusted all the way from an upright seated position, to fully reclined and lying down albeit with a slight angle remaining, and unlike a lot of the new 'gravity' models, the footrest and other sections can be adjusted independently.
There is no real assembly required for the Songmics sun lounger, all you do is unfold it and attach the cushion if you so wish. Folding it back up to store away was a little fiddler but you soon get used to it.
For around a hundred pounds, you will have to look far and wide to find a sun lounger that beats this one. It offers pretty much everything you should be looking for- lightweight, strong, durable, and extremely comfortable.
Best Sun Lounger Buyer's Guide
Finding the perfect sun lounger can be a bit frustrating even when you know exactly what you are looking for, so if this is your first time purchasing such items, you would be forgiven for feeling out of your depth.
How do you know which type would be best? What material should you go for? We try to answer these and other important questions here in our best sun lounger buyer's guide.
What is the best frame material?
You have to understand that all materials have their pros and cons. Let's take aluminium for example. It is lightweight, rust resistant and fairly strong, especially if it is high quality aluminium used in more expensive models, but cheaper aluminium can be bent out of shape easily.
Powder coated steel is a stronger metal but prone to rusting once the paint wears off. Stainless steel is more rust resistant but for some reason isn't used as much for sun loungers. Plastic sun loungers are quite durable. They are resistant to weather damage and UV, and are also quite lightweight. Models made with thick, high quality plastics are usually more expensive than aluminium or powdered steel framed sun loungers.
Wooden frames are strong and look great, but they do require you to keep them maintained by either painting them or coating them with some weatherproof material. There is also the problem with insects eating away at them.
Other materials
Stretched over the frame of a sun lounger will be some kind of soft material. Textolene, a PVC fabric is quite common in lower budget sun loungers but might not breathe as well as nylon based fabrics found in more expensive models.
Cushions
Some sun loungers will come with cushioned covers and this does add an extra level of comfort, but you might have to pay extra for privilege. However, there are also plenty of cushioned sun lounger covers that can be bought separately so don't let the fact that a model has cushions or not make your decision for you.
Also, some cushions can be very thin and poor quality, so you might actually want to replace them. If you want to know how good the cushions are, read reviews like ours or customer feedback on sites like Amazon to see what pope are saying about them. The best setups look like this: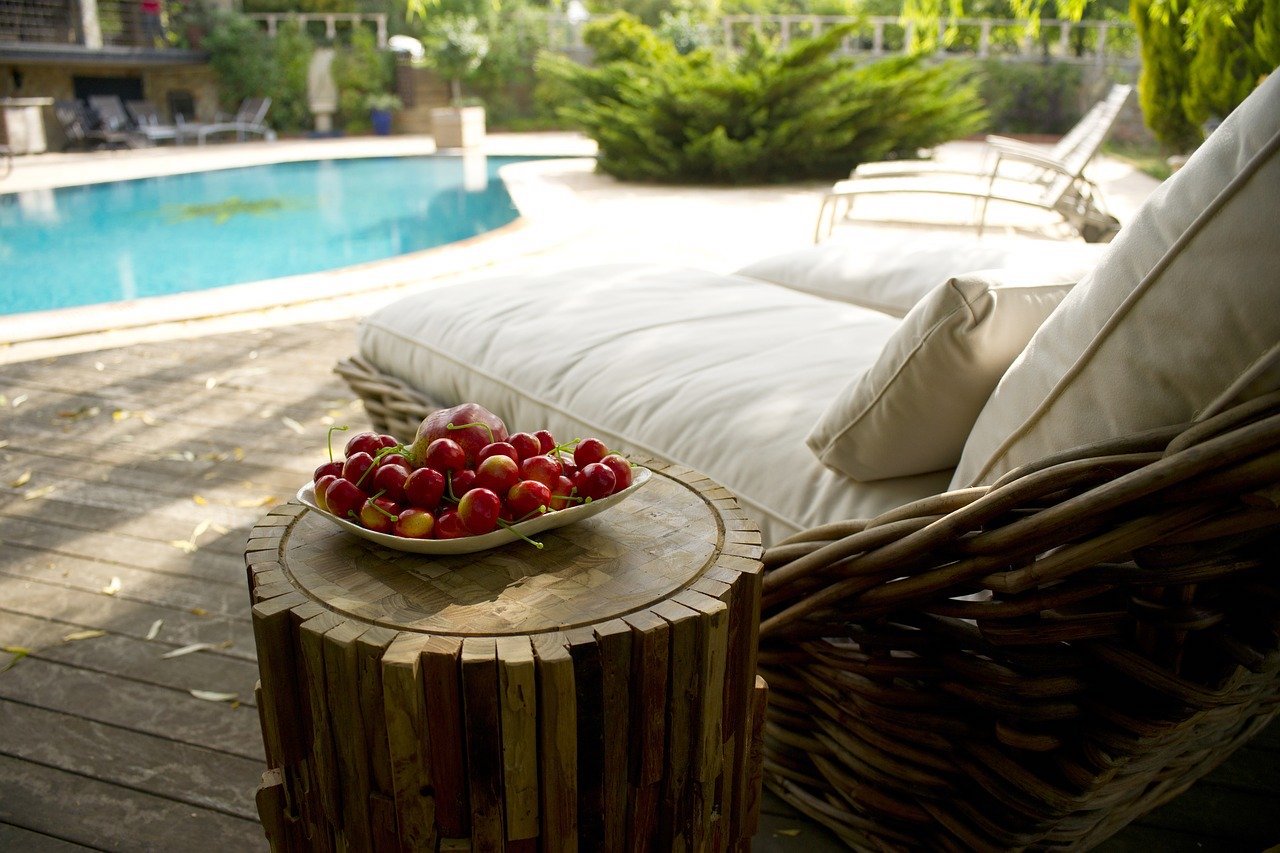 How easy is it to set up the sun lounger?
There are a lot of foldable sun loungers that arrive fully assembled and this is of course the most convenient type you can get. Other models will require different levels of assembly, and this can range from simply clicking plastic pieces together to actually having to use tools to screw things into place.
Be wary of cheaper models that require a lot of putting together as often, these are made in China and the quality control can be quite bad, leaving you with parts that don't line up or screws that are useless.
Extra features
Some common features that might make up your mind for you are- wheels on the bottom for easy manoeuvrability, padded headrests, zero gravity models, sun screens for your face, and large padded armrests.
You also might want a sun lounger that rocks back and forth, or one that folds away for easy storage. Whatever your preferences are, just make sure that the overall quality of the sun lounger is of a high level, or all the extra features in the world won't make much difference when it falls apart in a month or so.
What else do you need to make the garden perfect for sun bathing this summer?
It goes without saying that a quality gas bbq and a garden swimming pool would make a beautiful addition to the comfort and ambience of your garden. Then as the evening draws in, a hot tub with a quality table top patio heater and some night lighting will make the perfect summer nights become a reality. Take advantage of the current lockdown, make the home the best place to be!