Written by Terry Smith
Our site is reader supported so when you click a link to Amazon we may earn an affiliate commission.
Best portable generators for use outdoors and at work reviewed [Summer 2021]
This article was last updated on August 7th, 2021 at 6:43 am
Portable generators have become a top seller since lockdown restrictions were eased on 13th May. Many are choosing to go outdoors in more private areas than ever. This has spiked a need for a reliable power source, a gap portable generators has filled.
If you're an outdoor person, you need a power source that you can take with you. It doesn't matter if you are going out camping in the woods, or simply working on something at the bottom of the garden, a portable generator is a handy thing to have around. If you need something for work during the lockdown.
We are also seeing more and more extreme weather conditions here in the UK, and so power cuts and emergency situations are becoming all the more common.
This concern has added to the demand as well – many thinking a power outage can be negated by taking action. Having your own portable generator could be a wise investment so that you don't get caught out. It could just be that you are looking for a portable generator to take with you to job sites in order to use your power tools without the need for miles of extension leads. Fortunately (or not possibly), the Böhmer-AG Camo Petrol Inverter Generator W5500i is still in stock, only down to cost. This thing is brilliant if you have the budget.
Whatever your intended use is, you will need to know what are the best portable generators out there, and this is where this article will help you. We have tested the five top rated portable generators found online and wrote up our opinions of them in the form of in depth reviews that you can find below.
It is our aim to 'empower' (sorry, couldn't resist) you with the knowledge needed to make a wise buying decision.
Comparison table: Best portable generators for use outdoors and at work reviewed [Summer 2021]

Product
What We Think
Price

1 G-mark Award 2019 EFFICIENT SOLAR GENERATOR: connect a solar panel (not included) with AC50...
2 POWERFUL AC, USB
3 EASILY RECHARGED FROM SUN
4 CLEAN ADN PORTABLE POWER
5 What you can get: 1* PowerOak Portable Power Station (500Wh/300W

❤Ship from UK local store,generally you will get it in 3-7 days!❤ ▶ 372Wh/105000mAh Huge Capacity: ALLPOWERS portable generator...
▶ 6-in-1 Charging and 3-in-1 Recharging : Off-grid power station for camping or emergency backup...
▶ Bluetooth Connection: Aipower App supports iOS 9.0 or above /Android 4.3 or above
▶ Pure Sine Wave: Operates even the most sensitive electronics
▶ Safety Graranteed: Battery Management System (BMS) undertakes voltage control

24 Month Warranty - free to call UK based technical support line
Low Emissions, Compatible with our Planet
Copper Wound Motor - offering unparalleled power and current stability
Featuring pure sine wave giving uninterrupted power suitable for sensitive electronics & digital equipment...
Your Power Supply - two 240V 3 pin UK plug outputs and a 12V DC output to suit a...

Great for camping, caravaning
Fitted with an 'econo' switch which allows the generator to idle when no power is being drawn...
Incorporated 12v battery charging facility and low oil shut down function
Dimensions (LxWxH): 426 x 230 x 425mm
Weight: 9 Kg

INSTANT POWER: Instant Power Inverter Generators is a compact lightweight generator that offers great value for money and premium...
HUGE CAPACITY: The Instant Power Generator provides 230V AC power and a max output of 1200w...
EXCELLENT PORTABILITY & SAFETY: Although small in size and super lightweight
PURE SINE WAVE POWER: The Instant Power 1200w Generator has advanced Pure Sine Wave technology...
REDUCED NOISE: The Instant Power is quiet in operation compared to large traditional generators...
Cost not an issue? Welcome to the best outdoor portable generator period.
As we mentioned earlier, if you're looking for something to take to a job site, or to plug your power tools into in the garage or shed, you need a portable generator that has a fair bit more power than most. In fact, if you look at the required number of watts your tool requires you have to add another 50% to get the wattage of the portable generator you'll need to run it.
This Bohmer AG portable generator is fitted with a 5.3HP engine that is capable of producing 3000W of output power, which is nothing to be sniffed at. Despite that extra power, the engine runs very quietly and is pretty much on par with the Wolf Power Genie in that department at only 59 decibels.
Two of the things I liked about the Bohmer portable generator is its large fuel tank and also its decent fuel efficiency. Once full, the 15 litres tank can run the generator continuously for a solid 12 hours. That's more than enough time to get a decent day's work on site. There are three main safety features that protect the Bohmer AG, the first is a DC surge protector, the second being an AC overload detection system, and finally there's a low oil shut off system.
The main unit features two 240V three pronged plug outputs and a single 12V DC one. There are also switches for the electrical starter and economy mode, the latter is used to control fuel consumption just like with the Wolf portable generator.
Current stability on the Bohmer is top notch thanks to a well-designed copper wound motor. This, combined with the pure sine wave technology, makes charging your sensitive electronic devices worry free.
The Bohmer 3000W portable generator is an excellent piece of kit. It is built to the highest standards and is sure to last for years without any issues. There's just one thing that you should bear in mind though. Unless you are quite fit and strong, the 56kg weight of this unit might catch you off guard. The handles that pull out from the sides do make things easier, but I would suggest getting someone to help you lift it out of the van if you're working on site, or maybe even fit some small wheels onto it and push it. Extra power and extra weight go hand in hand, and there's no real way around that.
Warning: this is currently out of stock but simply could not be left out as it is a top quality product and will be back in stock if you can wait. It is easily the best portable generator in my mind when considering value, so if you're not in a rush it's worth considering.
It's not often that a device comes along that makes you think 'wow, the makers have thought of everything!' but that was pretty much how I was feeling after playing around with the outstanding Poweroak 500W portable generator. This is the perfect tool for a spot of 'glamping' as it has outlets to fit every type of device that you can possibly think of. Think I'm exaggerating? Well, maybe a little, but you'd be hard pressed to think of something you'd want to take on a camping trip with you that you wouldn't be able to charge with this portable generator.
All together there are a total of eleven outputs. That includes two AC 230V sockets for powering things like mini-fridges or Laptops, and not one or two, but four USB outputs , so all your phones and I-pads can be charged without the kids arguing about who goes first. On top of this you also have two DC 12V3A outputs, one DC12V9A, and a single PD 45W socket. There is even a 10W wireless charger.
This portable generator is actually more like a large power bank and instead of being fueled by petrol, is actually charged up using a wall socket, car battery, or can even be charged by connecting it to a solar panel if the weather is nice. No matter which method you choose, the Poweroak portable generator can be fully charged in around 5-6.5 hours.
One of the biggest advantages of this product not running on petrol is that there is actually no noise coming from the generator while it is in operation. It also means there are no fumes either so you can bring it right into the tent with you, and measuring 29.5 x 19 x 19.6 cm it is hardly going to be taking up too much space in there.
Want to do a little reading at night? No problem, the Poweroak people have got you covered. On one side of the generator is a large LED light that has two brightness settings and a flashing SOS mode in case of emergencies. I thought this was a really clever and practical feature and one that I personally loved.
Included in the packaging are various cables to connect to the outputs, charging cables, and even a carry bag, although I preferred just to carry by the foldable handle on top of the device.
Honestly, I was very impressed by this product and even the relatively high price tag didn't put me off from considering it a great buy. If you take the family camping a lot, or you want something that everyone can use in a power cut, this is the thing for you.
This is also currently out of stock but will be back soon in July 2020. Just fair warning if you need one right now to save you time.
Let's say you love hiking miles out into the countryside to find that perfect camping spot. You're going to need a portable generator that is small and lightweight enough to fit in your backpack without even noticing that it's there. All Power's 372W portable generator is definitely ticking both of those boxes. It has the most compact dimensions I've seen for a portable generator and measures a mere 20.6 x 16.5 x 11cm. With a total weight of under 4 kilograms, this is certainly something you could carry for great distances without it bothering you.
But, is it any good? The answer is a most definite yes!
For such a compact portable generator there are a good number of inputs and outputs. These include an AC 220V input to be used with the supplied charger pack, a 12-24V solar power input, and 12V-24V car charger for powering up the device, and a total of 9 outputs. Among the outputs are two AC 220V for standard UK plugs, three USB, and a 12V DC output. There is also a 5V DC wireless charging platform on top of the generator.
The main unit features a nice LCD screen that displays important information like battery level, how much operating time is left, and indicators for USB and in/out. On either side of the screen are small LED lights that could be used for reading if the generator was close to you.
Keeping up with the times, All Powers have an app that you can download that lets you control the portable generator using Bluetooth. At first I thought this wasn't working and was ready to mark this product's score down, but then I realised I had to connect using the app and not my phone settings and it worked just fine.
Being a pre-charge type generator, it is obviously very quiet when in operation but there is a little noise coming from it. When compared to a petrol generator though, it is pretty much silent. One thing I did notice about the All Powers portable generator was the lack of cables in the packaging, so you will need to go out and buy the necessary ones for the various output ports. It's a small niggle but one I thought was worth mentioning. Fully charging this generator will take about hours and that will give you enough stored energy to charge 20 smartphones, power a mini fridge for 7 hours, or a light for 80 hours or more.
All being said, this is a great piece of kit that would suit active people who need something small and lightweight that they can carry around with them. It's perfect for hiking, camping, and festivals.
4. Wolf 800w Petrol Generator Portable
The Wolf 800W Power Genie is an excellent portable generator for adding a level of comfort to your camping or fishing trips. Just fill her up with 2 litres of unleaded, top up the oil and a few pulls on the recoil starter will allow you to charge up the family's phones and tablets, a portable TV, electric stove, or whatever else takes your fancy.
This model incorporates some handy features that will not only save you on fuel costs but also increase the working life of this excellent little portable generator. For example, the Wolf Power Genie is fitted with an 'econo' switch. Flicking this on will tell the generator to go into idle mode if it detects that no power is being drawn from it.
To improve durability and the generator's working life, there is a sensor that detects low oil levels and will automatically shut it down to prevent unnecessary damage from occurring. There are also anti-vibration feet mounted onto the bottom of the unit.
This portable generator is ideal for using with electronic equipment as it has an excellent frequency stability, so you don't have to worry about unexpected power surges damaging your favourite devices.
Incorporated into the generator is a socket for a standard three pronged UK power plug, which has its own cover to keep moisture and debris out when not in use, and also a DC12V battery charger port.
Running at around 58 decibels, this is fairly quiet when compared to some other portable generators and is comparable to the noise level of a normal conversation between two or three people.
The Wolf 800W Power Genie is certainly a portable generator. With compact measurements of 48 x 25.5 x 42.5cm, and weighing only 9 kilograms, it is so easy to throw in the boot of your car or even carry around with you.
Like nearly all smaller portable generators, this 800W model is not the best pick if you want to use high wattage power tools. If that's your aim you should look at the Power Genie 2000W version instead, or maybe even something more powerful.
For most other purposes, this is a perfect little tool that is low on fuel consumption, runs quietly, and has safety features that make it perfect for people with no prior experience operating portable generators.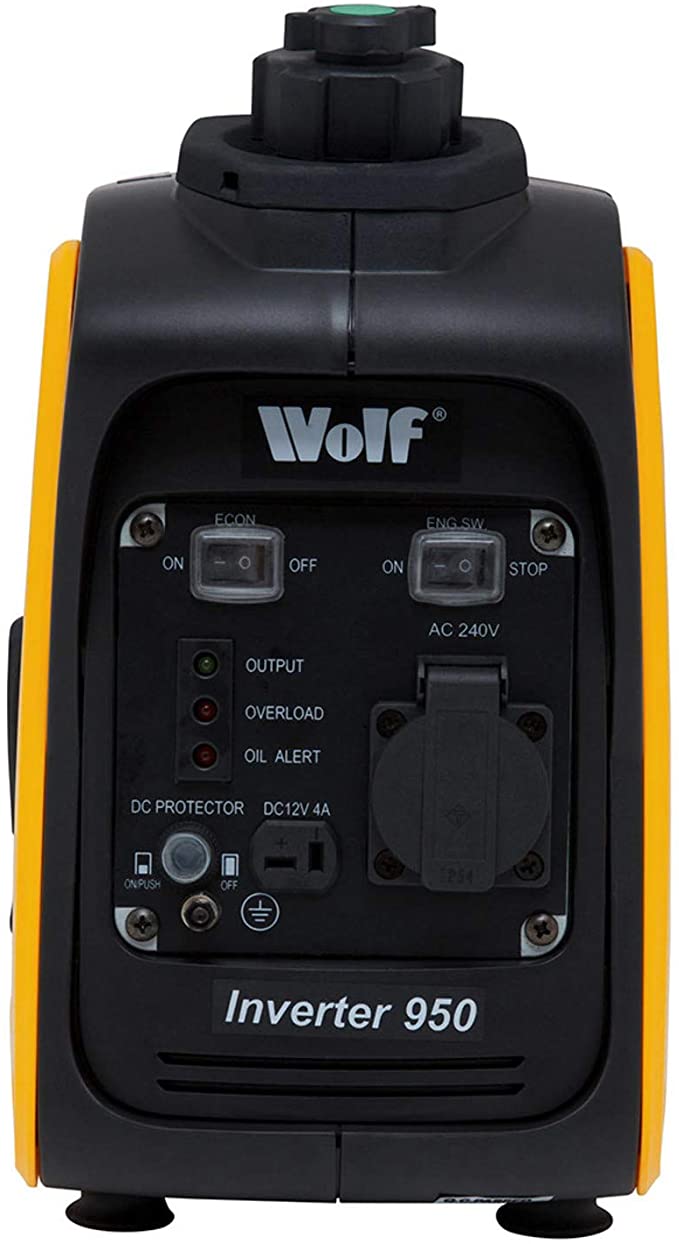 Instant Power's Portable generator is another compact petrol powered device that is well worth taking the time to have a closer look at. What sets this model apart from a lot of other portable petrol generators is that this one is fitted with a four stroke engine instead of the more common two stroke. This means that there is no need for mixing the fuel with the oil to precise measurements, you just pour the petrol in and that's that.
Starting her up is also very simple and only needs you to press the prime button and then pull on the starter cord to bring the generator to life. Once the 4HP motor is up and running it will produce a very respectable 1200W of power, a third more than Wolf's Power Genie model.
As we already stated earlier, more power inevitably means more weight and this is certainly no exception, weighing 15kg. While this is heavier than the 9kg of the Power Genie, it is still light enough to be carried around by any teenager or adult.
Like most modern portable generators, this one runs very quietly at 58 decibels and has both low emissions and low fuel consumption, especially when in eco mode which matches the engines revs to the current power demand.
Instant Power has also given this portable generator a pure sine wave inverter so your smartphones and tablets are safe from damage. To protect the generator itself, there is a low oil shutdown system in place.
With a standard UK three pin socket, and a DC 12V output, as well as switches for the DC protector and economy mode, the control section of this device is very simple, laid out sensibly and is well labelled. It's all very user friendly, even for beginners.
This is a good pick for people who want an easily portable petrol generator that packs a bit more of a punch than most of its closest competitors. The fact that the engine is a four stroke model is also an added bonus. It is also solidly built and on sale at a competitive price.
Best Portable Generators Buyer's Guide
Before you rush out and buy the first portable generator you see, you should stop for a moment and read this short buyers guide that will tell you the things you need to know when choosing one.
Fuel Source
Generators can be fuelled by petrol, diesel, or the modern 'power bank' style generators are pre-charged with electricity that is stored within. Diesel generators are less common than they used to be and I don't think I've ever seen a truly compact and portable generator that runs on diesel.
Engine type
There are two main types of petrol engine used in portable generators, four stroke and two stroke. Two stroke engines require you to mix the oil and petrol together in specific measurements, whereas four stroke engines do not. Obviously this makes four stroke engines the more convenient of the two.
How many Watts?
This is very important. Before you buy a portable generator take the time to think about how you will use it. For charging phones and providing light, small generators that only have 300-500 watts should be ok. However, if you intend to power devices that have many moving parts such as power tools, you will need something much more powerful. The general rule is your generator wattage should be 50% more than the required power for the device. So for a drill rated about 500 Watts I would go for a 950 Ryobi portable generator like the one pictured below: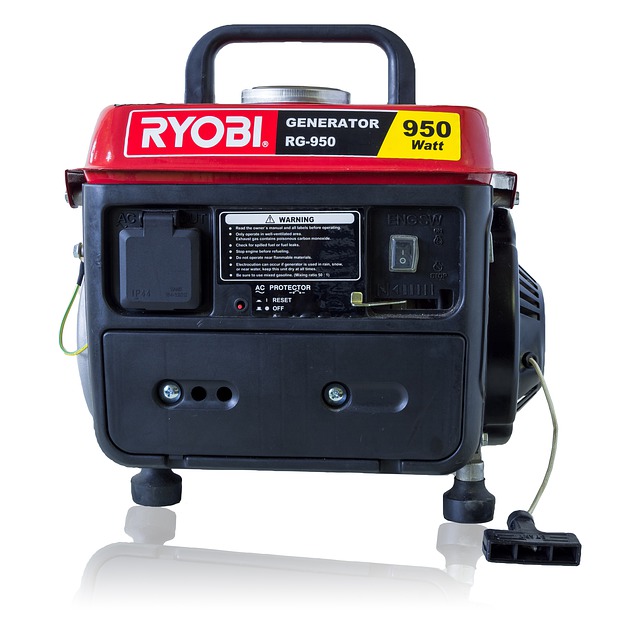 Size and weight
The whole point of a portable generator is that it is portable right? If you are going to drive to the camp site and will only carry the generator from the car a short distance, you can probably get away with a larger, more powerful generator, making use of a garden cart to tow it about. On the other hand, a smaller, more compact model will be more fitting if you are hiking or riding a bicycle to the site.
If you just want something to use in the garden, then there are plenty of very powerful units that come on wheels so you can move them from the garage to where you need them.
Input and output
Heck to see if the portable generator you have your eye on has the input and output sockets that suit your needs. Many of the new electric generators can be charged by a wall socket, car cigarette lighter, or solar panel, and will have outputs for every kind of device you can imagine. Petrol portable generators tend to have less and may only have two different types.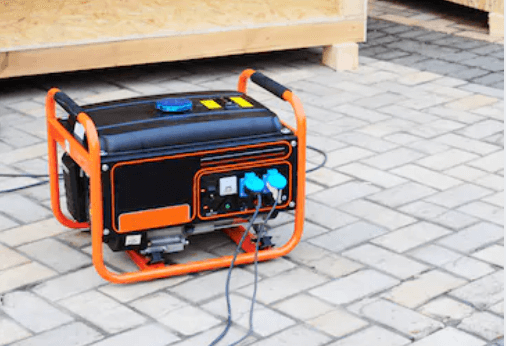 Safety Features
The safety features that you should look out for are an overload system which will stop the generator being damaged, by overloading it, Dc surge protection, and if the generator is petrol powered, a low oil level emergency shut down feature. Always try to place your generator in a dry and flat location away from risk of debris. The picture above shows a really safe setup but always read the specific instructions related to your portable generator.
---