Garden Tool Box » Best chainsaw sharpeners [UK]: Stihl, Timberline, and Oregon reviewed and compared
Written by Terry Smith
Our site is reader supported so when you click a link to Amazon we may earn an affiliate commission.
Best chainsaw sharpeners [UK]: Stihl, Timberline, and Oregon reviewed and compared
This article was last updated on April 23rd, 2022 at 1:59 am
What is a chainsaw sharpener?
Chainsaw sharpeners are the new concept that evolved from the days cutting your hands badly rendering your metal file tucked away in the back of the shed somewhere totally obsolete. They sharpen chains quickly and far more safely when compared to files and bench grinders as well as far more accurately too. I thought I'd take the opportunity to update this article because I just bought and tested the PFERD Chainsaw Sharpener. And while I won't give it top spot, it's a cracking alternative to the Stihl sharpener at less money ! 🙂 If the reviews all stay 5 star, next time I update the article I'll have to give serious consideration to putting it top! Definitely feel free to email in and persuade me with your personal opinions after buying!
A chainsaw sharpener takes the work out of sharpening a chainsaw. You would probably be really interested to know that my top pick for chainsaw sharpener can literally sharpen a chain in the matter of a few seconds. This is no crazy hype either, that is verified and true for thousands of people online! And what is more, if you sharpen ahead of being completely dull, you'll extend the life of your chain massively because less material needs removing off the teeth.
If you're completely new to chainsaw sharpeners, it might be a good idea to scroll down and read our in depth chainsaw sharpener buyer's guide first, to have a better understanding of the main aspects that go into the best chainsaw sharpeners and the demo video of the Stihl 2 IN 1 EASY FILE is also useful too.
PRO TIP BEFORE BUYING: Don't rush off and buy any of these sharpeners without first knowing exactly what size your chain is (that's what I did first time :D). It can range from 3.2mm to 5.5mm as standard. You must know the right size sharpener. 
Best chainsaw sharpeners listed:
Chainsaws, like any cutting tool, need to be sharp to work properly. A blunt chainsaw is not only going to seriously slow you down, but could possibly cause accidents too by getting jammed in the wood instead of slicing through it. So, now we know it's a pretty good idea to keep your chainsaw sharpened, we need to decide on the right way to go about it.
For years people have used hand files to tackle this task, and many people still swear by this method today, but there are newer electric models out on the market these days that can cut down the time it takes to sharpen your chainsaw by quite a margin.
If you're completely new to chainsaw sharpeners, it might be a good idea to scroll down and read our in depth buyer's guide first, to have a better understanding of the main aspects that go into the best chainsaw sharpeners.
Next, we will present our product reviews of the best chainsaw sharpeners that we could get our hands on here in good old Blighty. We put them through their paces over a number of days to see if we could separate the wheat from the chaff and wrote up our thoughts below. Enjoy.
1. Stihl 2 IN 1 EASY FILE CHAINSAW CHAIN SHARPENER
Innovative, time saving, and simple, are some of the words that spring to mind when asked to describe the Stihl 2 in 1 file chainsaw sharpener. The design is so simple, yet works so well that it is amazing that nobody came up with the idea sooner. Before I go any further though, watch how easy this thing is to use:
This Stihl chainsaw sharpener does what all great products do. That addresses a common problem, and solves it easily with good design and common sense, making it the best chainsaw sharpener.
The problem I refer to is one that anybody who has used chainsaws for a while will know all too well, and no doubt loathe as I do. Basically, the problem lies not in sharpening the 'teeth' of the chainsaw themselves, but the fact that every couple of times you sharpen them, you have to also file down the depth gauge that sits next to them.
Failure to keep on top of this task will result in the chainsaw just not cutting into the wood properly no matter how sharp the teeth are. And that's not all. If you file the depth gauge down too far, it is also going to cause problems. Well, with the Stihl 2 in 1 chainsaw sharpener, we finally have a tool that takes care of both tasks at the same time, and using it is a piece of cake.
All you have to do is hold the tool by the plastic handles on each end, line up the files with the chainsaw tooth and depth limiter, and push/pull it across. The tool automatically maintains both parts at the same time, and the excellent files can do this with a couple of strokes which takes seconds. When you compare this to the grinder type chainsaw sharpeners you can see why this is my best chainsaw sharpener
You are then left with a razor sharp edge and a depth limiter that is nicely aligned with the chain, giving you the best cutting performance possible. What's more, you can't really go wrong as the design of this chainsaw sharpener helps you to align properly and keep that perfect angle while you work, and there's even a helpful arrow to indicate which way to operate the files.
A top tip from experience: this tool comes in various sizes, so make sure you get the one that is right for your particular chainsaw to avoid disappointment, but do yourself a favour and get one and make your chainsaw sharpening duties a pleasure rather than a pain.
Pros:
You can't beat a file and human eye / hand care – they just rolled the whole package into one and stabilised you
Better than electric grinders with no need for power
Very well priced for a tool that actually works
Cons:
Hard to pick fault but Pferd are doing one cheaper now and seems to work just as well.
2. PFERD Chainsaw Sharpener Chain Sharp CS-X, File Diameter 3.2 mm
It's been a while since I've had anything to get excited about on this review but here we are! 😀 We essentially have the same sharpener as our top pick Stihl and it really is a super alternative. And while I'm not prepared to give it top spot, I will happily say it's every bit as good and cheaper!
So what you need to know first off the bat is what size chain you're sharpening. Don't do what I did and rush off buying the 3.2mm and I needed the 4mm for my Makita cordless chainsaw, which buy the way is a piece of engineering art, not a tool 😀 The power delivery on that thing is simply superb. Take your time and find the right tool. Now some may question the madness of sharpening a blade that costs a tenner. That's their problem, I've got four chains and I've brought them all back to life. That's the tool paid for and less than an hour of work. Plus I feel good about saving the waste…
So to use this is really simple, It works exactly the same as the Stihl and I've now included a demo video on that review so watch that and you will not go wrong at all. You set it, pull three times and turn it over and repeat. That simple. You now have a sharpened chain or something wasn't done right. I can definitely confirm that from the four chains I sharpened – it took 15 mins a chain.
Pros:
Works great – just as good as the Stihl top pick
Very easy to use
Takes the pain out of using a file – finally problem solved
Cons:
None – I literally cannot find a way to improve this tool at the moment. Price is better than Stihl, quality excellent, all the sharpener sizes.
3. Portek Maxi Chainmaster Chain Sharpener Mark II
One of the best bench mounted chainsaw sharpeners on the market is the Maxi Chainmaster mark 2 by Portek. It allows the user to keep their chainsaw chains in tip top shape no matter the size and brand and saves you a lot of time, energy, and money in the process.
The sharpening disc is powered by a 240V, 85 watt electric motor and this creates a top speed of 4,200 rpm. The cutting disc is also adjustable so you can find the right grinding angle from 0-35 degrees. The grinding wheel that comes with the product is a 3.2mm thickness disc, but this can be replaced with a 4.5mm one if you prefer, although you'll have to buy that separately.
The Portek maxi chain sharpener is very easy to use once you become accustomed to it, and that shouldn't take too long as the instructions that come with the tool are very clear and easy to follow. Plus there are videos on YouTube if you still feel stuck.
Operation couldn't be simpler, you remove your chain from the chainsaw and then sit it into the sharpeners guide rails. Once you have the part of the chain lined up where you want it and the angle of the grinding disc angle right, you lock the chain in place and pull the grinder down. Then you just twist the controls to feed the next bit of chain through. It's quick and easy once you get into a flow.
Now, it has to be said that this tool is not going to give you the precise finish that hand files can and I wouldn't recommend using it on brand new chainsaws that don't require too much sharpening. This chainsaw sharpener is best used for getting more life out of that more worn down chain that just needs a good grinding to earn its place back in your tool shed.
For the relatively low price, the electric motor runs really quietly and with ear protectors on I hardly noticed any sound at all. The build quality of the tool is decent too, but I'd still recommend going over all the nuts and bolts and making sure they're all properly tightened when you first unbox it, just to make sure.
So, if you're looking for a good, low cost, chainsaw sharpener for DIY purposes, you could do a lot worse with your money than invest in one of these.
Pros:
Takes the effort out of sharpening a chainsaw blade with a single file
You can pick 0-35 degrees angle to sharpen which covers all blades
Safe way to sharpen a chain as you don't push your hands over the chain
Cons:
It comes with 3.2mm disc, you may need to change this if your chain is a different depth.
Good on price for a quality electrical tool
4. Oregon 585015 12V Sure Sharp Electric Chainsaw Chain Grinder/Sharpener
Oregon's 12V sure sharp chainsaw sharpener can be a handy little tool to have in the boot of your car if you plan to be using your chainsaw away from the house or any other mains electricity source. Oregon make quality products. I only recently finished reviewing their chainsaw safety boots. They are the real deal and you can buy with confidence.
The Sure Sharp comes with two cables, one that can be connected to a car battery, and another that you can plug into the cigarette lighter on your car. The cables are a decent size too at 5 metres long. This makes this mini tool ideal for sharpening your chainsaw on the go. Included in the packaging are four small grinding stones that can be used with 1/4 Inch, 3/8 Inch Low pro, .325 Inch, 3/8 Inch and .404 Inch pitch chains. Changing stones is an easy process and doesn't take longer than a minute or two thanks to a good spindle lock.
On the top of the sharpener is a metal angle guide with three markings on it that helps you to get just the right kind of angle for your cutters. The three lines are clearly marked 25, 30, and 35 degrees.
This handheld, portable chainsaw sharpener only measures 20.3 x 3.8 x 20.3 cm and can be gripped firmly and easily in one hand. And the lightweight nature of the tool means that you won't be feeling fatigued at all when using it. The shape of this compact chainsaw sharpener is nicely designed to be ergonomic and the ribbed sections on the sides keep it gripped firmly in the hand even when sweating or working in the rain.
It does have a decent amount of power for a small tool though, and the electric motor produces a maximum of 25,000 rpm. That's more than some bench mounted sharpeners. Sharpening the chainsaw is very straightforward with the Sure Sharp, you just move the sharpener into the angle you require, then run it over the cutters, back and forth a few times and you're done. It's a very efficient way to keep that chainsaw working optimally while still on the job.
The plastic construction of the casing has been done out of thick and robust material and is better than I would have imagined it being from the pictures I saw of the tool before it arrived. The thin power cables could have been made to be a bit more robust, but they're not what I'd call low quality at all.
This is a great little chainsaw sharpener that gives you a lot of control over not only where you can sharpen your chainsaw, but also how. The ability to easily manoeuvre the Sure Sharp into the exact position that I wanted is something that I loved about this product.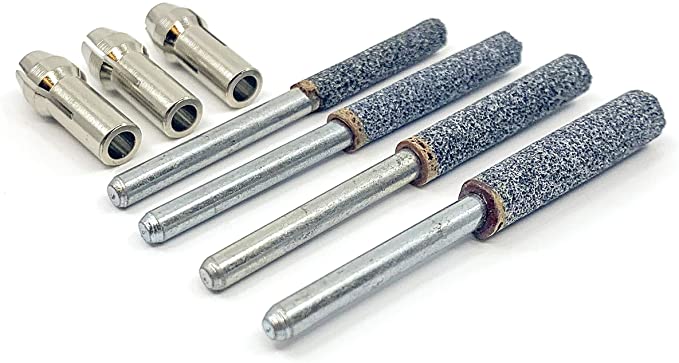 Pros:
Handy 12v so can be used in the car – ideal if you dull a chain down the woods and need a quick fix
FINALLY a tool that gives you all stone sizes so no need to by anything additional.
Pretty easy angle adjustment so you aren't free handing at your chain – nice add on attachment
Cons:
Some complain it's only 12v
As with all electronics a couple of duds but quickly replaced by this trusted brand.
5. Stihl Genuine 5605 007 1027 Stihl Filing Kit for 1/4-inch and 3/8-inch Picco Chain
Many people out there are of the opinion that when it comes to sharpening a chainsaw, you simply can't beat a great set of good old hand files. It has to be said that there are advantages to using these kinds of tools over electric ones. For starters, they are usually the cheapest type of chainsaw sharpening tools you can buy and they tend to last for years. The lack of moving parts makes them highly durable, and there is virtually no running costs as they don't need a power supply.
This kind of chainsaw sharpener is the one to really dial in that sharpness and angle just how you want it too, and you can feel in complete control of the whole process, something that might not be the case with large electric grinders. The downside to all this, is that using files like this is very labour intensive when compared to an electric chainsaw sharpener and you have to spend a lot more time to complete the job. Not ideal if you are in a hurry.
Still, if you have your heart set on using hand files, you can't really go wrong with this excellent set from Stihl. The kit contains a file gauge and two files, a 4mm round file and a flat file and should be used with ¼ inch and 3/8 inch pico chains.
The files are extremely durable, made from the highest quality steel with solid wooden handles and they certainly live up to the high standards that are associated with Stihl products. To keep everything together and make transportation easier, the files come in their very own carry pouch. This pouch has been made to a similar high standard as the tools with strong stitching and fabric, and I can't see it falling apart any time soon.
The only thing I could mark these tools down for is that the instructions on how to use them are not that clear and this could confuse people new to this. Having said that, there are tons of videos that show you how to do this online so it shouldn't be too much of a problem.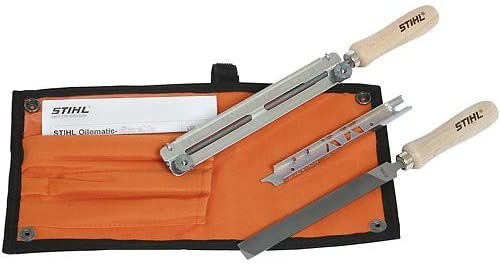 Pros:
There isn't a name you can trust more – these files with angle guides work great.
Once you get the right set for your chain this is a golden tool
Very well priced for a sharp chain
Cons:
This is only for a 4mm chain so watch out when buying
Difficult to use first time, definitely need to watch the demo if you're new to this
The stihl 2-1 is a much better tool in my opinion.
6. Faithfull Power Plus CHAINSS 230V Electric Chainsaw Sharpener
For under 40 pounds you can be the proud owner of this excellent little chainsaw sharpener from Faithful. It is fitted with a powerful 230 watt electric motor to give you a great sharpening performance.
The worst thing a beginner can do when sharpening their chain is to cut too deep and actually damage the chain links themselves. But the grinding disc can be depth adjusted so you can be sure that that doesn't happen to you and leaves you free to concentrate on the quality of your filing.
There are other features that contribute to giving you control over the sharpening process too. The chain rails are situated on a rotary table with angle markers so you can line up everything just as you need it. Then there are the adjustable clamping plates to hold the chain in place while you sharpen those tips. Getting used to using these features won't take you too long and they are the best way to get an accurate and uniform quality to your sharpening process.
Faithful have decided to fit a transparent plastic guard over the grinding disc to prevent injuries from any flying sparks and this too can be adjusted easily by turning the knobs on the sides.
One thing I really liked about the Faithful chainsaw sharpener is that it only weighs 2.7kg. That's very lightweight for a bench mounted model and made me feel like I didn't have to have it as a permanent fixture on my workbench as I could just move it around and store it easily until needed. The simple way it is screwed onto a wooden base also helps with this.
It's not particularly loud, not that you would need to use it for long periods anyway, because you can have your chain sharpened in absolutely no time whatsoever. Once the depth and angle is set, it's just a case of pulling the chain through, clamping it in place and pulling the disc down to sharpen the cutters. Then you just 'rinse and repeat'.
This is great value for money and performed a lot better than I was expecting. A great lightweight tool for the tool shed or home workshop.
Pros:
Much better than the BMC I removed in place of this
Adjustable chain guide with angle gauge – easy to get the right set and then just rinse and repeat
Bench mountable – nice if you want it in a workshop
Bargain – quality tool at less than competitor cost.
Cons:
Few failures due to electric which were quickly replaced.
Couple of QC issues – unsurprising with so many sold at this super price
7. Timberline chain sharpener
Now here's something a little different- the Timberline chainsaw sharpener. It may be a bit on the pricey side, but if you need something that you can use to sharpen multiple chainsaws regularly and be able to do so without a power source, this could be the tool for you. It's currently still out of stock but I just can't remove it from this listing because it's a really really super tool and I hope by the next update it is back or I will regrettably have to pull it.
It has a very original and distinct design that makes it stand out from other products, and it works in a different way to other types of chainsaw sharpeners so far featured in this review section.
It basically comprises a block that fits directly over the chainsaw blade with two guide holes on one side, and three knobs on the other. The knobs are there to lock the tool in place on the chainsaw, and the holes are for inserting the provided carbide rod into to set the height.
This rod is attached to a crank like handle which you turn to sharpen the teeth. You then pull out the handle and rod, slide the chain along, and do the same with the next tooth.
It's actually much simpler than it sounds and doesn't take long before you can set it up in less than a minute, and have a full chainsaw sharpened within a very short amount of time.
The Timberline chainsaw sharpener is mainly constructed out of heavy duty steel and is made to last for years, and even the few plastic parts are extremely robust and made from the highest grade plastic.
This sharpener is preset at a 30 degree angle but there are optional guidelines available that will allow for a 25 or 35 degree cut. There are multiple sized carbides available separately too, so you could use the Timberline chain sharpener with a massive array of chainsaw models.
The way the device locks onto the chainsaw itself, along with the carbide, ensures that you are getting not only an excellent cut, but also that each tooth is getting the same, at the same height and angle, and I think this makes it one of the best chainsaw sharpeners out there. It's just pure precision that is hard to get with other sharpeners.
The only thing that might put some people off with this tool is the higher than normal price, but believe me when I say, this is worth every penny. It just makes sharpening chainsaws on the go a piece of cake, and is a must have tool for anyone that gets frequent use out of their chainsaw.
Pros:
25-35 degree presets so covers all chains
Super easy to use – once you've got the set you just pull and go pull and go
Cons:
Still out of stock last chance for this product
Chainsaw Sharpeners Buyer's Guide
If you're still wondering about which type of chainsaw sharpener, or which model you should go for, spend a few minutes reading through this helpful guide.
We will take you through all the things you need to look out for when choosing the best chainsaw sharpeners and also give you a few things to think about before you choose.
Hopefully, this will make your decision a little easier and gets you a product that you are happy with.
Types of chainsaw sharpener compared
If you've read through our reviews, you would have seen that we featured four different types of chainsaw sharpener. There are the classic tools like hand file sets, and more modern takes on this concept like with the Stihl 2 in 1, and the Timberline chain sharpener featured above. These types of tools usually take a bit more time to use and a bit more finesse, but typically give a better quality result.
Then there are electric models. Some are larger tools that need to be fixed to a workbench or table and have large grinding/cutting discs on them. Bench sharpeners have nice features like guide rails, rotary tables, and adjustable depth gauges, so you can speed things up a lot.
Handheld, compact chainsaw sharpeners are also a thing these days. They have smaller grinding stones in them and offer a level of manoeuvrability that you just can't get with a bench based model. These handheld sharpeners can often be powered from car batteries and cigarette lighters too, so they're good for using on job sites.
Is the sharpener compatible with your chainsaw?
Not all chainsaws are the same, and not all sharpeners can be used with all models. Make sure you know your chain size before you go shopping for your sharpener and find one that is compatible with your particular chainsaw. Some chainsaw sharpeners are quite versatile and will be able to work with various chain sizes, but these are usually electric models and manual sharpeners tend to be only made for specific purposes.
Power and speed
If you're going for an electric powered chainsaw sharpening tool, then you should know about what affects the power output and performance of the tool. The first thing to keep an eye out for is the size of the motor, and this will be measured in watts (W). Motors on these tools can range from 60W all the up to 200-300W, and the higher the number, the more powerful the motor. There are also cordless sharpeners to go with your cordless chainsaw kits.
You also should take into account how fast the cutting disc or stone will spin and this is measured in revolutions per minute (rpm). Again, the higher the number, the faster it will sharpen the chainsaw tooth.
What is the cost of the chainsaw and how long will it last?
Before you hand over all your cash for that top of the range chainsaw sharpener, you need to ask yourself if you really need it. I mean, if you only use your electric chainsaw very occasionally, there's no point in shelling out £200 pounds for a premium product when a £30 quid electric model will do just fine. The thing is with cheaper models though, is that they often don't last as long as ones higher upon the price scale. However, there are exceptions to that rule so do a bit of research and read customer feedback and reviews like this one to get a better idea.
If you will be using your chainsaw on a very regular basis, like a heavy duty petrol chainsaw, it will probably be a better idea to spend more on your sharpener as they tend to be much higher quality and more durable. High quality manual sharpeners are the most durable products out there and will generally last longer than any electric chainsaw sharpener, but some well-made electric products also have long warranties to them.
---