Written by Terry Smith
Our site is reader supported so when you click a link to Amazon we may earn an affiliate commission.
UK's best BBQ Smokers for food, meat, and fish
This article was last updated on May 9th, 2022 at 10:41 am
Nothing quite beats the smell and taste of smoked meat and guess what? Very rarely do I get to write about and test my favourite topic – smoked food 🙂 It's a tough old job this sometimes. Whether it be a huge rack of ribs, a whole chicken, or a niece chunk of beef, that aroma followed by sinking your teeth into juicy, tender meat, is one of life's little luxuries. And let's not forget how good smoked fish is too! I'll be running through with you the best for each as well as commercial picks if you're really serious!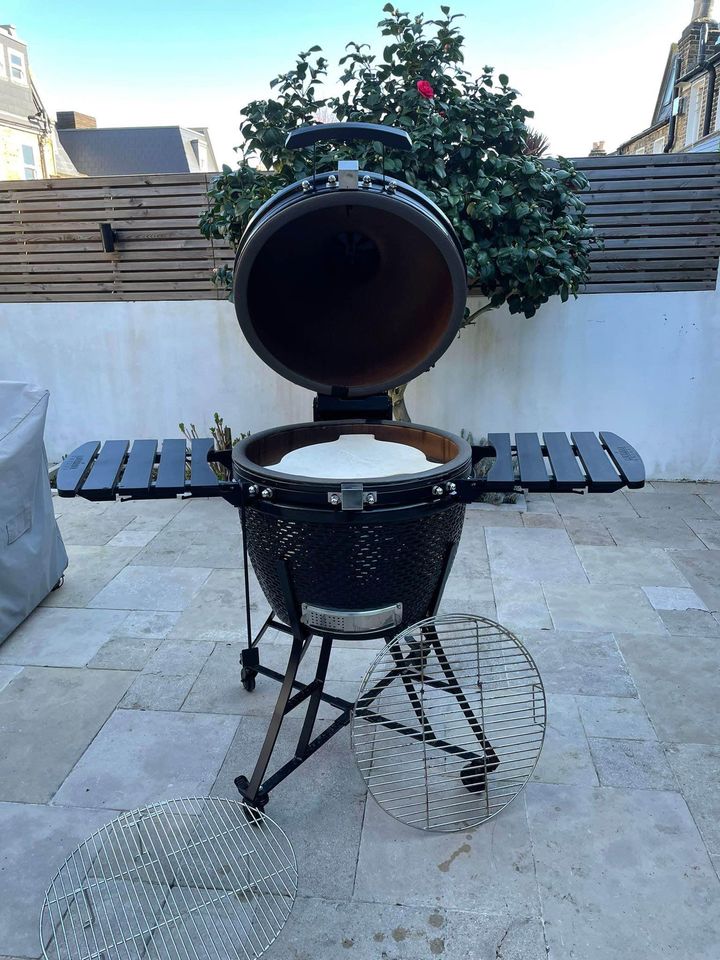 Some people try and try to achieve these smoked dishes on a regular open charcoal barbecue grill and are often disappointed by their results even though considerably better than your average gas bbq. Their steak is good but how come their steak doesn't taste like the one from the expensive steak house downtown? They might be wondering what is a BBQ smoker? and how to use a BBQ smoker? Well a lot of that is using the right smoker wood chips and smoker box which we will discuss soon enough.
PRO TIP: Dont forget to soak your preferred wood for as long as possible before using your favoured bbq smoker to maximise the amount of smoke that will be imparted in your meat – you don't want your wood to just 'burn away' 🙂
The best BBQ smokers that are out on the UK market at the moment will make it much easier for you to attain the smokehouse flavour you're looking for, and the cheapest of them are easily affordable by most people. Of course, there are also high-end models out there costing hundreds of pounds, and they work incredibly well and I cover both options and some sensibly priced professional options in between, so I guess it all comes down to how serious you are about your smoked meat. But before taking the plunge, to familiarise and help you compare, please take a look at my what you need to know before buying a bbq food smoker section too.
Best bbq smokers – my professional opinion:
Best bbq food smoker: CosmoGrill XXL Charcoal Outdoor Smoker BBQ [personally tested and proven – great all rounder on the price and quality] 
Sensibly priced alternative to the Cosmo: Landmann Smoker Tennessee 100
Budget pick: TecTake BBQ Charcoal Barbecue Smoker – definitely the budget pick of this year so far! If it's a bit too budget take a look at the Azuma Smoker Barbecue
Commercial pick: Kamado Joe Classic II Charcoal Grill you want this if you're professional or serious about smoking fish / meat [personally tested and proven – I love this bbq smoker] 
Alternative commercial picks that you don't ned to sell a kidney to buy: ProQ Frontier Elite BBQ Smoker or the superb Weber Smokey Mountain
Testing a bbq smoker
So I decided to put a bbq smoker to the test to see what we can get done. I have to say I absolutely love the egg designs. A decent entry level joint to smoke and slow cook is a rack of beef short ribs. The reason being they are extremely fatty and therefore really forgiving if you over cook them. I went to my local butchers and I am happy to say I found an absolutely stunning rack of beef short rib: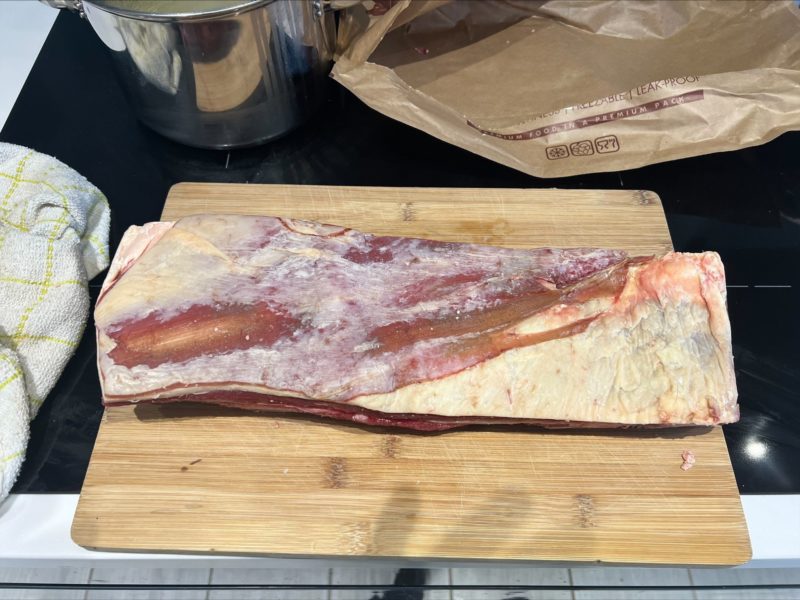 I didn't do anything fancy. Salt, pepper, and I decided to use Weber beef smoker wood chips. This is a very simply blend of wood and I have to say one of my favourites behind the Jack Daniels you'll find on that page – only because I normally prefer a bit of belly pork in the smoker…mmm delicious 🙂 Here's a look at those smoker chips: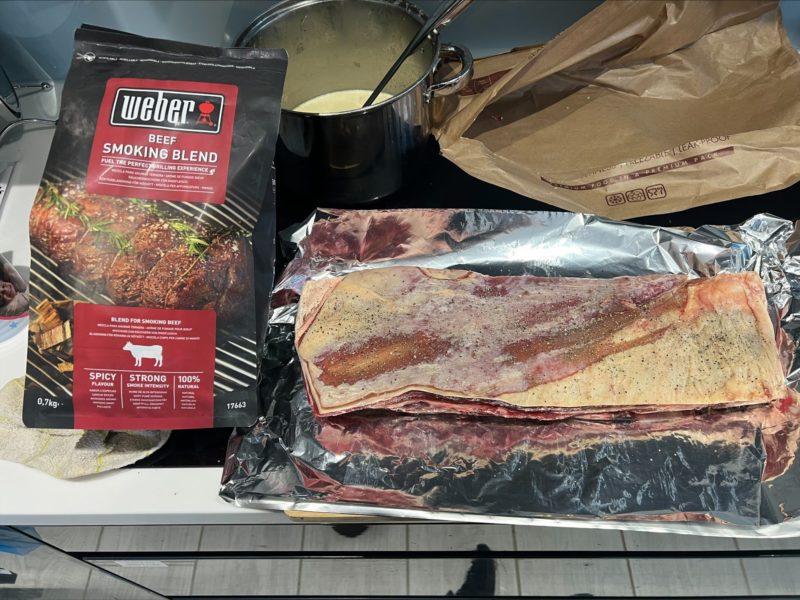 I double up the foil for two reasons – the wife buys cheap foil and over that amount of time, it invariably splits otherwise. To test, I just drop it on the smoker bbq for 8 hours using quality lumpwood charcoal for a bbq, and I start this with my bbq starter – getting the charcoal to perfect temperature is easy this way. Weber really have this all sown up if you follow that bbq starter link. Here's a look at that start point: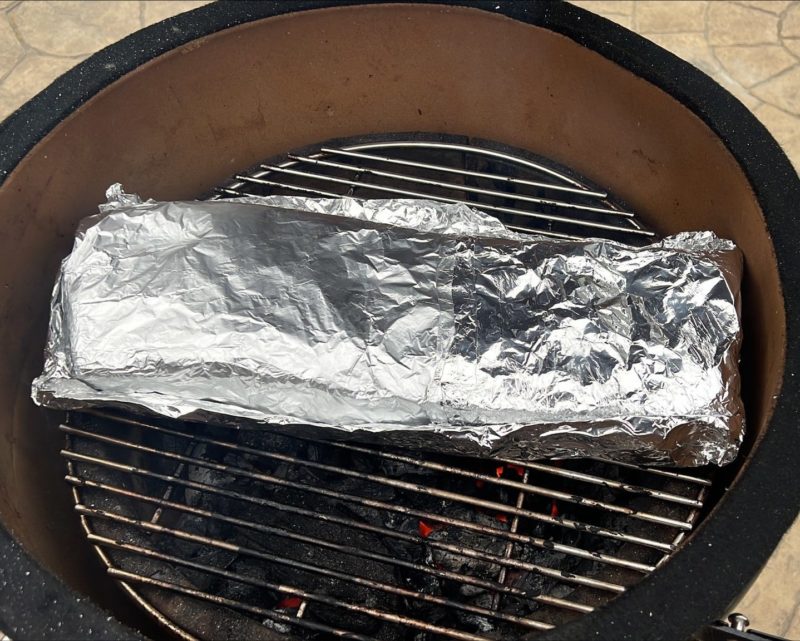 I take a look about 6 hours in, keeping an eye on temperatures that stay very stable with correct adjustment of the vents. It already looks superb. Here's a look for yourself: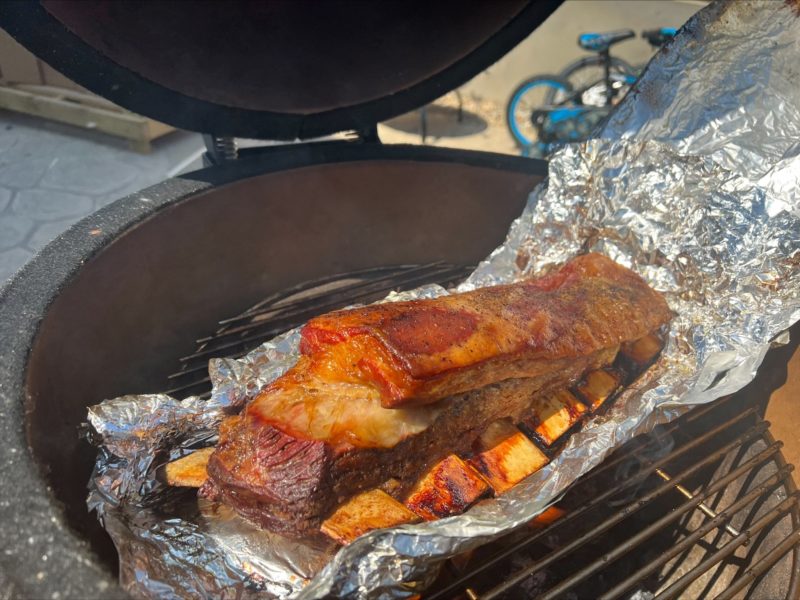 I decide to leave the foil off at this point and then slowly cook it for a couple of hours or so longer with the wood chips topped up. the result is a superb imparted flavour on the meat and a darker finish too: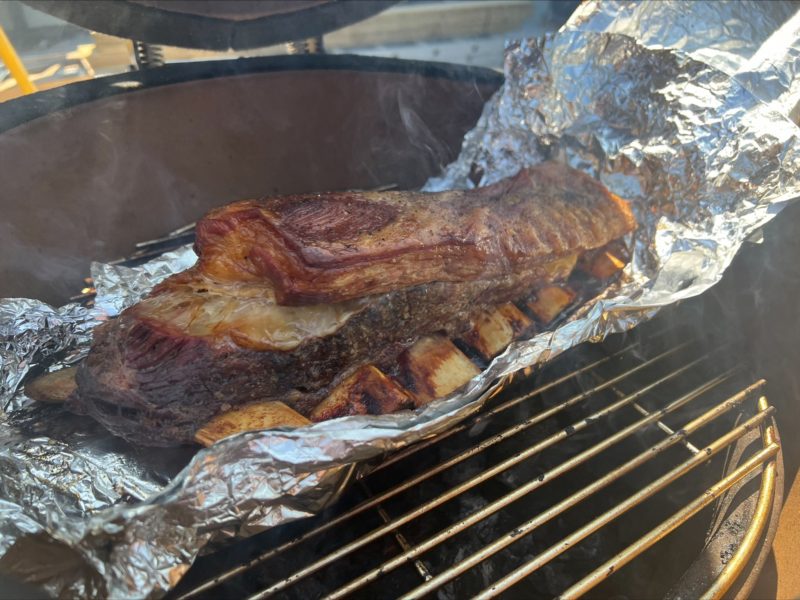 I have to say the test is a complete success. You really only have to look at the pictures to see just how well this came out. But I am by no means a professional – this is something that every one of us can achieve with a quality smoker.
So with that testing in mind, let's get into these best bbq smoker reviews that I have given a full going over 🙂 Such a difficult job I have sometimes 🙂
Coming up next is the ProQ Frontier Elite BBQ Smoker – Version 4.0. It is very similar in design and function to the Weber BBQ smoker above bit is available at a much lower price.
Moving on to our third review now with the Azuma smoker barbecue. Unlike our two previous reviews, this BBQ smoker isn't a 'bullet' design and instead resembles more of a traditional charcoal barbecue grill.
Our fourth and final product in our best BBQ smoker reviews list is a budget option for those of us with tighter purse strings, or for people who just want a barbecue grill with the option to do a little smoking from time to time.
What you need to know before buying a bbq food smoker
When choosing the best BBQ smoker, there are a few factors that you need to consider and taking two minutes to run through this section may save you a fortune in time and money. Here we have highlighted them for you so that you can make a more informed choice. For a start you've got temperature control, if a smoker can't genuinely do low and slow, it's not a 'real smoker'. And then there's what wood to use. That is absolutely vital in the flavour imparted. In fact, you've opened up a can of worms when you talk about fuel – you want decent wood or lumpwood charcoal as well as smoker chips and how to use smoker chips, but we will get to that more because then you need to throw price into the mix – some of these units are fifteen hundred quid, but a make shift barrel, lumpwood charcoal, and some decent smoker chips will give your meat a real charred flavour for a fraction.
Smoker wood chips and lumpwood charcoal or wood available in the UK
As we already mentioned above, BBQ smokers can be fuelled in a variety of ways.
For the most authentic flavour you would use wood only, but controlling a fire of this type takes a fair bit of skill, as well as time, so using charcoal with a little wood for flavour is probably better for most people. Without question though, smoker wood chips in combination with lumpwood charcoal is the easiest way to go about this.
If you've more time, why not get yourself some Apple and Oak logs – they will work just great  and save you a fortune.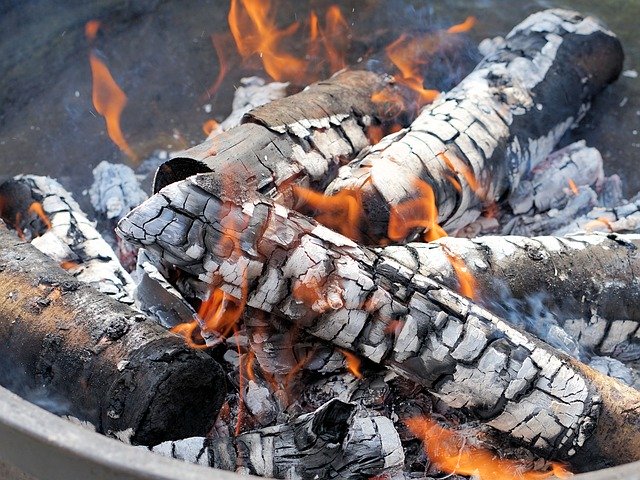 There are also pellet smokers, which feed wooden pellets into the smoker automatically and also have electronically controlled thermostats. This means that they can be programmed to cook at a certain heat and then they will cook in an automated way, taking a lot of the work, and also control, out of your hands – it's not really my cup of tea though – let's look at what wood smokes what food best:
What wood for meat, poultry, fish, and vegetables
Now there are definitely better combinations at play here. Fish wants more subtle smoking than dark meat, but then with that said, some wood smoker chips combinations work lovely together and cover a broader spectrum. The main wood you'll use is Oak, Hickory, Apple, Fruit trees in general, Cherry, Maple, and Sweet Chesnut. There are loads of others but this gets you onto a good thing to start. Let's take a look at pork, beef, fish, poultry, and vegetable preferable woods.
Pork smoked
If you don't want to spend out on the Jack Daniels smoking chips then I highly recommend getting yourself some Oak. Now remember you actually don't need that much, so you can easily still go with charcoal and then let a couple of lumps smoulder away when it finally calms down.
Beef
From personal experience I would say you go for Oak, though the other side of the pond they favour hickory – a combination of the two isn't a bad shout. The thing about Oak chips is the versatility – you can pretty much make sure work of all meat with this one.
Poultry
For poultry, (chicken and duck mainly) from personal experience I can tell you cherry and apple are a killer combination. Both are readily grown in the UK too. I have to say, when I have tried Oak it's a bit over powering but this is partially down to how long I smoke as well as the wood used. I've never gone wrong with fruit trees on poultry. On a special occasion I had a go at smoking quail – that worked out great too.
Fish and Prawns
Many people recommend Alder, and I have to say it's a winner, but nothing beats Apple and Pear tree for me when smoking fish and King Prawns 🙂 Remember though this is partially personal preference and what I've learned from my own testing with a beer – hard work researching 🙂
In short, buy a few of the more common wood chips and give this a go and workout what you like yourself, this is half the fun in my mind.
Price
The price range of BBQ smokers is vast, starting out at under 100 pounds for a budget gas or electric model, all the way up to thousands of pounds for custom made units. For around 300 pound you can get your hands on a good quality charcoal smoker that will last you for years, and if a pellet smoker tickles your fancy, be prepared to shell out at least 600 quid for a decent model.
Build Quality
Take my advice, it's better to spend a little extra in something that is made of high quality materials and put together solidly, than to save a few quid on something with low quality parts.
The best BBQ smokers are constructed of thick steel because this material not only absorbs heat well, but also helps to spread it evenly around the cooking chamber. Obviously, thick steel is also incredibly durable so you don't have to worry about accidentally damaging it if you drop it.
On top of the type of material, you should also check things like the quality of the welds, the thickness and sturdiness of the legs, and the quality of the smaller moving parts such as latches and wheels, as you don't want your BBQ smoker falling apart on you after only a few uses. Get a good one and it'll die old with you like this beauty: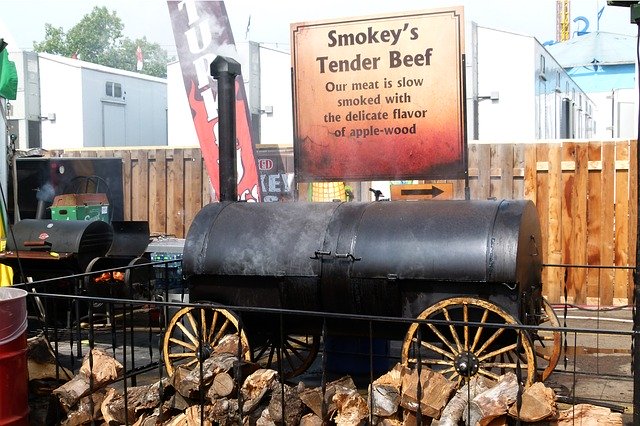 Another import thing is that all the doors, hatches, lids, etc. shut tightly. Smokers need a constant temperature and smoke to work, so if it's leaking out left right and centre, you're not going to get the quality of meat you are after.
Even the type of paint used on the barbecue can affect its durability. Ideally you want a model that is coated with weather and rust proof paint so you don't have to panic every time it rains.
Features
What are you looking for in a BBQ smoker? Do you want one with automated cooking features that you can just program, throw your meat into and forget about?
Or, do you prefer the hands on approach and want to be able to control every minute and aspect of the cooking process?
Maybe you are looking for a smoker and barbecue grill combo?
There are numerous options available to you when it comes to the best BBQ smokers so you should think about what your needs are before deciding on whether a certain product is right for you or not. Shelling out a lot of money for something that has a myriad of features is a waste of money if you're not going to make use of them.
Temperature Control
Probably the most important feature to take into consideration before buying a BBQ smoker is temperature control.
You want a BBQ smoker that is fairly airtight to prevent uncontrolled temperature fluctuations, and also one with easy to use controls for the baffles.
A good thermostat / thermometer is also essential and that is why I don't recommend going for most cheap models as the thermometers on them are usually low quality and inaccurate.
To make extra sure that you are getting an accurate reading of the temperature, I would always suggest using extra thermometer probes anyway, even with top BBQ smokers.
With smokers, as with most things in life, you get what you pay for so if you're serious about getting your meat perfect without having to spend hours in front of the grill, you're going to have to bite the bullet and shell out for a good spec model.
It is possible to get good results with a cheaper model, though it requires more skill, practice, patience and time to get it right. This example controls temperature like its just too easy: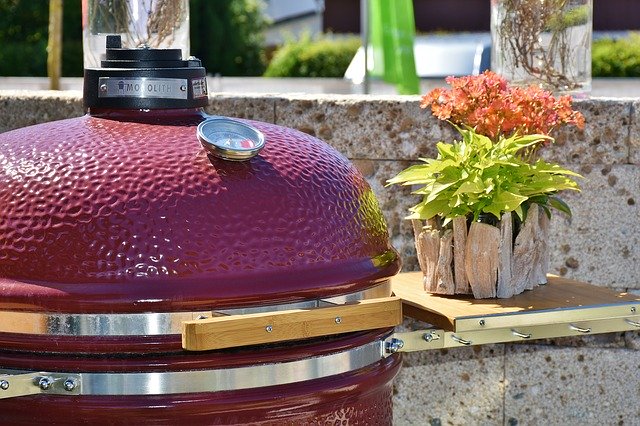 Personally, I'm a bit lazy and I like the results without too much hard work. Then again, for some people the challenge of getting it right the hard way is all part of the fun so I guess it comes down to the individual.
What is a BBQ Smoker?
A BBQ smoker can be a stand-alone unit or a part of a barbecue grill. It is used for cooking food at low temperatures of around 110 degrees Celsius / 225 degrees Fahrenheit, and this keeps the meat tender and prevents it losing moisture. Obviously the environment inside a BBQ smoker is…smokey, and that's where that extra flavour comes from.
BBQ smokers can be fuelled by charcoal, wood, propane, or electric. Propane and electric models are the easiest to set up and use but you might find it hard to get that really authentic smoked taste with them, especially the electric kind. There are extra things you can buy that will give food cooked in an electric smoker more of that coveted bbq flavour but they usually have to be bought separately and the products offer varying levels of quality.
Charcoal and wood are the fuels of choice for the seasoned smoker grill chefs as they are the surest way to get that classic aroma and melt in your mouth, smoked meat. Some woods smoke better than others though, like hickory for example, so you should do a little research and shop around to find the best type.
How to use a BBQ smoker?
Using a BBQ smoker to get your meat just right can be compared to a fine art, and I know a few people who treated as such, taking it very seriously.
However, with advances in technology, and the wealth of information on the internet, it's now possible for anyone to get amazing results every time, as long as they are using one of the best BBQ smokers in the UK and not a sub-par model.
Here is a quick guide with a few helpful tips that'll have you impressing the wife and kids with your 'barbecue kung fu' in no time.
First, set up your thermometer(s). Most smokers have built in thermometers, and some can work well, but cheaper model's might not do the job properly so it's always a good idea to have a secondary temperature probe placed near the food while it's cooking. This will ensure that you are getting an accurate reading of the heat where it counts and not the temperature as it is at the top of the grill.
Check that your baffles are open. We all know that things need oxygen to burn it's the intake baffle and chimney baffle that control the airflow in a BBQ smoker. To begin with, make sure they are both fully open.
Next, get your fuel source burning. For this example we'll use charcoal and wood as it's my usual fuel of choice.
Put a good amount of charcoal in the firebox and heat it until you start to see ash forming over it (you can also use a chimney starter to get the coals going before adding them to the smoker's firebox). Then add your wood. I use wood more as a supplement to give my meat the flavour I'm looking for rather than as a primary fuel source as it it's much harder to manage and regulate temperature with. I usually place smoker wood chips next to, rather than directly on the flames so that I can avoid getting soot or ash on my food.
Get your temperature up to 110C/225F. To make this easier, make sure the baffles are open near the firebox and chimney, and also check that the firebox is closed properly and not leaking heat or smoke.
Once you hit our golden temperature, it's time to add your meat.
Regulate and maintain the temperature. As we already mentioned, you want to maintain a temperature of around 225 degrees Fahrenheit at all times but it's ok if it wanders up a little from time to time as long as it doesn't exceed about 250 degrees.
You use both the intake baffle and chimney baffles to regulate the temperature in the grill. The intake baffle controls how much air gets to the coals so obviously this has a large effect on the temperature and needs to be monitored and adjusted as needed.
The chimney baffle controls how much smoke is released and this also effects the temperature of the grill, only to a lesser extent.
Take your time. Creating the perfect, juice filled piece of smoked meat is not an instant process, so be prepared to cook for at least a few hours.
Find out what the perfect internal temperature should be for your cooked meat (not the grill's temperature, the actual meat itself) and use a food thermometer to keep an eye on things. There's plenty of information about this kind of thing on the internet so do a bit of homework and remember, the best things come to those who wait.
Best barbecue smoker reviews conclusion
Now it's time for our main feature- our best BBQ smoker reviews. We have tried to put in a variety of models that span the price range so there's something for everyone.
If you don't have time to read the in depth reviews, you can simply check out the bullet points underneath each one to see the best and worst features.
One of our reviews on this list of best BBQ smokers is our most expensive product and happens to be the best food smoker. We realise it might be out of reach for a lot of people, but if you're serious about buying a top quality BBQ smoker and you have 600 quid going spare, you can't go wrong with this model as you read ddown but we have some cracking alternatives that'll make your meat superb.
Getting a food smoker right now is tough, not knowing who to trust. Well I review these bbq smokers on real life experience for meat smokiness, price, build quality, safety, and ability to keep a slow fire going LONG.
We are not going to turn down a good bit of smokey meat this summer for the sake of the equipment we use so let's go ahead and work our way through the best food smokers, or bbq food smokers in the UK.
That final review brings to a close this article on the best BBQ smokers and we sincerely hope you have found this page to be insightful, or at the very least, a little helpful but if you still need more info we have included some useful hints and tips.
Whichever model you decide to go with, it is always worth spending a bit of time online watching videos on YouTube and such, to give yourself the best chance of getting your smoked meat just right.
An hour or so in front of the computer today could pay off in the form of a beautifully moist and juicy piece of brisket later.
This site is packed full of pages and reviews of a huge array of products, so if you have time, feel free to browse away at our main bbq page.
---