Garden Tool Box » Best garden shredders for power and price rated. (November 2020 Updated Review)
Best garden shredders for power and price rated. (November 2020 Updated Review)
This article was last updated on August 7th, 2021 at 6:30 am
Found some spare time in the Summer 2020 lockdown? Want your garden space back? No matter the size of the problem, this review has the garden shredder for you. A garden shredder makes light work of clearing a felled tree or shrub, and not to mention lovely wood chippings to pop straight over your planters or compost as you prefer. Either way, better to make use of your resources than burn or send them to the tip. I've reviewed garden shredders on performance, safety, price, manoeuvrability, design, and ease of use in all sizes to help you tackle small shrubs right the way through to chipping logs.
Well you have options for a garden shredder.
Option number one: You now spend even more time bagging up the waste and doing several trips to the tip and back. I don't know about you but the tip is one of my least favourite places, and not having to go there would be worth a king's ransom in my book.
Option two: You make a big bonfire and burn it. Now while this is far more pleasing to the ear for me than going to the tip 20 times, it is still time consuming as you have to not only build the fire, but also stand and keep an eye on it so it doesn't spread or get out of control.
Also, in this day and age, we all have to be more environmentally conscious and the smoke and fumes going out into the air is probably not the most 'go green' option you can choose. Not to mention how much it will annoy your neighbours if the smoke from your fire blows over their fence and onto the clothes hanging on the washing line.
Option three: You invest in a garden shredder. I know, when a lot of you hear someone say garden shredder, you imagine what you see in the movies- a huge, bulky metal contraption making so much noise it could raise the dead.
However, this doesn't have to be the case these days. With many top electrical and engineering brands competing for their market share, there are now hundreds of different models available, coming in different sizes, at different prices and with differing features.
On this page, I'm going to try my best to share my knowledge of garden shredders with you. I'll explain the different types, their pros and cons, what garden shredders are best for certain jobs and offer up a selection of hand-picked reviews for you.
I hope by the end of this article you have a greater understanding of what is available when it comes garden shredders.
Let's start with a general idea of the benefits and drawbacks of using a garden waste shredder.
Comparison table: Best garden shredders for power and price rated. (November 2020 Updated Review)

Product
What We Think
Price

Easy-to-use control panel with automatic anti block system and forward / reverse switch...
Handholds on both sides allow firm hold while in use as well as easy transportation...
Easy transportation with large
Container fill level easy visible through cut-outs

Large wheels for ease of manoeuvrability
Large 50 Litre integrated collection box
2500 watt motor turning out 4050 RPM
Will shred up to 40mm thick branches

Fitted with 2200 W Bosch PowerDrive motor
Patented large capacity hopper for quick and easy feed
Practical plunger for increased material throughput
40 mm high precision laser-cut
Ships in certified frustration-free packaging

The AXT 25 TC quiet shredder – the first universal shredder for both soft and hard materials...
High torque high-performance 2500 W motor
Patented block release system allows blockages to be loosened easily without the need to remove the hopper...
Effortlessly shreds woody materials up to a maximum diameter of 45 mm thanks to extremely high torque of 650...
Items included: AXT 25 TC

T-Mech 15HP wood chipper
Powerful 4 stroke, 420cc engine with an incredible 2400 – 3600rpm blade speed
FREE personal protection equipment (PPE)
FREE assembly and maintenance tool kit
FREE next working day delivery to mainland UK when ordered before 2pm (excluding Scottish Highlands)...

Forest Master 6hp Compact Petrol Wood Chipper Direct Drive 208cc 4 Stroke

6hp 208cc 4 Stroke LCT Maxx Series Engine
Twin Reversible Blades
Max Wood Diameter 50mm / 2 inches
Direct Drive no belts to adjust
Hinged feed hopper and discharge chute

Complete with handy tool kit
Large Brush Hopper and Safety Cover for leaves and small branches
The side chute is designed for thicker branches upto 50mm
Large wheels for easy manovering
Overload protection system

420cc / 14hp Hyundai heavy duty electric start 4-stroke engine
2 large wide pneumatic tyres & front handles for easy manoeuvrability
2 blade drum mechanism is designed to draw in and chip branches up to 8.5cm...
Covered by Hyundai UK 3 year platinum warranty.
Covered by 3 Year Hyundai Platinum Warranty

Powerful petrol chipper, with a directionable chute for easy discharge.
Capable of dealing with branches of up to 4"/100mm in diameter....
Chipping mechanism is a revolving drum with twin full width blades
Equipped with both an electric start and recoil start to suit your requirements....
It is easily moved around the garden on large bearing mounted pneumatic tyres....
Garden Shredder Benefits
They save you the bother of travelling down to the tip to dispose of your waste.
They are far more environmentally friendly than burning your waste on a bonfire
For people who are serious about their gardening, they are a great addition to the tool collection because…
They produce mulch that you can spread around your garden to help fertilise and improve the quality of the soil.
You can produce compost much faster with a garden shredder and also compost of a much higher quality and richer in nutrients.
When making compost with a garden shredder, the temperature is high enough to kill weed seeds, so when you use the compost in the future, you won't be contaminating your garden with them.
Some shredders can be really quiet
You make some really useful wood chippings that are ideal for a variety of purposes. My favourite is filling up the flower beds to trap moisture; thus reducing the amount of watering I need to do.
Works great in conjunction with garden shears or a chainsaw to cut larger things down such as bushes before inserting them into the shredder.
I never knew how much I relied on a garden shredder until I actually bought one and used it extensively in my garden. I trimmed the hedges and mulched them, cut down a couple of trees with my trusty chainsaw and mulched all the branches as well as made some cracking firewood with a log splitter I bought years ago. I cleared my whole garden and tossed the wood chips and mulch over my flower beds in one day and all thanks to a garden shredder. When you buy a garden shredder it should be strong enough to break down the thickness of branch you need, it should be totally reliable and come with clear safety instructions as well as having a hopper that's practically impossible to put your arm in! It should have a seriously prominent safety stop switch to keep you safe and it almost goes without saying built to last. With these features in mind I have reviewed the best garden shredders for you.
Types of Garden Shredder
There are two types of garden shredder for general, home use. The impact shredder (also known as rapid shredders) and roller shredders (sometimes called quiet shredders). The names relate to how these machines shred the waste material.


Impact shredders use blades to cut up pretty much anything so they are great for disposing of branches and twigs. With some of the cheaper models, softer 'green' matter such as leaves and weeds can be troublesome and instead of being cut up, this material can stick to the blades and reduce the effectiveness of the shredding action. Impact shredders are the noisiest type and will more than likely require you to wear ear protection. These type of shredders are usually the cheapest.
Roller shredders use a different method. They have something that spins around like a big drum. Raised parts on the drum grip and pull the waste in and then it is crushed against a flat plate of some kind. 
Because of this action, these garden shredders can crush any type of garden waste, but wet or sappy material can get stuck. Roller shredders are much quieter than impact shredders but they are also more expensive.
Petrol shredders are by far the most powerful and are generally used for commercial purposes. The vast majority of petrol shredders are larger and heavier than the two types mentioned above but most come with pneumatic wheels so they can be moved around. Petrol shedders don't need to be plugged into a wall socket so they give better manoeuvrability than electric types. They are the most expensive type to buy and also to run as they require fuel and oil in order tom operate.
Now it's time for some reviews. Let's start by taking a closer look at a selection of electric shredders.
Electric Shredder Reviews
Cheap electric shredders under £200
1. Bosch Shredder AXT Rapid 2200
The Bosch shredder AXT Rapid 2200 is a best seller on Amazon and it's easy to see why, for £193.12 it's a pretty decent allrounder capable of branches, leaves, and pretty thick material too. 
It is fitted with a high speed 2200 Watt 'powerdrive' motor that produces 12nm of torque and allows you to pop material through it at a high speed. 
This motor, along with the laser cut precision blades spinning at 3650rpm and a cutting capacity of 40mm, can manage a material throughput of 90kg per hour. At only 12 kilograms, this impact shredder should cause you no bother when you want to move it around. All you have to do is tilt it back on its wheels and away you go.
 The light weight of this Bosch garden shredder makes you question will it have the grunt to get through these branches, but, remarkably it does! This Bosch garden shredder comes with a wide, practical plunger to help you push the materials through the cutters to speed up the process without getting your hands too close to the large capacity hopper.
This machine has a simple design and is very easy to set up and begin using, although hanging up a bag on the provided hooks to collect the shredding was a bit fiddly.
 Because the exit chute of the machine is at the bottom and quite close to the floor, the collecting bag needed to be shaken every now and then so the material would drop down and not build up inside channel but not a deal breaker by any means. 
Clearing the build up is easy though and only takes a couple of seconds. Simply lift up the top and remove the material and go again.
Although the Bosch Shredder is extremely light and compact, I found that 30mm branches were pretty easy and the optimal was around 20-25mm.
 For an entry level garden shredder that's not to be overlooked. Once you get used to how much you should be putting through the machine at a time, you will be shredding to your hearts content. 
Like any piece of equipment the blades will need sharpening occasionally, overall this is a great little garden shredder for the price
Features
Cheap price
Fast 'powerdrive' motor
Material throughput of 90kg per hour
Easy to set up and use
Lightweight and manoeuvrable
Runs fairly quiet
Cuts up to 40mm like the specs say
Build quality as expected from Bosch
The Bosch shredder AXT rapid 2200 is an entry level budget machine that does a pretty good job and will workout well in most gardens. All in all, it is a nice bit of kit if used correctly and is the best choice for a cheap garden shredder.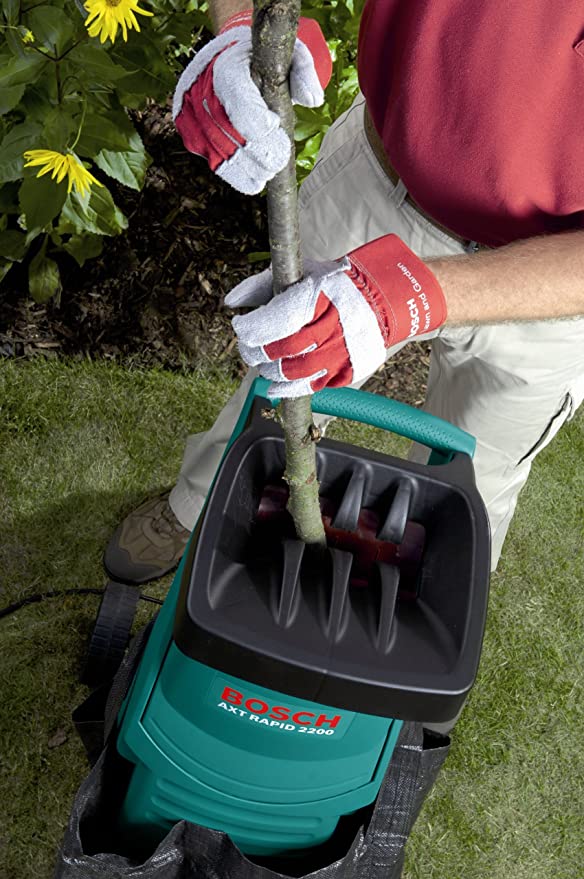 Pound for pound, this is the best garden shredder I have reviewed on a budget of £200 or less.
2. Dirty Pro Tools™ Garden Shredder
At just £149.99, this impact garden shredder is amongst the cheapest out there. Don't be fooled by the low price however, as this model has some good features. Power comes from a 2500 Watt, electric motor that runs off 230 volts. This motor powers the cutting blade that spins at 6500 rpm without a load and a still impressive 4500rpm when under load.
Just like the Bosch AXT Rapid 2200 it will deal with 30mm branches pretty easily and the optimal was around 20-25mm. The Dirty Pro Tools™ Garden Shredder can handle leaves but a word of warning, go steady with them so the machine can manage a constant mulch and it will be fine. If you do get a block don't worry, it does happen, we are not talking about commercial grade equipment costing thousands of pound after all! Just like the Bosch garden shredder, it's easy to clear.
Also like the Bosch AXT Rapid 2200, the Dirty Tools garden shredder can let small be moved around pretty easily.
A nice feature of this budget garden shredder is the 50 litre collection box that is integrated into the design so there's no need to fit bags that can be fiddly to fit and easily torn. The box can be easily opened to check how full it is getting at any time.
This model comes attached with a 6 metre long power cable which comes in really handy and should negate the need for an extension lead unless you have a large garden.
The great thing about this machine is that you can always use spare parts from other machines, it seems to be very standard and that's a huge plus.
Features
Very cheap
Large integrated collection box
Powerful motor
6 metre long power cable is handy
Big collection box
Parts easy to get hold of as a result of being generic
In conclusion, this offering from Dirty Pro Tools isn't a bad choice if you're using it for light garden work and you have time on your hands. I like both of these models but if I was forced to pick, in the £200 range I like the Bosch AXT Rapid 2200 slightly more based on performance and manoeuvrability but if you factor the Bosch AXT Rapid 2200 is £193.12 and the Dirty Pro Tools™ Garden Shredder is just £149.99, and you want a cheap useable garden shredder, then I'd go for the Dirty Pro Tools™ Garden Shredder without question, it's a bargain pound for pound.
Impact Shredders around £400-£600
So, we're going up in the price range a little now to see what £400 can get us.
 My top pick in this price range is another Bosch garden shredder-
Currently priced at £419.20, the AXT 25TC runs on a 2500 Watt electric motor that has been designed to produce a lot of torque- a staggering 650nm. This torque and the cutting blade speed of 41rpm (rpm rates are lower for non-rotary cutters) makes shredding branches a walk in the park.
At only 82 decibels it is one of the quieter models out there and won't leave you or the neighbours with a headache.This impact garden shredder was specially made to be multi-purpose and can deal with both hard and soft materials, the complete all rounder, pretty much the same use as the ATX 2200 but it just does everything that much better as you would expect from a more expensive piece of equipment and if you have the money, it's worth it.
Its turbine cutting system differs from our budget reviews which are both rotary types. The turbine system is highly efficient and can shred everything from soft greenery, to bushes, and even hardwood branches up to 45mm in diameter with ease.
With this cutting prowess and Bosch's self-feed system, you should be able to get through 230 kg of material per hour which is two and a half times the ability of the budget garden shredders.
That's not the fastest available, but what this machine does is cut steadily and consistently so as to reduce the risk of blocking and, ultimately, save time. At the base of this model, there is an integrated collection box that can hold up to 53 litres of waste and has a built in safety feature where the shredder won't operate if the box isn't connected which means you just can't make a mess! Always keep on top of the amount of chippings you're collecting and you'll have no problems at all with this cracking bit of kit.
Even with its cutting power, blockages are inevitable with a garden shredder from time to time but rather than shy away from a problem, Bosch have met it head on, and fixed it! Bosch has anticipated and fitted a control pad that makes it easy to unblock by reversing the cutters. There's no need to remove the hopper and this speeds up operating time a lot and not to mention much safer and less aggro making it worth the asking price over the budget models easily.
The only complaints I have for this particular garden shredder are the wheels are smaller than they could be, moving over uneven ground can feel a little unsteady, especially when folded up for easy storage but once you're in situ, it's all go with this piece of kit.
Like all garden shredders, keep the blades nice and sharp, you'll find yourself very very happy with the results of this machine.
Features
Powerful with high torque
Turbine cutting system works well
Doesn't block often
Easy to reverse to clear blockages
Quiet motor
Cuts up to 45mm in diameter
Self-feeding
53 litre collection box
Plenty of spare parts available
The Bosch ATX25 does exactly what it claims and has some nice features that set it above others  and it's reasonably affordable for a home garden enthusiast. It would certainly do well for a small commercial landscaper or similar.
My fourth choice for electric garden shredders comes from well-known brand Makita.
4. Makita UD2500 240 V Electric Shredder
Makita are best known for no frills, well built, reliable products and the Makita UD2500 is no exception.It uses a powerful 2500 watt electric motor like the Bosch AXT 25TC that drives the cut and crush system at 40rpm, effectively shredding branches up to 45mm in diameter.
This cut and crush system also helps to reduce the volume of waste material. The motor runs quietly when unloaded and isn't annoyingly loud when it's crushing its way through whatever you throw at it. This electric shredder destroys wooden waste very efficiently and is massively powerful for its £335.64 asking price tag.
The 67 litre collection box sits at the bottom of the garden shredder and has cut outs so you can easily monitor how full it is getting while you work which makes this a really nice touch and better than most competitor garden shredders.
There is a reverse function that will clear the blockage effectively by just pressing a button but like the Bosch ATX25.
The Makita's dimensions are 59 x 42 x 52.5 cm and it weighs 32 kilograms, so it's too big and heavy to be carried around easily by one person despite having dual handles. Not to worry though, Makita has fitted the UD2500 with decent rubber coated wheels to get about on, and given it a 10 metre long power cable to make it suitable for small to medium gardens. With size comes performance.
The overall build quality of this electric garden shredder is good and as already stated, Makita are well known for their durable products and after sales service.
Some people have complained that the unit came without the 10 metre power cable, but if that happens, contact Makita and they will send one free of charge and if that's the worst thing about this garden shredder then it's a big win right? It's been given some poor feedback but for the price this is a cracking piece of equipment and the reviews for missing parts that have been replaced immediately seem overly critical to me. Makita have a long history of quality tools and looking after their customers…
Features
Powerful. Can shred wood easily.
Large collection box.
Cut and crush system reduces waste.
Reverse function to clear jams
10 metre power cable
Heavy and extremely powerful for the price.
Big collection box and cut outs to see the level
Makita after sales service is second to none
To sum up, this particular Makita garden shredder is very effective when it comes to shredding wood and reducing waste and will require two people to move it easily or one big strong individual.
That wraps up our electric garden crusher reviews. Next I'm going review some petrol garden shredder models. Let's start with an entry level petrol shredder.
Cheapest Petrol Garden Shredders
The cheapest petrol garden shredder available on amazon is the…
5. Forest Master 6hp Compact Petrol Wood Chipper Direct Drive 208cc 4 Stroke
There's two things I really like about this model from Forest Master. The first is that you have direct drive so no messing about with belt tension, far less aggro, more time working. The other great thing is for the size, this is a brilliant chipper of 2 inch material and it doesn't matter if it's a new cut, it'll handle the moisture no problem.
Having twin reversible blades is a bit of a bonus, you'll just turn them around once you feel them being too dull and material starting to pull or jamb on you. At only 38kg it is very handleable for one person on wheels and for weight to power ratio, it's a real performer. The chute and hopper remove easily which is a real bonus if you do get clogged. They are basically on a bracket system, so you can lift them on and off the hinge with ease.
If I had one improvement, I would like to see a larger platform to support this chipper. The wheels are fine but the metal brace across the bottom would really benefit from extending. That said, the machine is pretty low vibration and certainly does not feel like it'll tip over. In fact, it's probably one of the more sturdy garden shredders around at the moment. It's pretty noisy, expect that from any powerful wood chipper though. It's 4 stroke, so you'll want a bottle of oil too. Being 4 Stroke, it's a durable and quality engine that'll keep going for years to come.
If you have never bought a petrol powered garden shredder then you're in for a shock. Not just the noise, but how easily it'll handle two inch material. You'll watch a big bag fill with wood chips in minutes. This is the ideal piece of kit if you're clearing a large garden area. Here's a look at that power: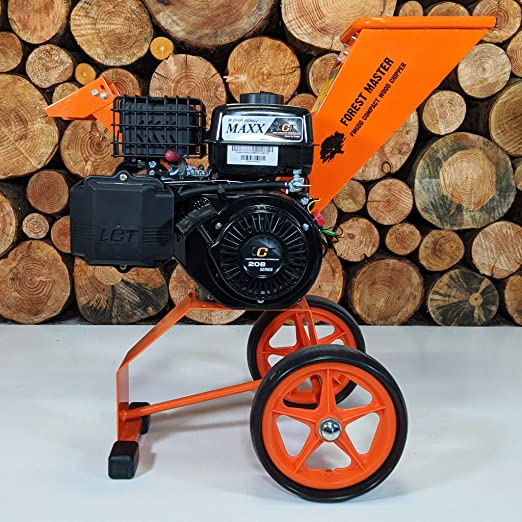 6. SwitZer Heavy Duty 3KW Garden Petrol Chipper Shredder
Switzer's entry level petrol chipper and garden shredder is available for . That is considerably cheaper than the majority of petrol shredders.
Weighing in at 42 kilograms with a full tank of petrol, it is lighter than most too.
It is powered by a 159cc OHV four stroke, 5 horsepower engine that can manage 3 kilowatts of power. Enough to comfortably manage jobs that electric shredders would struggle with or have no chance at all of dealing with for that matter.
The maximum cutting width for this petrol garden shredder is 49.5mm and a cutting blade speed of 3600rpm, ensuring that you'll be shredding your way through your garden debris in no time.
As already mentioned, the SwitZer Heavy Duty 3KW Garden Petrol Chipper Shredder is comparatively lightweight, weighing just 40 kilograms when the 12 litre tank is empty.
It stands 112cm high, 85.5cm long and has a depth of 42cm, quite compact for a commercial garden shredder.
The frame and overall build is good and sturdy and mostly made out of steel. The wheels at the rear of the base could have been better, but the foot stand attached to them that balances the shredder is also made of steel and well built as you would expect from a top end piece of kit.
As with a lot of garden shredders you have to be careful with green stuff, especially wet or sappy leaves and when a lot of volume is pushed through at once but pther than that, this machine works like a charm and worth every bit of .
Features
Very cheap for a petrol shredder
Good at chipping wood
Comparatively lightweight
Sturdy steel body
Seriously powerful cutter capable of nearly 5cm branches
Fuel capacity is 1.2 litres
Switzer's heavy duty garden chipper shredder isn't a bad choice if you're on a tight budget. It will smash through most wooden waste without too much bother, but can struggle with leaves in large volume and can clog.
Stepping up in price a little can get you a serious petrol garden shredder
7. Titan Pro Garden Chipper/Shredder
Available for £839.00, Titan Pro's entry level garden chipper/shredder is another viable option for customers with a tighter budget.The engine powering the petrol shredder is a 7 horsepower, 196cc, 4 stroke motor capable of 5.4 kilowatts.
The flywheel cutting blade rotates at 2000rpm and the efficient chipping speed of this garden shredder is 26m3/h. This is helped by the safety covered, large brush hopper situated on top of the machine that can handle branches up to 100mm in diameter and also leaves.
For larger branches, up to 50mm, there is a side chute to feed them into.The overall feel of this petrol powered garden shredder is one of a good, hard wearing standard and the manufacturers are confident in its durability too. They have offered a full UK warranty and a spares back up service just in case.
The majority of its construction is from strong steel and the wheels are large and well-built enough to move this 70 kilogram garden shredder around the garden.The Titan Pro garden chipper/shredder comes with a free toolbox for assembling the product and also free safety goggles and ear protectors.
It runs quite loudly but you should be ok with the free ear protectors if you're using it for prolonged periods, not sure about the neighbours though :-). Jokes aside, it's definitely a piece of equipment to be using at the right time of day, an absolute beast and to coin a phrase, 'like a carving knife through butter' comes to mind!
Pros
Strong steel build
Cuts larger branches well
Dual feeding positions
Large brush hopper
Free accessories
Demolisher of timber
Big collection box
Massive 7HP engine
Cuts 10cm branches with ease
The Titan Pro Garden Chipper/Shredder is a well-built machine that offers good chipping speed. This is a lovely bit of kit and certain to make life that much easier.
My pick for the best petrol garden shredder is the T-Mech 15HP Petrol Wood Chipper
Priced at £849.99 it costs more than the Switzer shredder above. So, what do you get for the extra money? Well the first thing is a much larger and more powerful engine, huge cutting power, effortlessly tears down wood, just what you'd expect from commercial grade equipment. The T-Mech petrol wood chipper gets its power courtesy of a 420cc, 4 stroke, 15 horsepower engine and there is no doubt that it is designed for large gardens and commercial use.
This powerful engine helps to rotate the sharp cutting blades at up to 3600rpm, and the machine can deal with branches up to a massive 102mm in diameter. With this garden shredder, you'll have a nice clear garden in no time.
Not that there'd be any rush to finish. The T-mech has a 6.5 litre fuel tank and 1.1 litre oil tank to keep the machine running for a fair old while before you need to top up either of them.
The dimensions of the T-mech petrol garden shredder are 88cm (H) x 64cm (W) x 134cm (D) and it feels sturdy when it is free standing and in operation.It's wheels feel much better than the Switzer model above and shouldn't give you any hassle moving over uneven ground.
There are two places to feed your branches into the machine. One on the top and also a secondary chute lower down on the side of the shredder. A good thing for when you have heavy branches to dispose of as you don't need to lift them as high.
This petrol garden shredder comes with a free tool kit to help you with assembly (which is a two man job if you want to get it done quickly) and also to be used for maintenance. Also included are free safety ear protectors that you will need as the T-mech runs quite loud as you'd expect of a mammoth 420cc engine, it's half of the smallest car engines!
The main flaw of the T-mech is that the chippings drop out of the bottom and you need to be on top of clearing them away but really with wood chippings flying everywhere from shredding, it's a very minor detail in an otherwise faultless and solid piece of commercial grade equipment that's affordable for home use.
Features
Can deal with branches 102mm in diameter
Top and side feeding chutes
Good sized petrol tank of 6.5 litres
Good shredding power
Good wheels
Free tool kit
Free safety gear
Incredible power tearing down branches
Clearly the best built so far in this review
With a powerful engine, good maximum cutting width, free accessories and double feeding chutes, this petrol garden chipper/shredder is worth investing in and is practically faultless and no doubt why it is 5 star feedback all around the internet for anyone willing to shell out £849.99.
The Best Petrol Garden Shredders – here are a couple of reviews for people with deeper pockets.
The Hyundai HYCH 1500E2 costs £1,798.00. Is it worth it? Well, read on and I'll give you the facts and you can make up your own mind.
Let's start with the engine. Coming from a well-known car manufacturer, you know that you can trust in this engine to do the job.
It's a 420cc, 14 horsepower, 4 stroke device that is designed to provide a lot of chipping power and also to last a long time doing so. This product comes with a 3 year warranty and full spare parts service. By far and away the biggest vote of confidence in a petrol garden shredder I've seen so far.
This Hyundai petrol garden shredder is started via an electric key start powered by a 12 volt battery to ensure that it starts up first time every time. Cheaper models tend to use a pull start system that can sometimes be problematic and there's no way you'll hand crank 420cc easily!
The cutting system is an excellent 2 blade drum mechanism that draws in branches up to 85mm and turns them into wood chips like it's a walk in the park.
The chippings are ejected from the 180 degrees rotating chute, so you can spread them in multiple directions or load them straight onto the back of a truck to be taken away.
Although this garden shredder is on the heavy side at 180 kilograms, the dual handles and very large and wide pneumatic wheels make it manoeuvrable enough. It is also fitted with a tow bar so you can pull it along with an ATV or ride-on lawnmower.
This is an easy to use machine, with user friendly features such as the easy twin v-belt tensioning, removable tow bar, toolbox and bearings that are easily lubricated.
It comes with a free toolbox and there is built-in storage for it on the main unit.
I really don't have much in the way to say about this in a negative light, if I was to be super picky I would say you need a good jerry can as fueling can be a little awkward but that's going into serious detail to find a problem with this behemoth.
Pros
Dual blade drum is very effective at chipping wood
Electric key start
Reliable Hyundai engine
180 degree rotating chute
Great build quality
Easy to use
Free toolbox
Incredible cutting power
Extremely fast chipper
Feels very commercial and solid
Possessing attributes such as a durable engine, powerful cutting prowess, great build quality and some other nice features, the Hyundai HYCH1500E-2 is perfectly suited to large gardens and commercial use.
We will finish this article with our most expensive review – Titan Pro Beaver Petrol Garden Chipper
10. Titan Pro Beaver Petrol Garden Chipper
Titan Pro's Beaver petrol Garden Shredder costs a whopping £2,940.00, making it the most expensive model we will review today.
Like the Hyundai HYCH, it is intended for heavy home use or commercial gardening.
The Titan 420cc, 15 horsepower, OHV 4 stroke engine gives this garden shredder its heavy-duty performance. Power is transferred by heavy duty twin belts that help to prevent shock loadings to the crankshaft.
The engine can be started one of two ways. There is a traditional recoil system and now also a new electric key start option. That's a nice feature because if, for whatever reason, one of the starting methods breaks, you can still use the other.
The twin, hardened steel, 30cm reversible cutting blades and revolving drum mechanism make light work of hardwood branches and it has a maximum chipping capacity of 100mm. Incredible cutting power and faultless operation:
Unlike a lot of chipper/shredders, the Titan Pro Beaver doesn't get clogged up with sappy leaves or Leylandii and instead shreds and mulches them in bulk creating nice compost. It's pretty much unstoppable and as you would expect for the price tag.
At 160 kilograms, this is no lightweight machine but with that extra weight comes the durability of hard-wearing materials. Also the Beaver garden shredder is fitted with a sturdy axel and large bearing pneumatic tyres which work well to handle the weight. The Titan Pro Beaver petrol garden shredder also comes with a tow bar. If you exceed 100mm you might want to consider a petrol log splitter to assist in breaking down material first.
Chippings and shredding can be spread around to fertilise the garden wherever you choose, or just loaded straight into a tipper truck, wheel barrow or other container thanks to a rotatable chute, just like the Hyundai model above.
There's nothing to fault about the Titan Pro Beaver Petrol Garden Chipper. If you can afford it, buy it. That simple, you won't be let down.
Pros
Amazing cutting performance
No problem with sappy leaves
Recoil or electric start
Rotatable chute
Chipping capacity of 100mm
Twin belts prevent shocking the crankshaft
Well built
Tow bar
Excellent warranty
Commercial grade
If you've got deep pockets and a lot of garden debris to shift in a hurry, the Titan Pro Beaver chipper/shredder might be for you. It really does perform well on all kinds of waste. From hardwood branches through twigs and sappy leaves, this garden shredder will handle it all.
That brings us to the end of this article on garden shredders. So what have we learned?
Well firstly, garden shredders can save us valuable time that would otherwise be spent driving to and from the tip or chopping up material and there is a garden shredder for every budget.
Using one to dispose of garden waste is better for the environment than burning it on a bonfire and won't asphyxiate your neighbours.
Mulching plant waste, as well as food waste can make great compost for fertilising your soil.
Electric garden shredders are cheaper than petrol models, and impact shredders are generally cheaper than the more effective roller type.
Petrol lawnmowers are the most powerful but also the most expensive and on the noisy side.
Not clearing out the collection box on a garden shredder will most likely cause it to get backed up and jammed on cheaper models.
You must wear eye and ear protection when using any garden shredder.
I hope that you found the information we shared today helpful and have a better idea about all things to do with garden shredders, the types, benefits and flaws.
We also have similar articles, with reviews of all kinds of garden equipment on this site such as lawn mowers and pressure washers. Please take a look when you have time.
---