Garden Tool Box » UK's best garden shredders: Bosch, Makita, Einhell, Hyundai rated for power and price
Written by Terry Smith
Our site is reader supported so when you click a link to Amazon we may earn an affiliate commission.
UK's best garden shredders: Bosch, Makita, Einhell, Hyundai rated for power and price
This article was last updated on April 23rd, 2022 at 5:37 am
No matter the size of the problem, this review has the garden shredder for you. A garden shredder can make light work of clearing a felled tree or shrub (you just need the best garden shredder for you which we will workout), and not to mention lovely wood chippings to pop straight over your flower beds or compost it, as you prefer. Either way, better to make use of your resources than burn or send them to the tip(which is a real pain in my area – I now have to book slots just to get rid of green waste!).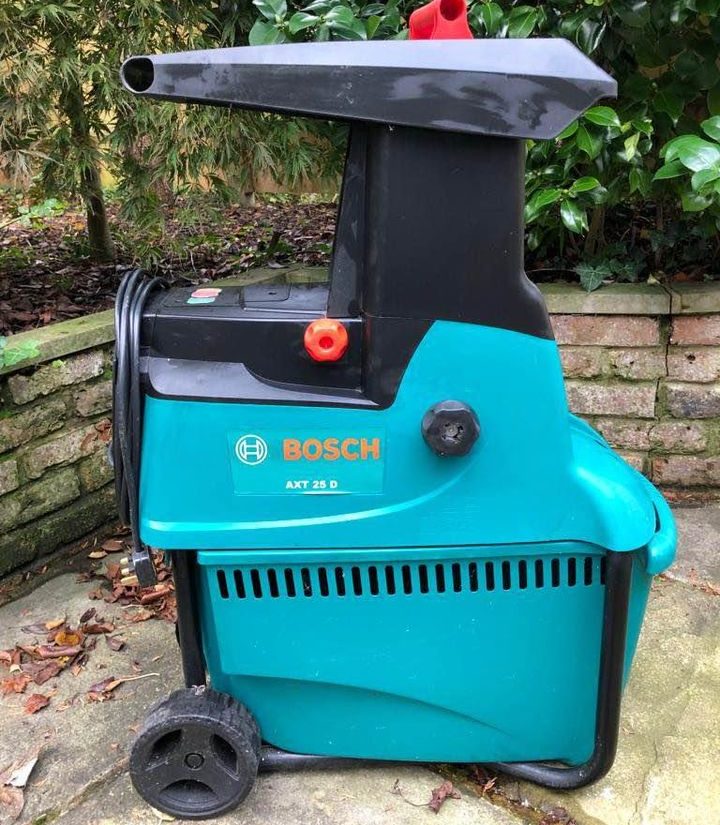 So, you invest in a garden shredder. I know, when a lot of you hear someone say garden shredder, you imagine what you see on the side of roads – a huge, bulky metal contraption making so much noise it could raise the dead. You imagine a tow along mechanical behemoth eating trees turning a trunk into chippings in seconds. Maybe this would be handy though in a total garden clearance :). However, this doesn't have to be the case these days. With many top electrical and engineering brands competing for their market share (namely Bosch, Makita, and Hyundai), there are now a dozen quality garden shredders models available, coming in different sizes and power ratings from seriously heavy duty to lighter general garden work. And these come in different prices and with differing features – so whether you want to chip branches, or just get rid of stubborn thistles, we have a shredder for you:
Best garden shredder – editor picks:
Best overall for smaller branches and shrub material: Bosch Shredder AXT Rapid 2200 – trustworthy and reliable up to 40mm branches
Best budget pick: Einhell 3430330 Electric Shredder – as good as the AXT Rapid 2200 but much cheaper!!!
Best electric shredder for power and price: Makita UD2500 240 V Electric Shredder and if you want cheaper the Bosch Shredder AXT 25 TC
Best petrol shredder for power and price: Titan Pro Beaver Petrol Garden Chipper
Mid range petrol: Forest Master 6hp Compact Petrol Wood Chipper Direct Drive 208cc 4 Stroke
Best commercial heavy duty option for towing: Hyundai HYCH1500E-2 towable
There is no getting away from the fact a garden shredder is an invaluable bit of kit for anyone clearing a garden, or trying to maintain one. I've reviewed garden shredders on performance, safety, price, manoeuvrability, design, and ease of use in all sizes to help you tackle small shrubs right the way through to chipping logs. I hope by the end of this article you have a greater understanding of what is available when it comes garden shredders. I've also put together a 'things to think about when buying a garden shredder' as well as show you the types of shredder available.
Things to think about when buying a garden shredder
In this article, I'm going to try my best to share my knowledge of the best garden shredders with you. I'll explain the different types, their pros and cons, what garden shredders are best for certain jobs and offer up a selection of hand-picked reviews for you. But to come to those conclusions there's some general quality guidelines that I follow to remove the bias and they include blade quality, reliability, plunger any good?, how easy a block can be cleared, safety, power, and diameter of cut.
Blade quality
One thing that'll make or break these cheaper units is the blade quality. Putting a 2.5kW engine on them is fine, but if the blades dull that substantially reduces the machines ability to chip and shred leaves and branches. Some blades will last ages and most notably the Bosch Shredder AXT 25 TC as I've personally used this for a couple of years – almost every month it's out shredding shrubbery and branches – the cut still seems as good as it's always been, I still have no issue on moist material – it will cut.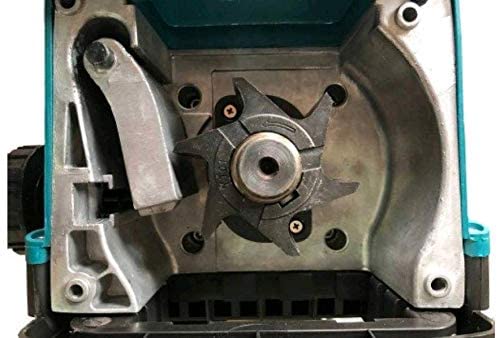 Plunger
As I was just saying about the Bosch Shredder AXT 25 TC now onto the plunger it's equally as good. You really don't need to put your hands anywhere near. This is important for obvious reasons – take a step back and remember this machine will chew your hand off if you're not careful and have a momentary lapse of concentration. Make sure you're on the ball when operating this unit.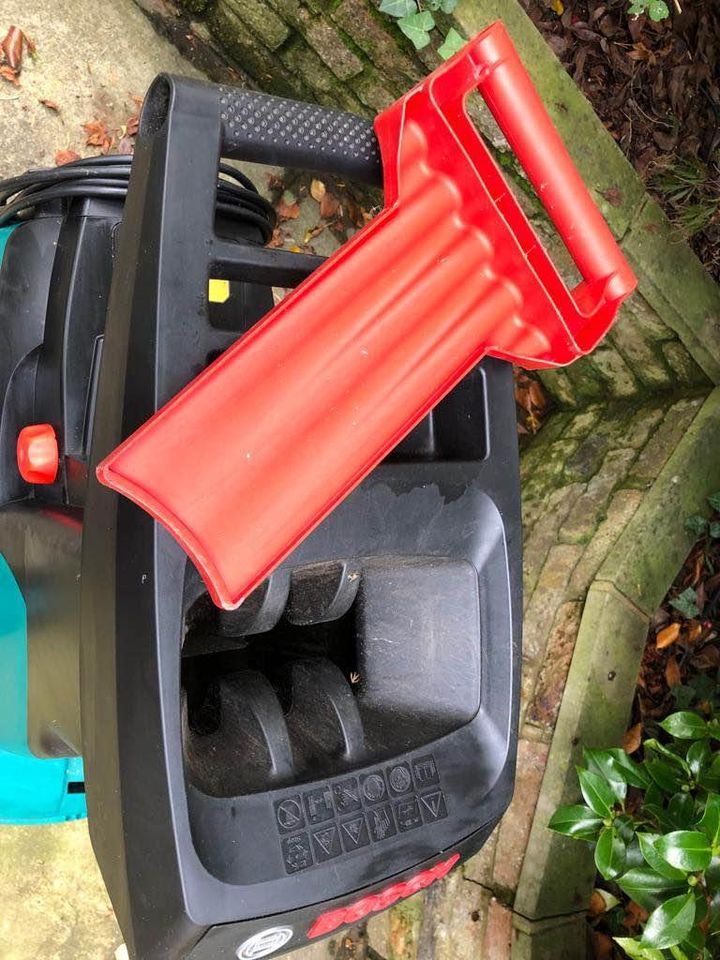 The best plunger will help you push into the chute but me sider and the top to stop your hand following through.
Clear blockages easy
Most models now come with an easy method to ease up the chute and pull a block out – the Makita UD2500 went one further and actually made a reverse gear. If you've got a bad block don't be scared to take the unit apart but I've tested the Bosch Shredder AXT 25 TC and the Makita for years now and I rarely get stuck with a block that can't be simply reversed. This is far superior to the old models that really did need to be taken apart every time there was a serious block!
Cut diameter
The lower end models are generally good at 30mm but will take up to 40mm. These include the Bosch Shredder AXT Rapid 2200 and Einhell 3430330 Electric Shredder. Stepping up from there you've got the Makita UD2500 and Bosch Shredder AXT 25 TC that will handle 45mm. This is not advice and should not be copied as goes against manufacturer warranty – I have tried to feed larger than this into the Makita in terms of a bunch of shrubbery all at once and it will eat it, but simultaneously is the reason I get most blocks 🙂 Basically push too hard.
Safety
Make sure the unit is upright and for the love of god, don't put your hands anywhere near the chute with the electric connected, turned off isn't even good enough – you need to really put safety first. This really is a messaged related to clearing blockages – luckily some models are getting wise to this and offer anti block easy remove options. Then the Makita UD2500 ripped the competition wide open with an actual reverse gear!
The plungers mentioned above intertwine with this message – the best ones will keep your hands from being able to enter the chute. Basically, if your handle is smaller than the chute entry it's a potential problem for the future so think about that please!
Why a garden shredder is good for the environment
A garden shredder solves a couple of problems – if you don't use one, you spend time bagging up the waste and doing several trips to the tip and back. I don't know about you but the tip is one of my least favourite places (especially now I have to book it just for some green waste), and not having to go there would be worth a King's ransom.
Another option perhaps, you could make a big bonfire and burn it(not ideal if you wanted wood chippings). While this is far more pleasing to the ear for me than going to the tip 20 times (as well as solving the expensive heating issue in the garden for a few evenings), it is still time consuming as you have to not only build the fire, but also stand and keep an eye on it so it doesn't spread or get out of control.
Also, in this day and age, we all have to be more environmentally conscious and the smoke and fumes going out into the air is probably not the most 'go green' option you can choose. Not to mention how much it will annoy your neighbours if the smoke from your fire blows over their fence and onto the clothes hanging on the washing line – or worse, bits of ash falling on their property which does happen! Keeping an eye on a prevailing wind will catch out the best of us – I've had to run round and apologise to the neighbour, being totally honest.
Types of garden shredder
There are two types of garden shredder for general, home use. The impact shredder (also known as rapid shredders) and roller shredders (sometimes called quiet shredders). The names relate to how these machines shred the waste material.


Impact shredders


Impact shredders use blades to cut up pretty much anything so they are great for disposing of branches and twigs. With some of the cheaper models, softer 'green' matter such as leaves and weeds can be troublesome and instead of being cut up, this material can stick to the blades and reduce the effectiveness of the shredding action. Impact shredders are the noisiest type and will more than likely require you to wear ear protection. These type of shredders are usually the cheapest.
Roller shredders
Roller shredders use a different method. They have something that spins around like a big drum. Raised parts on the drum grip and pull the waste in and then it is crushed against a flat plate of some kind. 
Because of this action, these garden shredders can crush any type of garden waste, but wet or sappy material can get stuck. Roller shredders are much quieter than impact shredders but they are also more expensive.
Common fuel types for garden shredders
You've really only got three power sources in the UK – electric, petrol, and massive diesel. The latter is not useful for home application and is far more heavy duty – basically the cutters you see tearing down the trees on the sides of the road, or the connections to tractors powered through the tractor diesel engine so we should focus on electric and petrol models:
Petrol shredders
Petrol shredders are by far the most powerful and are generally used for commercial purposes. The vast majority of petrol shredders are larger and heavier than the two types mentioned above but most come with pneumatic wheels so they can be moved around. Petrol shedders don't need to be plugged into a wall socket so they give better manoeuvrability than electric types. They are the most expensive type to buy and also to run as they require fuel and oil in order to operate.
Electric shredders
Electric shredders are by far the most commonly used in traditional home garden setups. As long as you don't have huge branches (anything up to a couple of inches) you can reasonably expect an electric shredder to work for you. I would recommend either the Bosch Shredder AXT Rapid 2200 for smaller work or the Einhell 3430330 Electric Shredder if you want a genuine budget alternative.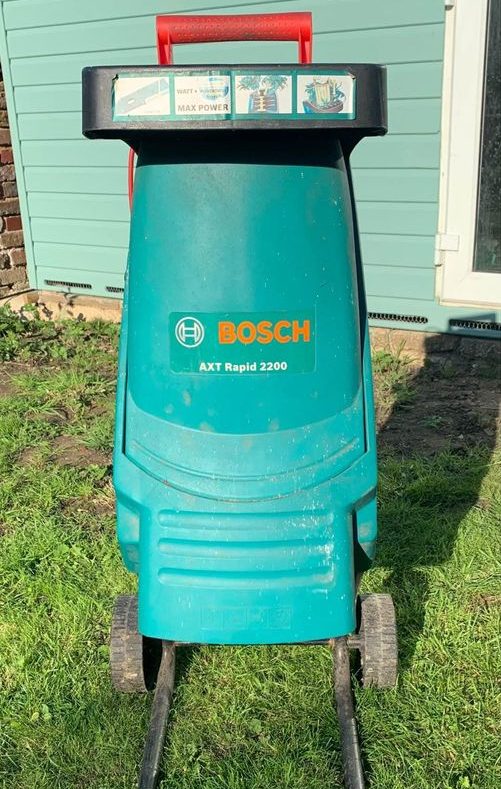 So many good reasons to have a garden shredder
I never knew how much I relied on a garden shredder until I actually bought one and used it extensively in my garden. I trimmed the hedges and mulched them, cut down a couple of trees with my trusty cordless chainsaw and mulched all the branches as well as made some cracking firewood with a log splitter I bought years ago. I cleared my whole garden and tossed the wood chips and mulch over my flower beds in one day and all thanks to a garden shredder. When you buy a garden shredder it should be strong enough to break down the thickness of branch you need, it should be totally reliable and come with clear safety instructions as well as having a hopper that's practically impossible to put your arm in! It should have a seriously prominent safety stop switch to keep you safe and it almost goes without saying built to last. With these features in mind I have reviewed the best garden shredders for you.
They save you the bother of travelling down to the tip to dispose of your waste.
They are far more environmentally friendly than burning your waste on a bonfire
For people who are serious about their gardening, they are a great addition to the tool collection because…
They produce mulch that you can spread around your garden to help fertilise and improve the quality of the soil.
You can produce compost much faster with a garden shredder and also compost of a much higher quality and richer in nutrients.
When making compost with a garden shredder, the temperature is high enough to kill weed seeds, so when you use the compost in the future, you won't be contaminating your garden with them.
Some shredders can be really quiet
You make some really useful wood chippings that are ideal for a variety of purposes. My favourite is filling up the flower beds to trap moisture; thus reducing the amount of watering I need to do.
Works great in conjunction with garden shears or a chainsaw to cut larger things down such as bushes before inserting them into the shredder.
That brings us to the end of this article on garden shredders. So what have we learned?
Well firstly, garden shredders can save us valuable time that would otherwise be spent driving to and from the tip or chopping up material and there is a garden shredder for every budget.
Using one to dispose of garden waste is better for the environment than burning it on a bonfire and won't asphyxiate your neighbours.
Mulching plant waste, as well as food waste can make great compost for fertilising your soil.
Electric garden shredders are cheaper than petrol models, and impact shredders are generally cheaper than the more effective roller type.
Petrol lawnmowers are the most powerful but also the most expensive and on the noisy side.
Not clearing out the collection box on a garden shredder will most likely cause it to get backed up and jammed on cheaper models.
You must wear eye and ear protection when using any garden shredder.
I hope that you found the information we shared today helpful and have a better idea about all things to do with garden shredders, the types, benefits and flaws.
We also have similar articles, with reviews of all kinds of garden equipment on this site such as lawn mowers and pressure washers. Please take a look when you have time.
---