Written by Terry Smith
Our site is reader supported so when you click a link to Amazon we may earn an affiliate commission.
Best marinade injectors [UK] for a professional BBQ and juicy meat
This article was last updated on July 31st, 2021 at 1:22 am
Picture this – it's the middle of July, the sun is beating down on you and you're already sweating through your third shirt of the day. That familiar rumble in your stomach starts to roll in and it is officially dinner time. What will you have – pie and mash (nah I'm just trolling you 😉 )? Too hot. Spaghetti Bolognese? No chance after the Euro haha!. Nope.There is only one thing for it. A good old fashioned Great British barbecue, and hopefully a charcoal bbq or with a bbq smoker! The best marinade injector will enhance this considerably. You can trust me on that!
Barbecues are somewhat of a staple during the British summertime. The moment the sun pokes its head out, Brits all over the nation drag their barbecues out from their hibernation, get them fired up and begin emitting a mouth-watering smell which can literally be sniffed out from miles away. It really is quite the phenomenon.
BUT, whilst you may think a barbecue is a walk in the park, there is a fine art to mastering the skill. Of course, things like a nice range of salads, breads and nibbles are necessary to make any good barbecue great, but let's be honest – the meat tends to take centre stage when it comes to a barbecue. Sorry vegetarians and vegans, but this probably is not the review for you – don't say I haven't warned you.
So, I hear you ask, how exactly do I make my meat the envy of every barbecue owner within a five-mile radius? Very good question. Drumroll please for…the mighty marinade injector!
This small but mighty tool packs a serious punch in the meat marinading world and is a sure-fire way to ensure that your meat is nice and juicy all night long – after all there is nothing worse than dry and tasteless meat. No thank you. So how exactly does a meat marinade injector work? Well, you simply load up the syringe-like utensil with your marinade of choice and insert it into your meat like, for example under the skin of a chicken. You can use this technique on small cuts of meat, such as steaks, pork chops or strips of chicken, or you could use it on larger meats, like a whole roast chicken, turkey or pig. The opportunities are endless!
Understanding the difference in marinade injectors and what they can do (large and small)
Of course, there are also many different types of marinades out there; with some being much thicker than others, and some even containing big chunks of ingredients, such as garlic, onion or chilli. Is anyone else's mouth watering or is it just me?! This variation in marinades means that the right meat marinade injector will have options when it comes to the size of needle it provides. Whilst a teeny tiny kitten needle would be perfect for injecting a small cut of meat with a thin marinate, it would be downright useless at injecting a big cut of meat with a thick marinade, so it's important to check the thickness of the marinade injector's needle before purchasing, and of course the more choice, the better. Here's a good all rounder size wise to help: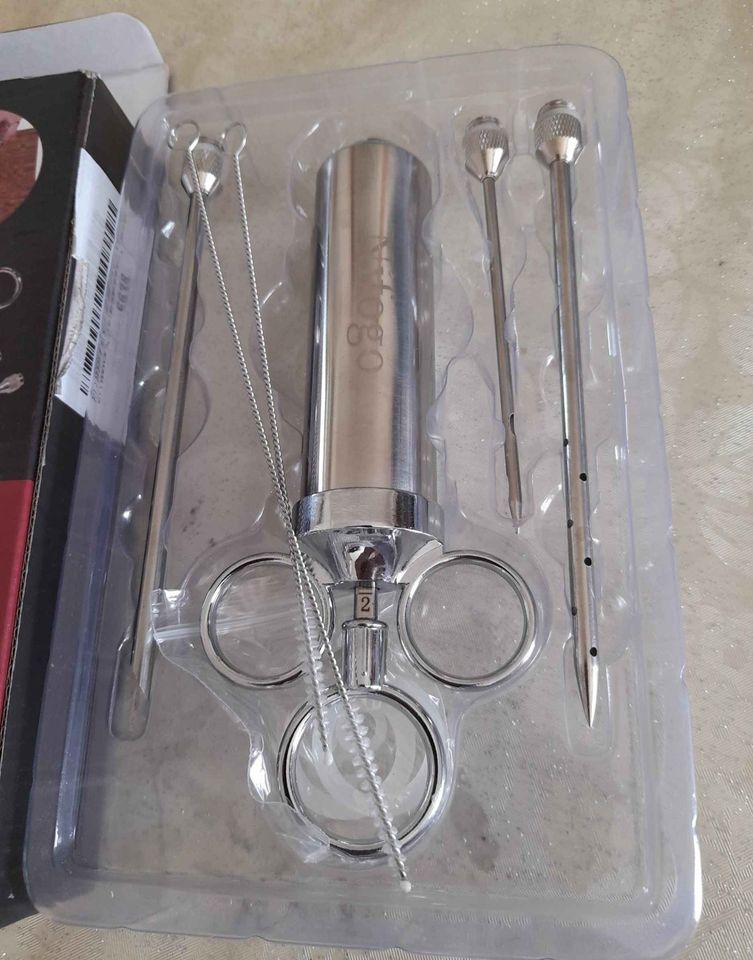 Another thing which is important to take into consideration is the material which the injector is made from. Typically, they come made from either metal or plastic, and we would generally recommend the former, largely because metal is a more durable material and some plastics are not food-grade certified, therefore could end up harbouring nasty bacteria. But simply buying a metal marinade injector is not enough to guarantee high performance and long durability. Metal is, of course, prone to rust and degenerate over time, so it's a very good idea to invest in a stainless-steel marinade injector if you want a truly high quality and long-lasting product. Stainless-steel products can be on the expensive side, but you can't put a price on quality and that's that.
How to use a marinade injector the right way
Here's a lady that knows just what she's doing with a pump 🙂 There's no a great deal of science, avoid air bubbles, don't over shoot the mark with too much marinade and keep everything clean. From there you really can't go wrong but she's worth a quick watch!
What to look out for when buying a marinade injector
There are also a multitude of important spec-related considerations with a marinade injector, for example the size of the barrel, the measuring window, added accessories and how easy the manufacturers make it for you to clean the injector. In terms of barrel size, a two-ounce barrel is generally the recommended size, as it is a barrel size which works well for big and small cuts of meat. It is a good idea to invest in an injector which has a clear measuring window, to prevent under or over-filling and when it comes to added accessories, as you already know I am a big fan of having a choice of multiple needles, all of different sizes to give you more options with your marinade style. It is also a big added bonus if your injector comes with some kind of cleaning utensil, like for example a thin bristle brush to help you clean those hard-to-reach spots. It may not seem like a priority now, but you'll be wishing you had found a product with a good brush later – trust me.
When it comes to price, it's a real mixed bag in the marinade injector world. Prices can be as low as £5 and as high as £50, with some products even going into the hundreds, but trust me – there is no reason to be spending that much money on a marinade injector. The typical price seems to sit somewhere between £11 and £23, but within these brackets I would expect the products to have a couple of added features, like multiple needles and perhaps even cleaning utensils.
So, now we know exactly what a marinade injector is, what to expect from one and exactly how much money you should be spending on one. All that's left to do is find you your new marinade injector, so let's jump into the best marinade injectors on the UK market in 2021. And if you're experiencing a touch of déjà vu right now, don't worry. We did an extensive review of the best marinade injectors a couple of years ago, but this one is the new and improved review suitable for the 2021 market. Don't say that we don't treat you.
Best Marinade Injectors in the UK 2021
Comparison table: Best marinade injectors [UK] for a professional BBQ and juicy meat

Product
What We Think
Price
Pros:

Comes with a cleaning brush as well as a silicone marinade brush
Comes with two separate needles of a different size

Cons:

On the expensive side of the scale
Turkey baster design means no clear barrel and the risk of overheating

Ofargo 304-Stainless Steel Meat Injector Syringe with 4 Marinade Needles and Travel Case

Pros:

Insane number of added features and attention to detail
Made to last, and comes with a buyer satisfaction guarantee

Cons:
Pros:

Can hold up to 1.5-ounces of liquid
Comes with a cleaning brush

Cons:

Only comes with one needle size
Stainless-steel spout can get hot quickly and plastic bulb falls off easily

Pros:

Product comes with 12 pieces
Super affordable, especially when considering how much you get with this product

Cons:

Due to all the separate parts, this product takes up a fair amount of storage
The vat is known to flake and deteriorate after extensive use

Pros:

Clear barrel with useful measurement labelling, in addition to two needles
1.5-ounce capacity, at a low price

Cons:

Whilst it comes with two needles, they are both fairly thin
Product is prone to leaking and breaking

HeroNeo® Marinade Injector Flavor Syringe Cooking Meat Poultry Turkey Chicken BBQ Tool WQ

Pros:

Super cheap
Clear barrel window, so you can see how much marinade you are injecting.

Cons:

Small – cannot hold much liquid
Only comes with one, fairly thin needle
1. HeroNeo® Marinade Injector Flavor Syringe Cooking Meat Poultry Turkey Chicken BBQ Tool WQ
We will get the review started with the HeroNeo, a small and sweet marinade injector, which won't exactly win awards for its performance, but at a super-duper low price, will win the hearts of many potential buyers, especially those on a budget. Made from plastic, with a stainless-steel needle, the product measures 22cm x 7cm (length x width), making it a pretty small barbeque tool. This would definitely be an issue if you were looking to use the product on a large cut of meat, injecting a thick marinade, however on the plus side, its small size means that it would easily slot into any kitchen draw. I'm a glass half full type of person if you couldn't tell!
Sticking to the positives of this product, I love the fact that it has a clear barrel, fit with measurement markers to make it easier for the user to see how much marinade they are transferring into their meat. This is a super useful feature if you are following a strict recipe which requires a very specific amount of marinade. In addition to this, the plastic handle has even been moulded to fit the curve of a finger perfectly, making the process of using this product both seamless and comfortable.
Other than these positives, there unfortunately isn't much else to boast about with the HeroNeo marinade injector. Its small size does limit the usefulness of this product, not to mention the inclusion of just one, fairly skinny needle. Not ideal. It is the kind of tool which would be perfect for marinating small cuts of meat, and its smallness would make it a great accompaniment to a camping trip. However, if you had dreams of marinating a larger piece of meat, dream on. The HeroNeo is cheap and compact, but most certainly not up to scratch for large scale marination jobs. Sorry HeroNeo.
2. Utensils Stainless Steel Baster Commercial Grade Quality
Next up is a marinade injector-stroke-turkey baster by the brand BestUtensils. With that kind of name, I have high hopes for this product, and to a certain extent it does live up to these hopes. The product is dramatically different to the HeroNeo marinade injector, as it is much more of a turkey baster in design than a syringe. However, this may be no bad thing. Sure, this alteration in design does mean that there is no barrel window to check how much marinade you have left, so it is hard to be specific with this baster, however it can hold a maximum of 1.5 ounces of liquid within its big bulbous head, which isn't bad going.
The product comes in three parts: the main baster, a cleaning brush and a marinade needle. In terms of measurements, the main baster measures 26cm, whilst the cleaning brush measures 22.5cm and the injecting needle a tiny 5.7cm. So far so good, however take care with the injecting needle, as its small size makes it prone to getting lost, which would be far from ideal.
To use this product, you suck the marinade up into the rubber bulb at the top, by squeezing the bulb. Then, after carefully screwing the injector needle onto the bottom of the baster's spout, you inject the marinade into your meat by squeezing the bulb again. Luckily, the bulb is made from a food grade silicone, making it safe to use around raw, or cooked meat. Furthermore, the silicone bulb is heat resistant, managing to cope with temperatures ranging up to a scorching 230°C, so you won't burn your fingers whilst using this product. In addition to this, the BestUtensils marinade injector is reasonably priced, sitting at the low end of the price range which is especially impressive when considering the fact that this injector comes fit with its own cleaning brush.
However, it isn't all fun and games with the BestUtensils marinade injector. There is a problem with the materials used with this product. Whilst I love to go on about how great stainless steel is, it has a nasty habit of getting extremely hot when in contact with hot materials. With this in mind, take care when injecting hot liquids with this product, as the metal spout can heat up quickly and could burn your hands. In this case, you would be forced to hold the product by the bulb at the top, however also be warned – this bulb has a habit of slipping off, which means burning hot liquid erupting all over your hands. Really not ideal.
3. KitchenCraft MCINJSS Masterclass Meat Injector
Our next product is the 1.5-ounce capacity KitchenCraft Masterclass meat injector. Now, be warned – if you have a fear of needles and injections then perhaps this is not the product for you. It truly looks like something that you could find in a doctor's drawer, so when KitchenCraft Masterclass named their product a 'meat injector', they weren't messing around. Potential squeamishness aside, this is a great product – and at a reasonable price.
Made from brushed stainless steel, with a hard plastic handle and a glass, calibrated window, this product is well-made, sturdy and even dishwasher safe. It is also easy to dissemble, so that you can wash each part individually, ensuring a total removal of all grime and bacteria. Nice one.
Let's talk for a moment about the glass window and the plastic handle, as I think these two features deserve a little limelight. Firstly, the glass window is clearly marked with millimetre, fluid ounce and even teaspoon measurement markings so that everyone can measure out their desired amount of marinade – no matter whether you are stuck in the old days and using metric measurements, or up to date with imperial. There is no judgement with the KitchenCraft Masterclass meat injector. Now, moving onto the handle, what makes the KitchenCraft Masterclass handle so special is its soft-grip ergonomic design. Soft to the touch, the handle has a non-slip coating and, like the HeroNeo handle, is designed to fit perfectly in your grasp. Talk about attention to detail.
However, one of the best design features of this product is the fact that it comes fit with two interchangeable needles. This makes the product multipurpose; appropriate for injecting big and small cuts of meat, not to mention thin or thick liquids. However, I have to note that the difference in size between the two needles is pretty measly, and whilst one of the needles is slightly bigger, it's still a fairly thin needle and wouldn't cope well with a thick, chunky marinade.
Another, pretty considerable, issue with this product is the fact that it is prone to leaking. Whilst it looks extremely well made and durable, it isn't uncommon to get leakages, spillages, air bubbles and even needle malfunctions with this product. Of course, these issues could easily be resurrected by contacting the manufacturers and getting a replacement, but that's not really the point. What we are after is high quality, the first-time round. It's a shame, as this product has so much to offer, but fails when it comes down to the nitty gritty. It seems to be a case of all bark and no bite.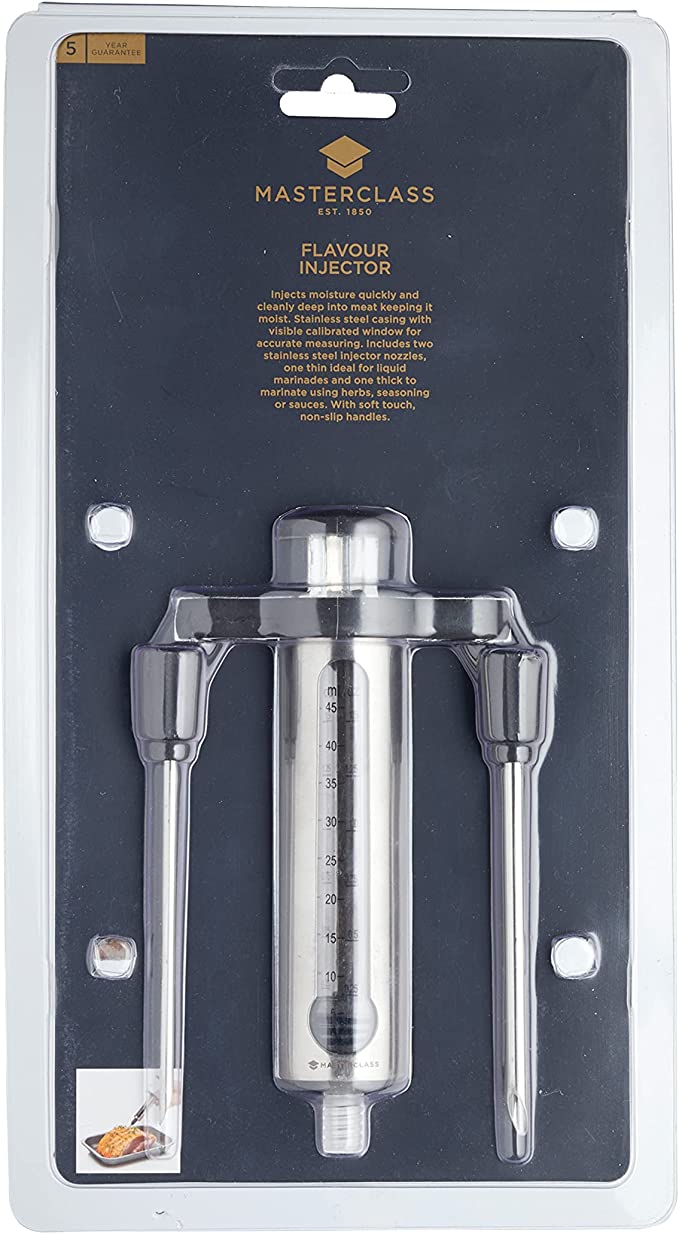 4. Cosumina Stainless Steel Cooking Seasoning Pump
It is time now for the Cosumina marinade injector, which is comparable with the BestUtensils injector in its turkey baster design. As a package, the product comes in an impressive five parts, including the baster, a cleaning brush, two needles and even a silicone brush so that you can inject your marinade inside your meat and disperse it over the top of your meat. Now that's what I call a clever added feature.
When it comes to measurements, the baster measures 10.9 inches in length and 2.4 inches in width across the silicone bulb. The cleaning brush is 9.8 inches and the thinner of the two needles measures 3 inches, whilst the thicker one measures 2.5 inches in length.
Like the BestUtensils marinade injector, this product is made from stainless steel and silicone, so it is durable and well made, however still prone to overheating, so watch out for this when using the product.
In my opinion, the best thing about the product is the genuine size difference between the two needles. Where the size difference in the previous product was somewhat minute, when Cosumina says that one needle is bigger than the other, they actually mean it. This makes this product the most versatile meat marinade injector that we have come across so far on this list, especially when you consider the fact that they even include a handy silicone marinade brush! Kudos to you Cosumina.
However, nothing is free in this world and unfortunately quality tends to come at a cost. Whilst the Cosumina marinde injector will hardly break the bank, it is the most expensive product reviewed so far, sitting in the mid-price range. Personally, I think the product is worth its slightly inflated price, however if you are on a budget, you may wish to look elsewhere for a new marinade injector.
Another issue with this product is of course it's turkey baster design. Whilst this works pretty well and means that the product can hold a large volume of liquid, it does mean that you miss out on having a clear barrel with measurement markings, in addition to the risks you run with the baster heating up and potentially coming apart. Still, the quality of this bastard is better than the BestUtensils product, so you shouldn't run into any issues with this product coming apart, but I would still be uber careful when using it.
This next product really works hard to raise the bar when it comes to marinade injection. Just from looking at the product you can tell that this is a serious piece of kit. Coming in a set of twelve pieces, you really have everything you could ever need to produce juicy meat with this product. This of course is a good thing, however it does mean that you truly have no excuses if your barbeque meat is dry with this product. The twelve separate pieces consist of: the incredible two-ounce vat, three whole injecting needles, two cleaning brushes and six spare plastic rings to help keep the needles secured in place.
Let's break all of these pieces down for a moment. Starting with the vat, I'm more than impressed that it can hold up to two ounces of liquid. This makes it a marinade injector which is worthy of marinating big cuts of meat and even whole chickens or pigs, whilst also still working well on smaller cuts of meat, due to the small needles which are included in the kit. Another great feature of the vat is the fact that most of its parts are removable, making it easier to clean, and speaking of cleaning – the injector is also dishwasher safe, which gets another big tick from me. In addition to this, I love the fact that you get six rubber bands included to secure the needles to the vat. It's small parts like this which are the most likely to break, degrade or get lost, so I'm really impressed with ESTSUD's attention to detail when it comes to including replacements.
However, the real star of the show with this injector is the selection of three needles, all of different sizes and designs. The kit offers one 10.5cm needle, which is the thin option, and two 15cm needles, both of which are thicker and one of which even includes drilled in holes to filter out bits like herbs and garlic. The variety with these three needles is impressive to say the least and really sets this product apart from its competitors.
The handle is also an interesting design feature of this injector, as it has a hoop design whereby you can fit three fingers into its hoop for optimum grip. This means that you have more control over where you are injecting your marinade, meaning less spills and tastier meat. That's what I call a win-win.
But what really makes this product all the more enticing and impressive is its super low cost. Despite its strong design and plethora of added features, the EXTSUD marinade injector is reasonably priced and perfect for those on a budget.
However (and there is always a but), there are a couple of (fairly small) issues with this product. Firstly, the scale of what you receive with this product, whilst being great in many ways, can be a pain in its own right. It means that this product requires more storage than most, and also could just be too much for the average cook. Unless you are looking to produce an absolute feast, you likely will not need three separate needles, but fair play if you feel like you would.
In addition to this, the product does have a tendency of occasionally deteriorating, which is not good. The chrome on the exterior of the vat can be known to flake off after extensive use, so watch out for this.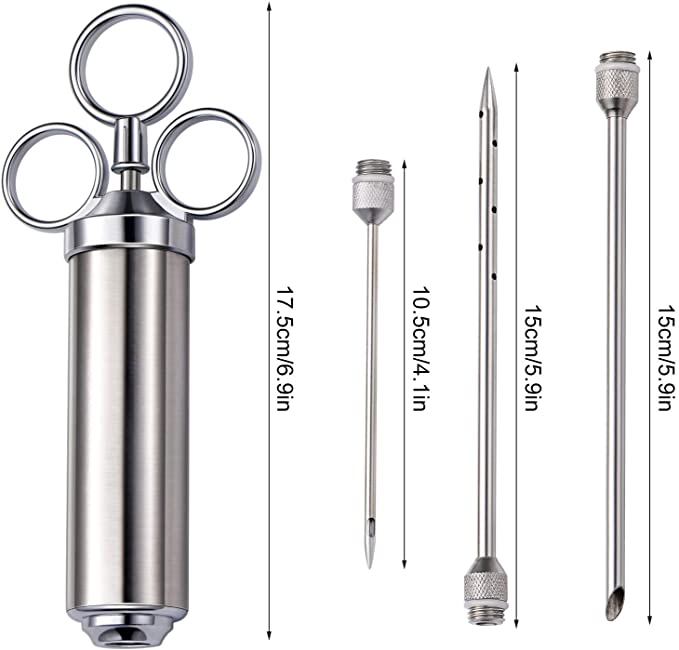 6. Ofargo 304-Stainless Steel Meat Injector Syringe with 4 Marinade Needles and Travel Case
Last up is the crème de la crème of marinade injectors, the Ofargo stainless-steel injector. It's hard to even know where to start with this impressive piece of kit. You may have thought that the EXTSUD marinade injector was jam packed with added features, but you haven't seen anything yet. Are you ready to hear just what the Ofargo kit has in store? Okay, take a deep breath in. It comes with a two-ounce capacity barrel, four needles of different sizes, six spare silicone rings to attach the needles to the barrel, three needle cleaning brushes, one barrel cleaning brush, one silicone basting brush, one travel case, one user manual and even exclusive access to an e-book barbeque recipe. Wow!
Starting with the two-ounce barrel, I'm obviously very impressed with its generous capacity for liquid, making it the perfect tool for a big barbeque job. But aside from its size, I'm also really impressed with the fact that it is made from 100% food safe stainless-steel, meaning no flaking off and degrading like the EXTSUD marinade injector. Furthermore, the plunger handle is designed to fit comfortably into a hand's grasp, optimising the user's control over the marination. The handle is also made from a wider ring than most handles on other marinade injector plungers, meaning there is less pressure applied on the finger, optimising the comfort of the user even more.
In terms of the needles, you get one tiny needle, to be used on small cuts of meat or with thin marinades, two mid-size needles, one of which has pre-drilled holes to prevent blockages from grainy marinades, and one monster needle which would be perfect for a thick marinade on a big cut of meat. What I really love about this selection is the fact that even when used in isolation each of these needles are great, but as a package they are fantastic. I love a product which allows the user their own autonomy over the use, and Ofargo certainly delivers on this level.
Essentially, everything about this product is designed to make the user's life easier. It is well designed, has multiple options for the needle size, has a huge liquid capacity, comes with three cleaning brushes of different sizes to suit your needs and even comes with extensive instructions and an e-book recipe. EXTSUD offers an insane attention to detail and it's near impossible to criticise them.
The only thing that I will say is that it is on the expensive side, but with everything that is on offer with this product, I think that the higher price is justified.
---