Written by Terry Smith
Our site is reader supported so when you click a link to Amazon we may earn an affiliate commission.
Best cordless brush cutter: cheapest and quality rated [Summer 2021 Updated Review]
This article was last updated on September 18th, 2021 at 4:20 am
Cordless brush cutter
We have collated the very best cordless brush cutters into one small post. There is considerable confusion as to what a brush cutter actually is or does. To clarify, it is not a grass trimmer or strimmer, these are designed with a nylon line to trim grass and light vegetation. A brush cutter by contrast is designed with a metal cutting attachment which will help with thick and heavy brush cutting. It is essentially a strimmer with blades.
Whilst battery technology is advancing rapidly, there are only a few extremely high quality tools to make my best cordless brush cutter list. And while there are more available, it's barely worth comparing chalk and cheese, in fact Makita lead the way at the moment and the Makita DUR365UZ Twin 18 V Li-ion Brushless Brush Cutter is easily the best cordless brush cutter at the moment.
It's been a difficult time of year for most of us. But it has given us an extremely useful bit of time in the garden. If you have a huge patch or thick brush or brambles that needs cutting back though you have a lengthy garden that doesn't do well with a power lead then it's well worth looking at brush cutters.
Buyers guide to the best cordless brush cutters
Comparison table: Best cordless brush cutter: cheapest and quality rated [Summer 2021 Updated Review]

Product
What We Think
Price

The Einhell Agillo cordless scythe delivers impressive mowing results in the home garden while offering high-comfort handling...
The cordless scythe is equipped with the Einhell brushless front motor
The cordless scythe has a universally adjustable twin-handle
The spindle lock system makes it easy to change the cutter set...
The Agillo cordless scythe is equipped with electronic speed control: The maximum output of 6...

DEWALT DCM571 54 VXR Flexvolt Brush Cutter

Fast cutting - 38cm cutting swath for fast job completion over large areas...
Includes brush cutter adapter kit & brush knife
High efficiency brushless motor with metal motor housing

Dual battery fuel gauge
Electronic current limiter for overload protection
Small protector for better view of cutting area
Reverse switch for easy removal of grass clippings stuck
Lock-off lever

The brushless motor in the Greenworks 40V Cordless Brushless Trimmer makes this product one of the most energy-efficient in its class. Not only that but it also delivers impressive power that most cordless models can't compare to. While it does feel a little heavy after using it for a while, but the extra-long battery life more than makes up for it.

High-performance 18V motor provides optimum power for cutting Tough grass and long weeds...
2-In-1 brush cutter and trimmer with both blade and trimmer head for versatility...
20cm hardened steel triarc cutting blade for tough jobs
Large 30cm line trimmer cutting path to complete tasks quickly
Soft-grip bike handle design with variable speed control for extended run time...
Next on our list of reviews for the 'Best cordless brushcutter UK' is another powerful alternative to petrol models- the Makita DUR365UZ
1. Makita DUR365UZ Twin 18 V Li-ion Brushless Brush Cutter
Specification: Warranty: 1-2 year, Battery Type: Lithium-ion, Voltage: 36 v (18v x2) , Cutting diameter: 35 cm , Speed: 3500-6500 rpm , Net weight: 4.3-5.0 kg
As the name suggests, this Makita cordless brushcutter has been fitted with a brushless engine. Brushless engines are favoured because they stay cooler while running and therefore have a much longer working life.
This bruschcutter is powered by not one, but two 18V lithium-ion batteries (sold separately) that help it to not only to produce excellent cutting power at speeds up to 6500rpm, but also to give a long running time of over two hours depending on how it used.
It has variable speed control so you can preserve battery power while doing the lighter tasks like strimmer, then turn it up to slice through those weeds and tougher garden 'enemies'.
Strangely, this brushcutter comes with a nylon grass strimmer head but the Makita star blade needed for brush cutting is again sold separately.
One thing I do prefer with the Makita over the DEWALT 54V-XR is the handles. The Makita has large 'bull horn' style handles that just feel more comfortable to use for me.
There is also a 'fuel gauge' that lets you know how your battery is doing in terms of power so you can plan your gardening session and maybe pull back a bit on the power when it's an option to preserve your battery.
This cordless brushcutter features an electric current limiter that will prevent the tool being damaged in the rare case of an overload occurring. It's a nice feature that adds to the already excellent longevity of this Makita.
Makita DUR365UZ Twin 18 V Li-ion Brushless Brush Cutter Review

Best Makita DUR365UZ Twin 18 V Li-ion Brushless Brush Cutter Features

What needs work on the Makita DUR365UZ Twin 18 V Li-ion Brushless Brush Cutter

Petrol powered performance
Batteries and brushcutting blade sold separately
Brushless electric motor
Over 2 hours running time
Very powerful and runs at 6500rpm
Large bull horn style handles
Electric current limiter for protection against overloads
Speed control settings
Reverse switch helps to clear the cutter
It's hard to find fault with the Makita DUR365UZ Twin 18 V Li-ion Brushless Brush Cutter. My best effort at picking holes is to talk about the blade and battery being sold separately, it's just almost impossible to fault.
2. DEWALT DCM571 54 VXR Flexvolt Brush Cutter
Specification: Warranty: 1 year, Battery Type: Lithium-ion, Voltage: 54 v, Cutting diameter: 38 cm, Speed: 5600 rpm, Net weight: 4.6 kg
Our first review is of this excellent product by DEWALT. The 54V XR Flexvolt cordless brushcutter is highly adaptable and can be used for a wide range of jobs thanks to the included attachments.
There is a self-feeding nylon spool for your general light strimming work, or you can fix on the brush knife and tackle those overgrown bramble bushes.
The brushless electric motor that is fitted in this cordless brushcutter is extremely powerful and can give some petrol models a run for their money. The motor being a brushless model means that it is far more durable, efficient and will last you a very long time.
On a single charge the DEWALT 54V-XR will run flat out for around 45 minutes to 1 hour. With top operating speeds of 6600 rpm, that should be more than enough time to get done what you need to.
The shaft of this cordless brushcutter is long at 1.8 metres, and when the 38cm cutting head is attached it gives you a fair bit of reach.
Thankfully, DEWALT were sensible enough to keep the 54V-XR lightweight and have distributed the 3.5Kg in a way that makes it very comfortable to use.
The build quality of this product is excellent, everything feels solid and you can tell a lot of thought has gone into the design and manufacturing of the 54V-XR and it comes with a 3 year warranty.
while this isn't exactly a cheap cordless bruschcutter, it is certainly worth the money when you consider that you are getting petrol performance without the fuel costs, fumes, maintenance, etc.
DEWALT DCM571 54 VXR Flexvolt Brush Cutter Review

Best DEWALT DCM571 54 VXR Flexvolt Brush Cutter Features

What needs work on the DEWALT DCM571 54 VXR Flexvolt Brush Cutter

Petrol powered performance without the cons
The high initial cost may put some people off
Good battery life
Can be used as a strimmer or brushcutter
Brushless motor makes this a long lasting product
1.8 metre long pole
Excellent build quality
Variable speed settings
Maintains cut speeds of up to 6600rpm under load
We continue our best cordless brushcutters reviewed list with a nice little product from up and coming brand Greenworks-
Specification: Warranty: 1 year, Battery Type: Lithium-ion, Voltage: 40 v , Cutting diameter: 40 cm , Speed: 5300 rpm, Net weight: 5.5 kg
Greenworks have provided us with another decent cordless brushcutter/strimmer to join our list of the best in the UK.
Like our two previous reviews above, the Greenworks model has a more efficient and durable brushless motor that the makers claim gives you 30% more power. I don't know if that's true as I haven't tested it but brushless motors are definitely superior to carbon brushed models.
Also like our other reviews, this is sold as a tool only and the battery and charger need to be bought separately, however the brushcutter blade is included in the price of this model unlike the Makita.
This can be used with the 2mm line head attachment to trim the edges of your lawn or you can fit the brushcutter attachment when you need something more heavy duty.
There is variable speed control through the throttle and the battery can run for just under an hour on a single charge if you use a 4ah lithium-ion unit which takes about 2 hours to recharge.
The Greenworks cordless brushcutter has been built of good materials and feels string and sturdy. Of course with that sturdiness comes a little extra weight but the use of the centrally placed auxiliary handle helps to keep the tool balanced.
Perfomance wise, it wasn't quite up to the DEWALT 54V-Xr or the Makita DUR365UZ, but it wasn't far behind and will still have you slicing through tall grass and thick weeds without any interruptions.
Greenworks Brushless Grass Trimmer 40V String Trimmer Review

Best Greenworks Brushless Grass Trimmer 40V String Trimmer Features

What needs work on the Greenworks Brushless Grass Trimmer 40V String Trimmer

Efficient Brushless motor
Can only be used with Greenworks batteries (sold seperatley)
Bruschcutter blade and strimmer head included
Speed throttle control
Strong and sturdy
Good running time of about an hour
Quick charging time
Good performer on long grass and weeds
Runs quietly and low vibration
As the table suggests, the Greenworks Brushless Grass Trimmer 40V String Trimmer is a cracking piece of kit and only beaten by the Makita and Dewalt. There's no shame in being pipped by these behemoths.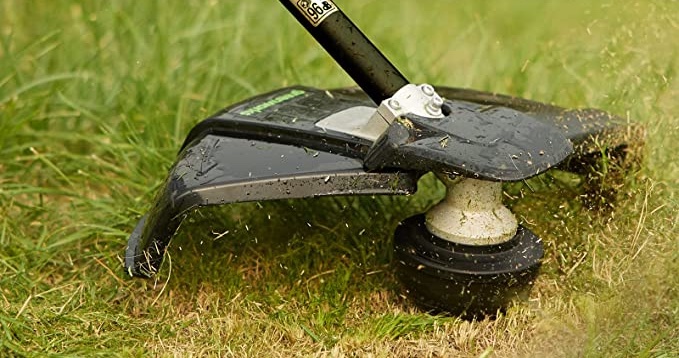 We finish of our reviews with the Ryobi OBC182B model that is another bruschcutter / strimmer dual purpose tool.
4. Ryobi OBC1820B 18V ONE+ Brush Cutter Zero Tool
Specification: Warranty: 1 year, Battery Type: Lithium-ion (using a 2.5Ah battery or higher), Voltage: 18 v , Cutting diameter: 20-30 cm , Net weight: 4.7-5.1 kg
This cordless brushcutter is part of Ryobi's ONE+ range, which means that you can use the same battery to run any of the more than 40 different products with the same battery. As usual though, the batteries are sold separately, but this would be an advantage if you already own another Ryobi product or intend to buy one.
Like the Makita DUR365UZ, the Ryobi OBC182B has large bull horn handles that work well with a good harness to give you better control and less fatigue when using the tool. The speed control can be operated from the soft grip handles while you are working.
The Ryobi cordless brushcutter comes with both a 20cm brushcutter blade, and a 30cm connection for trimming grass. The brushcutting blade is made of strong. Hardened steel and cuts heavy weeds and such more than competently.
The tool is easy enough to set up, which is a good thing because the instructions included in the box are far from great.
Another thing that the Ryobi falls short on when compared to our other reviews is battery running time. On a full charge you can expect about 30 minutes going flat out with the bruschcutter before you have to charge it again.
On the plus side, this Ryobi cordless brushcutter is probably the best balanced of all our reviews and certainly feels the most under control. It isn't lightest cordless brushcutter out there, which honour goes to the DEWALT 54V-XR, but because of the ergonomic design and balance, it feels like it weighs less than it does.
Ryobi OBC1820B 18V ONE+ Brush Cutter Zero Tool Review

Best Ryobi OBC1820B 18V ONE+ Brush Cutter [Zero Tool] Features

What needs work on the Ryobi OBC1820B 18V ONE+ Brush Cutter [Zero Tool]

Brushless electric motor
Only 30 minutes running time between charges
Can use battery from any Ryobi ONE+ product
Hardened steel 20cm brushcutting blade
30cm strimming blade
Good cutting performance
Very well balanced
Large handles
Speed control
This is a great bit of kit and the main fault is the battery only lasts half an hour or so. Actually, I don't think this is too much of a fault, it really just highlights how far ahead of the curve Makita are in battery tech and not a problem for this brush cutter at all.
5. Einhell Agillo Power X-Change Cordless Brushcutter - Solo
Specification: Warranty: 1-3 year, Battery Type: Lithium-ion, Voltage: 36 v (Two 18-volt batteries) , Cutting diameter: 30 cm , Speed: 6300 rpm, Net weight: 6.09 kg
The Einhell Agillo Power X-Change Cordless Brushcutter – Solo is probably the cheapest cordless brush cutter at the moment. While I prefer the Makita by miles I still think this is a pretty good little number and the general feedback from most clients is that it's a very powerful and nimble tool.
That last review concludes our best cordless brushcutter reviews. As you can see, the top models all have brushless electric motors that are more efficient and powerful, giving you performance as well as increased battery life.
Cordless brushcutters have come a long way in the last ten years and I'm sure with advances in technology, the prices will lower, battery life and charging times will improve even more than they already have, and they will one day be the number one type even for professionals. 
We hope that you have enjoyed this article and invite you to visit some of our other pages that we have produced for your reading pleasure.
I would have to disagree a little though. It weighs 8.5kg so that's probably a testament to how well balanced this cordless brushcutter is. It's also extremely versatile using both nylon string and a blade to cut.
If it had any weakness I would say assembly and instructions could be improved but apart from that this is a really solid bit of kit for the money. You'll have no trouble ripping through brambles at a serious pace.
Don't forget to wear a protective covering on your face and a mask wouldn't hurt either. This thing will throw up some debris due to the enormous power it's delivering. Pretty amazing for a battery brush cutter really…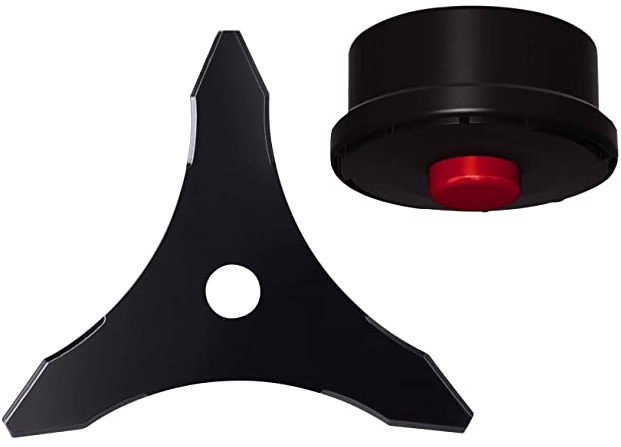 Types of brushcutter
Like with most power tools these days, brushcutters come in 3 distinct types based on their power source. Here's a quick rundown of the three with their pros and cons-
Petrol brushcutter
These are the most powerful kind you can buy and will outperform any electrical model. They tend to be used by professional gardeners for larger jobs as their power can be a bit overkill for you average gardening duties.
 Petrol brushcutters as well as petrol strimmers are also the most expensive, both in initial cost and running/maintenance costs, they are louder than electrical models (especially two stroke engine models) and of course they emit smoke and emissions.
Mains electric brushcutters
These models are much quieter than petrol brushcutters and have electric motors that provide enough power for doing all of your day to day trimming tasks and not to be confused with electric strimmers. They require little to no maintenance, and are generally the cheapest kind you can buy. 
Their biggest drawback is that they have to be connected to the main power supply so range and manoeuvrability are affected by the length of the power cord and usually require you to use extension leads.
Battery powered brush cutters
It used to be that battery powered gardening tools lacked the horsepower to get the job done and were largely seen as novelties rather than serious contenders for people's cash.
Things have changed though, thanks in no small part to advances in battery technology. Today's lithium-ion batteries can provide enough power to these brushcutters for them to perform as well or even better than mains connected electric brushcutters.
Battery life has also been greatly improved along with charging times, and this has seen the popularity of this kind of brushcutter soar of the last few years.
Having said that, these batteries do need charging after every use, so it is often a good idea to buy a secondary battery, and these tend to be a bit on the pricey side.
Cordless brush cutter reviews
This page is dedicated to reviewing the best cordless brushcutters in the UK. Below you find write ups of the top products available today. If you are more interested in petrol bruschcutters, or mains electric brushcutters, you can visit pages on this site that are more focused on them by clicking on their links.
Let's get started with the best cordless brushcutter reviews…
What is a cordless brush cutter?
Cordless Brush cutters are often confused with cordless grass strimmers/trimmers as they look very similar with a long pole attached to a cutting head. However, they are quite different when it comes to their actual use.
Garden strimmers are normally only used for just that- trimming the grass around the edges of a lawn or garden path, but brush cutters tend to be much more powerful machines that can hack clean through heavy weeds, small trees and long, heavy grass.
Bruschcutters can be fitted with different cutting attachments, making them versatile tools to have access to. They can be fitted with a strimmer head and used as such, which is where I think a lot of the confusion comes from between these two types of tool, and also be fitted with brush knives, saw blades, and more.
---