Written by Terry Smith
Our site is reader supported so when you click a link to Amazon we may earn an affiliate commission.
UK's best expandable garden hose tested for flexibility, build, and price.
This article was last updated on August 13th, 2022 at 4:20 am
Expandable hoses are useful things to have lying around. Whether it is for cleaning mud of your kid's bikes, washing down the garden path, or simply giving the lawn a good watering, these versatile garden tools can help get the job done. With the rising of automatic hose reels, coupled with these marvels, watering the garden is a doddle and has never been this organised or easy as well as hassle free, no more arduous recoiling yards of hose, to only go and do it all again the next day. I find the new expandable hose pipe I have been testing to be every bit as easy as the automatic watering systems I've been working on recently.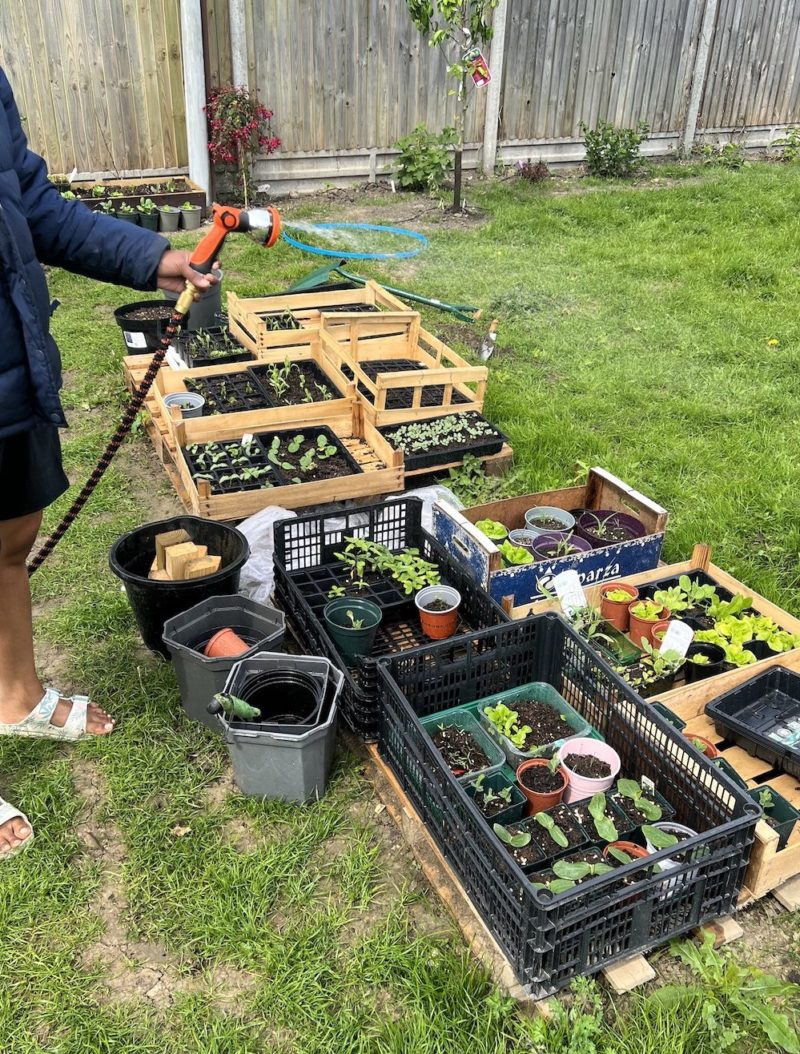 There are a few crackers to choose from that don't fray or leak – and a few lemons which are now omitted from my best expandable hose list. If you take a look at my expandable hose test you can see just how much more robust they are than a few years ago when I initially reviewed this new idea – a brilliant one that has finally been refined a bit. If you're still unsure it might be worth having a look at my expandable hose buyers guide too.
Best expandable hoses for the garden – my top picks after thoroughly testing:
Best expandable hose overall: Expandable Garden Hose, Upgraded 3-Layer Latex Hose Pipe – No kinks! [tested and proven personally] 
Best alternative: The FitLife Expandable Garden Hose Pipe or the ANSIO Garden Hose Pipe Expandable Water Hose These happen to have the best 100ft hoses in my opinion too. [tested and proven personally] This is as heavy duty and close to commercial quality as you'll get here.
Budget pick: HOMOZE 50ft Expandable Garden Water Hose – great value for money on a budget. Not as good as the top picks but close.
Well worth a look:
Flexi Hose Upgraded Expandable Garden Hose, Extra Strength, 3/4″ Solid Brass Fittings
KINGTOP Garden Hose Pipe Expandable Magic Hose
GroHoze Expandable Garden Pipe with Solid Brass Connector and 10 Pattern Nozzle – Currently out of stock on Amazon but I love this model. Hope it's back soon.
Testing expandable hoses
Since I moved home, I have a different garden setup. You may well have been aware that I had two Gardena wall mounted automatic hose reels. I have since changed for a cheaper, shorter model which was very easy to install – worth a read if you're looking for easy to use hoses. As a result, I also only needed a shorter expandable hose pipe. So I decided to test the 50ft as opposed to the 100ft options. I say I needed a shorter hose pipe. I quickly bodged up an outdoor tap nearer our seedlings section with a hose connector: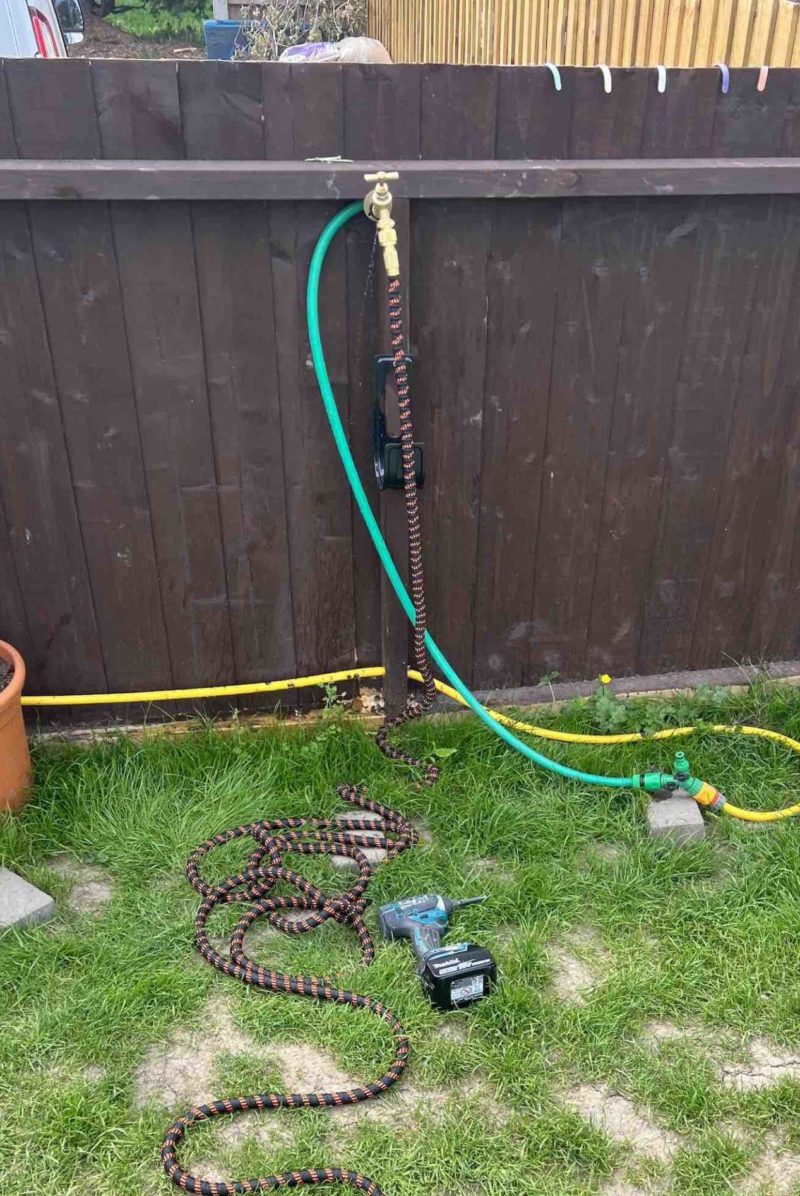 First thing you'll notice is the ease in which this all goes together. The connection end screws onto a 3/4 male standard hose thread. It's very easy to do and the only leak. had was with my bodged tap 😀 Need a better washer for that. Just to note – the decent ones like this come with a 1/2 inch reducer so just check – if you get this one then no need to buy more – it's all included.
They've developed a newer style of trigger too since I last tested and bought an expandable hose. Rather than a trigger they have a switch that varies the power of water pressure. You can easily water seedlings with this type of switch. I found it very handy: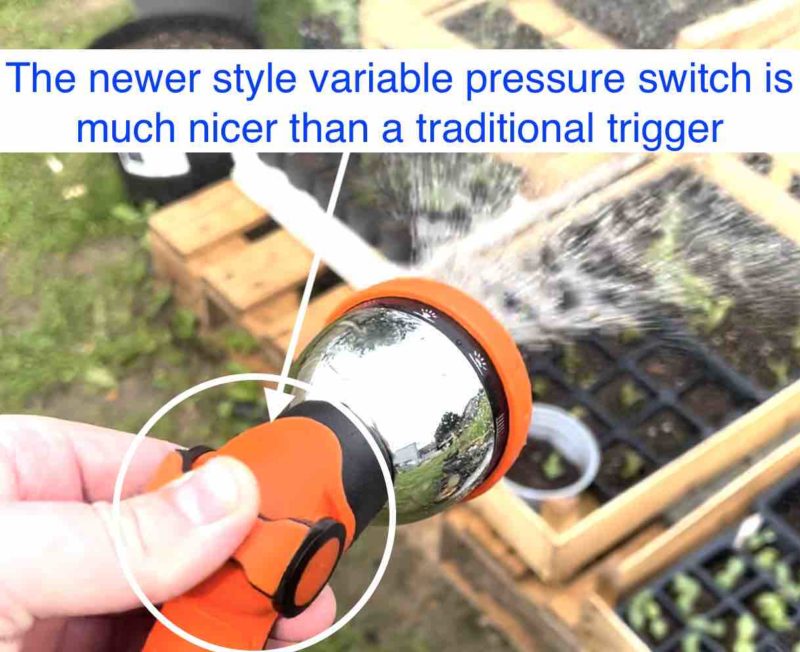 But getting to the crux of the test – the hose flexibility. I have to say when these first arrived in the UK they were pretty spindly. Since testing and R & D has happened they are now three layers of flexi PVC – this is a long way forward from where they were right at the beginning.
The 50ft I tested seemed most comfortable at about 12 metres – yeah I could have kept on pulling, but you can see how taunt this is already: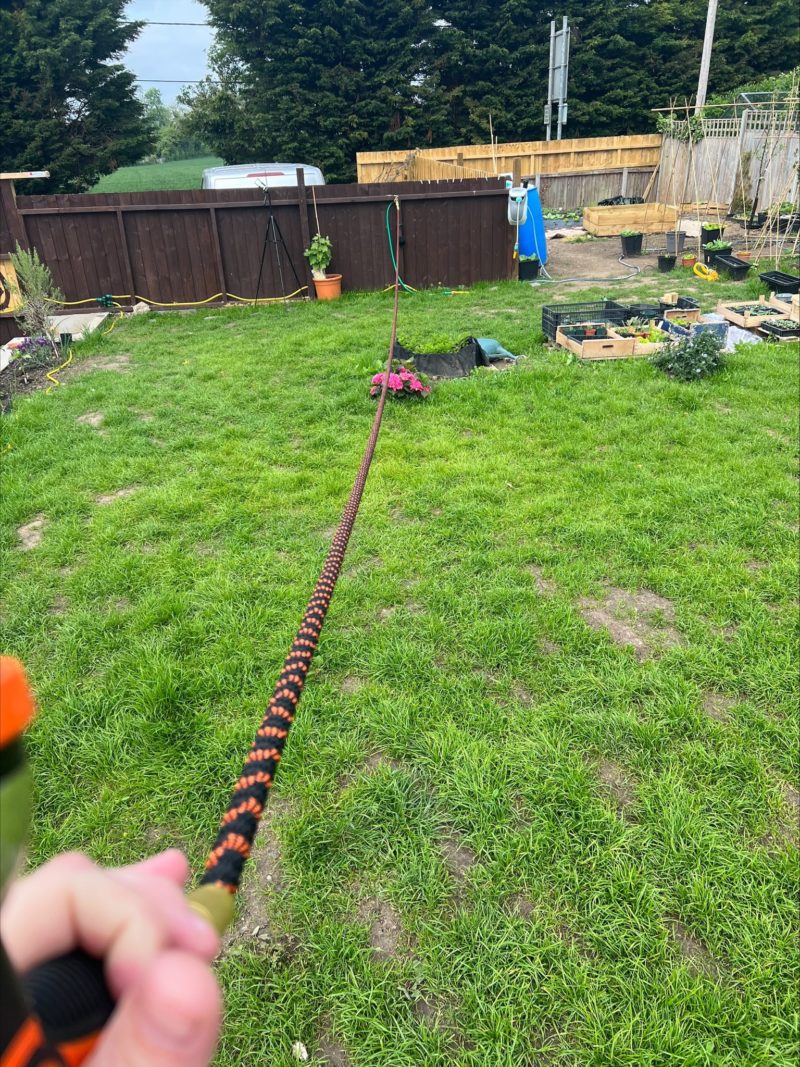 Now it could go much further – but it's just not comfortable and I have to say it would make a lot of sense if you were reaching the odd shrub because under water pressure, you can easily fire an additional 5-10 metres. But all in all it's much more comfortable to use one without the pressure. So if you're looking for 20m of hose or so, I would go with the 100ft just to keep an easy flex. It really does fold back down into a small package anyway.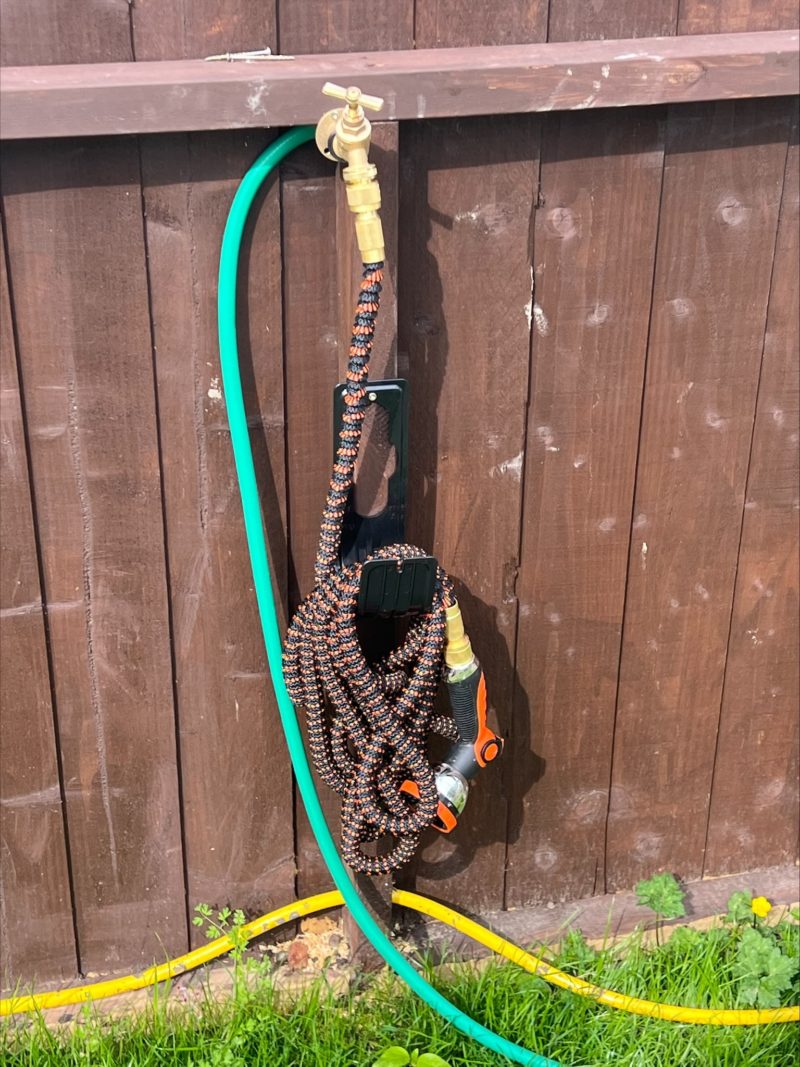 What is the best expandable hose?
If you're in the market for an expandable hose, then you'll no doubt be wondering which model is the best value for money. To help you with this, we have reviewed the best expandable hoses based on durability, weight, ease of use, manoeuvrability, quality of hose connector, price, and after sales care.
Expandable Hose Buyers Guide
A good expandable hose can be a smart buy if you're someone that gets frustrated with having to manhandle heavy rubber hoses, twisting out kinks and trying to find a good space to store them, but there are a few things to know before you make your purchasing decision.
In this short buyers guide we will highlight a few things to look for in a good expandable hose and also a few tips on how to get the most life out of them.
It's usually better to pay a little more than to end up paying twice.
There are exceptions, but as a rule of thumb, it is worth paying a bit extra for a higher quality expandable hose than trying to save a few pennies on a cheap one.
Cheaper hoses tend to burst and split easier and you might find yourself shelling out for a replacement sooner than anticipated. The spray gun tends to be lower quality too.
Go for a model with brass fittings.
Opting for a model with solid brass fittings is always a good idea. Brass fittings are far more durable than plastic ones and are less prone to leaking. With some plastic fittings, an accidental drop can crack them making them useless.
Latex inner tubes.

Double or triple layered latex inner tubes are becoming more and more common in good quality expandable hoses because they offer good flexibility with added strength when compared to other plastic materials found in cheaper models.
Handling the hose properly.
Always read the instructions that come with your hose and follow them closely. Not doing so could shorten the working life of the product or impair its functions.
 Pay close attention to where the hose is lying as some rough surfaces can cause damage to through excessive friction and the same is true for sharp corners and edges.
Many expandable hoses are not supposed to be used with hot water either as this too will damage them.
Storing an expandable hose.

When storing an expandable hose for winter, much like a normal hose reel, it is important that you fully drain it of water as any left inside the hose can freeze and cause damage to the hose itself. Storing your hose in a carry bag that keeps it from being affected by the cold too much will ensure that you will have a fully functioning garden tool to work with next time the sun arrives.
Expandable hose FAQ
Here we cover some of the frequent and common sense questions put to us. I was surprised at how many requests I've had so shall begin to build you an FAQ here over the coming months. Hope this helps 🙂
Can I join two expandable hoses together?
Question: I need an expandable hose for watering my allotment. The distance from the tap to plot is 100ft . Ideally I need a hose that extends to 150ft. Can one join two expandable hoses together?
Answer: Absolutely, All you need is a standard two way hose connector or a simple hose connector depending on what expandable hose you buy. If you chose my top pick: Expandable Garden Hose, Upgraded 3-Layer Latex Hose Pipe then you just need to buy one two way hose connector – I recommend looking for a single that's cheaper as you don't need 6! However, more often than not these expandable hoses come with both ends being the female hose connector: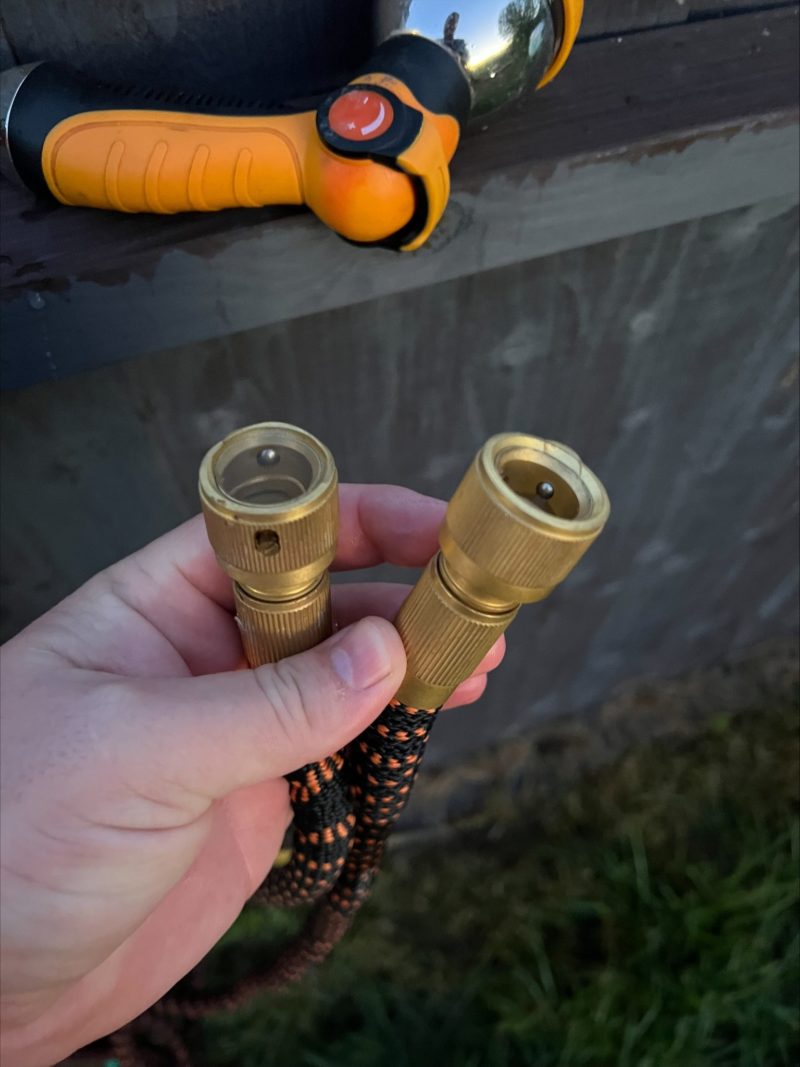 So at the joint just plug in a two way hose connector that I attached in the link and you are good to go! They simply slot in to the expandable hose, no fuss. Hope this helps.
---