Written by Terry Smith
Our site is reader supported so when you click a link to Amazon we may earn an affiliate commission.
Best expandable garden hose rated by quality and price for Summer 2021
This article was last updated on August 7th, 2021 at 6:24 am
What is the best expandable hose?
Expandable hoses are useful things to have lying around. Whether it is for cleaning mud of your kid's bikes, washing down the garden path, or simply giving the lawn a good watering, these versatile garden tools can help get the job done. With the rising of automatic hose reels, coupled with these marvels, watering the garden is a doddle and has never been this organised or easy as well as hassle free, no more arduous recoiling yards of hose, to only go and do it all again the next day.
If you're in the market for an expandable hose, then you'll no doubt be wondering which model is the best value for money. To help you with this, we have reviewed the best expandable hoses based on durability, weight, ease of use, manoeuvrability, quality of hose connector, price, and after sales care.
Comparison table: Best expandable garden hose rated by quality and price for Summer 2021

Product
What We Think
Price

LONGER USEFUL LIFE, MORE THAN 1100 USES: Triple layer latex inner tube is the HIGHEST QUALITY material on the...
STRONGEST AND DURABLE, NO MORE BURST : The toughest elastic outer fabric is MORE DENSE and RUGGED than before...
EXPANDS TO 3 TIMES IN LENGTH
SOLID METAL CONNECTORS, PREVENT ALL LEAKS AND CRACKS : Metal connector will NOT BREAK...
RISK FREE PURCHASE : We will take responsibility for all the items SOLD BY TheFitLife...

MOST ADVANCED GARDEN HOSE ON THE MARKET
NO MORE LEAKS! - Say goodbye to your frustrating old leaking hose...
SUPER EASY TO USE & STORE
FREE 8-PATTERN ROTATING HOSE NOZZLE

EXPANDABLE: The Expandable Garden Magic Hose expands up to 3 times the original length 33ft...
STRONG, TANGLE FREE AND DURABLE: Ansio's 100 feet Kink/Tangle-free Expandable Hose Pipe has an inner tube made of revolutionary...
9 SETTINGS SPRAY GUN: On top of the ON/OFF valve
EASY TO USE AND STORE: The garden pipe is easy to use as it is Kink/Tangle free...

Top Rated Expandable 100ft Hose Pipe on Amazon which you can count on it ...
Updated Magic Hose Pipe Proved to be used at least 1000-1500 Times under 0.6MPa water pressure...
Please kindly note that the hose will fully extend to 100ft when the water pressure is above 0.45 MPa;...
Super Strong Ultra Durable Expanding Hose ideal for many watering and cleaning uses...
Watering irrigation garden hose with space-saving design

GroHoze Expandable Garden Pipe with Solid Brass Connector and 10 Pattern Nozzle - 100FT(30M)

Expands up to 3 Times its Original Length
Durable & Quality Material: Flexible and durable even whilst fully extended
Solid Brass Fittings: Leak-resistant
10 Pattern Spray Gun: The hose comes with a 10 pattern spray gun making it suitable for a variety...
Extremely Strong & Ultra Durable: A Dual Inner Latex Tube Core helps balance the water pressure and prevent bursting....

☘Anti-burst & Anti-water Leakage☘: Expanding garden hose pipe is made of safety and reliability quality material on market avoid...
☘Easy to Use☘: The 50FT length is long enough to make expanding hose easy and convenient for maneuvering around...
☘8 Adjustable Spray Gun Modes☘: Including flat
☘Space Save&Light Weight☘: The flexible hose pipe can expand up to 3 times and returns to its original shape...
☘Guarantee☘: We attach great importance to the buyer's shopping experience...
1. Flexi Hose Upgraded Expandable Garden Hose, Extra Strength, 3/4
What's not to like about this expandable garden hose? For a start it's got a lifetime guarantee that it seems they are actually honouring. That's confidence in your product right there, and yes you did read that right, I know of people claiming a year after buying and still getting replacements. It's priced very well for the quality (brass hose connectors aren't cheap). Just take a look at the link provided to be sure. Using quality brass connectors brings another advantage. It significantly reduces the amount of water you have dripping and leaking around the garden.
The hose is 50ft in length and extremely lightweight and easy to adjust and move around the garden. From its contracted length of about 5.5 metres, it'll expand to a staggering 16 metres. Once finished, it'll simply retract again for easy storage.
The spray gun itself isn't bad either. Nothing overly exciting but it has 8 different settings as well as a brass connector. You'll need a 3/4 inch fitting to attach it and there's even extra washers, these guys are pretty serious about reducing the amount of leaks.
This is a great bit of kit to service awkward spots in the garden. I use these to get to the hard to reach spots, and the last ten metres of my garden by connecting it to a standard hose. This has served me pretty well and I am far more happy with the weight of this product and ease of movement than a conventional hose. It allows so much more comfort and therefore less energy required to get the watering sorted! If you're not at full strength you will super appreciate this piece of watering kit.
Overall, it's now probably the best expandable garden hose due to the customer service and after care sales based on our review criteria.
2. ANSIO Garden Hose Pipe Expandable Water Hose 100 Ft/30M
The 100ft ANSIO expandable hose is our first review in this category and it is well worth the
£52.97
price tag. Yes, there are several cheaper models out there but with products such as these it is worth paying a bit more initially as it will save you money in the long run with the increased longevity that comes with a higher manufacturing quality.
The Ansio expandable hose does feel heavier out of the box than some of its competitors (still much lighter than a standard rubber hose) but it also feels more robust than many of them which is something I found reassuring. Although I didn't get to test it, the makers say that this model is compatible with a karcher pressure washer, something to keep in mind as to really get the best out of any expandable hose, you need to have good constant pressure.
Despite the extra weight, the high quality, brass tap connectors did a great job of keeping the hose connected to the water supply with no leakage, even from a kitchen sink tap. There is also a reducer included so even if you have smaller than standard taps, you shouldn't have problems connecting this ANSIO hose.
Expansion and contraction of the hose is smooth without any annoying kinks to have to deal with, and with high water pressure you will get a good deal of range to help you reach the far corners of your garden. When fully drained the hose will contract itself into a nice manageable size and is easy to store away.
The Ansio expandable hose comes with a 9 spray setting spray gun offering you decent versatility. There are lighter sprays for watering plants and bathing the dog, and more focused jets for cleaning off harder surfaces.
The spray gun is made of plastic but it is solid and the ergonomic design makes it feel comfortable in the hand. Both the spring action of the trigger and the mechanisms for changing the spray pattern and for locking on continuous spray work well and again, the fittings do a good job of preventing leaks.
Expandable hoses are usually not without their faults but this offering from ANSIO does an excellent job at minimising them, living up to the claims of the company, and is a product I can recommend whole heartedly. Definitely my pick for best expandable garden hose in the UK.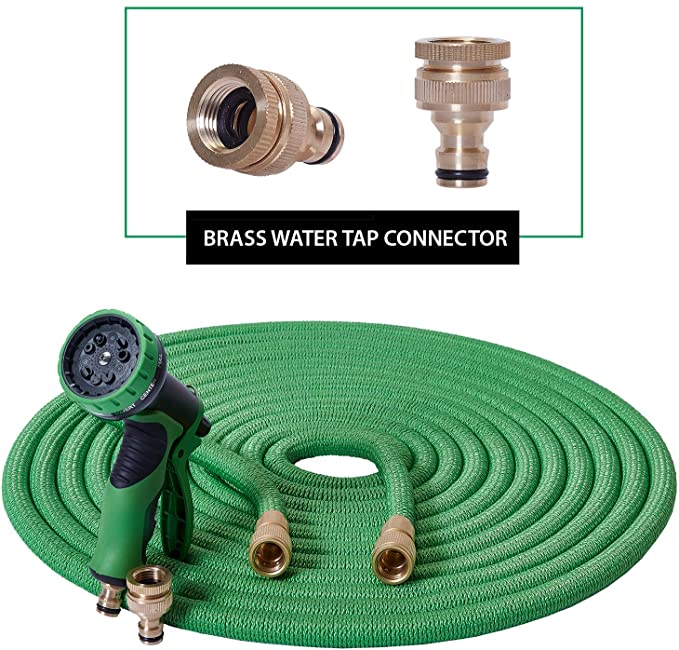 Expandable hoses haven't always had the best reputation for being durable but, thanks to newer products like this one from FitLife and other companies such as ANSIO, that is starting to change.
To ensure the toughness and longevity of this particular expandable hose, the makers have given it an inner tube made of triple layered latex which they claim will last 4 times longer than an average expandable hose. In my test for this review I didn't use it quite that many times but it certainly feels like it was manufactured to a high standard and I didn't get the impression that I had to treat it with kid gloves.
In addition to the inner tube, FitLife have given this hose an outer protective layer made from a dense, hard wearing, polyester to further increase the robustness and to provide protection from the usual suspects such as sharp brickwork corners. This polyester outer layer also does a good job of reducing friction on surfaces which, again, will provide more longevity.
The FitLife expandable hose is available in 4 sizes- 25m, 50m, 75m, and the largest is 100m. These lengths are the maximum the hose can be expanded too under high water pressure, but with average pressure you should expect less than that. Still, a 75m or 100m model should be long enough for most gardens regardless of pressure.
Like the ANSIO expandable hose, this model comes with high quality brass fittings and a spray gun. The spray gun has 8 different sprays to choose from and each work well with a good level of output pressure-wise.
When the water is switched off and the hose is drained, it shrinks back down easily and quickly and can be carried in one hand and stored pretty much anywhere (we recommend that nay expandable hose be stored out direct sunlight).
This is a high quality product at a very reasonable price and another that I would feel happy to have hung up in my garage, and the excellent customer service offered by FitLife is just the icing on the cake.
4. KINGTOP Garden Hose Pipe Expandable Magic Hose
Our next best expandable hose review is of the KINGTOP expandable magic hose, available on Amazon for just
£36.99
.
Like our two previous products featured above, this KINGTOP model has been made to a higher standard than some cheaper brands and has similar design features to the FitLife expandable hose, such as a double layer latex inner tube and a knitted fabric covering it.
At 2.2kg it is also a little heavier than many of its competitors but a lot of this weight is due to the solid brass fittings. These fittings are well made, solid and will last a lot longer than the plastic ones you find on lower quality expandable hoses. One of the reasons people buy these kinds of hoses is because they aren't supposed to get twisted up or have kinks in them, and in this respect the KINGTOP delivers. It also shrinks down very smoothly once you drain the water out.
However, the first time you use this particular model, you are advised to stretch it out by hand little by little while filling it to loosen it up, something I didn't have to do with the ANSIO or the FitLife expandable hoses. It's not a big issue, and doesn't take long, but I thought it would be worth mentioning.
With very high water pressure you should be able to fully expand the KINGTOP to the maximum length of 100ft but under normal water pressure levels you would more likely get about two thirds of that, which is still a good length.
The spray gun that comes with this hose is very similar to the ANSIO gun both in design and function. It has a selection of 9 spray patterns that should be more than enough to handle most general washing and watering tasks at home and there is a continuous spraying lock feature to make longer periods of use easier on the hands.
The plastic used in the gun's construction is strong and sturdy and I got the impression it would last a while as long as it isn't dropped or mishandled in some way. There is some soft rubber coating for comfort and ribbed sections for extra grip.
All in all, this is another quality expandable hose that won't break the bank and should last a while if treated properly. KINGTOP offer a 90 day money back satisfaction guarantee and a 1 year warranty on this product.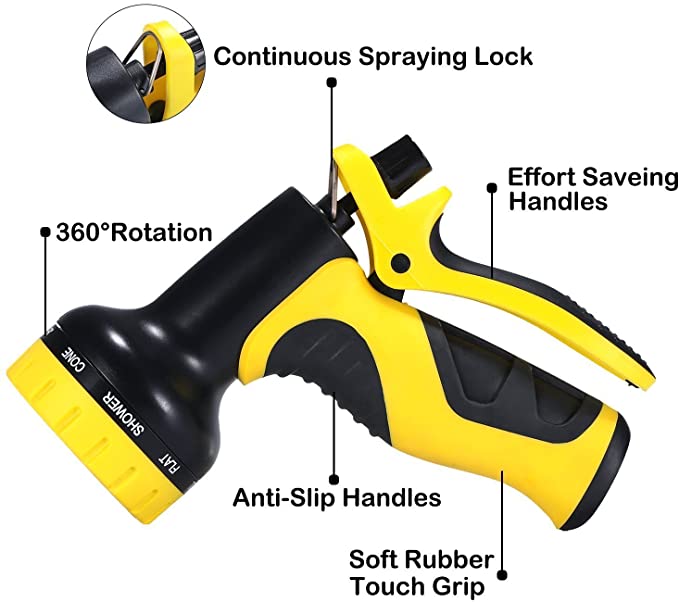 5. GroHoze Expandable Garden Pipe with Solid Brass Connector and 10 Pattern Nozzle - 100FT(30M)
The GroHoze expandable hose comes in a choice of 2 colour schemes- a black hose and yellow spray gun, or a red hose with red and black gun. It is also available in three sizes, 50m, 75m, and 100m, with the longest being the most expensive and having a price tag of
£41.99
.
This product is another one that has been made with durability in mind and sports the same kind of dual layer latex with tightly knitted, fabric coating as other quality models.
Following the trend set by pour earlier reviews, the GroHoze's fittings are all made from solid brass with aluminium clamps to prevent leakage and accidental breaking.
Even if you stood directly on these fittings, they wouldn't crack and being brass means that you don't have to worry about them rusting. I just wished that the makers would have made the connector on the bottom of the spray gun out of brass too and not out of plastic as I see this as being a possible weak link over time, though I could be wrong.
This spray gun connector, despite my reservations about the material used, is actually very solid and has a fixed in filter to help prevent water leaking out. Several of my customers have used this particular model for a while and I haven't heard a single complaint about leaking being a problem so it seems to be doing the job it was intended for.
The rest of the spray gun is made from heavy duty plastic and is operated using the thumb trigger on the back of the gun. This trigger has a good springy feel to it without being too hard to press and just above it there is a water control knob that can be turned easily for a bit of extra refinement on the water output.
With 10 different spray patterns available, this spray gun is the most versatile of all the products reviewed here on this page and changing from one setting to another is as simple as rotating the spray head. This can be done while the gun is under pressure too which is a good feature.
Like our other featured expandable hoses, the expansion and contraction of this model works as described by the makers however just like all products of this type, you should realistically only expect to get about 75% of the maximum expanded length of the hose unless you have exceptional water pressure. Please keep this in mind when ordering the right size for your needs.
6. HOMOZE 50ft Expandable Garden Water Hose
If you are looking for a good quality, budget model, look no further because HOMOZE has got you covered with their 50ft expandable garden water hose. Priced at £19.99 on Amazon at the time of writing this article, this model should be in anyone's price range.
So why is this model so much cheaper than the others we have reviewed above?
Well, for one thing, the fittings and connectors on this expandable hose are all made out of plastic instead of brass which obviously lowers the cost to the manufacturers and therefore reduces the price we have to pay as customers.
I know what you are thinking, plastic fittings…mmmm… And I have to admit that I am also usually very dubious about any gardening/watering tools that use anything other than solid brass. It has to be said, however, that these plastic fittings actually do a very good job of staying connected and not leaking too much. They work far better than I expected them too and it was a very pleasant surprise.
Another good thing about the fittings supplied with the HOMOZE expandable garden hose is that they are adjustable and therefore you can connect to 1", ¾", and ½" faucets with very little fuss and no need to go out and buy extra fittings.
Like all of the other products in this article, this hose comes with its own spray gun with eight types of spray settings. The gun is made from decent quality plastic and has a common thumb trigger design. I don't know how well it would hold up to being banged about or dropped, but that could be said for all plastic spray guns, and they are easy and cheap to replace anyway.
While not quite up to the standard of our more expensive product reviews, this hose doesn't feel anywhere near as flimsy as other products in the same price range and feels fairly robust and good value for money.
Under standard water pressure, the hose will expand to about 3 times its original size and will stretch out to somewhere near 50 feet with the right circumstances. Once drained it returns nicely to its former length and will fit nicely in the free storage bag that comes with this product.
With a 180 day money back guarantee and a 1 year warranty, this expandable hose and spray gun combo is a steal at such a low price.

Expandable Hose Buyers Guide
A good expandable hose can be a smart buy if you're someone that gets frustrated with having to manhandle heavy rubber hoses, twisting out kinks and trying to find a good space to store them, but there are a few things to know before you make your purchasing decision.
In this short buyers guide we will highlight a few things to look for in a good expandable hose and also a few tips on how to get the most life out of them.
It's usually better to pay a little more than to end up paying twice.
There are exceptions, but as a rule of thumb, it is worth paying a bit extra for a higher quality expandable hose than trying to save a few pennies on a cheap one.
Cheaper hoses tend to burst and split easier and you might find yourself shelling out for a replacement sooner than anticipated. The spray gun tends to be lower quality too.
Go for a model with brass fittings.
Opting for a model with solid brass fittings is always a good idea. Brass fittings are far more durable than plastic ones and are less prone to leaking. With some plastic fittings, an accidental drop can crack them making them useless.
Latex inner tubes.

Double or triple layered latex inner tubes are becoming more and more common in good quality expandable hoses because they offer good flexibility with added strength when compared to other plastic materials found in cheaper models.
Handling the hose properly.
Always read the instructions that come with your hose and follow them closely. Not doing so could shorten the working life of the product or impair its functions.
 Pay close attention to where the hose is lying as some rough surfaces can cause damage to through excessive friction and the same is true for sharp corners and edges.
Many expandable hoses are not supposed to be used with hot water either as this too will damage them.
Storing an expandable hose.

When storing an expandable hose for winter, much like a normal hose reel, it is important that you fully drain it of water as any left inside the hose can freeze and cause damage to the hose itself. Storing your hose in a carry bag that keeps it from being affected by the cold too much will ensure that you will have a fully functioning garden tool to work with next time the sun arrives.
---