Written by Terry Smith
Our site is reader supported so when you click a link to Amazon we may earn an affiliate commission.
The best grill press
This article was last updated on August 7th, 2021 at 8:24 am
The best grill press available online
Your kitchen collection of accessories for a grill is never complete without a grill press. For those who are unaware, a grill press is usually a rounded or rectangular flat weight, mostly made of cast iron. The purpose of a grill press is to keep food items flat as it gets cooked so that the heat is distributed evenly. The heavy metal press makes sure that the food is evenly cooked on the grill. It is also designed to prevent bacon and thin strips of meat from curling up while they are being cooked. Some grill presses have small raised strips on its underside to make grill marks to the meat that is being prepared. Grill presses are also known as bacon presses or steak weights.
Comparison table: The best grill press

Product
What We Think
Price

VonShef Black Pre-Seasoned Cast Iron Flat Meat Grill Press 8" x 5"

Traditional cast iron construction
Pre-seasoned with natural oils
Tenderises meat and removes unwanted fat
Large surface area reduces cooking time
Manufacturer 2 Year Warranty Included

JD Europe Cast Iron Grill/Bacon Press Rectangular Shape 0.9 kg weight

Put the Bacon Press on top of the bacon strips and leave it there while the bacon is cooking....
Bacon Presses can also be used: to flatten grilled sandwiches
On the outdoor grill Use a bacon press on your outdoor barbecue grill to quick-cook meats on both sides...
Wooden handle stays cool to the touch.
Use & Care

Steak weight
Helps prevent meat curling
Reduces cooking time
Material: Cast iron
Wood handle stays cool

Measures: 3.5" x 6.75" x 4" / 9cm x 17cm x 10cm
Bacon can curl, making it hard to cook evenly
Equipped with stay cool wood handle
To speed up the process
Hand wash, rinse and dry

Lodge 17.15 x 11.43 cm / 6.75 x 4.5 inch Pre-Seasoned Cast Iron Rectangular Grill Press

Use on the hob or grill to squeeze unwanted fats from pork chops...
Flattens bacon and ham
Seals sandwiches/toasties so that essential heat is unable to escape
Reduces overall cooking time
Most effective when used in combination with Lodge's range of cast iron griddles/grill pans...
Now, let us take a look at some of the best grill presses that are available online. With the information that we provide, you would be able to make an informed choice based on your requirements and budget.
1. Cast iron grill/bacon press from JD Europe Ltd
The first grill press that we are going to take a look at is the cast iron grill/bacon press that is in a rectangular shape. Made of cast iron which is quite common, this grill press is rectangular in shape. Measuring 20 x 10 x 7 cm, this rectangular grill press weighs just under a kilo and is quite simple to use.  The cast iron build adds some to the weight of the product.This simple but relatively heavy grill press would ensure that the bacon in your grill becomes flat with very little fuss. Further, it will also help you in getting the bacon crispier. It offers excellent quality output that matches the restaurant standards. You can use this to press your favourite burger on the barbecue grill too.
Now, let us take a look at some of the features of this grill press:
Helps to reduce fat in the bacon: This grill press when placed on top of the bacon strips that are being cooked and left for a while causes the cooked bacon to come out as straight strips, perfectly flat, and significantly decreases the quantity of fat that can splatter from the bacon.
Multi-purpose use: This grill press can also be used to flatten French toast, hamburger patties, sausage patties, grilled sandwiches, and quesadillas. It can be used outdoors as well on your outdoor barbecue grill to quickly cook fish and meats on both sides simultaneously. All you have to do is heat up the grill press on the grill a few minutes before you start cooking and then place the hot press on top of the meat as soon as you begin cooking.
Use and maintenance: This grill press has to be seasoned before the very first use and sporadically after that to ensure smooth operation. Apply a drop of vegetable oil on the surface and place the grill press in the frying pan over moderate heat for about twenty minutes. Do not forget to wipe away any excess oil. Once this is done, hand-wash the grill press in hot water and dry thoroughly. Make sure that moisture is not retained on it.
The wooden handle on the press insulates most of the heat conducted through the grill and making it less hot to touch.
2. VonShef Black Pre-Seasoned grill press
If you are contemplating to purchase a pre-seasoned grill press, then the VonShef black pre-seasoned cast iron flat meat grill press is for you. It has a sturdy cast iron build as with most other grill presses, but it comes seasoned with natural oils. However, the large surface area ensures that heat is spread to a wider region thus reducing the time to cook the meat.Let us take a look at the key features of VonShef black pre-seasoned cast iron flat meat grill press:
Build and design: This grill press is made of cast iron for maximum thermal conduction and designed to accentuate the area of heat exposure by maximising the contact area. The result is faster cooking due to the meat being heated from both sides, the grill as well as the press. You stand to get crispier and tastier meat, steak or burger.
Non-stick surface: Being pre-treated with natural oils, it offers a total non-stick experience. No more worries of something getting stuck to your grill press.
Wired handle: The wired handle is expected to prevent overheating throughout the cooking duration.
Maintenance: The handle folds flat on one side adding to the portability of this gadget. This grill press is easy to both use as well as clean. Just make sure that you apply oils regularly and do not let it air-dry.
3. Lodge pre-seasoned cast iron rectangular grill press
For those looking to buy a small grill press, the Lodge pre-seasoned cast iron rectangular grill press would be a good choice. Measuring 17.1 x 11.4 x 8.9 cm, this rectangular grill press weighs just 454 grams. This solid grill press from a company that has a heritage of making such accessories would be a good addition to your barbecue grill accessory kit. What can Lodge offer you through their pre-seasoned grill press?
Healthy use: This grill press can be used on the hob or grill to squeeze out the excess fats from pork chops, burger steaks, chicken breasts, and sea foods.
Precise flattening: With even distribution of weight and heat, this grill press would flatten ham and bacon evenly, thereby preventing their edges from curling up and being cooked less appropriately. When it comes to grilling sandwiches or toasties, it ensures that the heat is sealed so that thermal energy does not escape.
Efficient Cooking: using the Lodge 17.15 x 11.43 cm / 6.75 x 4.5 inch pre-seasoned cast iron rectangular grill press significantly reduces the overall cooking time by maximising contact with the cooking surface and hence aiding in better heat conduction throughout.
Easy to maintain: This grill press is easy to clean. It can be hand washed, detergent is not a necessity. Dry the grill press immediately before adding oil.
Durable: We are looking at something that is built to stand the test of time, provided it is being handled in the way it is supposed to be.
For the dimensions it possesses, the Lodge pre-seasoned cast iron rectangular grill press is quite heavy that further aids in the pressing process. It can be a worthy addition to your kitchen.
4. The cast iron grill press from GK
The grill press from GK measures 24.5 x 12.3 x 8 cm and weighs about a kilo. This is in fact, a trifle heavier than a kilo. Looking at the gadget, the first thing that would strike you is the wooden handle. Though the body assembly is made of the regular cast iron, the handle is made of birch wood that is more likely to insulate the heat and prevent burns. Look into the features that are offered by this meat press from GK below:
Build quality: Made from cast iron and weighing 1.04 kg this rectangular press is ideal for steak meat. It prevents curling up of meat and ensures an even spread of heat. The result is quick cooking and flattened output that is crispier.
Simple design: There is nothing too sophisticated about the cast iron bacon/steak/meat press from GK. It is simple to operate and equally easy to clean. The surface is designed to offer maximum contact with the meat and spread the heat evenly across it.
Ready to use: Since this cast iron bacon/steak/meat press comes pre-seasoned with natural oils, it can be used right out of the box after washing. The pre-seasoning also ensures that the cast iron material does not rust while it is on the shelf.
If you are looking for a simple grill press that does the job of a professional gadget, think no beyond the cast iron bacon/steak/meat press.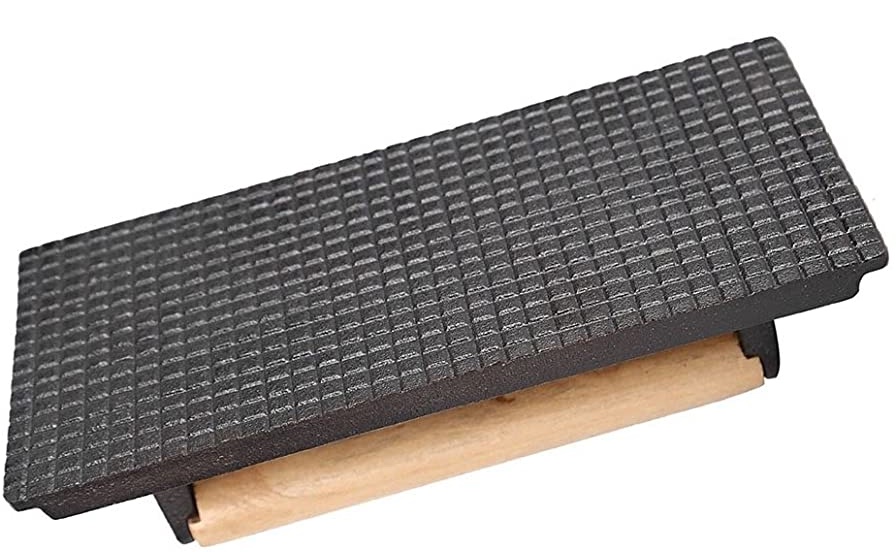 5. TableCraft grill press or steak weight
The next one is a steak weight or grill press that can be used to keep the steaks or meat strands straight while cooking. Steaks or bacons tend to curl up once they are exposed to heat which makes it difficult to cook it through. Let us see the features one by one.
Heavy: The grill press from TableCraft weighs 1.06 kilograms and this is enough to keep the meat piece flat. This also removes some fat from the piece.
Quality: The grill press is made of cast iron which is durable. The handle is wooden and is made of birch wood. Even when the press is hot the handle will help you to hold the press properly.
Size: The measurements of this grill press are 21.5 x 7.5 x 11.5 centimetre.
Maintenance: Since cast iron tends to rust the press is pre-seasoned using vegetable oil. You also should keep oiling the grill press with oil to keep it rust free. Once you wash the press using water you should dry it immediately. Leaving it out for drying can also cause the rusting.
Ready to use out of the box: As I mentioned above the grill press comes pre-seasoned, hence you can use it out of the box. But after using to press the meat, the steak weight should be washed, dried, and seasoned with oil.
6. Norpro Bacon / Grill press
The last one on this list is a bacon press from Norpro. They are pioneers in manufacturing kitchen and barbecue tools for some decades now. You can expect the quality and durability from their product. The bottom part of the press is a rectangle in shape and the handle is made of wood. The press measures 9 x 17 x 10 centimetres. While using cast iron you should be careful not to leave the press in the water for a long time. After washing the press you should dry it as soon as possible. Let me give you one tip for using the bacon press effectively. If you pre-heat the press prior to the cooking process the cooking will be done faster.Above are some of the best and relevant grill presses I found online while I did the search. There are grill presses available for every use. Each one is different in shape, weight, use, and features. Before ordering the product you will obviously check for the price. So, list out the price along with the features of the press which will help you to make the decision. If you want to use the grill press even in a frying pan, the press should be smaller in size. Hope this helped you in making the right decision.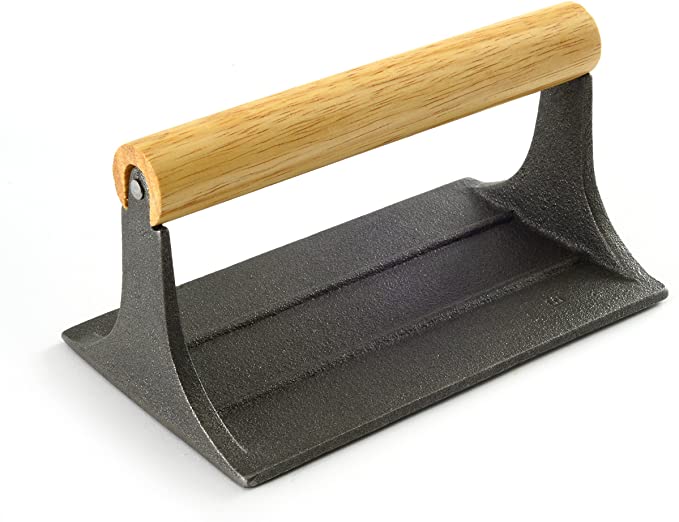 ---