Best cordless pressure washer rated for price and power [Summer 2021]
This article was last updated on August 7th, 2021 at 6:33 am
Did you know you can now buy a cordless pressure washer that can work from a bucket of water? You can now use a pressure washer anywhere, and with complete freedom. They are not far off the power of little portable pressure washers that are mains powered. I cleaned my conservatory and gutters with a WORX Cordless Pressure Cleaner and it was enough to inspire this review.
We have taken a look at the best cordless pressure washers available on the market at the moment for both performance and power. The range is limited due to battery technology but for lighter tasks like cleaning the car or conservatory, the freedom of use you get from a cordless pressure washer is worth its weight in gold. If you need freedom and huge power, checkout the petrol pressure washers review. That's far more suitable.
Some models even come with a tank that allow you to be free of any hose too! So please find our review of the best cordless pressure washer range and a table of contents to help navigation.
Comparison table: Best cordless pressure washer rated for price and power [Summer 2021]

Product
What We Think
Price

WORX WG630E Cordless Brushless Hydroshot Portable Pressure Cleaner

Brushless motor delivers more power and extended run time
High flow rate provides double cleaning efficiency
High mobility cordless pressure washer can be used anywhere
Draw fresh water from any remote source
5-in-1 pressure nozzle provides versatile for different jobs

For cleaning around the house or on the go; cordless
Simple assembly and transport; thanks to the extendable grip
Clean up to three muddy bicycles with the integrated 15 litre water tank...
Power for All: One battery pack and one charger for the entire Home and Garden range of tools...
Items included: Fontus, 1 x 2.5 Ah battery PBA 18 V

Interchangeable 18V battery - the khb 5 battery hand held cleaner offers you complete flexibility without the need for...
Cordless, convenient and portable
Includes a Multi-jet and dirt blaster lance
No set up time
Real time battery management

Greenworks 5104507 GDC40 DC Portable Cordless Pressure Washer

EASY TO START - insert 40V battery & get started: with this high pressure cleaner you can carry out...
POWERFUL - our mobile high-pressure cleaner with a 20L water tank
FLEXIBLE - the handy helper with 70bar pressure not only supports you in cleaning your bicycle & your grill...
ACCESSORIES SET - the pressure washer comes with 1 high pressure cleaner 1 high pressure gun 1 fixed jet...
ONE BATTERY FOR ALL
Cordless pressure washer
On this wonderful site of ours you are only a click away from reading reviews of the best pressure washers in the UK. It doesn't matter if you are looking for a specific type like the best petrol pressure washers, or best electric pressure washer reviews, we here at Garden Tool Box have got you covered.
This here is one such page and it is dedicated to providing you with the best cordless pressure washer reviews in the UK.
Is a cordless pressure washer for you? Well if you're looking for more power I would checkout the petrol pressure washer section. But for home use this is a great little bit of kit. Alternatively, if you just don't like petrol I would look at the best electric pressure washer that uses mains power.
Best cordless pressure washer
1. WORX WG630E Cordless Brushless Hydroshot Portable Pressure Cleaner
The WORX WG630E powershot truly is a cordless pressure washer. There is no separate water tank or large battery pack to carry around. Instead, the small battery pack slips straight into the spray gun itself, just like the hose.
The hose can then be placed in any water source, be it a river, bucket, or swimming pool and off you go.
This cordless pressure washer is powered by a 20V 4.0Ah 'powershare' battery, so if you already own another WORX product, you'll be able to use the one from that.
This particular version of the Hydroshot has been fitted with a brushless motor giving it more power and better efficiency, so it will make your battery last longer.
Brushless motors also tend to last longer than standard electric motors.
While this is the most powerful cordless pressure washer out there, in the high power mode setting it produces 20 bar which is enough to clean the dirt of bikes and light jobs like that. Let's be honest, you don't really buy a cordless pressure washer for power, you buy one because you need the freedom of movement and convenience it gives you.
At only 2.4 kilograms, carrying around the WORX WG630E is a piece of cake and the battery will run out before your arms do. The lack of weight also makes it easy to lift or lower the washer into hard to get areas like into gutters or under wheel arches.
The WG630E cordless pressure washer comes with a 5 in one nozzle, so you can choose what kind of spray you want by simply twisting the nozzle head. The lightest setting is a mist that would be great for bathing the dog (not to mention blasting out the dog kennel), and the highest powered setting is good for blasting dirt off cars without risking damaging the paint job.
Like most WORX products the build quality of this cordless pressure washer is pretty good. I mean, if you are expecting something to match up to your Makita corded tools, you'll be disappointed, but the WORX WG630E is a solid bit of kit for something so light.
WORX WG630E Cordless Brushless Hydroshot Portable Pressure Cleaner Review

Best WORX WG630E Cordless Brushless Hydroshot Portable Pressure Cleaner Features

What needs work on the WORX WG630E Cordless Brushless Hydroshot Portable Pressure Cleaner

Very lightweight and versatile
Not enough power to tackle harder cleaning tasks
Brushless motor for increased efficiency
5 hour battery charging time
Long battery life
Good for light home cleaning tasks
Very easy to set up and use
Can be used with any water source
No large unit to carry around
200 litres per hour flow rate
5 in one spray nozzle
Good build quality
Won't damage your paint work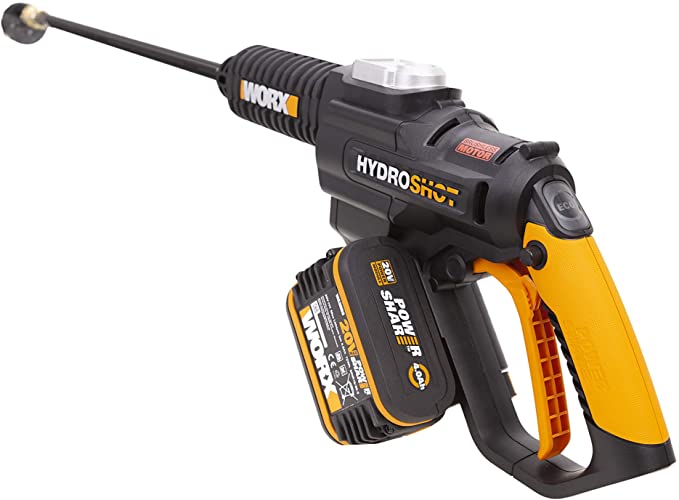 Next up is the model you should opt for if you want you cordless pressure washer to offer a lot more grunt than the WORX Hydroshot…
2. Greenworks 5104507 GDC40 DC Portable Cordless Pressure Washer
The GDC40 model from Greenworks is one of, if not the most powerful cordless pressure washers out there. We actually rated this most powerful cordless pressure washer in another review.
It is powered by a larger than usual 40V lithium ion battery that helps this machine produce up to 70 bar of pressure. When you combine that with a 300 litre per hour flow rate, you have a cordless pressure washer that is capable of getting medium level cleaning jobs done.
The machine consists of the main gun and 6 metre high pressure hose, and a 20 litre water tank/bucket that you carry to your required working area.
Please note, that with the high water flow rate, you'll have to make a few trips to refill the tank if you're cleaning something large.
The tank measures 37 x 46.5 x 43.5 cm and all together with the gun and hose the weight is 7.9kg. When it comes to storage, the other parts of the pressure washer fit nicely into the water tank which is a good space saving feature.
Word of warning, if you want to get the most out of this cordless pressure washer, you need to use a 4ah battery. Using a 2Ah just won't cut it, and you'll be disappointed at the pressure output. With 4AH fitted and fully charged, you'll be surprised how much cleaning power this has.
The Greenworks GDC40 cordless pressure washer is built well and the plastic parts all feel robust enough to withstand a bump or two.
One thing I don't understand, is why Greenworks didn't put wheels on the water tank, as a full tank can be quite heavy. I'm a fairly fit guy and found it manageable but if you suffer from back problems you'd be better off with the WORX WG650E.
Greenworks 5104507 GDC40 DC Portable Cordless Pressure Washer Review

Best Greenworks 5104507 GDC40 DC Portable Cordless Pressure Washer Features

What needs work on the Greenworks 5104507 GDC40 DC Portable Cordless Pressure Washer

Powerful 70 bar of pressure
Expensive battery and charger not included
Good cleaning performance for a cordless model
Needs the more powerful and expensive 4Ah batteries to work properly
300 litres per hour water flow
No wheels on the water tank
20 litre water tank
Packs away neatly for storage
Well-built and robust
6 metre high pressure hose
Water filter included
Finishing off our best cordless pressure washer reviews is a strong, robust and durable product from well-known and trusted brand Bosch…
At first glance you might be forgiven for thinking that at just under 230 quid, this Bosch Cordless pressure washer is much more expensive than our other reviews. The thing to keep in mind though is that unlike the WORX and Greenworks products, this one comes complete with the battery and charger, so it actually works out competitively priced. It also won our best build quality portable pressure washer review in another post. You can pop this in the back of the car and clean the dogs paws on the lowest setting which cuts down a lot on mess.
The Bosch cordless pressure washer also comes with a smart brush head attachment that works wonders on windows. It has a nice design where the water flows out of the centre of the brush head and straight onto the surface you want to clean.
At 15 bar of pressure, it can't compete with the Greenworks GDC40 in the power stakes, but it does a good job of lighter stuff like washing down gardening equipment and furniture.
The water tank of this Bosch model can hold 15 litres, and thankfully Bosch were wise enough to put a good set of plastic wheels on it, which really helps with those refill trips.
The wheels are made of plastic but are high quality and strong just like the rest of this durable cordless pressure washer.
Charge time for the battery is around 100-110 minutes and a full charge will see you cleaning away for about 50-60 minutes, which is actually very good.
There are 3 pressure settings and the spray gun has 4 spray patterns you can choose from. There is the most powerful pencil jet which you would use for things like dried up mud clumps, a 15 degree fan jet for getting into tighter areas, a 50 degree wide spray that is better for cleaning larger things like a bicycle or garage door, and a shower spray pattern that is perfect for giving your pets a bath.
My biggest gripe with this Bosch cordless pressure washer is that the hose is only 4 metres long. That means you have to move the water tank around with you even if you are not going that far. It's not a huge problem because, as mentioned, the tank has wheels to get around on, but I still found it a little annoying.
Bosch Fontus Cordless Outdoor Cleaner Review

Best Bosch Fontus Cordless Outdoor Cleaner Features

What needs work on the Bosch Fontus Cordless Outdoor Cleaner

Solidly built and durable
Short 4 metre hose
Comes with battery and charger included
Only suitable for light tasks
Smart brush head attachment
No wheels and has to be carried
15 lite water tank
15 bar of pressure and 3 pressure settings
1 hour working time
105 minute charging time
Water tank has good wheels fitted
4 spray patterns
4. Kärcher KHB 5 Multi Jet Battery Handheld Cleaner, 18 V
I'm going to save you a lot of time here, and money. If you want something for stripping muck off decking or patio cleaning then move along. Cordless pressure washers aren't and probably never will be there for that job. On the other hand, do you want something portable to blast out gutters, clean off the bike, or give the car a going over? That's exactly what this product is designed for and does it well.
I don't really like the way Karcher advertise this model to remove 'stubborn dirt'. It kind of sets themselves up for a fall because that's so open to interpretation and the whole reason this thing isn't being rated 4.5 to 5 stars every time. It half implies you can run along and blast your decking, which you can but the battery won't get you far.
Basically, if people knew this was a convenience tool rather than a deck cleaning ripper, the feedback would be far more positive. And with that said, if you buy it for cleaning gutters, conservatories, bikes, cars, caravans, and so on you will be absolutely delighted with the power and performance of this cordless pressure washer. I love it for it's intended purpose! You can't expect a battery powered pressure washer to perform in anyway like a mains or petrol pressure washer. It's all about convenience!
You get tons of pressure from this Karcher cordless. 24 bar to be precise. That's only 6 less bar than a little portable pressure washer that still requires mains power. That is quite incredible really considering we are talking about using a very safe 18 volts compared to mains power. On the upside too though, you'll just about get around a big car on one charge. You have a handy battery gauge that'll tell you exactly how long that's left though.
It's a little weighty but nothing too over powering. It'll pull up grime off of alloys well enough. You'll need to purchase any hose attachments separately. It comes with a multi-jet and dirt blast lance but car washer head. Setup is super easy, make sure you have a quality hose connector and your hosepipe then away you go. There's two ways, running off a tap, or run out of a bucket of water. It's not self priming so it'll need a bit of water feed to get it going. From a performance perspective it's a great item.
Cordless pressure washer buyer guide
Cordless pressure washers are the least powerful of the main 3 types and are not really the thing to be taking to industrial sized cleaning jobs or even trying to shift very stubborn stains, grease, and grime.
That being said, they are improving all the time with new innovations in battery technology and I can see a day in the not too distant future when they will be competing with the top corded electric pressure washers. Even at the present time there are one or two cordless models that are not that far behind in performance when compared with smaller corded machines.
What cordless models offer is freedom of movement. The lack of a power cord means that you are not restricted in range, nor do you have to stop and free up tangled or snagged wires. They are very lightweight when compared to their higher powered siblings and can be very useful for cleaning things when there isn't a tap in easy reach.
One thing to bear in mind before shelling out for a cordless pressure washer is that they run on batteries so you will have to make sure you keep it charged, or put your hand in your pocket for a spare battery.
Cordless pressure washer reviews
Here we have put together a shortlist of the 3 best cordless pressure washers in the UK and wrote an in depth review of each. We have looked at things like power, build quality, durability, battery life, more.
If reading reviews isn't your thing and you just want to get right down to the features and spec you can read the bullet points we have handily provided for you.
First up on our list was one of the most innovative cordless pressure washers to come out in a while, the Worx Hydroshot WG630 cordless pressure washer.
We hope that this short article has helped shine some light on the best cordless pressure washers in the UK at the moment. To be honest, there aren't really that many great models out there to pick from, but the four we reviewed here are in our opinion by far the best out there at the moment. I have a fifth in mine that I might include after the lockdown ends. Keep safe, and enjoy the great weather we've been experiencing so far coming into Summer!
---