Written by Terry Smith
Our site is reader supported so when you click a link to Amazon we may earn an affiliate commission.
UK's best cordless pressure washers: WORX, DEWALT, KARCHER, and NORSE rated for price and power
This article was last updated on February 2nd, 2023 at 3:01 pm
UPDATE from testing a different cordless pressure washer: I've been using cordless pressure washers for ages now (and loads has changed since the start) and finally my WORX WG630E Cordless Brushless Hydroshot has died after all these years. What an amazing cordless pressure washer it has been. So I decided to try my budget pick, the Yard Force 22Bar 20V Aquajet Cordless Pressure Cleaner (what I am currently using) and I was pretty impressed for the lighter work. I have to say they are absolutely brilliant for things like cleaning your car, your bikes, I'd even hose down my pets on the mist setting. Somehow I managed to make the conservatory leak with the petrol pressure washer so I've downgraded to this 😀 for now. And that said, they are absolutely no substitute in power for electric pressure washers, or even petrol pressure washers. I would say their real use is in the easy to clean bits and pieces with so much ease of movement, you can easily clean off your garden furniture and kids toys up the garden drawing water from a bucket as opposed to mains water. Here's me testing the Yard Force cordless pressure washer: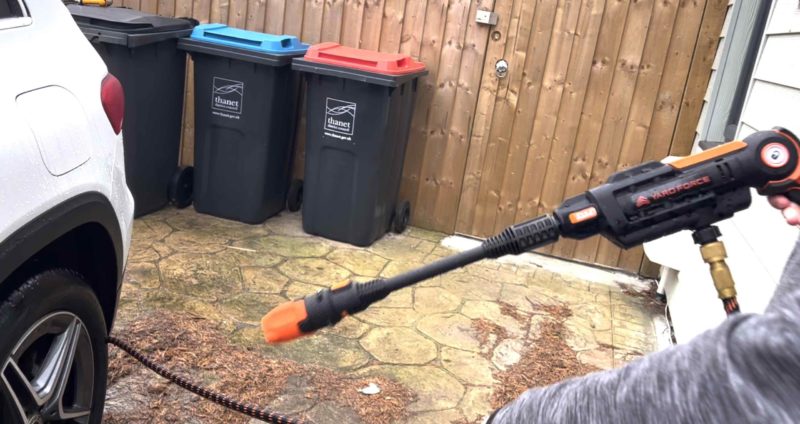 Original review with some amendments from testing:
Did you know you can now buy a cordless pressure washer that can work from a bucket of water? You can now use a pressure washer anywhere, and with complete freedom. They are not far off the power of little portable pressure washers that are mains powered. I cleaned my conservatory and gutters with a WORX Cordless Pressure Cleaner and it was enough to inspire this review. Since then though the Dewalt came along with a whopping 34 bar and blew the competition away (no pun intended :D), but somehow the DEWALT fan boys still wanted more power. Such is the expectation of the professional brand.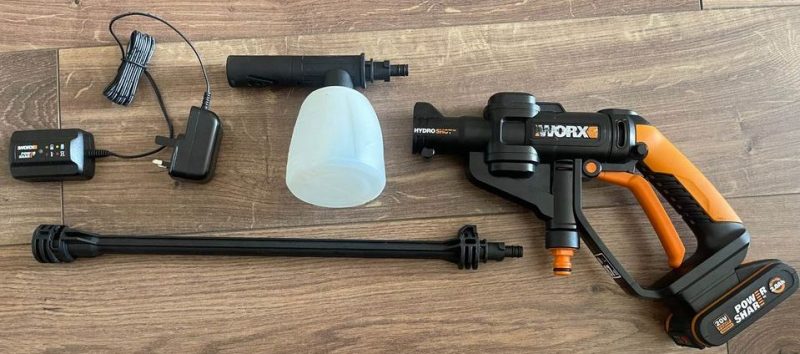 Best cordless pressure washer in the UK – my top picks after testing edited:
Best cordless pressure washer: WORX WG630E Cordless Brushless Hydroshot Portable Pressure Cleaner [personally tested for 3 years until it finally gave in – what a brilliant washer]
Alternative pick: Yard Force 22Bar 20V Aquajet Cordless Pressure Cleaner with 2.5Ah Lithium-Ion Battery, Charger and Accessories – really packs a punch [personally tested – what I currently use and it's proving good so far]
Best value cordless pressure washer: Yard Force 22Bar 20V Aquajet Cordless Pressure Cleaner with 2.5Ah Lithium-Ion Battery, Charger and Accessories – the whole kit for under £150. What a steal and if you don't like that look at the Norse. [currently unavailable but a great alternative to the Yard Force for value]
Most powerful cordless pressure washer: DEWALT DCPW550B Power Cleaner, Yellow/Black (550 PSI) 34 BAR!! – massive power for a cordless.[Finally got a go with this – it blows the others away but still don't expect to be stripping paint off metal or dirt out of concrete and the price point is a difficult buy for me]
Best cordless pressure washer with a tank: Bosch Fontus Cordless Outdoor Cleaner – ideal to load into the back of the car and clean off bits and pieces after a walk. I prefer this over the MAKITA on price!
Cordless pressure washer buyer guide
Cordless pressure washers are the least powerful of the main 3 types and are not really the thing to be taking to industrial sized cleaning jobs or even trying to shift very stubborn stains, grease, and grime.
That being said, they are improving all the time with new innovations in battery technology and I can see a day in the not too distant future when they will be competing with the top corded electric pressure washers. Even at the present time there are one or two cordless models that are not that far behind in performance when compared with smaller corded machines.
What cordless models offer is freedom of movement. The lack of a power cord means that you are not restricted in range, nor do you have to stop and free up tangled or snagged wires. They are very lightweight when compared to their higher powered siblings and can be very useful for cleaning things when there isn't a tap in easy reach.
One thing to bear in mind before shelling out for a cordless pressure washer is that they run on batteries so you will have to make sure you keep it charged, or put your hand in your pocket for a spare battery. So let's take a look at the main factors in detail:
Power – How many BAR?
Cordless pressure washers range from 15 Bar – the Bosch all the way up to 34 Bar (500 PSI) with the DEWALT. In the middle of the pack you have the Norse, Yard Force, and the best pick still in my opinion, the WORX WG630E Cordless Brushless Hydroshot Portable Pressure Cleaner. The Norse is putting out a hefty 25 BAR which at the money makes it a cracker and along the same lines as the Yard force. It's actually more powerful than the Kärcher. I would say based on price I prefer the Norse as a result.
Price
The best priced cordless pressure washer is the Yard Force at under a hundred quid at the moment making it a really nice buy. The Norse is a penny under £100 and given the extra BAR as we've mentioned, may make more sense to you – that 3 bar is the equivalent of 15% more power remember on cordless pressure washers.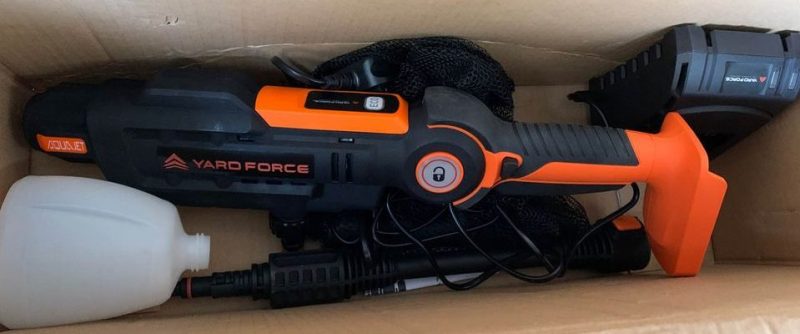 Right up the top end of the scale you've got the bruiser 34 BAR DEWALT but that's proper money at around twice the price of the WORX WG630E Cordless Brushless Hydroshot. If you have the batteries and the money it's a no brainer, just don't expect to peel paint off walls with a cordless pressure washer….
Build quality
Build quality is an interesting one. Obviously you can't ignore the professional standard of the DEWALT but it's expensive. For build quality I am favouring the Norse and the WORX at the moment along with the Yard Force.
The main reason is the lack of breakdowns and the batteries seem to be holding up well. The Bosch just keeps on going – but that's hardly a surprise knowing them is it?
Operates from water tank, mains water, or both
If you want a cordless pressure washer you can take with you in the car I absolutely love the Bosch. The filler cap locks like a petrol tank giving you a leak free option to hose down the bikes or kids scooters before throwing them in the back of the car.
The Greenworks is also great for this – you can't go far wrong with either. The other options in this review are basically connected to the mains water or can draw water from a barrel. The best one for this by far has to be the beast DEWALT but the WORX which is what I've got does that brilliantly too. Just without the same power.
Cordless pressure washer reviews
Here we have put together a shortlist of the 6 best cordless pressure washers in the UK and wrote an in depth review of each. We have looked at things like power, build quality, durability, battery life, more.
If reading reviews isn't your thing and you just want to get right down to the features and spec you can read the bullet points we have handily provided for you.
First up on our list was one of the most innovative cordless pressure washers to come out in a while, the Worx Hydroshot WG630 cordless pressure washer.
We hope that this short article has helped shine some light on the best cordless pressure washers in the UK at the moment. To be honest, there aren't really that many great models out there to pick from, but the four we reviewed here are in our opinion by far the best out there at the moment. I have a fifth in mine that I might include after the lockdown ends. Keep safe, and enjoy the great weather we've been experiencing so far coming into Summer!
Cordless pressure washer
On this wonderful site of ours you are only a click away from reading reviews of the best pressure washers in the UK. It doesn't matter if you are looking for a specific type like the best petrol pressure washers, or best electric pressure washer reviews, we here at Garden Tool Box have got you covered.
This here is one such page and it is dedicated to providing you with the best cordless pressure washer reviews in the UK.
Is a cordless pressure washer for you? Well if you're looking for more power I would checkout the petrol pressure washer section. But for home use this is a great little bit of kit. Alternatively, if you just don't like petrol I would look at the best electric pressure washer that uses mains power.
Best cordless pressure washer
Next up is the model you should opt for if you want you cordless pressure washer to offer a lot more grunt than the Yard Force…
Finishing off our best cordless pressure washer reviews is a strong, robust and durable product from well-known and trusted brand Bosch…
Conclusion
We have taken a look at the best cordless pressure washers available on the market at the moment for both performance and power in the UK. The range is limited due to battery technology but for lighter tasks like cleaning the bike, car, or conservatory, the freedom of use you get from a cordless pressure washer is worth its weight in gold. If you need freedom and huge power, checkout the petrol pressure washers review. That's far more suitable.
Some models even come with a tank that allow you to be free of any hose too! So please find our cordless pressure washer buyer guide range incase you want more information.
---