When the patio gets slippery it is quite frankly a real drain. The only time you really notice is when you hurry out the back to do something like put out a bin bag in the rain. So the first thing on your list when there is a run of dry weather is to solve that problem. There's a few really great pressure washer detergents so I thought I would put a little article together to find the best value for money and performance.
Easiest detergent to use is…
Let's not waste any time, I really like a specific brand called Patio Magic. I'll be honest, I am pretty lazy. Patio Magic suits me right down to the ground. The container itself comes with a brilliant battery powered dispenser nozzle. You can read a fuller write up about Patio Magic at the link provided from the algae, moss, or mould remover page. What's not to love? It's super efficient. You just spray it on and wait. Then pull out the pressure washer to get the remainder up. It's really that easy. Here's a look at the a guy applying the solution: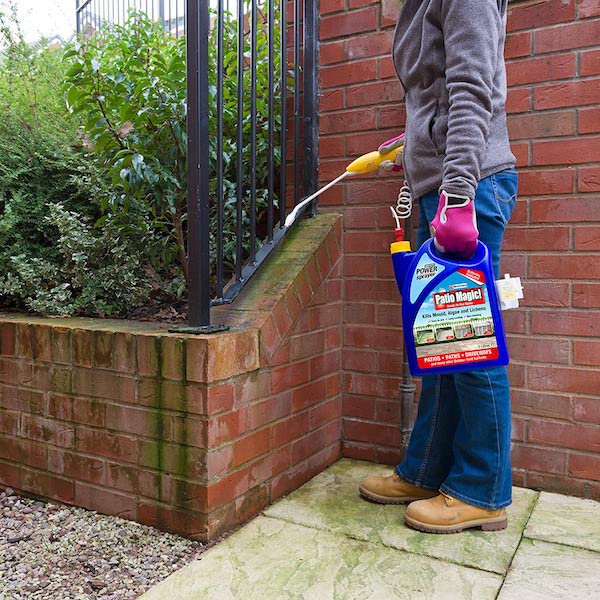 This guy is just showing off right? I know what you're thinking. Where is the catch? Honestly, there is none. As someone that personally uses this product I can tell you it's really easy. It has some ultra handy benefits too. You can use it to clean down the greenhouse and conservatory as well. But with all that said, I am a lazy guy that will cut any corner. It probably isn't the best pressure washer detergent. It certainly is more than capable of doing the job in conjunction with my WORX cordless pressure washer though. You really don't need anything overly powerful, even a little portable K2 Kaercher washer would do the job after using this quality detergent.
That's good enough for me and with 5 litres of solution for £23 quid I can always get all the way round my medium sized patio for that money. You can find more cordless pressure washers on the page highlighted. Also, just as an option, one of the other best cordless pressure washers belongs to GREENWORKS. I want to highlight this model because it has its own container to hold the water, rather than being hooked up to the hosepipe. This makes it a truly cordless solution but it's definitely no where near the power of the WORX.
Is the detergent biodegradable and does it leave a stain?
There's two important questions to ask when using detergent. One, will you leave a lingering problem for the kids and pets after. Two, will you actually stain your patio slab or stone. In the case of Patio Magic I have never had that issue. I use it on my conservatory, concrete pathway, and patio slab to great and easy effect. If you consider I laid my own patio and made a diy tutorial, its pretty personal to me and I want to look after it so you can have the confidence to use it!
Patio magic claims it breaks down quickly and will not be harmful. Like any chemicals I always err on the side of caution. I will always thoroughly re-wash even after blasting down with the pressure washer. It's nothing personal, I just won't leave my kids health to chance.
The very strongest detergent that works on sandstone
If you decide you don't like the lazy man route because your patio is in a right state and you need something a bit more heavy weight then I would go for the Pro-Kleen range. The link provided will take you to a great product. It works amazing as a deck cleaner too. It's literally got thousands of positive reviews on the Pro Kleen Range. A 5 litre concentrate makes 25 litres of solution. You don't need to play games and increase the strength of the solution. Pro Kleen have not given directions to dilute this concentrate anymore than you need, so stick to the instructions. I've attached a before and after from Pro Kleen themselves. I can attest to having exactly the same performance.

I particularly like this one because it works great on fencing and sheds too. It's also particularly good at cleaning up the patio sets, as well as garden table and chairs. I use it on all wooden, glass, and metallic garden furniture to be honest. Pretty much anything actually and I have used it on Indian sandstone to great effect with no noticeable problems or discolouration. You simply apply it with a hand pump spray gun, leave for a while, come back and blast it clean. As I recently mentioned in another article I like the Solo pump for nasty chemicals because of the reliability. I've attached a link to a fuller review in case you need one.
What to do after you've cleaned the patio?
Sealer of course to try to hold the problem off longer. Using a good patio sealer will help protect your patio and seal stopping mould, algae, and lichen coming back easily. I personally like the Sika patio seal. It's super easy to use. Simply spray it on with your pump gun and leave it. For obvious reasons. Pick a really nice hot day so that it sets on the stone rather than being washed away by rain. This is especially important because the solution is water based. This is actually good in my mind though, less chemicals to worry about. Solvents are nasty as far as I am concerned.
Once it's hard, it really will help to keep the mould and algae off your patio which is the ideal result. After all, you want to use detergent as infrequently as possible! When you combine having a nice sheen on your patio stone too. This article should really set you up to enjoy rather than curse the patio area! If you would like to know more or want to recommend a product for me to test then please pop me a little message and I'll be glad to update this article again.