Garden Tool Box » Best trestles [UK]: Top builder and decorator trestles reviewed in wood, plastic and metal
Best trestles [UK]: Top builder and decorator trestles reviewed in wood, plastic and metal
This article was last updated on July 31st, 2021 at 4:13 am
What are Trestles?
You might think it's a stupid question, but when it comes to building and decorating, there is no such thing as a stupid question. It can be a complicated business! There are many different types of trestles nowadays, coming in all sorts of shapes, sizes and materials. But, at its very essence, the trestle is every builder and decorator's left-hand man. It, quite literally, is the foundation for all construction work.
Essentially, a trestle is a frame which supports a horizontal object. In this review, we will of course be talking about workshop trestles, however a trestle can come in the form of almost anything – hence the trestle bridge, basically formed of hundreds of trestles supporting the top of the bridge, be that a road, railway line or simply a flat surface.
However, in the context of building, construction and decorating, a trestle is generally used to hold up a workbench, serving as a tool station, desk or drawing board. The opportunities are endless with a trestle, but what are they actually made of?
Typically, trestles are made out of one of three materials – wood, metal or plastic. The material that you choose will largely depend on the needs and nature of your type of work. But the options don't end there. As mentioned previously, trestles also come in all different shapes and sizes, for example a single trestle, great for space optimisation, an adjustable trestle, for those who fancy a change, and even sawing stands, for those using a log-saw. I mean, blimey, some people even use trestles in their kitchens to give their cooking space a rustic, DIY look. This comes in extra handy when you're trying to teach your kids to cook, as you can literally lower the work surface to their level – genius!
In this review, we will be looking at the best of the best in trestles, comparing across the categories of wooden, metal and plastic trestles. But what are the benefits and drawbacks of each category?
Aesthetically, wooden trestles are arguably the best-looking option. They have a traditional look and feel to them, and their muted colour seamlessly fits into any indoor or outdoor space without looking too garish. Furthermore, they are much easier to paint and repaint, if decoration is your thing. They are also made of natural materials, and we all know how long-lasting wood can be.
However, wooden trestles are the least portable option, as it usually takes an element of deconstruction to fold them down and fit them into a van. This makes them a great option if you are working out of the same workshop day-in, day-out, but not the best if you're constantly on the move.
Metal trestles are the most robust option, and generally can handle more weight than wooden or plastic trestles. This makes them a great option for a tool station which will be holding super heavy tools. After all, if your trestles break, you best believe your tools will be breaking with them. Not good. Furthermore, you'll typically find that adjustable trestles are made from metal, so if adjustable work surfaces are your thing, then look for a metal trestle.
The main downside to metal trestles is the weight of them, once again making them somewhat tricky to transport. Whilst they often can pack down to nothing, they can be hard to lift, especially those made from steel, so watch out for this.
It's all about functionality when it comes to plastic trestles. They are for the most part super lightweight and easy to assemble and dissemble, making them the most portable option when it comes to choosing a trestle. If you are on a budget, then looking for a plastic trestle is probably a good idea, as they tend to run a little cheaper than their wooden and metal counterparts.
However, there are always downsides to plastic products. Out of the three options, plastic trestles can handle the least amount of weight, and are not always reliably sturdy. But, if you're looking for lightweight trestles which get the job done (unless it's a heavy one), then look no further!
Best UK trestles: our top picks
Best Wooden trestles
1. Brennenstuhl HAB 150 1485010 Wooden Trestle
We will start off with the best of the best, when it comes to wooden trestles. The Brennenstuhl wooden trestle is multifunctional, serving as both a handy trestle and a double-sided stepladder. This means that you get two products for the price of one! It consists of three wooden rungs on each side, offering optimum support through its galvanised fittings, which promise not to rust or break.
Whilst the product isn't huge, measuring 16 x 63 x 95cm and weighing in at 5kg, it can handle up to 150kg, which is roughly the weight of a fully grown panda – does that help to put it into perspective?!
It folds away into nothing, and is totally wobble-free, so is there anything that the Brennenstuhl wooden trestle can't do? In truth, the answer is not really. It's functional, fortified and a force to be reckoned within the trestle world. However (there's always a but, isn't there?), it is on the pricey side. Just one of these trestles will set you back by £59.58, a pretty penny, but considering the quality of the product – perhaps worth it?
2. Astigarraga – CAB019.99 – Space Saving Trestle, wood
Forget everything you know about trestles, whether they're made of wood, metal or plastic. The Astigarraga wooden trestle breaks every trestle rule in the book, and I love it. Picture the famous car, the Reliant Robin. With one wheel at the front, and two at the back, the Reliant Robin shouldn't work, but does (for the most part). The Astigarraga wooden trestle is much the same, with one wooden leg at the front and two at the back.
It may look unstable and prone to wobbles, but this piece of kit is surprisingly sturdy, promising to support up to 200kg – the weight of an overweight panda. However, this is only when you use two of these trestles together, something which would be necessary if you wanted to support a full desk. Made from FSC certified pine, this product contains no varnish or dyes and has even been certified with the EU Ecolabel, meaning it has a reduced environmental impact when compared with other products.
Measuring 74 x 50 x 45cm and weighing in at 3.12 kg, it's extremely lightweight, but not particularly transportable, as it doesn't fold down. Furthermore, this product does require self-assembly, and whilst it only calls for a couple of screws, a hammer and a screwdriver, it may not be the product for a DIY novice.
Price wise, the Astigarraga trestle is cheaper than Brennenstuhl's product, costing £30.49, however as mentioned previously, if you want to support anything long and flat, you will need to buy two of these trestles, therefore doubling the price. Certainly something worth considering.
Best Metal Trestles
3. Faithfull Trestles Steel Trestles (Set of 2)
The main advantage of the Faithful steel trestles is kind of in the name. They are super-duper faithful and reliable. Weighing 4.76kg each and measuring at 78 x 100 x 10cm each, these trestles can individually handle a workload of 200kg, meaning a whopping 400kg when used together – that's a very big panda. But the sturdiness doesn't stop there. With slip resistant pads on the top and legs which lock straight, you can guarantee that these trestles are about as stable as the industry standard. Big tick from me, as stability and strength are arguably the most important quality in a good trestle.
They are also super mobile, folding flat and even coming with a handy handle, making them easy to pack away and transport. If your job requires you to be on the move, then these trestles are definitely for you.
Price wise, I think the Faithfull trestles are a great deal. Whilst they might be considered more expensive than other trestles, at the price of about fifty quid, it is definitely worth bearing in mind the fact that these trestles come as a pair.
The only real downside to this product is the fact that the legs are not adjustable, so you will have to stick with the height that they come at, which is 78cm. For most people, this isn't exactly a dealbreaker, but for those who need to adjust their workspaces, it could be.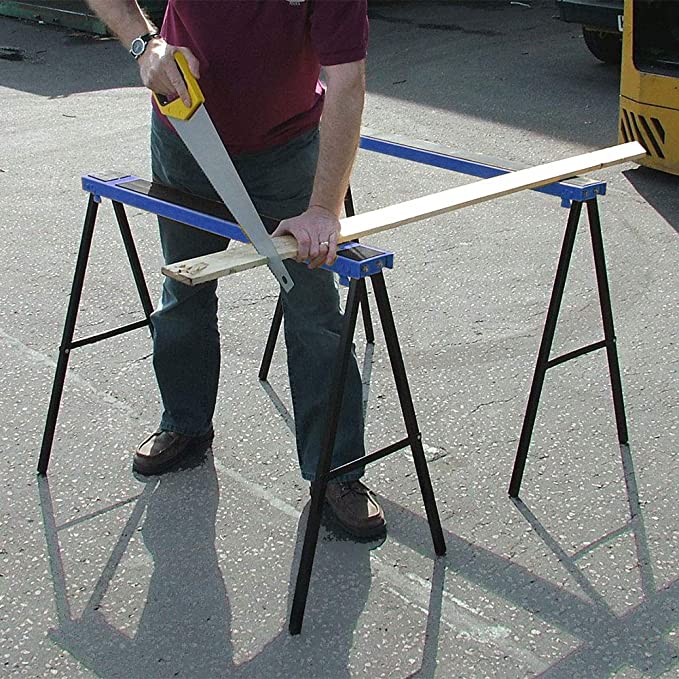 4. Silverline 226268 Heavy Duty Trestle 150kg
It's finally time to talk about an adjustable trestle! I love the diversity of movement and usability offered with an adjustable trestle, which is exactly why the Silverline heavy duty trestle has made it onto the list of best UK trestles for builders and decorators.
This trestle has a width of 68.5cm, with an adjustable height which ranges from 81cm to an impressive 130cm, giving it optimised range for the user. It weighs in at 3.6kg and folds down easily, making it super lightweight and transportable for those on-the-go workers. Whilst it may be super light, it can handle up to 150kg, so it's perfect for any job; big or small, light or heavy.
Just like the Faithful trestle, Silverline's heavy duty trestle is super reliable, with dual-locking safety arms which guarantee that it won't wobble or buckle, giving you a nice steady worktop. The steel is powder coated, protecting it from rust and decay, so you should be able to leave this trestle outside, if your workspace requires it.
So, where's the catch? Well, price wise this trestle is affordable, however it's likely that you will need to buy two if you want to support a flat surface like a workbench. This therefore bumps the price up, which shouldn't break the bank, but means that it isn't exactly the cheapest metal trestle on the market.
Furthermore, the Silverline heavy duty trestle also requires self-assembly, and trust me – this is no easy feat. The instructions are pretty convoluted and there are a fair number of parts to put together, so make sure you schedule a little time off to build this product and make sure you don't lose any nuts and bolts!
Despite this, once you have the trestle built, you should be good to go, and with impressive durability, this trestle will last you years, therefore it's arguably worth the slightly inflated price.
Best Plastic Trestles
5. Stanley Folding Junior Work Bench Saw Horse Twin Pack, with Tray for Tools and Small Parts
I'll tell you one thing for free – there's a reason that the Stanley plastic trestles are an Amazon's Choice product. Costing just £29.95 for two trestles, this product is one of the cheapest plastic trestles on the market, perfect for those looking for a good result at a small cost. And despite the low price, Stanley certainly do not scrimp on the quality. You would probably expect a plastic trestle to be less sturdy than a wooden or metal counterpart, however this plastic trestle packs a mean punch. Each individual trestle can handle up to 362kg, meaning a mighty 724kg when used together. I've lost count of how many pandas that would be.
Furthermore, with two sets of 2 x 4-inch grooves on the top of the trestle, this product works well with a worktop which has supports along the bottom, ensuring no slips and a super steady worksurface. The trestle even has anti-slip rubber pads on its feet, so you can rest assured that it will stay put.
What I really love about the Stanley trestle is the addition of a handy tool, by the bottom of the legs. This is great for those dumbfounded moments of 'where on earth did I put my screwdriver?' and is just a nice added touch, unexpected when considering the low price.
It's foldable and lightweight, weighing just 2.6kg, making it the lightest trestle reviewed so far, so it's perfect for transportation. The only downside to this, and to the whole product itself, is the risk associated with such a small product. Where it is surprisingly sturdy in the face of mammoth weights, the lightweight nature of the trestle means that it could be a little wobbly if you are putting light objects on the top. This makes it the perfect product for heavy projects, but perhaps one to give a miss if you're working with lighter materials.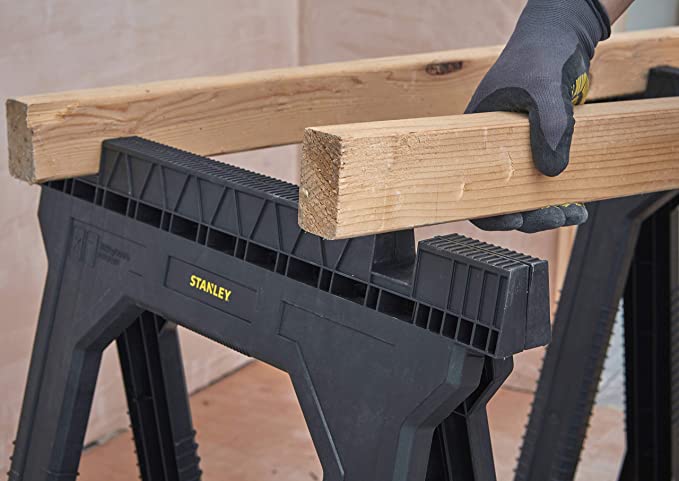 6. VonHaus Folding Saw Horse Trestle Twin with Rubber Inserts Support Bars Pack Huge 150kg Max Load
The VonHaus folding saw horse trestle is another strong competitor for the best plastic trestle. It has an abundance of interesting added features, such as flip up end stops on the top of the trestle, designed to hold your materials in place and prevent slips. I have never seen this feature on any other trestle, so I'm intrigued and impressed in equal measure. This trestle also has rubber anti-slip protection on the feet and on the support bar, further enhancing its reliability as a tool.
On top of that, the VonHaus trestle is weather resistant, meaning it will not corrode or rust if left outside, so this is ideal for workers who like to brave the elements.
Coming as a pair, this set of trestles will set you back sensible money, which really isn't bad considering you get two for the price of one. However, there are a couple of reasons for this low price. Firstly, the weight capacity isn't exactly the best. The actual trestle measures 33 x 55 x 78cm, weighing 3.89kg, which seems pretty standard. However, the weight capacity of each trestle is just 150kg, which isn't exactly terrible, but it isn't amazing either. It certainly seems that the Stanley trestle is best suited to someone who is looking for a cheap and cheerful trestle, particularly one which is lightweight and folds flat for easy transportation. If you're looking for a heavy-duty trestle to support a weighty workbench, then perhaps investing in a slightly more expensive trestle is a good idea.
After all, you get what you pay for in this business.
---