Written by Terry Smith
Our site is reader supported so when you click a link to Amazon we may earn an affiliate commission.
Automatic Garden Watering System
This article was last updated on August 7th, 2021 at 4:19 am
6 Best Automatic Garden Watering Systems Reviewed
Good automatic watering systems are worth their weight in gold, even if it's only for the amount of time they save you. 
Think about it, to keep your garden looking in top shape during the summer, you really need to be watering it twice a day at least. For most of us that means having to get up extra early to water it before going to work and again after we come home. There's also the times when we are away on holiday or, god forbid, are injured or sick, and the lawn and flower beds get no watering at all.
Automatic garden watering systems take care of all that for you. Whether you opt for a full drip irrigation and mini sprinkler system with all the trimmings, or a computer to control your watering schedule, the value of these products can't be overestimated.
Comparison table: Automatic Garden Watering System

Product
What We Think
Price

BSP tap adaptors
AC plus water computer
Threaded outlet and quick connector
Connect to tap
Turn dial, set using buttons and set dial to auto

Say good-bye to manual watering and turn your garden tap into a programmed sprinkler system in minutes with the...
Large LCD Screen with Easy-Set Logic Programming
Watering duration from 1 to 240 minutes
Rain delay allows you the option to postpone for 24 hours
Built in diaphragm valve for longer lasting and improved performance

Complete watering kit providing a great solution to watering borders
Easy to Install in just 15 minutes
Combine with any water controller for Automatic Watering
Modular in design so kits can be easily connected together to make a larger system...
Delivers more controlled watering directly to the roots reducing water wastage through evaporation or inaccurate watering...

Working water pressure: 0
Impurity water allowed. Two outlets can be independently programmed
This hose timer can be attached to all 3/4''(19mm) or 1''(25mm) standard tap or faucet...
Water-proof design allows the watering computer to work outside
If you have any trouble on the product

Up to 24 cycles per day controlled watering
Compatible with most brands of hose fittings
Electronic water timer
Weight : 0.32 Kg
Brand : Kingfisher

🍀1.【Suit for all faucet】-Comes with 2 types of threaded faucet connector.One is threaded fausecet connector(with a cover)...
🍀2.【Independent switch&40 Meters Hose】- You can stop/continue watering your plants by rotating knobs of the 2-way connector or rotating...
🍀3.【Save Your Time and Water】-Normal tap water can be used directly...
🍀4.【Applications】-Flowers, Plants, Bonsai And Potted fruit
🍀5.【100% Satisfaction Guarantee】-OUTERDO products comes with 3 months 100% Satisfaction Guarantee...
So why not invest in one and instead of coming home to water the lawn, come home and sit with an ice cold drink while watching it be done for you?
Read on to see our reviews of the best automatic garden watering systems available in the UK at the present time.
With saving money being in mind, I'll start off by having a look at my pick for top drip/ mini spray combination irrigation system. After that I'll move on to some timers and computers to regulate your watering times. 
If you are interested in any of the products we have reviewed and would like to know more about them, simply click on the links we have helpfully provided for you.
Best Cheap Drip/micro-spray Irrigation System UK
We've chosen a budget micro drip irrigation kit as our first automatic watering system review. It is priced at £19.39 and comes with 1 x 2-way connector, 1 x sealing tap, 1 x 1/2″-3/4″ Tap, 1 x universal adapter, 2 x 4/7 plug, 2 x quick connectors, 15 x atomizing nozzles, 15 x flat tees, 15 x 4/7 Barbs, 15 x 4/7 barb coupling, 20 x adjustable drippers, 35 x T-connectors, 35 x fixed stems, and a 40m x PVC hose.
Basically, everything you need to set up your own automatic watering system in your garden and then get busy relaxing.
It comes with a choice of 2 tap connectors. The first to be used with a ½ inch or ¾ inch threaded tap, and for unthreaded taps there's also a universal connector.
This kit gives you a surprising amount of control over your garden's overall watering procedure, as the drip emitters can be individually adjusted to supply the amount of water that particular spot of the garden requires. They can also be used as micro sprayers and even hung up above the plants if you wish.
The large, 40 metre long hose means that you are able to cover a large area of garden simultaneously and, combined with the adjustable emitters, will have your lawn, plants and flowers looking luscious in no time. 
This is a low priced kit, so you have to expect a lot of plastic parts, and there are, but nothing really feels cheaply made or flimsy and I think this set is a great deal.
Pros
Low price
Full Kit- comes with everything you need
Easy to set up
40 metre hose
Emitters can be adjusted individually
Drip or micro-spray
2. Hozelock Automatic Water Computer Timer Plus
This Hozelock automatic water computer, is the perfect choice for someone who wants something for basic irrigation that is simple to use.
The operation of the Hozelock is very intuitive, pop a couple of batteries in, connect it to your tap and sprinkler, then just twist the dial to the settings you want, press a button or two and set it to auto, and that's it.
The simple controls can be used to set the start time, frequency (6 hours- 7 days), and duration (1-180 minutes) of the watering sessions and the machine will let you know when a program has been accepted and set.
Also, If you aren't happy with one aspect of your program, you can change it without having to reset and reprogram the whole thing.
The plastic construction is good quality but don't forget to bring it in and store it fir the winter to avoid damage, and the same goes for removing the batteries.
The box contains- 1 x 1inch inlet adapter, 1 x 3/4inch inlet adapter, 1 x threaded connector, and an instruction booklet. All for the price of 30 pounds.
Simple interface that is intuitive and easy to use
Watering Frequency (6 hours to 7 days), duration (1-180 minutes), and start time can all be adjusted and set
audible beep that confirms your program has been set
Compact and can fit right onto an outdoor tap
Good quality plastic
3. Kingfisher Electronic Water Timer
On sale at the moment and available for a penny under 14 quid, this automatic water timer from Kingfisher offers good value for money.
This is another simple device that would suit people with simple watering needs, for example, just something to manage the sprinklers while they are away.
The device has a circular design that measures 9 x 10.2 x 16.3 cm and weighs 322 g. It fits easily onto any garden tap and will connect to most hose fittings regardless of brand.
Setting your watering schedule is done by turning the two dials on the face of the timer, one for frequency and one for run time. Frequency can be between 1 hour and 1 week, and runtime between 1 and 120 minutes. This means it can do up to 24 cycles per day. Unfortunately, you can't set it to start by the time of the day though and have to work it out from the time you set the program.
The Kingfisher electronic water timer runs off 2 AAA batteries but don't worry, as you won't have to change them often, in fact a set of decent batteries will last you well over a year.
Low price and good value for money
Well suited to simple irrigation tasks
Very straight forward and easy to program
Small and light, and the round design keeps it fairly inconspicuous
Batteries last a long time
Can be programmed for up to 24 watering sessions a day
4. Hozelock Easy Drip Universal Watering Kit
The Hozelock Easy Drip Universal watering Kit can be used to automatically water gardens up to 10 metres squared and is great for keeping your flower beds, borders and vegetable patches well soaked and growing. If you have a larger garden, you can buy more than one kit and connect them together thanks to their modular design.
Like most Hozelock products, this one is easy to set up. Unlike some similar watering kits that can comprise of over 150 parts, this one has far fewer in order to keep things as simple as possible. There are 10 adjustable, universal drippers, each of which can effectively water an area of up to 100cm in diameter around them.
The drippers are fed by a 'flexi-hose' that can provide up to 40 litres per hour. The hose is very flexible and can also be cut to suit your needs.
There is no timer or computer included in this kit, but it can be used with most models out there.
A single kit is suitable for gardens up to 10 metres squared
Modular design means more than one kit can be combined for larger areas
Less parts and push fit connectors make setting up quick and easy
Universal drippers can each water an area 100cm in diameter
Can be used with any water timer or automatic controller
Drippers can be adjusted for drip or mini spray
5. Aqualin Two Outlet Electronic Water Timer
Do you have a larger garden that needs to be fed by more than one sprinkler or irrigation system at a time? Well then you should take a closer look at our next automatic watering system review.
The Aqualin electronic water timer connects to your 3/4"(19mm) or 1"(25mm) standard tap or faucet and then provides you with 2 water outlets that can each be programmed separately. Frequency can be adjusted from 1 hour to one week, and run time can be anything from 1 minute up to 2 hours.
It is powered by 2x AA 1.5V Alkaline batteries.
Don't worry if you don't have great water pressure, the Aqualin has been designed to work from 0-8 bar of pressure and performs its duties well under all circumstances.
 The timer is waterproof and has a working temperature range of 5-60 degrees Celsius.
Again, the downside to this product is there is no clock, so you have to think about the time of watering from the time that you program it.
Double water outlet electronic timer for 35.99 is a good deal
Water outlets can be programmed separately
Frequency and run time are adjustable
Will work even with low water pressure and up to 150 bar
Waterproof and has a working temperature range of 5-60 degrees Celsius
Connects to your 3/4"(19mm) or 1"(25mm) standard tap or faucet
6. Orbit 94162 Buddy Single-Port Digital Tap Timer
For
£31.27
you can be purchase the excellent Buddy single-port digital tap timer from Orbit.
Out of all of our reviews this timer offers the most features. Like the others, you can set the duration and frequency of the watering sessions, but with the Orbit you can also set the clock and start time.
Another handy feature is 'rain delay'. It allows you to postpone your set program for up to 72 hours for when the British summertime takes an inevitable turn for the worst for a few days and we get a downpour or ten.
Programming this device is very easy thanks to the well-marked dial and buttons. The large LCD screen displays information very clearly.
The Orbit Buddy has been built with longevity in mind. It has a built in diaphragm valve to keep it performing well for longer, and the outer casing is waterproof and made from high quality materials.
This automatic garden watering system is powered by batteries that last a long time (80,400 on/off cycles) but don't worry if you have to change them as the timer will retain its set program while you do so.
If you notice a part of your garden that needs some emergency treatment, you can select manual mode and it will allow you to use the system instantly and not interfere with the already set watering schedule.
Large LCD screen presents things clearly
Easy controls, just twist the dial and press a button
Simple to program and offers a lot of variation
Rain delay feature is great for unexpected weather
Manual watering mode won't upset your pre-programmed schedule
Program will not reset even when changing batteries
Long lasting battery
Conserves water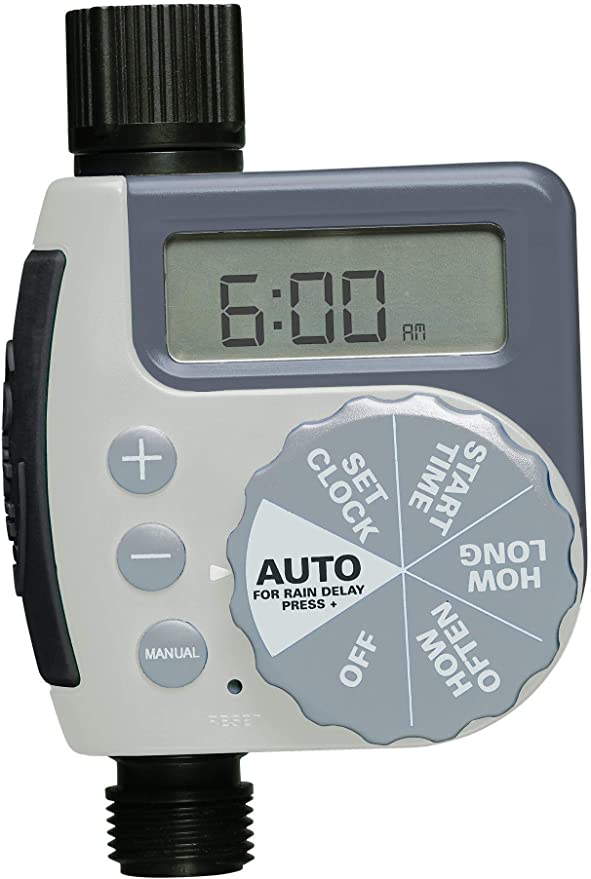 There you have it, six products designed to make watering your plants, and your life, easier.
Our aim with this, and our other articles, is to provide some sort of guidance through the vast array of products that we are swamped with these days. We do not claim to be the leading authority on everything, but we have taken the time to review a wide selection of products in an even wider range of gardening categories for you.
We hope you have enjoyed our reviews and even found them of some use to you. After all, that is our main aim. Whenever you have a spare moment, please feel free to browse our other pages on this site that are packed full of information and reviews on everything from watering cans to petrol lawnmowers.
---