Written by Terry Smith
Our site is reader supported so when you click a link to Amazon we may earn an affiliate commission.
UK's best automatic watering system for greenhouses, lawns, outdoors, and indoors: Hozelock, MIXC, Landrip
This article was last updated on April 25th, 2022 at 3:36 am
Why do you need an automatic watering system? In my case it's to stop me watering the lawn over night. Yes, I actually managed to leave my garden sprinkler on all night and water logged my up coming lawn – if ONLY I bought a water timer– so here I am testing the best automatic watering systems! My newly sprouted grass seed luckily stood up, but not by much I reckon! Now imagine leaving the water running indoors! Or worse, running in the greenhouse forgotten! With so much on my mind an automatic watering system is worth its weight in gold – and let's not forget it's the perfect solution if your plants need watering frequently but you need to go on holiday or away for a while! And don't worry. I have you covered wether you're looking for drip irrigation systems, greenhouses, indoor, outdoor, or for general plants.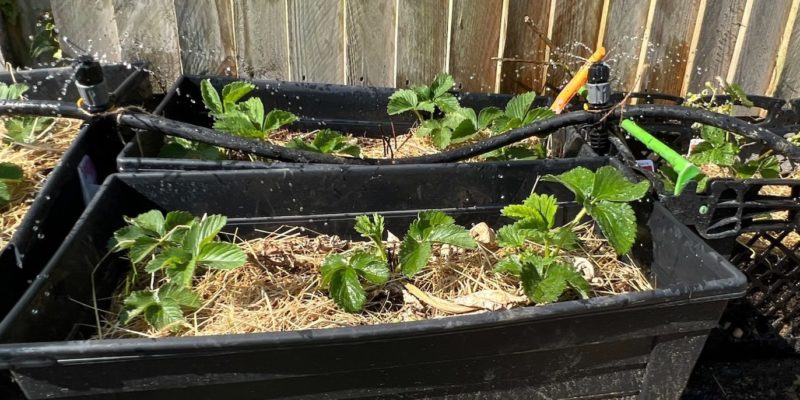 Tip from testing: The Hozelock easy drip sprinkler kit can be bodged to get more out of the system than quoted because of additional fittings you may not need. See my testing automatic watering systems section for that handy tip to save money.
However, if you're new to this then take a look at my automatic watering system buyer guide as there are some serious pitfalls that will stop some systems dead in their tracks, and it's worth understanding the benefits of an automatic watering system too – this will help picking the right one for you, no doubt. If you're not new to this, let's take a look at the best automatic watering systems:
Best automatic watering systems: my top picks from testing:
Best overall – Hozelock Easy Drip Universal Watering Kit and they have a drip irrigation version too. Good quality components that will last and super easy to setup I found from testing. [Tested and proven]
Best budget and best for greenhouses – MIXC irrigation system. Low cost but a good selection of drippers and sprayers [Tested and proven]
Best for indoors and pot plants – Landrip indoor watering system. An inconspicuous and versatile indoor watering system.
Best for hanging baskets – T4U self-watering baskets. Easy to install and look great
Best for lawns – Kazeil water timer. Excellent features for the price.
Best for borders and raised beds – Gardena Soaker hose. Easy installation and uniform watering for your borders.
Testing automatic watering systems – setup and use
You've got two main systems really – drip irrigation and sprinkler. Drip irrigation is more effective but sprinkler is more reliable. I know this from years of testing and using various kits. Let's take a look at how to setup and use a sprinkler kit as it is far easier than a fiddly drip irrigation setup. Before I get into it, you might want to see my short testing video from start to finish on this process. I take it step by step and show you the ins and outs of how it works as well as a bodge to get better value for money at the end. Here's a look at that:
How to setup and use an automatic watering system
If you prefer a read of watching a video however let's get started. The first thing we want to do is familiarise ourselves with what we get in our automatic watering system setup. Before we dive in it's worth understanding what is in the kit so you can visualise / measure what you'll be able to achieve. And I have to say they are pretty generous to the point there's enough components left over to bodge up an extra run at the end so laying out your components and having a good work out of what goes where will definitely pay dividends!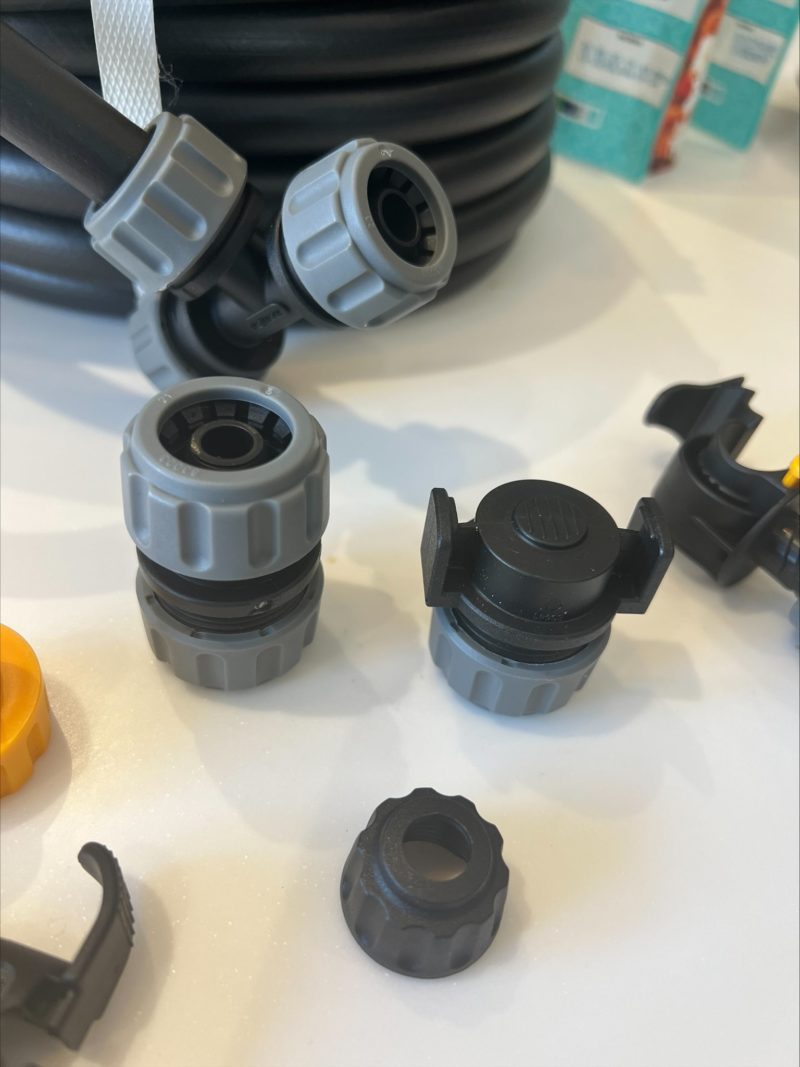 How you connect your sprinkler to your hose
The sprinklers are a wonderful design. They simply screw and clamp into the hose where you want to place them. So as I mention in the video simply run your hose about the garden first so you know what length you've got to play with and then go along screwing in your garden sprinklers. Here's a look at how this works: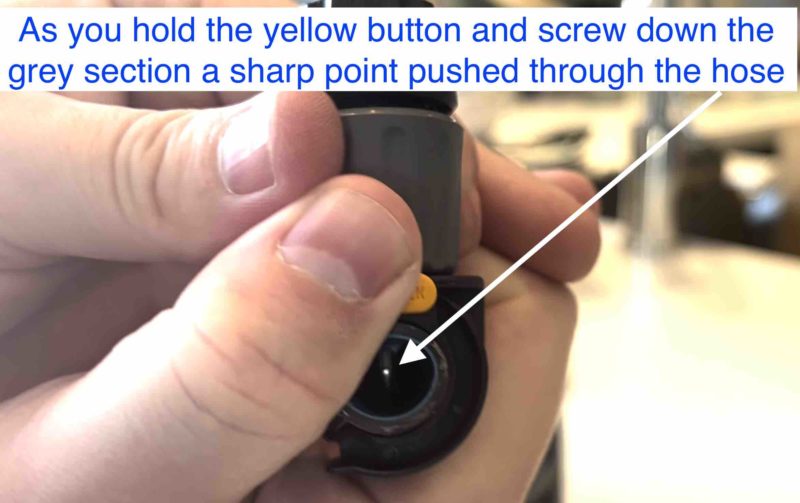 The sprinkler pegs can be adjusted to any angle.
It's worth knowing your pegs will adjust to any angle so you can shoot your sprinkler in different directions. This is particularly handy when you are trying to reach different sides of a flower bed when keeping your pipework straight – the sprinkler can adjust over 90 degrees. Here's a look at that: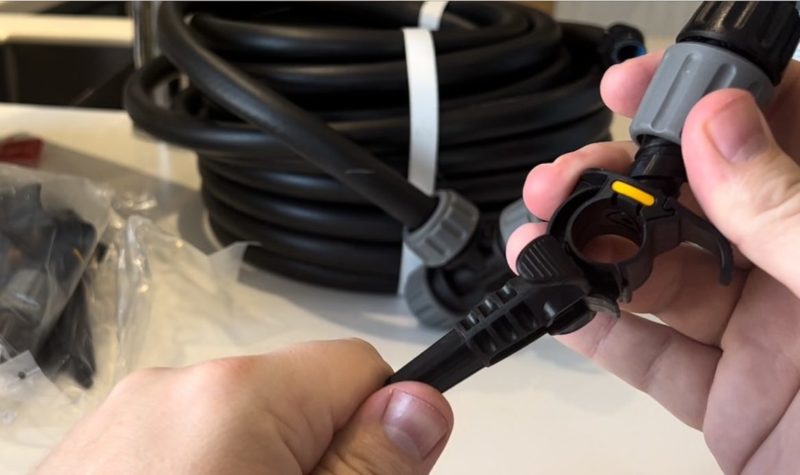 If you make a mistake when piercing your hose
Don't worry, they provide a few clamps that sit inside the pierced hole and then click clamp together. This is best demonstrated on my video at the time provided but here is a look with an image as best as I can show you: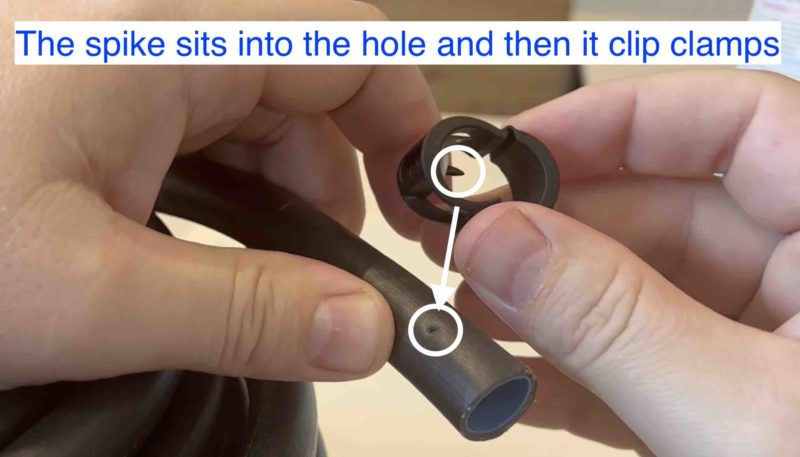 As you can see there's a plug that slots into the hole and then it simply clips and clamps around. So far from testing I can confirm these work absolutely great and stop all leaking water. So with all this in mind we can now start the process.
Lay your hose first
The best thing to do is lay out your hose so you know how far you can get with this kit. Remember there is a straight connector and you can just simply extend it with a standard half inch hose pipe. This is very useful to know for planning and only something I found out from personally testing this watering system.
Attach your automatic watering system sprinklers
Now attach the sprinklers as I showed you in my video. It's very easy to do and with the pipe laid out you can get a good perspective of where you want to place your sprinklers. You can generally place them 80cm apart and still easily cover the area with water entirely. Here's a look at one of my raised vegetable beds: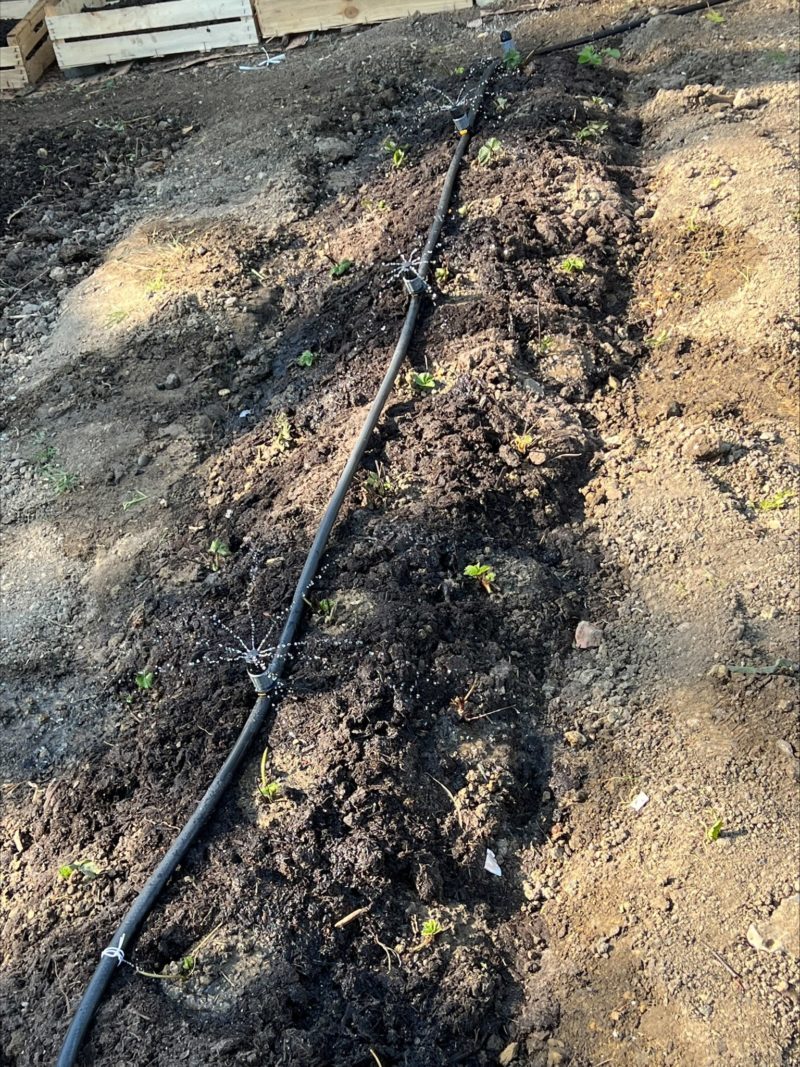 What I learned from testing
I learned that the Hozelock claim to being universal was entirely truthful and really was easy to add on with various hoses – hence being able to bodge the T section they gave us in the kit and make a drip irrigation run from a standard bit of hose. If you want to see that I would recommend watch this part of my video.
So with the testing out the way, let's review more of the automatic watering systems available to us in the UK:
Best Automatic watering system reviews
We spent a lot of time with all kinds of automatic watering systems, from full micro irrigation kits and soaker hoses, to different types of water timers and watering computers. After all that hands on, we selected these following products as the best ones for specific gardening duties, and also our favourite overall auto watering system. Take a look"
Automatic watering system buyer guide
While having any irrigation system is better than none at all, to really get the best results you should pick an automatic watering system that suits a specific purpose. What I'm saying, for instance, is that the Kazeila water timer and sprinkler system you can use for watering your lawn, might not be the best for your raised beds or hanging baskets, and what will work great in your greenhouse, won't necessarily be the best choice for your indoor plants which would probably benefit from a system like the Landrip indoor set.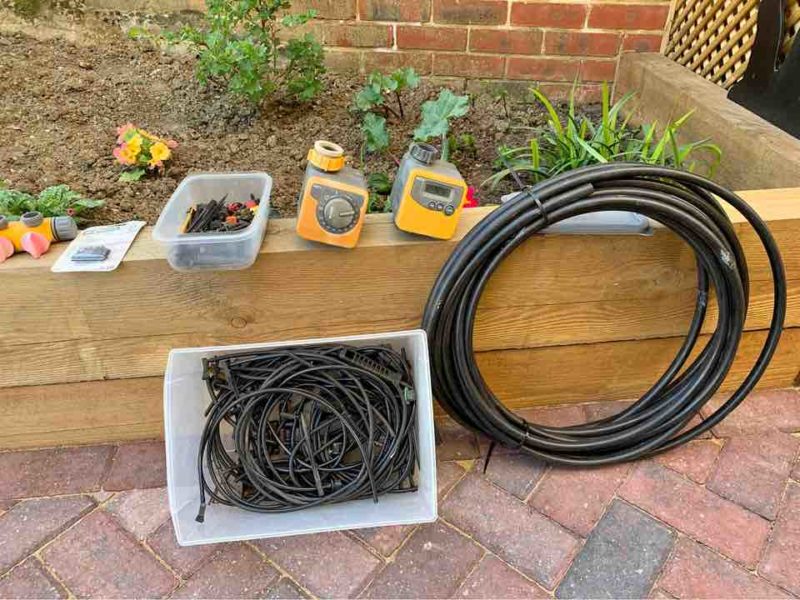 With this buyer's guide, along with our reviews, I hope to clear things up for you so you find it easier to make the right choice. Let's have a look at a few of the important factors that come into play when picking the optimal automatic irrigation system, shall we?
Mechanical vs electrical
The biggest and most important thing to consider is a good old fashioned mechanical timer versus a more modern electric timer. Most analog (mechanical) are pretty simple and work on a minute basis – simply set the number of minutes you want water to flow for, and that's it. Your unit will turn off as it gradually comes back to zero. Obviously so much less can go wrong with such a setup. Here's a look at that: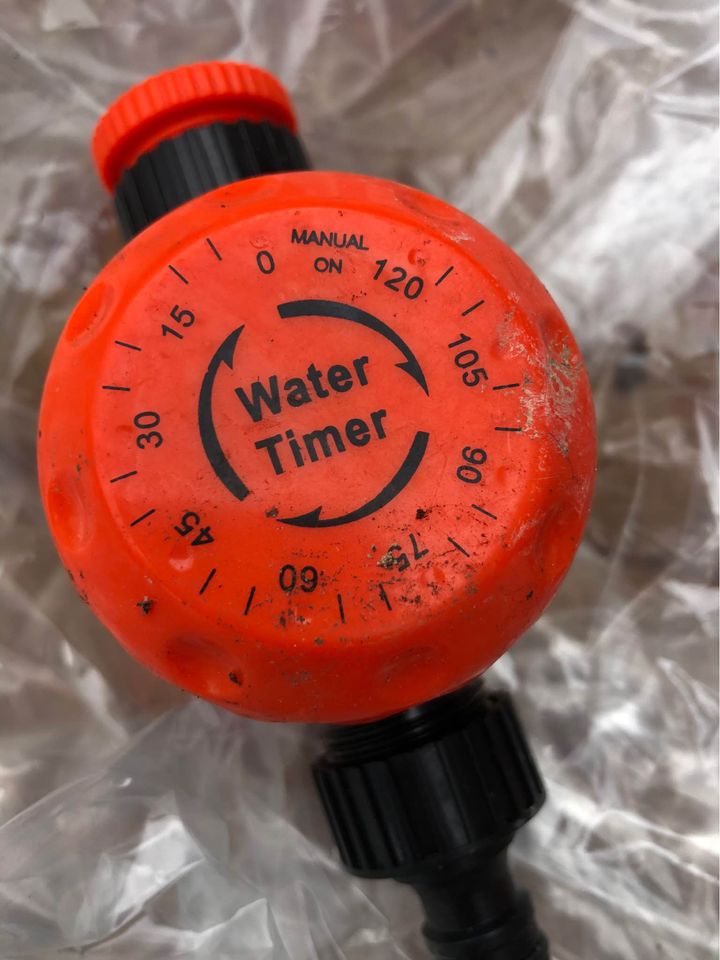 The downside is half the reason for an automatic watering system is you want a set daily time to just take care of everything. Electric automatic watering systems can be set for days, and times of the day, as well as the power flow of water too!
Cost, quality, and durability
There is nearly always a connection between these things, and if you really want an automatic irrigation system that works as it should, with few to zero problems with things like leaks, pieces breaking easily, weather damage, etc. You should avoid the really bargain-basement type products.
That being said, some irrigation systems are just more expensive because they have a certain brand name attached to them, and this is not always a sign of top quality. As a rule of thumb though, you are less likely to be screaming in frustration in a month's time if you buy products from Gardena and Hozelock than buying the cheapest stuff from abroad. Just look at this used Gardena set, its been put through its paces over time and is still functional: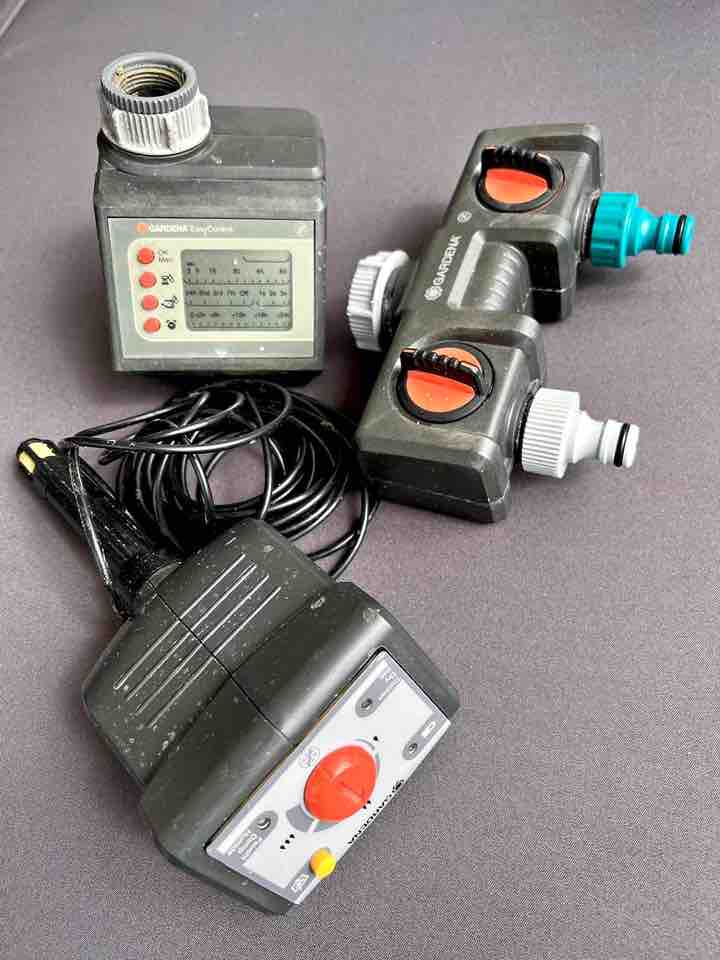 Of course, there are always exceptions, and that's why I test products from right across the price range in the hopes that I find those rare gems that have low cost without sacrificing quality too much, and we've found a few- the MIXC product for example.
Materials
This ties in with what we were saying above, but we thought we'd just quickly mention a few things on the materials side that could indicate if an automatic watering system is well made or not.
Basically, the majority of your irrigation system will be made of rubber and plastic, and for most of you, it will be spending its life outdoors. Cheap materials will break down in extreme temperatures and just generally deteriorate from the exposure, and faster than you can imagine.
Polyethylene, Polypropylene, PVC, and ABS plastics, are all durable materials and often they have been manufactured to be resistant to UV, micro-organisms, and chemicals, so keep an eye out for those.
Check the max. and min. water pressure
Water pressure is far from uniform in homes across the British Isles, so it's a good idea to check if the watering system you are interested in will be badly affected by either very low or high-water pressure. For instance, Kazeila's water timer is an excellent product, but needs a certain minimum amount of pressure to open the valve and therefore can't be used with water butts that are low to the ground as there isn't enough pressure. I know from testing.
Obviously, if you're running multiple hoses out of a water timer to more than one sprinkler for your lawn, your home had better have enough pressure or you'll be getting nothing more than a little squirt out of the business end.
On the other hand, a low-cost micro irrigation system might not be able to handle high water pressure coming through without suffering damage and starting to leak, especially from the connectors and other small parts.
Some automatic watering systems have built in pressure regulators, but they aren't as common as you would imagine. You can always buy these regulators separately, but it's not guaranteed that your automatic irrigation system will be compatible.
Ease of installation and programming
Nearly all manufacturers will tell you in their advertising that their watering system is easy to set up, and for the most part this is true. However, some micro irrigation systems include a lot of small parts, and you should check that these systems are easy to put together, or that the instructions that come with the system are easy to follow. Take, for example, the ease of Hozelock's irrigation kit which has clip-on emitters, compared to both MIXC and Landrip's systems that require you to soak the hose before installation.
Water timers can vary quite a lot in the way they are programmed and operated. Some can make setting up a watering schedule a piece of cake, while others can drive you mad trying to figure things out. This is why reviews, like the ones featured in this article are really helpful, as is the customer feedback you can find online.
This clip shows how easy it is to set up the CROSOFMI water timer, which was just pipped by the Kazeil product to top spot for best for lawns in this article. You can see how straightforward these products have become:
Getting the right size
Nearly all automatic irrigation systems will require the use of hoses, but the length of these hoses will differ from product to product. Go out in the garden with your tape measure and work out how much hose you need before you buy. Often, it isn't a problem if the automatic watering system you have your eye on doesn't have enough hose, as long as it is easy to connect extra sections, but you need to check if this is the case.
What are the benefits of using an automatic watering system?
There are a ton of advantages that come with using an automatic irrigation system over the old fashioned, hosepipe in hand, manual way, but I'll just quickly mention a few here.
Time
I guess the main one is how much time it will save you, especially when you work that out over the space of a year or two. With a decent water timer, you can program the number of times per day, days per week, etc. and then just let the system get on with it, leaving you to either get on with other important gardening jobs, or simply take a well-deserved break. Some types of irrigation methods, such as using the Gardena soaker hose, don't necessarily need a timer, though it is better to use one for completely 'hands free' watering, even if it's just an inexpensive analog timer.
Save water
Automatic watering systems, particularly drip irrigation systems, can save you up to half the amount of water that you would normally use with a garden hose. The Hozelock irrigation kit and MIXC drip irrigation system can save up to 70% when compared to using a normal garden hose. As I'm sure you are all well aware, clean water is a valuable resource that we need to conserve as much as possible. It'll also save you a bit of money too, let's not forget.
Prevent disease and other problems
Some of the biggest problems we gardeners face is dealing with disease, mostly types of fungi, and the ever-present threat of weeds. Believe or not, a focused and well programmed automatic watering system can help on both fronts.
When you overwater an area, it creates an environment where disease can flourish and weeds can get the nutrients they need to grow. If you set up your irrigation system properly, you can focus on getting the water to the roots of the plants that need it and lower the risk of promoting unwanted growth of fungi and weeds.
---