Garden Tool Box » UK's 6 best chicken coops: keep 2-4 chickens in coops and runs with some larger options
Written by Terry Smith
Our site is reader supported so when you click a link to Amazon we may earn an affiliate commission.
UK's 6 best chicken coops: keep 2-4 chickens in coops and runs with some larger options
This article was last updated on May 10th, 2022 at 10:55 am
A chicken coop sympathetically houses your chickens, keeping them safe from predators such as foxes (fox repellents help too) as well as keeping them happy and content. I'm happy to report both my PawHut Wooden Chicken Coop and Pets Imperial coop have stood up well in combination with the use of scoot and a sound deterrent that you can find on the fox page – no chickens lost in these best chicken coops! My chicken coop tests have proved interesting and will be useful info for both beginner and those seasoned in chicken rearing. From assembly to chicken comfort and well being! But the best bit as you follow the page, you'll see my kids have grown up a few years since I initially wrote this review and still have a keen and healthy interest in our chickens and the garden! 🙂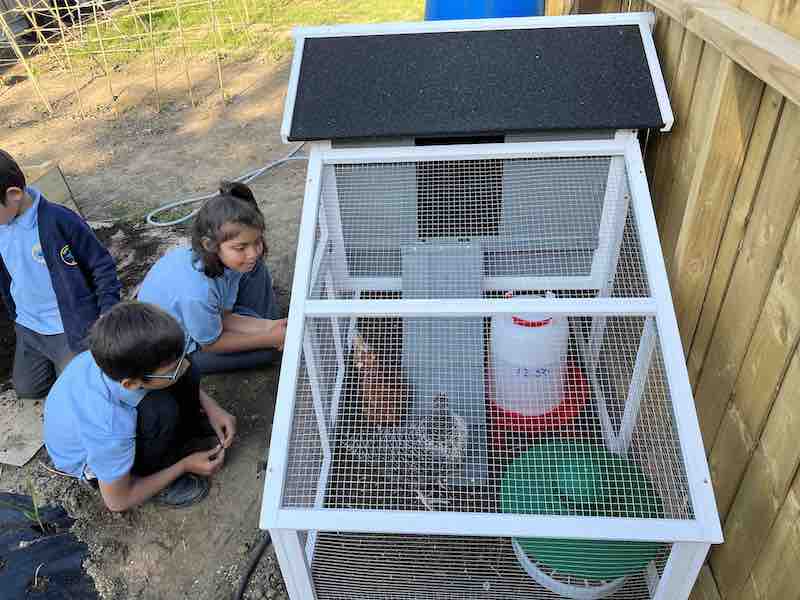 A chicken coop should be a safe place to feed and drink, lay eggs (crucially for us) and in general keep the wellbeing of our chooks top notch. If you have the time, a chicken coop is easy to make but comes with the draw backs of being pricier compared to one off the shelf – largely due to the increasing timber costs and the flat packs using far less material as you'll see from my latest test – the PawHut Wooden Chicken Coop. Surprisingly though, despite a few hidden split bits of wood it's relatively strong and can be carried and actually feels pretty sturdy – for a budget chicken coop I was really pleased with that chicken coop test. If you follow the anchor link you'll find some useful info on that (and interesting). As I say, I marginally still prefer the Imperial coop though this is cheaper and the chickens love it:
What is a chicken coop and what are the benefits to us?
There are many factors that go into the rise in popularity of keeping your own chickens. For some, the idea of getting their eggs as fresh as they come, without the risk of any 'tampering' being done on them before they arrive in the supermarket is a big draw to this pastime.
For me though it's getting the kids involved they absolutely love our chickens. They spend all morning waiting for them to lay an egg (if they are out there early enough). And with these flat packs having super convenient lay boxes on hinges, the kids really can grab the eggs for you! Here's Lillie doing so for us: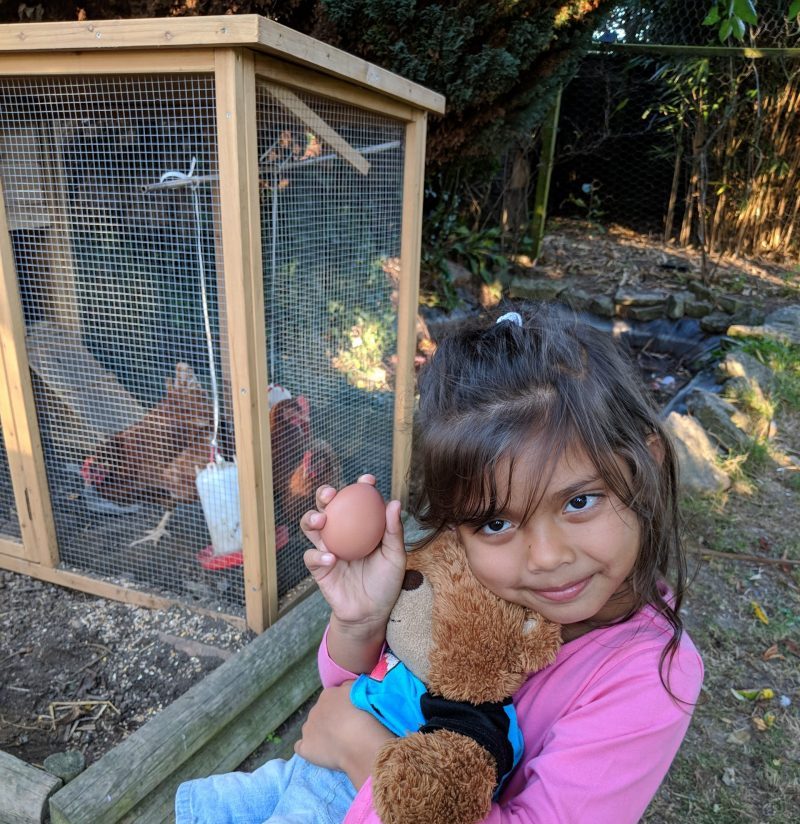 For others it's a combination of this plus the ethical side of it. We have all seen the videos of thousands of chickens crammed into factory farm cages, in conditions that are quite shocking for some. Rearing your own chickens, especially rescue chickens, in a roomy chicken coop in your garden seems like a much better option. Our chickens are really happy and that does make me feel a great deal better about eating our eggs – especially when I get a double yolker 🙂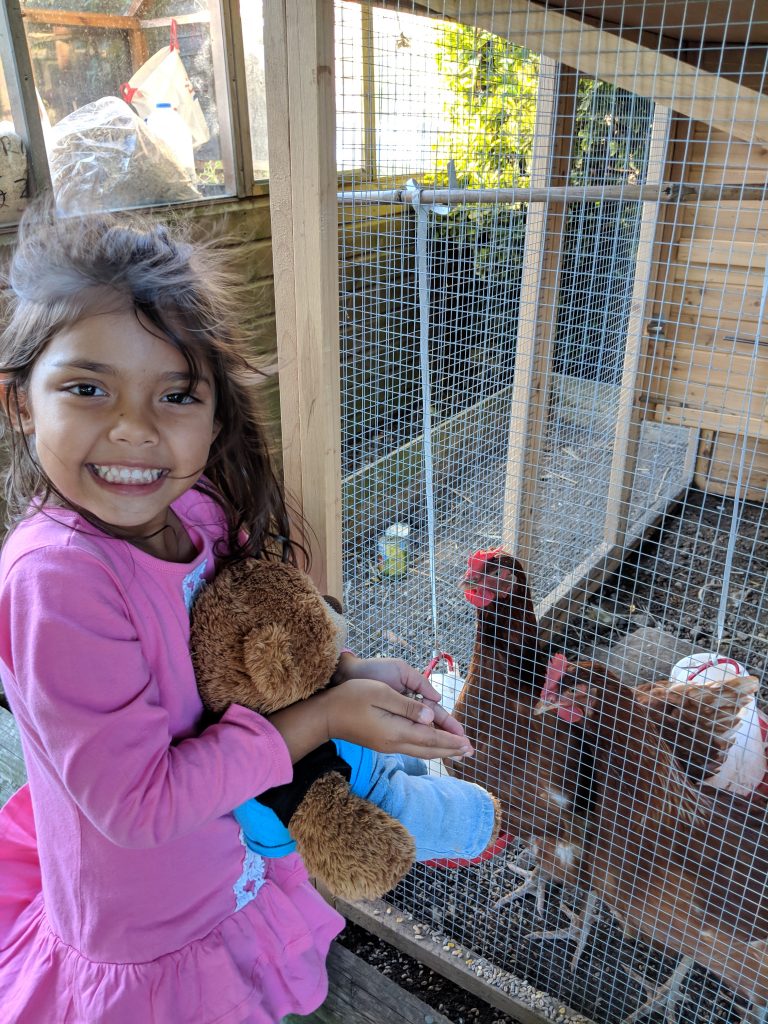 Keeping chickens is a nice mix of having a pet and personal farming. It's a great way to get your kids interested in nature and also to teach them about caring for other living creatures and the value of hard work. Here's a handy article for the laws of keeping chickens too. Here's my son who now looks after the chickens for me 🙂 When it's time for them to go away he rounds them up!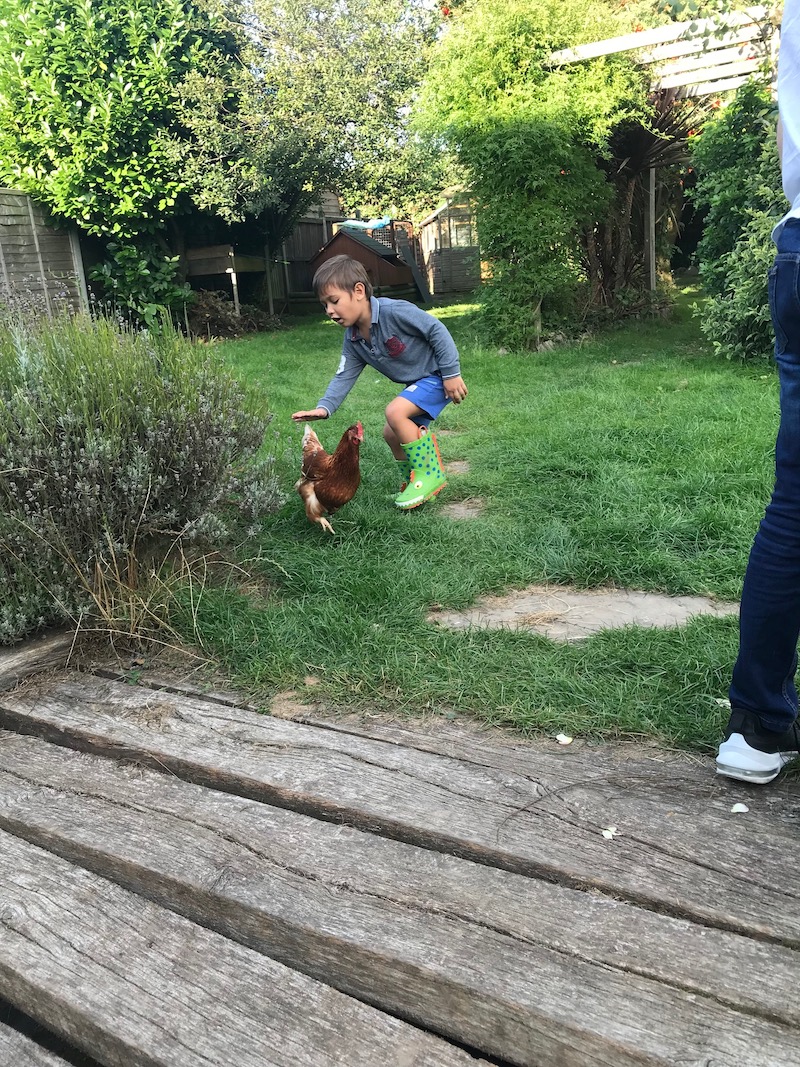 To get the most out of your chickens, they need a place of their own to perch on at night. A place where they feel safe and secure. In other words, they need a good chicken coop. To learn more about rearing chickens in the garden please see the link provided and also, the pitfalls of chickens in the garden.
Below you will find reviews of the most popular chicken coops in the UK and some hints and tips in the form of a best chicken coop buyer's guide too.
So what are we waiting for? Let's dive right in with the reviews section.
Best chicken coop top picks
Testing chicken coops
I decided to have another test of these chicken coops that are largely flat pack. I have already used and tested the Pets Imperial so it puts me in a great place to test the PawHut Wooden Chicken Coop. First off the bat as you'll see from my assembly video it can be a bit of a pain, but after that, I feel the usability wasn't bad at all, and once I had forgotten the 90 minute long assembly, yeah I kind of really like how this turned out for the money. Here's a look at the finished product – the video is selected to the walk around but there's much more to the video:
I still slightly prefer the Imperial chicken coop but let's get into the nuts and bolts of this chicken coop test:
Assembling the chicken coop
Unsurprisingly it was a pig of a job. If you are a novice DIY'er I would highly recommend a look at an impact driver and you definitely need an array of screwdriver bits and a 10mm spanner. If on a budget I'd highly recommend the Makita driver and drilling set as I used that and it had everything I needed but to be clear and save you money if you already have the tools, I used the following:
What tools I used:
Impact driver
Stanley knife – (mainly to cut my way through all the packaging)
PH1, PH2, PZ2 screw driver bits.
10mm socket that fits on an impact driver (contained in the set linked above) but you can use a 10mm spanner just fine
Off the bat the packaging took some getting through. And in a double edged sword you'll find loads of foam – yes it's keeping the contents sensibly protected but it'll half fill your bin unless you give it a good push down. Also, there's loads of cardboard but I've started putting those under my planters as well as the red recycle bin.
Firstly, sorry about the picture quality – I have had to drop it as there are so many images on this page, some have complained about load times! Assembly is a bit of a pain but due to having some wood dowels screwing the four walls together becomes considerably easier than it would otherwise be. And with three walls up it was pretty sturdy and easy to screw – for a novice DIY'er I dare say two people would make a big difference and if you don't have a drill then an absolute must: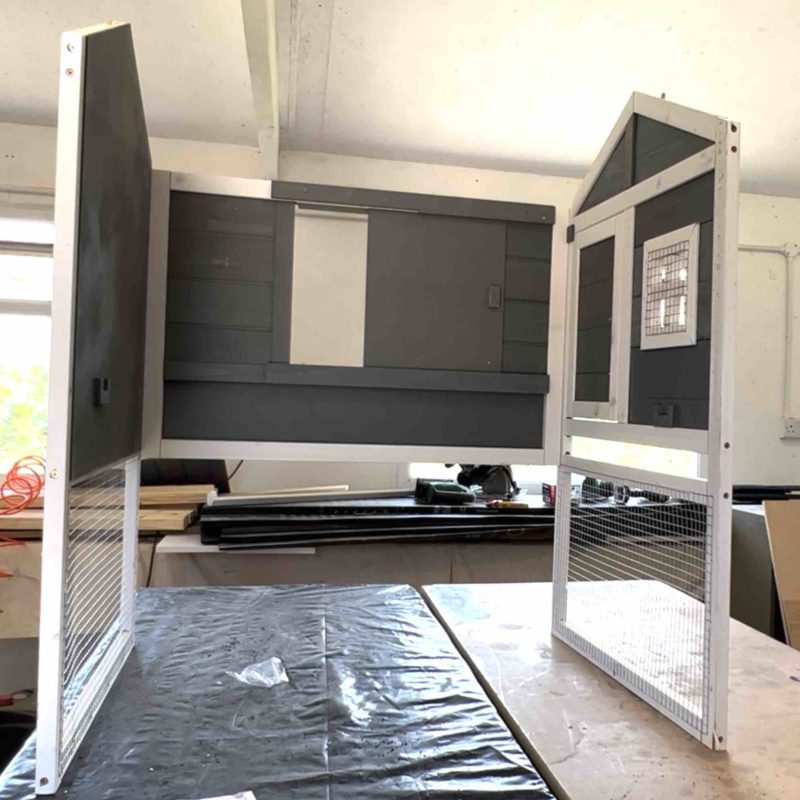 The runners will annoy you as the instructions make them look like they are in the wrong place – you'll realise the runner are for the removable tray. and it'll all make sense – I have to say the instructions are a sensible guide but not perfect. As for the laying box, that is probably the best designed part of all. At first it feels like it'll be flimsy, until you see it's bolted on with metal thread: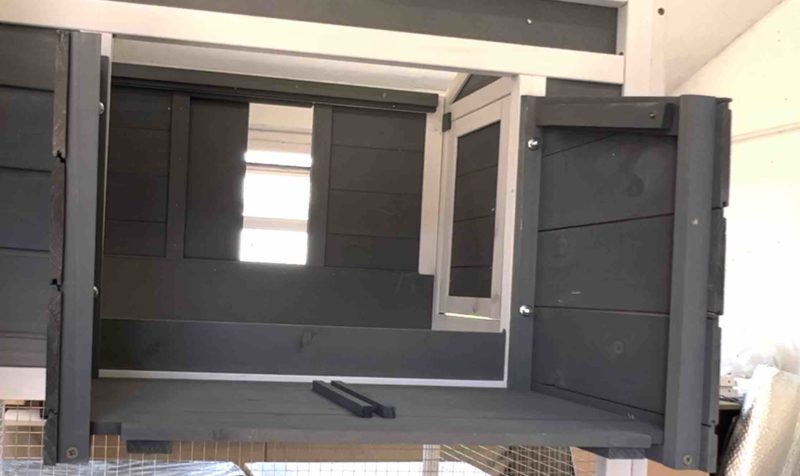 The roof is very easy because the dowels force you into alignment – This has been well thought out and I have to say once the coop walls dealt with, the install becomes much more apparent and easy: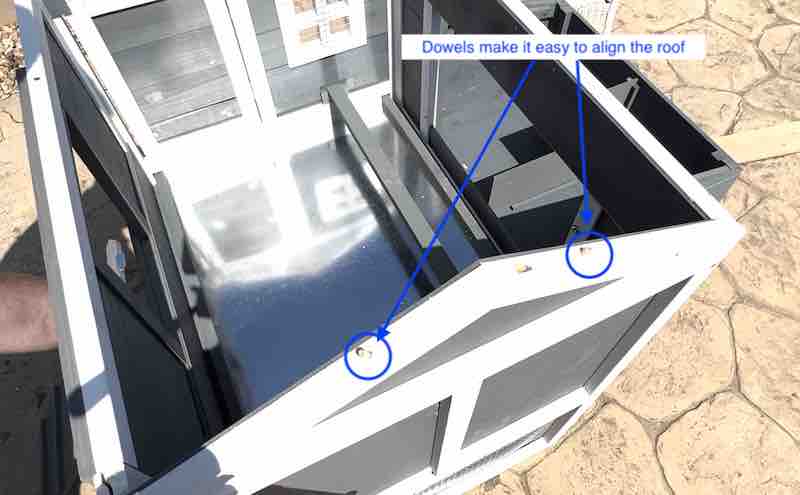 With the dowels in I turn my attention to the run – very easy and all the holes are pre-drilled for the screws so you can see how this all goes together quite nicely: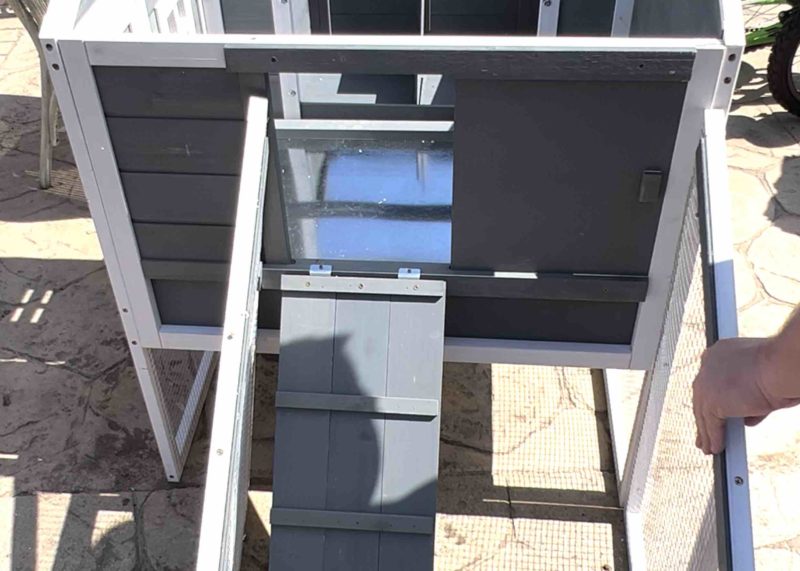 Then I put the roof on, as I mentioned this is pretty easy as a result of the dowels. I need to pull the frame into square a little but that square is obvious from the other edges aligning too: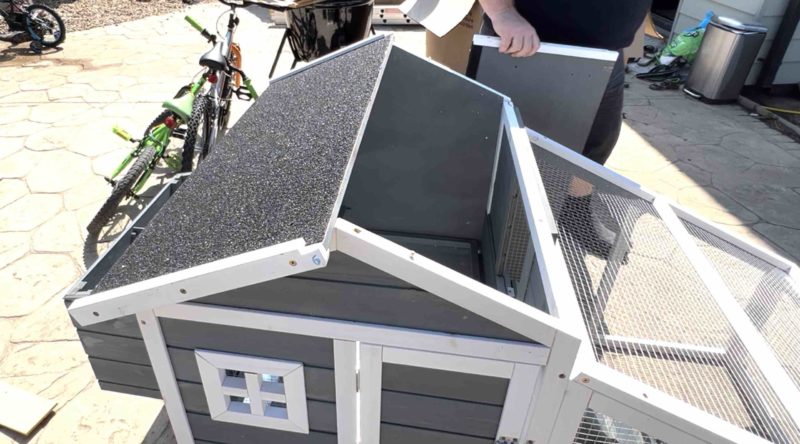 And that's it – the final product is ready to go. I decided to extend the run myself. It's in the veggie patch so no big deal that it looks rough: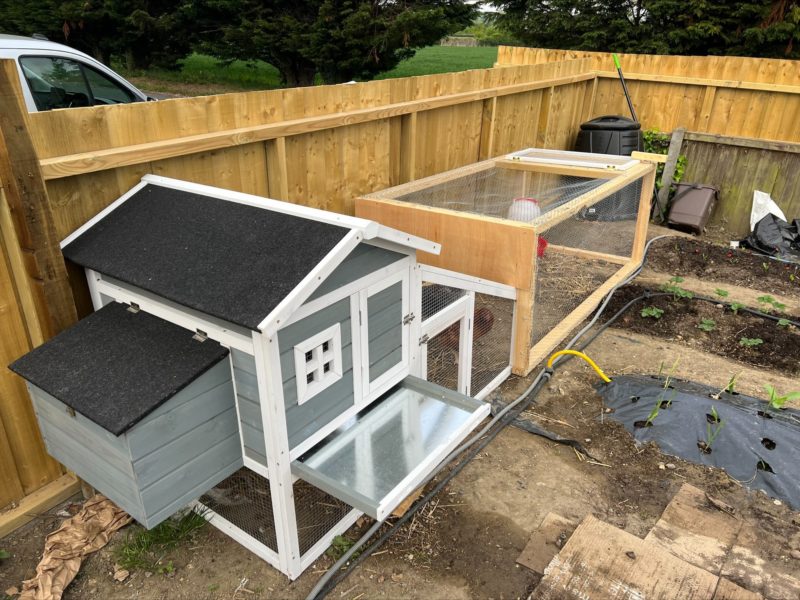 I have to say if you got this far pat yourself on the back – you are ready to read my reviews to see which chicken coop is best for you. The one I've assembled is my second choice overall in the UK at the moment.
Best Chicken Coops
Here's a look at the best chicken coops following all the testing and research I've done. Personally owning these and using them for years has given me a good idea of what works and doesn't. I hope this helps and saves you time / stress and money!
Chicken Coop Buyer's Guide
What is there to know about chicken coops? They're just boxes with chickens in them right?
Well, no they're not, and you should educate yourself by reading this little buyer's guide so that you know the product you are buying is worth the money you are paying for it. Here are a few aspects you should be aware of.
Size
How many chickens do you have, or intend to have? How big are they? How much space do you have in your garden?
These are the very first questions to ask yourself before you even start looking for a chicken coop. Then you should check out the dimensions of the products you are interested in to see if they would offer enough room for your birds.
It is also important that you take into account the design of the chicken coop when looking at dimensions. Two products may have the same dimensions on paper, but one might have half of that space taken up by the run while the other is the size of the coop only.
Coop only or Coop and run – value compared?
Some models are chicken coop only and don't have a protected area (known as a run) for the chickens to walk around in. This means that you will either have to let them walk freely around your garden, or build an enclosure for them. When you compare the complete set together you'll notice you almost always get better value benefitting from economies of scale to coin a phrase.
If you opt for a coop and run design, try to get one where the coop is raised sufficiently off the ground so that the chickens can enjoy the extra space underneath.
Materials and finish
This is important for all products, but especially wooden ones that will sit outside. Good quality wood that has already been treated is ideal, but you will probably find that most low priced chicken coops will require you to paint or stain the wood yourself to protect it.
The little details like the quality of the handles on the doors, or the locking mechanisms is also important and the best way to learn about these is to read customer reviews.
Extra Features
Good features to look out for are floors that slide out to be cleaned easily, waterproof roof materials such as plastic or asphalt, high quality mesh for protecting the run, and large, or even better, multiple nesting boxes. Removable roofs or at least ones that can be lifted are desirable, again for cleaning purposes, and ventilation windows that protect against intruders are also good features.
So, there you have it. A fairly comprehensive look at the best chicken coops here in the UK. We hope you have enjoyed this page, and would like to explore our site some more. We have dozens of pages of reviews and buying guides on just about every gardening product you can imagine so feel free to dive right in.
---