Written by Terry Smith
Our site is reader supported so when you click a link to Amazon we may earn an affiliate commission.
Best wood wax and wax polishes to make your joinery shine and protected (2021 Updated Review)
This article was last updated on August 7th, 2021 at 1:15 am
Best Wood Wax and Wax Polishes Reviewed
If you're looking to give your DIY wooden furniture project a nice finish, or you want to restore an old cabinet, table, or wardrobe back to its former glory, look no further. We have compiled a list of the best wood wax and wax polishes here for you, and given our honest thoughts on each of them too.
In addition to this, be sure to check out our buyer's guide, where we will teach you the best way to get that stunning, natural finish and tell you how to avoid a few common mistakes when applying wood wax and wax polishes.
So, let's get started, and let us shine a little light on the subject.
Best Wood Wax and Wax Polishes Buyer's Guide
Here are a few important things to know about using wood wax and wax polishes. With these tips, you should be able to get that finish you are after, and not be disappointed with the results.
Things you should/shouldn't do when applying a wood wax or wax polish
Apply a little at a time. You don't want to put too much on there all at once or you'll find that it's hard to buff it properly, and end up with a displeasing finish.
Let it sit a while before buffing. Many people make the mistake of throwing the wax on there and then start trying to buff straight away. This is a no-no, especially if the wax has solvents as they have to evaporate before you try to do any buffing. I would say leaving it a minimum of 30 minutes before you try buffing.
Apply the wax in a way that goes in one direction (with the grain), and avoid going back and forth like you might when painting. When you buff, you might want to stay with the grain again, but usually, you don't have to and can do a circular movement if you like.
Make sure you buy the right type of wax. Some waxes can be used for both painted and unpainted wood, but some can't and their solvents can actually damage the paint coat. Also, if you want the wood to be stained darker, you should probably be one that has a darker shade, and not as clear one. Clear waxes are meant to bring out the wood's natural shade and offer protection. They are not wood stains.
Not all waxes are waterproof. While most wood waxes and wood polishes provide the treated wood with a waterproof coat, not all of them do, so be sure to check this before buying a product if it is important to you.
If you are treating worktops, or things that will come into contact with your food, you should go with a product that is as natural as possible. Avoid wood waxes with mineral oils, solvents, and petroleum by products.
Comparison table: Best wood wax and wax polishes to make your joinery shine and protected (2021 Updated Review)

Product
What We Think
Price

Wax & Oil: restores and protects
Extends the lifetime of wood and bamboo
For cutting boards, kitchen utensils
100% Natural and plant-based / vegan & will not turn rancid
Made in Europe - completely food contact safe

Natural blend of beeswax and carnauba wax
Gives an instant sheen
Cleans and protects
Easy to apply
Dries quickly

SUITABLE FOR ALL TYPES OF WOOD: Our beeswax furniture polish is designed for use on modern and antique internal...
NATURAL FORMULA: This furniture polish is made from our natural beeswax blend that has been used with great success...
HOW TO APPLY: Before using the beeswax wood polish
GREAT FINISH: Our Beeswax Polish acts as a wood protector when applied...
SAFE TO USE: Because it doesn't have any synthetic components...

Natural wood finish - voc free and contains no harmful solvents like gum terpentine....
No Harmful metal dryers or solvents.
Food safe & 100% Oil and Waxes
Has a slight smell of old fashioned window putty which disappears when cured...
Superior natural finish

Made from natural waxes
Protects your finished paint effect
Provides a lasting sheen
Can be reapplied over time to maintain protection
Interior use only
Let us see some of the options that are currently available in the market.
Our first product review of the day is Rust-Oleum finishing wax, a water-based product that is a best seller, and has been getting a lot of positive feedback from our customers. I usually prefer oil-based wood waxes, as I've always found that they give a shinier finish, but Rust-oleum's finishing wax did a cracking job on the old chair that we brushed it on to. It dries out very quickly, not as quickly as I've seen claimed in advertisements, but still quickly for this kind of product. I still recommend leaving it for 24 hours between coats though for the best results.
As with many wax polishes there is an odour, and I would recommend having the windows open when you use it, but it isn't as bad as some products I've tried. The smell did linger on the chair for a few days, but it gradually wore off and was completely gone in the end.
This is a colourless wax, and in my opinion is best used on furniture that hasn't been painted, although you can certainly use it that way if you like. However, I have heard different things, from different folks, about the results of using it on painted furniture.
On unpainted wood though, I can attest that this stuff looks great, leaving you with a wonderful protective finish, and a smile on your face (that could just be from the fumes though lol)
Furniture Clinic's Beeswax Polish, is a natural product that has proven a big hit with people looking for a finish that is free of synthetic ingredients, yet still delivering the goods. Due to its natural formula, this wood wax will not affect the colour of the wood that you apply it on to, but instead will revitalise it and bring out the original look, only enhanced and with a top class shimmer.
It's so easy to use, and can be applied to oak, mahogany, pine, beech, and many more types of wood without issue. All you need to do is apply a coat, then go make yourself a cuppa for and wait for a while, before coming back to buff it into a nice shine. There isn't too much of an odour to Furniture Clinic's Beeswax polish, in fact, I found the smell fairly unobtrusive, and I didn't have any sense of a headache coming on after using it for a while either, so that's another tick in the 'pros' box for this product.
One thing I will say is that I did use more than I was expecting too on my old wooden chair, so to be on the safe side, I'd buy an extra tin or two just in case.
Another excellent, natural, beeswax polish, Parr's product contains no harmful solvents, petroleum-based products, or metal dryers; making it a great choice for all you Planet-friendly folks out there.
After applying only a small amount, I left it to sit for around half an hour before buffing, and the results were very pleasing indeed. The wooden desk had retained its natural colour, but was now looking much healthier, almost like new. After leaving it to cure for a day, I have to say it looked even better. I have to admit that this wood wax did seem like it was going to be a bit of a pain, as it is fairy sticky at first, but I was pleasantly surprised by how well it buffed, and without too much effort needed either.
After hearing from my customers that this stuff smells like window putty, I was expecting it to be a stronger odour, but it wasn't bad at all. Don't get me wrong, it still smells at first, but it certainly didn't bother me, and it soon wore off after about a day.
At its current price, this is excellent value for money as you don't have to use much for each coat, and the results are top-notch.
4. Briwax 400g Wax Polish - Clear
Briwax is available in a huge range of colours and shades, but to keep things fair and simple, we just tested out the neutrally coloured, clear version.
One of the greatest strengths of this wax polish is that it is incredibly versatile, and can be used on kinds of surfaces; from wood, to tiles, and even metal, you'll have no problems using Briwax. Although it can be used on such materials, where it works best for me is on an unpainted piece of wood, where it will leave you with a nice shine, while protecting the wood itself, and without staining or changing the original colour.
There is a smell to Briwax of course, but it's the usual oil-based wax polish odour that I personally don't find too off putting. I would still advise wearing a mask or keeping the windows open, but like most of these products, the smell wears off fairly quickly once applied to a surface.
As this product contains solvents, I wouldn't suggest using it on painted wood or it is likely to affect it, but with unpainted furniture, even a single coat looks fantastic after being buffed, and at under twelve pounds for a 400g tin, you get plenty for your money.
If you want to treat your wooden worktops to a protective coating, or maybe a chopping board or wooden utensils, you need a wood wax that is as non-toxic as possible, and that's what you get with Uulki natural wood wax oil.
Completely safe to use for all the aforementioned purposes, this product is free of solvent, mineral oil, and petroleum by products, and has instead been made from plant-based oils, making it vegan-friendly.
Being an oil, it is extremely easy to apply to the wooden surface of your choice, and just one application can protect your wood from water and prevents cracking or splitting caused by drying out.
At around 14 pounds for a 250ml tub, it isn't the cheapest wood wax out there, but as you only need to use a small amount, and only a single application to provide protection, it should last you a while.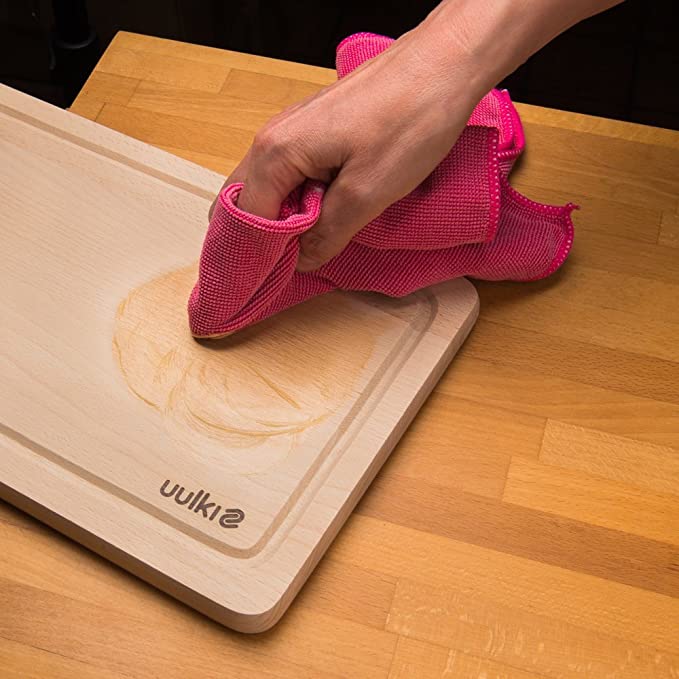 In conclusion, we can say that these are some of the wax polishes that one can use to add shine and protection to their furniture. These options are the best ones that are currently available in the market.
---