Written by Terry Smith
Our site is reader supported so when you click a link to Amazon we may earn an affiliate commission.
Best kebab skewers made of metal for a super summer bbq (2021 Updated Review)
This article was last updated on August 7th, 2021 at 1:48 am
Kebab skewers that can make your cooking easier
What way to celebrate the warmer weather, and that new BBQ grill, then to prepare and cook some juicy and mouth-watering kebab skewers. It doesn't matter if you prefer a gas bbq or charcoal, you can benefit from the best kebab skewer. Loaded with your choice of meat, a few pieces of veg, and maybe a slice of fruit just to add to the flavour, the best kebab skewers are sure to put a smile on everyone's face. You can even do pure vegetarian or vegan kebab skewers if meat isn't your thing. A lot of people use disposable wooden skewers, but this creates a lot of waste and isn't the best for the environment. They also don't look anywhere near as good as a beautifully crafted, reusable, set of kebab skewers.
Then of course, there is the difference in quality. The best reusable kebab skewers will be a lot more durable, and won't bend or flex in the high heat of the BBQ. The sharpness of these skewers also makes loading them up with the ingredients of your choice so much easier.
So, let's take a look at our picks for the best kebab skewers in the UK. We hope you find something that 'spikes' your interest.
Best Kebab Skewers Buyer's Guide
Kebab skewer products may all look similar, but there are a few differences to be aware of, and some factors you should run through your mind before buying, so take a look at this short but handy buyer's guide.
How big is your BBQ?
This is probably the most important thing to consider before buying your kebab skewers as the size of your BBQ will pretty much let you know what size of skewers are best. If you have a large BBQ, you should make the most of it by buying large skewers that you can fit plenty of food on. Of course, the opposite is also true; no point wasting money on huge skewers if your BBQ grill isn't big enough to hold them.
How much are you willing to spend?
I personally host BBQs fairly often when the weather permits, and so I don't mind paying over the odds for a top notch set of kebab skewers. For most people, that might seem like a bit extravagant, especially if they are only barbecuing every now and again. Still, I wouldn't go too low down the price range if I were you or you'll probably end up with something that is virtually useless after a few sessions on the grill
Features and extras
Although the actual skewers themselves may be similar, some brands seek your favour by including extras such as storage pouches, or cooking racks. While some of these extras aren't that great, some, like the BearMoo elevated rack, are actually decent, and make buying those products a bit of a bargain, so keep an eye out for the good ones.
Best Kebab Skewers Reviewed
Comparison table: Best kebab skewers made of metal for a super summer bbq (2021 Updated Review)

Product
What We Think
Price

Weight:2.87Lb,Easy to carry, suitable for camping barbecue
Total length (including handle):23 1/2 inch;Length (blade only)
Premium rust proof stainless steel with solid oak wooden Handle for cooler handling...
Flat and wide combination
Easy to clean up

【PREMIUM STAINLESS STEEL, EXCELLENT WORKMANSHIP】The kabob skewers are made of premium stainless steel which is food grade...
【FLAT BLADE AND ANGLED TIP
【PERFECT LENGTH, ERGONOMIC HANDLE】The 16.8" long kabob skewers fit various size grills...
【EASY CLEANUP, REUSABLE】Unlike wood and bamboo sticks
【BONUS ITEMS, SATISFACTION GUARANTEE】This kabob skewers set includes 2 of 14" kebab skewers as bonus...

SET OF 6 REUSABLE KEBAB SKEWERS: they're ideal for barbecues
HANDY SIZE: each skewer measures 20 cm (8 Inch) long
GREAT VALUE: you get a full set of 6 so you can treat your friends...
FLAT DESIGN: this stops skewers spinning so food cooks evenly
USEFUL INFO: made of robust stainless steel

【HEAVY DUTY】 Our luxurious stainless steel barbecue skewers are constructed with a heavy duty blade which won't rust...
【UNIQUE TWISTED DESIGN】 FANSIR twisted BBQ skewers are designed to fit on the lip of any grill at any...
【FLAT SKEWER WITH PERFECT SIZE】 Get 10 in 1 package
【EASY TO CLEAN】 Either pop them in the dishwasher or hand wash them...
【WIDE USE】 Suitable for BBQ

Perfectly Elevated BBQ Rack: Cook meat and vegetable to perfection on this 2.4 inch high rack with doubled clearance...
360° Rotatable Flat Skewers: Keep food in place on the triangular stick that's also handy for rotisserie each with...
Extra Length for Extra Fun: Extended 17" length allow you to leave the handle outside the grill lid for...
Authentic Quality Stainless Steel: Full 2CR13 skewers are expertly made like your other kitchen utensils that's also easy to...
Free Canvas Storage Pouch: Fit the 6 skewers and the rack in the tailor-made pouch with Velcro slots for...
You do not need another cooking machine if you already have a barbecue cooker or a smoker. Kebabs can be prepared along with other dishes like ribs and grilled meat. Kebab skewers do not take much space. Kebab skewers are simple sticks or wires that are used to keep the pieces on the grill properly and easily manoeuvred with barbecue tongs. You can either use wooden skewers or metal skewers. Using wooden skewers can give a charred taste to the meat sometimes since wood can start burning in the process. Metal skewers do not have that issue but may end up burning your hand if you are not careful and do not use safety barbecue gloves.
Here I have listed some of the metal, wooden, and firewire skewers. Even though there are many materials used to make skewers steel is the most commonly used metal. Everyone prefers metal skewers because they are durable and easy to clean. Since the wood may burn the kebab in the cooking process bamboo (even though it has its own different taste) is not an ideal choice for many, if you do not like charred flavour then I would recommend using a gas barbecue too.
Probably the best kebab skewer set available for the price, Lanney are offering up 12 skewers; 10 pieces at 16.8 inches long, and another two at 14 inches, 12 silicone tip covers, and an attractive pouch to keep it all in, for less than 14 pounds.
Rust proof, corrosion resistant, and heat resistant, these stainless-steel skewers are definitely not cheap rubbish that you'll have to bin after a few uses, and even have a very neatly polished finish to them.
Designed with a flat and wide blade, getting things evenly cooked is made a little easier, as the food won't spin on the skewer, and the end point does a cracking job of sliding through the food items without splitting them open too much. Thanks to their long length, you can have a decent amount of food on the skewer and cook over the grill, while the handle is kept away from the heat. Of course, this means you have to be careful not to knock them as you move around the BBQ, so the clumsier of you should keep this in mind.
Great looking, solidly constructed, and easy to clean in the sink or dishwasher, Lanney's Kebab skewer set is our pick for the best of the bunch, all things considered.
2. Goutime 23-Inch Long ,1 inch wide BBQ Skewers
To be honest, this Goutime product was going to be my number one choice for best kebab skewers, and if it was my money that I was spending, I would probably fork out the extra for them over the Lanney skewers. However, I realised that a lot of people out there probably don't want to pay around 40 pounds for their BBQ accessories, and so it was relegated down to second place.
If you don't mind shelling out though, you can't go wrong with these. With 2mmm thick, 18 ½ inch, stainless steel blades, mounted on high quality solid oak handles, these things are not only stunning to look at, but extremely robust too.
The extra long base means that you can get a lot of food on there all at once, and the thickness of that rust resistant carbon steel keeps the blade's shape from deforming in any way.
Although not dishwasher safe, you can simply put them in soapy water and wipe clean with absolutely no bother, and then keep them all safe in the free PU leather storage bag.
Some say that if you want the best, you have to be prepared to pay for it, and to some extent I agree, but if you're not going to be using them that often, a 40 pound set of skewers may seem a little steep. I do have to say that they are worth the money though.
3. KitchenCraft Flat Kebab Skewers
Just want some smaller, low-cost, kebab skewers? KitchenCraft have got you covered with their set of six, 8 inch skewers, priced under a fiver. KitchennCraft are a UK company that has been in the household products game for over a hundred and fifty years, and their expertise shines through in these solid, stainless steel skewers.
The flat blades do a great job of stopping your food slipping and spinning, and the tapered ends of the blades are something Goldilocks would like; they're not too blunt, not too sharp, but just right.
On the other end of the skewers, you'll find a looped metal handle, and while they are not as comfortable to hold as the fabulous Goutime oak handles, they do provide a convenient way to hang the skewers up when not in use.
There are always things that I don't like with the cheapest products, and with this one it is the shiny chrome finish it has been given. From rubbing it in my hands, I just get the impression it might chip off in the future. I could be wrong, but I wouldn't be surprised. Though, for less than a fiver you can't expect everything, can you?
These attractive kebab skewers feature a flat blade but with a twisted section just before the handle. This isn't just for looks, but also to trap the heat in the blade and away from the handle. They also give the blade a little more strength when loaded up with food. Not that this is necessarily needed, its 1.2mm thick stainless-steel blade is thicker than more than a few of its competitors and is far from flimsy.
The point of these kebab skewers is excellent for piercing even thick pieces of meat, but it is a bit on the sharp side, so you'll have to handle it with care unless you fancy a mid-BBQ trip to the first aid box.
Included in the set are ten high quality skewers measuring 15 inches long and half a centimetre wide. There is no carry bag or case included, but the looped hands make storage extremely easy.
You can wash the Fansir kebab skewers in the dishwasher, and I did find them easy enough to wipe clean with soap, water, and a decent cloth too. All in all, another decent set of skewers at an affordable price.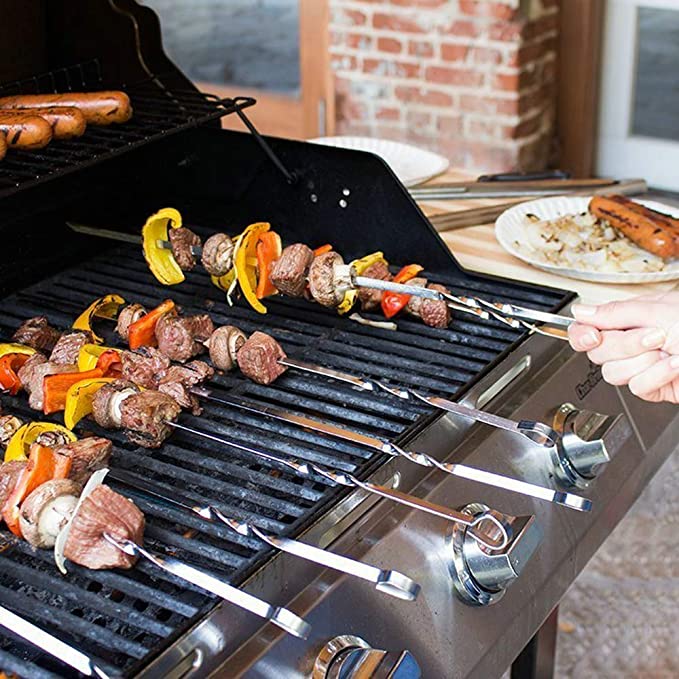 Over the years, one of the problems that I found with kebab skewers, is that no matter how well they are made, the exposure to extreme heat while sitting on the grill does take its toll over time. BearMoo (I know, silly name) have decided to address this problem by including their set of size skewers, a two-piece BBQ rack.
These two pieces sit at either end of the BBQ, and have special slots for the skewers to sit in. Not only that, but the racks keep the skewers elevated, so they, and your food, can sit just above the grill without touching it. This means no more food sticking to the grill, and skewers that have a longer working life.
The kebab skewers themselves are well made, from stainless steel, and at 17 inches long are long enough to ensure that the metal handle parts are clear of the rack and grill. Each one has a point that is sharp enough to pierce chunks of meat and vegetables without being dangerous, ergonomic handles, and the now common, flat blade design.
In addition to the kebab skewers and rack, BearMooo have included a storage pouch to keep everything in, and although nothing special, it is a decent little canvas bag. Dishwasher safe, well made, and with some nice extras, all for under twenty pounds. I think I can forgive the name of the brand, all things considered.
Any of the 5 kebab skewers can be used to cook your meat neatly and deliciously. Cooking kebabs itself is difficult because of the number of varieties available worldwide. So the selection of the perfect skewer is also not easy. It entirely depends on your needs and recipe. If you make a mistake in the selection the outcome will not be something you desired.
---