Written by Terry Smith
Our site is reader supported so when you click a link to Amazon we may earn an affiliate commission.
UK's best solar water features: bird baths, rock gardens, and cascades
This article was last updated on April 23rd, 2022 at 6:10 am
If you are trying to add some character to your garden, feel that your garden needs something extra to complete it, or if you just enjoy the sounds of water while you relax and a heightened ambience, then a solar water feature should be at the top of your list of things to buy – it'll also help attract a myriad of birds like a bird table helps so very much in the Winter particularly. Quite simply put, a solar water features makes your garden look that little bit more special at night. The garden is a place to use our senses, a solar water features is felt best in terms of sound which is a rarity for the garden – normally it is sight and smell.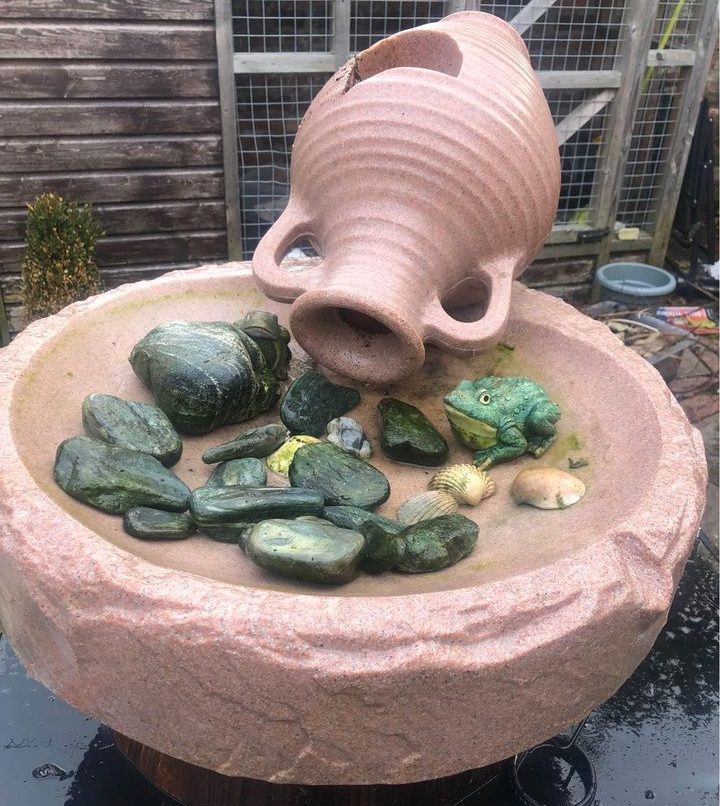 While sometimes we think of water features as ponds which can be very expensive and time consuming, not only to build, but to design too. The best solar powered water features bridge this gap nicely providing most of the benefits without the hassle. And some water features can also mimic the practical use of ponds for the wide biodiverse animal life that we are lucky enough to have here in Old Blighty, which rely on water to survive. The moving water that a bird bath with a pump provides can be essential and helps maintain the wildlife in the UK not just as useful as its a place to clean and drink but doubly useful as the running water is oxidised.
Best solar water feature – editor picks:
Best overall solar powered water feature: Smart Garden Solar Powered Garden Water Fountain Bird Bath Feature
Best bird bath: Smart Garden Solar Kingsbury 3 Tier Garden Water Feature Fountain Bird Bath
Best rock gardens: Blumfeldt Ocean Planet Solar Fountain
Best cascading solar water feature: Direct Global Trading Solar Powered Charcoal Fountain
Best wall mounted solar water feature – Blumfeldt Löwenstein Wall Fountain
Budget pick: – AISITIN 5.5W Solar Fountain Pump
Solar water feature buyers guide
Solar powered water features hit the mark in a number of ways. The first and most important mandate – taking care of our planet/wildlife is what it's all about to me and I am in favour of these smart water features. Not only does the solar power keep the flow night and day, most of them have LED lighting which creates a prominent stunning feature accentuating other features nearby too, casting interesting depths of light on them if well positioned.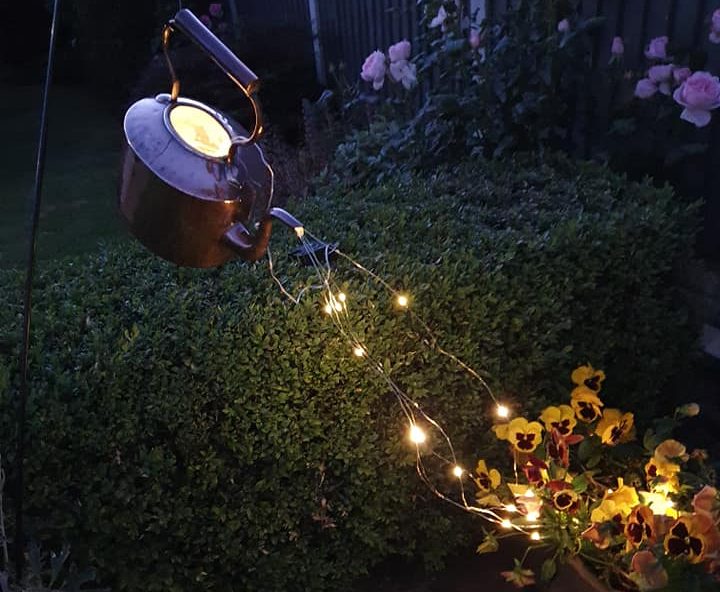 Personally I just like to sit outside with a cup of tea and enjoy what nature offers me. However, there is a reason the people of Japan seem to have water features in almost every zen garden I saw when I visited Kyoto last year. There is something very relaxing about the sound of moving water. A water feature or should I say the right water feature creates a focal point for your garden just make sure you choose a water feature that is in keeping with the aesthetics of your garden. If you like the idea of a water feature, the idea of something that is easy to install and is also environmentally friendly, then a solar powered water feature will be ideal for you.
In terms of buying, the interesting thing about solar water features is the sheer diversity and number of different types, and then the number of different ways in which install occurs. Be it from a built in solar panel integrated into the unit all the way through to one with a separate panel that can be placed in the sunny parts of the garden.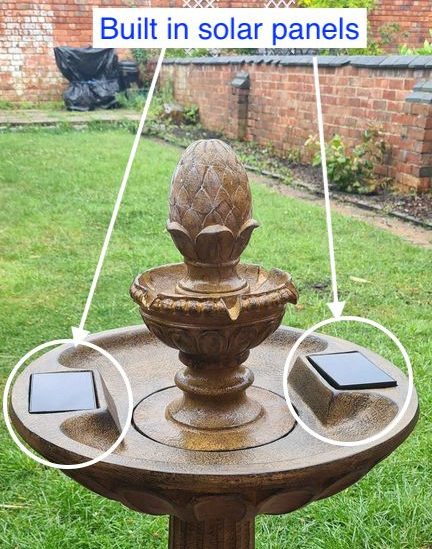 Then you've got battery life, if they have one, reliability, water flow rates, and the prices cary wildly. Not to mention they come in the form of bird baths, cascades, and rock arrangements: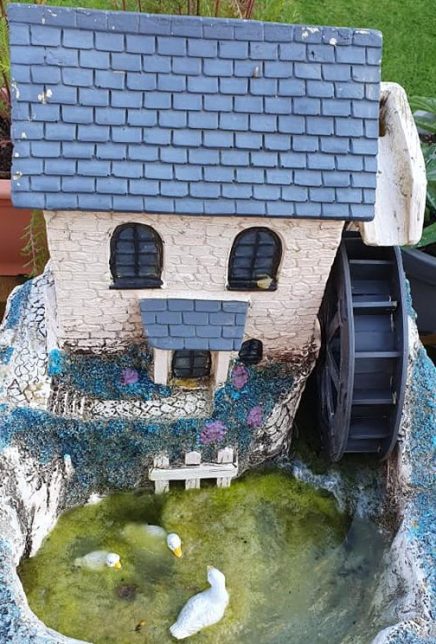 Maintenance
Where installation of solar powered water features seem simple, maintenance is less fun and definitely more of a chore. The first thing, and something you will need to check the most regularly, and more often during the autumn months when leaves and debris are most likely to be flying about in the high winds, is the water pump. The leaves, twigs and so on can clog the water pump stopping the flow of water. Check your water feature regularly and remove anything foreign bodies in the water before blockages even occur. Even insects can pose a problem so just fish those out too.
Checking the water level is also something that can be easily forgotten about or just ignored. The water level can be important to ensure that water pumps operate correctly. The maximum and minimum water fill levels are going to vary so check the level is topped up regularly and if you don't use plain old tap water – go for distilled water which has no impurities nor minerals so it reduces the amount of mineral build up in the pump and disturbs wildlife the least.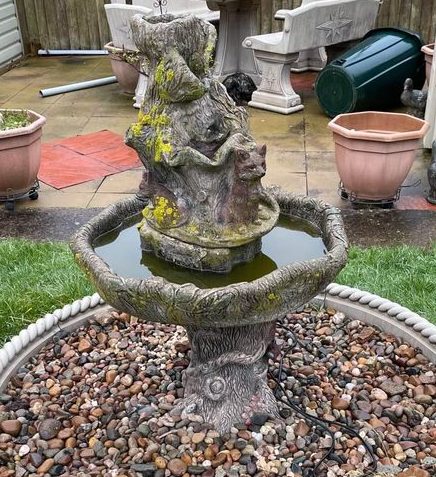 Depending on your water feature, you are going to need to change the water more or less often. Bird baths, for example like the Smart Garden, that's going to have to be changed more frequently. Every two to four days there could be a build up of bugs, bird seeds and different kinds of algae – some don't take it quite as seriously and just let it run – this will lead to a blocked pump, they are only small on solar water features. Remember, animals are now using this to clean or possibly drink from. But, even if you have the cleanest bird bath in the world the water level is going to need topping up as over time the birds are using the water and it's also evaporating as well. Other water features will only need the water changing at least once a month.
Give it a blast off with a cordless pressure washer if you have one
Finally, give it a real clean. Like I said, it's a lot more of a chore to maintain a solar powered water feature than to install one. So, you are going out to check on your solar powered water feature and you've noticed the water looks contaminated, you possibly come back for a two week holiday in the sun and realise you have neglected your garden duties a bit. Well, you have had a well deserved rest so it's back to the grind and time to give your solar powered water feature a much needed bit of TLC. My advice when completely cleaning any water feature is using environmentally friendly cleaning products – my actual preference is to hit my bird bath with my cordless pressure washer – it's not so powerful that it damages, but strips it clean and negates the need for chemicals. I will say though, you need to be careful if you have delicate paint – always do test patches first so you don't wreck the whole thing – like I have 😀
Drain your water from time to time and scrub if you can't use a pressure washer
You will need to drain all the water out and get a soft to medium bristle brush for scrubbing assuming you can't use a pressure washer I would also suggest adding one tablespoon of apple cider vinegar to a roughly 3 litres of water. It is not going to harm any wildlife or affect the feature in any way so give everything a good scrub for five minutes and rinse thoroughly. Everything should be brand new again in no time. With regards to your pump, you can get a bucket of clean water, again with some apple cider vinegar in it and cycle through the water until the water pumping though looks clean again just five minutes should suffice. After that you can grab a toothbrush and try to clean any hard to reach places that may have any extra build up of dirt or algae. You shouldn't need to remove any parts but you can do if need be. Just be careful and make sure you rinse off the water pump thoroughly with distilled water. As a final check this is obviously a good time to check if any parts may need replacing too.
Where should I place the water feature and solar panel?
Just in case it isn't painstakingly obvious the solar panel needs to get some form of sunlight. Here in the UK we aren't blessed with constant sunlight and well when we have it we need to make the most of it. Just like a solar panel. As we don't get constant sun it is best to place it in a part of the garden where you get a reasonable amount. That way we can get the best results and if it works well, maybe you can experiment a bit with placement.If your water feature has the solar panels integrated then you will be moving the whole item into the direct sunlight: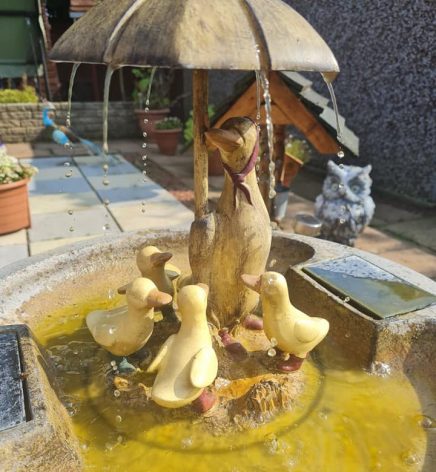 If you have chosen a water feature with a wire going from the water feature to the solar panel then you might have a few more choices on where to place the feature and the solar panel, depending on the length of the wire of course. Obviously having a wire going across the lawn is just an accident waiting to happen so unless you are thinking of bumping off the wife, probably best to rethink the wire option if you need to use the water feature as a centrepiece. Some products on this list like the Blumfeldt Ocean Planet Solar Fountain placement is not going to be a problem at all but I feel it would look best in a rock garden of some sort. Most will look great just about anywhere. However, due to the nature of the design of the AISITIN 5.5W Solar Fountain Pump you are going to need a pre-existing water feature of a body of water such as a pond.
What is a good base for the water feature?
Unless you are building a pond or creating your own water feature from scratch then you shouldn't really need to make any above ground foundations using concrete. Normally just a level, flat surface is going to suffice. You can find these on grass, in a flower bed, a patio or even decking. It all comes down to common sense, you don't want the water feature to topple over nor do you want the water to run off of it in a funny way.
Other things to consider when purchasing a solar powered water feature
Quite possibly your solar powered water feature is going to become the prime focus of your garden or in fact a centrepiece. You might want to take into consideration any other features that might compliment your new found focal point. Now, some water features come with lighting and some don't but even if they come with lighting there could be room for more. Now I'm not saying light up your garden like its Highbury Stadium on game night or a runway at Heathrow but just as an example you could have some uplighting with cool tones to maintain the feature as a focal point or solar powered lights down a path towards the feature. However you decide to give your garden that extra idyllic ambiance I hope this list has helped you in your choice of solar powered water feature and You get to enjoy your garden even more everyday.
How to install a solar water feature
Most water features aren't going to take that much to install – the key is pretty much the right tools for the job – beyond that any novice DIY'er will handle it, other than the Blumfeldt Löwenstein Wall Fountain which is wall hung and takes a bit of skill, I assure you! A number of the ones featured on this list are as easy as choosing a spot in the sun, filling her up with water and Voilà there you have it, a water feature ready for action. That's the wonder of solar powered water features, they are just a case of unbox and you're ready to go. Others are going to take a few wires being connected and pieces put together. Nothing will need you to get out your spade and start digging. At worst, you might need to rearrange a flower bed to make room for a water feature of possibly the solar panel if that is the best position, to be in direct sunlight. Choosing the type of water feature is going to dictate your installation. With regards to a wall mounted solar powered water feature it will take slightly more effort. Ok, so you will need the following;
An SDS drill
A masonry drill bit
Raw plug
Stainless steel, galvanised or some sort of non rust screws will work the best
A spirit level
A tape measure
A marker
Firstly, you need to scope out the place where you think the solar powered water feature will look best. Try to centralise the feature width ways you don't want a feature up high on a wall so try to work out where you think it's going to look best height wise. Look at the back of the water feature and measure where the hanging holes are to work out exactly where you are going to need to place the screws. Next, mark where you are going to drill. Using the SDS drill with the correct size masonry drill bit (screws, raw plugs and drill bits will vary so be sure to get the correct size to what you are working with) dill a hole in the wall. It is always best to steer clear of drilling holes in the pointing of a wall as the mortar as they are less sturdy than a brick itself. Once you have your hole to the correct depth where it's not going to swallow your raw plug then put in your screw and tighten being sure you have enough length left of the screw to hang the desired wall mounted solar powered water feature. Repeat this step for as many hanging points as necessary. Check out the picture below to give you some quick tips about how to use raw plugs courtesy of 'handy crowd'.
---