Written by Terry Smith
Our site is reader supported so when you click a link to Amazon we may earn an affiliate commission.
UK's best lawn edging shears: Spear & Jackson, Fiskars, Wilkinson Sword
This article was last updated on April 23rd, 2022 at 6:46 am
Crafting that picture perfect lawn takes more than just going over it with a good quality lawn mower. On top of a decent watering system, whether it's an automatic sprinkler system or you just tackling it with a garden hose, you also need something to keep the edges looking like they've been laser cut. Electric strimmers are often used for this purpose, but even then there are times when they are not up to the task. For example when the edge of your lawn is close to a fence or wall and the strimmer head is just too big to get in the gap.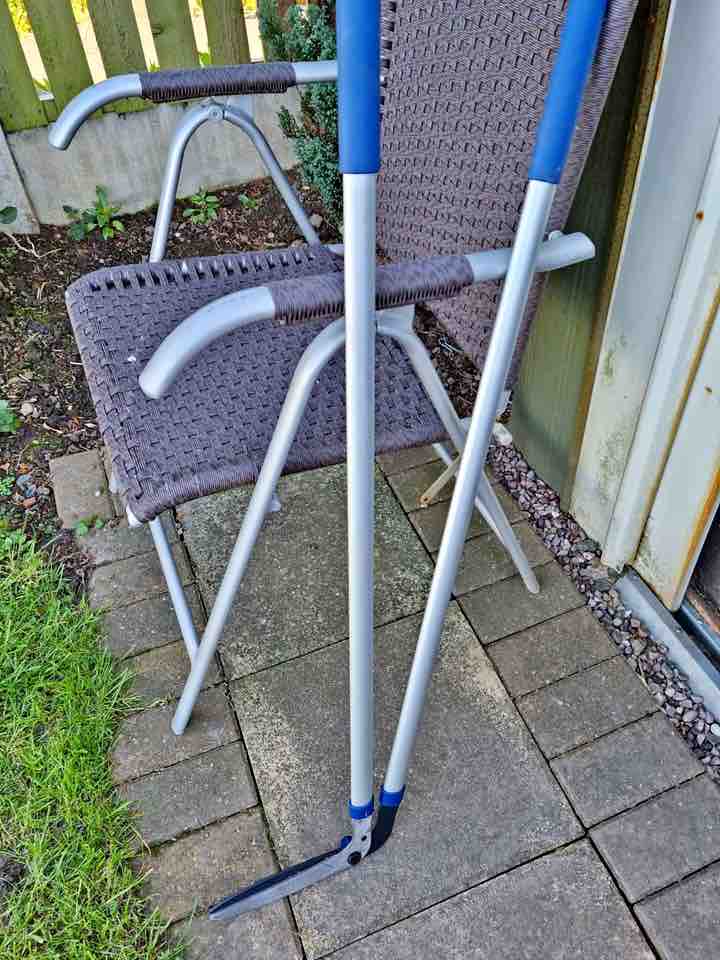 This is when you need a quality pair of edge shears. Edge shears are basically scissors style blades with long handles that run perpendicular to said blades. The long handles make it possible to trip those low lying lawn edges while still remaining stood upright. In recent times there have been variations to the 'classic' design of edging shears with models available with telescopic handles, differing handle and blade lengths, and lightweight materials being used to try to separate that product from the rest of the pack – if you want to learn more about that I recommend a look at my edging shears buyers guide
Best lawn edging shears: my picks from twenty years of experience:
Best edging shears overall: Spear & Jackson Razorsharp Edging Shears
Commercial pick: Wilkinson Sword 1111138WF WS Long Handled Border, Edging Shears
Budget pick: Kingfisher Pro Gold Deluxe Lawn Edging Shears
Alternative professional options: Fiskars LifeStyle 113310 Long-Handled Edging Shear with 100 cm Handle or the Fiskars Servo-System Grass Shear, Long GS46, With Servo-System – very high quality
Other choices worth a look:
Green Blade BB-GT115 Edging Shear with Steel Handle
Faithfull SAMES Samurai Edging Shear Telescopic
Bahco P75 Edging Shear
Edging shears buyers guide
Did you know a decent set of edging shears will last you a lifetime? That is no sales gimmick – I have been using my edging shears for years and the reason for that is a tiny bit of TLC after every use, I periodically sharpen the blades, and once a year I give them a decent service. So there's no point buying cheap in my mind, a decent set are less than a dinner for yourself and your partner.
So how do I make my edging shears last a lifetime? Well there's Winter care and how you put them away for the four or five months they don't get used, steel quality of the blade, handle material, and then the quality of the fixing holding the blades together.
But how to pick the right ones for you? Consider the overall weight, length, and if you need telescopic extension or not – I have to say that's a really big trade off, the right height for a less rigid shears. Then there's the steel quality that affects how often you might sharpen your blades. You want a high carbon steel that has had a high carbon steel heat treatment specifically so that the metal is completely hardened and retains a really sharp edge when cutting. So let's get looking closer:
Storage through winter and blade care
It's worth nothing that you would do well to lean your blades after every use, but the reality is in my home, that just doesn't happen. So the best thing is to make sure that you have a can of WD-40 on hand, or some decent oil. Keeping the blades oiled through Winter will save you rust and clean up come Spring. Sharpening your blades is generally easiest with a file. I put mine in a vice and use some high grit sandpaper. After, oil them up and this will keep the rust away and useable for years to come. This chap is well worth watching, his video is excellent and although these are standard shears, the method is exactly the same.
Length
It doesn't matter what your wife/girlfriend told you, size does matter when it comes to edging shears! 😀 The whole point of these tools is to negate the need for stooping or crouching down low to trim the edges of your lawn, so you need to work out what would be a comfortable length for you, personally. Too short and you'll be bending over, too long and the tops of the handles will be in your armpits. Typically from testing the overall length is about 900-950mm in most of these – this is comfortable for a standard height man like myself as I found from testing.
Handle and shaft material
As this is the thing you'll be holding onto the most it is important to get something you are happy with. Aluminium shafts are very rust resistant and lightweight but might not be the strongest. Tubular steel will give you a sturdier feel but can make the tool heavier – however, unlike garden loppers, strength is less important as they don't do the same hard work so a bit less strength won't hurt you.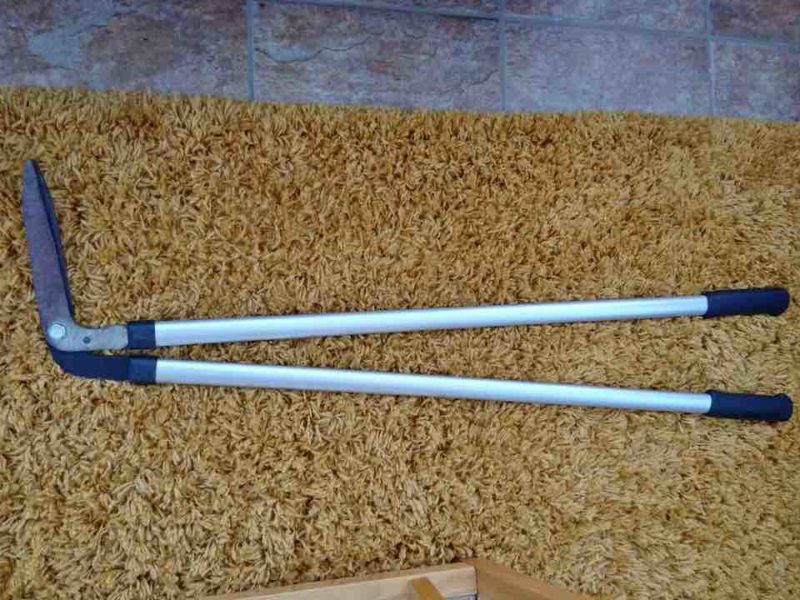 Then there are hard wearing plastics like polypropylene and good old wooden handles. Whichever you decide to go with, make sure that there are some nice soft grips on them or you might find yourself nursing blisters after too long.
Telescopic edging shears
Telescopic edging shears are great because they take the guesswork out of what is the right length for you. It also means that they can be used effectively and comfortably by different people. When buying telescopic edging shears, it is my advice to always go for the premium models as very cheap ones will no doubt cause you problems.
Blade material – the quality of the steel
Different brands and models use different materials for their blades. Each with their pros and cons. Carbon steel is known for its hardness and the fact that you can get a razor sharp edge, but some blades of this type can be brittle and need a special coating to make them resistant to rust and corrosion. Stainless steel blades require less maintenance and are good at fighting off rust so they are generally considered more durable but it is harder to get the sharpness that matches a carbon steel blade. Something like 420HC is high carbon steel and ideal for blades.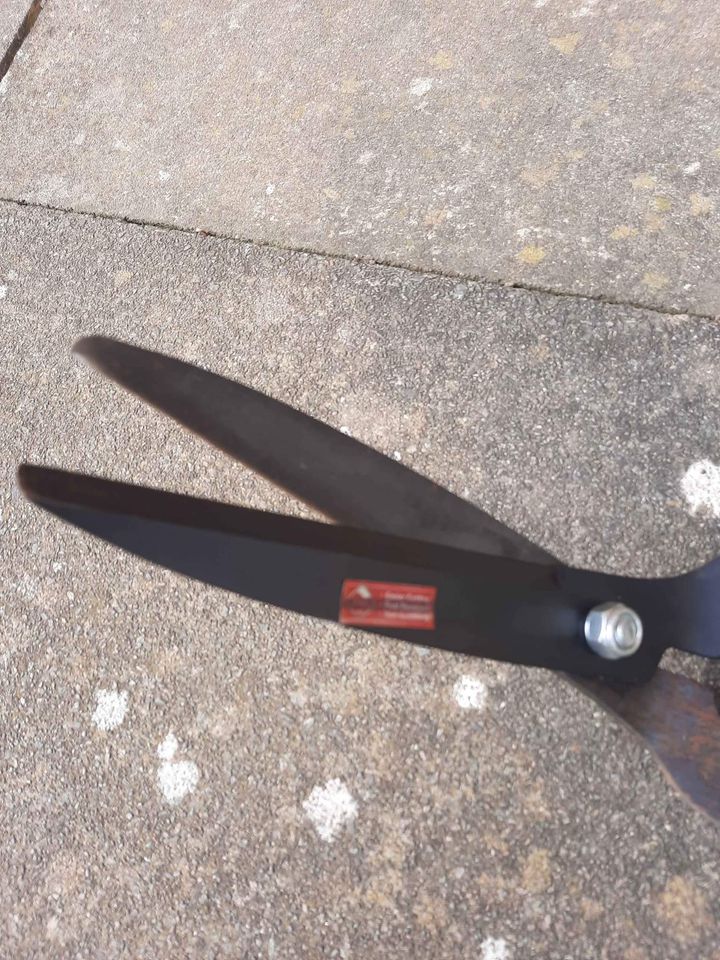 Buffers
Some models have been designed with 'buffers' of some kind to prevent the banging and jarring effect of the blades coming together. Obviously this will make using the tools all that more comfortable, especially for long periods. There are several different ways that tool making companies' tackle this problem, and it's a good thing to look out for.
Weight
Always check the weight of the edging shears you are considering and try to imagine holding and operating them for extended periods of time. If you are fairly fit, the weight shouldn't really be an issue, but older, injured, or disabled people might need something much lighter. What I found from personally using the Razorsharp and the Wilkinsons is that they weigh under a couple of KG and are very comfortable on the back for an average height man like me (5 ft 10 inches)
Build quality
This is a big one. You don't want to spend good money on a nice looking pair of edging shears only for them to start falling apart after a month. Brands like VonHaus, Draper, Wilkinson Sword, and others are usually trustworthy when it comes to building solid tools, and if there is a problem, these brands will nearly always have a guarantee that covers a replacement for you.
Best edging shears in the UK
With so many good products out there, we thought it would be a good idea for us to test and review some of the top models out there based on edge retention, price, ergonomic design, rust proofing, and durability to provide you with a guide of the best edging shears in the UK.
---