Written by Terry Smith
Our site is reader supported so when you click a link to Amazon we may earn an affiliate commission.
Best edging shears for your lawn in Summer 2021
This article was last updated on August 7th, 2021 at 4:59 am
8 best edging shears
Crafting that picture perfect lawn takes more than just going over it with a good quality lawn mower. On top of a decent watering system, whether it's an automatic sprinkler system or you just tackling it with a garden hose, you also need something to keep the edges looking like they've been laser cut.
Electric strimmers are often used for this purpose, but even then there are times when they are not up to the task. For example when the edge of your lawn is close to a fence or wall and the strimmer head is just too big to get in the gap.
This is when you need a quality pair of edge shears. Edge shears are basically scissors style blades with long handles that run perpendicular to said blades. The long handles make it possible to trip those low lying lawn edges while still remaining stood upright.
In recent times there have been variations to the 'classic' design of edging shears with models available with telescopic handles, differing handle and blade lengths, and lightweight materials being used to try to separate that product from the rest of the pack.
With so many good products out there, we thought it would be a good idea for us to test and review some of the top models out there based on edge retention, price, ergonomic design, rust proofing, and durability to provide you with a guide of the best edging shears in the UK.
Comparison table: Best edging shears for your lawn in Summer 2021

Product
What We Think
Price

Designed for trimming the grass at the edge of the lawn and borders...
Hardened and tempered carbon steel blades
Coated with PTFE for protection against rust and smooth cutting
Overall length of 1040 mm (41-inch)
Part of our Razorsharp range

Wilkinson Sword 1111138WF WS Long Handled Border, Edging Shear

Designed for trimming lawn edges and borders
Long length handles to reduce bending or straining the back
Comfortable soft grip handle made from PP+TPR
850mm steel tubular handles
Tool head width minimum is 13 mm maximum is 40 mm

Long handled with soft grips
Pro Gold deluxe lawn edging shears.
Strong and durable
Quality kingfisher product
Brand : Kingfisher

Quick and effortless way to trim the edge of your lawn.
Fitted with soft comfortable non-slip rubber grips.
Carbon steel cutting blades wth a non stick coating.
Telescopic handles which are made from powder coated aluminium.
Handles extend up to 970mm.

Fiskars Servo-System Grass Shear, Long GS46, With Servo-System

Lawn edge shears for shaping and cutting back the lawn
Patented servo system for perfect cut
Gentle for finger and arm muscles due to ergonomic design
High longevity thanks to hardened blades
Contents: 1x Fiskars Servo-System Grass Shear

Tubular steel handles
Foam grips
9 inch heat treated carbon steel blades
Strong and durable
Ideal for trimming and tidying lawn edges and borders

Cuts in to difficult-to-reach places
Suitable for cutting in shrubs
Horizontal orientated hardened steel blades
Coated with black xylan to reduce friction
Self-locking retaining nut and buffers to reduce jarring during use

Fiskars LifeStyle 113310 Long-Handled Edging Shear with 100 cm Handle

Premium Finnish long-handled edging shears--ideal for cutting long grass in awkward-to-reach places...
Longer-length 100 cm handles help reduce bending and back strain
Heated steel blades for durability and strength
Cushion bumper
Soft-grip handles
1. Spear & Jackson Razorsharp Edging Shears
The Spear & Jackson Razorsharp Edging Shears are back in stock. They were completely sold out during the earlier part of lockdown and I would normally offer a replacement alternative and move them down the list, but I feel that's unfair because this is such a quality product and the only one I would choose myself ( and do in fact have in the shed). You won't be disappointed with the quality and value for money these edging shears deliver, the closest rival for best edging shears is the Wilkinson Sword offering.
Confusingly, there are similar products with very similar names from this brand, the only difference is the word 'steel' added between the Razorsharp and edging shears.
While there are some similarities between the two, we think that this particular model is slightly superior for a few reasons that we will highlight here.
The first advantage that these edging shears have over their sibling, is that instead of steel, the handles are made from aluminium. In our opinion aluminium is a superior material because it is lighter, doesn't rust, and doesn't corrode. At just over 1 kg, you can wield these edging shears all day without worrying about any aches and strains creeping up on you.
On the other hand, some people might not like the more flexible feel to the handles and prefer the solidity of steel, so that's something to think about.
Size is another thing that this model has, with an overall length of 39 inches that saves you from bending over too far and risking back ache.
The blades on these excellent edging shears are made from carbon steel that has been hardened and tempered to make them extra strong and 'Razorsharp' hence the name. One of the blades are also coated with Polytetrafluoroethylene (trying saying that 3 times fast) or PTFE for short. PTFE is often used in pipes and containers that contain corrosive substances, and is also what is used by brands like Teflon for non-stick frying pans. The PTFE helps to keep the blade protected from the elements and ensures that they keep giving smooth and perfect cuts again and again. Why they didn't bother to coat both blades is a mystery to me though and might affect the cutting performance after a while. I guess only time will tell, but for only £20 you can't grumble too much about little things like that.
All in all, a lightweight, sharp, and very decent pair of edging shears for a reasonable price.
2. Green Blade BB-GT115 Edging Shear with Steel Handle
Usually, when you go with a budget gardening tool, you have to expect that you will have to put up with the fact that they aren't made from the best materials, or the build quality is slightly suspect.
When we first reviewed these edging shears they were half the price of the Spear & Jackson Razorsharp edging shears above and an absolute bargain. But now, with the Razorsharp's being on offer we would personally prefer to buy them over this offering. These are still a quality tool though.
The 33 inch long handles certainly feel sturdier than the aluminium ones in our first review, but that doesn't mean that they are more durable, they just feel more rigid as they are made from tubular steel and don't have the slight flex of aluminium. In the end, handle material is a matter of preference, some prefer good old, solid steel, while others like the lightweight, rust free properties of aluminium.
At the ends of the handles are rubber foam grips with ribbed and curved sides so that they fit in the hand more naturally and also provide better grip and prevent slipping once you start sweating. I found these grips comfortable enough and they certainly didn't leave me with any blisters after using these edging shears for a while, but I do have fairly tough old hands.
The cutting is performed by two 9 inch long blades constructed from heat treated carbon steel which is a material that is easier to get an extremely sharp edge on than stainless steel and so makes it great for cutting.
However, carbon steel blades to blunt faster so you do need to keep on top of maintenance to keep them cutting optimally. You will also have to oil them from time to time too as carbon steel isn't as rust and corrosion resistant as aluminium or stainless steel.
This product comes with a 12 month 'no quibble' guarantee from the makers, which is very good considering the low price of these edging shears.
I have to say that I wasn't expecting much from these but I was more than a little surprised at how good they were. These are perfect for someone on a tighter budget.
3. Fiskars Servo-System Grass Shear, Long GS46, With Servo-System
If our last review was a bargain budget model. These servo-system edging shears from Fiskars are definitely a premium product, with it sporting some nice little design features for the extra bit of money you need to shell out for them.
For a start, the first thing that grabs your attention is that there is only one handle. So how does the cutting motion work? I found myself thinking.
Well, it's actually very innovative. Instead of pulling and pushing two big handles apart, you simply press the unlock button on the handle to open the blades, then squeeze a trigger with your hand to close them and release it again to make them spring open. It's a bit like using a water spray handle like when you are watering house plants and it works really well.
The effort that this saves you makes these edging shears a really good choice if you have existing back or shoulder problems.
Another excellent feature of Fiskars servo system edging shears is the ability to rotate the blades 360 degrees so you can always get the angle that you need. You can also adjust the angle of the blades in relation to the handle so that it runs straight down and not perpendicular. This would be helpful for trimming some particularly tight spots.
Fiskars have opted to make the blades for this model out of stainless steel for increased longevity. Usually this means the blades aren't as sharp as carbon steel, but these did a great job of cutting through everything I aimed them at, so no complaints there.
At 654 grams, these edging shears are light enough to be wielded by pretty much anyone for prolonged periods of time without causing too much strain, and the 100cm length allows for a more upright posture to save your back.
The lightweight of this product is due to the fact that the handle is made of glass fibre reinforced plastic rather than any metal. It's the first time I've used shears made from such a material, but I have to say it felt strong enough for me to get the job done, and the fact that you are not actually moving two handles back and forth means that metal isn't really needed.
In conclusion, I really enjoyed using the Fiskars servo system edging shears. The easy cutting action was certainly labour saving and was enough for me to trim a lawn edge quickly and effortlessly. I don't know how long this mechanism will hold up, especially after a couple of winters in the shed, but the product is high quality and well made.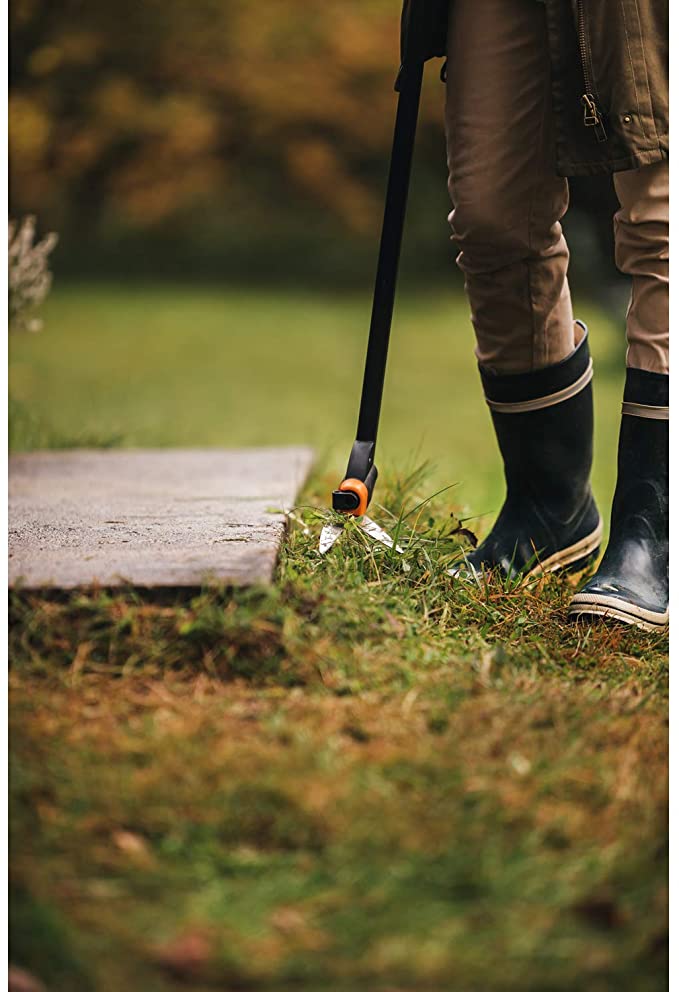 4. Wilkinson Sword 1111138WF WS Long Handled Border, Edging Shear
When it comes to brands that are trusted names, Wilkinson sword is right up there with the best of them and for the most part, have been producing high quality products for centuries.
After using these edging shears for a while, I can confidently say that they live up to the brand's reputation. The 85cm long, tubular steel handles felt very strong and the length was such that I didn't need to bend too much while using them (I'm around 5ft 10").
Just about everything about these edging shears shouts good build quality, from the handles, to the grips, to the blades, but that quality comes at a cost and that cost is manoeuvrability.
These edging shears just feel heavier than a lot of our other reviews and it was a bit of a workout using them if I didn't stop and rest my forearms every now and again.
Thankfully, the grips on these handles are made from a combination of polypropylene for strength, and TPR for softness and grip, and they really help to keep the tool under control.
Cutting performance is excellent, and the 17cm high carbon steel blades are incredibly sharp. They are also coated with a non-stick material so your blade keeps sharper for longer, and on top of this the cutting action is super smooth.
Wilkinson swords are known for offering long guarantees on their products and this one is no exception. The Brand is offering a 10 year guarantee against faulty material or workmanship, and their confidence in these edging shears inspires confidence from me too.
These are currently £34.99 which is a very good deal for such a well put together garden tool.
If you are an older customer, don't have a lot of upper body strength, or maybe you suffer from arthritis, you might want to go with the Fiskars edging shears above. However, any able bodied person should be able to handle the weight of this tool and get the most out of it.
5. Faithfull SAMES Samurai Edging Shear Telescopic
The one thing that people complain about the most when it comes to edging shears is the length. For most taller people, over 6ft, the vast majority of edging shears a too short and they still find that they need to stoop down to use them, eventually causing back pain.
The opposite is true for the more vertically challenged among us who find long handles quite awkward to hold at the correct height.
So, what to do?
Well, you could get a tape measure out and see how far it is to the ground from where your hands hang down in front of you and then search for products with that length, or you could invest in these telescopic edging shears from Faithfull.
With a simple click of a switch located conveniently on the handles, you can extend the length of the powder coated aluminium tubes through eight positions from 63cm to a maximum of 97cm, which should be enough for most people from this planet. If you need more than that, you might be better off buying an old school scythe, just don't do any night gardening or you'll give the neighbours a heart attack when they think the grim reaper has come for them.
At the top of the handles are large, yet soft and comfortable grips made from rubber that are designed to be anti-slip and they work really well. I used these shears without gloves on for a short while and I liked the way they felt in my hands, secure but still comfortable.
Just like the Wilkinson Sword edging shears, these also have carbon steel blades that have been given a non-stick coating which helps to reduce friction and prolong the working life of the blades. The blades measure 23cm which is much longer than average so you can trim those edges in double quick time if you use the full length of the blade.
Overall finish of these edging shears is very good and there weren't any parts coming off or being misaligned and everything worked as it should. They are reasonably priced too, and I would have no issues recommending them to anyone looking for a decent pair of telescopic edging shears.
6. Bahco P75 Edging Shear
My initial reaction on pulling these Bahco edging shears out of the box was 'those blades look good', which is a good start for any cutting tool review.
On closer inspection, my first thoughts were reinforced as I realised that what caught my eye was the thickness of blades and also the quality of the metal which is hardened steel coated in black xylan. Xylan is most often used in cookware but has properties that reduce friction, rusting and corrosion, sticking, and also improve wear resistance.
The blades also have a self-locking retaining nut which helps prevent jarring while cutting by acting as a buffer. It all adds up to give you an excellent cutting experience but you do need to apply some WD40 after each use to keep them working that way or they will become quite stiff I suspect.
The overall length of these Bahco edging shears is 95cm and the cutting blades are around 18cm long. I'm not sure of the exact weight of this model but they felt similar to the Wilkinson sword and had a fair bit of weight to them. This usually means that they are made from solid stuff though, so you can't have everything.
The one thing that I wasn't too keen on was how these felt to hold for long periods of time. The 15cm long soft grips are fine and do what they're supposed to, but it's the angle of the handles that seemed to make my wrists ache after a while. I thought it could just be me, but I also read other reviews from people saying the same. I guess you'd get used to them quickly enough though and I suppose it's a good workout for your forearms, right?
The Bahco P75 edging shears are more expensive than a lot of their competitors, but the build quality is up there with the best and they are definitely worth checking out if you don't mind a bit of light maintenance.
7. Kingfisher Pro Gold Deluxe Lawn Edging Shears
Priced at £12.95, the Kingfisher Pro Gold Deluxe edging shears are another worthy budget option for your garden tool box, especially if you are taller than average.
The handles on this model measure 93cm. This makes them great if you are 5ft 10" and above but not so much if you stand shorter than that. Luckily they are telescopic, so you can adjust the length to your liking.
The tubular steel handles felt strong and sturdy, more so than I expected for the low price, but the angle of the grips and handles themselves gave me the same trouble as the Bahco after a while- tired wrist and forearm muscles. I know this is unavoidable for the most part, and your arms and wrists will always get tired when using shears for a long time, but these started causing me problems a little faster than some of the other edging shears we tested.
The hardened steel blades come sharpened and ready to cut and they did that very well, easily slicing through the grass without sticking thanks to their coating, but after a while I noticed them getting a little tight. This was easily fixed with a bit of adjusting and squirt of WD40 though and then they worked fine again.
For such a low price, you can't really go wrong with the Kingfisher Pro Gold Deluxe edging shears, even if they are a little rough around the edges, it's nothing that a squirt of WD40 won't fix.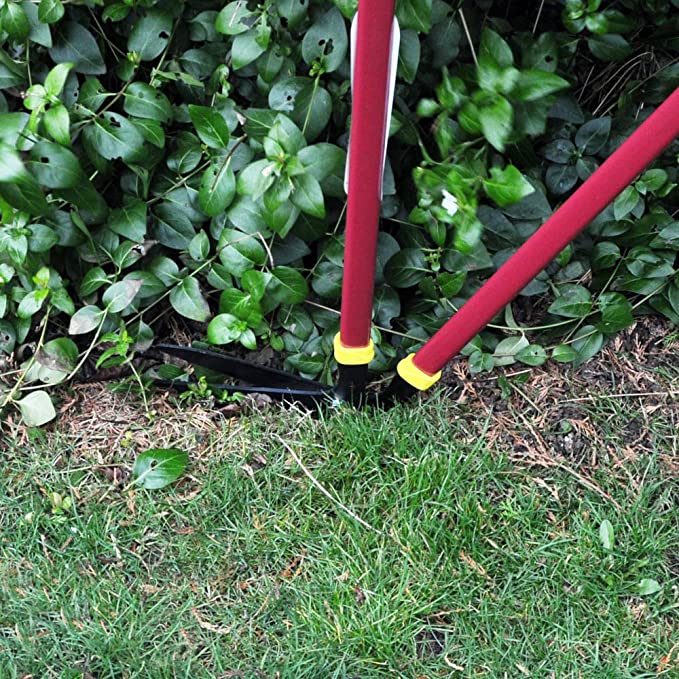 8. Fiskars LifeStyle 113310 Long-Handled Edging Shear with 100 cm Handle
Our final reviewed product is another set of edging shears from Finish brand Fiskars, makers of the innovative 'servo-system' shears we reviewed earlier.
These shears are very long at 100cm and are not telescopic so they probably wouldn't be suitable for shorter people. However, if you are on the opposite side of the height spectrum, these might just be the thing you are looking for to tackle those overgrown lawn edged without breaking your back.
Fiskar have chosen heated steel as the material for the blades on these edging shears to give them more strength and durability, and there is a cushioned 'bumper' to reduce jarring and strain on the user.
I have read some reviews from people who have had problems with the blades becoming looser as time goes on but after doing some research, this is a fault in some of the units that is missing a certain washer that is meant to prevent this. A call to Fiskars should solve this problem though if you are unlucky enough to get a defective unit. Another alternative solution is just to tighten the nut yourself regularly.
The handles on this product feel strong and very sturdy but the overall product is actually very light and I could swing these about with ease for hours without getting unwanted aches. The soft grip handle tops also helped in this department.
To summarise, these edging shears are generally well constructed and come with a 10 year guarantee. However there have been some issues with the nut on the blades in the odd unit so it's something to think about.
Best Edging Shears Buyer's Guide
Below you find some advice on the types of things that make a good pair of edging shears. And with the lockdown in play, what better time to work on make that picture perfect lawn this Summer 2020. With the theme being 'at home' it doesn't have to be all doom and gloom!
So, we have separated our buyers guide into easy to read sections for ease of reading. Enjoy.
Storage through Winter and blade care
It's worth nothing that you would do well to lean your blades after every use, but the reality is in my home, that just doesn't happen. So the best thing is to make sure that you have a can of WD-40 on hand, or some decent oil. Keeping the blades oiled through Winter will save you rust and clean up come Spring. Sharpening your blades is generally easiest with a file. I put mine in a vice and use some high grit sandpaper. After, oil them up and this will keep the rust away and useable for years to come. This chap is well worth watching, his video is excellent and although these are standard shears, the method is exactly the same.
Length
It doesn't matter what your wife/girlfriend told you, size does matter, especially when it comes to edging shears! The whole point of these tools is to negate the need for stooping or crouching down low to trim the edges of your lawn, so you need to work out what would be a comfortable length for you, personally. Too short and you'll be bending over, too long and the tops of the handles will be in your armpits.
Handle material
As this is the thing you'll be holding onto the most it is important to get something you are happy with. Aluminium handles are very rust resistant and lightweight but might not be the strongest. Tubular steel will give you a sturdier feel but can make the tool heavier. Then there are hard wearing plastics like polypropylene and good old wooden handles. Whichever you decide to go with, make sure that there are some nice soft grips on them or you might find yourself nursing blisters after too long.
Telescopic edging shears
Telescopic edging shears are great because they take the guesswork out of what is the right length for you. It also means that they can be used effectively and comfortably by different people. When buying telescopic edging shears, it is my advice to always go for the premium models as very cheap ones will no doubt cause you problems.
Blade material
Different brands and models use different materials for their blades. Each with their pros and cons. Carbon steel is known for its hardness and the fact that you can get a razor sharp edge, but some blades of this type can be brittle and need a special coating to make them resistant to rust and corrosion. Stainless steel blades require less maintenance and are good at fighting off rust so they are generally considered more durable but it is harder to get the sharpness that matches a carbon steel blade.
Buffers
Some models have been designed with 'buffers' of some kind to prevent the banging and jarring effect of the blades coming together. Obviously this will make using the tools all that more comfortable, especially for long periods. There are several different ways that tool making companies' tackle this problem, and it's a good thing to look out for.
Weight
Always check the weight of the edging shears you are considering and try to imagine holding and operating them for extended periods of time. If you are fairly fit, the weight shouldn't really be an issue, but older, injured, or disabled people might need something much lighter.
Build quality
This is a big one. You don't want to spend good money on a nice looking pair of edging shears only for them to start falling apart after a month. Brands like VonHaus, Draper, Wilkinson Sword, and others are usually trustworthy when it comes to building solid tools, and if there is a problem, these brands will nearly always have a guarantee that covers a replacement for you.
I hope this review helps you choosing lawn edging shears, stay safe, and keep well. Summer 2020 can still be one to remember!
---