Written by Terry Smith
Our site is reader supported so when you click a link to Amazon we may earn an affiliate commission.
Best infrared heater [UK]: top portable, outdoor, indoor, and free standing commercial infrared heaters reviewed and compared
This article was last updated on April 23rd, 2022 at 1:55 am
If you're searching infrared heaters you know they work great when compared to traditional blow heaters and even beat some convection type heaters as well as heavy duty patio heaters. It's quite interesting actually because they work through electromagnetic radiation. This is pretty much how the sun heats us up. So they work by heating up walls and ceiling around you rather than the air directly. The biggest advantage though is just how quickly they can heat up. You can be at full power in less than a minute! This is a bit like convection heaters where the heat is stored in the brick and releases to provide warmth over a longer period and takes the edge off the chill. There's more below on how infrared heating works which may help you make a suitable decision for your home but they are certainly a great choice given they are far more efficient than blow heaters and in some cases more efficient than convection heaters too!
Outdoors, these heaters work by heating us directly via radiation like the sun, bypassing the air so to speak and makes them a pretty good choice for outside too. You'll find many wall mounted heaters and table top heaters work like this in the garden and may be of interest too. You'll note the top ranked are normally infrared which isn't a surprise given the way they work and their efficiency. The wind cold be blowing hard but you'll still feel the radiation. Here's a look at one: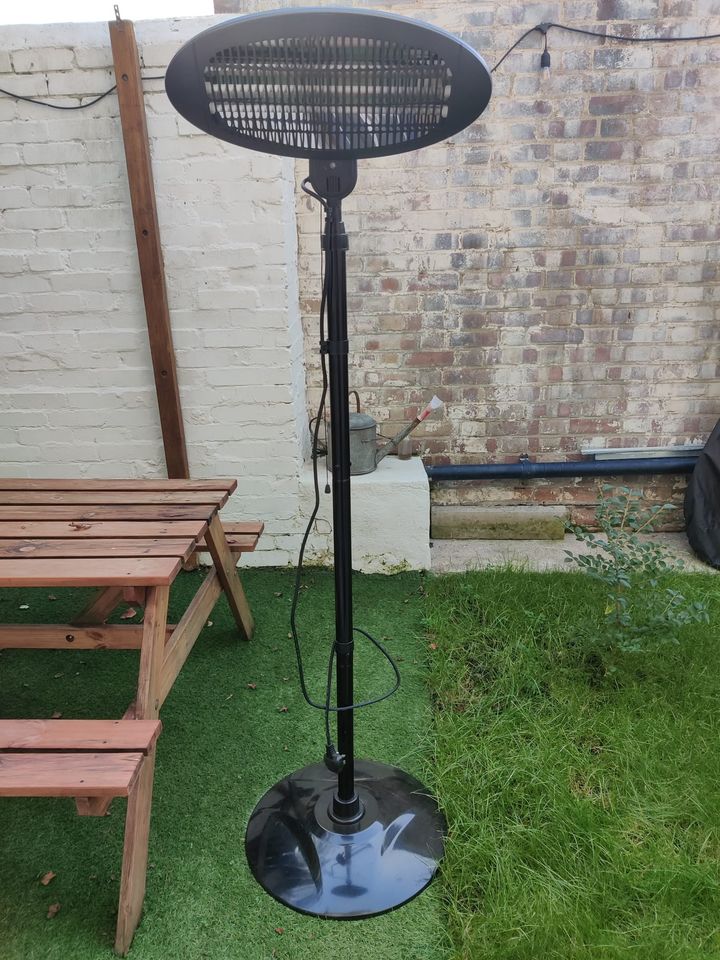 So below is my picks for the best infrared heaters for indoor and outdoor use both domestically and commercially:
Reviews for the best infrared heaters in the UK: editors picks
Best infrared heater: Devola Electric Infrared Patio Heater – must have if you love a 'smart home'
Top indoor infrared heater: Veito CH1800RE Free Standing Carbon Infrared Heater
Cheapest infrared heater: Heatlab 2KW FreeStanding Water Resistant Infrared Heater
Most sturdy free standing infrared heater: Veito CH1800RE Free Standing Carbon Infrared Heater
Best outdoor infrared heater on a budget: VonHaus Wall Mounted Electric Infrared Garden/Outdoor Warmer must have for outdoor budget heating
Most powerful infrared panel heater: FUTURA Purus 2500W Deluxe Wall Mounted Electric Infrared Heater
Best portable infrared heater in the UK: Luxeva Carbon Infrared Floor Heater – must have if you want easy to carry.
Great alternative infrared heater: Luxeva Carbon Infrared Floor Heater
Understanding more about infrared heaters to make an informed purchase
The thing that people really like about infrared heating is the sheer efficiency. It's not underestimation to say they are nearly twice as effective as standard blow heaters.
If you want to understand more this little video will really help you get to grips with infrared heating. it covers everything that would be important to understand for a home infrared heater:
It goes without saying don't leave these with your kids whether indoors or out. Some mention ages but I don't think it's advisable to leave any of these heaters unsupervised.
Why buy an infrared heater?
Winter can be especially cruel in most parts of the UK. People often find it difficult to go out during winter due to the freezing temperatures. However, the cold can also be felt indoors and can get particularly uncomfortable if you do not have proper heating equipment. Good heating equipment can ensure that the household has a temperature which makes it comfortable to live in. There are also office spaces which use heating equipment these days in order to maintain a comfortable temperature for the people working.
There are different types of heating equipment which are available in the market which you can choose to purchase for your home. However, making the right choice can mean the difference between having comfortable temperatures maintained indoors. It also can ensure that you save a lot of money on your energy bills when you have efficient heating equipment.
Infrared heaters are said to be some of the best equipment which you can invest on. It not only is efficient with its heating but is also said to be economical at the same time as well. With infrared space heaters there is no loss of heat as the infrared radiation heats only the object it touches. This makes it effective at the same time low on cost as well.
If you take a look around there are many types of infrared space heating equipment which come in all shapes, sizes and prices. To be able to make the right choice is important to ensure that your investment does not go wasted.
In this article we review some of the best infrared heaters which are available in the market at the moment. This can enable you to make the right choice of purchase and the process of decision making a lot easier.
---