Written by Terry Smith
Our site is reader supported so when you click a link to Amazon we may earn an affiliate commission.
Patio sealer: the best patio sealers tested for price and durability
This article was last updated on April 23rd, 2022 at 5:41 am
I'm sitting here making a list of jobs that need doing again soon and patio sealing is up the list. To make sure that work lasts, a quality patio sealer is a must but only if your patio grout is in tip top condition – get the jobs done in the right order! This also applies to Algae – get yourself a good algae remover too if necessary – patios with a green tinge don't look great. You might as well make a full job of it and why not check out how to use patio sealer properly if you're unsure!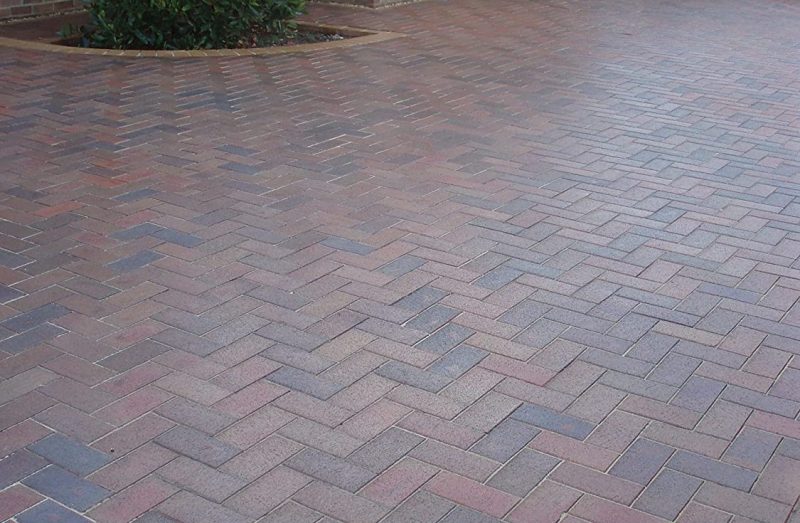 Patio sealers save an awful lot of maintenance down the line as well as looking great – assuming you buy a good one for your patio type! Stone or porous material absorbs dirt and stained water, as well as allows Algae and lichen to attach itself. The result is an old looking block paving, driveway, or patio that might only be five minutes old! After you use cleaning solution or patio cleaner in conjunction with a pressure washer (preferably a petrol pressure washer to really lift the dirt – I have to say I love my Wilks 750 – just had to thrown that in, the next step is patio sealer and it'll save you repeating the cleaning process so often. Patio sealers should be easy to apply with any common brushes or rollers, dry quickly leaving a lovely finish(please check some are low sheen, while others high), non toxic to your children and pets, and ideally helps to stop mould growth too. Based on those important criteria I have reviewed the best patio sealers for you. So I have rated the best block paving sealers based on these criteria for you and my personal experiences helps some too 🙂
Best patio sealers: editor top picks:
Best patio sealer overall: Everbuild 405 Path and Patio Seal Paving Sealer – super combination of quality and value
Best matt (dry look) finish: Smartseal Block Paving Sealer – Matt Finish
Best silky semi gloss sealer: Sika Patio Seal-Clear Paving Sealer or the Smartseal Block Paving Sealer – Silk Finish
Best glossy wet look for printed concrete driveways and patios: Smartseal Imprinted Concrete Sealer or Adseal
Best for a dry natural stone look (sandstone or slate): Smartseal Natural Stone Sealer – Dry Finish – best of the best for stone but do you want to pay?
Best budget pick: Everbuild 405 Path and Patio Seal Paving Sealer – rare a top pick is also budget!!!
Professionals choices: Sika, Everbuild, or Smartseal
This is my third update of this article and you could say it's evolving. The Everbuild 405 and Smartseal Block Paving Sealer – Silk Finish are great choices but if I'm ever installing patio grout I generally use Sika where I can, so it seems natural to use the Sika sealer too -it's a commercially used product. SmartSeal edges it for me though- the results were possibly too shiny if that's possible? Some don't like it THAT shiny 😀. Please read the review to be sure before purchasing – there's a big difference between dry, matt, silky, and wet looks! talking of wet looks – my other favourite is the Smartseal Imprinted Concrete Sealer. It makes lovely work of imprinted concrete patios. Like new in fact in some cases!
A guide to buying the best patio sealer:
There are some really important things to consider when buying a quality patio sealer – and these aren't just the purchase. It's rare that you buy a product and it is equalled in importance by the preparation work that's required – but this is the case with patio sealer.
Wet look or matt?
There's a big big difference between a wet look and matt and some in between as well. You've got wet high gloss, silky semi gloss, matt, and those that don't change the look at all (specially designed for stunning natural stone). Sometimes a sealer can significantly change the look – for example a wet look on stone doesn't do it for me. The drier matt look is the better looking for my money – basically it is there protecting and stopping dirt ingress but has very minimal impact on the look of your stone. Sometimes you cant beat what you've already got: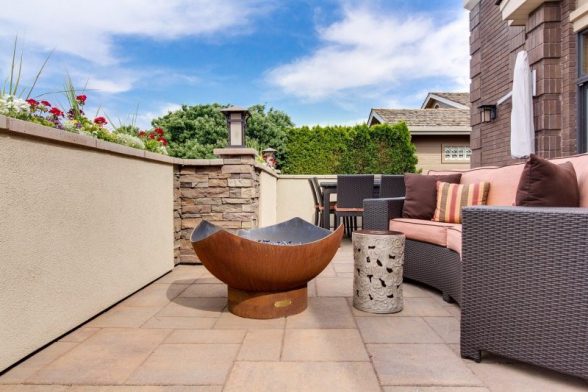 By contrast, a block paving or printed concrete aesthetically improves miles: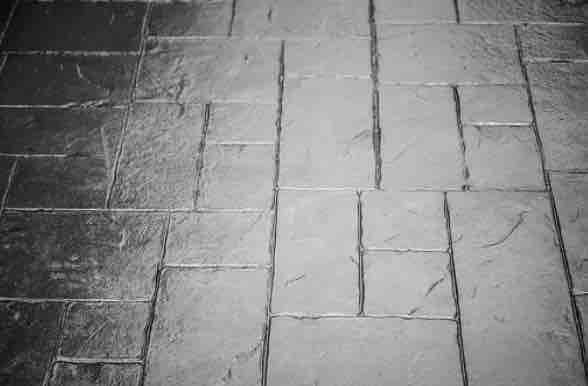 When to seal the patio
The time to tackle the patio sealing boils down to weather. You need dry conditions. You'll need some serious elbow grease or a powerful pressure washer, pressure washer detergent, and a good strong weed killer for block paving. Finally you'll need the best block paving sealer. There are some excellent choices this time around that'll make you really want to get this chore over and done with so you can sit back and admire for many years to come.
What tools help
Block paving sealer should be easy to apply using a roller or broom, it should be extremely hard wearing that even the most powerful petrol pressure washers can't blast the resin off when cleaning, stop weeds coming through, and look amazing with a glossy or matt finish as you prefer.
How long will it last?
This largely depends on the quality of the product but more crucially if you used your patio sealer correctly. If you follow the instructions linked then you're very unlikely to walk away with a substandard finish using any of the products that are listed.
How to use patio sealer properly
There's a huge difference in finish between someone that gives their patio a sweep and then rolls on a load of patio sealer and someone who fully prepares and plans their patio seal. One person ends up being online giving out 1 star reviews because of their mistakes 😀 – Don't be that person follow this guide carefully and you'll be one of those online reviewing and gloating about how good your patio or driveway looks 😀
Plan your patio sealing project well
When the time comes, you want to make sure you have a decent run of dry weather. Almost all mishaps occur when you don't have bone dry conditions. So you'll want to hit this when it makes sense – some jobs such as the weed removal and cleaning can be done in advance.
Remove any weeds and use ant repeller if necessary
You can prep by removing all weeds on your block paving or patio – if you do have a problem with weeds I would suggest looking at my article on how to apply new patio grout as this is definitely a pre-requisite to patio sealer and a happy ending!
To recap, scrape or your old sand (it may contain seeds that'll ruin the finish) re-grout and if you can see signs of ants I would highly suggest using some form of ant repellant to stop them wanting to come up through their original pathways.
Clean your patio thoroughly
This is the most important step in my mind – if you don't clean well you'll trap in the dirt and produce a poor overall finish- the best way to get dirt and stains that are stubborn out is a big powerful petrol pressure washer. That's what I do: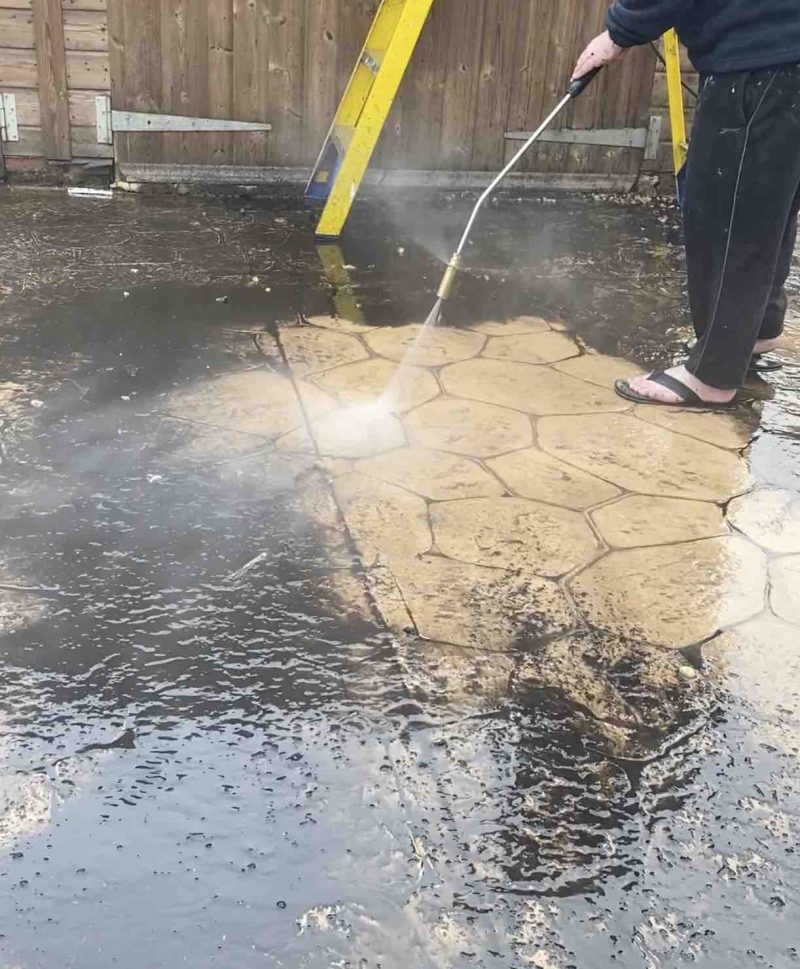 You can probably get away with one of the more powerful electric pressure washer versions as they really are becoming something comparable these days!
After the patio is clean you need it to dry out thoroughly and then you don't need to wait as most sand can be brushed in wet.
Use patio grout
If you didn't follow the prerequisite above because it wasn't that bad, you should still now top off your block paving or patio stones with sand. Push it in firmly – you can use a brick layers pointing tool, a bit of folded copper pipe – anything with a smooth edge: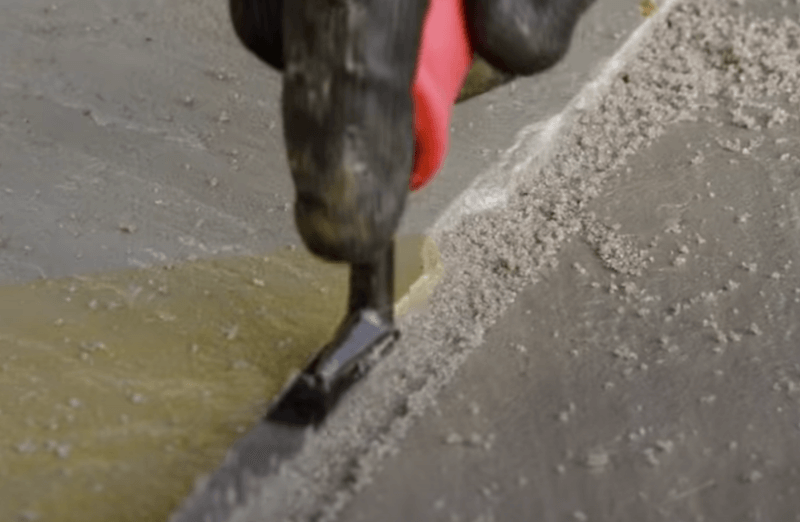 Then of course get any remaining sand up and off the patio – you'll probably need to wait for this to dry so you can use a soft broom to really clean it up.
Apply your patio sealer
Going back to planning, check the weather – if you know you've got a clear two or three days and the forecast isn't likely to change then t's time to lay your patio sealer. You can do this with a large roller, squeegee mop if the stone is flat enough, or a soft broom. Check the manufacturer recommended as they all have different best methods.
The biggest problem at this point is coverage. Make sure you give your patio three coats – if using Sika for example that will give you a nice semi gloss silky finish. Two may still look a little dull. Follow the instructions for time between coats carefully too- almost all problems occur from not following the guide specs.
If you made it this far, I hope you found the patio sealer you need and I'll update this article again soon!
---