Garden Tool Box » UK's best drain unblockers: Top drain and sink unblocker tools reviewed – HG Duo, Mr Muscle and tools compared
Written by Terry Smith
Our site is reader supported so when you click a link to Amazon we may earn an affiliate commission.
UK's best drain unblockers: Top drain and sink unblocker tools reviewed – HG Duo, Mr Muscle and tools compared
This article was last updated on December 14th, 2022 at 10:13 am
There is nothing worse than a blocked drain. At some point – we've all experienced it, for most of us it comes at the most inconvenient of times too(not that there is a good time of course!). My problem came the day my girlfriends parents (now wife) were coming over for a bbq to meet us for the first time. I'm going back some years here 😀 A few hours before they were due over the kitchen sink started filling up, not draining away as well as the sink in the bathroom – somehow they were connected. Turns out the somewhere much further down the drain pipe was blocked. I fixed my problem with a two pronged attack, a drain unblocking tool and some good old HG Duo one of the best drain unblockers in the UK still. I recently tested the Buster bathroom drain unblocker on a slow running bathroom drain too which I documented if you're interested as well as fixing nasty smells on my kitchen sick with Mr Muscle Drain Foamer.
UPDATE: I just had another shocking main drain disaster a week ago hence this update testing drain rods – I'm a magnet for crap 🙂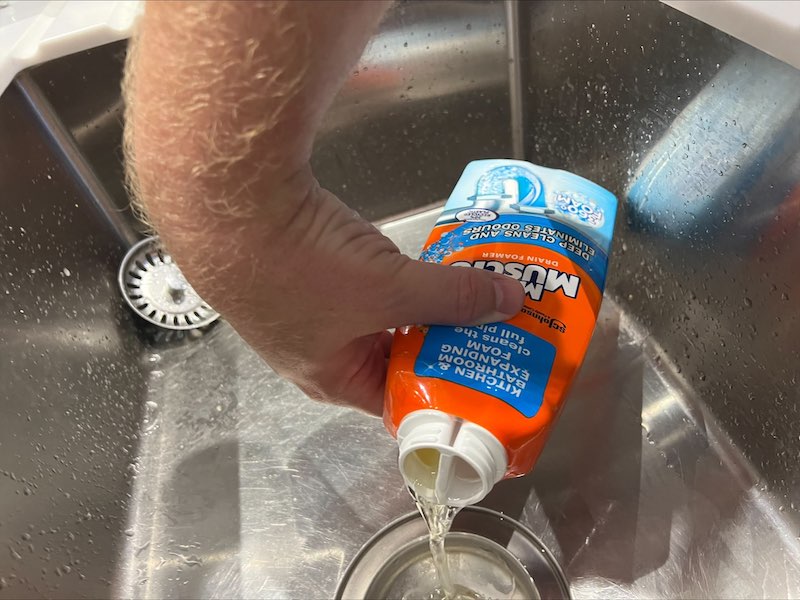 Knowing I was limited on time, I attacked it with chemicals quickly first (which obviously failed as that would have been too easy), so I then used the drain unblocking tool, which after some faffing about did save my bacon 😀 but I wouldn't wish that job on my worst enemy 🙂 Incidentally, I have included that drain unblocking tool in this review but the focus should be on using liquid drain blocker, it's so much more civilised. The interesting part to this story was I noticed the slow drain for ages but ignored it and finally clogged at the worst possible moment – so a stitch in time and all that 🙂 Had I left the drain unblocker liquid in over night I am confident I would have saved a load of grief and stress.
TOP TIP TO TRY BEFORE YOU BUY THE BEST DRAIN UNBLOCKER FOR FREE: Before relying on chemicals to clear the problem you can try a couple of things for free. Firstly send some washing up liquid down the toilet bowl or drain (wherever your block is basically) and leave for as long as you possibly can. The washing up liquid will slip around the blockage given time like good old WD-40 to release rusty bolts…. Then boil up a couple of kettles of water, and whilst boiling hot pour them in carefully. If your sink or toilet is full you'll unfortunately need to decant this first or wait for it to slowly drain away as you need the boiling water at its hottest in the pipework where the block is. It might not fix the problem, on the other hand it might not only save on chemical use, but save you a few quid as well. If that doesn't work out for you then keep reading and we will find a sensible priced solution together!
Our top picks for best drain unblocker and sink unblocker in the UK
Best drain unblocker in the UK overall: HG Duo Unblocker [Personally tested and I have to say I really love this for almost all applications]
Best kitchen drain unblocker: HG Duo Unblocker or Mr Muscle Drain Foamer [Personally tested and proven]
Best value bathroom drain unblocker: Buster Bathroom Plughole Unblocker [personally tested this bathroom drain unblocker and proven on slow running drain]
Best outside drain unblocker: Jeyes Drain Unblocker for Outdoor Drains
Best liquid sink unblocker for value: Mr Muscle Drain Foamer
Best sink unblocker: Mr Muscle Sink and Plug Unblocker
Best unblocker for hair:Buster Bathroom Plughole Unblocker
Quickest sink unblocker: Mr Muscle Sink and Plug Unblocker
Strongest drain unblocker: HG Duo Unblocker
Best drain rods: Tried + Tested – Drain Rod Set [personally tested and proven but I wasn't happy at the end] Cheaper alternative to the Bailey below.
Best drain unblocking tool: Bailey 5431 Universal Drain Rod Set in Carry Bag (3 Pieces)
Best value drain unblocking tool: Silverline 395010 Drain Unblocker 6 m x 6 mm Diameter [Personally tested and proven – superb tool]
Testing a bathroom drain unblocker
I was fortunate enough to have a partially blocked bathroom drain – 😀 yeah you're thinking how is that lucky – well it gave me the opportunity to test the Buster Bathroom Plughole Unblocker and I have to say it really didn't disappoint – as you'll be able to tell from my high pitched voice when it starts working 🙂 . I'm not quite sure how it was blocked to be honest – I only installed a new vanity unit 6 months or so before. I blame the kids – it always seems to be the safest bet when something goes wrong in the house! 🙂
Here's a look at that video test for you:
What you get in this article:
What is the difference between a drain unblocker tool, drain unblocker, and drain unblocker liquid?
The best drain unblocker in the UK reviewed
FAQs when buying drain unblocker
What is the difference between a drain unblocker tool, drain unblocker, and drain unblocker liquid and how to use it?
So since writing this initial review things have changed a bit over the last few years. Products have cropped up as the best at specific blockages, as well as chemical formulas that to better in some circumstances than others. So in his article I intend to help you understand the difference and help you compare which drain unblocker is best for you. Wickes provide a really god breakown of how to clear a drain block systematically:
How to use liquid drain unblocker
Drain unblocker liquid is the easiest way to fix most common blockages and is by far the cheapest place to start:
Simply pour the entire contents of the bottle, or the manufacturer recommend amount directly into your drain removing as much excess water as possible before and that's it. Now all you need to do is wait. What you'll notice in this review is that the manufacturer recommends you to wait 30 minutes before flushing or clearing with cold or warm water. However, a pro tip if you've tried one unblocker already or have a serious problem currently is to give it overnight. I've had massively better results with the overnight trick 🙂
You are ready to go. If you've got a block in your bathroom I would try the Buster Bathroom Plughole Unblocker first as that's the best value. For kitchen blocks the cheapest option is the Mr Muscle Drain Foamer and well worth a go before spending on heavier solutions. You have to be realistic about the ability of these products though. If you've got a really serious block then I woulddn't start with these as they are unlikely to get the problem sorted. I would instead go for a much heavier option and probably the strongest drain unblocker in the UK – the HG Duo Unblocker.
Failing that you'll need to roll up your sleeves so to speak and get dirty. The next options are all physical rods that either attempt to dislodge the block or simply ram through it.
How to use a drain unblocker tool
A drain unblocking tool is basically a physical ram to attempt to clear the block – if it's really really bad you'll need a professional to ram with really sturdy pipes or the next best thing that is considerably cheaper would be the Bailey 5431 Universal Drain Rod Set in Carry Bag (3 Pieces) but you could try the cheaper Silverline 395010 Drain Unblocker 6 m x 6 mm Diameter which works pretty well though no where near as robust when compared.
When you look at the negative reviews it's actually quite important to remember just how full of fat and nasty stuff your drains actually can be. It's no exaggeration to say they can literally be entirely filled with hard lard greasy type fats. If you think about it, stopping water flow really takes some serious effort. Look at just how easily water leaks through pipes, window frames, walls, and other areas it shouldn't to actually stop those problems is quite a feat, conversely to stop flow in your pipes means your pipe is completely jammed and it could be several feet of blockage, not just a few inches like you might be picturing. Here's a pipe that's been cut out and you can easily see why there's reduced flow rate of water. This isn't even 'blocked'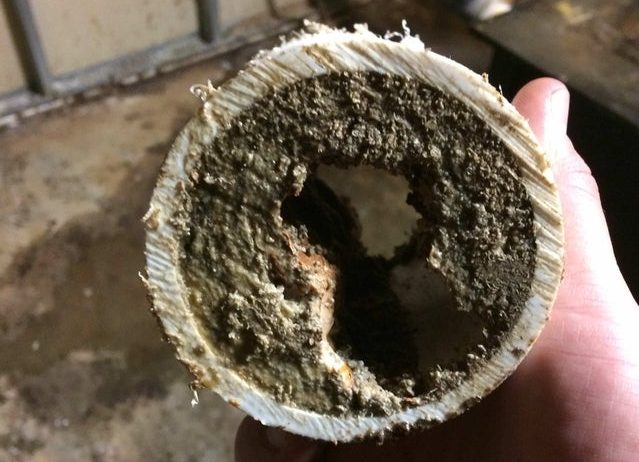 So what I'm getting at here is the drain unblocker has to do so serious dissolving to clear a real block. It's possible you'll need a second 'shot' or a physical rod to really clear things up.
FAQs when buying drain unblocker
Are there any good free options to unblock drains?
You can always try to pour boiling water down your drain first. The best bet is to go with boiling water, let that clear, then washing up liquid and more boiling water. Failing that you can try some caustic soda if you have any in the shed but that's not strictly free but worth a go!
Some suggest baking soda and vinegar for a foam action but I have to tell you I haven't had much success with that myself. I'd rather pay a few quid for a drain unblocker than waste my time too much.
What is the best way to unblock drains?
There are three really good methods to unblock a drain. First and cheapest is to use liquid unblocker or one of the cheaper unblocking tools like the Silverline 395010 Drain Unblocker 6 m x 6 mm Diameter which is extremely effective for less than a tenner.
If things are a bit tougher but you don't want to spend on a plumber then you're going to need the Bailey 5431 Universal Drain Rod Set in Carry Bag (3 Pieces)but remember this is for mains drains and straight runs.
How to stop blocked drains occurring again and reduce bad odours?
The best way to stop your drains blocking is to be proactive – the common problems are hair and grease. So with the hair, make sure you fit a good trap that collects hair for you. This will need emptying but it'll almost certainly solve the problem going forward in your bathroom. When I look at the contents of a bathroom block, it almost always stems from hair binding everything together with solid soaps. This is not easy thing to break down and left will almost certainly need some sort of solid rod to push or pull it apart.
Serious tip: If its grease in the kitchen the simplest solution is to NEVER pour it down the drain. If you absolutely have to though, you want to run the hot tap first for a bit to heat up the water in the drain pipe, and leave running while you send the grease down the sink, then leave it running for a bit after – my wife does this and I don't complain as she doesn't make me wash up 🙂 but better avoided. This will stop the grease turning hard and clogging but it's far far better to safely dispose of it in a bin. You also need to consider that its a waste of water and you'll make it smell badly. What I highly recommend once you fully clear a block and to keep things smelling nice, is use Ecozone Enzymatic Drain Sticks. Going forward this will help you keep your drains in tip top condition and so water will flow away better too. Otherwise you'll need buster kitchen unblocker 🙂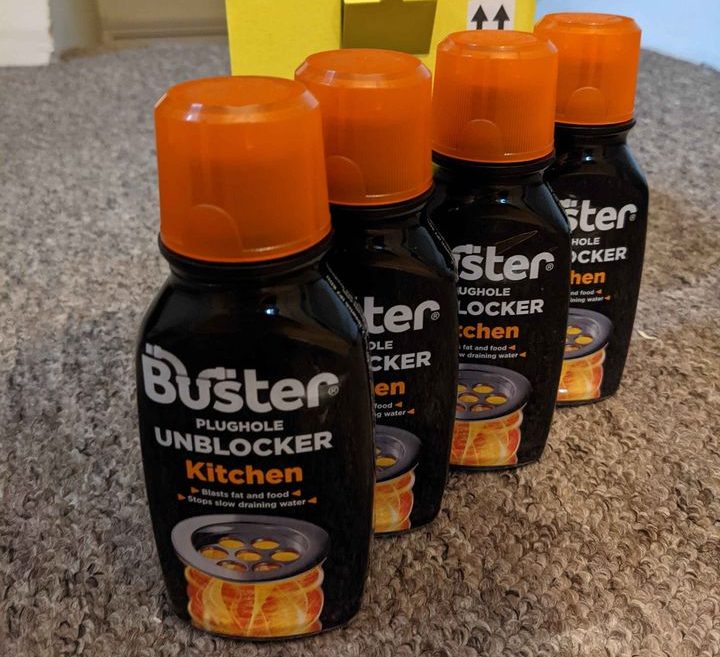 If you've got a blocked toilet you'll need to workout how to stop the kids using so much toilet paper – this is almost always the reason my toilet blocks. I always manage to clear the problem with a plunger but it isn't the most pleasant of jobs 😀 Who said being a dad was easy? So let's take a look at some of the drain unblockers available to make this a bit more pleasant:
The best drain unblocker in the UK reviewed
---