Written by Terry Smith
Our site is reader supported so when you click a link to Amazon we may earn an affiliate commission.
Best petrol and jerry cans for safety
This article was last updated on August 7th, 2021 at 7:26 am
6 Best Jerry Cans
Jerry cans are most usually used for storing or transporting fuel, but it's not uncommon these days for them to be used with a variety of liquids, such as oil, coolants, water and even soft drinks.
Invented for military use in Germany in the 1930's, jerry cans were originally made out of steel and the markings on the side were designed to help the can expand and contract with the heat and cold.
The products we find on today's market are more often than not made from hard plastics but many still copy the original shape and design even down to the side markings.
Comparison table: Best petrol and jerry cans for safety

Product
What We Think
Price

2 x 25 LITRE DRUM CONTAINERS CAN TUB JERRY CAN HDPE
UN APPROVED, CARRY GRIP
NATURAL IN COLOUR SUITABLE FOR WATER
DIMENSIONS: H=47CM W=29CM D=23CM

CarPlan TPH005 Tetracan Unleaded 5L

Colour coded for safe identification of fuel.
Easy to use flexible pouring spouts.
The spout diameter exactly matches the size of the petrol fuel pump nozzles at filling stations...
Conform to the Petroleum Spirit Regulations 1982 (SI 1982/630).

Silverline 342497 Jerry Can 5 L

Perfect for safely transporting fuels
Powder-coated finish for corrosion resistance
Leak-proof bayonet closure with pin
Precision-cut & laser-welded for strength & durability
Compatible with Silverline 854292 Metal Jerry Can Spout

1 x 20 Litre Green Jerry Can
With Pouring Spout
Powder coated for anti-corrosion protection
Internal anti-rust protection

Opticare 20 Litre Green Metal Jerry Can With Spout

Supplied with spout
Built In Strong Carry Handle
UN Approved, GS/TUV Certification
Fluid resistant internal paint to prevent internal rusting
20 Litre capacity

Flexible pouring spout for controlled flow
Compression seal prevents leakage
Tethered screw cap & carry handle
Complies with SI 1982/630
Below you will find reviews of the best jerry cans in the UK, starting with a couple of low cost, budget models. Enjoy.
1. Silverline 847074 Plastic Fuel Can - 5 L
Silverline are best known for producing cheaper versions of popular products. Sometimes these are good quality and excellent value, and this is one of those times.
Made from strong plastic, it has been designed primarily as a fuel can and can hold up to 5 litres. To prevent leakage it has been made with a compression seal.
The screw cap is tethered so you don't have to worry about dropping and losing it, and the moulded carry handle comes in handy.
This plastic jerry can comes with a flexible pouring spout that fixes onto the top of the can for easy storage.
Very cheap
Solid plastic construction
5 litre capacity
Carry handle
Compression seal
Flexible pouring spout that stores on top of the can
2. CarPlan TPH005 Tetracan Unleaded 5L
This is another very cheap product, priced at only £4.50 and coming from carPlan.
Made from thick plastic and coloured green to signify unleaded petrol.
Like the previous review it comes with a flexible spout to make the transfer of liquids easier and less messy, and the spout stores neatly with the moulded handle on the top of the can. The black screw caps are decent enough quality but the threading on the can itself could be better, but what do you expect for under a fiver?
The can's dimensions are 30 x 24 x 20cm and empty it weighs 621 grams.
Cheap and cheerful and priced under 5 pounds
Made from thick plastic
Moulded handle for transportation
5 litre capacity
pouring spout provided
3. Silverline 342497 Jerry Can 5 L
For under 16 pounds you can be the proud owner of this 5 litre metal jerry can.
The metal has been precision cut and then laser welded to prevent any leaks and to make the can hard wearing and long lasting.
Also with longevity in mind, Silverline have powder coated both the exterior and interior to prevent corrosion.
The lid is designed to be leak proof and has a sealing pin that works well. Unfortunately, there isn't a spout included with this can but you can buy Silverline's spout separately for a low price if you follow the links on the product page.
This metal jerry can has a good sized handle that is also made from sturdy steel and is situated towards the back of the can to make the pouring action feel more natural.
Low priced metal jerry can
Strong and sturdy
Powder coated inside and out to resist corrosion
Bayonet closure with pin does a good job of preventing leaks
5 litre capacity
Good sized handle is placed well for easy pouring
4. Opticare 20 Litre Green Metal Jerry Can With Spout
Sporting the strong 3 piece handle design of the original military jerry cans and being constructed of heavy duty steel, this Opticare metal jerry can is well worth the £21.85 price tag.
This jerry can has been approved by the UN and has GS/TUV certification so you can be sure of the quality. To prevent corrosion damage the can has been painted with fluid resistant paint on both the inside and exterior.
With a large capacity of 20 litres, it's a good job that the handles are so strong, and because there are 3 of them, it makes it easier for two people to carry the can at the same time. This comes in handy when it's filled to the max as 20 litres of fuel can be quite heavy.
The Opticare 20L jerry can comes with an equally high quality pouring spout, and smoother pouring has been made possible thanks to the breather. 
The can's opening can be locked down tight for transportation and storage and there's an airtight 0'ring seal.
Excellent value for money
Un approved and GS/TUV certified
Made from heavy duty steel, coated with fluid resistant paint inside and out
3 handles like the original jerry can design
20 litre capacity
Comes with pouring spout
Lock tight can opening
5. Wheels N Bits 20 Litre Jerry Can
If you're looking for a military standard fuel can at a very reasonable price, look no farther than the Wheels N Bits 20 litre jerry can.
Durability is assured thanks to the 0.9mm thick military grade steel that has been coated with alkyd-ammonia based paint to make it resistant to petrol.
The bayonet closure on the top of the can is sealed down with Wheel's N Bits patented locking pin to prevent any leaks. The opening has a wide breather channel to keep you pouring smoothly and comes with a good quality pouring spout.
Like the Opticare jerry can, this model can hold 20 litres of fuel and so it also has the original designs 3 handles so it can be carried by 2 people if required. This handle system also means that one person can carry two empty cans in each hand. The handles have also been strip welded for extra strength.
Made from 0.9mm military grade steel
Coated with alkyd-ammonia based paint to make it resistant to petrol
Wide channel breather gives a 25 second pouring time
Strip welded handles
Leak proof bayonet closure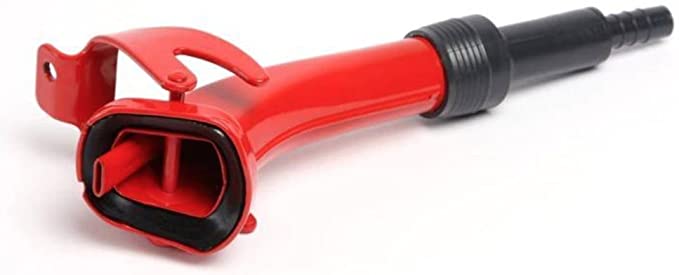 6. 2 x 25 litre jerry can water containers
For £13.25 you get 2 of these plastic jerry can containers each capable of holding 25 litres of liquid.
While these containers aren't really suitable for storing fuel, they are perfect for filling up with water for emergency use.
They are also really useful for filling large fish tanks or for storing oils, cleaning products and such.
The lids have screw on lids that don't leak and also carry handles moulded on top.
The plastic that has been used is strong and durable and these jerry cans have been made so that you can see the level of the liquid inside from the outside.
This is a pack of two containers and they have been designed to be easily stacked on one another tanks to interlocking parts.
Low price for a pack of 2 cans
25 litre capacity
Good for storing water, oil, or cleaning products
Can see level of the liquid from outside
Designed to be easily stacked
---