Written by Terry Smith
Our site is reader supported so when you click a link to Amazon we may earn an affiliate commission.
UK's best cordless strimmers: Bosch, Black & Decker, Makita, Vonhaus TESTED
This article was last updated on March 6th, 2023 at 8:42 am
Cordless strimmers have rapidly evolved and improved since I first wrote this review in the UK. After testing the Ryobi, Makita, Bosch and the Terratek (edit: now the VonHaus too which is definitely going up the list after testing it and knocking over mid size bramble!). With that said though, budget Vonhaus aside, I have to say I am a keen advocate of the Makita. It performed superbly on thistle, nettles, good old grass trimming, and I even gave it a whack on bramble – though that was pushing it a bit, simply because you need a strimmer with a blade for that, better known as a cordless brush cutter – or a professional petrol strimmer with blade attachment for any volume of heavy duty work. Here's a little look at us testing the Makita cordless strimmer on some pretty thick nettles: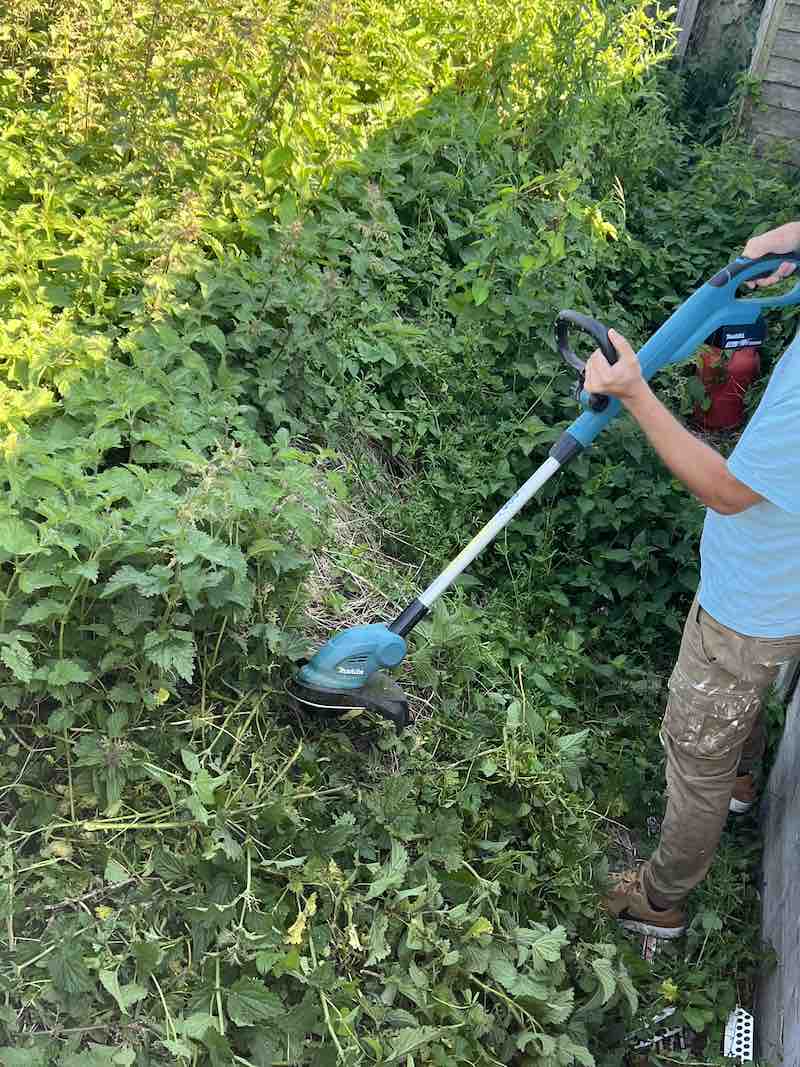 We've also tested the Vonhaus this year – I decided to push that right to the limit seeing as I am now recommending it ahead of the Einhell on budget: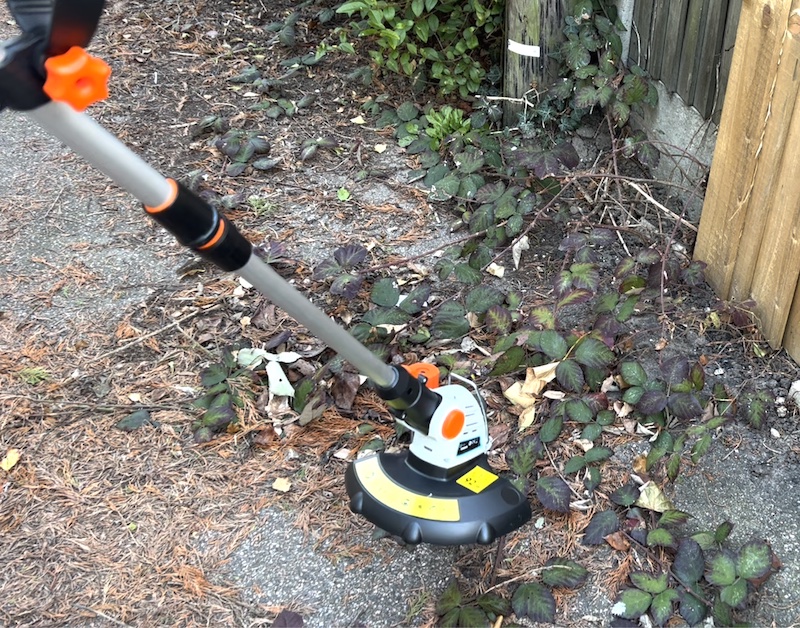 PRO TIP FROM TESTING: Cordless strimmers are now not far off as powerful as electric grass trimmers with a power lead. They don't have the same revs, but what they lose in revs, results in less stress on the strimmer wire, and therefore end up being able to cut equally as powerfully. This in my opinion from extensive professional use, is one of the first tools alongside the cordless brush cutter that I prefer over petrol! You can see a test of what a cordless strimmer will do and just how quick it gets the job done at the link provided. Simply amazing!!
Though with that all said, it's not a one tool fits all necessarily. What if you just want something lightweight for trimming and fine tuning? If you want a lawn to be jealous of, the two main tools that you are going to need are a great lawnmower and a top strimmer ( I would highly recommend looking at a cordless lawn mower as the batteries will be compatible with your cordless strimmer and save you a fortune!). The most popular type of strimmer these days are cordless models, due in no small part to their sensible cost when compared with petrol strimmers, and manoeuvrability that outshines corded models all day long, you only have to look at my corded electric strimmer tests to see these are chalk and cheese for practicality. Because of their popularity, all of the most well-known names in the garden tool manufacturing world have thrown their hat into the ring, and so, there are a ton of good products out there available at very competitive prices.
Best cordless strimmers in the UK – my top picks from testing:
Makita 18V Cordless line trimmer Best cordless strimmer for professionals [personally tested and proven]
Ryobi OLTT1832 18V ONE+ cordless strimmer best alternative to the Makita 
VonHaus 20V cordless strimmer – best on a budget and very very similar to the Einhell. I'd pick whichever is cheapest at the given time of purchase 🙂 [personally tested and proven]
Einhell GC-CT 18 Li Power X-Change 18V Cordless Strimmer – Alternative budget [personally tested and proven]
Bosch cordless grass strimmer Best grass trimmer [tested and proven]
Worth a look:
Black & Decker 36V Cordless Strimmer – currently out of stock but I don't want to remove it as it really is a great strimmer!
Worx WG157E cordless grass strimmer
Terratek 20V cordless strimmer
So with that overview, let's get into these tests and reviews of the best cordless strimmers:
What is a cordless strimmer?
Cordless grass strimmers are outdoor power tools that use rotating plastic blades to cut through grass and weeds to keep green areas well kept. Although not as powerful as petrol strimmers, they are a lot better for the environment and have advantages over a standard corded electric strimmer, like the fact that they run off lithium-ion batteries, and this gives you more range and freedom of movement.
Most cordless strimmers use nylon to cut and this is sometimes referred to as the 'line' or in some cases 'trimmer line', although some of the latest models have steered away from this and have instead started using easy to change nylon blades, which I personally prefer.
The replaceable nylon wire can be used to cut entire gardens but I wouldn't recommend it, and this is a job better suited to a lawnmower. Strimmers are best used for trimming the edges of a lawn, or keeping pathways and brickwork free from weeds ( you can also use weed killer products for this task). Some Strimmers come as a single-line cutter or a duel line cutter. We found that both styles are equally sufficient, and will certainly save you time and labour when compared to using just a pair of garden shears.
Best cordless Strimmer Buyers' Guide
Comparing cordless strimmers to petrol and corded strimmers. Which type of strimmer should I buy?
There are three types of strimmers, petrol strimmers, electric corded strimmers, and battery-powered cordless strimmers, and there are indeed pros and cons to all. However, the battery-powered, cordless grass strimmers are now the most commonly used garden strimmers in the UK.
This is for a number of reasons, not only are they lightweight and easy to handle but they are noticeably quieter when compared to petrol strimmers, they also don't emit harmful exhaust fumes, which is a bonus if you don't want to annoy the neighbours or even if you are going to be using one all day. Not to mention the petrol strimmers are often a lot heavier than electric and cordless models and more often than not require the use of a harness.
More importantly, though, choosing a cordless strimmer will have less of an environmental impact. Plus, with today's lithium technology, they can now match the run time of their petrol-driven competitors. Of course, another bonus of not using a petrol strimmer is not having to take extra jerry cans of fuel to work sites, or even storing fuel at home. This means no spillages and no trips to refill either.
So, could a corded electric strimmer be an option then? But what about trying to find a power socket down the far end of a large garden? Even if it is possible, it's not ideal to have the window open with the wire hanging out when making all that noise. Corded strimmers are also not the most ideal tool when working on large areas. Being governed by the length of the wire and being tangled up by connecting extension cords, can simply be avoided by taking advantage of cordless rechargeable strimmers.
With so many cordless garden strimmers for sale and so many brands on the market which are the best to buy? There are top brands such as, Black& Decker, Bosch, Makita, and Flymo which all have a huge range of power tools and garden equipment, but are their cordless strimmers are any good? Read our reviews above to find the answer to this.
What do I need my cordless strimmer for?
Knowing exactly what you are going to be using a cordless strimmer for is important. The reasoning behind this is, you shouldn't be thinking about spending hundreds of pounds on a commercial use garden strimmer if you are only going to be tending to a small pathway with a few strands of grass poking out.
Try to work out the size of the area or areas you are going to be working on. Will you be needing to help a friend or family member with a particularly large garden? If so, you might want to think about investing in a grass strimmer with a larger cutting width, and the battery life is another important factor to be considered.
Will you be cutting back thick grass and tough weeds in overgrown areas or just tidying up your already neat well-groomed garden? You will most certainly need a more powerful machine if you are going to be tackling the more heavy-duty work.
Do you stress about the professionalism of your lawn edges? If so, a strimmer that converts into an edging tool like the Ryobi model we reviewed earlier, could be worth looking into further.
So, there you have it, the rundown of the best cordless strimmers reviewed. We can safely say that we enjoyed using all the cordless strimmers and we would urge you to check out our other reviews on both corded and petrol strimmers if you are still not convinced about the benefits of using rechargeable cordless strimmers.
---