Written by Terry Smith
Our site is reader supported so when you click a link to Amazon we may earn an affiliate commission.
Best manual hand push cylinder mowers for Summer 2021
This article was last updated on August 7th, 2021 at 5:34 am
Choosing from the Best Cylinder Manual Hand Push Mowers Reviewed in the UK
There are a few simple things that everyone covets in this life, a partner that doesn't nag too much, kids who do their homework without being asked, and the type of perfectly cut, striped lawn that wouldn't look out of place on a tennis court.
Now I realise the first two things I mentioned are nothing but a pipe dream for most, but the perfect lawn? Now that is something you can do something about. What with lawn weed and feed, ingenuitive blends of grass seed formulas, and amazing lawn edging shears, it's never been so possible to achieve.
But, most people these days are into convenience and so they buy the latest Flymo hover mower and whizz over their garden for 10 minutes and are quite content, and there's nothing wrong with that. Rotary lawnmowers are great for cutting through long grass and that's fine too.
However, the thing is, to get those perfect lawn lines an electric rotary mower like that isn't the right tool for the job. For that purpose, a cylinder mower is what you want, and for the most control over those lines, you are going to have to spend a bit of man power and go with a manual cylinder push mower. For your hard work you will be rewarded with a picture perfect patch of grass that will be the envy of all your neighbours and friends.
Like me, you're searching for a manual push mower because you hate the idea of empty exercise, especially when you can get all you want and improve the garden too. And, with most of us staying home for Summer 2020, exercise like this is most welcomed.
So, what are the best cylinder push mowers in the UK?
We decided to find out, and tested the most popular models based on ease of use, manoeuvrability, weight, cutting power, build quality, price, and safety. The perfect push mower should handle with ease, move through grass unhindered, have excellent cutting ability and blade sharpness retention, have an ergonomic design, and be super easy to store away after use. Based on those factors, these hand push mowers made the 'cut' 🙂
Comparison table: Best manual hand push cylinder mowers for Summer 2021

Product
What We Think
Price

High-precision lawn cut: The blades are of hardened high-quality steel
Energy-saving and easy to push: The touchless cutting technology makes the cylinder mower especially quiet and easy to push...
Space-saving storage: The frame can be folded together
Convenient cleaning: The blade cylinder is non-stick-coated
Scope of delivery includes: 1 x Gardena classic cylinder mower 400 C

Eco-friendly lawn mowing enjoyable with an advanced reel mower that's 60 percent easier to push than other reel mowers...
InertiaDrive reel is designed for all grass types
New reversible grass chute can be positioned to direct clippings forward
Inset wheels allow the blades to extend across the mower's full 18 inch cut width and cut height can...
Limited 3-year warranty

Wide cutting width (30 cm) for a speedier finish when cutting the lawn...
Strong and light weight hand mower
Large 16 L collection bag for grass cuttings
Generous range of cutting height settings: 15-42 mm
Five robust steel blades for effective cutting

46cm (18") 5 bladed hardened steel contact less cutting cylinder
Side wheels for longer grass
Tool free height of cut adjustment;12-75mm
2 piece rear roller
Simple cylinder adjustment

38 cm width of cut
Five bladed cylinder and rear roller
15-43 mm height of cut
25 L grass box capacity
Easy to push, high geared side wheels
1. Einhell GC-HM 40 Manual Hand Push Lawnmower
Einhell's cylinder push mower is a fantastic gardening tool for putting that perfect finish on your lawn.
It is fitted with 5x40cm long blades made from high grade steel that run on a ball bearing spindle for a super smooth cutting experience on short to medium length grass. If your grass is seriously overgrown I would suggest going over it quickly with a rotary petrol lawnmower or cordless mower (given the advances in battery tech) first then using this to put the finishing touches on your lawn.
The large and wide plastic wheels do a good job of helping move this cylinder push mower's 7 kilogram weight around, and the width of the wheels helps to prevent making any ugly indentations in the grass.
With a cutting height can be adjusted from 15mm to 35mm in 4 different height settings , Einhell's cylinder push mower gives you a lot of control over the final look of your garden's main feature- the striped lawn.
To help catch all the cuttings, there is a basket that fits onto the back of the mower and it has a large capacity of 27 litres. To be honest though, this is the weakest link when it comes to this otherwise excellent cylinder push mower, and I found it easier not to use it.
I found setting up the Einhell easy and straightforward enough, but take my advice and don't use the screws and nuts provided, you can get much better ones for less than a quid at any DIY shop and they'll be much better.
In contrast to the poor quality nuts and bolts, the rest of this cylinder mower is very well put together. The blades, roller, spindle, and handle all feel like they are up to a good few years hard work and not likely to break too easily.
Overall though, Einhell is surprising me, last week I reviewed their cordless brush cutter and was pleasantly surprised. Don't let the name put you off just because it's new to you and this will be a brand that you'll find in most sheds come a few years from now.
Priced at around £70 pounds, this isn't the cheapest cylinder push mower out there, but it is still in the low cost bracket. Despite this, it actually performs its duties more than competently and is well worth some serious consideration.
2. Bosch AHM 38 G Manual Garden Lawn Mower
You would have to have been living in a cave for the last hundred years if you have never heard of Bosch, or never seen one of their signature green and black products.
Bosch have a habit of producing very popular products and it's mainly down to two things. 1. They are affordable. 2. They are usually very durable This cylinder push mower ticks both of those boxes and lives up to the Bosch family name.
The cutting action of the Bosch manual mower is performed by a combination of the 5 bladed cylinder and a fixed bottom blade. The cylinder blades roll the grass and cut it against the fixed blade a bit like a pair of scissors and this gives a nice uniform look to your lawn.
The cylinder is height adjustable from 15mm to 43mm but I found the lowest setting a little too short for my liking. The others were fine though. You also get a 38cm wide cut with this Bosch mower which is wider than average for the price range, and a rear roller to really tune in those coveted lines.
When compared to the Einhell cylinder mower, this Bosch does a much better job of handling longer grass, even if you do have to push a bit harder.
The large tracked, plastic wheels turn smoothly and make pushing the mower around the garden far less of a chore, and I don't think too many people would have any problem moving it around. It only weighs 7kg after all.
Even though it is lightweight, it is still a sturdy machine that gives you an impression of durability, especially the blades which should last for years with the odd bit of maintenance and sharpening.
Again, the worst thing about this cylinder push mower is the grass box. Just like the Einhell, it is a bit cumbersome and it is also hard to get the grass to actually go into the box. It is much easier to just not use it and rake up the cuttings after.
Saying that, my friend had a go after me and after a bit of experimenting said he got the grass box to work and that it was all a matter of pushing the mower at just the right speed.
I think I'll just stick with the rake as it is only a small chore.
Apart from the grass box this is a very good cylinder push mower with some nice features like the fixed cutting blade and rear roller, and for the price it's currently at, I would say it's a great deal.
3. Fiskars 18 Inch StaySharp Max Reel Mower
If you have deeper pockets and don't mind shelling out for your garden tools, then this is the cylinder push mower I would buy.
Everything about this model, from the build quality to the smallest of functions has been thoroughly thought through by Fiskars and they have delivered a superior product in their StaySharp max reel mower.
The three main design features that will affect the performance of the Staysharp Max are the chain drive, inertia drive, and the no contact blades.
Being chain driven allows the cylinder to pick up rotational speed faster and with less effort from you, and you can really feel it working once you get the mower moving. You still have to push, as you do with any lawnmower, but it does feel easier and smoother with this Fiskers model.
Another reason for this is the inertia drive. Basically, this cylinder push mower has been fitted with heavy, high quality steel blades on a large diameter cutting reel, and this, plus the fact that the cutting blades never actually touch the stationary reel, allows for less friction and more inertia. The result is a better cutting performance than what you usually get with manual cylinder mowers.
I really liked the gear system that alters the cutting height on this mower. It is a large metal gear lever that is connected to a gearbox, also made of metal, on the side of the cylinder. This makes it much faster when you want to adjust how close you will cut your lawn, and the metal construction is a big improvement on the plastic ones often seen in cheaper mowers. I didn't feel like I had to use kid gloves when changing heights in fear of braking something and could just do it without thinking.
Another clever idea that Fiskars implemented into this cylinder push mower were the wheels. Instead of having two large wheels on the outside of the mower, they fitted four smaller, inset wheels.
What does this do? Well, it lets you cut much closer to the edges of your lawn, by allowing the blades to extend to the furthest outer width, that's what. That means there is less lawn to go over a second time with a strimmer.
The Fiskars Staysharp max doesn't come with a grassbox, but it does have a grass chute that not only works as it should, but it is also adjustable so you can choose to have the cuttings eject from the front, or lower rear of the mower.
The only downside that I saw while testing this model, is what I see from every cylinder push mower, that it doesn't cut long grass very well. If you are going to use one of these types of mower, you have to remember to get out there at least once a week to get the most out of it, and if you leave your weeds and grass to grow too long, be prepared to do some serious pushing, or use en electric rotary mower for the first run.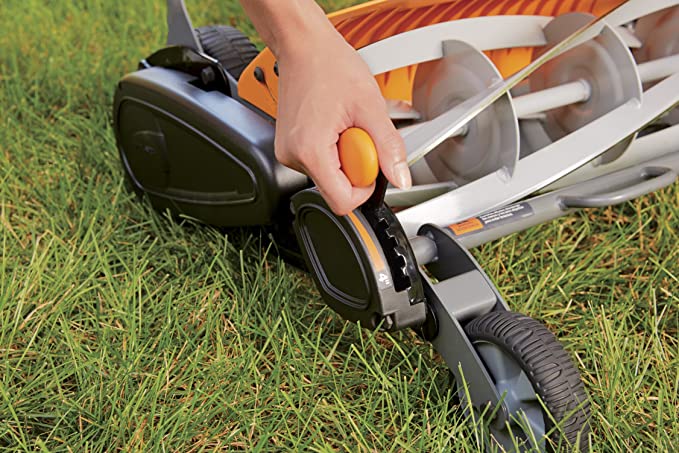 Some gardeners are sticklers for the traditional, while others prefer more modern garden tools. If you are one of the latter, then you will probably love the Gardena comfort cylinder push mower 400C.
The first big innovation is the handle. Not only has it been designed to be large and ergonomic to make pushing the mower around less of a task, it is also foldable so finding space for storage is easier too. The folding mechanism is simple to use, and also strong and substantial, even though plastic, and the top of the handle is covered in a soft material for extra comfort.
The cut that you get from the Gardena is super clean and uniform, and this is thanks to a combination of things. Firstly, the cylinder blades have been constructed out of hardened, high quality steel, and they rotate past a ground, fixed lower blade, much like the Bosch AHM mower.
Also, similarly to the excellent Fiskars Staysharp Max, the cylinder blade won't touch the fixed blade, so again there is a reduction in friction and so the blades turn better with less physical effort. This also makes the Gardena run very quietly, so you don't have to worry about getting out there early in the morning as you won't be waking anyone up with this cylinder push mower.
The cylinder blades have also been given a non-stick coating with the aim of making cleaning up less of a hassle, and from what I observed, it actually works pretty well. You still have to get in there with a hose pipe or pressure washer to get it really clean, but there was certainly less material to shift with this mower.
On the sides of the mower there are large treaded wheels made of plastic, and while these do a good job of providing grip and making movement smoother, they also prevent you from getting really close cuts to the edges of your lawn, but this can be said for pretty much all mowers with large wheels on the outside.
On the back of the mower you will find a roller to help produce a nicely striped lawn, and also the controls for height adjustment of the cutting blades. These controls are very simple and well designed and changing through the settings from 12mm-42mm only requires the sliding of a small handle.
The Gardena cylinder push mower is higher on the price scale than most of our reviewed products (all except the Fiskars) but there is still certainly value for money here.
There's something to be said about those old school, solidly built cylinder hand push mowers of yesteryear, and with this model from Webb, it is like taking a step back in time to those glory days.
If I said that this Webb cylinder mower was well-built, sturdy, durable, etc. I wouldn't be doing it justice. It has a solidity to it that would make me feel comfortable going to war with it!
Joking aside, this is a well put together bit of kit, and with that comes the inevitable extra weight. Tipping the scales at 18kg it is significantly heavier than a lot of its competitors but I wouldn't say that's a bad thing. Sure, it requires a little more effort to carry around and push so maybe not suitable for the elderly or infirm, but it does mean that the lawnmower is firmly planted on the lawn and gives you a nice uniform cut.
It also helps to provide pressure to the 18 inch, two piece rear roller making it more effective than a lot of lightweight cylinder mowers.
At 46cm, this Webb mower has the widest cutting blades of all our reviewed products so it takes less runs to get the lawn done, although the outer wheels will prevent you from getting the edges cut if they're too close to a fence or wall.
There is a heavy duty control for the height adjustment, and this has a wide range of heights from a minimum of 12mm to a maximum of 75mm. The mechanism works really smoothly and gives the impression of being made to last, like the rest of this cylinder push mower.
The handles are of course extremely strong, and although they don't fold, they have quick fastening mechanisms which make it easy to detach them should you want to save on storage space.
Another part of the design that I like with the Webb cylinder push mower is that the grass box is fixed onto the front rather than the rear and this made it less cumbersome to push around.
The price point of this model is around £100, and I think that is about right for this kind of workmanship and engineering. Sure, you can get cheaper models, but they won't match up to this one in terms of durability and this for sure is the best hand push cylinder mower in my opinion.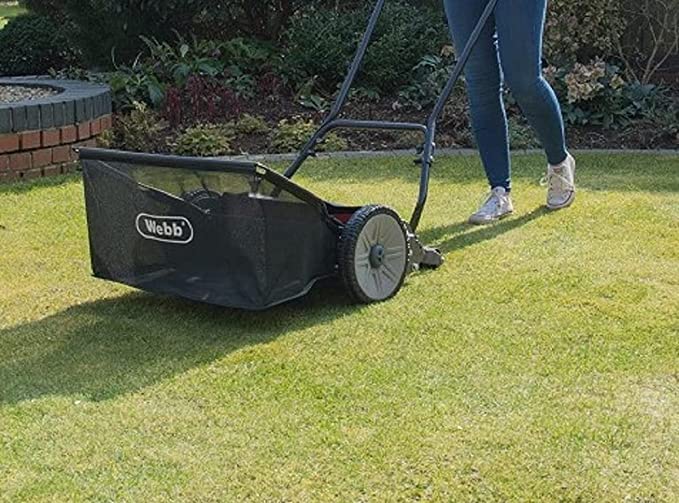 Cylinder Push Mower Buyer's Guide
Here is your guide to all you need to know about cylinder push mowers, their pros and cons, most desirable features, and other things we think will make your decision a lot easier when it comes time to buy.
Cylinder push mowers Pros and Cons
There are a few things to consider when deciding on whether to buy a cylinder push mower or not. On the plus side, they are inexpensive, both initial and of course there are pretty much zero running costs. Then there's the fact that they are very quiet so you can cut your grass at any time without worrying about disturbing anyone. They also give you a closer cut and more control than electric or petrol rotary lawnmowers, and are better for the environment.
On the other hand, these mowers do require a bit more physical effort to push around the garden, especially heavier models. They also struggle with grass that has been allowed to grow too long, so you will have to mow more regularly. You'll also want to keep the blades super sharp. Life is much more enjoyable that way when using a push mower.
Size and weight
There's quite a lot of disparity between lawnmowers when it comes to size and weight so it's definitely something you should think about before buying.
Lightweight models are obviously easier to carry around and push over the lawn, but sometimes, in the process of saving weight, manufacturers make these mowers less stable or have parts that are easy to break.
Heavier cylinder mowers are the opposite, they are indeed harder to push around but the extra weight is usually a sign of increased durability, and the heaviness can help to keep the mower stable. Here's a look at what a good one should be like: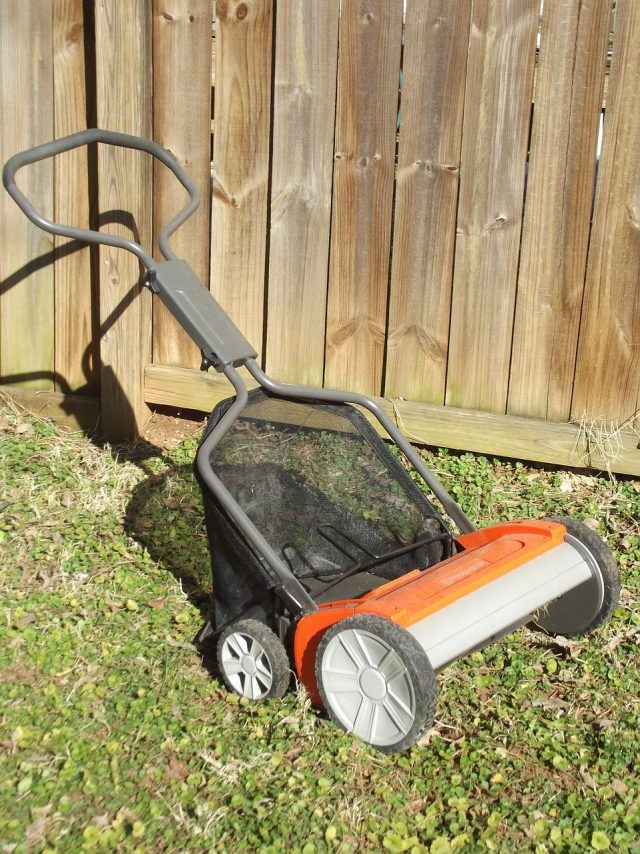 Do you have a flat or bumpy lawn?
If your lawn is really bumpy, using a cylinder push lawnmower is probably not the best choice, and you should think about getting an electric lawnmower instead as cylinder models work best on flatter lawns. That doesn't mean you can't use a cylinder mower on a bumpy garden, just be prepared to do the hard work.
The quality of the cut
Not all models will cut in the same way. You should look for a mower that has hardened, high quality steel blades and that cut against a second fixed blade. There are some features that work better too, like the cylinder blade and the fixed blade not coming into contact as this will reduce friction.
Adjustable blade height is almost a given with these mowers but the height settings will differ from model to model, as will the controls for changing them. You want to find a mower that has easy to reach controls and that are well made as cheap ones may break after a short while.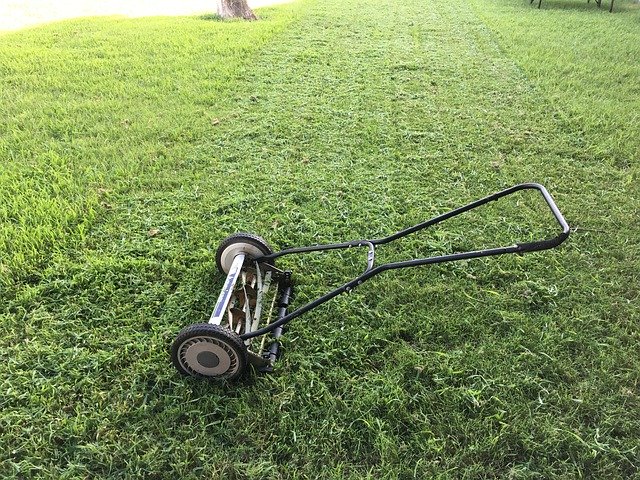 Extra features to consider
Other things to consider are-
-The handles. Are they foldable or easily detached for easy storage? Are they designed ergonomically for comfort or have a soft coating for extra grip?
-Wheels- large outer wheels can provide a lot of grip and make pushing the mower easier but they can make cutting the edges of your lawn more difficult. However, some models have four inner wheels which solves this issue.
-Grass box- although you may see models with large free grass boxes, they are usually not that effective when combined with cylinder push mowers, so this shouldn't be a deal breaker. The ability to reverse the grass cutting output direction is quite handy though.
And that completes our page of reviews of the best cylinder push mowers and buyer's guide.
We hope you found all this helpful as it is our aim to provide the best information available for Summer 2020 to ensure your gardening experience is an enjoyable one!
---