Written by Terry Smith
Our site is reader supported so when you click a link to Amazon we may earn an affiliate commission.
Hedge Trimmer Accessories
This article was last updated on August 7th, 2021 at 7:21 am
Hedge trimmer accessories you should have with you
At some point of time, we all must have seen a garden that has big bushes or plants that are well cut and maintained to form a shape. The plant can take the shape of an elephant or a tower or any other form. Having seen the beauty of such gardens have we ever thought about the work the gardener had to do to keep it in shape all the time. Whenever a small leave of branch grows out of the limit he has cut it. To achieve that, the gardeners usually use a humble manual hedge cutter or shears that are in the shape of scissors except that they will be bigger and sharper when compared to the regular scissors used for household chores.
Comparison table: Hedge Trimmer Accessories

Product
What We Think
Price

Tool-less wheel guard
Quick and easy adjustment
Gripzone™ over mould
3-position auxiliary handle
Bare unit - no batteries supplied

Draper 44952 200 mm flat file with handle

High Carbon Steel
Soft grip handle incorporating hang hole
Draper Guaranteed Product

For use with the Bosch AMW 10 Multi-Tool motor unit and pole pruner attachment...
70 cm bar length for extra reach on higher jobs
Lightweight at only 0.6 kg
2.5 cm bar diameter for secure and sturdy product extension
Tool free attachment change

Ryobi RAC305 hedge sweep attachment

500mm hedge sweep
Suitable for Debris removal
Fits in RHT1850LI and RHT36
Ryobi are dedicated to delivering outstanding performance and reliability
Ryobi is committed to sustainable development

Genuine Stihl RTS Super Harness
The RTS Super Harness transfers the weight of a long reach machine to the user's hips...
The harness can easily be adjusted to suit the user's size.
Image is for illustrative purposes only.
Free UK Delivery

Guard Protective Cover Shield made for SPARES2GO to fit BOSCH Hedge Cutter / Trimmer...
Fits Models: AHS 41
Premium quality fully compatible replacement / spare part
If you have a large field of shrubs (plants that are bigger than herbs but smaller than trees), the manual hedge clipper is not sufficient and may fall well short of expectation. In such cases, gardeners resort to the use of gasoline powered or electric hedge trimmers that are run by motors. Electric hedge trimmers are lighter while their gasoline powered counterparts are far more powerful. Normally, when you order a hedge trimmer you will only get the motor, the cutting blade, and attachments that are needed to just run it. These are the bare minimum required to use the hedge trimmer. You will have to research and buy the hedge trimmer accessories you need to make your work easier. This article is for those who are puzzled about the accessories they would need and some of the best products in that category.
Harness
Even though most of the hedge trimmers weigh under 4 KGs, carrying one around for a longer period will be very difficult and tiring. It can cause you back pain as well as shoulder ache. People who use a hedge trimmer regularly would exactly understand what I am referring to. Muscles no matter how strong they may be would tire and repeated actions can cause undue stress on them. To avoid this, you can buy a harness that can help carry the hedge trimmer, balancing the weight evenly. There are many harnesses available in the market but when you buy one make sure the material is strong and durable. The type of harness is also important. If it is just a one strap harness it does not help you much. In turn, it may cause you more pain. Buy one that is similar to a backpack so that the weight can be distributed evenly on your back. Let us see one of the harnesses I saw online that is quite good.
Genuine Stihl® RTS super harness
The one that I have listed here is used mainly for the long pole hedge trimmers. The Genuine Stihl RTS super harness is a backpack style harness that will distribute the weight and strain to your hips also to reduce the stress on your back and shoulder. When you are using a longer one this super harness can support you very well. The back portion of the harness is made of metal and the bottom back portion is made of hard material to provide the needed support.
The waist size can be adjusted using the adjustable strap hence, this Stihl RTS super harness is suitable for everyone. There is a two way tying mechanism to keep the machine steady and to give support. The straps that hold the hedge trimmer is connected to a strong metal pipe that is connected to the back side of the harness. This pipe goes whole way till your hip. Along with reducing the back strain this Stihl RTS super harness also gives you the freedom of movement. It will be a good idea if you are planning to use long pole hedge trimmers.
Hedge sweeper
Cutting hedge is easy when you have a hedge trimmer. But that is not the end of the job. You have to remove the debris or the leaf clippings from the ground. To make this task easy you can use hedge sweeper. When you use a hedge sweeper you will be able to collect the debris at one place or one end of the hedge. You just have to collect that from there and dispose it to compost kit. As you trim the hedge, the hedge sweeper clears the clippings from the top of the hedge to make it clean. Let us see one of the hedge sweepers here.
Ryobi RAC305 hedge sweep attachment
Here I have included a hedge cleaner that is from Ryobi – the RAC305 hedge sweep attachment for the hedge trimmers. This is compatible with the hedge trimmer models. Manufacturers supply hedge sweeper along with their hedge trimmers most of the time. But if you did not get one you can order one online. This hedge sweep is 500 mm long hence it can clean that much area after cutting the hedge.
Weighing just 118 grams this does not add much (in terms of weight) to the hedge cutter. The product dimensions are 50 cm x 7 cm x 3 cm. The Ryobi RAC305 hedge sweep attachment is made of durable plastic and is easy to connect with the hedge trimmer's cutter or blade.
Blade cover
Be it a chainsaw or a hedge trimmer covering the blade part is essential for the safety of your dear and near. This is applicable for any garden or forestry tool that has a sharp surface exposed. The hedge trimmer also has an array of sharp teeth that rotates when the motor is on. But when you are not using it the blades are exposed and can cause injury for you and others. To prevent that you will need a blade cover that can be used to cover the blade part. Below is one of the hedge trimmer packages that have blade cover with it.
VonHaus 550W electric hedge trimmer with blade cover
Here, I have included a package that has the blade cover with it – the VonHaus blade cover. This usually comes with the 550W electric hedge trimmer. The VonHaus electric hedge trimmer has a 60 centimetre blade bar and the cover fits the electric hedge trimmer.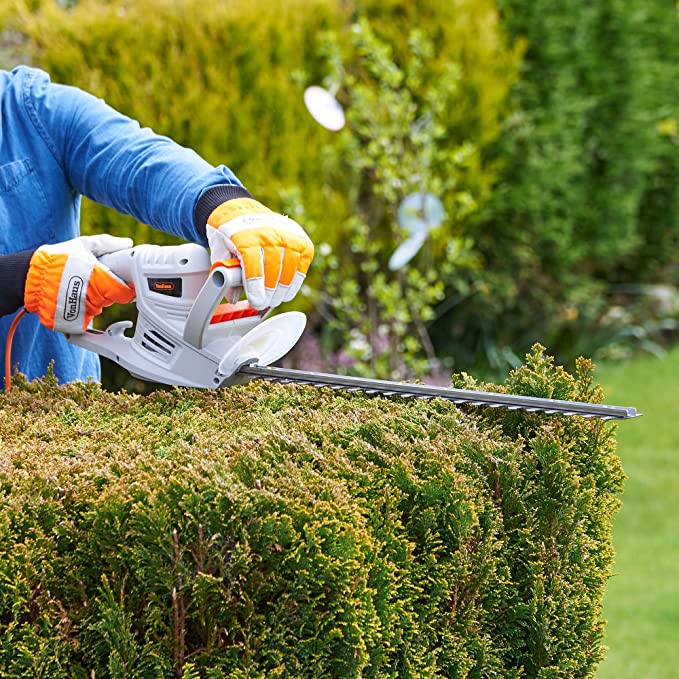 Extension pole
We all know that the hedge trimmer is used to cut the overgrown hedge parts. The height of the hedge varies from place to place. An extension pole as the name indicates can give you some extra length to cut taller hedges. Some of the packages come with an extension pole with the machine. But not all hedge trimmers come with the pole. If you have not received an extension pole it is wise to buy one to complete the trimming job easier and faster. Here, I have included one pole that can help you understand the need for one.
Bosch AMW TS extension pole
We already know the use of an extension pole. The extension pole we are discussing here is from Bosch – a name that is known for engineering and technology. Their products are reliable and durable. The Bosch AMW TS extension pole is not different from that. This can be used along with their multi-tool motor AMW. This can be used with a hedge trimmer, chainsaw, and grass trimmer. The hedge trimmer and chainsaw may need extra length at times. For this, you can use the Bosch AMW TS extension pole.
The Bosch AMW TS extension pole is made of durable and strong metal. This extension pole from Bosch can give you an extra 70 centimetre length to your multi-tool. Attaching and removing the extension pole and the tool is very easy because of the screw system used. Before buying an extension pole for you make sure it is compatible with your hedge trimmer.
Tip protector
Just like the blade cover, the hedge trimmer tip protector is also important to keep you as well as the hedge trimmer blade safe. The tip protectors are mainly used when the hedge trimmer may come in touch with the ground. I have added tip protector models for you to understand.
Spares2go protective cover shield for Bosch hedge trimmer
The tip protector that I have included here is one from Sapre2go. This is made of durable plastic and will guard your hedge trimmer's tip. More than your safety this protective cover is used to keep the hedge trimmer's blade hitting the ground. This is a must if the hedge you are trying to trim is short. This just weighs about 300 grams and you can remove it once the need is over. You need not keep this on always.
The Spares2go protective cover shield is compatible mainly with the Bosch hedge trimmers. This will fit for their hedge trimmer models. This shield is compatible with models: AHS 520 ACCU, AHS 52 ACCU, AHS 410, AHS 410 ACCU, AHS 41 ACCU, and AHS 41. The company also manufactures the shield cover for other models like EasyHedgeCut 12-35 and AHS 45-15 Li.
Blade sharpener
Any machinery that works on a blade needs sharpening. If the blade is not sharp the hedge trimming will be difficult and also time consuming. In the case of a hedge trimmer, you can either use a flat file or can use a power grinder. Below are the examples for these sharpening options.
1. Draper 44952 200 mm flat file with handle
The first one is a flat sharpening file that can be used to manually sharpen the blades. This file is made of high carbon steel that is hardened and tempered. You can use this file to sharp even chainsaw teeth. The Draper 44952 200 mm flat file comes with a handle that has a soft grip to get proper control. The hole in the handle makes it easy to hang the flat file on the wall. Weighing just 200 grams this product has the dimensions 36.7 cm x 4.2 cm x 3 cm. This Draper 44952 sharpening flat file is 200 mm long.
2. Ryobi R18AG-0 ONE+ angle grinder
The next sharpener is a power grinder that is from the Ryobi ONE+ series – the R18AG-0 angle grinder. This 2.1 KG angle grinder can be run on batteries. With one 18 V lithium-ion battery the grinder can produce 7500 rotations per minute. The grinder has a diameter of 115mm. The technology used to make the handle is GripZone+ over mould which gives a proper grip. You can grind using this in three different positions. The switch has two stages before starting the angle grinder.
Keeping user protection in mind the company has made the nozzle in a way that it will get enough airflow while working. This grinder can be used for any hedge trimmer and the ONE+ system allows you to have many tools that can be powered using the same battery.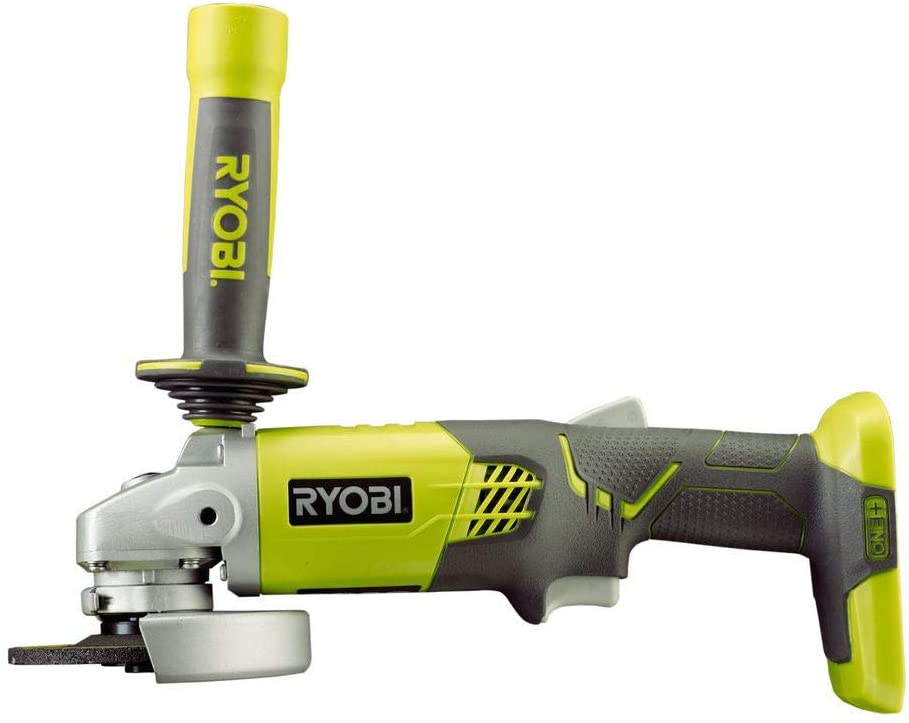 ---