Garden Tool Box » Garden Care » UK's best patio cleaner to kill algae, moss, and remove oil stains used in conjunction with pressure washers
Written by Terry Smith
Our site is reader supported so when you click a link to Amazon we may earn an affiliate commission.
UK's best patio cleaner to kill algae, moss, and remove oil stains used in conjunction with pressure washers
This article was last updated on April 23rd, 2022 at 5:43 am
Following on from the patio sealer and patio grouts I just updated (very worthwhile taking a look – it may be pointless to clean your patio without those steps too), I thought it would make sense to check in and update the best patio cleaner as well! If your patio is in great nick, clear of weeds, but just a bit dirty or there some Algae growth (or moss) then you've arrived at the right place for advice – so let's talk about what patio cleaners are and what they can do with some practical examples of what to use and where.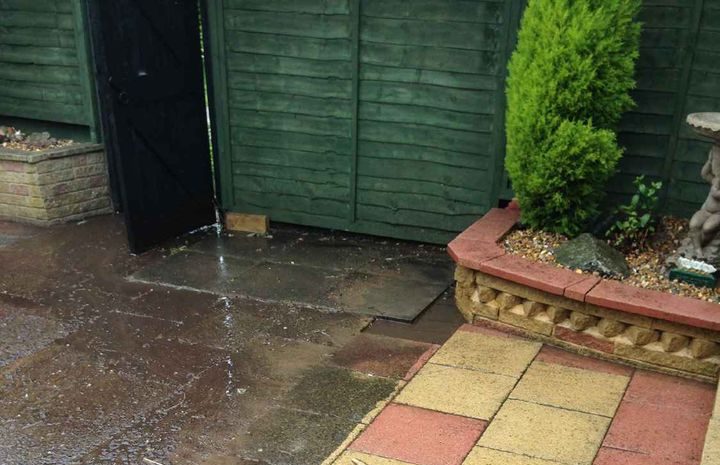 Patio cleaners come with a variety of key uses; some are best at algae removal, others killing moss and there are plenty that are a combination of both and it's definitely important to understand the difference, if you're looking for a good old fashioned filth and grease remover than you may want to look at pressure washer detergents too. In amongst those three main components you'll find some patio cleaners that'll handle the lot, but if I'm honest, picking one that specialised for each is far more viable and if you read my what you need to know about patio cleaners section then this will become perfectly clear and you'll avoid being online complaining that you still have a knackered patio after a week after application! 😀 So whats the best way to clean your patio?
Best patio cleaners: editor picks
Best patio cleaner overall: Patio Magic Patio Cleaner 5L
Budget pick: Patio Magic! Concentrate – cheaper without the spray gun
Best patio cleaner for pressure washers: Kärcher 5 L Canister Pressure Washer Detergent, Universal Cleaner
Best patio cleaner for Algae: Patio Magic Patio Cleaner 5L
Best block paving cleaner for moss: SmartSeal Moss Killer
What you need to know about patio cleaners
Did you know Patio Magic, my top pick, is absolutely useless on dirt and grime build up? Well that's because there are specialised best cleaners for each of the three main issues. There's also some formulas that are specifically designed for the use in combination with pressure washers and those that are effective without any machinery, just a bit of scrubbing. So let's take a closer look at what you might need.
What are the different types of patio cleaner?
As I mentioned there are three main types of patio cleaner that all do a specific job:
Removing dirt and oil
Killing Moss
Removing Algae
Whilst the Algae and moss do go hand in hand and will work on each other, products specialised for biological removal will have absolutely zero impact on dirt. Yep! A bit of a minefield. So let's break it down a bit:
Dirt, oil, and stain removal
This is the type of cleaner that can lift oil. It's basically designed to get underneath, in the porous stone, and lift out of the little crevices. there are two different types though. The Kärcher works great in combination with a pressure washer, whilst Pro-Kleen Patio and Driveway Cleaner is essentially a more powerful formula that can help break down and remove oil without a pressure washer – this doesn't mean you can just sit and watch – the effects are limited – it will still need a good bit of elbow grease to get the dirt stains lifted. However, it is effective, no question on that. It'll also go a little way to killing Algae too which is a nice and unexpected bonus (after everything I've said about being specialised) though it's really slow to do so.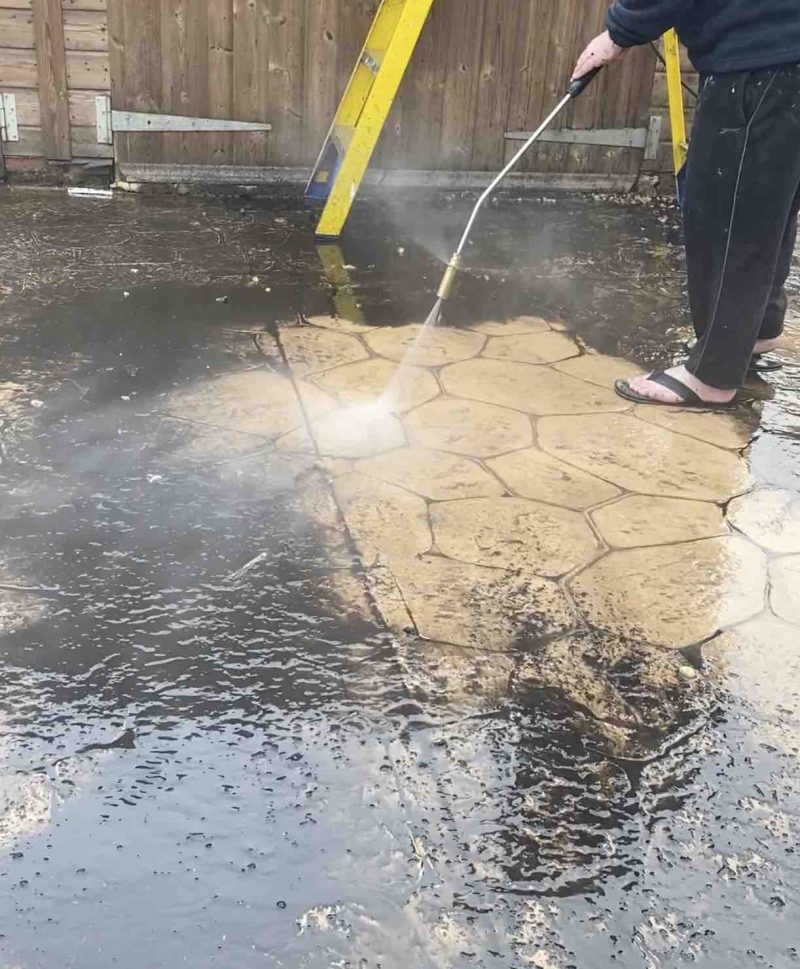 Unfortunately for me I have a lot of experience removing moss 😀 Mainly from roofs but also from between cobble stones and block paving. One it starts to take hold it'll pull all of the sand from your joints and result in needing to go right from the beginning with new jointing compound (patio grout) and a sealer. This isn't cheap by the way, so it's much better to catch this before the problem is too sever – and every time I have no hesitation recommending SmartSeal Moss Killer. I've personally used this to great effect and literally saved brittle clay tiles as a result of this product.
There are loads of different Algae removers but the one for patios that'll keep coming up as you research is Patio Magic. Whilst it can handle Algae pretty easily, Blackspot and Lichen that have taken hold will almost certainly need a good bit of scrubbing to get out entirely – that or the use of a pressure washer will do the job so long as it's plenty powerful.
How to use patio cleaner?
Luckily this one is super easy and doesn't require a lengthy read – Some are completely ready to go like the Patio Magic. You just throw in a couple of batteries and the sprayer does the rest. With all the other options you'll need to dilute the concentrate and then ideally use a watering can or garden sprayer to lay it on but there are a couple of considerations:
Practical example of what I would use:
With this I would use Patio Magic first and see how it comes up – it's actually hard to tell if that's just Algae or dirt as well. But the best place to start though is good old Patio Magic with this one:

This one below looks a bit more dirty than a biological problem and it's been like it for ages. If you've inherited this kind of patio or left it that long you're going to want to look at either Kärcher with a pressure washer or Pro-Kleen Patio and Driveway Cleaner which will probably do a fair bit more for you (assuming you don't have a pressure washer):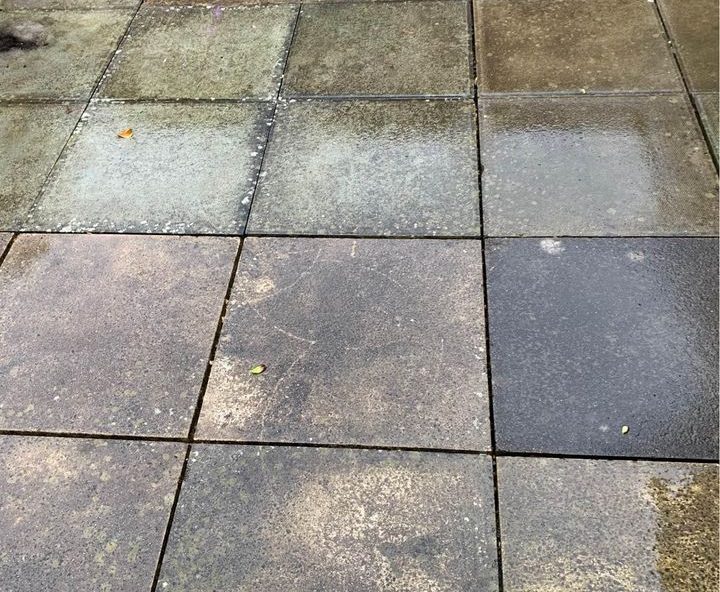 If you've got moss building up around your block paving then a good shout is SmartSeal. Here's a good example of where I would use it on block paving: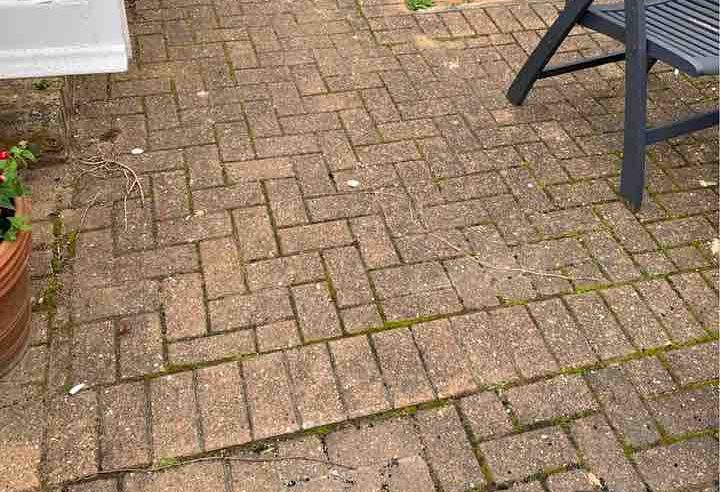 This is where I'd use a moss killer like SmartSeal but I warn, it may need patio grouting (sand) again as the seal is broken – therefore it obviously needs sealing again once cleaned!
Hopefully that helps clear up the different types of patio cleaner you'll want to use
Make sure it's bone dry
Don't try to do this if it's damp at all. You really need a dry run and the surface needs to be thoroughly dry before application or it simply won't take and work. Also, keep an eye on the weather for the next couple of days too – if there's any rain in sight, postpone. It takes almost all of the products a couple of days to do the maximum damage to Algae and Moss and if it rains on them before, you will pretty much be wasting your time.
Some are toxic so wear PPE
Many of the best picks are toxic – hardly surprising with the grease and algae they are shifting and killer. The Patio Magic top pick is a prime example. If you take the letter of the law from the government with regards to cleaning they will tell you to wear gloves, aprons, and wellington boots. Do not, and I repeat, do not breathe this formula in, it's designed to breakdown biological entities – what do you think happens to the lungs? 🙂 So yeah, normally I am not so much of a wet drip but this time I actually would advocate jeans, wellies, and gloves. Take your PPE seriously on this one!
Final thoughts
Finding the best patio cleaner is relevant to almost every single home in the UK. The patio area is one of the best places to be on a long summer evening with a nice barbecue and patio heater to keep the chill off as it gets late. Nice garden lighting adds to the relaxed ambience. The next morning we see the mess and can't get the garden and patio cleaned up fast enough. First comes the clear up then out with the pressure washer or broom and cleaning solution. The best patio cleaner should be strong enough to breakdown grease and dirty in conjunction with a pressure washer, taking away all the hard elbow grease. It should be as child and pet friendly as possible, and fairly priced, so with that in mind I have picked the best patio cleaners to save you time – Patio magic, SmartSeal, and Karcher have you covered.
And remember – keeping your patio clean is important, it solves longer term problems like removing grout and sealing again and again!
---