Garden Tool Box » UK's best pressure washer cleaning detergent for patios, cars, and garden furniture
Written by Terry Smith
Our site is reader supported so when you click a link to Amazon we may earn an affiliate commission.
UK's best pressure washer cleaning detergent for patios, cars, and garden furniture
This article was last updated on April 23rd, 2022 at 5:44 am
I've just been looking at the best patio cleaners and it occurred to me I've somewhat neglected my pressure washer cleaning detergent page – based on a few new cool products I saw in the process, so thought what better time to update than whilst fresh in my mind 🙂 When it comes to reducing the time that it takes to clean patio, garden path, fencing, garden furniture, and pretty much everything else outdoors – I even clean my shed and shed roof with it 😀 You can't beat a good pressure washer! At the time, I had recently bought myself a new Wilks 750, and that thing is a beast – and now it's confirmed as a quality bit of kit that lasts too. I also sporadically had a go with my cordless pressure washer where I just wanted to unveil what the detergents could do rather than assuming it's great because the massive petrol pressure washer removed it all :D. I mean you can't credit the detergent when the washer is doing this:
So don't worry I turned the power down to check what the detergents could do! And…to really get the most out of your pressure washer, you need to use the right pressure washer cleaning detergent to enhance the raw power, and that can be more easily said than done. Not because of a lack of good products I have to say, but because there are so many different types and brands on the market. But a really good one will lift oil that your pressure washer can't handle alone – it always amazes me to watch the coloured streaks in the water after I've used the pressure washer and switch to detergent in an attempt to pull the remaining oil stain. So based on my personal experience and testing here's my list for the best pressure washer cleaning detergents:
Best pressure washer cleaning detergents: editor picks:
Best pressure washer detergent overall: Kärcher 5 L Canister Pressure Washer Detergent, Universal Cleaner
Best budget: Simoniz SAPP0060A Multi-Use Pressure Washer Fluid 5lt
Best detergent on patios and stones: Kärcher or Gunk 855 5L Power Spray
Best for cars and caravans: Autoglym PB002.5 Polar Blast, 2.5L – used in conjunction with their wax setup can make a car dazzle!
Best on garden furniture: Kärcher 62957570 3-in-1 Wood Plug and Clean Pressure Washer Detergent Very good at breaking down and removing Algae
I really couldn't be happier with it on price point to performance, and would recommend giving it some serious consideration if you're in the market for a new pressure washer.
To really get the most out of your cleaning power tool, you need to use the best pressure washer cleaning detergent, and that can be more easily said than done. Not because of a lack of good products I have to say, but because there are so many different types and brands on the market.
You'd be surprised how much of a difference getting the right pressure washer detergent makes, and it's not only about picking the best brand; although some brands are certainly superior to others. For example picking the best patio cleaner might not be the same for cleaning down garden furniture so it's worth reading my best pressure washer detergent buyer's guide if you're looking for specific recommendations.
Getting the optimal cleaning performance possible is the right mix of the best pressure washer, knowing how to use that tool for the particular job at hand, and getting the right pressure washer cleaning detergent to suit your needs.
Best Pressure Washer Detergent Buyer's Guide
Here's a few tips on selecting the right kind of detergent, and also how to use it properly, so that you don't damage your surfaces or your pressure washer, and also to get the most out of the product. And surprisingly there are quite a few pitfalls – I came into this test thinking pressure washer detergent was pressure washer detergent 😀
Different types of pressure washer detergent
There are pressure washer detergents out there that are specifically designed for a certain purpose, such as cleaning stonework like the Nilfisk, or even getting garden furniture back up to scratch – I'd be looking at the Kärcher 62957570 3-in-1 Wood Plug: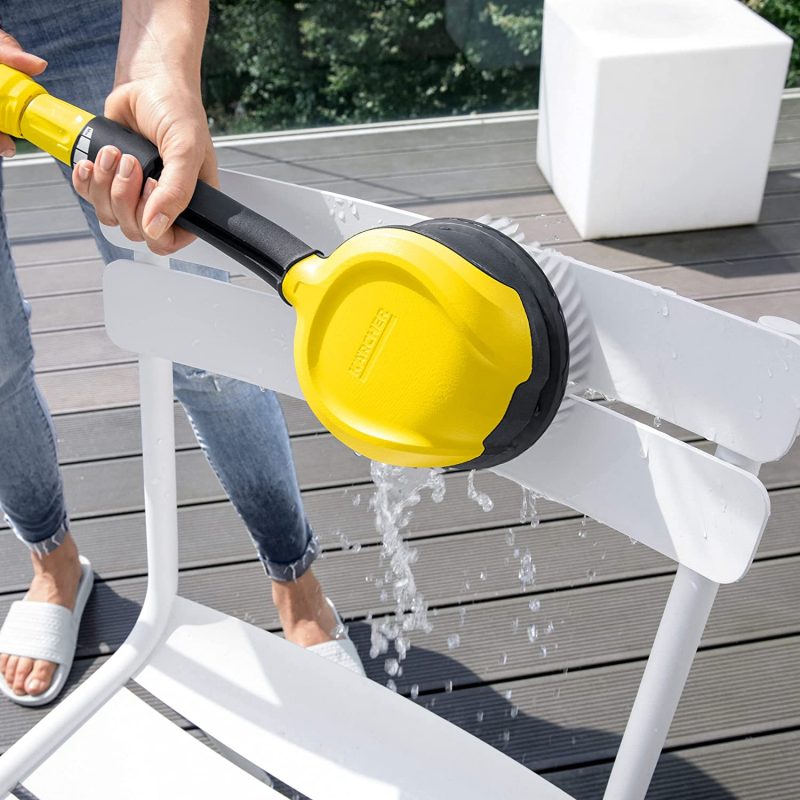 Then there's Autoglym for cars and caravans. So, if you have a particular job in mind, you could benefit from ordering a task specific detergent like this. But there's more.. some good all round choices:
For a lot of people, a good general purpose pressure washer detergent, like the ones made by Kärcher Universal, or Simoniz, is the more cost-effective option, and will still do an excellent job on a variety of surfaces and materials, although an excellent car cleaning detergent, or wood cleaning product will of course be a little better as it is designed for that job.
You'll need to decide on whether you want to buy a concentrate, that will need diluting correctly, or go for a ready to use formula. Both have their pros and cons; with concentrates you do have to measure the stuff out correctly, but it does work out cheaper. Ready to use detergents are obviously more convenient, but will end up costing you more, especially for larger jobs, and you can't alter the dilution like you can with a concentrate.
Allow the detergent to soak in – give it time they aren't a miracle
To get the most out of your pressure washer cleaning detergent, you really need to let it sit for a while on the surface before cleaning. I left this for an hour to really lift this nasty oil and grime.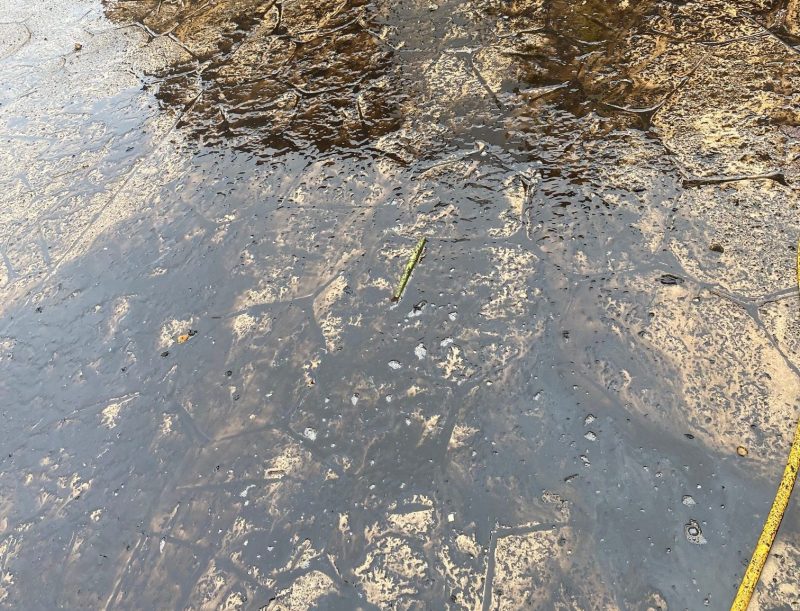 Different products work at different speeds, but all will need to sit for a while. Be sure to check and find out how long your chosen detergent needs to do its work before applying it, or you might get disappointed with the results. You can also use many of these detergents as a pre-wash, and scrub them onto the surface with a brush after they have been mixed with a little water, but to be honest, there are products that are intended to be used this way. I suppose the whole point of buying a pressure washer detergent is so you don't have to spend your time scrubbing away, right?
Is it actually pressure washer detergent?
If you go looking online, and let's say you search for pressure washer cleaning detergent on Amazon, it will no doubt bring up a ton of products. However, if you look closely, many of those are not actually pressure washer detergents, and instead are meant to be mopped on surfaces, or sprayed with a low-pressure garden sprayer. Some sneaky sellers might even advertise the product as pressure washer specific, but in actuality, the product is not designed for it. It's my advice to only buy from brands like Karcher, Nilfisk, and a few others that are known for these kinds of products, and also look at the photos of the product itself. If it doesn't clearly state on the bottle or container that it is for pressure washers, don't bother, and just look elsewhere. Using the wrong detergent in your pressure washer can lead to ineffective cleaning at best, and ruin your expensive power tool at worst, so it's not worth taking chances.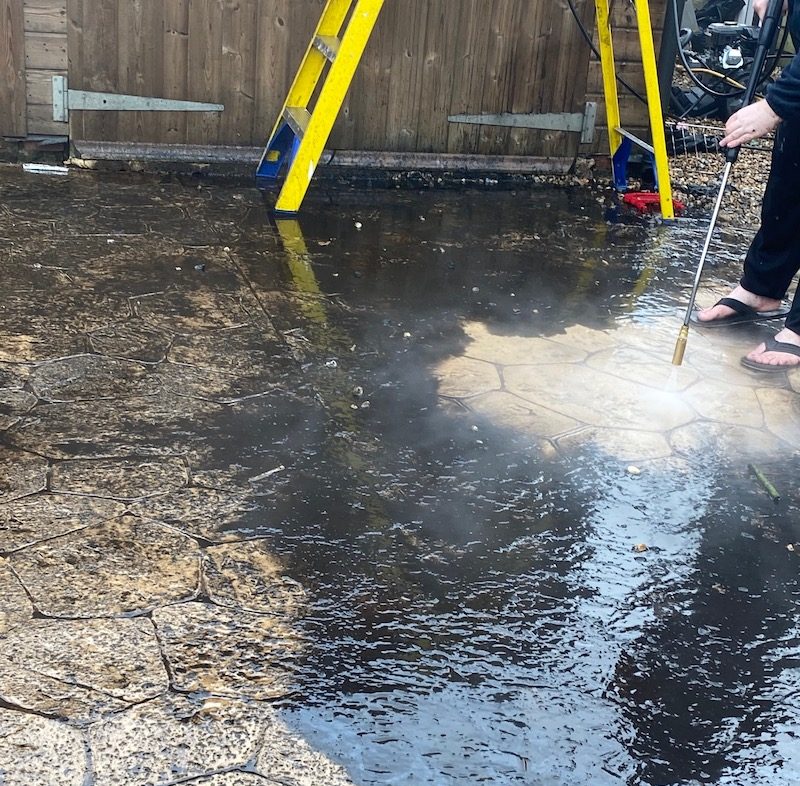 Clean out your pressure washer after
After using detergent of any kind, on any pressure washer, it is very important that you flush out any remaining cleaning product out of the system. Neglecting to do so can cause blockages due to the leftover residue, so please make sure you flush out the system with water afterwards.
So, we had a good look around at the pressure washer detergents that were available at the time of writing, and put them through their paces using my trusty Wilks 750 (any excuse to play with my new 'toy'). Here we have written up our honest findings and thoughts, so you can feel better equipped with the right knowledge when you decide to buy.
So, there you have it; six pressure washer detergents tried, tested and reviewed. All you have to do now is decide on which best suits your current and future needs, and we hope our buyer's guide has helped with that. Always remember to turn the power down on your pressure washer when using these products, especially on softer surfaces and materials.
---