Garden Tool Box » Best (and strongest!!) pressure washer cleaning detergent [UK] for patios
Best (and strongest!!) pressure washer cleaning detergent [UK] for patios
When it comes to reducing the time that it takes to clean patio, garden path, fencing, garden furniture, and pretty much everything else outdoors; you can't beat a good pressure washer, I even use mine to clean my shed roof as well as clean the shed exterior. I've recently bought myself a new Wilks 750, and that thing is a beast! I really couldn't be happier with it on price point to performance, and would recommend giving it some serious consideration if you're in the market for a new pressure washer.
To really get the most out of your cleaning power tool, you need to use the best pressure washer cleaning detergent, and that can be more easily said than done. Not because of a lack of good products I have to say, but because there are so many different types and brands on the market.
You'd be surprised how much of a difference getting the right pressure washer detergent makes, and it's not only about picking the best brand; although some brands are certainly superior to others. For example picking the best patio cleaner might not be the same for cleaning down garden furniture.
Getting the optimal cleaning performance possible is the right mix of the best pressure washer, knowing how to use that tool for the particular job at hand, and getting the right pressure washer cleaning detergent to suit your needs.
Best Pressure Washer Detergent Buyer's Guide
Here's a few tips on selecting the right kind of detergent, and also how to use it properly, so that you don't damage your surfaces or your pressure washer, and also to get the most out of the product.
Tip: Make sure what you are buying is actually designed to be used with a pressure washer
If you go looking online, and let's say you search for pressure washer cleaning detergent on Amazon, it will no doubt bring up a ton of products. However, if you look closely, many of those are not actually pressure washer detergents, and instead are meant to be mopped on surfaces, or sprayed with a low-pressure garden sprayer. Some sneaky sellers might even advertise the product as pressure washer specific, but in actuality, the product is not designed for it. It's my advice to only buy from brands like Karcher, Nilfisk, and a few others that are known for these kinds of products, and also look at the photos of the product itself. If it doesn't clearly state on the bottle or container that it is for pressure washers, don't bother, and just look elsewhere. Using the wrong detergent in your pressure washer can lead to ineffective cleaning at best, and ruin your expensive power tool at worst, so it's not worth taking chances.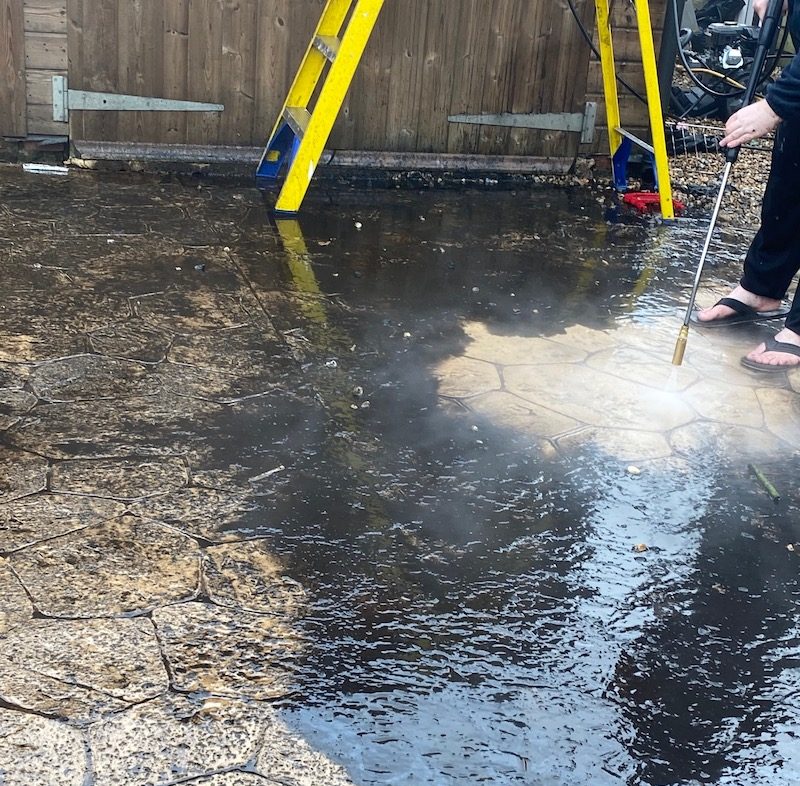 Tip: Buy the right kind of pressure washer detergent
There are pressure washer detergents out there that are specifically designed for a certain purpose, such as cleaning stonework, or even getting plastic garden furniture back up to scratch. So, if you have a particular job in mind, you could benefit from ordering a task specific detergent like this.
For a lot of people, a good general purpose pressure washer detergent, like the ones made by Karcher, or Simoniz, is the more cost-effective option, and will still do an excellent job on a variety of surfaces and materials, although an excellent car cleaning detergent, or wood cleaning product will of course be a little better as it is designed for that job.
You'll need to decide on whether you want to buy a concentrate, that will need diluting correctly, or go for a ready to use formula. Both have their pros and cons; with concentrates you do have to measure the stuff out correctly, but it does work out cheaper. Ready to use detergents are obviously more convenient, but will end up costing you more, especially for larger jobs, and you can't alter the dilution like you can with a concentrate.
Tip: Clean out the pressure washer afterwards
After using detergent of any kind, on any pressure washer, it is very important that you flush out any remaining cleaning product out of the system. Neglecting to do so can cause blockages due to the left over residue, so please make sure you flush out the system with water afterwards.
Tip: Allow the detergent to soak in
To get the most out of your pressure washer cleaning detergent, you really need to let it sit for a while on the surface before cleaning. I left this for an hour to really lift this nasty oil and grime.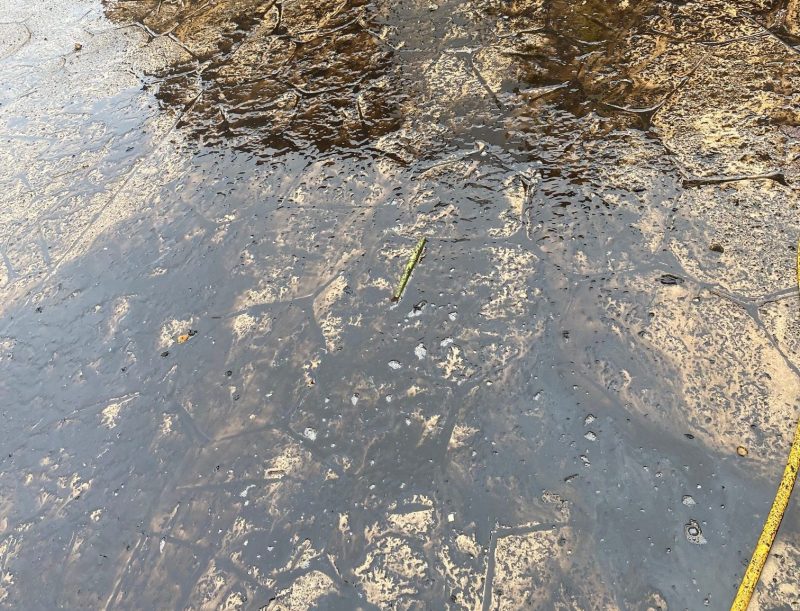 Different products work at different speeds, but all will need to sit for a while. Be sure to check and find out how long your chosen detergent needs to do its work before applying it, or you might get disappointed with the results. You can also use many of these detergents as a pre-wash, and scrub them onto the surface with a brush after they have been mixed with a little water, but to be honest, there are products that are intended to be used this way that will probably work better such as Karcher wood cleaner. I suppose the whole point of buying a pressure washer detergent is so you don't have to spend your time scrubbing away, right?
So, there you have it; six pressure washer detergents tried, tested and reviewed. All you have to do now is decide on which best suits your current and future needs, and we hope our buyer's guide has helped with that. Always remember to turn the power down on your pressure washer when using these products, especially on softer surfaces and materials.
Best Pressure Washer Cleaning Detergent Reviews
So, we had a good look around at the pressure washer detergents that were available at the time of writing, and put them through their paces using my trusty Wilks 750 (any excuse to play with my new 'toy'). Here we have written up our honest findings and thoughts, so you can feel better equipped with the right knowledge when you decide to buy.
Comparison table: Best (and strongest!!) pressure washer cleaning detergent [UK] for patios

Product
What We Think
Price

Rich snow foam with superior cling
Apply through a pressure washer or foam gun
Loosens dirt and contamination
pH neutral
Use as a pre-wash to reduce the risk of scratches & swirls...

Kärcher 62957570 3-in-1 Wood Plug and Clean Pressure Washer Detergent

Unique 3in1 formula = clean
Cold Water Activator: Tough on grease
UV Protection for decelerating the darkening or fading of wooden surfaces
Intensive Care for long-lasting durability
Convenience - with Plug 'n' Clean and Suck 'n' Clean no mixing or decanting of detergent necessary...

Guaranteed intensive cleaning formula
Pioneering performance and protection
Universal pressure washer application
Suitable for vehicles, caravans
Comes in a 5 Litre container(Yellow or Pink)

Kärcher 5 L Canister Pressure Washer Detergent, Universal Cleaner

KARCHER Pressure Washer Cleaner Detergent is easily the best detergent on the market because not only is it synthesised by Kärcher, a reliable and cost-efficient brand, but it has everything you need for your pressure washing needs and even additional features for enhanced cleaning of stone and cars. It's cheap, easy to use and doesn't need mixing. It has oil-separating components that get extra grime on surfaces, and it's more than suitable for your car or patio. It gives probably the best clean out of the lot, and whilst designed for Kärcher pressure washers, it still gets the job done and we recommend it the most out of others on this list.

Compared to our first place option, Gunk Power Spray is more universal and is the best option overall, though it might not be the most ideal for car surfaces. It will give you a great clean of every other surface, but for your car, you might want to pair it with Autoglym polar wash in spot 3. It has oil-separating properties like spot 1, and it might be a better idea if you have pressure washers which are cheaper/older than Kärcher washers. If that's not an issue though, this is the best value, most effective universal detergent and we couldn't recommend it enough.

Cleaning Power: Use with your pressure washer for removing stubborn dirt from pathways...
Application Coverage: Approx 100 m2 per 5 Litre
Easy to Use: Apply with Super Foam Sprayer for pressure washer for efficient foamer coverage...
Long-Term Results: Formula ensures that the exterior pavers achieve a repellent invisible "film" that rejects dirt and algae...
Universal Formula: Concentrated solution is made to use with any pressure washer...
1. Kärcher 5 L Canister Pressure Washer Detergent, Universal Cleaner
This universal cleaning detergent from Karcher is definitely one of the best products you can get your hands on at the moment. Not only that, but the large 5 litre bottle offers very good value for money to boot.
being an all-purpose detergent, it doesn't excel at any one kind of cleaning task, but from my experience with it, it performs well on just about everything from paving stones to garden benches. I found that it did a great job at shifting oily patches from my driveway, and I didn't need to leave it sitting on the surface for too long for it to do so either.  
Karcher advertised this as a 'gentle' cleaner that won't damage materials, so I thought I'd put it to the test. With the power output lowered on my Wilks 750, I applied the Karcher universal detergent on some metal framed, wooden garden furniture, left it for a while longer than I usually would, and then rinsed it off, and I can say that there was no sign of any damage, stains, or discolouration. 
With my particular pressure washer, I was able just to pour the detergent straight into its detergent tank using a funnel, and if you have a tube fed system, you could just go straight from the large 5 litre bottle. However, for some pressure washers that use a different set up for using cleaning fluids, you might have to pour some into a smaller bottle or container.
The only real gripe I have with this Karcher product, is that it is so b***dy hard to get open the first time! I tried bare handed first and the thing wouldn't budge, then assisted with a towel for better grip and still nothing. Finally, I got a large pair of grips and gave them a few good whacks with someone else holding the bottle and it finally loosened up. Thankfully, you only have to go through that the one time!
Despite the near heart attack that opening the bottle gave me, I still would recommend this pressure washer cleaning detergent to people looking for a good all-rounder. It certainly speeds up most, if not all outdoor cleaning jobs, and the 5 litres will last you for a long time if used correctly.
2. Simoniz SAPP0060A Multi-Use Pressure Washer Fluid 5lt
For around 10 pounds for 5 litres, Simoniz Multi-Use Pressure Washer fluid is much cheaper than the Karcher universal detergent, but does it give Karcher a run for their money?
Well, let's start with the good stuff. Like karcher's product, this one has a wide range of applications and can be used to clean your car, windows, patio, and just about everything else you can think of.
We first tried it out on the car, and although it wasn't as impressive as a top-brand car cleaner, it was far from terrible, shifting all of the surface dirt and grim and leaving the car looking pretty good.
Next, we attacked some plastic garden furniture that my friend had dragged out of the back of his garage and wasn't looking their best. Again, the Simoniz pressure washer fluid performed well and cleaned off all of the dirt, but it didn't shift the stains though, I have to confess.
Now, for the not so great. I felt like this cleaning detergent was far too watery, and I can see this causing some problems with certain brands and models of pressure washer. It also didn't produce as much foam as I'd expected, and this might put some people off, though it didn't seem to affect the cleaning process.
Although it did great on the car, and even left it looking shiny, I can't say that it handled our patio test as well. It wasn't completely useless, but it wasn't anywhere near as effective on this material as on the vehicle.
And that leaves me to my conclusion; I think for certain uses like cleaning cars, windows, and garden furniture, it is a very good, low-cost, pressure washer detergent. However, if it's a patio or driveway you really need cleaning, I would go with the karcher or a specific patio cleaning product instead.

3. Gunk 855 5L Power Spray
Yet another 5 litre bottle of multi-purpose pressure washer detergent, Gunk's 855 power Spray has gained a lot of fans since it's been on the market, so I thought I'd give it a whirl to see what all the fuss was about. Like the Simoniz multi-purpose detergent, Gunk 855 costs around 10 pounds for the 5 litre bottle, making it another great value for money purchase.
Despite having one of those 'love it or hate it' type of names, Gunk have made a good reputation for themselves when it comes to car cleaning products, with many swearing by their engine cleaner, degreaser, and other grime shifting sprays, fluids, and foams. 
This particular product has been made to be used directly from your pressure washer, but it can also be scrubbed on with a bucket brush as a pre-wash if you desire. To be honest though, there's really no need for most cleaning jobs, as it does a really good job of bringing hard surfaces up spick and span, and does so very quickly.
After a good spraying with Gunk 855, I left some decking soaking for just over 10 minutes before rinsing it off with my pressure washer, and the surface was looking noticeably better for it.
The same thing happened when we applied it to my neighbour's tarmac drive, and then again to his concrete path, so I can safely say this stuff does what it says on the tin, so to speak.  Now, the results weren't breathtaking, but I wasn't expecting them to be; this is a multi-purpose cleaner, and has to work on a lot of different surfaces and with different times of dirt and grime, and with this task it did well in our tests. Could the results have been better? Of course, they can always be better, especially if you use a product that is designed to clean only patios, or only decking, for example.
For the money, Gunk 855 is a decent pressure washer cleaning detergent, and certainly a good alternative to the more expensive karcher universal cleaner.
4. Autoglym PB002.5 Polar Blast, 2.5L
If you're looking for a pressure washer cleaning product to be used on your car, and on your car only; this is the stuff that I recommend you buy. Autoglym's Polar Blast is so aptly named. When you spray it onto your car using your pressure washer, it covers your car in a thick, snow like, foam; far more than when using any of the universal cleaning products we just reviewed.
The foam is left on there to break down and loosen the dirt for 10 minutes, and then you just wash it off with water and see the dirt disappearing. It works extremely well.
Polar Blast is meant to be used as a pre-wash, so you'll still have to use a car shampoo afterwards, but take my word for it, there won't be much hard work left for the shampoo to do.
Now, with effective cleaning products like these, I'm always a bit wary and worry about it damaging the surface, but Polar Blast is pH neutral and won't even adversely affect the polish or wax coating you already have on there.
Another I really like about this stuff, is that you can dilute it as you see fit, so if your car looks like it's just finished a WRC rally race, you can just put a little more solution in there for an even thicker foam. However, even a good product like this has its limits, and I wouldn't want you to feel like this is a wonder product. It still won't shift tar and thick or traffic film that has settled there for a long time without scrubbing.
This isn't the cheapest pre-wash out there, costing anywhere between 12 and 17 pounds for a 2.5 litre bottle, and the fact that you still have to use a shampoo afterwards drives costs up even further. 
At the end of the day, you have to decide for yourself whether it is worth shelling out for, but I can tell you that when combined with a good shampoo, this definitely leaves your car looking a lot better.
5. Kärcher 62957570 3-in-1 Wood Plug and Clean Pressure Washer Detergent
For those of you who have gone for the rustic look with a lot of wooden garden furniture, or if you have decking to take care of, there is a 3-in-1 wood cleaner pressure washer detergent from karcher. This detergent has been specially formulated to take care of the all-too-common algae problem associated with wood that is left outdoors, as well as oil and grease stains, and general dirt, soot, etc. What's more, it is intended to tackle all this without causing damage to the wood itself.
I have to say, when I first sprayed it on, I was a little skeptical about how the results would turn out as it didn't foam up all that much. later, I came to realise that unlike car cleaners, foaming is not that great an indicator of how well a wood cleaning detergent will perform.
After leaving the product on some fairly dirty decking for a little less than 5 minutes, I was happily surprised that the dirt just rinsed right off, including dried on bird droppings, and even some algae from inside the cracks.
As part of its 3-in-1 formula, Karcher claims that this detergent also provides UV protection for your wood, to prevent fading or darkening. It hasn't been long enough since testing it for me to comment on that, but I will update this review further down the line as the results become more apparent.
Being a 'Plug n' clean' product, it is extremely easy to use, and there is no measuring or mixing to be done. You just use it as it comes, and I know a lot of people will appreciate that.
At seven pounds for a 1 litre bottle, it isn't expensive, but you do have to factor in that its ready to use nature will inevitably cause it to run out faster than a concentrate detergent.
I personally thought this was good stuff. It cleaned up the decking in our tests really well, and left no damage to the wood itself. Pretty much exactly as Karcher claimed.
6. Nilfisk 125300388 Stone sealer detergent
In the pressure washer world, If there's one name that is as big and well known as Karcher, it has to be Nilfisk, who have been operating for over a century. With this in mind, I was excited to try out their Stone Sealer Detergent, which Nilfisk claims will not only clean off paving stones and patios, but will also leave them with an invisible layer of protection that is supposed to keep the treated area cleaner for longer in the future.
In our tests, we treated a driveway that was about average in terms of dirtiness. There was some algae here and there, but not a lot, and the kind of marks, stains, etc. that you would expect. We followed the instructions and sprayed the area before letting it settle a while, and finally rinsed off the solution. What can I say? The results weren't what I was expecting from a named brand product like this.
Although the paving stones were definitely a lot cleaner than when we started, the harder to shift stuff like oil and grease stains were still there, as was most of the algae. I know this is sort of expected, but if a company is claiming that their product will shift these kinds of things, I definitely think it should. To be fair, the stones did look good overall, and we decided to give another test on an area of patio, and it did well there too, except for a grease spot in the corner that was from a previous barbecue.
So, this has led me to the conclusion that Nilfisk's Stone Sealer pressure washer detergent is good for bringing the colour back to your drive and patio, but just don't expect it to shift stubborn stains like oil. As for the 'sealer' part, it's too soon to tell, but I didn't notice anything different after we'd finished. Then again, it is supposed to be 'invisible'. 
---