Written by Terry Smith
Our site is reader supported so when you click a link to Amazon we may earn an affiliate commission.
Best garden scissors [UK]: Top garden scissors for trimming plants and vegetables and taking cuttings
This article was last updated on April 23rd, 2022 at 4:58 am
Garden scissors are the tools of choice for anyone looking to prune or take cuttings of smaller plants and stems. Where garden scissors come into their own though is deadheading, small cuttings, and general trimming of smaller foliage for prolonged use, that would otherwise be a heavy process with a big set of weighty secateurs.
Many find the best garden scissors more comfortable than secateurs, especially some of the rubber and oval grips in this review! I like to use a good gardeners knife in conjunction with scissors for the more delicate task of taking cuttings. The best garden scissors feel nice in the hand and will effortlessly cut through small branches, dead heading, and trimming – leaving a crisp cut and zero damage to your plants. They will hold they blade edge retaining sharpness for perfect cuttings and we have reviewed the best garden scissors accordingly.
Our picks for the best garden scissors:
Best garden scissors: COLIBRI Pruner Flower Secateurs 170 mm Pruning Shears Garden Plant Scissors
Best alternative garden scissors: Spear & Jackson 4152GS Razorsharp Garden Scissors
Best alternative garden scissors: HOUSOLUTION MULTI-PURPOSE HAND PRUNER SCISSORS
Best budget garden scissors: COLIBRI Pruner Flower Secateurs 170 mm Pruning Shears Garden Plant Scissors
Professional pruning garden scissors: gonicc Professional 7.3″ Bonsai Tree Pruning Scissors(GPPS-1012)
Best pruning garden scissors: Spear & Jackson 4252KEW Soft-Feel Garden Scissors
What took look for when buying garden scissors
Depending on what you're trying to get done, you'll want to look at different garden scissor options. For simple light stuff like dead heading you probably want to consider the Razorsharp Garden Scissors or if you want to go really light then the gonicc garden scissors are a decent option for a professional cut and finish.
Somewhere toward a more powerful cut you'll want the COLIBRI garden scissors. Quite ironic really given these are are the bargain pick too. it's going to be hard to pass these up if you take a good look at this review 🙂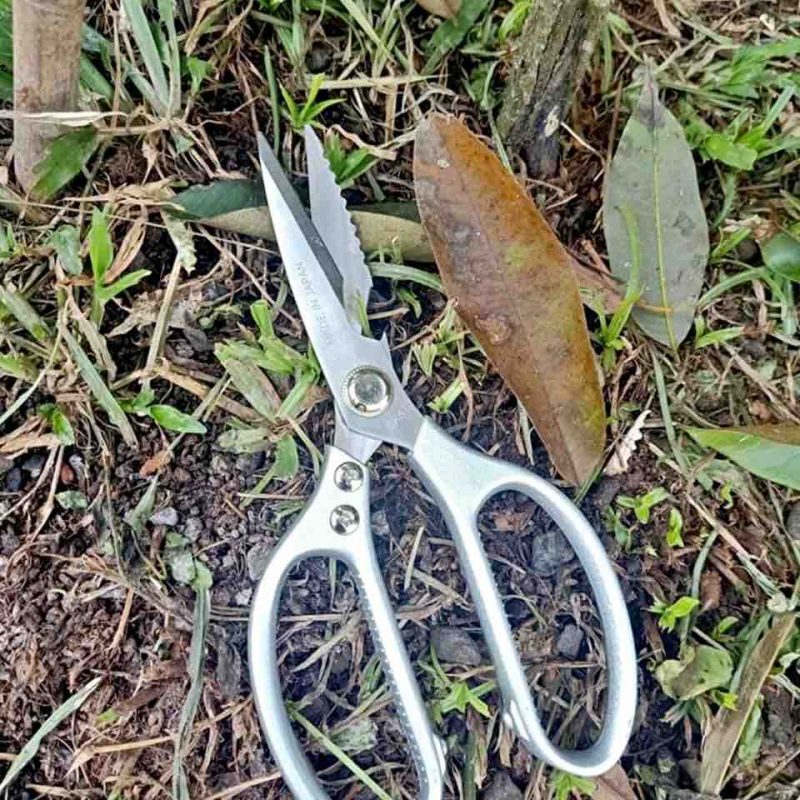 What are garden scissors designed for? Dead heading and trimming small bushes / plants
The absolute perfect reason to buy a set of garden scissors is light work such as dead heading or small trimming and pruning. Go for secateurs instead if you think you'll do anything heavy as you'll break light weight garden scissors and frustrate yourself! You can get away with some slightly bigger work if you go for the Spear & Jackson 4152GS Razorsharp Garden Scissors or the COLIBRI but don't expect full on secateur performance
Do you need heavy duty? These are not for big cutting
If you need heavy duty then it's not the right place to be. You'll want secateurs for any serious sized branches you'd expect to be able to cut by hand. These are for your smaller quarter inch cuts and similar. You definitely won't be going through inch stuff, which by the way is very possible with the Razorsharp secateur series. 
The smaller trim scissors in my opinion are best suited to at most dead heading, but ideally used by those into flower and small shrub trimming. You can use them to cut back an overgrown herb as well. Basically, these are for plants you care about:
You wouldn't believe how much easier it is to use these the right way than hefty secateurs!
Blade sharpness and material – how to keep the blades tip top
So there's going to be loads of complaints as you skim read the entire internet for your pair of perfect garden scissors 😀 The big problem is the whole point to these scissors is sharpness. That means you must have a high carbon steel edge that has been heated treated well. This in turn allows a really slender blade (obviously in turn ideal for cutting).
So what's the problem with that? RUST. Totally unavoidable and a necessary precursor to having a super skinny set of scissors that can make a quality clean cut. However, with that said, you've got some decent options in terms of reducing the speed at which thee rust – if ever !
Firstly you'll need to keep these dry and crucially store them in a dry place, or wrapped in a dry lint if your shed is a bit damp. Before doing so, give them a wipe in oil or WD-40. You don't need to rush out and buy anything specific for this. The oil is literally just to push away whatever moisture is on the blade currently.
Follow these steps and you'll have a set of garden scissors in the same condition a year later! Don't and you'll be throwing them away 😀
---