Garden Scissors (November 2020 Updated Review)
This article was last updated on August 7th, 2021 at 9:59 am
BEST GARDEN SCISSORS REVIEWED
Garden scissors or secateurs are the tools of choice for anyone looking to prune or take cuttings. Many find the best garden scissors more comfortable than secateurs. Whilst a personal preference, so long as the branches don't require loppers or or a pruning saw I like to use a good gardeners knife in conjunction with scissors for the more delicate task of taking cuttings. The best garden scissors feel nice in the hand and will effortlessly cut through small branches leaving a crisp edge. They will hold sharpness retaining sharpness for perfect cuttings and we have reviewed the best garden scissors accordingly.
Comparison table: Garden Scissors (November 2020 Updated Review)

Product
What We Think
Price

IDEAL GARDEN TOOL: The more fine and delicate heavy secateurs which makes it perfect for flower arranging or cutting...
SHARP AND DURABLE: The gardening pruning shears is made of high quality Japanese grade high carbon steel.Use for cutting...
POLISHED COATING: Polished coating ensures long-lasting sharpness and effortless cuts
SPRING DESIGN: Ergonomically designed spring can automatically reset the bypass pruner after each cut...
SAFETY LOCK: Ambidextrous thumb-toggle lock allows to lock the trimmer easily to ensure safety when not in use...

HOUSOLUTION PRUNING SHEARS, HEAVY DUTY STAINLESS STEEL ULTRA SHARP MULTI-PURPOSE HAND PRUNER SCISSORS

PREMIUM MATERIAL: Crafted of high carbon steel with ultra-fine polishing technology
LONG REACH: With long traight blades
SAFETY DETAILS: With convenient safety open/close clip at the end of the handle which help to hide the blades...
ERGONIMIC HANDLE: Ergonomically designed PP handles fit nicely with your hands and the soft covers ensure maximum cutting comfort...
A MUST-HAVE GARDENING TOOL: A professional sharp and reliable harvesting shears

Spear & Jackson 4152GS Razorsharp Garden Scissors

All-purpose scissors
Stainless steel blades for rust resistance
Suitable for indoor and outdoor use
Grow your own great British growing 2018 award winners

Anvil action secateurs ideal for use on thicker
Geared action for easier cutting
Lightweight cast aluminium body
PTFE coated SK5 steel blade for lasting sharpness
Grow your own great British growing 2018 award winners
1. FLORA GUARD – 8.5Inch Traditional Scissors
Flora guard traditional garden scissors comes with Ergonomic design; spinning scissors have undergone a comprehensive design process and will fit perfectly with your hands.Hardened high-quality steel blades, the ultra-strong, these hardened carbon steel blades are both strong and long-lasting, meaning less frequent sharpening and less likely to nickname their bypass blades open and close smoothly, requiring only slight force to cut dense branches.
Low maintenance, easy to clean & sharpen, a simple yet dependable design, minimises maintenance and cleaning, creating a great gardening experience.
The built-in sap groove prevents the blade from sticking when cutting "sappy" wood, offering a stick-free trimmer.
Made of SK-5 steel, it is a robust and durable garden pruning shear. No need to worry about the bending or wrecking of the blade.
The hand pruner is covered with ilaflon and has an excellent anti-corrosive and anti-rust capability.
Blade is razor-sharp and it's going to be very simple to cut and save labour. The cut is going to be smooth and lovely too.
The invisible structure of the spring makes the pruner lovely and concise. It also makes working with a strong spring easier and more effective.
Handles are designed ergonomically, comfortable and anti-slip. Safety lock helps prevent injury. Cutting ability: 18 mm or 0.75(inch)
2. SPEAR & JACKSON 6758GS RAZORSHARP GEARED ANVIL SECATEURS
The all-new spear and Jackson garden scissors are fitted with a sliding safety lock that protects you and kids from injury storage compartment in the handle contains an oil sponge to clean your shears to keep them free of sap and debris guarantees durability.
Lifetime manufacturer guarantee ensures client satisfaction.
If our 2-in-1 shears ever cease to fulfil your expectations, return them to your purchase price for a 100% refund, no questions asked.
Pruning shears that switch to ratchet for the consistent clean cutting flick the switch to save time & your energy whether doing the delicate job of pruning rose buds to thicker limbs stop having to carry 2 tools around.
Light weight design enables hands & wrist gardeners get sore, tired, allowing you to use them for longer benefit if you have arthritis or weak hands / wrist.
Lefty's can be used by both left and right handed gardeners with a safety lock on the handle making it a excellent pruning & ratchet shear to use (2 instruments in 1).
Anvil action dryers perfect to use on dead, thicker or woody stems.
Lightweight cast aluminium body
PTFE coated SK5 steel blade for durable sharpness, soft cutting and rust resistance.
Maximum cut – 15mm
3. SILVERLINE GT101 PRUNING SHEARS
Silverline GT101 garden scissor comes with rotating handle to minimise strain plant.
Ergonomic design reduces wrist fatigue — this pro-style bypass pruner features adjustable blade tension to suit the power of your hand and the hardness of the material you cut, plus an angled cutting head that helps decrease wrist fatigue.
Adjustable strength and angle — the blade tension can be adapted to the strength of your hand and the materials you cut the angled cutting head reduce wrist fatigue and make it simple to prune at uncomfortable angles.
Sophisticated materials — low friction coating helps the blade glide through wood, protects the blades from gumming with sap
Heavy duty, completely hardened — accurate ground steel blade remains sharp, even with heavy use ultra blade coating provides an edge that remains sharp five times longer than untreated blades, reducing friction for simple cutting.
Facilitates low-friction, anti-corrosion and rust-proof health for shears and branches.
Provides a Comfortable non-slip Sponge Handles Case and hence reduce stress on your wrist.
They have a thicker blade made of Premium 65mn Titanium steel with Ultra-fine Polishing Technology and Teflon Coating.
Sap groove designs to help keep pruning shears from sticking by channelling off sap.
Ultra-fine polishing technology quality blade.
Strong, lightweight, and comfortable are ergonomically engineered non-slip handles.
Pruners can cut tree branches up to 3/4 "in diameter. This can differ depending on the species of the tree.
Long-lasting and rust-resistant blade is made of durable stainless steel that will remain sharp for years to come and is resistant to rust-building and chipping.
Designed for convenience with the ergonomic design of the garden scissors and the thickened non-slip PVC handle avoids wrist fatigue.
Easy to wash because there is a self-cleaning sap groove in the garden scissors, sticky debris will not get captured in the blade,
Safe for unlocking and storing the pruning shears easily by sliding the steel button while pressing it with your thumb, this implies you can store them without worrying about damage to property or injury.
The gardening pruning shears are produced of high-quality high-carbon steel Japanese grade. Use for cutting stems, branches of light trees, rose bushes and hedges.
Coating polished ensures long-lasting sharpness and easy cutting. Provides impact of anti-rush oxidation, water resistance and less maintenance of oiling.
Ambidextrous thumb-toggle lock enables the trimmer to be locked readily when not in use to guarantee safety. Transportation and storage lightweight.
After each cut, the ergonomically constructed spring can reset the bypass pruner automatically, decreasing hand strain and saving labour.
The finer and more sensitive heavy dryers make it ideal to arrange or cut smaller twigs and buds.
5. HOUSOLUTION PRUNING SHEARS, HEAVY DUTY STAINLESS STEEL ULTRA SHARP MULTI-PURPOSE HAND PRUNER SCISSORS
A practical lightweight harvest shear design with unobtrusive leather strap lock spring-action design, ergonomic, aesthetic, extremely durable, softly opens blades after each cut can be re-sharpened many times to decrease hand strain k-7.
The blades are heavy duty and will remain sharp for a long moment, crafted with high carbon steel with ultra-fine polishing technology, which is powerful and abrasive resistance.
Cutting edge fruit picking & pruning tool for professional cutting and gardening long blades allow reaching stems inside bundles.
High-quality carbon steel blades, which are resistant to corrosion prevent rusting, are simpler to wash and decrease great fruit pruner from germ build-up.
The polished coating ensures longevity of sharp and effortless precision.
Long straight blades help to reach inside the bundles, ideal for picking fruits and vegetables.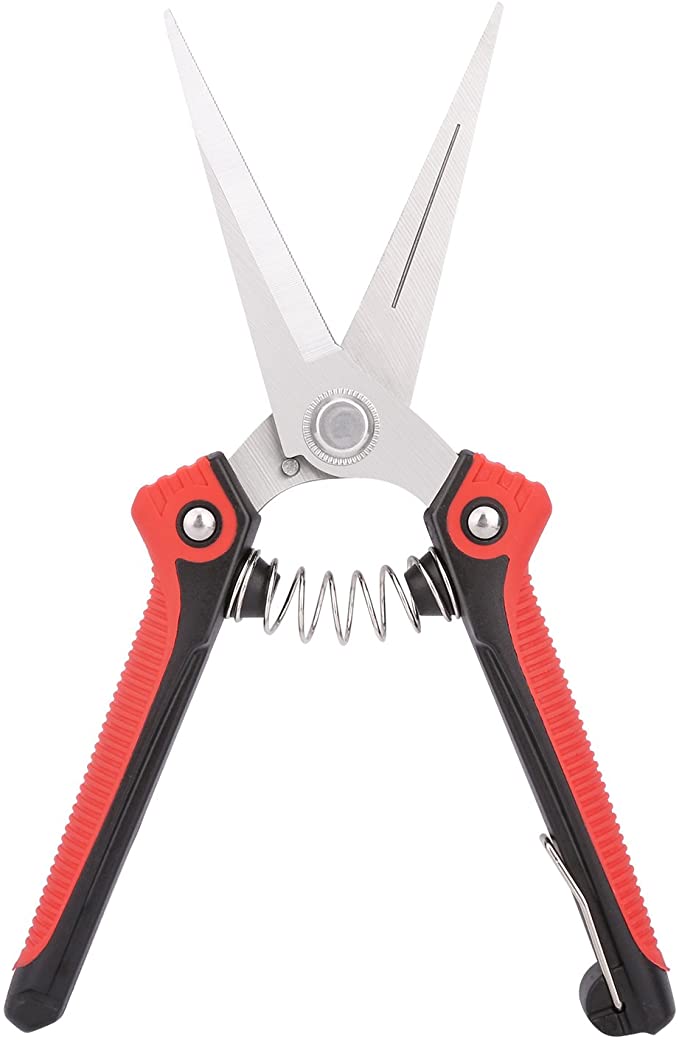 ---