Garden Tool Box » Best grow tents [UK]: Top indoor, hydroponic, grow tent kits reviewed and compared
Written by Terry Smith
Our site is reader supported so when you click a link to Amazon we may earn an affiliate commission.
Best grow tents [UK]: Top indoor, hydroponic, grow tent kits reviewed and compared
This article was last updated on April 23rd, 2022 at 2:09 am
While grow tents aren't a necessity for growing plants and vegetables indoors, they certainly make things easier, more efficient, and give you the opportunity to grow your botanical favourites all year round.
With the best grow tents there is no worrying about the things you can't control, such as the weather, and instead you have much more say in how much light, darkness, and humidity your plants are exposed to, and you can even control the air quality with the aid of a few extra bits of kit.
If you just glance at the grow tents for sale online, you'd be forgiven for thinking they're all the same, but there are differences, both big and small, that you should be aware of and that's why we are here today.
PRO TIP: Some grow tents aren't capable of handling the size LED light you may want. That's why I picked you the Marshydro as this is a complete kit with a big light suitable for almost any application as well as ventilation for serious indoor growing!
Best grow tent reviews- here are our picks for the best grow tents at the present time:
Marshydro grow tent – best grow tent kit
Cool grows grow tent – best small grow tent
Rimarup grow tent – good for someone really serious about indoor growing
Gorilla grow tent – best Gorilla grow tent option for the UK
GA grow tent – best alternative grow tent for large projects
How to choose the best grow tent for your needs
Later in this article we review a selection of the best-selling Hydroponic grow tents currently on the market. But, before that, we'd like to point out a few things you should keep in mind while considering which grow tent, you'll be spending your money on.
What size and shape of grow tent should I buy?
Just like with greenhouses, planters, and propagators, grow tents are available in all sorts of sizes. There are smaller tents that will sit in the corner of the room and not obstruct anything, all the way up to very large tents that can house multiple plants containers at a time and will probably need a spare room of their own.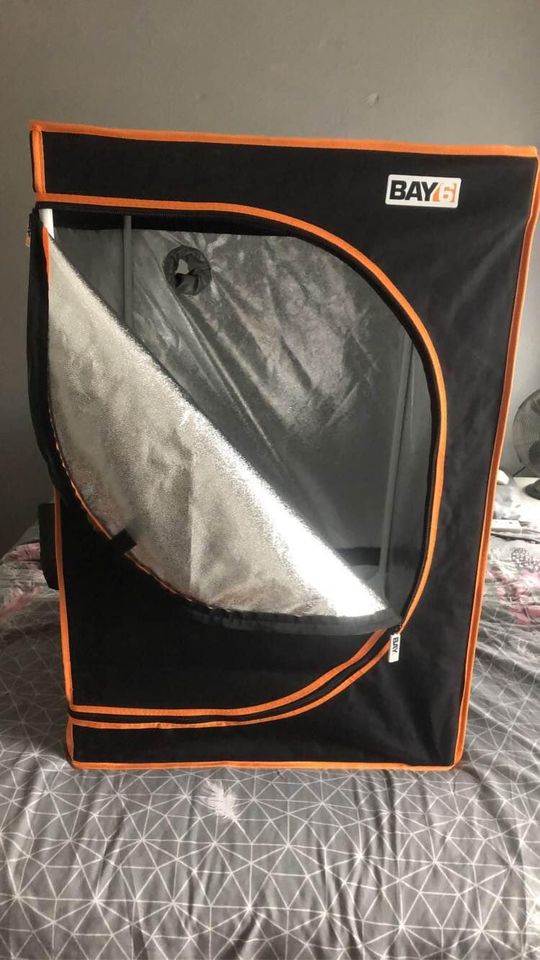 Deciding on what size to buy all comes down to a mix of what you want to grow (and how much of it), and how much available space you have. You'll need to grab your tape measure and figure out what the maximum size is that you can fit in your designated area. Please don't forget to measure the height, as that is just as important as width and depth, and take into consideration that your grow lights will have to hang with a space between them and the plants below.
You'll also need to work out enough space around the intended tent for you to be able to access the zips, and also for inserting things into the ducting ports. This is often overlooked, leaving the buyer frustrated after setting up and realising there isn't enough room for them to actually work with the tent.
When it comes to shape, most grow tents are either square or rectangular, but there are some models out there that are designed to fit into corners or that have sloped tops instead of being flat. These are not as common though, so I'd make measurements for either a square or rectangular grow tent.
What are the benefits of using a grow tent?
In my humble opinion, the benefits of using a grow tent indoors far outweigh the negatives. In fact, the only downsides I can see is that they aren't the cheapest things in the world, and you need a bit of space to house them. Apart from that, it's all pros. Let's have a closer look at them…
Grow tents 'trap' light
One of the biggest benefits of grow tents is that they 'trap' the light inside them. Usually, some of the light from your LED, HPS, etc. grow lights will be spread out away from the plants and won't be absorbed by them.
However, as the inside walls of grow tents are lined with mylar. Aluminium, or some other reflective and insulating material, that light is 'bounced' back, giving the plant a better chance of catching it second time around. Mylar lined walls will reflect over 90% of light that would otherwise have dispersed elsewhere. Just think about how efficient that makes these grow tents.
Another advantage of the light being contained within the tent, is that it is not bothering anyone. This means that you could have a small grow tent right there in the living room, all zipped up, and it wouldn't make any difference to your partner, housemate, or family, while they watch the telly.
Grow tents give you more control
As everything is contained within a relatively small area, it is much easier to control the growing environment. Take for example things like temperature, in an open space it is quite difficult to keep a constant temperature around the plants, but within a grow tent it is much more viable.
The same goes for humidity, as you can use the built-in air vents or buy a dehumidifier to control that quite easily. You could even set it up that the air that flows into the tent is filtered if you think your plants will benefit from that.
You can create total darkness
To grow optimally, plants need spells of darkness as it helps to stabilise their metabolism. Out in nature this is of course provided by the day and night cycle of the earth. In a grow tent, you need only switch the grow lights off and zip her up, and your plants will be left in total darkness for as long as you want.
Grow tents aren't permanent structures
One of the best things about grow tents is that they are a doddle to set up and just as easy to disassemble. It's not like a greenhouse which takes quite a while to build and take down. You can pop your tent up when you feel like growing, and if you fancy taking a break, or you're getting grief from your better half, just pack it away until you need it again. Most of these products are pretty durable, and will not suffer from being boxed up for a while.
See? I told you the benefits far outweigh any negatives.
Other things to think about when buying a grow tent
I know we've already covered a lot, but here's a couple of other things to keep in mind when deciding on your purchase.
The stability of your tent will basically come down to the frame, which just like other tents, will be made up of poles. The size and thickness of these poles, plus the materials they are made from will all affect the overall sturdiness of your grow tent., pretty obvious and simple stuff, but worth mentioning anyway.
The number of poles is important too. If you are going to buy a large grow tent, especially a long rectangular one, you should make sure there are central support poles so that the roof doesn't sag in the middle.
Ducting ports are something found on all grow tents, but they can be various sizes and some are better sealed then others. Think about how you would insert things like cables for your equipment and ventilation ducts in a specific tent, and then the space you intend to put it in. if they pose no problems, then great, but always consider things first.
Something that is often overlooked is the importance of having good quality zips. As these are the moving parts that you will be using the most often, having zips that are smooth in operation, and will not be breaking off in your hand or getting stuck anytime soon, should be right at the top of your 'things to check' list.
One last thing to consider is how much weight a tent can handle. You will be using equipment such as lights and ventilation equipment, so make sure the tent you buy can handle it.
---