Garden Tool Box » Best Bird Tables [UK]: Pick Top Heavy Duty Wooden Bird Tables
Best Bird Tables [UK]: Pick Top Heavy Duty Wooden Bird Tables
This article was last updated on July 31st, 2021 at 9:13 am
If you're looking for the best bird table then we've reviewed some of the most interesting choices available at the moment. A bird table needs to do more than just feed birds, it must offer safe and adequate protection for a feathered friends. Given the importance of protection, the base must be extremely sturdy in high winds and keep food well covered too. The best bird table can provide the kind of solace in times of drought or extreme cold that a bird really needs and if you want to know more about how to help our feathered friends then please read the Best Bird Feeders Buyers' Guide too.
So here is my review of the best bird tables
Comparison table: Best Bird Tables [UK]: Pick Top Heavy Duty Wooden Bird Tables

Product
What We Think
Price

garden mile® Novelty Metal Hanging Chain Girl and Umbrella Bird Feeder

NOVELTY FEEDER: A beautiful brushed paint metal finish gives these unique bird feeders a marvellous quirky look...
HANGING HOOK: This novelty bird feeder comes equipped with a hanging hook...
SIMPLISTIC DESIGN: A girl wearing a yellow raincoat holding an umbrella
STRONG AND ROBUST: Made from lightweight metal and finished with a weatherproof paint makes these bird feeders long lasting....
DIMENSIONS: diameter of tray 17cm | diameter of umbrella 19cm | Height 25cm | length of chain 19cm...

enable old bird seed to be easily cleaned away to maintain good bird hygiene...
Made of a recycled plastic composite material
The Swingseat Feeder is suspended using its natural hanging rope
H 170mm W 230mm L 155mm

Far superior to wooden tables
Exceptionally easy to keep clean and hygienic
The attractive mounting bracket ensures a strong
It is made from a highly durable synthetic resin material that will keep its looks...
Wipe clean surface exceptionally easy to keep clean and hygienic

Twin Treated with Anti-Bacterial Marcide Coating to prevent disease spreading
H.E.A.R.T Construction
Stand Height : 1365 Head : 335 x 335
Made in Great Britain from Sustainable Forests
Highest quality Affordable Bird Table in its Class

All-in-one feeding, watering and bathing for garden birds
Traditional styled features, Ideal for all types of garden
Powder coated steel frame Grey hammer-tone finish
Includes 4 X Poles
Size: 223cm Approx

Bird Hotel featuring a Bird Bath
Manufactured from UV stabilised polyurethane
Strong and yet lightweight
Solar powered garden light
Overall size: 50 cm Dia
1. Maypole Anti-fungal Heavy Duty Bird Table
Our first review is of the Maypole Anti-fungal, heavy duty, bird table. The name is a bit of a mouthful, but the product itself more than makes up for that.
The anti-fungal aspect of this bird table comes from a double coating of anti-bacterial marcide, and is designed to prevent the spread of disease among our winged little friends. I didn't notice any mention or sign of treatments for weatherproofing though, so if I were you I'd give it a coat of stain on top.
There aren't that many components to the Maypole bird table, and the instructions that come with it are pretty clear, but there are certain parts of the assembly process that are much better dealt with when you've got an extra pair of hands. Another thing about putting this bird table together is that there are a lot of screws, so unless you like torturing your wrist and forearms, grab a power screwdriver, it'll save you hours.
Anyway, I did have help from the missus and we had it built and standing in the garden in no-time. Once completed, the table stands roughly four and a half feet tall, and looks fantastic.
Stability wise, it wasn't terrible, and would be fine in most weather, but I got the feeling strong winds might topple it so I'd think about how you're going to anchor it down in winter before you buy. Another little modification I would make, would be to somehow extend the roof, as rain can get onto the table quite easily.
If you're buying a bird table, then you're obviously a nature lover, so you'll be happy to know that the wood used for the Maypole bird table is sourced from sustainable forests, where 2 new trees are planted for each cut down.
Do the birds like it? From the time we kept it in our garden, which was about a week, we saw a nice variety of birds feeding from it, so the answer has to be a yes from me and the bird box camera showed some very interesting footage indeed 🙂
2. Swing Seat Bird Feeder - Bird Table
When deciding on what kind of bird feeder to have in your garden, one of the major factors is pets, both your own and your neighbours.
If you have a playful dog, there's a chance that it'll knock over a traditional style bird table, and then there's always cats to think about, and you don't want to make it feeding time for them instead.
This swing seat bird feeder is a great alternative to a standing feeder, as it can be hung up from a tree branch, safely out of the way of Fido and Mr. Puss. This allows the birds to feed in relative peace and enjoy the light rocking motion while they take a break from all that flying.
Resembling a miniature garden bench, complete with a fantastic wood effect finish, this bird feeder is actually made from a recycled plastic, composite material that is extremely hard wearing and weatherproof.
The open design might not provide much shelter from the rain, but it does make it easy for the birds to access the food, for you to add more feed, and more importantly; to clean.
Included in the low price of only 13.99, is the rope needed to suspend the feeder, and I have to say that the quality of it is much better than I expected for the money. Likewise, the feeder itself feels nice and solid, and after seeing a couple of squirrels bouncing around on ours, I can safely say that it is able to take a bit of weight.
Aresat have got a winner on their hands with this wonderful little product. It is inexpensive, well thought out, and looks fantastic. Definitely worth a place in our best bird feeders list.
This wonderful bird feeder from Denny is fantastic for attracting a good selection of birds, thanks to its four separate feeding sections, designed for seeds, nuts, fat balls, and suet blocks.
It is a piece of cake to put together, only requiring to put the pole sections together and attach the feeders and bowl holders. I will say that the instructions don't explain the best way to put the bowls on, but it's pretty easy to work out that you push them down firmly before you add the last section of the pole.
This bird feeder has no base or stand, and is instead designed to be staked into the ground. I was a little surprised that there were no stabilising parts on the stake, and that it was just a singular spike, but I dug it in deep with the aid of a mallet and seemed fairly stable after that. Denny does offer the parts to make it more stable if you wish, but they have to be ordered separately. Alternatively, you could add support with pieces of wood, or other things you have lying around.
The central pole of this bird feeder is good quality metal, and has been given a nice powder coated finish in hammer-tone grey. The overall look is a very traditional one, and something you'd expect to see in a Victorian style garden, or something similar.
At 223cm tall it's a fairly large feeder, and the birds really seem like it. It only took a couple of days with this in the garden before they had figured out it was a safe place, and then we saw them every day after that. Everything from goldfinches and sparrows, to starlings and bluetits, came by for a spot of lunch.
Bird feeders are rarely perfect products, and this one has its own quirks, but they are very minor and easy to get around. All in all, it is a great product for the money.
4. Kingfisher Bronze Copper Effect Solar Powered Bird Hotel
This solar powered bird hotel from Kingfisher is a lovely looking product, and can be a great bird table, but you have to make an easy modification to make it so.
The problem to overcome is the lack of weight, due to it being a plastic construction, and in the UK winds that's obviously a problem. At first, I thought about anchoring it down with tent pegs or something similar, but after speaking to one of our customers, I was advised to remove the base and fill the empty space inside with something substantial. I chose stones as I had plenty around in the garden, and it worked wonders.
The Kingfisher bird table features a solar powered light that will emit a dim glow when outside light levels are low. I've had feedback from people saying that they trouble getting theirs working, and after trying for myself, I can see why. There are few things you need to check with the light.
First check that the battery is in place properly, then make sure you find the switch to turn it on, and finally, there is a small tab near the light itself which needs removing to complete the connection. I wish the instructions had explained it a bit better, but that's a common peeve these days.
Apart from those small gripes, I was happy with it. The bronze effect has been done really well, and it looks very traditional, with multiple, circular levels. One is used as a feeding table, while another makes a great bird bath.
The plastic construction also has its ups as well as it downs, and the fact that you don't have to worry about rot, rust, damage from insects, etc. and that you can leave it out there in all weather conditions (once weighted down), is actually a bonus.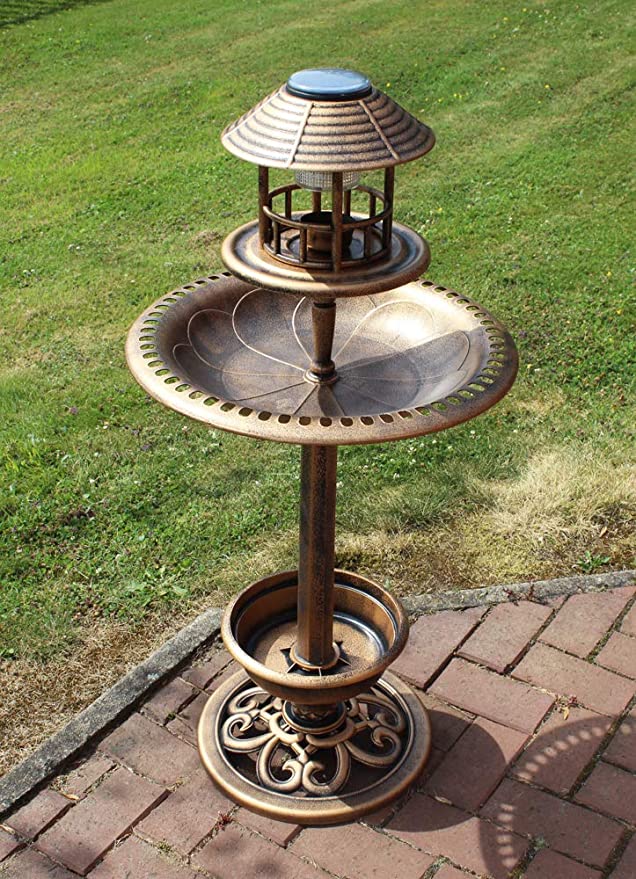 5. UBT - Urban Bird Table
Urban bird tables greatest strength lies in its simple yet practical design. A design hat not only makes it an absolute doddle to set up, but one that also allows you to hang it pretty much anywhere you like: a wall, a fence, a tree branch, or even just a pole stuck in the ground. You can even add it to other types of bird feeder to add a new dimension to it.
This versatility doesn't stop there, the flat top platform of this product can be used to house bowls for feeding or as little bird baths, and then on the underside of the product, you will find hooks to hang other holders for seeds, peanuts, etc.
Unlike wood, which can rot if not maintained properly, or metal which will eventually rust, the UBT bird feeder is made from a synthetic resin, and this makes it highly resistant to weather damage, and also extremely durable.
The only thing I wish that the manufacturers would change is to offer a selection of colours. The green looks fine, don't get me wrong, but it would be nice to be able to get a wood effect. I know I'm just being picky, but I'm just writing what is going through my head after using the product.
Apart from this imagined flaw, there is a real one, and that is with the hooks under the main table. They aren't molded into the table, and are instead just push-in types, and this limits the size of the hanging feeders you can use.
Apart from that, I really have no complaints about the UBT bird feeder. It is a decent size at 23x25cm, and the resin material is really thick and strong, so there's no worries about cats or squirrels damaging it.
Another benefit of the synthetic resin construction is that it is just so easy to clean. You can literally just use a damp cloth or rag and a little soapy water and it looks as god as new in no time.
Priced at around 13 pounds, this is another bird feeder that offers the buyer very good value for money, and also gives you the option of buying more than one without breaking the bank.
6. garden mile® Novelty Metal Hanging Chain Girl and Umbrella Bird Feeder
if you're the type that likes to keep things a little quirky and fun, then you'll probably appreciate this novelty bird feeder from Garden Mile.
It has a charming design of a little girl in a bright yellow raincoat, wearing ruby red wellies, and holding an umbrella. The umbrella acts as both a cover for the feeding bowl, and also as a hook, used to hang the feeder from a branch.
The 17cm diameter tray and the figure of the girl are made from lightweight metal and painted with a waterproof finish. The lack of weight does mean that you might get a little too much swinging in high winds, but when filled with food, it is stable enough for small birds to land on it.
This is a wonderful looking bird feeder, but I just wish they'd have used a more substantial metal in its construction. During our time testing it out, it performed just fine, and I couldn't complain. However, I have had customers tell me that there has been some bending of the metal, particularly the little girl's hand that holds the umbrella after a few months on the branch. This I can well believe, as that specific part is made of extremely thin metal.
This is a shame, as I did really like the design of this bird feeder, and I still think it would make a nice novelty gift, you just shouldn't expect it to last forever. Because of this, I think the current price is a little too high, and if it was five to ten pounds cheaper, I think it would be worth it, if only to use as an ornament.
Best Bird Feeders Buyers' Guide
To give your avian visitors the best dining experience in town, you need to know what elements are important when it comes to bird feeders. Below, we have delivered a best bird feeders buyer's guide comprising these all-important factors. Enjoy.
Bird feeder design
Aside from aesthetic differences, there are also general design types of bird feeder. There is the free-standing type that often resembles a column of some kind, but with a bird house on top, feeders that can be screwed into a wall, fence, or tree, and then there the hanging bird feeder models.
Each type will provide benefits, but also come with some flaws. For example:
Free standing bird feeders can be very ornamental, they are usually the largest type, so more birds can feed at once, and they often have more than one level, and can act as a bird bath and feeder at the same time. The downside is that they tend to be top heavy, especially cheaper models, and so need to be anchored or weighed down to keep them stable, they are also not great if you have pets or other larger animals coming in the garden.
Bird feeders that you can screw onto your wall, fence, or tree are very versatile and convenient, and they offer more security for the birds than free standing models. In addition to that, they are usually secured to something stable, and so are less affected by strong winds. The main downsides to this type is that they are, for some reason, not the most aesthetically pleasing, and that they are harder to clean if positioned up high.
Hanging bird feeders look great, and are the best for keeping birds safe from predators while they eat. Because they are connected by hooks or ropes, it is possible to bring them down to refill the food and clean them fairly easily. However, you have to understand that unless they have quite a bit of weight to them, it is unlikely that they'll survive strong winds in one piece.
Which material?
Other than design, a major factor is the material that a bird feeder is made from. Wood has been used for generations upon generations for bird feeders, as has different types of metal, especially iron, and more recently; steel. These are both very strong materials and have a nice bit of weight to them to keep the feeder stable, but they are both victims of the weather in the form of rot and rust, and so you need to keep up the maintenance with stains, oils, and paints.
Different types of plastic and synthetic resins are all the rage these days. They tend to be cheaper, are weatherproof, and are easily moulded into different shapes. The problem with plastic is, for a start, it isn't great for the environment, and also that you just don't get the same eye-catching effect as with more traditional materials. Having said that, there are some modern plastic bird feeders that have been given a finish to resemble wood, or metals like bronze, and some of them are actually quite good. At the end of the day, it all comes down to preference, and how you feel about plastic in general.
That concludes our reviews of the best bird tables available on the market at the moment. I hope you've found a bird table that will compliment your garden nicely and if you know of any other good ones available then please feel free to let us know about them too.
---